Welcome to a mesmerizing journey through the opulent world of extravagant accommodations in Bratislava, Slovakia. Prepare to be captivated by the allure of magnificent hotels that exude elegance and sophistication. Nestled in this enchanting city are luxurious establishments that epitomize comfort and style, offering an unforgettable experience for the discerning traveler.
Bratislava boasts a plethora of sumptuous lodgings, each vying for your attention with their unique charm and lavish amenities. From stately mansions adorned with ornate décor to modern architectural masterpieces, every luxury hotel in this vibrant city tells its own story. Immerse yourself in the grandeur of meticulously designed suites, where plush furnishings and rich fabrics create an atmosphere of indulgence.
Indulge your senses as you savor world-class gastronomy prepared by renowned chefs, catering to even the most refined palates. Unwind and rejuvenate in exclusive spas that pamper you with cutting-edge treatments amidst serene surroundings. Whether you seek breathtaking views from rooftop terraces or desire personalized service that anticipates your every need, Bratislava's luxury hotels offer unparalleled experiences that will leave an indelible mark on your memory.
Most Luxurious Hotels in Bratislava
Park Inn by Radisson Danube Bratislava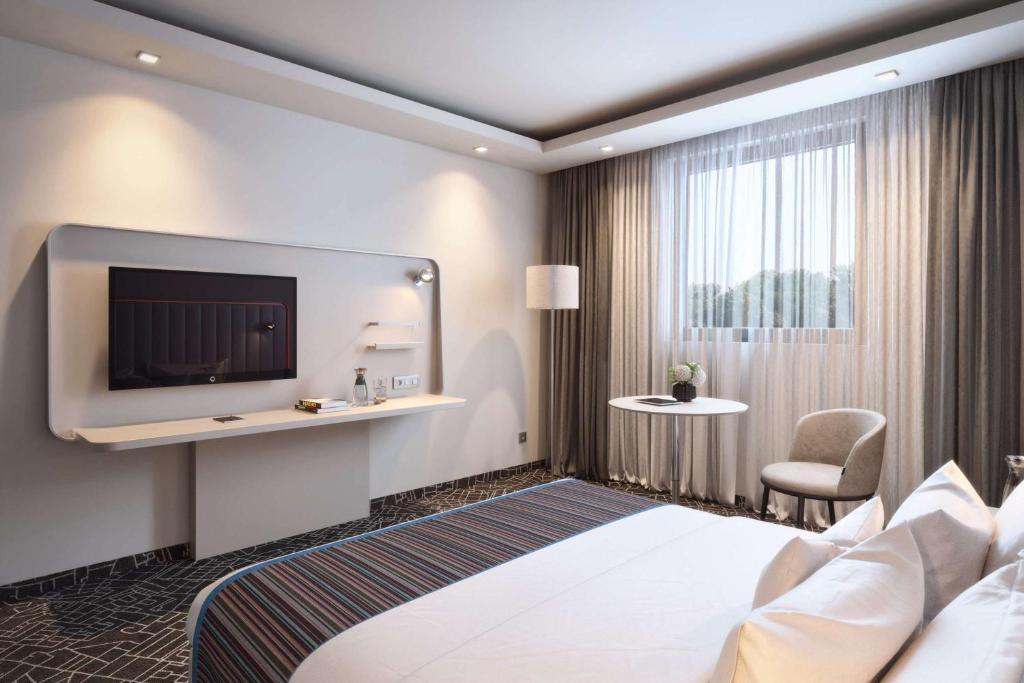 Located in the heart of Bratislava's historical city center, the Park Inn Danube by Radisson is a newly built hotel offering a luxurious stay. Situated near the Bratislava castle and next to the beautiful Danube river, this hotel provides easy access to various transportation options, making it convenient for both leisure and business travelers. With 471m2 of versatile meeting and event space, this modern accommodation is perfect for seminars, workshops, and smaller group gatherings. The hotel boasts 240 well-appointed rooms, each equipped with modern amenities like free WiFi, high-speed internet, in-room safe, and individual climate control. Guests can indulge in culinary delights at the on-site restaurant.
– Prime location in the heart of historic Bratislava
– Easy access to nearby airports in Vienna or Budapest
– Versatile meeting and event space suitable for various functions
– Modern rooms with top-notch amenities
– On-site restaurant serving delicious cuisine
Hotel Antares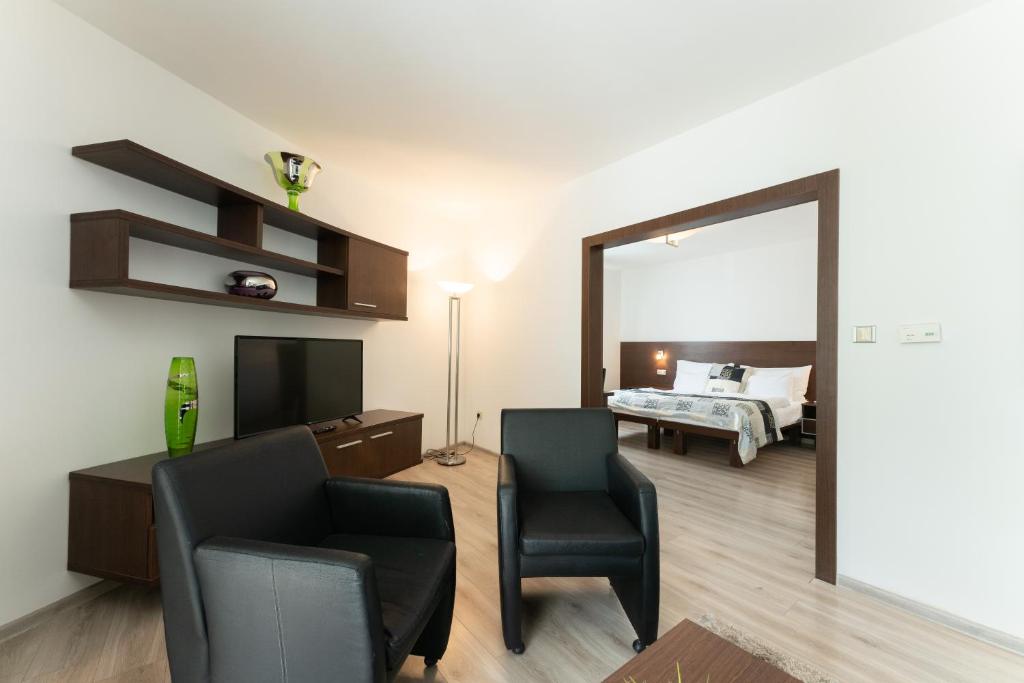 Located in a tranquil residential area of Bratislava, just a 10-minute stroll from the bustling Old Town, Hotel Antares offers guests a luxurious escape. The hotel boasts an array of amenities including complimentary Wi-Fi access, a rejuvenating hot tub and sauna, as well as a beautiful garden and convenient garage. Each of the modern rooms is tastefully furnished and features air conditioning, satellite TV, and a minibar. The contemporary ensuite bathrooms are equipped with high-quality toiletries and a hairdryer for ultimate comfort. Guests can unwind in the serene garden or stay active at the well-equipped fitness center.
– Convenient location within walking distance to Old Town
– Luxurious amenities including hot tub and sauna
– Beautifully furnished modern rooms with air conditioning
– Relaxing garden available for guest use
– Fitness center on-site for those wanting to stay active
PREMIUM Business Hotel Bratislava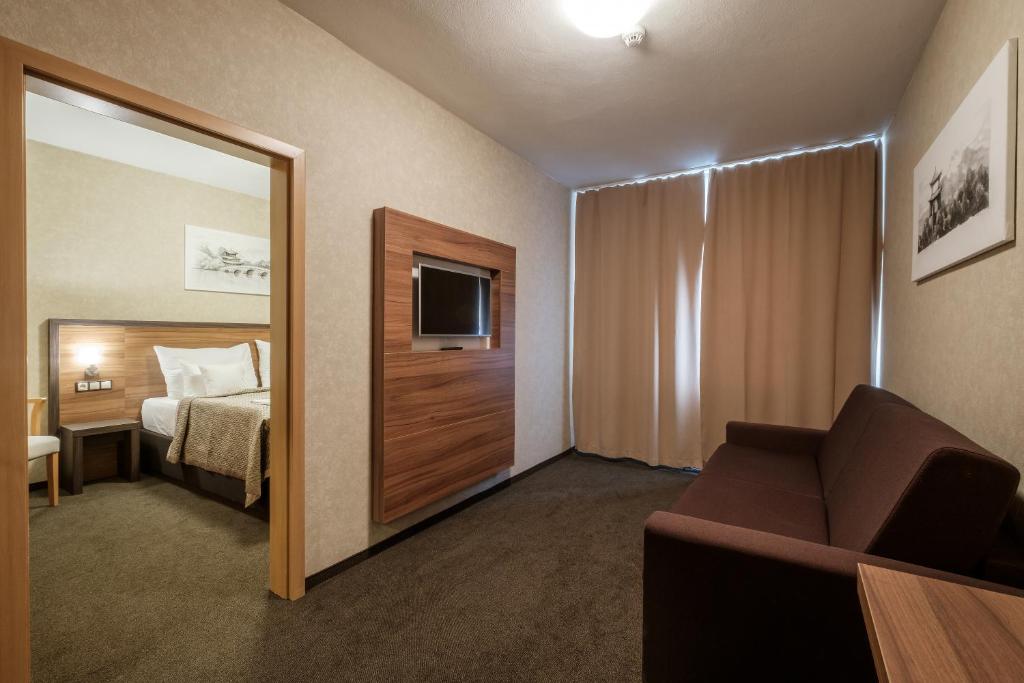 Located in a peaceful setting just 5 km from Bratislava Airport and a short 15-minute drive from the city's Old Town, PREMIUM Business Hotel Bratislava offers comfortable accommodations with complimentary WiFi throughout the property. The hotel is conveniently situated near various attractions, including the Ondrej Nepela Ice Hockey Stadium and Strkovecke Lake recreation area. Guests can enjoy drinks and snacks at the lobby bar, open 24/7. The hotel features well-appointed rooms with air conditioning, smart TVs, tea facilities, and seating areas. A breakfast buffet is served on-site, and parking is available in the closed courtyard (subject to availability). Motorbikes can park free of charge. Meals are also available at Oliva restaurant, which specializes in local and traditional cuisine. For relaxation, guests can request access to the wellness area for an additional fee. Nearby public transportation options include Drieňová Bus Stop for direct connections to the railway station and a tram stop that provides easy access to the city center within a 7-minute walk from PREMIUM Business Hotel Bratislava.
– Quiet location away from airport noise
– Free WiFi available throughout the property
– Close proximity to ice hockey stadium and lake recreation area
– Lobby bar open 24/7
– Well-appointed rooms with modern amenities
Luxury Hotels in Downtown Bratislava
Downtown Bratislava boasts a collection of luxurious hotels that epitomize sophistication and elegance. From their prime locations in the heart of the city, these exquisite accommodations offer guests an unparalleled experience with their opulent décor and impeccable service. With attention to detail at every turn, visitors can expect lavish rooms adorned with plush furnishings and modern amenities. The carefully curated amenities cater to discerning travelers, guaranteeing a memorable stay filled with relaxation and indulgence. Whether it's savoring gourmet cuisine at renowned restaurants or unwinding in spa facilities, luxury hotels in downtown Bratislava promise an unforgettable retreat where comfort meets grandeur.
Hotel Avance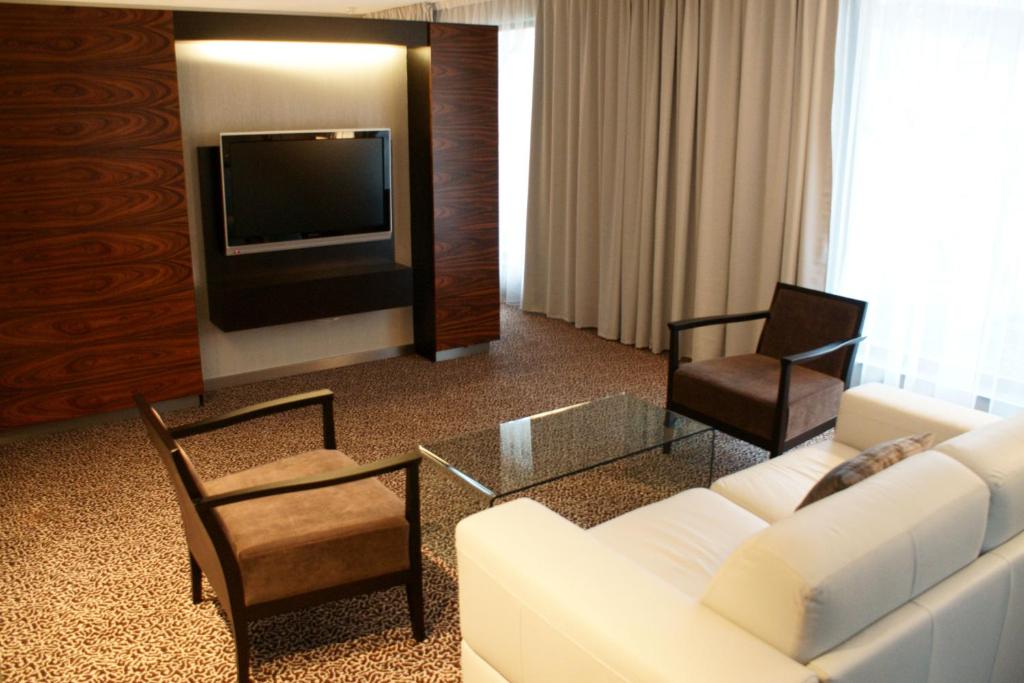 Hotel Avance, located in the heart of Bratislava, welcomes guests with its modern and elegant interior. Situated close to the National Theatre and the beautiful Danube River, this hotel offers free WiFi throughout its premises. Each room and suite is designed with spaciousness in mind, featuring luxurious furnishings made from carefully selected lumbers and premium fabrics. Additionally, every air-conditioned unit comes equipped with free wired internet access. After a long day of business meetings or exploring the city, guests can relax in the hotel's state-of-the-art wellness facilities (available at an extra cost). The on-site restaurant serves refined international cuisine that satisfies even the most discerning palates. For those requiring conference facilities, Hotel Avance provides various air-conditioned congress halls equipped with cutting-edge technology.
Pros:
– Prime location in central Bratislava
– Free WiFi throughout the hotel
– Spacious rooms and suites adorned with high-quality materials
– Upscale wellness facilities for relaxation after a busy day
– State-of-the-art congress halls for professional events
Falkensteiner Hotel Bratislava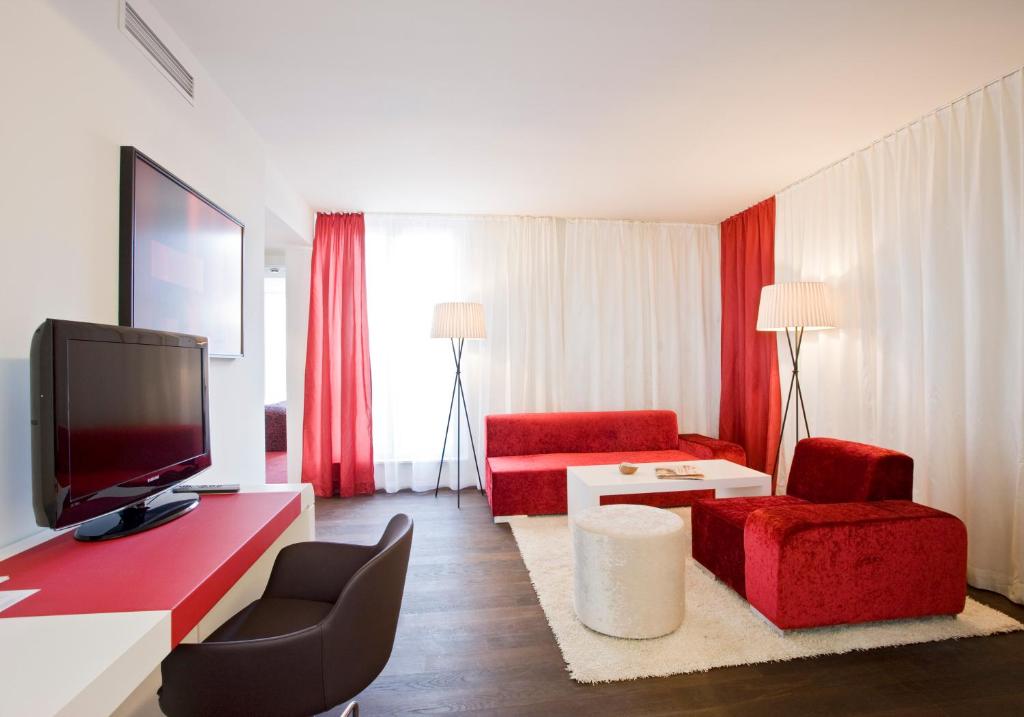 Falkensteiner Hotel Bratislava offers a stylish and luxurious atmosphere in the heart of the Slovak capital. With its central location, it provides easy access to popular attractions such as the castle, old town, traditional bars, and cafés. The hotel features a wellness area with a sauna, hammam, and fitness centre that guests can enjoy for free. The restaurant serves a generous and healthy breakfast buffet, as well as delicious lunch options and fine à-la-carte dining. The bar is perfect for casual get-togethers with both hotel guests and locals. Business travellers will appreciate the range of business and conference facilities available. For exclusive access to breathtaking views of the old town, guests staying in executive rooms can visit the Rooftop Lounge on the top floor. Additional amenities include an all-day buffet, international newspapers, wireless internet access, and flat-screen TVs. Convenient services such as underground parking are also provided on-site.
– Stylish atmosphere in central location
– Wellness area with sauna, hammam & fitness centre
– Restaurant serving generous breakfast buffet & delicious menus
– Bar for casual get-togethers
– Exclusive Rooftop Lounge for executive room guests with stunning views
Lindner Hotel Gallery Central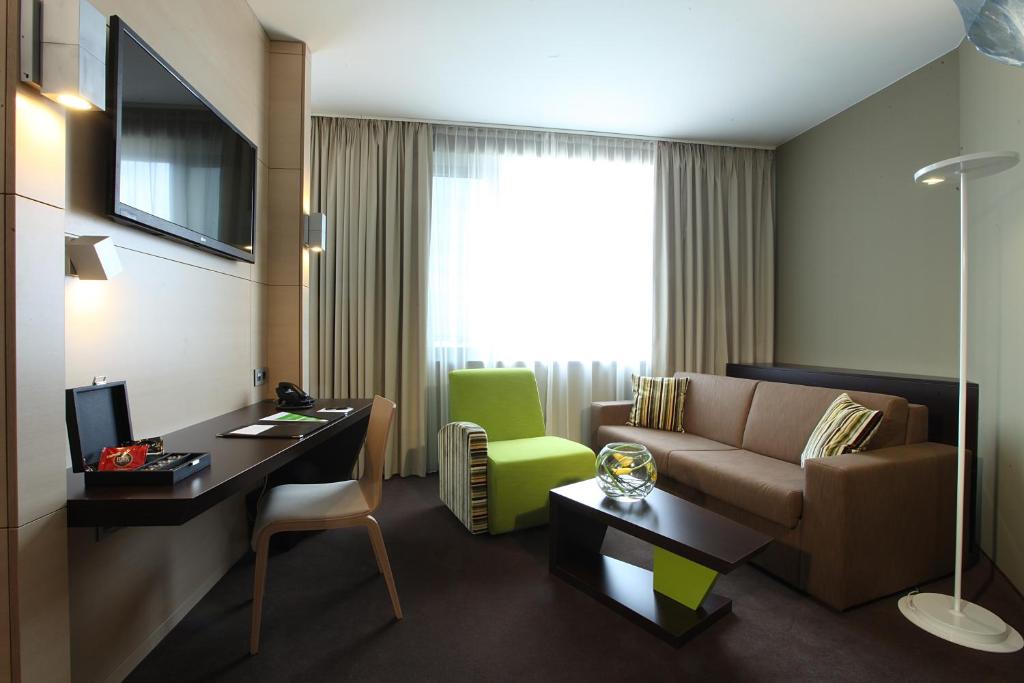 Lindner Hotel Gallery Central, opened in 2013, is a luxury hotel located in Bratislava. The hotel offers a range of amenities including an à la carte restaurant, a 13th-floor Outlook Bar & Lounge with stunning views of Bratislava Castle, and direct access to the Shopping Centre Central. Guests can enjoy free WiFi throughout the property and relax in the lounge zone or on the terrace overlooking the park. The Central Shopping Centre complex also features an indoor pool, fitness facilities, and a wellness center with sauna and massage treatments (additional cost). The air-conditioned rooms are stylishly decorated and equipped with satellite TV, minibar, kettle, and safety deposit box. Regional and international cuisine can be savored at the on-site restaurant which serves buffet breakfast daily. Snacks and light meals are available at the panoramic bar. Additional services include a 24-hour reception. With its convenient location next to Trnavske Myto transportation hub, guests have easy access to Bratislava Old Town (2.5 km) as well as Bratislava Airport (7 km), while the main bus and train station are just 3 km away.
– Stunning views of Bratislava Castle from the 13th-floor Outlook Bar & Lounge
– Direct access to Shopping Centre Central
– Free WiFi throughout the property
– Indoor pool, fitness facilities, and wellness center available at an additional cost
– Convenient location for exploring both Bratislava Old Town and reaching Bratislava Airport
5 Star Luxury Hotels
5 Star Luxury Hotels are the epitome of opulence and indulgence. These exceptional establishments strive to offer their guests an unparalleled experience of comfort, elegance, and personalized service. With lavish interiors and meticulously designed spaces, every detail in a 5-star luxury hotel is crafted to create a sense of grandeur and sophistication. From the finest linens to exquisite dining options, these hotels leave no stone unturned in ensuring that guests feel pampered and cared for throughout their stay. With impeccable attention to detail, world-class amenities, and a commitment to excellence, 5-star luxury hotels provide an unforgettable retreat for those seeking an extraordinary travel experience.
Apollo Hotel Bratislava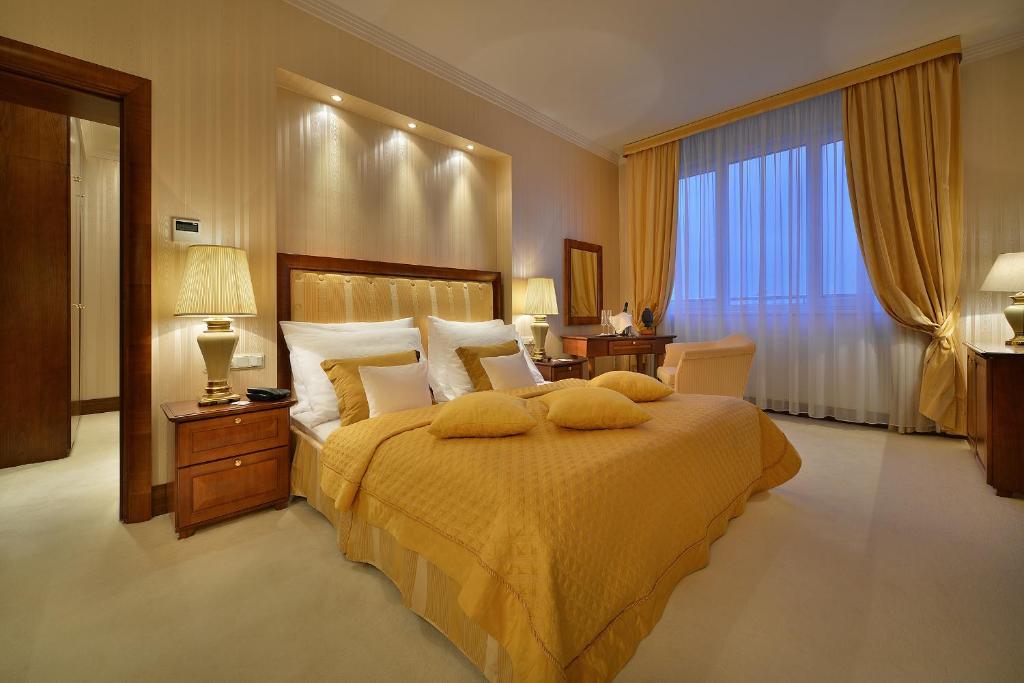 The Apollo Hotel Bratislava is an ideal choice for both business and leisure travelers, with its convenient location between the Old Town and the city's business district. The hotel offers a luxurious experience with recently renovated rooms that provide free WiFi. Guests can enjoy amenities such as air conditioning, satellite TV with international channels, a minibar, and complimentary bottled water and coffee/tea making facilities. The hotel also features a gourmet restaurant, St. Hubert, known for its international cuisine and game specialties. In addition, guests have access to a salt cave and fitness center at no extra charge. Other amenities include private parking (for a fee), a lobby bar serving coffee specialties and mixed drinks, and a summer terrace. The hotel's proximity to Eurovea Shopping Centre and the Danube River makes it easy for guests to explore the city on foot or by trolley bus. With convenient transportation options nearby including Mlynské Nivy Bus Station (800 meters away), Main Railway Station (2.5 km away), Bratislava's M.R Štefánika Airport (8 km away), and Vienna Airport (50 km away), the Apollo Hotel Bratislava is easily accessible from all directions.
– Convenient location between Old Town & business district
– Recently renovated rooms with free WiFi
– Gourmet restaurant offering international cuisine & game specialties
– Access to salt cave & fitness center at no additional cost
– Proximity to Eurovea Shopping Centre & Danube River
Sheraton Bratislava Hotel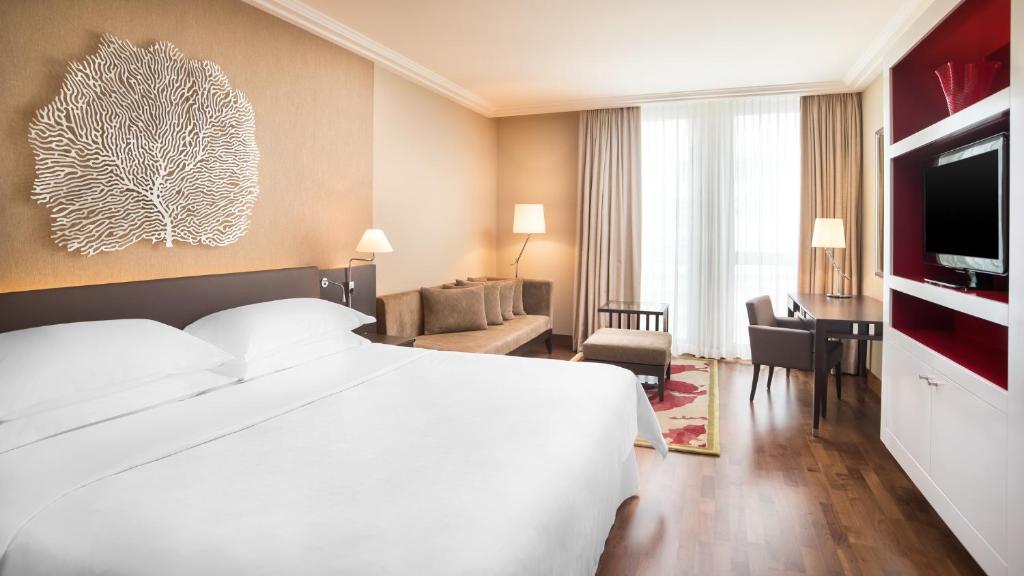 The Sheraton Bratislava Hotel is a modern luxury hotel located in the heart of Bratislava, just a 10-minute walk from the historical center and opposite the New Slovak National Theatre. The hotel offers air-conditioned rooms with high-speed WiFi, minibars, and tea and coffee-making facilities. Each room features a flat-screen TV with multilingual cable channels and comfortable seating areas. The bathrooms are equipped with rain showers, bathtubs, and hairdryers. Guests have complimentary access to the 24-hour fitness center that offers top fitness equipment by LifeFitness. Additionally, there is a Link@Sheraton on the first floor providing free premium internet access and computer stations for guests' convenience.
Pros:
– Convenient location near the historical center
– Complimentary high-speed WiFi throughout the hotel
– Access to a well-equipped 24-hour fitness center
– Free premium internet access at Link@Sheraton
– Comfortable rooms with modern amenities
Radisson Blu Carlton Hotel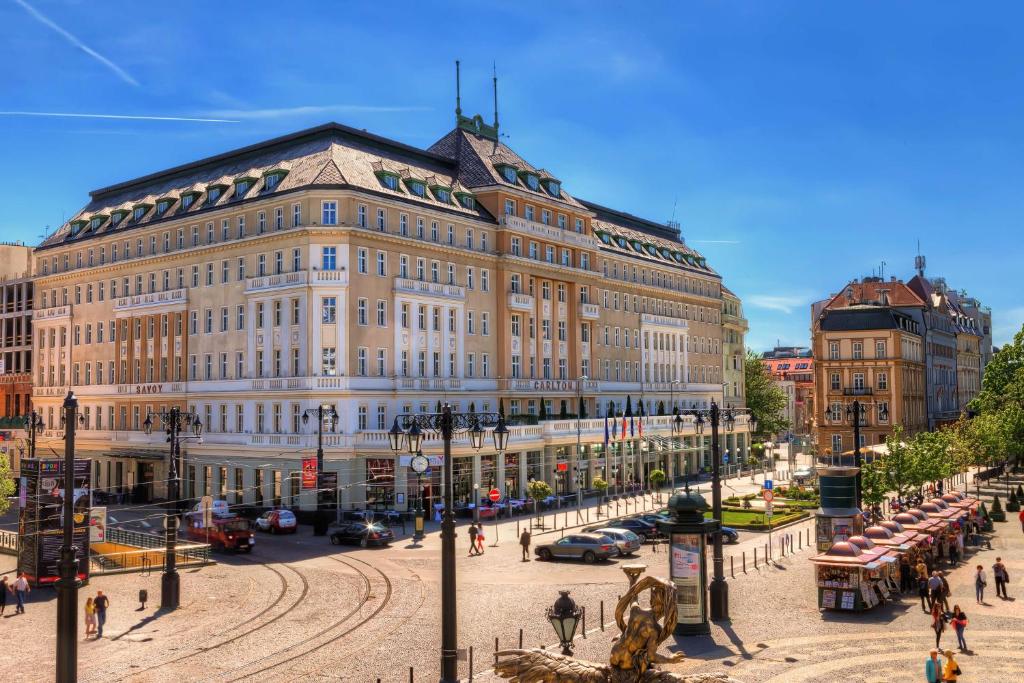 Located in the heart of Bratislava's city center, the historic Radisson Blu Carlton Hotel is housed in a stunning 13th-century building. Its spacious and elegant rooms boast heated bathroom floors and offer free WiFi throughout the hotel. The on-site restaurant serves delectable traditional Bratislava cuisine, featuring seasonal vegetables, herbs, fresh fish, and locally sourced meat. Take in breathtaking views of the National Opera and Hviezdoslav Square from the restaurant's outdoor terrace during summer months. The hotel's renowned Mirror Bar is a popular spot for cocktails and snacks. With its proximity to shopping areas, restaurants, the Slovak National Theatre, and Philharmonic Orchestra, guests have easy access to explore Bratislava's vibrant cultural scene. Additionally, Vienna Airport is just a 30-minute drive away while Bratislava Airport can be reached in only 10 minutes by car.
– Historic building dating back to the 13th century
– Spacious and elegant rooms with heated bathroom floors
– Free WiFi throughout the hotel
– Delicious traditional Bratislava cuisine using local ingredients
– Convenient location close to shopping areas and cultural attractions
Most Expensive Hotels in Bratislava
Bratislava, the capital city of Slovakia, boasts a selection of opulent accommodations that cater to discerning travelers seeking the utmost luxury. These exclusive hotels offer an unparalleled level of sophistication and indulgence, with lavish interiors and impeccable service. From exquisite décor to breathtaking views, these properties epitomize elegance and refinement. With their state-of-the-art facilities and attention to detail, staying at one of Bratislava's most expensive hotels is truly an unforgettable experience for those seeking the finest in hospitality.
Hotel Tatra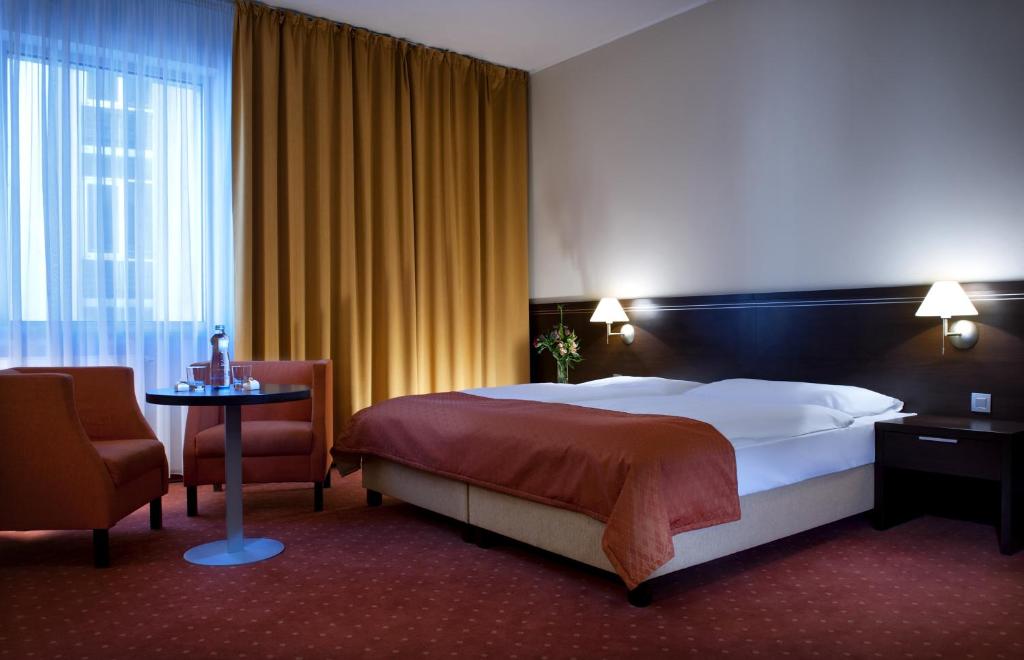 Hotel Tatra, opened in 1930, is a luxurious hotel located just 300 meters from the picturesque Old Town and the Presidential Palace of Bratislava. The hotel offers spacious and elegantly furnished non-smoking rooms equipped with modern amenities and complimentary WiFi. Indulge in a culinary journey at the renowned restaurant Stara Bratislava, where Slovak and international cuisine are expertly crafted using seasonal ingredients. The bar at Hotel Tatra serves an extensive selection of beverages and features separate smoking and non-smoking areas for guests' comfort. With two large congress halls and two elegant salons, the hotel provides versatile spaces for any kind of event or meeting. Additionally, Hotel Tatra ensures the safety of your vehicle by offering secure parking facilities in their garage.
– Convenient location near the Old Town
– Spacious non-smoking rooms with free WiFi
– Exquisite dining experience at Stara Bratislava restaurant
– Well-equipped congress halls and salons for events
– Secure parking facilities available
Luxury Bratislava Hotels Information
| | |
| --- | --- |
| 🛎️ Luxury Hotels in Bratislava | 10 |
| 💵 Hotels Prices From | $260 |
| 💵 Highest price | $1359 |
| 🥇 Average Review Score | 8.6/10 |
| 🛏️ Average number of Rooms | 125 |
Top Luxury hotels in Bratislava
| | |
| --- | --- |
| Lindner Hotel Gallery Central | 8.9/10 |
| Radisson Blu Carlton Hotel | 8.9/10 |
| Hotel Avance | 8.8/10 |
| Park Inn by Radisson Danube Bratislava | 8.5/10 |
| Hotel Antares | 8.5/10 |
FAQ
What are some of the top luxury hotels in Bratislava?
Bratislava offers several top luxury hotels for discerning travelers. One of the most prestigious options is the Grand Hotel River Park, located on the banks of the Danube. This five-star hotel boasts elegant rooms with stunning river views, a rooftop spa and wellness center, and fine dining options. Another popular choice is the Sheraton Bratislava Hotel, known for its modern design, luxurious amenities, and convenient location near popular attractions.
Are there any boutique luxury hotels in Bratislava?
Yes, Bratislava has a few boutique luxury hotels that offer a more intimate and personalized experience. The Loft Hotel Bratislava is a chic boutique hotel situated in a historic building in the city center. It features stylishly designed rooms, an art gallery showcasing local artists' works, and a trendy rooftop bar with panoramic views of Bratislava Castle. Another option is Marrol's Boutique Hotel, which combines classic elegance with modern comforts such as an indoor pool and sauna.
What are some must-visit attractions near luxury hotels in Bratislava?
Guests staying at luxury hotels in Bratislava have easy access to many must-visit attractions nearby. One such attraction is Bratislava Castle, located just across the Danube from some of the city's most renowned hotels. This medieval castle offers breathtaking views of Bratislava's Old Town and houses fascinating exhibitions on Slovak history. Additionally, visitors can explore St. Martin's Cathedral or take a leisurely stroll through Hviezdoslav Square to admire its beautiful architecture.
Do luxury hotels in Bratislava offer special amenities for guests?
Yes, luxury hotels in Bratislava often go above and beyond to provide special amenities for their guests' comfort and enjoyment. Many offer exclusive spas or wellness centers where guests can indulge in luxurious treatments and relaxation. Some hotels have rooftop bars or restaurants with panoramic views, perfect for enjoying a drink or a meal while taking in the city's beauty. Additionally, luxury hotels often provide concierge services to assist guests with any requests or arrangements they may need during their stay.
What is the best time of year to visit Bratislava for luxury hotel experiences?
The best time of year to visit Bratislava for luxury hotel experiences is during the spring (April to June) and fall (September to October) seasons. The weather during these months is mild and pleasant, making it ideal for exploring the city and enjoying outdoor activities. Moreover, there are typically fewer tourists compared to the peak summer season, allowing visitors to experience a more tranquil ambiance at their chosen luxury accommodations.
Popular Luxury Hotels destinations