Welcome to a delightful oasis of serenity and tranquility – Bora Bora French Polynesia, a tropical paradise that is sure to captivate your senses. Situated in the heart of French Polynesia, this archipelago boasts crystal-clear waters, pristine beaches, and lush vegetation as far as the eye can see. If you're looking for an escape from reality and want to indulge in luxury like never before, look no further than Bora Bora's exquisite selection of fine hotels.
With its breathtaking scenery and luxurious resorts, Bora Bora's magic is truly unforgettable. From lavish overwater bungalows to private villas hidden amidst verdant gardens, there is no shortage of opulent accommodations on this idyllic island. Each hotel offers world-class amenities such as spas, top-tier restaurants serving gourmet cuisine, and state-of-the-art fitness centers designed to keep you fit while enjoying your stay.
Experience unmatched comfort at one of the most sought-after destinations on earth by choosing any one of these exclusive resorts in Bora Bora French Polynesia. Discover why so many travelers return year after year for a chance to bask in the beauty and luxury that this magical gem has to offer.
Most Luxurious Hotels in Bora Bora
InterContinental Bora Bora Le Moana Resort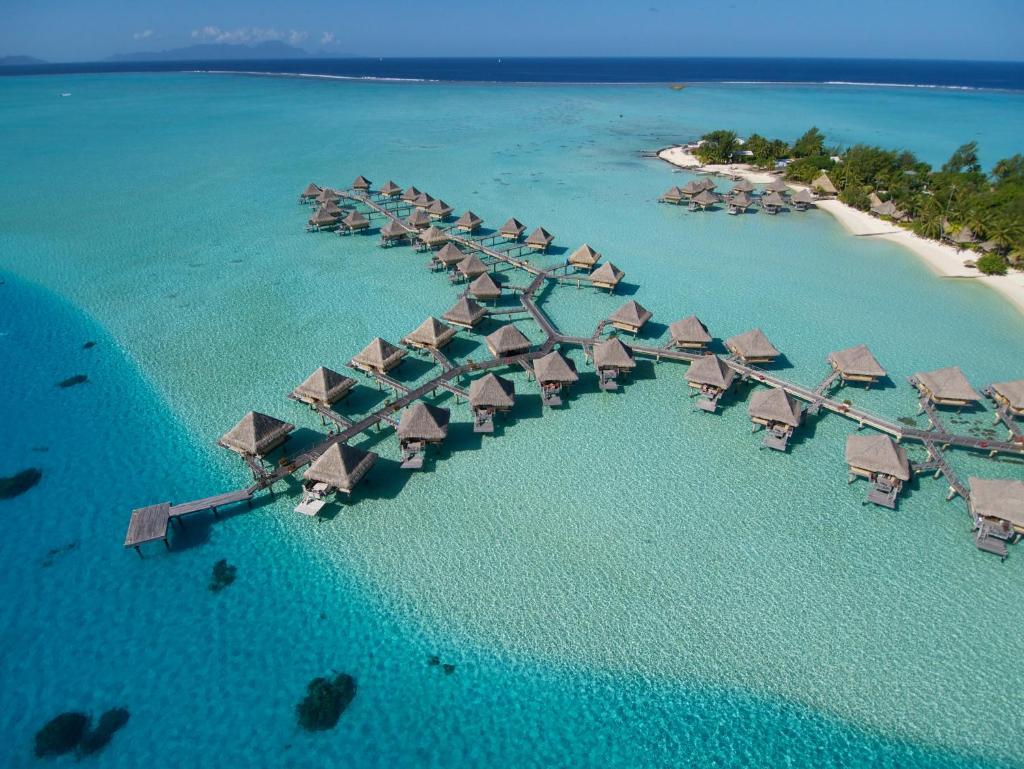 InterContinental Bora Bora Le Moana Resort is the epitome of luxury with a private white sand beach exclusively for guests. The resort offers unique bungalows over the water, air-conditioned with sofa beds, cable TV, and tea/coffee making facilities. Noa Noa Terrace Restaurant and Vini Vini Bar & Restaurant serve buffet and à la carte selections with indoor/outdoor seating options. Guests can enjoy various water sports activities including kayaking and snorkeling. The resort also features spacious bathrooms with hairdryers and bathrobes.
– Private white sand beach exclusive to guests
– Unique overwater bungalows
– Wide selection of water sports activities available
– Two restaurant options serving buffet and à la carte selections
– Spacious bathrooms with hairdryers and bathrobes
Four Seasons Resort Bora Bora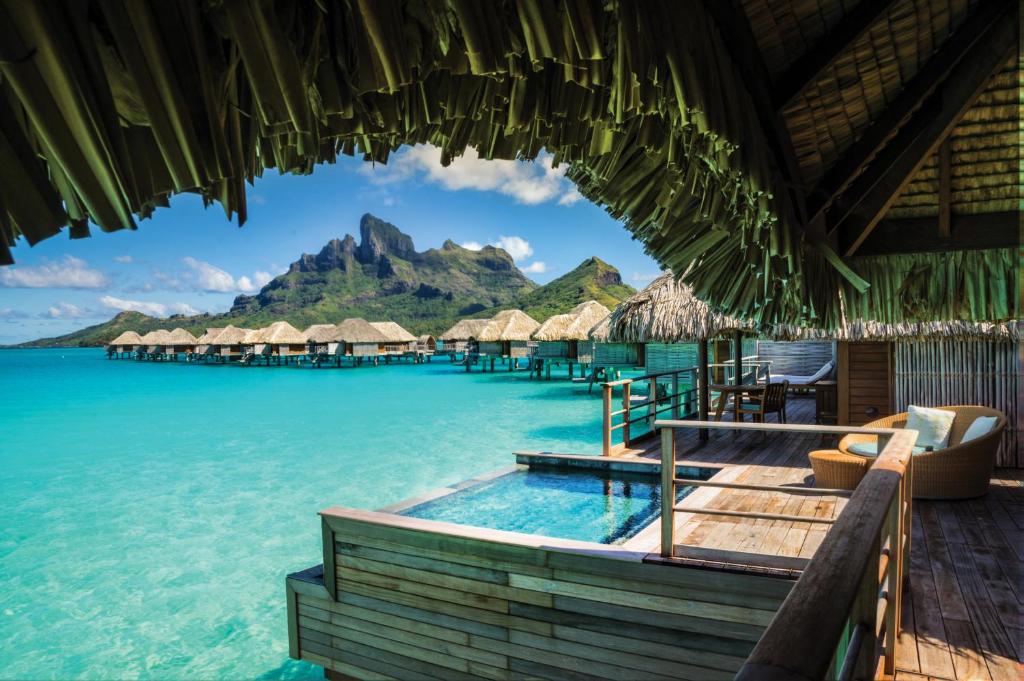 Overlooking the turquoise waters of a private beach, Four Seasons Resort Bora Bora offers luxurious over-water bungalows and beachfront villas with stunning views of Mount Otemanu. Guests can enjoy an infinity pool, tennis court, and free guided snorkeling tours in the lagoon sanctuary. The resort is located on Point Matira, voted 'the best island in the world' by U.S News in 2012, and guests can partake in kayaking, catamaran cruises, windsurfing and shark feeding. The spacious accommodations feature traditional wooden furnishings with high ceilings and thatched roofs while offering fluffy down pillows and iPod docking stations. With four on-site restaurants serving Polynesian, French and Asian specialties to choose from Sunset Bar & Lounge is perfect for watching sunsets over the lagoon.
– Stunning views of Mount Otemanu
– Free guided snorkeling tours
– Over-water bungalows or beachfront villas
– Variety of cuisines at 4 on-site restaurants
– Infinity pool
Le Bora Bora by Pearl Resorts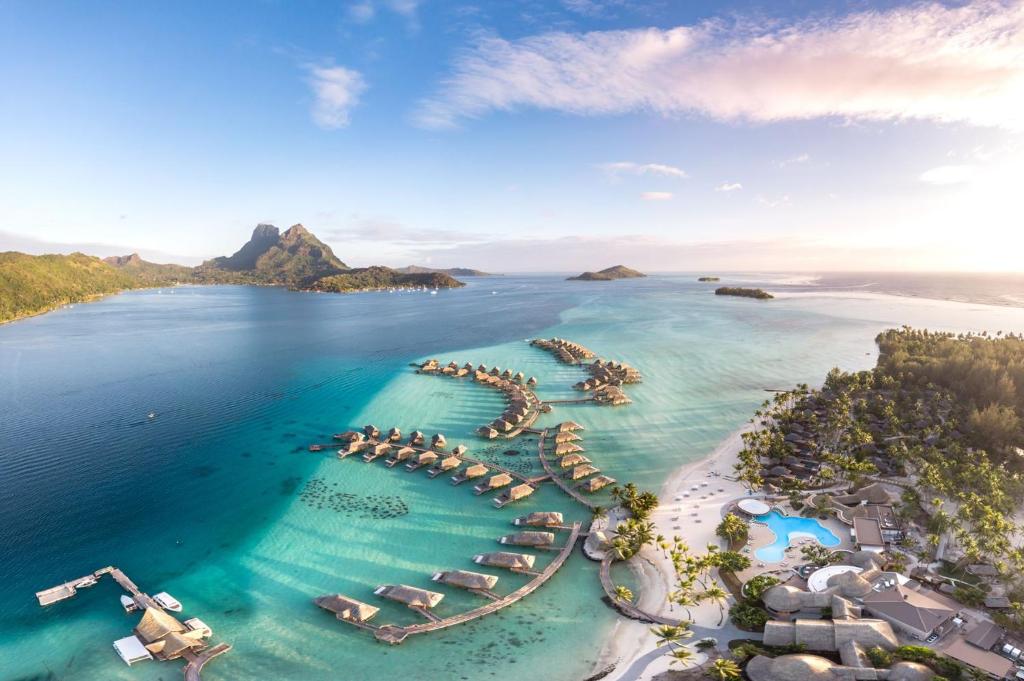 Le Bora Bora by Pearl Resorts offers a range of luxurious accommodations including garden suites with private pools, beachfront suites with hot tubs, and overwater bungalows with direct access to the turquoise waters. With stunning views of Mount Otemanu and located on the beach at Motu Tevairoa, this resort features 2 boutiques, a large outdoor pool, diving center and flood-lit tennis court. Guests can indulge in al fresco dining at Tevairoa Restaurant or relax with beauty treatments at Tavai Spa. Other amenities include free Wi-Fi and a private boat transfer from Motu Mute Airport.
– Multiple accommodation options including garden suites and overwater bungalows
– Beautiful views of Mount Otemanu
– Al fresco dining on the terrace overlooking the Bora Bora Lagoon
– Luxurious spa treatments available at Tavai Spa
– Convenient private boat transfer from Motu Mute Airport
Luxury Bora Bora Hotels Information
| | |
| --- | --- |
| 🛎️ Luxury Hotels in Bora Bora | 3 |
| 💵 Hotels Prices From | $153 |
| 💵 Highest price | $1223 |
| 🥇 Average Review Score | 9.4/10 |
| 🛏️ Average number of Rooms | 99 |
Top Luxury hotels in Bora Bora
| | |
| --- | --- |
| Four Seasons Resort Bora Bora | 9.5/10 |
| Le Bora Bora by Pearl Resorts | 9.4/10 |
| InterContinental Bora Bora Le Moana Resort | 9.2/10 |
FAQ
What are some of the best luxury hotels in Bora Bora?
Bora Bora is home to some of the most luxurious hotels and resorts in the world, such as The St. Regis Bora Bora Resort, Four Seasons Resort Bora Bora and Conrad Bora Bora Nui. Each hotel offers top-notch amenities and services that cater to the needs of discerning travelers seeking a memorable vacation experience.
What activities can guests enjoy while staying at a luxury hotel in Bora Bora?
Luxury hotels in this idyllic destination offer a wide range of activities for guests to enjoy during their stay. From snorkeling and diving to jet skiing and parasailing, there is something for everyone. Many hotels also offer cultural experiences such as Tahitian dance performances or traditional Polynesian handicraft workshops.
What is the price range for luxury hotels in Bora bOra?
As with any luxury destination, prices for top-end accommodations can be quite high. Luxury hotels in this paradise destination typically start around $800 per night and can go up to several thousand dollars per night depending on the level of opulence desired by the guest.
What dining options are available at luxury hotels in borA bOra?
Fine dining is an integral part of any luxury hotel experience, especially when visiting a culinary-rich destination like French Polynesia. Guests can expect exquisite dishes featuring freshly-caught seafood, local produce, and international cuisine prepared by world-renowned chefs. Many resorts also offer private dining experiences on secluded beaches or within intimate settings within their restaurants.
When is the best time to visit bOrA bOrA for a luxury getaway?
The best time to visit French Polynesia's most famous island is between May and October when temperatures are mild with little rainfall making it ideal for outdoor activities like water sports and exploring nature trails around Mount Otemanu volcano. The high season starts in late December and runs through mid-April, with corresponding higher prices and larger crowds.
Popular Luxury Hotels destinations