Welcome to a captivating journey through the opulent world of luxurious accommodations in Berlin, Germany. Known for its rich history, vibrant culture, and innovative spirit, this cosmopolitan city offers an array of high-end hotels that redefine the concept of luxury. From lavish boutique establishments nestled near iconic landmarks to modern architectural marvels boasting cutting-edge amenities, Berlin has something to cater to even the most discerning travelers.
Prepare to be enchanted by a seamless blend of timeless elegance and contemporary design as you embark on an exploration of Berlin's finest establishments. Immerse yourself in a world where refined comfort meets impeccable hospitality, where every detail is meticulously crafted to create an unforgettable ambiance. Get ready to indulge your senses in sumptuous rooms adorned with exquisite furnishings and state-of-the-art technology that harmoniously complement the city's dynamic atmosphere.
From Michelin-starred restaurants offering gourmet culinary experiences to tranquil spas offering rejuvenating treatments, these luxury hotels in Berlin promise an unrivaled level of indulgence. Whether you seek panoramic views overlooking historical landmarks or prefer secluded retreats nestled within lush greenery, Berlin truly offers a diverse range of options that will leave you spellbound from the moment you step foot into these elegant havens.
Join us as we delve into the realm of extraordinary luxury and uncover the hidden gems awaiting your arrival in this captivating destination. Prepare for a journey filled with unparalleled comfort, exceptional service, and authentic experiences that will make your stay in Berlin one for the books.
Most Luxurious Hotels in Berlin
The Mandala Suites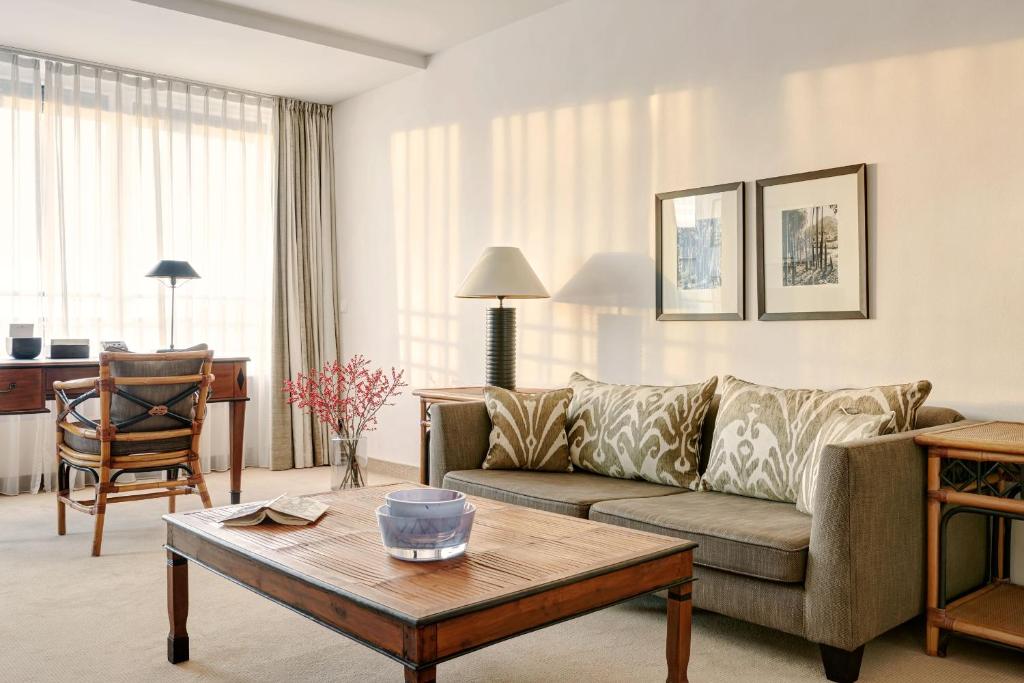 The Mandala Suites is a luxurious hotel in Berlin that offers stylish rooms, luxury spa facilities, and excellent views of the city. Located on Friedrichstrasse Shopping Street, guests are just a 3-minute walk away from the charming Gendarmenmarkt Square. The hotel's central location also provides easy access to public transportation with Stadtmitte Underground Station just a 2-minute walk away.
The spacious suites at The Mandala are elegantly decorated and equipped with modern amenities including a fully equipped kitchenette, cable TV, and air conditioning. Guests can indulge in the marble bathrooms that come complete with high-quality toiletries and bathrobes.
A highlight of this hotel is the lounge on the 8th floor where guests can enjoy a long breakfast while taking in stunning views of Berlin's rooftops. For ultimate relaxation, guests can make use of the spa facilities which include a sauna, gym, steam room, as well as book rejuvenating massages and cosmetic treatments.
Additionally, The Mandala Suites' prime location allows guests to explore popular attractions such as Checkpoint Charlie and Unter den Linden Boulevard with just a short 10-minute stroll from the hotel.
– Stylish rooms
– Luxury spa facilities
– Excellent views of Berlin
– Fully equipped kitchenettes
– Convenient central location
Adina Apartment Hotel Berlin Mitte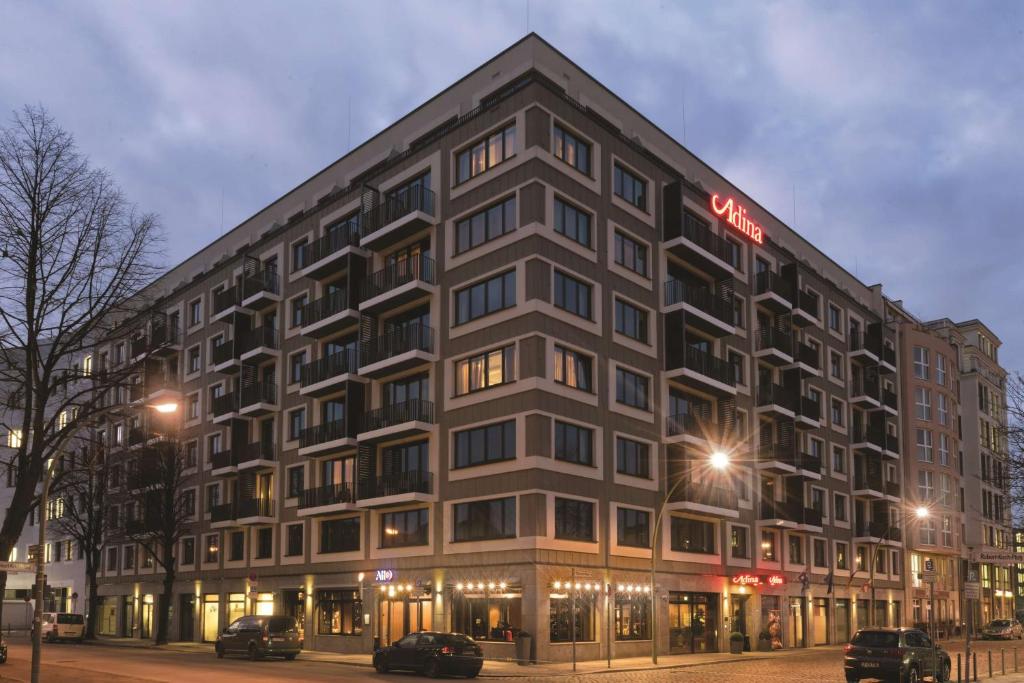 The Adina Apartment Hotel Berlin Mitte is a 4-star hotel offering luxurious amenities for guests seeking comfort and convenience. The hotel features an indoor pool, gym, and beautifully designed air-conditioned apartments. Located next to Berlin's Natural History Museum and just a short walk from Berlin Central Station, the hotel provides easy access to the city's attractions. The apartments are equipped with flat-screen TVs and soundproofed windows for a peaceful stay. Guests can enjoy local specialties and Australian cuisine at Restaurant Alto, along with light snacks, breakfast buffets, and an extensive wine selection. During warmer months, guests can relax on Adina's courtyard terrace. The hotel is also conveniently situated within walking distance of Friedrichstraße's shops and theatres. Naturkundemuseum Underground Station is just a 4-minute walk away, allowing guests to easily explore Checkpoint Charlie and other popular destinations in Berlin. Additionally, the hotel offers a private car park for added convenience.
– Indoor pool for relaxation
– Well-equipped gym for fitness enthusiasts
– Convenient location near popular museums and transportation stations
– Stylishly designed apartments with modern amenities
– On-site restaurant serving local specialties and Australian cuisine
Sheraton Berlin Grand Hotel Esplanade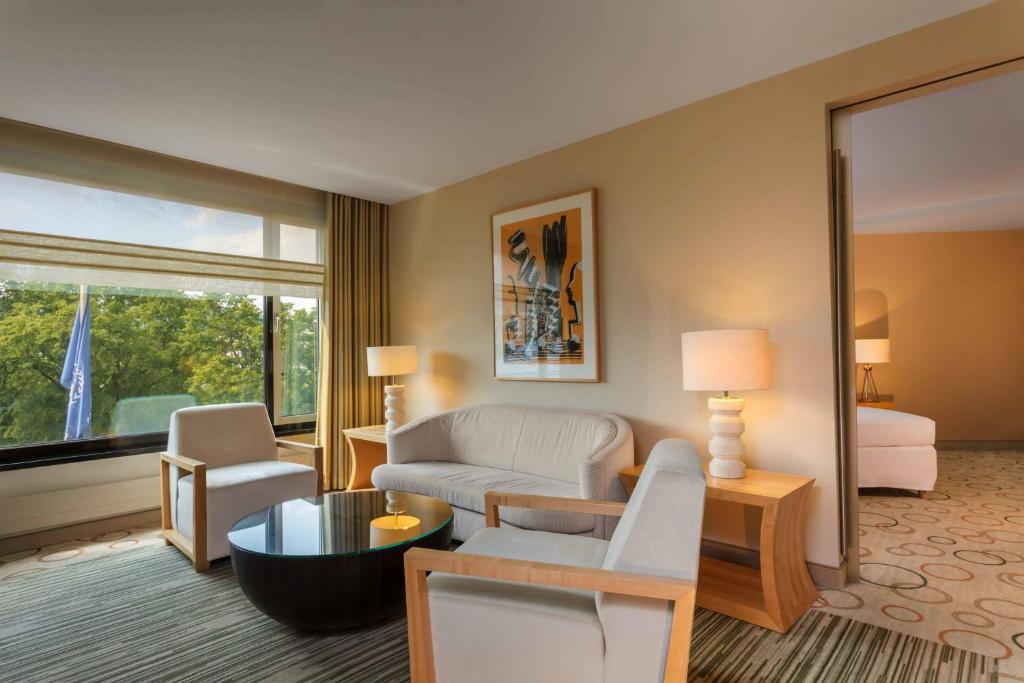 Sheraton Berlin Grand Hotel Esplanade is a chic lifestyle hotel that offers elegant accommodation in the heart of Berlin. Located just 600 meters from Tiergarten Park, guests can easily explore the city's attractions including the Kurfürstendamm shopping area and Potsdamer Platz entertainment district, which are both within 1 km. The hotel boasts spacious non-smoking rooms and suites with modern designs and panoramic windows, providing breathtaking views of the surrounding cityscape. Each room is equipped with a flat-screen TV, minibar, large bathroom, and free WiFi. Guests can start their day with a delicious breakfast buffet at the Elements breakfast restaurant or enjoy lunch and dinner at the stylish Ellipse Lounge. Additionally, the property offers on-site parking facilities for convenience.
Pros:
– Prime location near Tiergarten Park
– Stylish and modern room designs
– Panoramic views from rooms
– Delicious breakfast buffet
– On-site parking facilities
Other places to stay in Berlin
Luxury Hotels in Downtown Berlin
Downtown Berlin boasts an exquisite selection of luxury hotels that epitomize elegance, sophistication, and opulence. These hotels are renowned for their impeccable service, stunning architectural design, and lavish interiors. Guests can expect nothing short of the finest accommodations, elegant furnishings, and a seamless blend of contemporary style with classic charm. The vibrant atmosphere surrounding these luxury establishments adds to the allure, with world-class dining options and exclusive shopping experiences just steps away. Whether seeking a tranquil retreat or a glamorous urban escape, Downtown Berlin's luxury hotels offer an unforgettable experience tailored to the discerning traveler's every desire.
InterContinental Berlin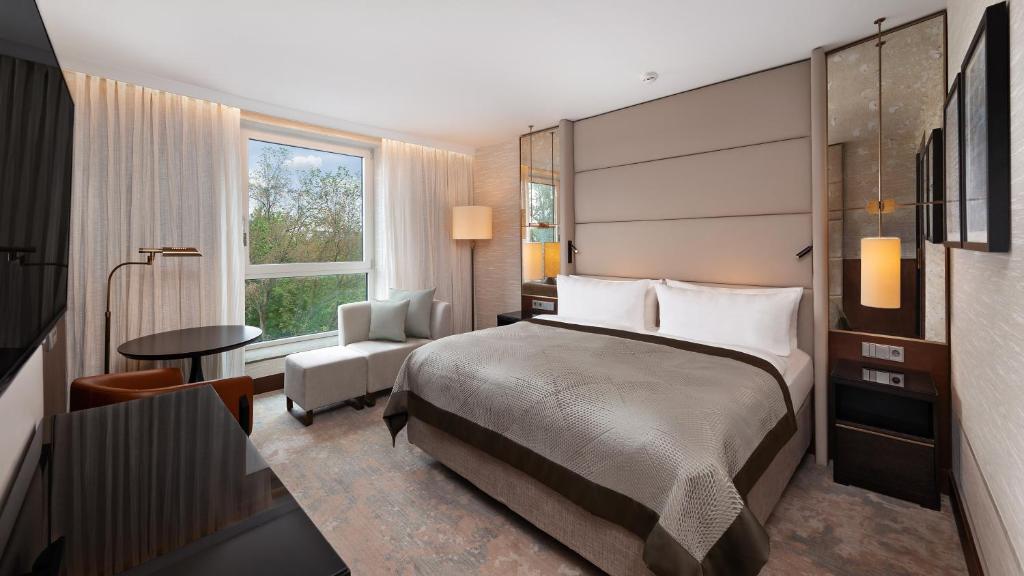 Overlooking the famous Tiergarten Park in the embassy district and only a short stroll from the iconic Brandenburg Gate, the recently renovated InterContinental® Berlin is a luxury hotel that serves as the perfect base for exploring the city. With newly renovated contemporary rooms and suites offering an elegant retreat and fabulous views of the adjacent Zoo and across the city, guests can indulge in modern comforts and breathtaking vistas. The hotel features several dining options, including Marlene with its locally-inspired flavourful dishes and signature drinks. For an even more luxurious experience, guests can enjoy access to Club InterContinental® Lounge, a private oasis with outstanding views where they can savor private breakfasts, alcoholic and non-alcoholic drinks, Afternoon Tea with canapés, dedicated check-in services, and first-class facilities. Michelin star Hugos offers innovative cuisine accompanied by panoramic views in a casual atmosphere while L.A. Café presents a lavish buffet breakfast featuring pastries, organic produce from local suppliers, Asian dishes, as well as delectable chef's station creations. The hotel's SPA InterContinental covers 1,000 m² of wellness area complete with a swimming pool, whirlpool sauna area, modern fitness facilities along with multiple treatment rooms where guests can relax and rejuvenate after a day of exploring Berlin's famous attractions such as Kurfürstendamm or Tiergarten. With its prime location near many historic sites and vibrant areas of the city, InterContinental Berlin provides an ideal setting to enjoy all that this dynamic metropolis has to offer.
– Newly renovated contemporary rooms
– Fabulous array of locally-inspired dishes at Marlene
– Access to Club InterContinental Lounge for exclusive benefits
– Michelin star Hugos restaurant offers innovative cuisine with panoramic views
– Spa facilities covering 1k m² for relaxation
TITANIC Chaussee Berlin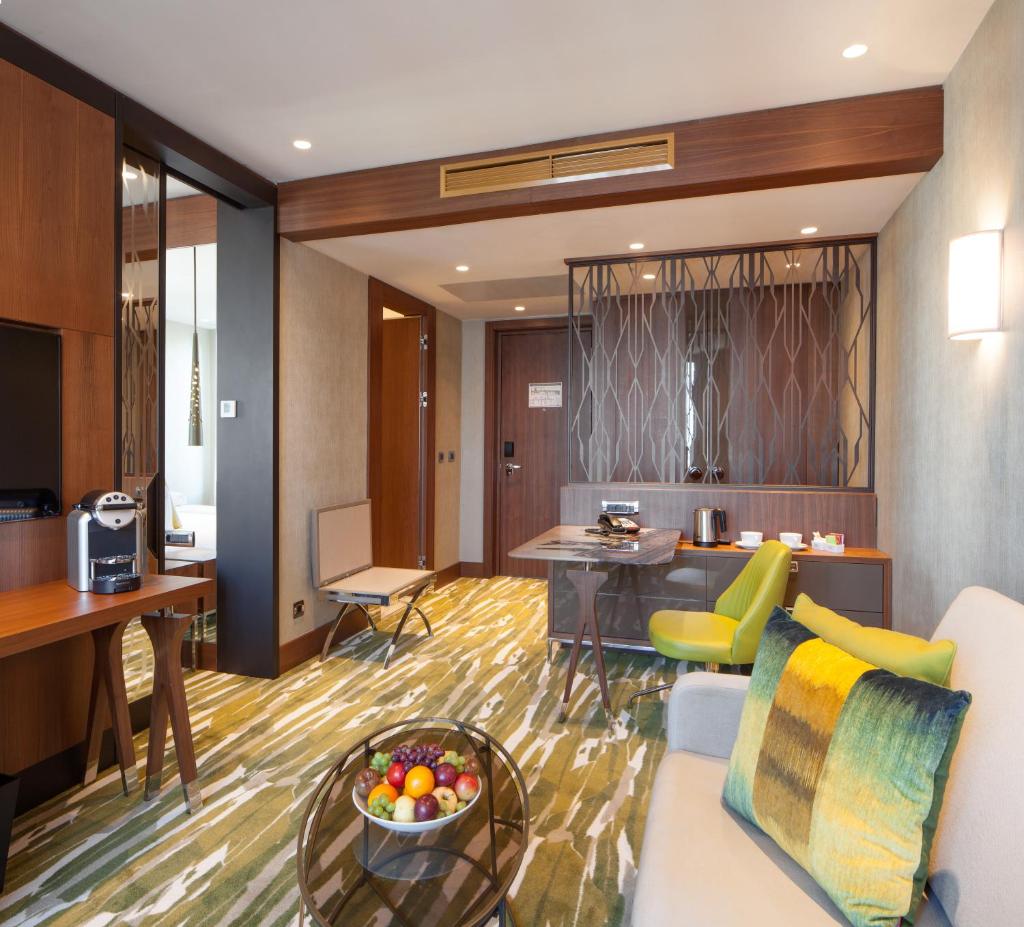 The Titanic Chaussee Berlin is a luxurious hotel located in the heart of Berlin, just a short 10-minute walk from Berlin Main Station. This elegant hotel offers guests access to the impressive Befine spa and sports club, which spans an enormous 3,000 m² and features a large indoor pool. The hotel's prime location in the central Mitte district allows visitors easy access to some of Berlin's most popular attractions and vibrant nightlife areas, all within a convenient 15-minute walk. The bright and contemporary rooms at Titanic Chaussee Berlin are beautifully designed with modern furnishings, boasting amenities such as flat-screen TVs and spacious bathrooms with rainforest showers. Guests can indulge in delicious dining options on-site including the Alesta breakfast restaurant, Hasir Burger for mouth-watering burger treats, and Pascarella restaurant offering delectable à la carte Mediterranean specialties. For quick bites or refreshing drinks, there is also the Charlotte lobby bar with an inviting atrium or room service for ultimate convenience. With its 24-hour reception, Titanic Chaussee Berlin ensures that guests' needs are attended to around the clock. Furthermore, its proximity to notable landmarks like the Natural History Museum – home to iconic dinosaurs – just a 2-minute walk away, as well as Hamburger Bahnhof art exhibition within a pleasant 5-minute stroll make this hotel an excellent choice for culture enthusiasts. Additionally, the nearby Nordbahnhof Train Station or Berlin Main Station provide easy access to public transportation connections throughout all parts of Berlin.
Pros:
– Prime location in central Mitte district
– Impressive Befine spa and sports club with large indoor pool
– Stylishly designed rooms featuring modern amenities
– On-site dining options ranging from breakfast delights to Mediterranean specialties
– Close proximity to popular attractions like Natural History Museum and Hamburger Bahnhof art exhibition
Apartments Rosenthal Residence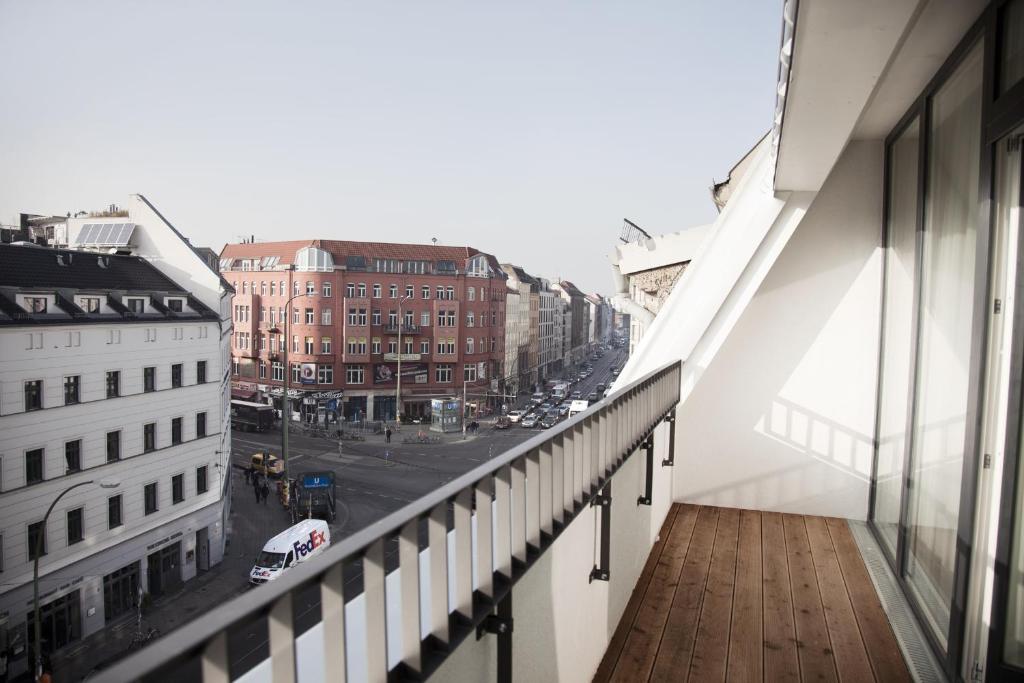 Located in the heart of Berlin's trendy Mitte district, Apartments Rosenthal Residence offers pet-friendly self-catering accommodations with stylish contemporary decor. Each apartment features a spacious seating area, a control pad, and a flat-screen TV with cable channels and blu-ray player. The private bathrooms come with showers and towels are provided. For those who prefer not to cook, there are numerous restaurants within 100 meters of the property. Guests can also rent bicycles for exploring the city or take advantage of the convenient tram and train station located just outside the apartments. Museum Island is only 1 km away, while popular attractions such as Alexanderplatz and Berlin TV Tower are within easy reach. Tegel Airport is also just 8 km from Apartments Rosenthal Residence.
– Centrally located in trendy Mitte district
– Pet-friendly accommodations
– Stylish modern decor
– Close to popular attractions
– Convenient access to tram and train stations
5 Star Luxury Hotels
5 Star Luxury Hotels are the epitome of opulence and refinement, setting the standard for exceptional hospitality worldwide. These exclusive establishments provide a haven of elegance and sophistication, where every detail is carefully curated to ensure an unforgettable experience. From exquisite dining options and lavish accommodations to impeccable service and state-of-the-art facilities, everything in a 5 Star Luxury Hotel is designed to indulge and pamper guests. Whether it's a serene spa retreat or a glamorous rooftop bar overlooking breathtaking views, these hotels offer a seamless blend of luxury, comfort, and unrivaled attention to detail that leaves guests with cherished memories of an extraordinary stay.
Meliá Berlin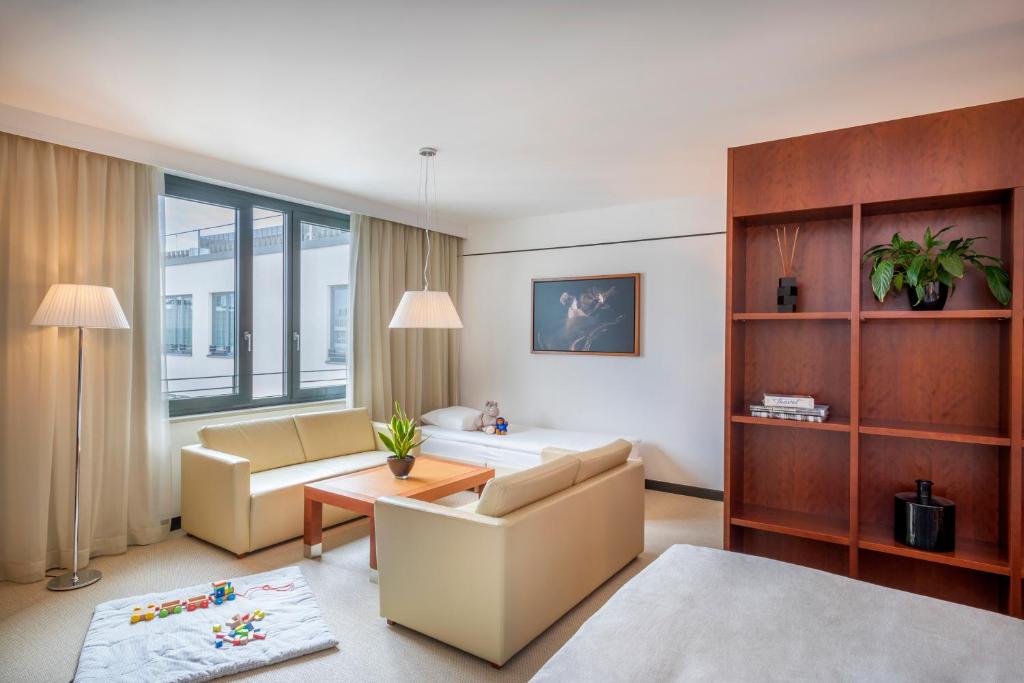 Located on Berlin's famous Friedrichstraße shopping street, the Meliá Berlin offers a luxurious experience with its exclusive Executive club and spacious rooms. The hotel boasts free unlimited high-speed WiFi throughout the property. The bright and non-smoking rooms and suites feature modern amenities such as a flat-screen TV, soundproofed windows, and bathrooms with heated floors. Guests can indulge in the spa facilities, including a gym and sauna, or rent bicycles to explore the city. In addition to a delicious buffet breakfast, guests can enjoy Mediterranean specialties and tapas at the bar. The hotel's prime location puts famous landmarks like the Brandenburg Gate within 1 km distance, while Friedrichstraße Train Station is just 100 meters away for easy transportation around Berlin.
– Exclusive Executive club
– Spacious rooms with modern amenities
– Free unlimited high-speed WiFi
– Convenient location on Friedrichstraße shopping street
– Spa facilities including gym and sauna
SO/Berlin Das Stue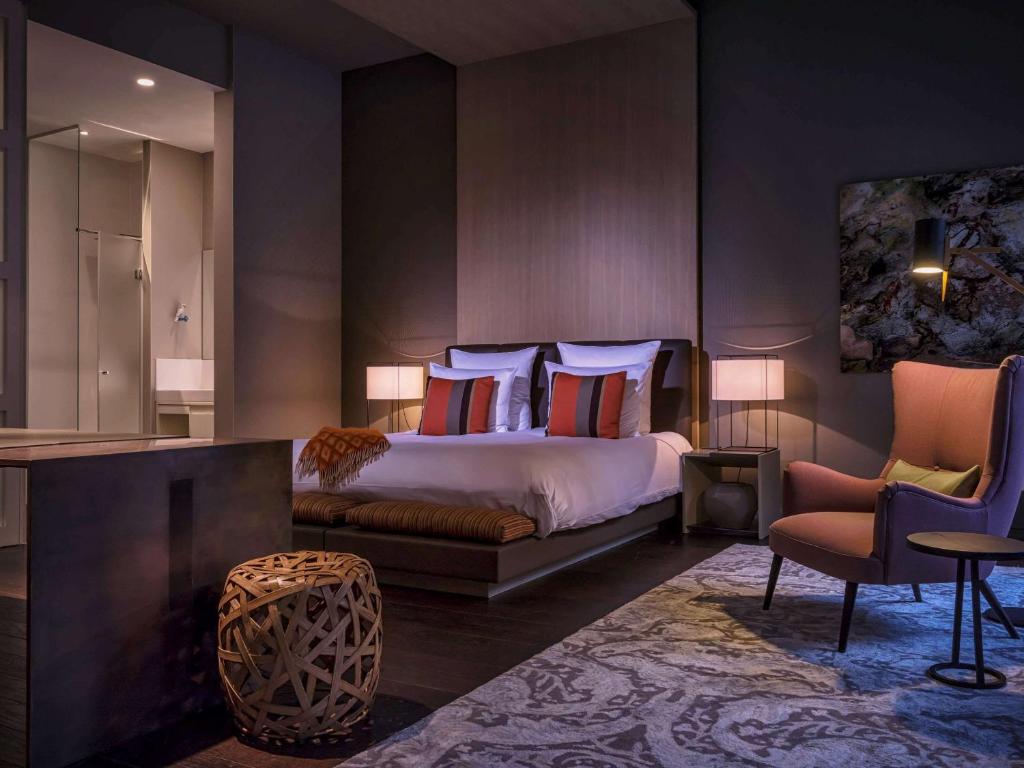 Located in the Tiergarten district near the Kurfürstendamm shopping street, SO/ Berlin Das Stue is a luxurious 5-star hotel offering an array of amenities for its guests. The hotel boasts free WiFi throughout, a spa area with massage facilities and a sauna, and an indoor swimming pool. The elegantly decorated rooms and suites feature minibars, satellite TV, and bathrooms with rain showers. Some rooms even have balconies or terraces. With its proximity to Berlin Zoo, guests can enjoy direct access to the zoo from the hotel terrace. Additionally, popular attractions like the Kulturforum Culture Centre and Berlin Central Train Station are just a short drive away.
Pros:
– Free WiFi
– Spa area with massage facilities and sauna
– Indoor swimming pool
– Elegant rooms and suites with minibars and satellite TV
– Direct access to Berlin Zoo from the hotel terrace
JW Marriott Hotel Berlin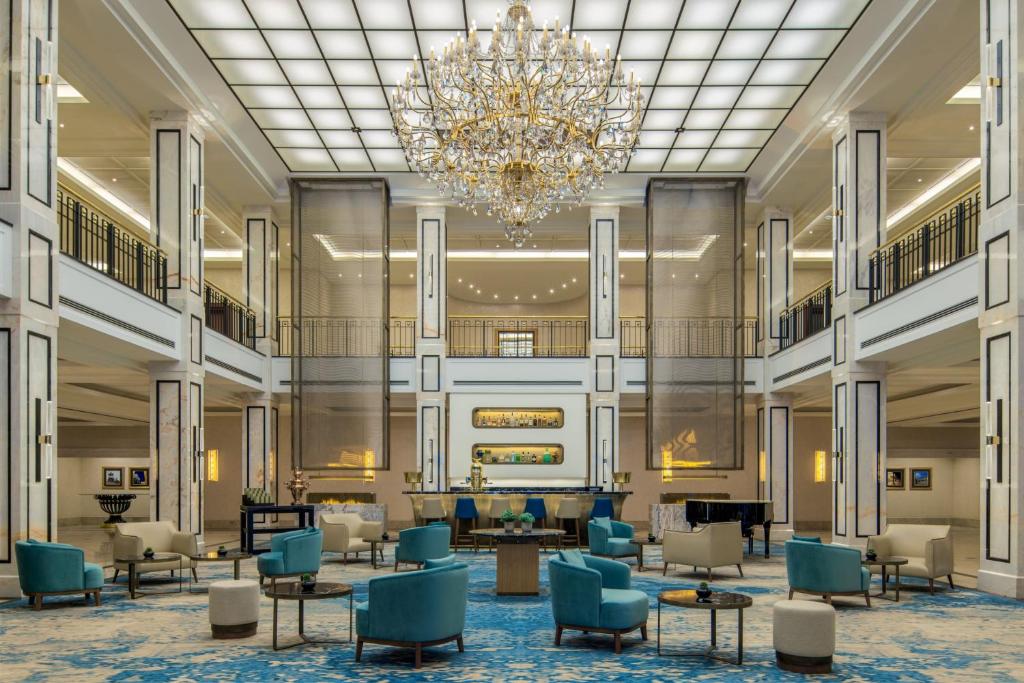 Welcome to JW Marriott Hotel Berlin, a first-class hotel located beside the beautiful Tiergarten Park and just 1 km from Potsdamer Platz. This luxurious hotel offers elegant rooms with marble bathrooms, air conditioning, smart TVs with multimedia features, kettles with coffee and tea facilities, and laptop-sized safes. Guests can enjoy the wellness area, complete with a swimming pool, sauna, steam bath, and relaxation area. The fitness center is perfect for those looking to stay active during their stay. Indulge in delicious cuisine at the Market restaurant which serves a rich breakfast buffet with regional and international options or head to the Steakhouse restaurant for prime beef steaks from the Dry Ager. The stylish Bar26 offers a wide selection of cocktails, spirits, and snacks. With its central location, many famous attractions such as Potsdamer Platz,Sony Center,and Reichstag building are within walking distance. The nearby Kulturforum (Culture Forum) houses the Philharmonie (Concert Hall), Gemäldegalerie (Portrait Gallery),and Neue Nationalgalerie (New National Gallery). Shopping enthusiasts will be pleased to find that KaDeWe is only 2 km away,Galeries Lafayette is 2.5 km away,and Mall of Berlin is just 1.2 km away.Bus,trains,and underground links are easily accessible from Potsdamer Platz,making it convenient to explore all parts of Berlin.
– Convenient location near major attractions
– Elegant rooms with luxurious amenities
– Wellness area including swimming pool and sauna
– Delicious dining options at Market restaurant and Steakhouse
– Stylish bar offering cocktails and snacks
Most Expensive Hotels in Berlin
Berlin, the vibrant and cosmopolitan capital of Germany, is home to some of the most extravagant and opulent hotels in the world. These exceptional accommodations offer a truly luxurious experience for discerning travelers seeking the utmost in comfort and style. From lavish suites to impeccable service, these exclusive establishments cater to every desire. With their exquisite design and attention to detail, these highly sought-after hotels epitomize luxury at its finest, making them an enticing choice for those looking to indulge in a truly unforgettable stay in Berlin.
Art'Appart Suiten – kontaktloser Check-In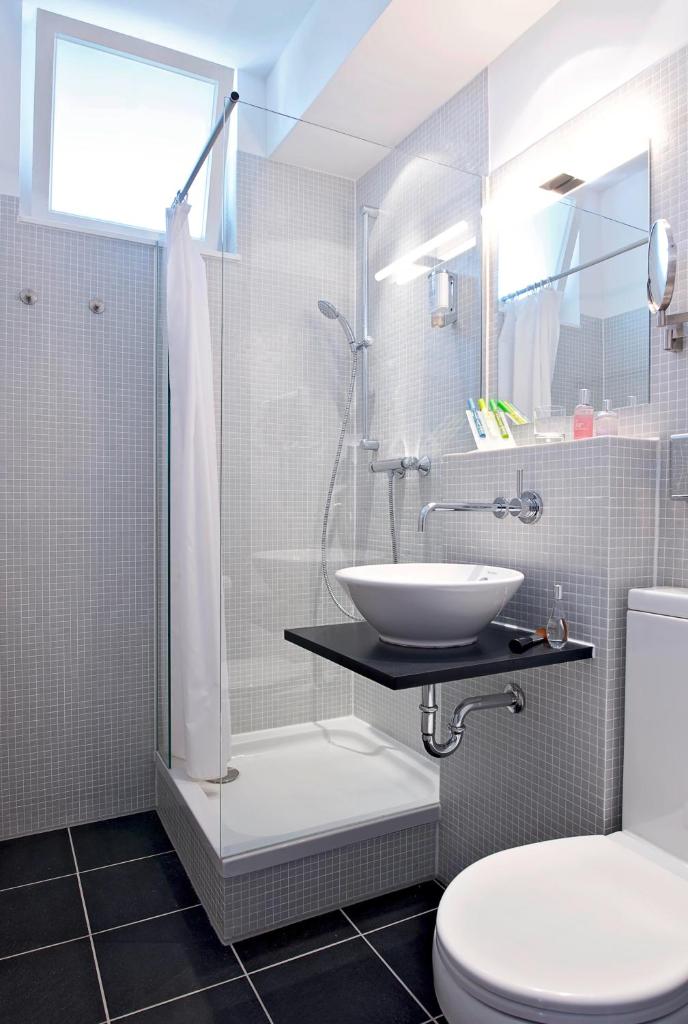 Art'Appart Suiten – kontaktloser Check-In offers spacious and beautifully decorated apartments in Berlin. Each suite features a living room, separate bedroom, cable TV, free Wi-Fi, a fully equipped kitchen, and a bathroom. Guests are welcomed with a complimentary bottle of water upon arrival and can enjoy free coffee-making facilities with 20 Nespresso capsules. The hotel is conveniently located just a few minutes away from Berlin's ICC Exhibition Centre and the Technical University by public transport. Additionally, every Wednesday and Saturday, guests can explore Berlin's charming street market right across from the hotel. The apartments also offer sleeping couches and some rooms come with balconies. With excellent transportation links, guests can easily access popular attractions such as the Brandenburg Gate and Potsdamer Platz.
Pros:
– Spacious suites with separate living areas
– Fully equipped kitchens for self-catering convenience
– Free Wi-Fi for staying connected
– Complimentary bottle of water upon arrival
– Convenient location near public transportation options
Honigmond Boutique Hotel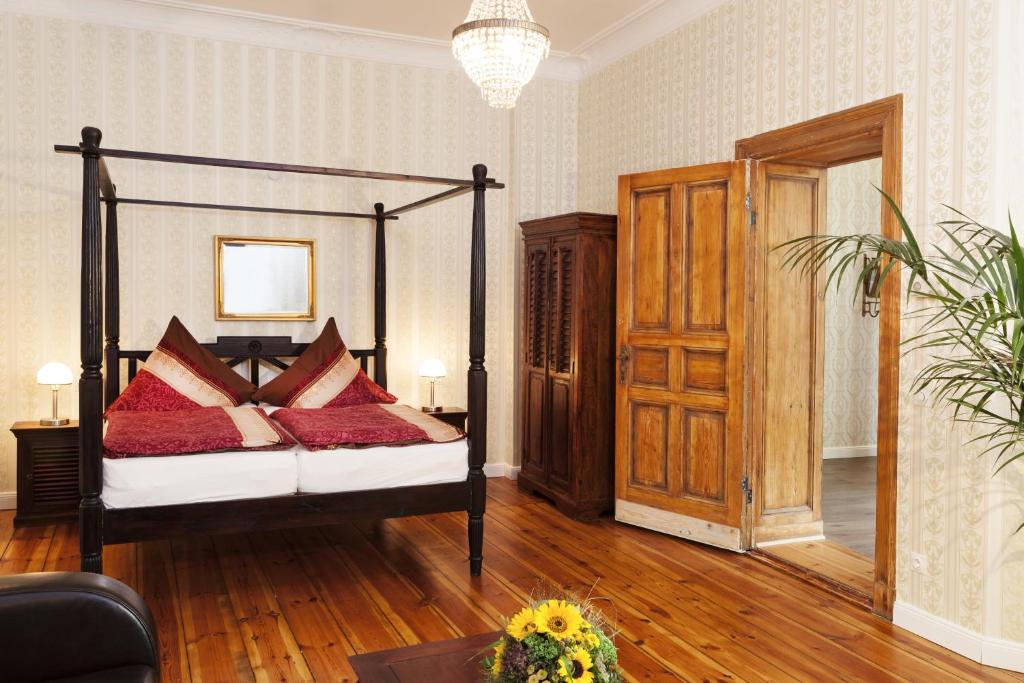 Nestled in the heart of Berlin Mitte, the Honigmond Boutique Hotel offers a prime location just 500 meters away from Nordbahnhof railway station. Its proximity to renowned landmarks such as Alexanderplatz, Hackescher Markt district, Museum Island, and the iconic Brandenburg Gate makes it an ideal choice for travelers seeking to explore the city's cultural treasures. After a day of sightseeing, guests can retreat to the Honigmond's elegantly furnished rooms for a peaceful and restful sleep. The hotel also boasts excellent transportation connections with its close proximity to an S-Bahn (city rail) station, underground station, and tram stop – providing convenient access to all of Berlin's popular areas.
– Prime location in Berlin Mitte
– Proximity to major attractions and landmarks
– Tastefully furnished rooms for a comfortable stay
– Excellent transportation connections nearby
ARCOTEL John F – am Gendarmenmarkt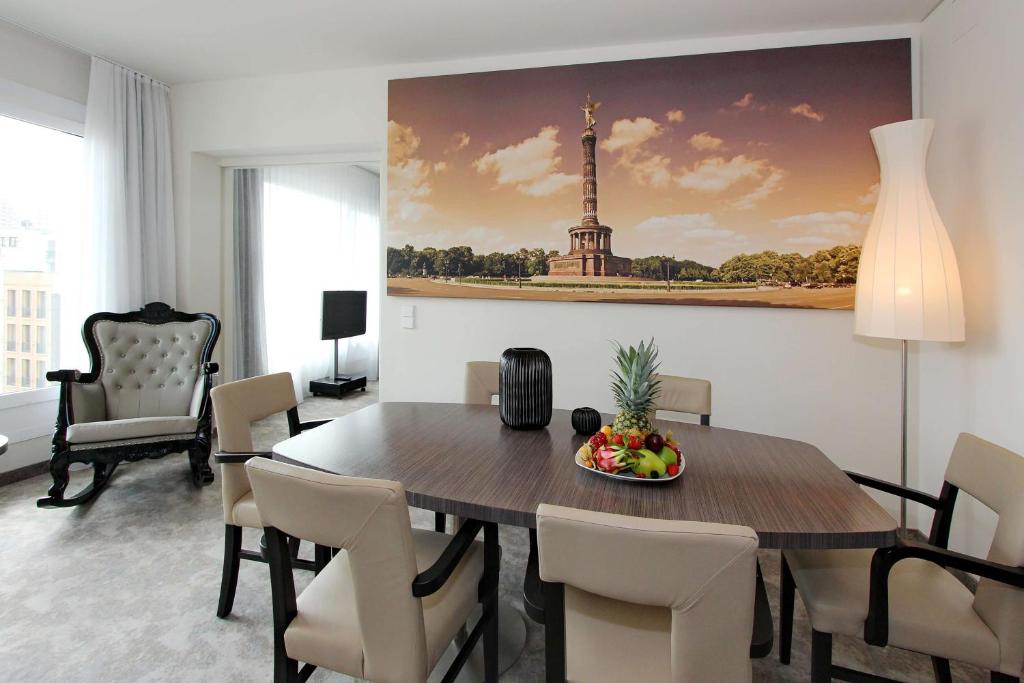 Located just a 5-minute walk from Museum Island and Berlin's famous Unter den Linden Boulevard, ARCOTEL John F is a luxury 4-star hotel that offers elegantly furnished rooms with modern amenities. The rooms feature flat-screen TVs, free Wi-Fi, high-quality furniture, DVD players, and rocking chairs. Guests can indulge in gourmet international cuisine at the Foreign Affairs restaurant or enjoy a delicious buffet or continental breakfast each morning. The Town Bar is the perfect place to unwind with a selection of beers, wines, and cocktails. The hotel is conveniently situated 500 meters away from Gendarmenmarkt Square and the Deutsches Historisches Museum, making it an ideal location for exploring the city's attractions. For relaxation and rejuvenation, guests can visit the spa and gym on the 6th floor which overlooks a tranquil green courtyard. The spa features Finnish and Infrarot saunas as well as a relaxation area. Within close proximity to Hausvogteiplatz Underground Station on the U2 line, guests have easy access to Alexanderplatz Square in just 6 minutes.
Pros:
– Central location near popular attractions
– Elegant rooms with modern amenities
– Gourmet international cuisine at Foreign Affairs restaurant
– Relaxing spa facilities overlooking a peaceful courtyard
– Convenient access to public transportation
Luxury Berlin Hotels Information
| | |
| --- | --- |
| 🛎️ Luxury Hotels in Berlin | 12 |
| 💵 Hotels Prices From | $257 |
| 💵 Highest price | $1114 |
| 🥇 Average Review Score | 8.4/10 |
| 🛏️ Average number of Rooms | 235 |
Top Luxury hotels in Berlin
| | |
| --- | --- |
| The Mandala Suites | 8.9/10 |
| Apartments Rosenthal Residence | 8.8/10 |
| SO/Berlin Das Stue | 8.8/10 |
| Honigmond Boutique Hotel | 8.7/10 |
| Adina Apartment Hotel Berlin Mitte | 8.6/10 |
FAQ
What are some luxury hotels in Berlin?
Berlin offers a wide range of luxurious accommodations for travelers seeking comfort and elegance. Some of the top luxury hotels in the city include Hotel Adlon Kempinski, The Ritz-Carlton Berlin, Waldorf Astoria Berlin, and SO/Berlin Das Stue. These hotels provide exceptional service, upscale amenities, and stunning views to ensure an unforgettable stay in the German capital.
What is the average price range for luxury hotels in Berlin?
The price range for luxury hotels in Berlin can vary depending on various factors such as location, seasonality, and specific hotel offerings. On average, you can expect to pay between €200 to €500 per night for a luxurious stay in Berlin. However, it's worth noting that some high-end properties may have higher rates during peak travel seasons or special events.
Which luxury hotel in Berlin offers the best spa facilities?
If you're looking for a luxury hotel with outstanding spa facilities in Berlin, The Ritz-Carlton stands out as one of the best options. The hotel's spa offers a wide array of pampering treatments including massages, facials, and body wraps using premium products. With its tranquil ambiance and skilled therapists, The Ritz-Carlton provides an oasis of relaxation that will rejuvenate both your body and mind.
Are there any boutique luxury hotels available in Berlin?
Absolutely! For those seeking a more intimate and unique experience amidst luxurious surroundings, there are several boutique luxury hotels available in Berlin. One such example is Das Stue – a design-oriented property that combines modern aesthetics with historical elements. Other notable boutique options include Hotel am Steinplatz and Sir Savigny Hotel which offer personalized service and stylish accommodations tailored to discerning guests' tastes.
How can I make reservations at Luxury Hotels in Berlin?
Making reservations at luxury hotels in Berlin is relatively easy through various channels. You can directly book through the hotel's official website or contact their reservations team via phone or email. Alternatively, you can also use online travel agencies like Booking.com or Expedia to find and book luxury accommodations in Berlin. It's often recommended to book in advance, especially during peak travel seasons, to secure your preferred dates and room type at these high-end properties.
Popular Most Luxurious hotel destinations