Welcome to my guide on extravagant accommodations in Bergen Norway, located in the northern region of the country. This picturesque destination is a true gem with its stunning fjords and colorful wooden architecture. If you are looking for lavish hotels to indulge in during your stay, Bergen Norway will not disappoint.
Whether you prefer classic elegance or modern design, there are abundant choices that cater to various tastes and preferences. From charming boutique hotels with personalized service to grand properties with top-notch amenities, these luxurious lodgings offer exceptional experiences that promise to impress even the most discerning travelers.
As you venture through this beautiful city, I highly recommend taking advantage of the incredible spas and restaurants that many of these hotels have on-site. Additionally, their prime locations provide easy access to popular tourist attractions such as Mount Fløyen and Bryggen Wharf. With so many wonderful options available for accommodation in Bergen Norway, your stay will surely be an unforgettable one.
Most Luxurious Hotels in Bergen
Thon Hotel Bristol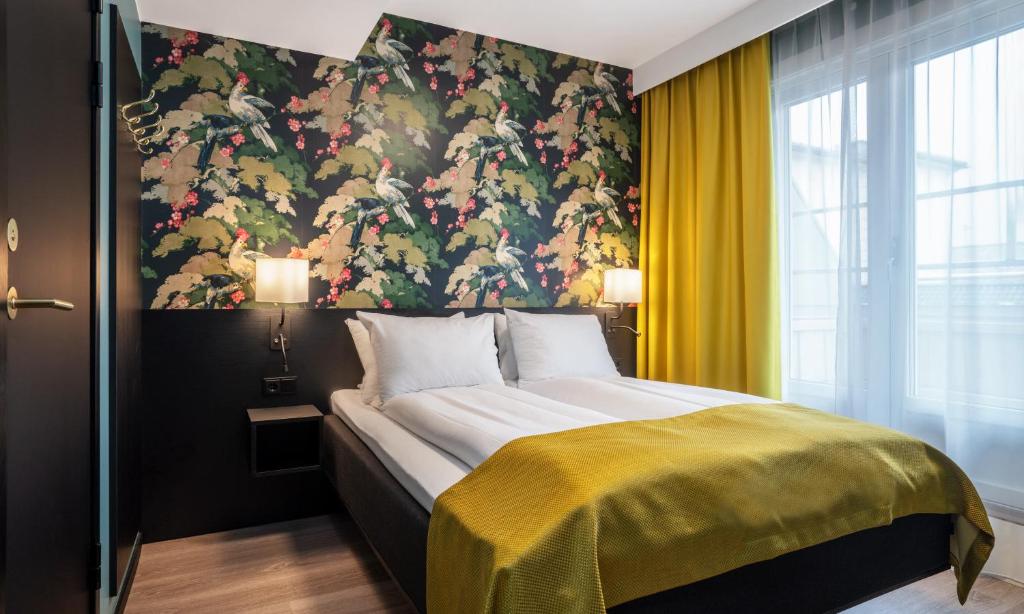 Thon Hotel Bristol is a luxury hotel situated in the heart of Bergen, located on Torgalmenningen Square, just a short walk from Bryggen Waterfront. The hotel features elegantly furnished rooms with modern amenities, including free Wi-Fi and minibars. Guests can enjoy a delicious breakfast in the top-floor restaurant while taking in stunning views of the city or relax with coffee and tea in the lobby. The central location of Thon Hotel Bristol makes it an ideal base for exploring Bergen's popular attractions such as Fløibanen Funicular and Bergen Central Station.
– Prime location in central Bergen
– Free Wi-Fi
– Top-floor restaurant with city views
– Tea and coffee available in the lobby
– Short walk to popular attractions
Det Hanseatiske Hotel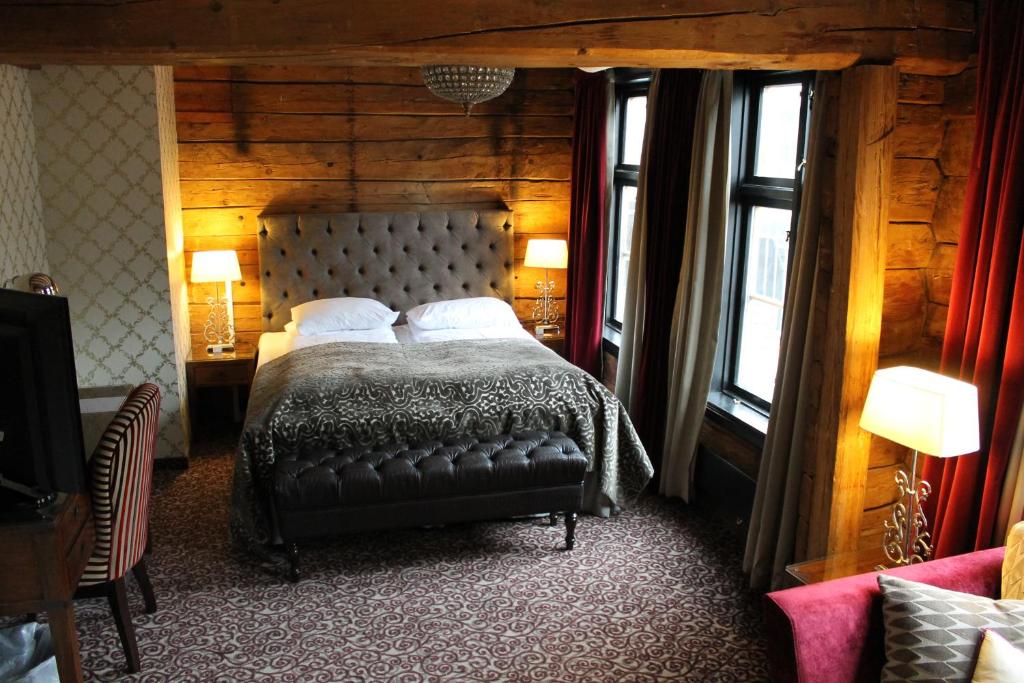 Det Hanseatiske Hotel is a charming 16th century hotel located in the heart of Bergen, Norway next to the Hanseatic Museum. The unique rustic-style rooms are decorated in dark colors and patterns with wooden furniture and leather sofas, while most rooms offer bathtubs and separate showers. Guests can enjoy complimentary internet access during their stay. In addition, the hotel features two dining options: Finnegårdsstuene Restaurant which offers fine dining in a stylish 17th-century atmosphere and Casa Del Toro which serves delicious Mexican dishes. Other nearby attractions include the UNESCO World Heritage Bryggen district and Fløibanen Funicular.
– Rustic-style rooms with timber walls
– Two on-site dining options
– Complimentary internet access
– Located within walking distance of UNESCO World Heritage site
– Close proximity to Fløibanen Funicular
Grand Hotel Terminus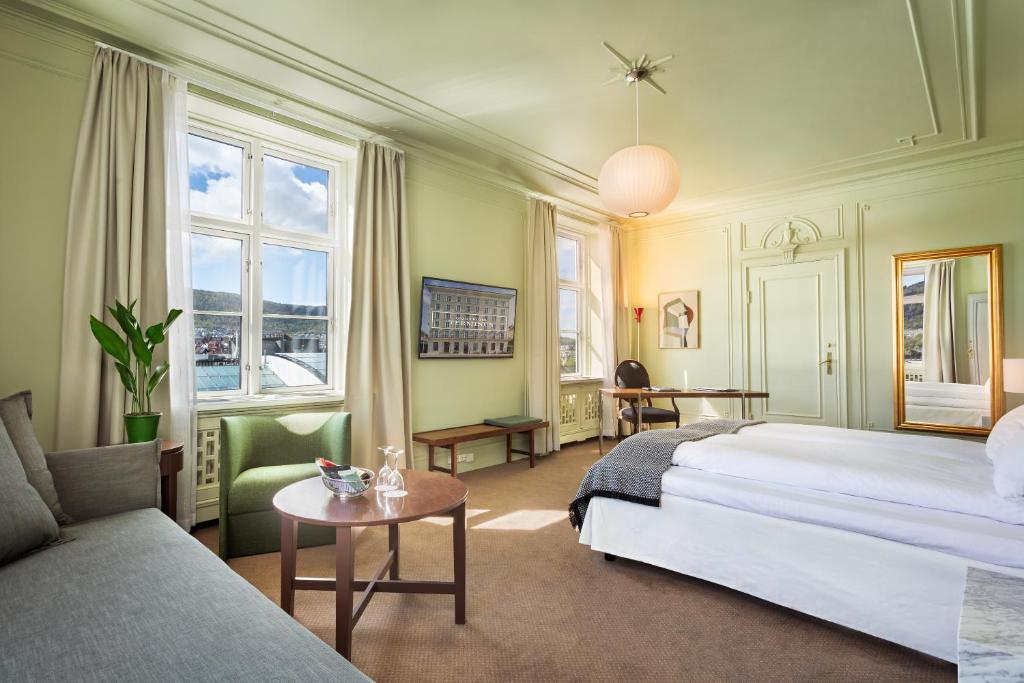 Located in the heart of Bergen, within a 10-minute walk from Torgalmenningen Square, Grand Hotel Terminus is an elegant and classical luxury hotel. The property has a stunning garden terrace and a 24-hour reception desk. The hotel features beautifully designed rooms that come equipped with satellite TVs, minibars, and complimentary Wi-Fi. Guests can indulge in a delicious breakfast buffet served daily at the hotel's dining area. The hotel also houses Terminus Whiskey Bar where guests can enjoy drinks, snacks along with an extensive selection of beverages. For leisure activities, guests can head to the wellness center which includes a gym facility. UNESCO-listed Bryggen Wharf is just 10 minutes away from the property on foot while Fløibanen Funicular is located only 850 meters away providing easy access to Fløyen Mountain.
– Centrally located
– Beautiful garden terrace
– Complimentary Wi-Fi
– Wellness center including gym
– Extensive beverage selection at Terminus Whiskey Bar
Luxury Hotels in Downtown Bergen Norway
Downtown Bergen in Norway offers a range of luxury hotels that cater to travelers with discerning tastes. These hotels offer stunning views of the city, along with impeccable service and luxurious amenities for a truly unforgettable stay.
Magic Hotel Korskirken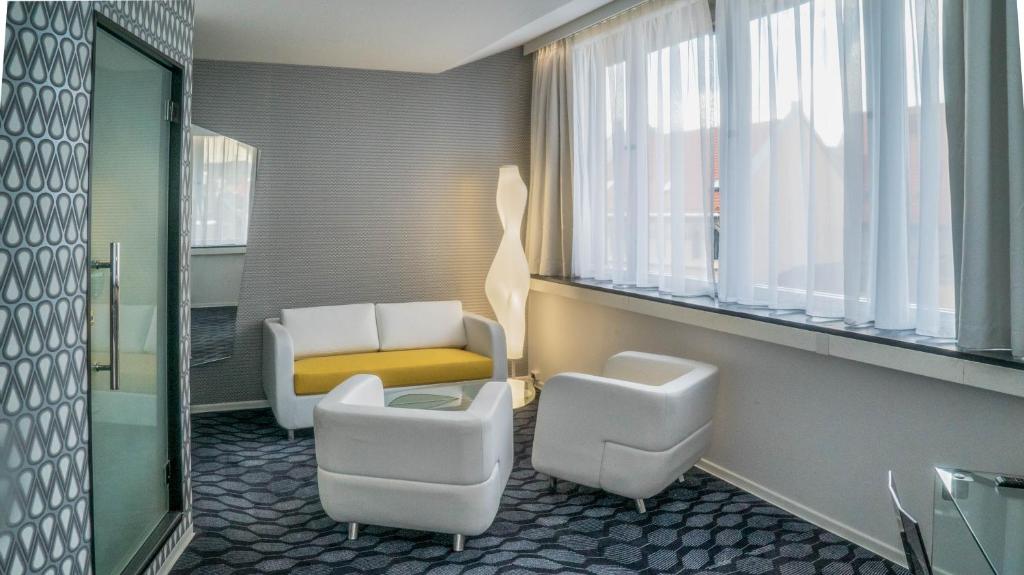 Magic Hotel Korskirken is a designer hotel conveniently located just 400 metres from Bergen's UNESCO-listed Bryggen Wharf. It offers an on-site restaurant and bar, as well as free WiFi throughout the property. Each of its stylish rooms features a flat-screen TV with satellite channels and a private bathroom with shower. Some rooms have glass ceilings that allow guests to see the stars while lying in bed. The hotel also provides a 24-hour reception for guests' convenience. Other nearby attractions include the University of Bergen, Hurtigruten Terminal Bergen, and Aquarium Bergen.
– Convenient location near Bryggen Wharf
– Stylish design and decor
– Glass ceilings in some rooms offer unique stargazing experience
– Free WiFi available throughout the property
– 24-hour reception desk for guest convenience
Scandic Bergen City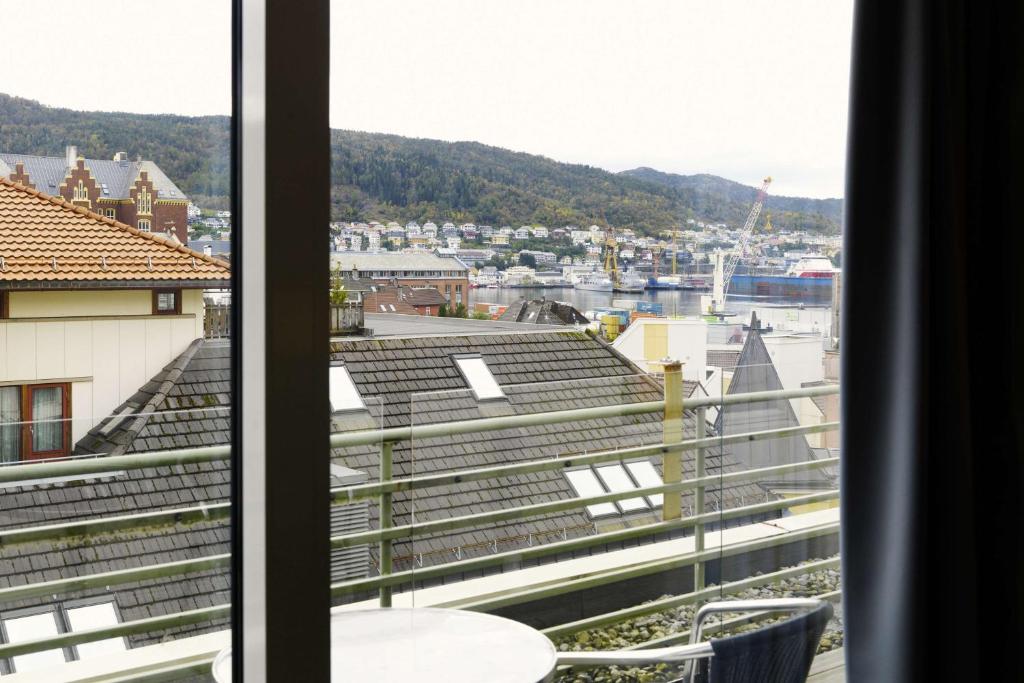 Located in central Bergen, Scandic Bergen City offers comfortable rooms with cable TV and free Wi-Fi access. The hotel features modern bathrooms and premium movie channels on demand. Guests can enjoy à la carte dining with traditional Norwegian and international options at Restaurant Oscar or drinks and lighter dishes at City Bar. The lobby area's fireplace is perfect for relaxing, while children can enjoy the playroom during the summer season. The hotel is conveniently located just a 5-minute walk from Torgallmenningen Square and Den Nationale Scene Theatre.
– Convenient central location
– Modern amenities in rooms
– On-site restaurant serving both Norwegian and international cuisine
– Cozy lounge area with a fireplace
– Playroom available for children during summer season
Scandic Byparken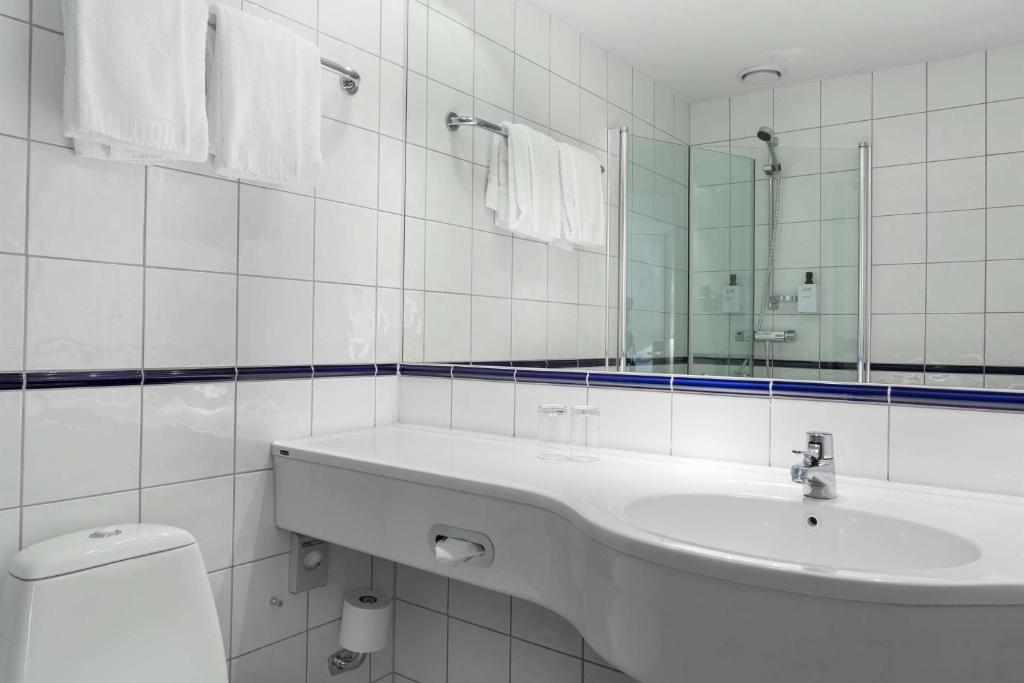 Scandic Byparken is a charming hotel located in the historical Tornøgården brick building, situated at the heart of Bergen. Guests can enjoy tastefully decorated rooms with modern amenities such as LCD TVs and free WiFi access. The hotel also offers an award-winning breakfast each morning, along with lunch and dinner served in an informal setting later in the day. Other amenities include a lobby bar serving drinks and snacks, 24-hour reception services and private bathrooms equipped with showers and hairdryers. Additionally, Scandic Byparken's prime location allows guests to easily explore popular attractions such as Bryggen Wharf, Fish Market as well as Torgallmenningen Square.
– Convenient location
– Free WiFi access
– Award-winning breakfast
– Informal dining options available
– Charming historic building
5 Star Luxury Hotels
5-star luxury hotels offer the ultimate in comfort, style and service. With attention to every detail, these hotels provide guests with an unforgettable experience of opulence and refinement. From personalized butler service to exquisite dining options, 5-star luxury hotels are a destination in themselves.
Hotel Norge by Scandic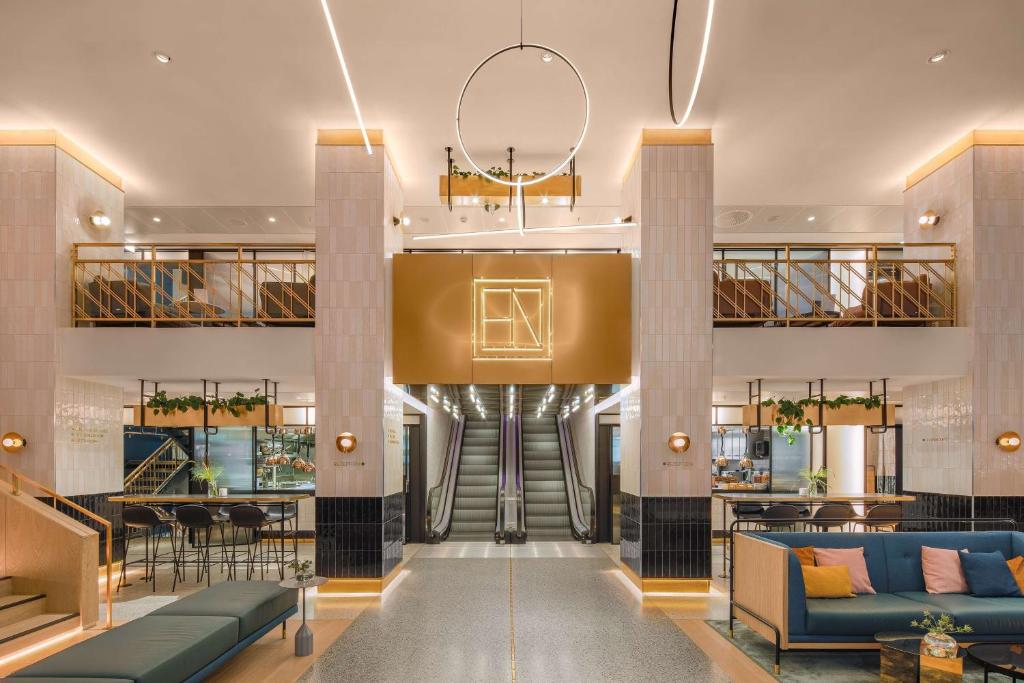 Hotel Norge by Scandic is situated in the heart of Bergen, alongside Byparken city park. The hotel boasts three floors of bars, lounges and restaurants, offering guests a variety of dining options. The location is ideal for guests who want to explore the cultural attractions nearby or go shopping at local boutiques. The airport shuttle bus and light rail system are within close proximity to the hotel, making transportation convenient for guests. Rooms are modern with some featuring breathtaking views of the city and Mount Ulriken.
– Convenient location near public transportation
– Walking distance to cultural attractions and shopping
– Modern rooms with stunning views available
– Multiple dining options on-site
– Easy access to Bergen Fish And Flower Market
Hotel Oleana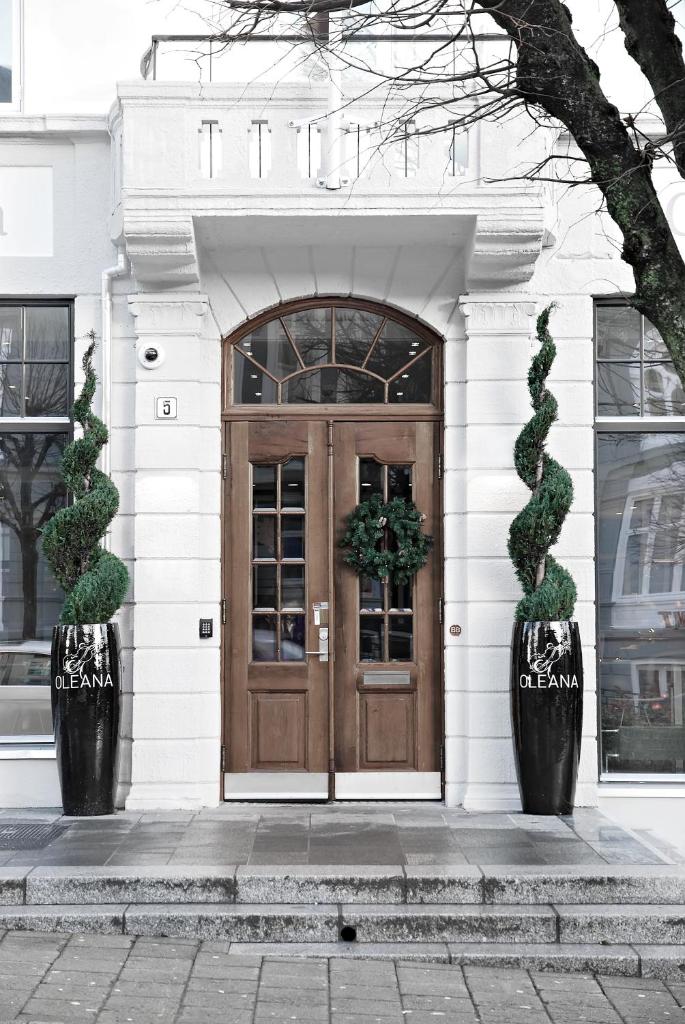 Hotel Oleana is a modern and elegantly designed hotel situated just 800 meters from Bergen train station in Central Bergen. This beautifully refurbished classic building is surrounded by restaurants, cafes, and boutiques along the pedestrian square. The hotel offers comfortable rooms with desks, hairdryers, private bathrooms with showers or baths, free WiFi access, and coffee facilities for guests to enjoy. Additionally, the hotel has shared lounge and luggage storage facilities for convenience. The University of Bergen and Hurtigruten Terminal Bergen are both located only 550 meters away from the hotel while Aquarium Bergen is 1.5 km away. Furthermore, Bergen Flesland Airport can be reached within a short distance of 17 km.
– Convenient location in Central Bergen
– Elegant and modern design
– Free WiFi access available
– Shared lounge area for relaxation
– Luggage storage facilities provided
Hotel No13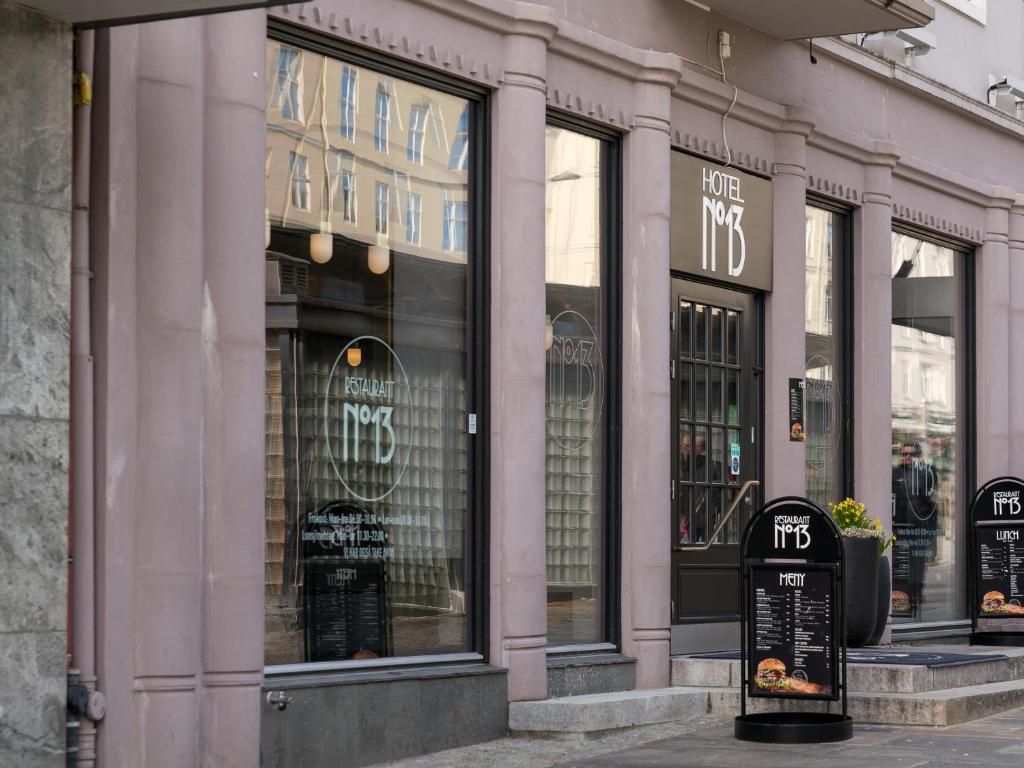 Hotel No13 is a chic and stylish hotel located at Bergen's Torgalmenningen Square. The hotel offers modern rooms with free WiFi, quality wood flooring, mini bar, kettle and private bathroom, some with freestanding bath. The Bryggen UNESCO World Heritage site is just 400 meters away while guests are just a short stroll from many of Bergen's most popular bars and restaurants. The Fløibanen Funicular train is an 8-minute walk away providing spectacular panoramic views over the city from Fløyen Mountain. Furthermore, the hotel has its own restaurant and bar with luxurious furnishings and an à la carte menu while Bergen's famous fish market is only a 2-minute walk away.
– Central location on Bergen's Torgalmenningen Square
– Modern décor rooms with quality wood flooring and flat-screen TV
– Own restaurant & bar with luxurious furnishings and an à la carte menu
– Short distance to many of Bergen's popular bars & restaurants
– Close proximity to attractions like Bryggen UNESCO World Heritage site & Fløibanen Funicular train
Most Expensive Hotels in Bergen Norway
Bergen, Norway has a few luxurious hotels that offer lavish accommodations and high-end services to guests. These hotels provide breathtaking views of the city and its surroundings with a hefty price tag.
Clarion Hotel Admiral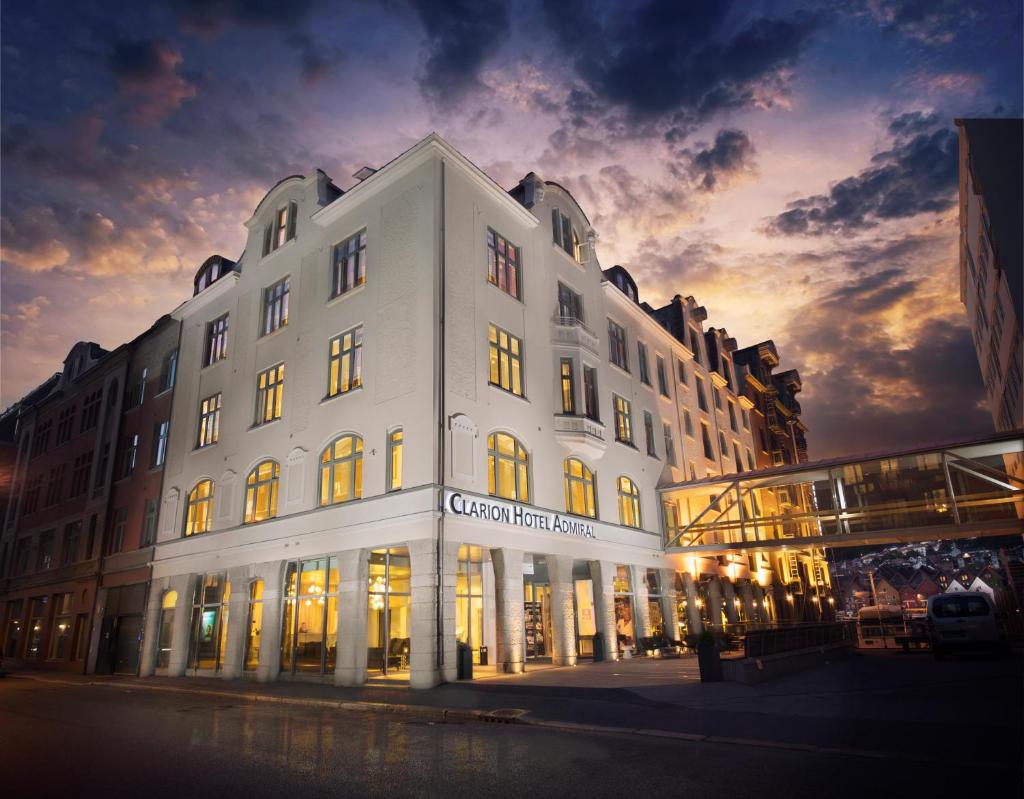 Located 300 meters from Bergen's fish market and 1.5 km from Bergen Central Station, Clarion Hotel Admiral offers breathtaking views of the Vågen Harbour. Guests can enjoy free WiFi and a delicious breakfast buffet while overlooking the water. The hotel's restaurant, Kitchen & Table, created by master chef Marcus Samuelsson in New York, combines Manhattan flavors with local ingredients to produce unique Scandinavian cuisine. The guest rooms at Hotel Admiral are equipped with Duxiana beds, flat-screen TVs, and private bathrooms with showers. Some rooms feature balconies overlooking Bryggen. In addition to being situated across from UNESCO World Heritage site Bryggen, the University of Bergen is just one kilometer away while Bergen Airport is 17 km away.
– Breathtaking views of Vågen Harbour
– Delicious breakfast buffet
– Restaurant Kitchen & Table serves unique Scandinavian cuisine
– Duxiana beds in guest rooms for ultimate comfort
– Convenient location near popular attractions
Bergen Harbour Hotel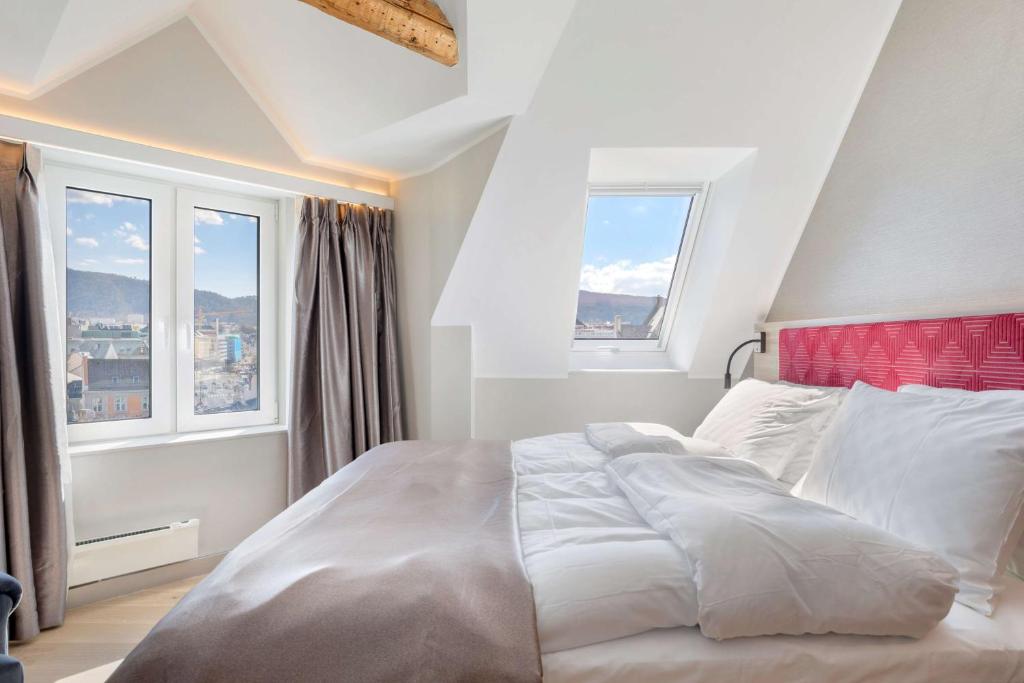 Bergen Harbour Hotel, World Hotels Crafted is a centrally located hotel in Bergen, just 1 km away from Bergen University. The hotel features an on-site bar and rooms fitted with flat-screen TVs. Guests can enjoy a beautiful view of the mountain or city while sipping their tea as every room includes a private bathroom. Free WiFi is available throughout the property and guests can take advantage of free bicycle usage to explore the surrounding areas popular for cycling and hiking. The hotel also has a 24-hour front desk service, making check-in and check-out convenient for guests.
– Centrally located
– On-site bar
– Free bicycle usage
– 24-hour front desk service
– Free WiFi
Clarion Hotel Bergen Airport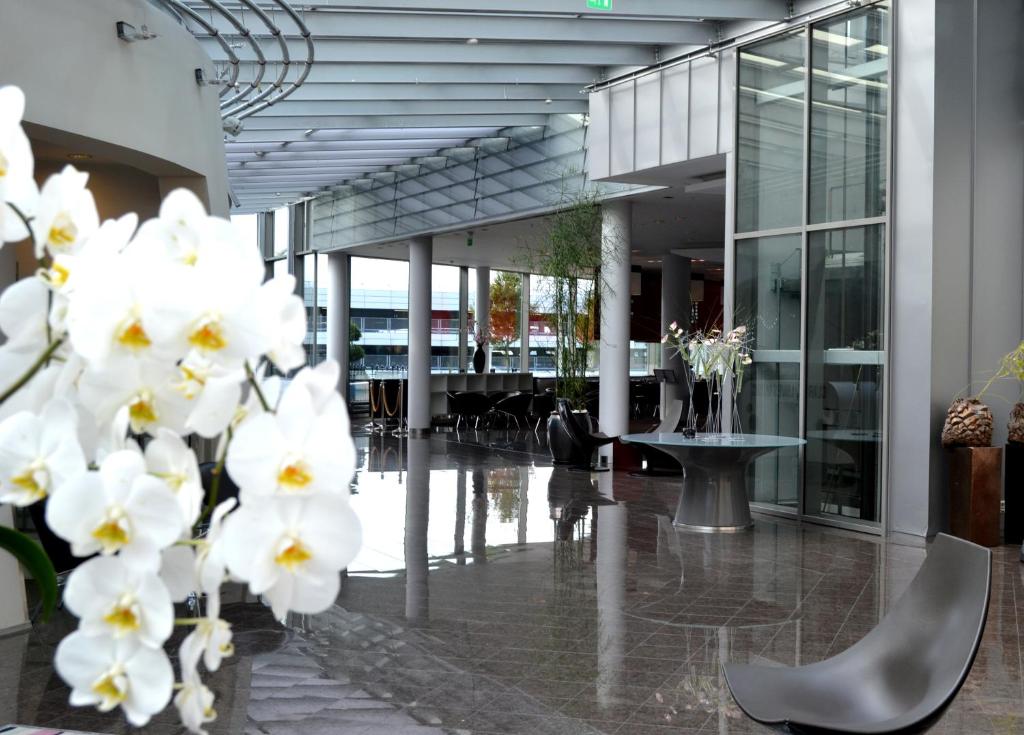 The Clarion Hotel Bergen Airport is a modern and stylish hotel directly connected to Bergen Airport. Guests can enjoy the convenience of soundproofed rooms with flat-screen TVs, designer furniture and free Wi-Fi. The hotel also features a top-floor relaxation area with a gym, offering stunning views of Bergen's seven mountains. Restaurant Sound provides panoramic views of the runway and serves breakfast and lunch, featuring organic products and healthy options. For dinner, guests can indulge in locally sourced ingredients at Kitchen & Table by Marcus Samuelsson, which offers meals inspired by Manhattan flavours. The airport shuttle bus stops just outside the hotel.
– Direct connection to Bergen Airport
– Soundproofed rooms with flat-screen TVs
– Top-floor relax area with a gym
– Organic products and healthy options for breakfast buffet
– A la Carte restaurant Kitchen & Table by Marcus Samuelsson
Small Luxury Hotels in Bergen Norway
Small Luxury Hotels in Bergen, Norway offer a unique and intimate accommodation experience. The hotels are known for their personalized service, attention to detail, and beautiful Scandinavian design.
Scandic Kokstad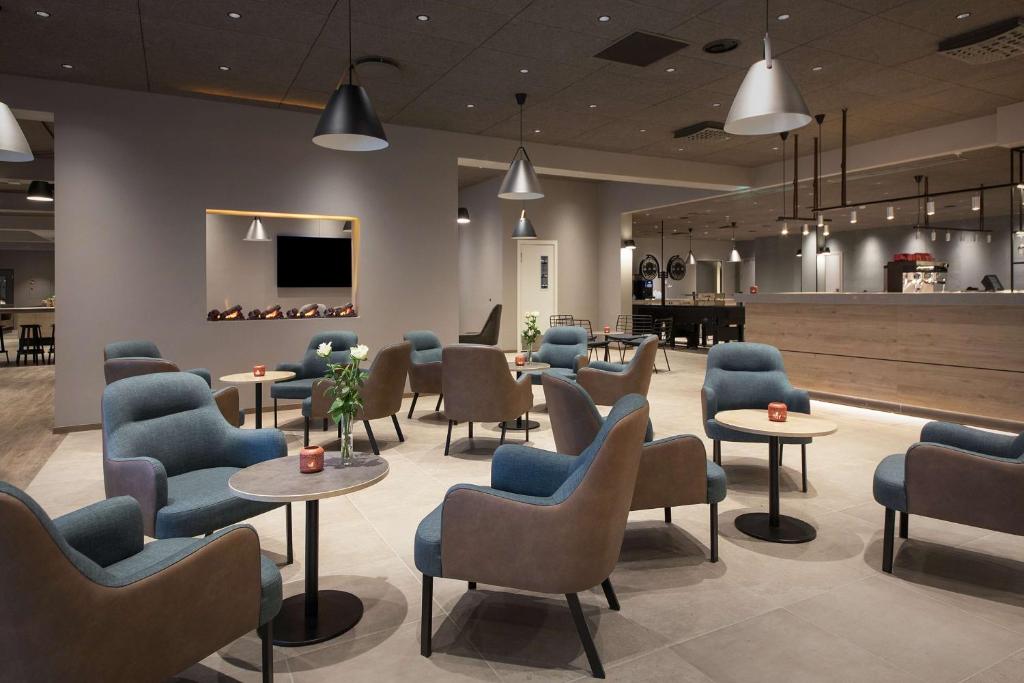 Scandic Kokstad is a luxury hotel located just a 5-minute drive from Bergen Airport. The hotel offers free private parking and free Wi-Fi internet, as well as access to its leisure facilities. Guests can enjoy the popular breakfast buffet with organic options, while colourful prints decorate the walls of Scandic Kokstad's rooms, which also feature wooden floors, easy chairs and satellite TV. The sleek Bjørgvin Restaurant serves classic Scandinavian cuisine such as fish soup and fresh mountain trout. Additionally, Scandic Kokstad boasts a children's play area with toys, books and games – perfect for families traveling together. Other amenities include a well-equipped gym, relaxation area with a steam bath, sauna and solarium.
– Free private parking
– Access to leisure facilities
– Children's play area
– Well-equipped gym
– Relaxation area
Thon Hotel Bergen Airport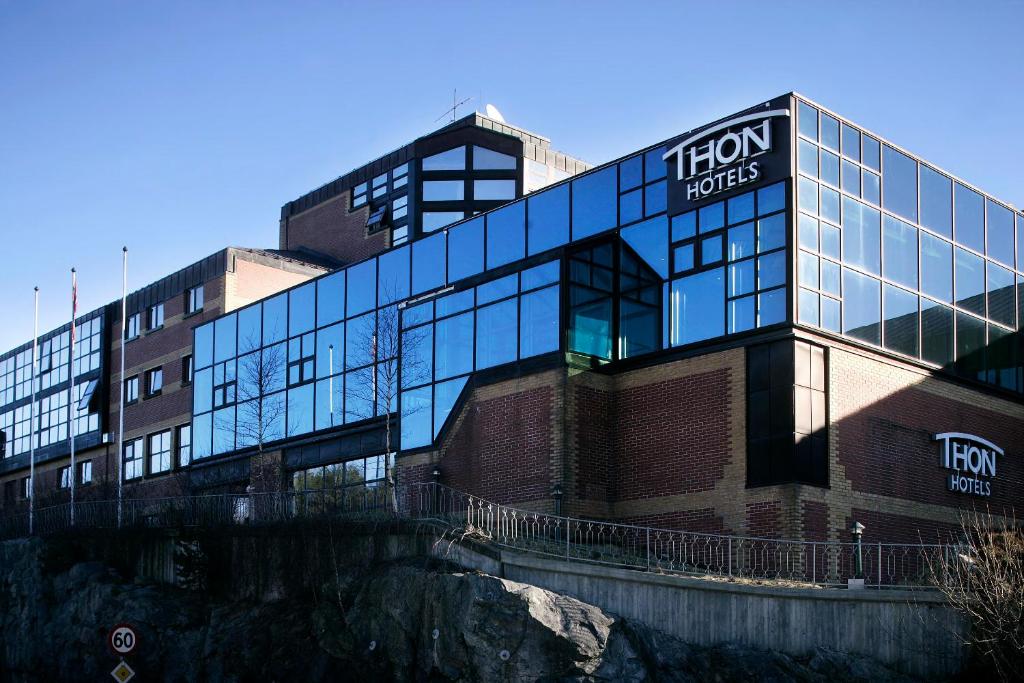 Thon Hotel Bergen Airport is a luxurious hotel located just 2.5 km away from the Bergen Flesland Airport and only a short 15-minute drive from central Bergen. The accommodation offers guests spacious rooms with free Wi-Fi and an appetizing breakfast buffet. Each room features a writing desk, cable TV, minibar, as well as tea and coffee-making facilities. Additionally, the hotel boasts an on-site restaurant serving French-inspired dishes alongside classic Norwegian cuisine in addition to having a sleek bar offering light menu options and evening cocktails. Other amenities include squash courts, fitness center, and registration with the Eco-Lighthouse program for environmental awareness.
– Convenient location close to airport
– Spacious rooms with complimentary Wi-Fi
– On-site restaurant serving French-inspired cuisine
– Fitness center available for guests use
– Registered with the Eco-Lighthouse programs showcasing dedication towards environmental sustainability
Luxury Bergen Hotels Information
| | |
| --- | --- |
| 🛎️ Luxury Hotels in Bergen | 14 |
| 💵 Hotels Prices From | $279 |
| 💵 Highest price | $1364 |
| 🥇 Average Review Score | 8.1/10 |
| 🛏️ Average number of Rooms | 149 |
Top Luxury hotels in Bergen
| | |
| --- | --- |
| Thon Hotel Bristol | 8.5/10 |
| Hotel No13 | 8.4/10 |
| Clarion Hotel Bergen Airport | 8.4/10 |
| Hotel Norge by Scandic | 8.3/10 |
| Hotel Oleana | 8.3/10 |
FAQ
What are some of the best luxury hotels in Bergen, Norway?
Bergen, Norway is home to several luxurious hotels that offer exceptional accommodation and services for travelers. Some of the best luxury hotels in Bergen include Hotel Norge by Scandic, Clarion Collection Hotel Havnekontoret, and Scandic Ørnen. Each hotel has its unique features such as elegant rooms with top-notch amenities like spa treatments, fitness centers, exquisite restaurants that serve local and international cuisine, lounges that provide stunning views of the cityscape among others. They also have a dedicated staff with experience in hospitality to cater to your every need during your stay.
What is the average price range for luxury hotels in Bergen?
The price range for Luxury hotels in Bergen varies depending on factors such as location, amenities offered and time of travel. On average you can expect to pay between 150-450 USD per night for a room at a luxury hotel in Bergen. However there are some hotels that are more expensive than others but they usually offer more exclusive services or facilities.
What should I look out for when selecting a Luxury hotel in Bergen?
When selecting a luxury hotel it's important to look out for various things such as location, reputation, ambience/ atmosphere , amenities offered (spa treatments, fitness center e.t.c), room size/ layout and overall value for money . Reading reviews from other travelers who have stayed at these hotels also provides insight into what you can expect during your stay.
Is it possible to find pet-friendly luxury Hotels In Bergen?
Yes! There are some pet-friendly luxury hotels located within the city limits of bergen if you want to travel together with your furry friend. Hotels like Clarion Collection Hotel Havnekontoret allow pets but have specific rules regarding their stay so it's important that you contact them beforehand or read their terms and conditions online before booking just to be sure.
What are some must-visit tourist attractions in Bergen that luxury hotel guests can enjoy?
Bergen is a city packed with interesting cultural, historical and fun activities that luxury hotel guests can enjoy during their stay. Some of the top attractions to visit while in Bergen include the UNESCO world heritage site Bryggen Wharf, The Fjords and Mountains Tour, Mount Fløyen funicular ride for stunning views of the cityscape, Fish Market for fresh seafood delicacies among others. Your hotel concierge should be able to provide you with detailed information as well as assist in making reservations if necessary.
Popular Luxury Hotels destinations