Welcome to the enchanting city of Bath, a destination renowned for its rich history, breathtaking architecture, and luxurious accommodations. Nestled in the heart of the United Kingdom, this charming city offers an array of opulent hotels that will leave you feeling pampered and indulged. Whether you are visiting for a romantic getaway or seeking a rejuvenating spa retreat, Bath has something to cater to every discerning traveler's taste.
Immerse yourself in the regal ambiance as you step into one of Bath's magnificent palatial establishments. From boutique hotels boasting exquisite interiors adorned with ornate chandeliers and plush furnishings to grand Georgian-style properties exuding elegance and sophistication, there is no shortage of options when it comes to experiencing luxury at its finest. Indulge in sumptuous fine dining experiences crafted by world-class chefs using locally sourced ingredients, or unwind with bespoke spa treatments designed to revitalize your senses.
Beyond the walls of these extraordinary hotels lie the treasures waiting to be discovered in Bath. Take a leisurely stroll through picturesque streets lined with captivating Georgian townhouses or immerse yourself in centuries-old Roman baths for a truly unique experience. The city's stunning gardens and parks offer tranquility and serenity amidst bustling urban life.
Join us on an unforgettable journey as we delve into the realm of luxury hotels in Bath, where elegance meets comfort and history merges seamlessly with modernity. Get ready to be whisked away into a world where every minute detail is meticulously curated to ensure an exceptional stay that will leave you longing for more."
Most Luxurious Hotels in Bath
Hotel Indigo – Bath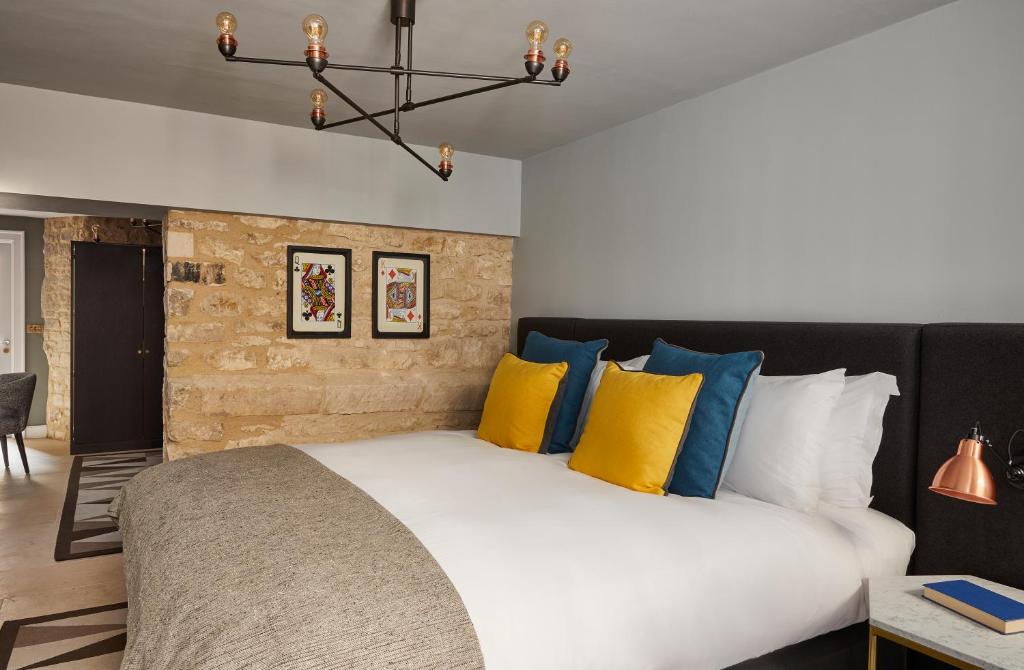 Located in the heart of historic Bath, Hotel Indigo offers a luxurious stay in an 18th-century Georgian building. With its stylish bedrooms, free Wi-Fi, and a bar restaurant, this boutique hotel provides guests with everything they need for a comfortable and enjoyable stay. Each room features a comfortable Hypnos bed with luxury Egyptian cotton linen, as well as amenities such as Nespresso coffee machines, air conditioning, and a 40-inch flat-screen TV. The contemporary design of the rooms seamlessly blends tradition with modernity, creating a unique and inviting atmosphere. The on-site bar restaurant, The Elder by Mike Robinson, offers contemporary British cuisine that focuses on sustainability, seasonality, and locally-sourced produce. Guests can also enjoy being just steps away from the banks of the River Avon and within walking distance of popular attractions like Bath Abbey and Bath Rugby Club. For those looking to explore further afield, Bristol is easily accessible with just a 30-minute drive from the hotel. And when it's time to relax and unwind after exploring all that Bath has to offer, guests can take advantage of being just a 5-minute walk away from Thermae Bath Spa.
Pros:
– Convenient location in the heart of historic Bath
– Stylish bedrooms with modern amenities
– On-site bar restaurant offering delicious British cuisine
– Close proximity to popular attractions like Bath Abbey and Thermae Bath Spa
– Easy access to Bristol for further exploration
Francis Hotel Bath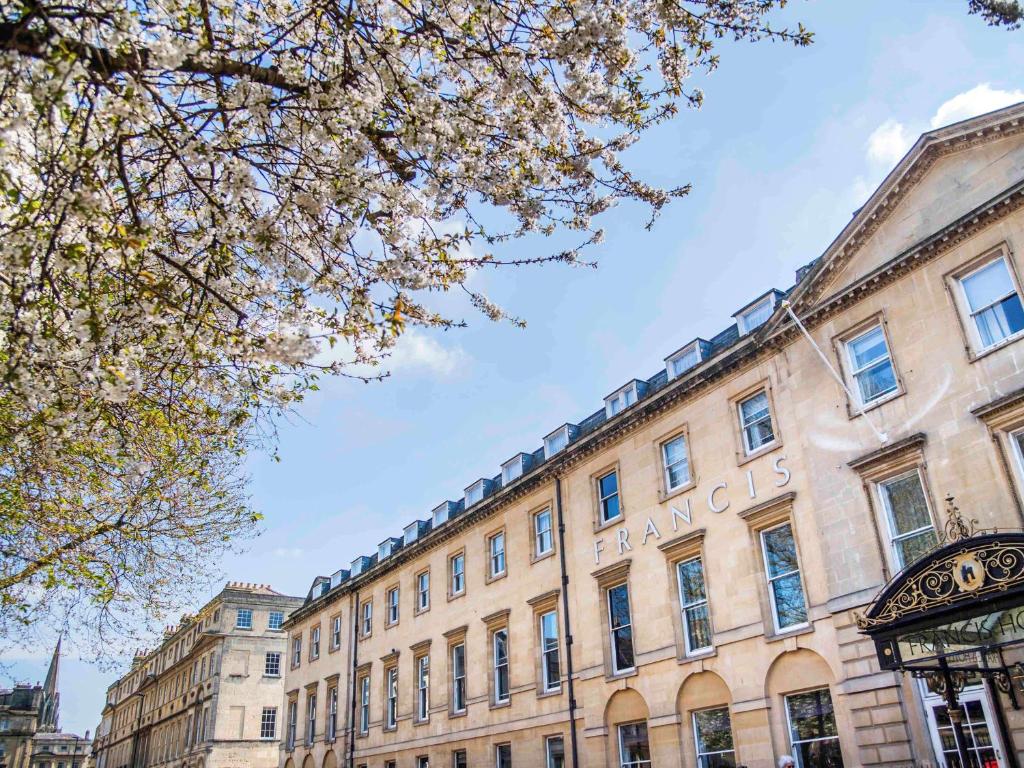 Located in the heart of the historic city of Bath, Francis Hotel Bath is a stunning Regency-style townhouse hotel. With individually designed bedrooms, many featuring four-poster beds and picturesque views over the city, this hotel offers a luxurious and memorable stay. The well-equipped rooms include Plasma HD TVs, tea/coffee-making facilities, and work areas. Each room also boasts a full private bathroom with a hairdryer and bathrobes. Guests can indulge their taste buds at the hotel's bar/lounge which serves light snacks all day or dine at the Boho Marché restaurant with its Moroccan theme celebrating Marrakech in the 60s and 70s. Breakfast options are extensive, ranging from international dishes to classic English favorites. The Francis Hotel is conveniently located about 1 mile from Bath Spa Rail Station and within easy reach of Bath's shops, galleries, and antique markets by foot. Parking is available on-site for an additional fee on a first-come-first-served basis but cannot be reserved in advance. Families will appreciate that children under the age of 13 can stay free of charge when booking with two adults. Lastly, guests enjoy flexible cancellation policies up until 2PM the day prior to arrival.
Pros:
– Prime location in the heart of historic Bath
– Individually designed bedrooms with stunning views
– Restaurant with a unique Moroccan theme
– Extensive breakfast options including international dishes
– Flexible cancellation policy
OYO Bailbrook Lodge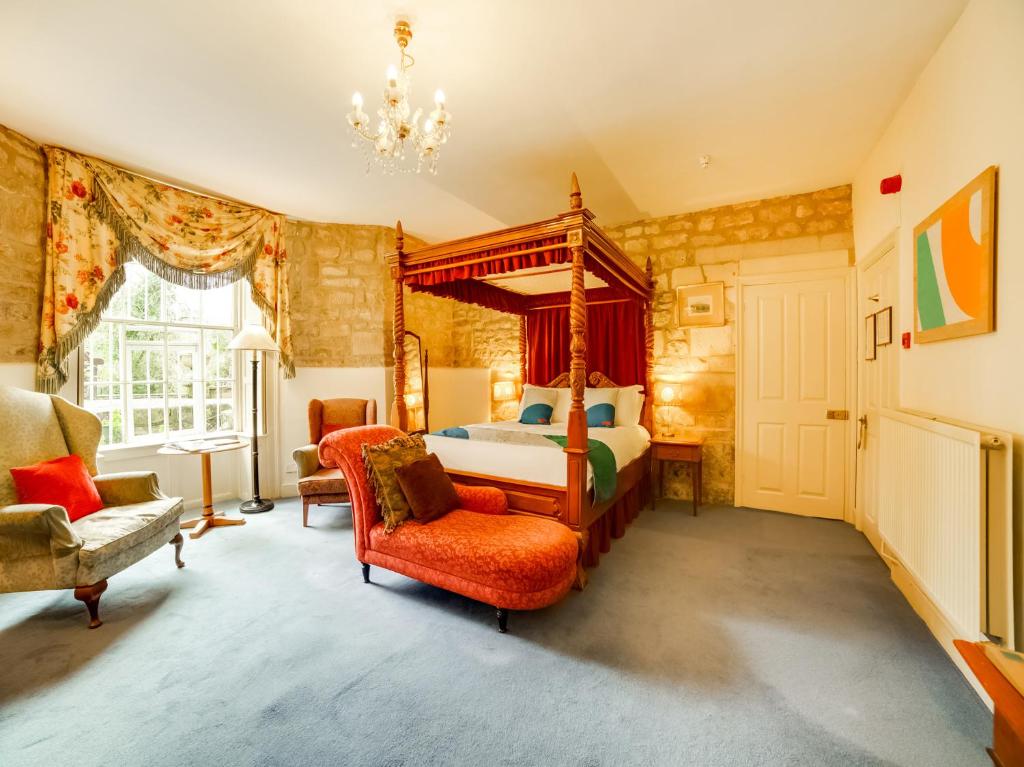 Located in a tranquil setting, the OYO Bailbrook Lodge is a charming Georgian Grade II Listed house offering a range of amenities to ensure a comfortable stay. With free parking and complimentary Wi-Fi, guests can easily explore Bath's city center just a short 5-minute drive away or venture further afield with Bath Spa Railway Station only 7 minutes' drive away. The elegant rooms provide delightful views of the gardens, grounds, and Avon Valley, while some also offer four-poster beds for an added touch of luxury. Guests can unwind on the garden terrace with a refreshing drink or indulge in the provided tea and coffee making facilities along with biscuits and mineral water.
– Tranquil location
– Free parking
– Charming Georgian architecture
– Elegant rooms with picturesque views
– Complimentary Wi-Fi
Other places to stay in Bath
Luxury Hotels in Downtown Bath
Downtown Bath boasts an array of luxury hotels that epitomize elegance and sophistication. These opulent accommodations offer the perfect blend of historic charm and modern comfort, allowing guests to immerse themselves in the city's rich cultural heritage. Impeccable service, exquisite design, and attention to detail are prevalent throughout, creating a truly indulgent experience for discerning travelers. Whether it's the beautifully appointed rooms or the stunning views of Bath's iconic landmarks, staying at a luxury hotel in downtown Bath guarantees an unforgettable stay immersed in luxury and refinement.
The Bird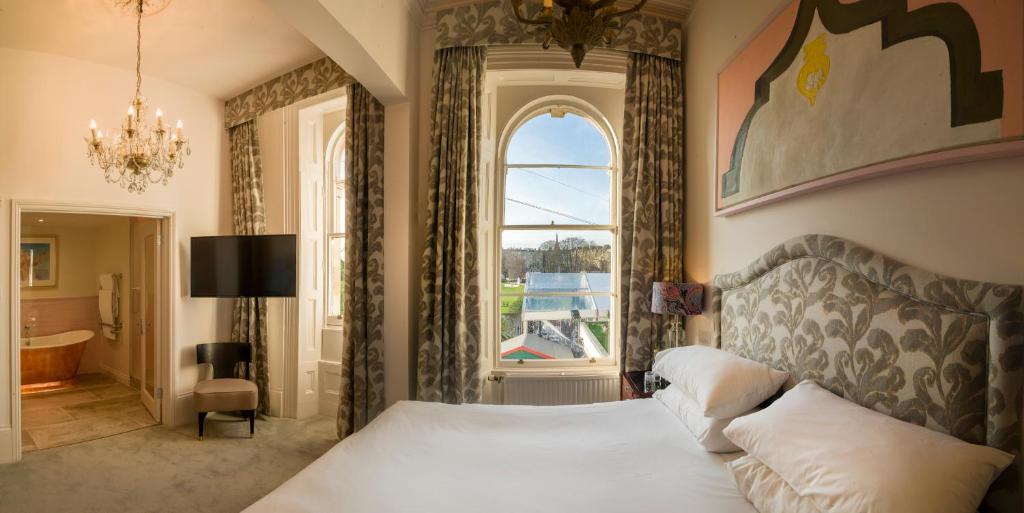 Situated in the heart of Bath, The Bird offers stunning views over the city's famous Recreation Ground and Bath Abbey. This boutique townhouse hotel provides luxurious guest accommodation with modern amenities such as flat-screen TVs and tea/coffee making facilities. Each room features an en-suite bath or shower room for added convenience. Start your day with a delicious full English breakfast served at The Bird before exploring Bath's world-renowned attractions, all within easy reach from the hotel. Indulge in British culinary delights made with fresh, seasonal produce at the on-site restaurant, The Plate, or sip on refreshing drinks at the well-stocked bar. With its central location, this hotel is surrounded by charming countryside, museums, and other captivating attractions. Take a leisurely stroll to the Roman Baths or explore the diverse range of restaurants, pubs, and shops in Bath city center. Conveniently located just 10 minutes' walk from both Bath Spa Railway Station and Bristol International Airport bus station — perfect for those looking to explore further afield.
– Stunning views over Recreation Ground and Bath Abbey.
– Luxurious guest accommodation with modern amenities.
– Delicious full English breakfast to start your day.
– On-site restaurant offering authentic British dishes.
– Convenient location near transportation links for easy exploration beyond Bath.
Homewood Hotel & Spa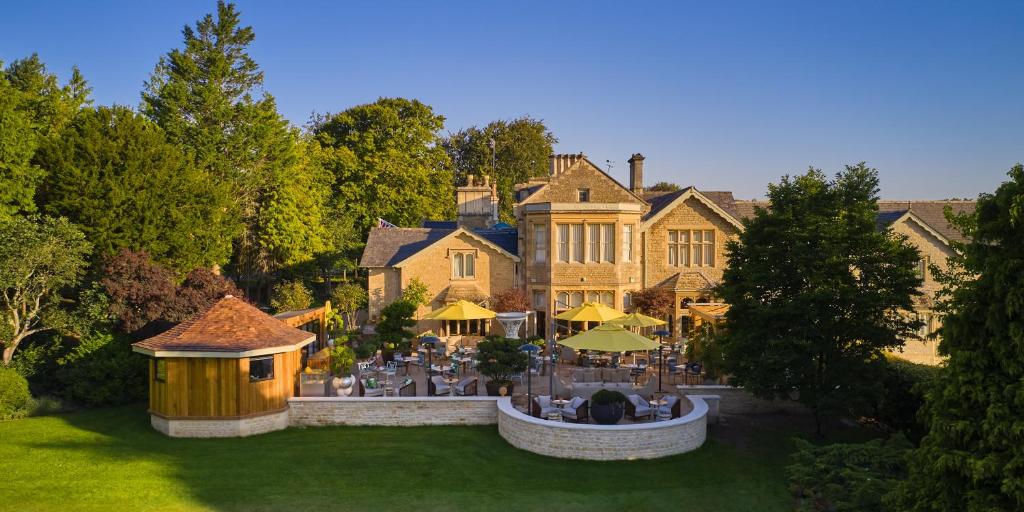 Homewood Hotel & Spa is a Georgian country retreat located in a peaceful and secluded setting near Bath. With its parkland surroundings and beautiful gardens, the hotel offers guests an atmosphere of tranquility and relaxation. The interiors effortlessly combine antique paintings, exposed wood floors, and log fires with modern fabrics, chic designs, and contemporary cuisine. The Restaurant at Homewood is known for serving the finest in modern English cuisine and has gained popularity as one of the top restaurants in Bath. The hotel's spa is nestled within its own famous gardens, enclosed by an original garden wall. It features a hydrotherapy pool, sauna, steam room, heated outdoor swimming pool with stunning views, and offers luxurious treatments. Guests can also enjoy luxurious bedrooms with some offering superb views across the gardens.
Pros:
– Peaceful seclusion amid parkland surroundings
– Award-winning cuisine served at The Restaurant at Homewood
– Luxurious spa facilities including a hydrotherapy pool and heated outdoor swimming pool
– Stunning views from some of the bedrooms across the beautiful gardens
Hiding Space – Trim Street Apartments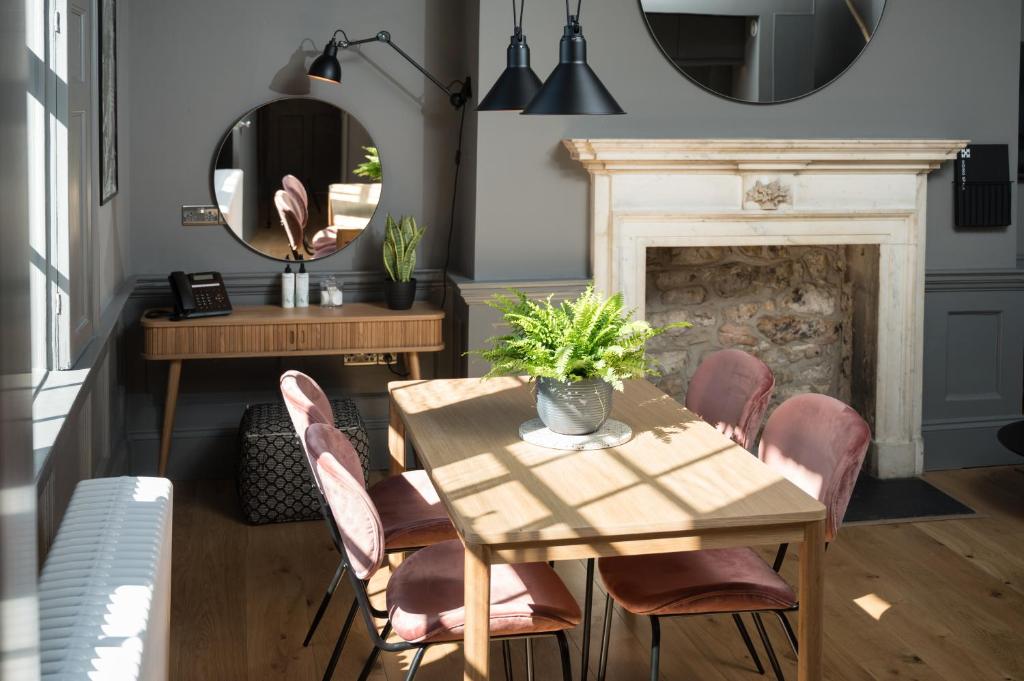 Located in the heart of Bath, Hiding Space – Trim Street Apartments offers guests a luxurious and comfortable stay. The apartments are situated just 300 metres away from popular attractions such as Bath Abbey and The Roman Baths. Each spacious unit features a fully equipped kitchen with a dining table, perfect for preparing meals at your convenience. Guests will also enjoy the flat-screen TV with satellite channels, free WiFi, and a private bathroom complete with complimentary toiletries. Additional amenities include a fridge, oven, microwave, coffee machine, kettle, laundry service, fax and photocopying facilities. With its convenient location near The Circus Bath and Bath Spa Train Station, along with easy access to Royal Crescent and Bristol Airport (30 km away), Hiding Space – Trim Street Apartments is an ideal choice for both business travelers and tourists.
– Prime location in central Bath
– Spacious apartments with fully equipped kitchens
– Free WiFi throughout the property
– Laundry service available
– Close proximity to popular attractions and transportation links
5 Star Luxury Hotels
5 Star Luxury Hotels offer the epitome of opulence and indulgence, providing an unforgettable experience for discerning travelers. These establishments boast impeccable service, exquisite design, and meticulous attention to detail. From the moment guests step foot in these luxurious havens, they are enveloped in a world of elegance and sophistication. Lavish accommodations feature plush furnishings, state-of-the-art technology, and stunning views that transport visitors into a realm of pure bliss. With exceptional dining options showcasing culinary artistry and fine craftsmanship from renowned chefs, guests embark on a gastronomic journey like no other. Spa facilities provide rejuvenation for the body and mind through indulgent treatments and wellness programs designed to pamper every guest. In these remarkable properties, every desire is anticipated and fulfilled with utmost care, ensuring an extraordinary stay that leaves a lasting impression of luxury at its finest.
Bishopstrow Hotel and Spa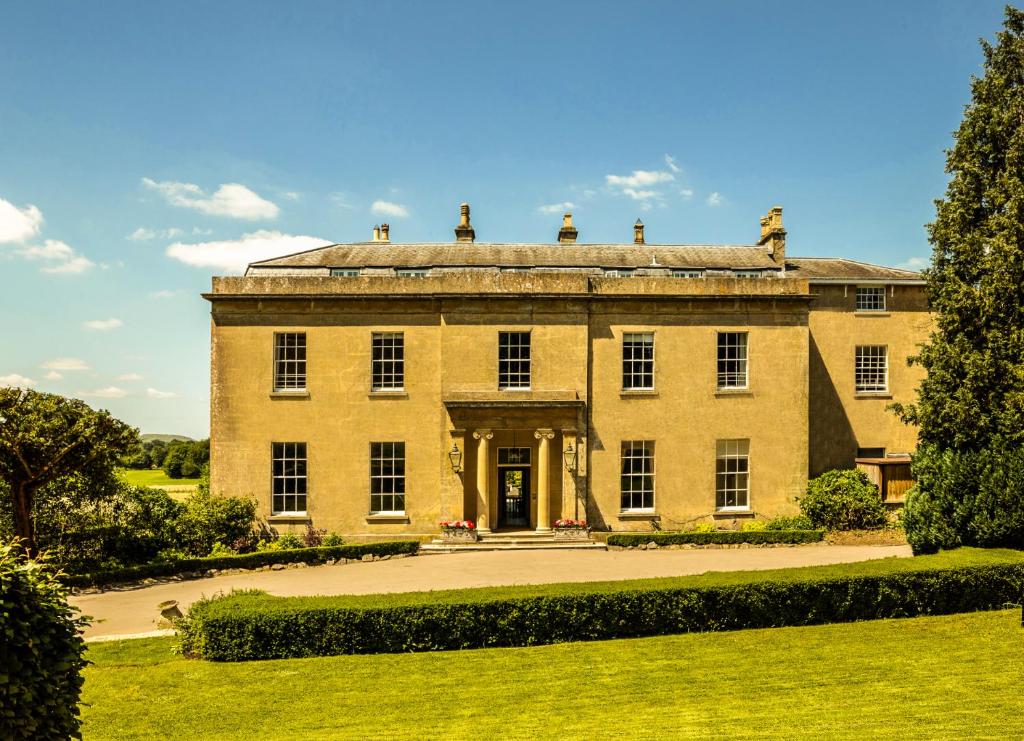 Located in the stunning Wiltshire countryside, Bishopstrow Hotel and Spa is an enchanting English country house retreat. This luxurious hotel boasts a renowned spa and restaurant, where every delectable dish is expertly crafted using the freshest local ingredients. Just a short 10-minute drive away from the famous Longleat House and Safari Park, guests can easily explore the surrounding attractions. The hotel's spa offers a blissful haven with both indoor and outdoor pools, a Rasul mud therapy room, indulgent Elemis & VOYA treatments, as well as relaxing sauna and steam room facilities. Nestled between the charming cities of Salisbury and Bath, Bishopstrow Hotel provides serene gardens leading to a picturesque river along with on-site tennis courts. Each bedroom exudes its own unique personality while being beautifully decorated to create an oasis of tranquility. Whether seeking relaxation or rejuvenation, Bishopstrow Hotel and Spa truly offers an idyllic escape.
– Luxurious spa offering a range of indulgent treatments
– Peaceful gardens leading to a scenic river
– Convenient location near Longleat House and Safari Park
– Beautifully decorated bedrooms with individual charm
Abbey Hotel Bath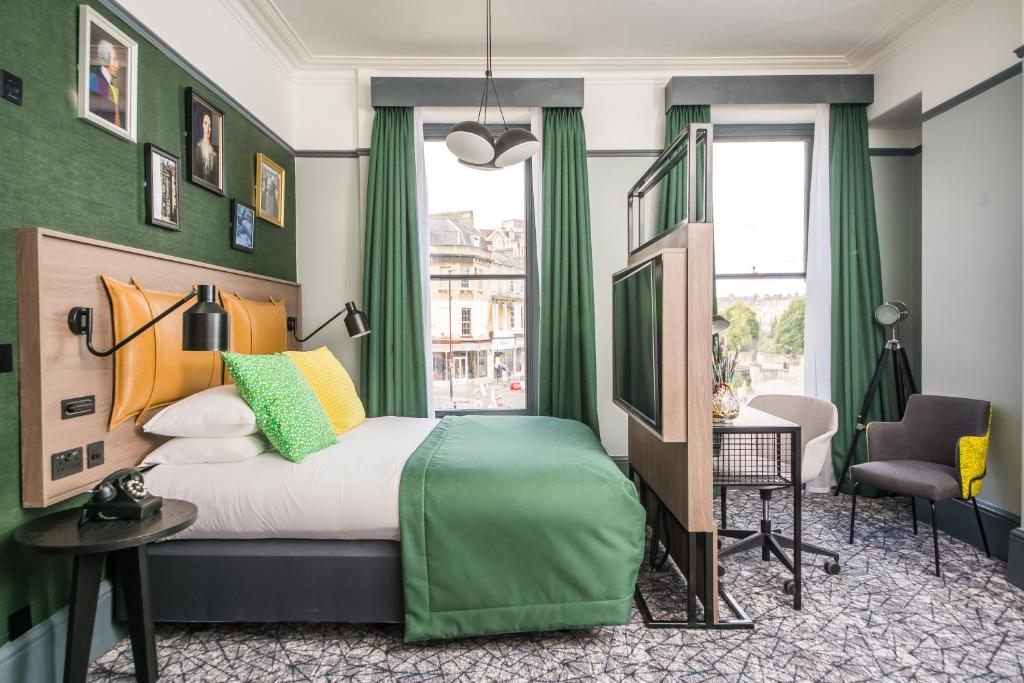 The Abbey Hotel Bath, a Marriott Tribute Portfolio Hotel, is an extraordinary luxury hotel situated in the heart of Bath City Centre. Housed in a historic listed building, this elegant hotel offers 65 unique rooms that showcase original period features and celebrate the city's literature, film, and artistic heritage. Guests can enjoy modern amenities such as free WiFi and bespoke Hypnos beds while indulging in stunning panoramic views of the city from the premium rooms. The vibrant ArtBar displays curated art collections that are refreshed several times per year. The Abbey Kitchen Restaurant serves a delicious plated breakfast and à la carte dinner with picturesque views of Bath street. During the summer months, guests can dine al fresco on the wide pavement terrace, while during Christmas season, they can experience the festive charm at the pop-up Alpine Ski Bar adorned with snow and twinkling lights.
– Convenient location in close proximity to popular attractions
– Unique rooms with original period features
– Panoramic views of Bath City Centre from premium rooms
– Vibrant ArtBar showcasing curated art collections
– Seasonal outdoor dining on a wide pavement terrace or festive Alpin Ski Bar
Whatley Manor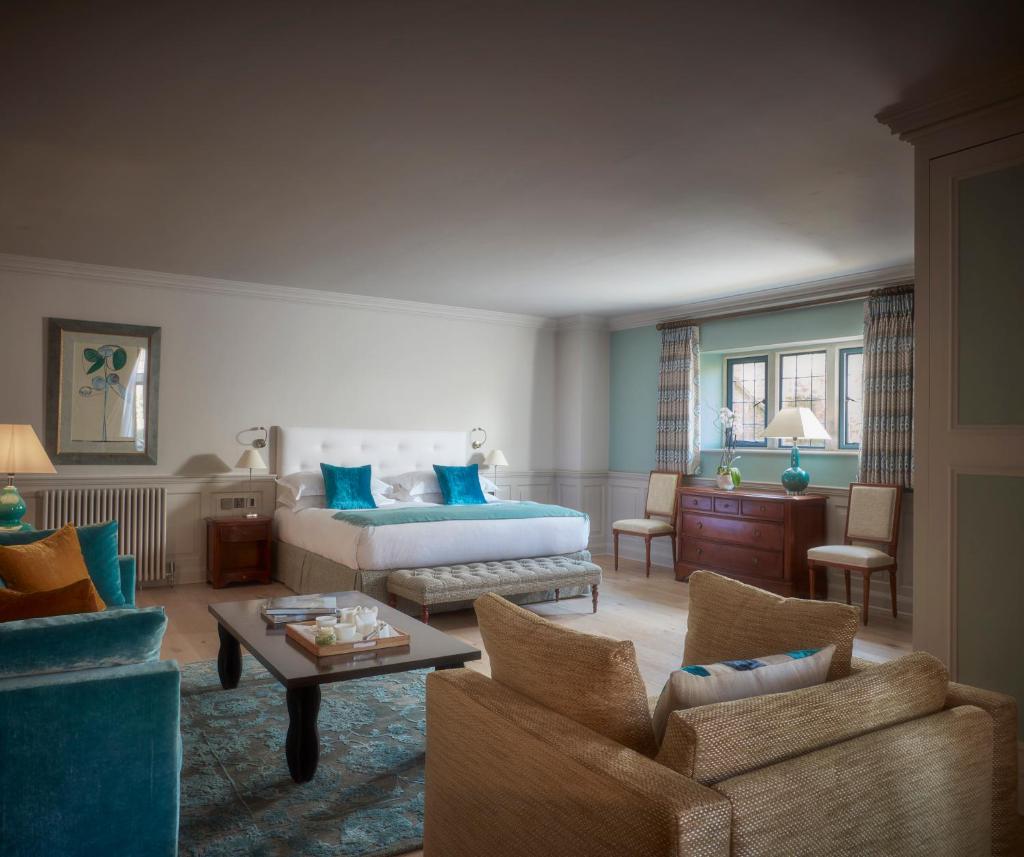 Nestled within 12 acres of picturesque Wiltshire countryside, Whatley Manor is a stylish and luxurious hotel that offers the perfect escape to relax and revive. With its twelve course dining experience from Thursday to Sunday, guests can indulge in a culinary journey like no other. The spa at Whatley Manor, Aquarias, has been voted in the top 10 of UK spa retreats by Condé Nast Traveller Readers and offers Natura Bissé signature treatments for the ultimate well-being experience. For more casual dining options, The Grey's informal brasserie serves delicious lunch and dinner daily. After a delightful meal, guests can take a leisurely stroll through the stunning landscaped gardens adorned with sculptures, fountains, and beautiful lighting that enhance the natural splendor on offer.
– Twelve course dining experience
– Top 10 UK spa retreat
– Stunning landscaped gardens
– Casual dining options
– Beautiful lighting enhancing natural beauty
Most Expensive Hotels in Bath
Bath, known for its rich history and stunning architecture, boasts some of the most luxurious accommodations in the world. With a regal ambiance that transports guests to a bygone era, these exquisite hotels offer opulence at its finest. From lavish suites adorned with plush furnishings to impeccable service that caters to every whim, these establishments redefine luxury living. Indulge in decadent dining experiences showcasing the region's finest cuisine or pamper yourself with rejuvenating spa treatments designed to melt away stress and promote relaxation. Immerse yourself in the grandeur of Bath's most expensive hotels and experience a stay fit for royalty.
Henrietta House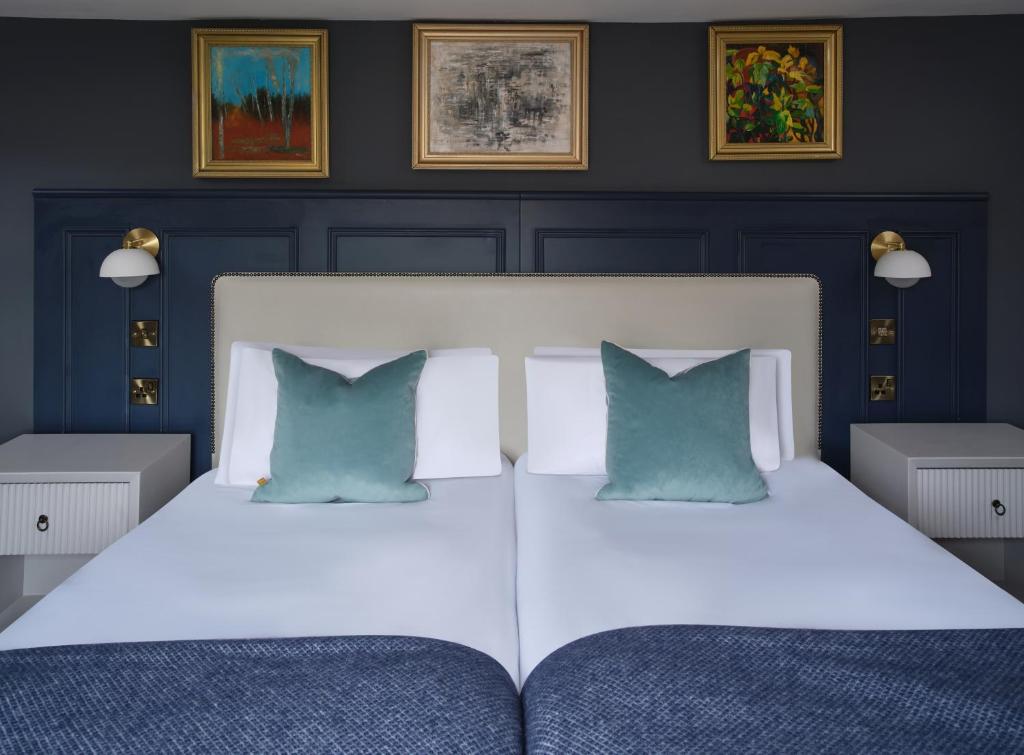 Henrietta House Hotel is a charming Georgian period townhouse located in the heart of Bath. Dating back to the 1780s, this elegant hotel offers a unique blend of modern design and antique furnishings, with each room individually styled and featuring original artwork. Guests can enjoy the convenience of free Wi-Fi access and en suite bathrooms in every room. The hotel serves a delicious cooked-to-order breakfast each morning, including freshly baked bread and croissants, with vegetarian options also available. Situated within a 5-minute walk from popular attractions such as Bath Abbey, the Roman Baths, Thermae Bath Spa, The Jane Austen Centre, and The Holburne Museum of Art, Henrietta House Hotel provides an ideal base for exploring all that Bath has to offer. Despite being mostly residential area on Henrietta Street, shops and restaurants are just a short stroll away.
Pros:
– Charming Georgian period townhouse
– Modern design blended with antique furnishings
– Free Wi-Fi access throughout the property
– Delicious cooked-to-order breakfast with vegetarian options available
– Close proximity to major attractions and amenities
Lansdown Grove Hotel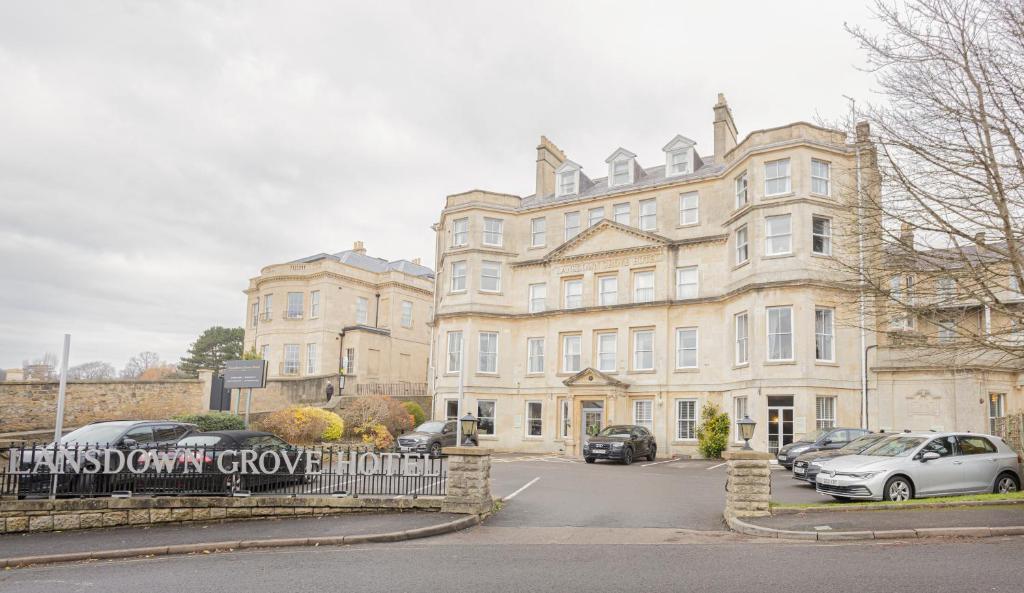 Located in Bath, up Lansdown Hill and less than 1 km from Royal Crescent, Lansdown Grove Hotel is a luxurious 4-star hotel that offers a wide range of amenities to ensure a comfortable stay. This newly opened hotel features a restaurant, private parking, a bar, and a garden. With its concierge service, luggage storage space, and 24-hour front desk, guests are well taken care of throughout their visit. The rooms are elegantly furnished with modern amenities including flat-screen TVs with satellite channels, kettles for tea or coffee making, showers with hairdryers provided and desks for work or leisure purposes. Each room also has its own private bathroom and wardrobe. Guests can enjoy the Al a Carte breakfast menu offered daily at the hotel while taking in the scenic views on the terrace. The location is ideal for exploring popular attractions such as The Circus Bath, Bath Abbey, and The Roman Baths which are all nearby. For convenience in transportation, Bristol Airport is just 24 km away from the hotel.
– Convenient location near popular attractions
– Excellent customer service with 24-hour front desk
– Elegant and modern room amenities
– Delicious Al a Carte breakfast menu
– Scenic terrace for relaxation
Castle Hotel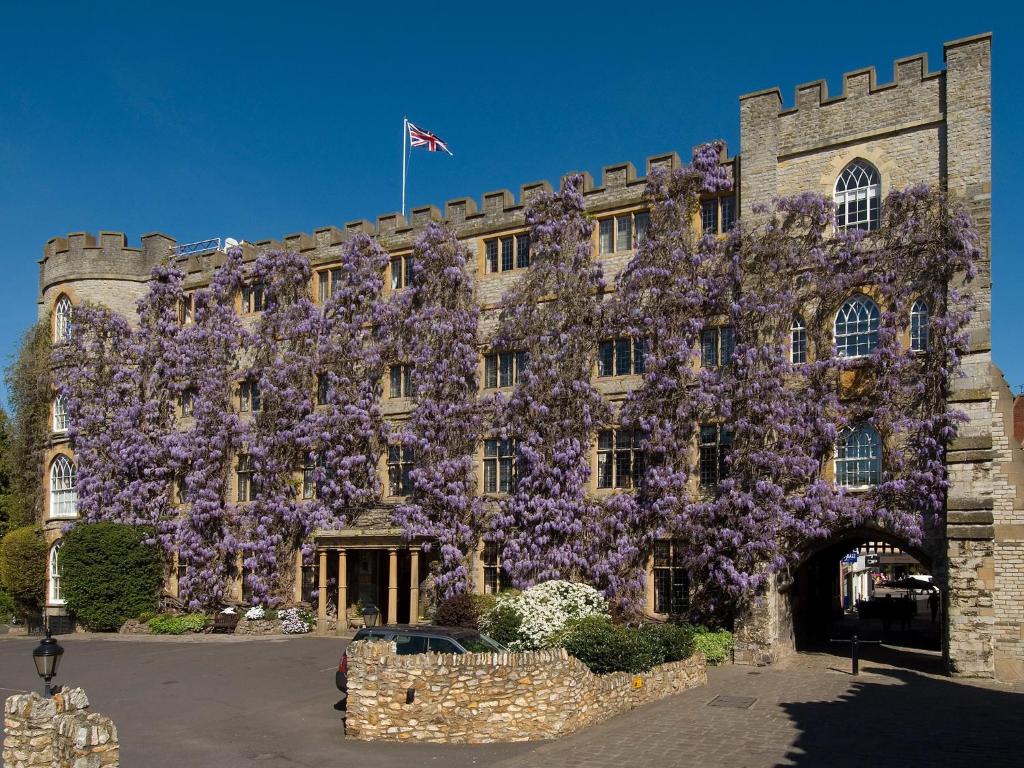 Nestled within the grandeur of a castle, Castle Hotel offers a truly enchanting experience. Boasting free Wi-Fi and a sophisticated brasserie, this luxurious retreat is located in Taunton, just a short 10-minute drive from the stunning Hestercombe Gardens. It's conveniently situated only 2 miles away from the M5 motorway, making it easily accessible for travelers. The hotel's elegant bedrooms are individually decorated and equipped with flat-screen TVs featuring satellite channels. Each room also includes a modern bathroom complete with complimentary toiletries and a hairdryer. Guests can indulge in hearty breakfasts each morning to fuel their day of exploration. With Exmoor National Park only a scenic 20-minute drive away, nature enthusiasts will surely be captivated by its beauty.
Pros:
– Set within a magnificent castle for an enchanting experience
– Free Wi-Fi throughout the property
– Stylish brasserie offering delectable cuisine
– Luxurious bedrooms individually decorated with modern amenities
– Beautiful gardens to stroll through and enjoy peace and tranquility
Luxury Bath Hotels Information
| | |
| --- | --- |
| 🛎️ Luxury Hotels in Bath | 12 |
| 💵 Hotels Prices From | $209 |
| 💵 Highest price | $1635 |
| 🥇 Average Review Score | 8.5/10 |
| 🛏️ Average number of Rooms | 65 |
Top Luxury hotels in Bath
| | |
| --- | --- |
| Whatley Manor | 9.3/10 |
| Homewood Hotel & Spa | 9.1/10 |
| Hotel Indigo – Bath | 8.9/10 |
| The Bird | 8.7/10 |
| Bishopstrow Hotel and Spa | 8.7/10 |
FAQ
What are some of the best luxury hotels in Bath, United Kingdom?
Bath offers a range of luxurious accommodations that cater to discerning travelers. Some of the top luxury hotels in Bath include The Gainsborough Bath Spa, a five-star hotel known for its elegant Georgian architecture and exceptional spa facilities
What amenities can I expect at luxury hotels in Bath?
Luxury hotels in Bath provide an array of upscale amenities to ensure an indulgent stay. These may include spacious and well-appointed rooms or suites with stylish decor and comfortable furnishings, on-site fine dining restaurants offering gourmet cuisine, state-of-the-art fitness centers or wellness spas providing rejuvenating treatments, concierge services for personalized assistance with travel arrangements or sightseeing tours, as well as other exclusive offerings such as private gardens, swimming pools, or rooftop terraces overlooking the city.
Are there any luxury boutique hotels in Bath?
Certainly! If you prefer smaller-scale accommodations with unique character and intimate ambiance, there are several luxury boutique hotels to choose from in Bath. One example is The Queensberry Hotel, which combines Georgian charm with contemporary style. Another option is No.15 Great Pulteney Hotel & Spa that showcases eclectic interior design and an impressive art collection. These boutique establishments offer personalized service along with their own distinctive features that make for an extraordinary stay.
What is the ideal location for luxury hotels in Bath?
Luxury hotels are strategically situated throughout various desirable locations within the city of Bath. For those seeking convenience near popular attractions such as the Roman Baths or Thermae Spa, staying near the city center is recommended. Alternatively, if you prefer tranquility amidst beautiful countryside scenery but still within easy reach of the city center, consider luxury hotels located in areas like Bathwick or Lansdown. The choice ultimately depends on your specific preferences and interests.
What are some popular luxury hotel packages in Bath?
Luxury hotels in Bath often offer enticing packages to enhance guests' experiences. Some popular options include spa packages that combine luxurious accommodations with indulgent treatments at the hotel's wellness facilities. Others may provide exclusive dining experiences featuring gourmet meals paired with fine wines. Additionally, there are romantic getaway packages tailored for couples seeking a memorable stay, complete with champagne, chocolates, and other romantic gestures. These packages add an extra touch of opulence and ensure a truly unforgettable visit to Bath.
Popular Most Luxurious hotel destinations