Welcome to the enchanting city of Antalya, where opulence and grandeur fuse seamlessly with rich history and natural beauty. Nestled along the stunning turquoise coast of Turkey, Antalya offers a plethora of luxurious accommodations that are sure to leave you in awe. From exquisite beachfront resorts overlooking the crystal-clear Mediterranean Sea to lavish boutique hotels nestled within charming old town streets, this coastal paradise has something for every discerning traveler seeking an unforgettable stay.
Prepare to be captivated by the sheer elegance and sophistication that awaits you at Antalya's luxury hotels. Indulge in world-class amenities, impeccable service, and breathtaking views that will transport you into a realm of pure relaxation and indulgence. Whether you choose to bask in the sun by an infinity pool or rejuvenate your senses at a state-of-the-art spa, these exclusive establishments offer an oasis of tranquility amidst Antalya's vibrant ambiance.
Let us embark on a journey through some of the most prestigious addresses in this Turkish gem, bringing you closer to extraordinary experiences that redefine luxury accommodation. Join us as we explore the epitome of elegance in Antalya's finest hotels – where dreams merge with reality in a symphony of comfort and extravagance.
Most Luxurious Hotels in Antalya
Paloma Foresta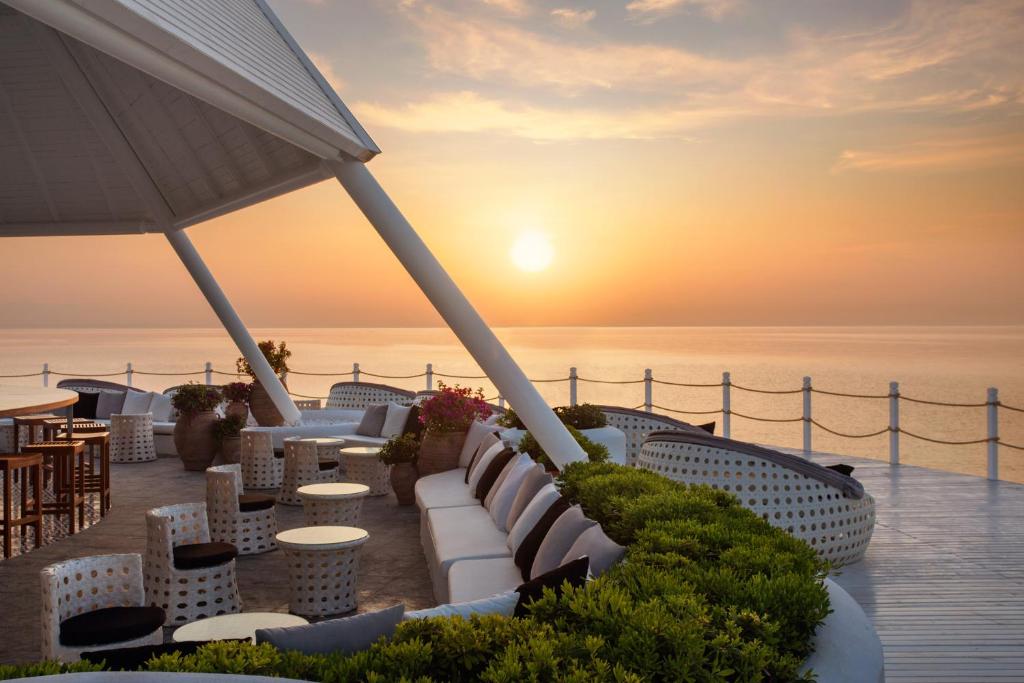 Located in the tranquil woodlands along the Mediterranean, Paloma Foresta is a lavish 5-star resort in Beldibi with its own private sandy beach. Guests can indulge in ultimate relaxation at the luxurious Harmonia Spa, which offers an array of treatments including paraffin therapy baths and professional massages. The resort features three outdoor pools, one indoor pool, and an exciting aqua park with three thrilling slides. The rooms at Paloma Foresta are elegantly adorned with brocade patterned bedcovers, thick curtains, and marble bathrooms, each boasting a private balcony and satellite TV. With seven restaurants to choose from, guests can savor delectable dishes made from locally sourced ingredients while enjoying organic wine on the panoramic terrace or dining al fresco. For entertainment options, there is a 24-hour bar, an Irish Pub and a disco onsite. Sports enthusiasts can make use of the gym or play tennis on the floodlit court while beach volleyball, basketball and mini golf are also available for active guests. Additionally, there is a games room equipped with billiards and darts for those seeking entertainment indoors. Located only 30 km away from Antalya city center and 42 km from Antalya Airport.
– Luxurious spa offering various treatments
– Private stretch of sandy beach
– Wide range of dining options
– Multiple pools including an aqua park
– Various sports facilities available
Rixos Downtown Antalya All Inclusive – The Land of Legends Access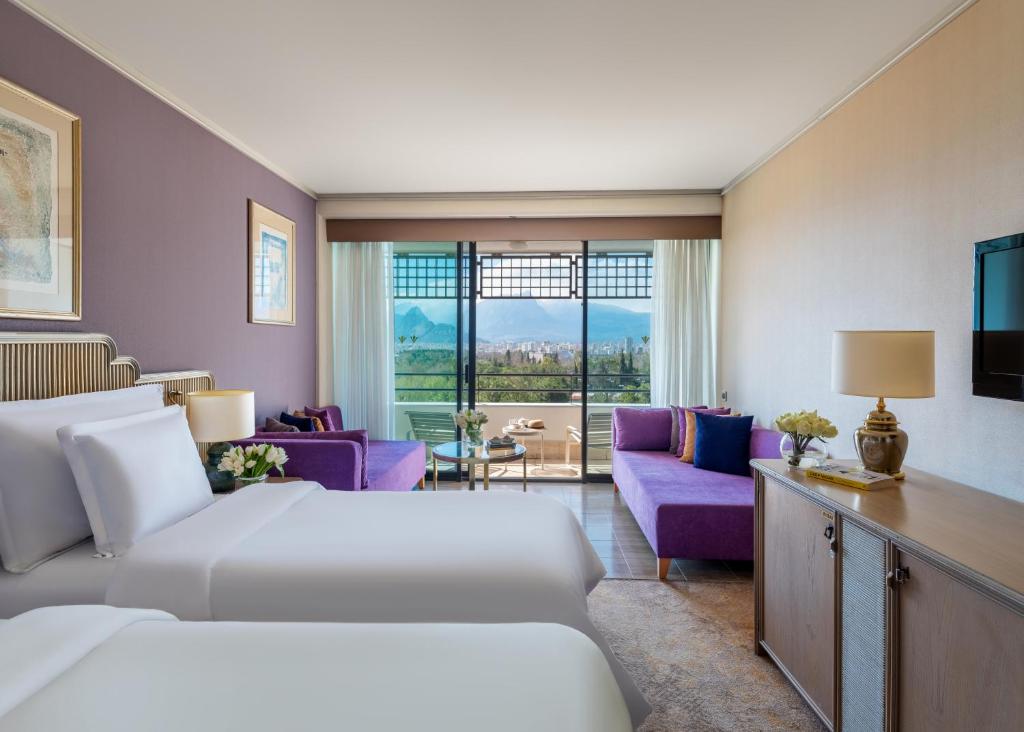 Located in the beautiful Ataturk Culture Park, Rixos Downtown Antalya All Inclusive offers guests a 5-star luxury experience with stunning views of the sea and Taurus Mountains. The hotel features three dining outlets and a lagoon-style pool for guests to enjoy. Those looking to stay active can take advantage of the modern gym and two tennis courts available on-site. During the summer months, guests have access to the Land of Legends Theme Park, with free shuttle service provided by the hotel. The bright guest rooms are elegantly decorated with rich fabrics and offer a private balcony overlooking either Antalya or the Mediterranean Sea. Each room is equipped with a flat-screen TV, satellite channels, and a comfortable seating area. For dining options, guests can indulge in upscale international cuisine at Rixos Lounge which features a panoramic terrace or visit one of the hotel's bars for exotic cocktails and light snacks. To unwind and relax, guests can enjoy treatments at the spa including Turkish baths and massages. The hotel's tour desk is available to provide advice on local trips and excursions while Antalya Museum is just a leisurely 10-minute walk away. For further exploration, car rental services are also available at Rixos Downtown Antalya All Inclusive which is conveniently located 20 km from Antalya Airport.
– Stunning views of both the sea and Taurus Mountains
– Access to Land of Legends Theme Park during summer months
– Luxurious amenities including gym, tennis courts, and spa
– Upscale international cuisine served at Rixos Lounge
– Convenient location near Konyaaltı Beach
UK Hotel Kiriş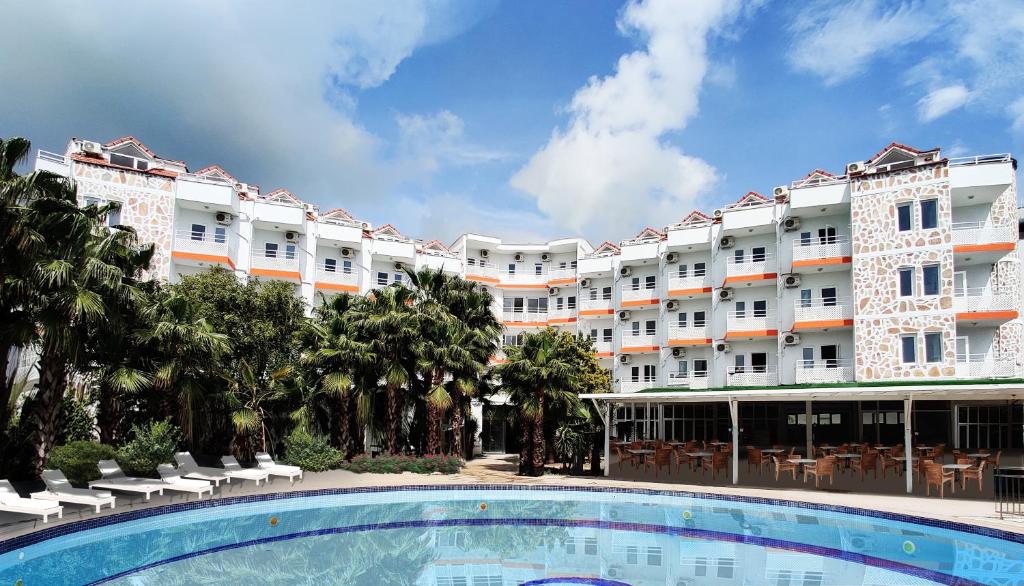 Opened in April 2021, UK Hotel Kiriş is a stunning 4-star beachfront property located in Antalya. Guests can enjoy a range of amenities including a seasonal outdoor swimming pool, fitness centre, and garden. The hotel also offers a shared lounge, restaurant, and bar for guests to relax and unwind. With room service, a 24-hour front desk, and currency exchange available, guests will feel well taken care of during their stay. For entertainment options, the hotel offers table tennis and darts, while car hire is also available for those looking to explore the area. Conveniently located just 300 metres from Camyuva Beach and only 45 km from the popular attraction of 5M Migros, UK Hotel Kiriş provides easy access to both nature and city experiences. The nearest airport is Antalya Airport which is situated 62 km away.
– Beachfront location offering breathtaking views
– Seasonal outdoor swimming pool for relaxation
– Fitness centre for staying active during your trip
– Range of entertainment options including table tennis and darts
– Convenient location near the beach and popular attractions
Other places to stay in Antalya
Luxury Hotels in Downtown Antalya
Downtown Antalya boasts an array of luxury hotels that cater to discerning travelers seeking the epitome of indulgence and sophistication. Nestled amidst a vibrant cityscape, these accommodations offer unparalleled convenience, granting visitors easy access to renowned landmarks, bustling markets, and cultural attractions. With their refined interiors and impeccable service, these luxury hotels exude elegance and opulence at every turn. Guests can expect lavish accommodations adorned with tasteful décor, complemented by world-class dining experiences showcasing local delicacies and international culinary delights. Whether it's unwinding by opulent poolsides or rejuvenating at luxurious spas, downtown Antalya's upscale hotels provide an unforgettable retreat for those seeking a truly extraordinary experience.
Pirate's Beach Club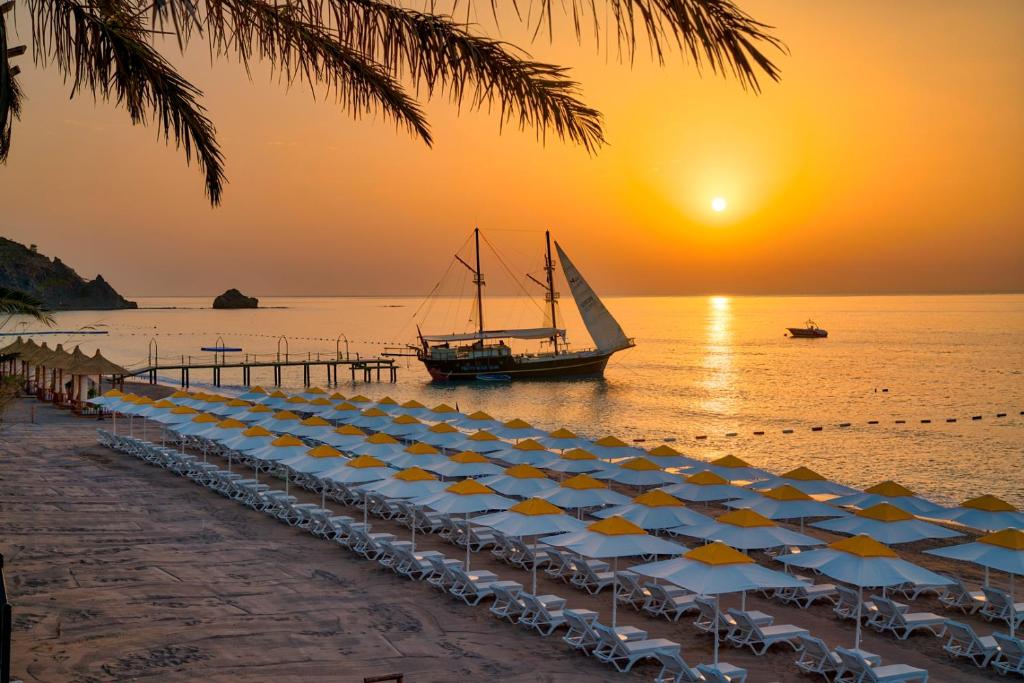 Nestled between the pine forests of Taurus Mountains and the crystal waters of the Mediterranean Sea, Pirate's Beach Club is an expansive luxury resort spanning 36,000 m². With its seafront location, guests can enjoy a private beach and indulge in relaxation at one of the four outdoor pools complete with sun loungers, parasols, and towels. The resort also offers exciting amenities such as two water slides, a sauna, hammam, and steam room. The rooms at Pirate's Beach Club are tastefully decorated and equipped with modern comforts including air conditioning, satellite TV, safety box, minibar, and a balcony. Guests can also find tea and coffee setups as well as baby cots available in each room. Private bathrooms feature showers and slippers while select rooms offer bathrobes for added luxury. Dining options are plentiful with the main restaurant serving meals in open buffet style and four à la carte restaurants offering Turkish cuisine, Turkish kebabs, Italian dishes or seafood specialties. The bar provides an array of beverages throughout the day to quench your thirst. For those seeking relaxation beyond the beach or poolside lounging areas there is also a spa facility that includes a Turkish bath sauna,and massages for ultimate rejuvenation. Sports enthusiasts will appreciate the tennis courts on site as well as mini golf for some friendly competition.The town center of Kemer is just 15 km away from Pirate's Beach Club while Antalya Airport is conveniently situated 75 km away.
Pros:
– Stunning seafront location between pine forests and crystal clear waters
– Private beach access
– Four outdoor pools to choose from
– Variety of dining options including traditional Turkish cuisine
– Spa facilities offering Turkish bath treatments
IC Hotels Green Palace – Kids Concept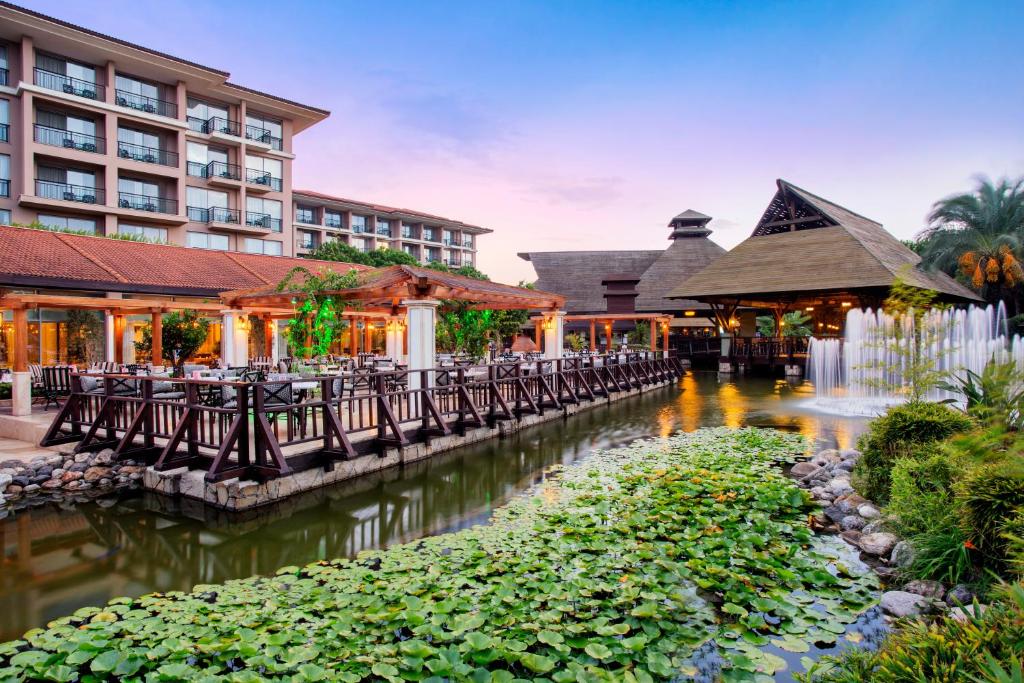 IC Hotels Green Palace – Kids Concept is a luxurious resort that offers an array of exceptional facilities specially designed for children. The hotel features both indoor and outdoor pools, providing guests with plenty of options for swimming and relaxation. For younger guests, there is a mini club equipped with a 200 m² spray painting activity area, as well as a kids activity pool spanning over 380 m². The mini club also offers two cinema rooms, a video gaming room, and even a pizza cooking area. Additionally, there is a teenage club available on-site. Parents can take advantage of the 120 m² baby pool and the baby care room to ensure their little ones are well taken care of. Guests will also find various poolside bars to enjoy refreshing drinks throughout the day, including vitamin-infused beverages and a disco bar for nighttime entertainment. The teenage club boasts a video game area, DJ desk, and comfortable seating area to keep older kids entertained. Moreover, the mini club offers features like soft play areas, toy blocks, face painting facilities to spark your child's imagination during their stay at IC Hotels Green Palace – Kids Concept. Exclusive activities such as sandpits (136 m²), photography sessions, kids ferris wheel rides, and chair swing rides are also available within the mini club premises. For adults seeking adventure in water slides or simply looking to relax by the poolside restaurants present multiple dining options including Japanese cuisine Turkish specialties along with seafood delights among others while two pastry outlets offer sweet treats throughout the day.
Pros:
– Extensive facilities specifically tailored for children
– Indoor and outdoor pools provide ample opportunities for swimming
– Well-equipped mini club with various activities for children
– Teenage Club offering entertainment options like video games and music
– Multiple dining options including specialty cuisines like Japanese and Turkish
Sealife Family Resort Hotel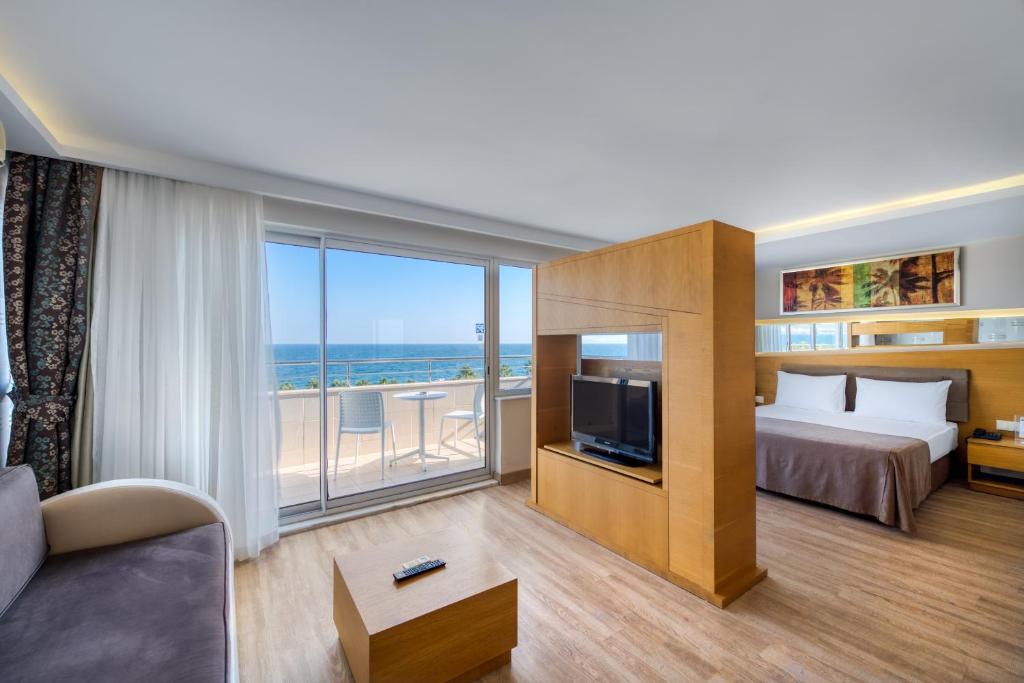 Sealife Family Resort Hotel is a luxurious beachfront resort located on the beautiful Konyaalti Beach in Antalya, Turkey. With its extensive range of facilities and activities, this resort is perfect for families looking for a fun-filled vacation. The hotel boasts pools with thrilling slides, a spa offering rejuvenating body treatments, and diving and snorkeling equipment for guests to explore the underwater world. The air-conditioned rooms are elegantly decorated in soft hues and contemporary furnishings, each featuring a private balcony with stunning Mediterranean sea views. Modern amenities include satellite TVs. Dining options are plentiful at Sealife Family Resort Hotel, with several restaurants serving delectable Ottoman and Fish specialties. Guests can also enjoy drinks at the various bars or dance the night away at the in-house disco club. The hotel's grounds feature tennis courts, a sauna, and a traditional Turkish bath for those seeking relaxation or active pursuits. Families will appreciate the dedicated kids club run by professionals within its own area. For those looking to explore more of Antalya's attractions, the historic Old Town is just 10 km away while Antalya Airport can be reached in just a 30-minute drive.
Pros:
– Direct access to blue-flagged Konyaalti Beach
– Extensive range of facilities including pools with slides
– Spa offering rejuvenating body treatments
– Various dining options serving delicious Ottoman and Fish specialties
– Dedicated kids club operated by professionals
5 Star Luxury Hotels
5 Star Luxury Hotels offer an unparalleled level of opulence and indulgence, setting the gold standard for hospitality. From the moment guests step into these refined establishments, they are greeted by impeccable service and attention to detail. Every aspect of their stay is carefully curated to provide a lavish and unforgettable experience. With elegant decor, exquisite dining options, and world-class amenities, these hotels aim to exceed expectations in every way possible. Whether it's the plush bedding or the state-of-the-art fitness facilities, 5-star luxury hotels strive to create an oasis of comfort and sophistication for their discerning guests.
CLUB JOVIA KEMER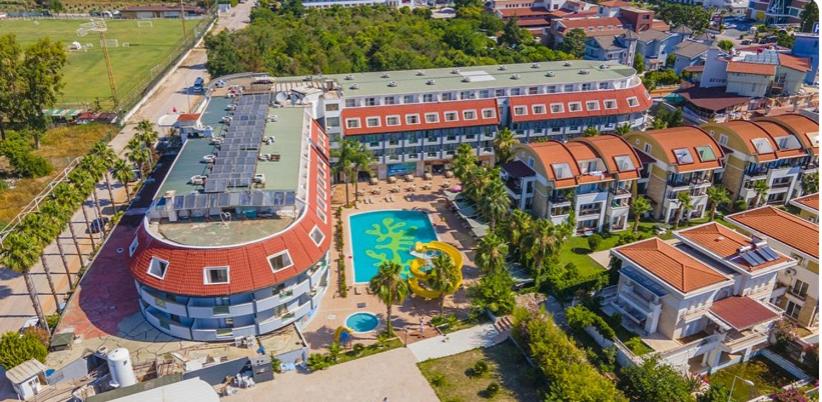 CLUB JOVIA KEMER, a newly opened luxury hotel in Antalya, is the perfect destination for travelers seeking a memorable and indulgent vacation. Located just 2.4 km from Mermerli Beach, this 5-star hotel offers a range of amenities to ensure a comfortable stay. Guests can take advantage of the seasonal outdoor swimming pool, fitness centre, and garden. The hotel also features a restaurant, water park, and terrace for guests to enjoy. For ultimate relaxation, CLUB JOVIA KEMER offers a hammam and sauna along with a children's playground for families traveling with little ones. Additional services include car and bike hire as well as karaoke entertainment. The attentive staff at the 24-hour front desk is always ready to assist guests with any requests or inquiries they may have. Each room at CLUB JOVIA KEMER is elegantly designed and equipped with modern amenities such as air conditioning, flat-screen TV, safety deposit box, and wardrobe. Some rooms also offer private balconies overlooking the beautiful surroundings. Guests can start their day off right with a delicious buffet breakfast served at the hotel. With its convenient location near popular attractions like Hadrian's Gate and Antalya Clock Tower, guests will have plenty of opportunities to explore the city during their stay at CLUB JOVIA KEMER.
– Newly opened luxury hotel
– Seasonal outdoor swimming pool
– Fitness centre and garden
– Restaurant, water park, and terrace
– Hammam spa facility
Seven Seas Hotel Life – Ultra All Inclusive & Kids Concept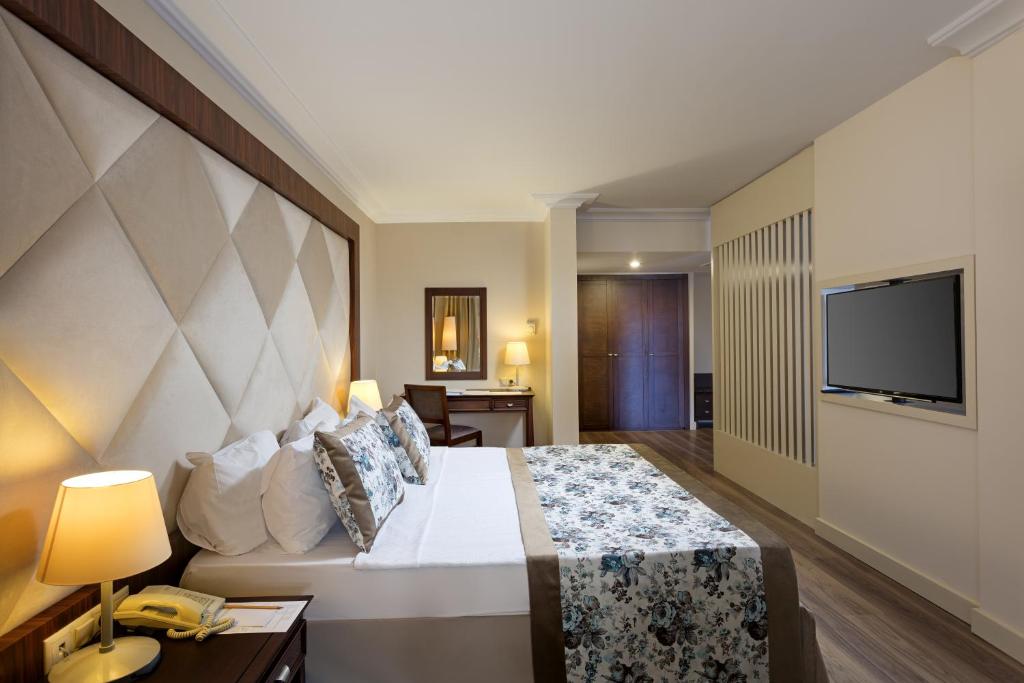 Seven Seas Hotel Life – Ultra All Inclusive & Kids Concept is a luxurious hotel located in Goynuk. It offers extensive and unique facilities that are specifically designed for kids, ensuring that they have an unforgettable stay. The hotel features a Kids' World equipped with security cameras, movie screening sessions, PlayStation games, PC games, and a variety of board games. There are also pools for children and babies as well as a special beach area exclusively for kids. In addition to these kid-friendly amenities, the hotel provides a sauna, hammam, gym, and an outdoor pool with water slides. Guests can enjoy special kids menus at the restaurants and take part in creativity activities such as origami, cooking classes, handcrafting workshops, and puzzle games. Free tennis, language lessons, and swimming courses are available for younger guests. Babysitting service and strollers can be provided upon request at an additional cost for added convenience. The hotel also offers baby cots, baby bathtubs, high feeding chairs free of charge along with other baby facilities like bottle warmers and blenders to facilitate meal preparations. The private beach area comes with free parasols and sun loungers where guests can relax or engage in activities like tennis,cycling,windsurfing,and canoeing onsite or in the surrounding areas.The hotel is located 3.3 km from Goynuk Canyon,and Antalya Airport is 49 km away.
– Extensive facilities tailored for kids such as Kids' World equipped with security cameras
– Pools specifically designed for both children & babies
– Special beach area exclusively dedicated to kids
– Creativity activities including origami & cooking classes
– Free tennis lessons & swimming courses offered to younger guests
Antalya Business Hotel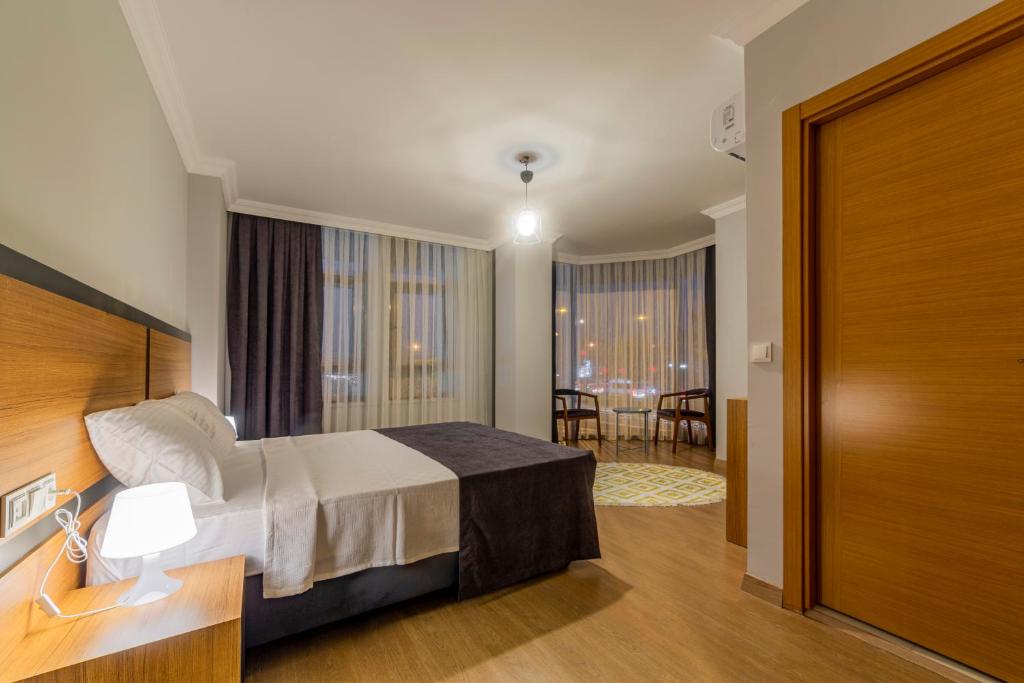 Antalya Business Hotel, opened in January 2020, offers luxurious 4-star accommodation in the charming city of Antalya. Located just 4.4 km from Old City Marina and 4.9 km from Antalya Museum, this hotel provides a convenient base for exploring the city's attractions. The hotel boasts a range of amenities including a concierge service, luggage storage space, and a 24-hour front desk. Guests can enjoy free WiFi throughout the property and relax in the shared lounge area. The elegantly decorated guest rooms feature modern comforts such as air conditioning, flat-screen TVs with satellite channels, and comfortable work desks. Some rooms even come with kitchenettes equipped with an oven and microwave for added convenience. To start the day off right, guests can indulge in a buffet or halal breakfast served at the hotel. Additionally, Antalya Business Hotel offers airport transfers for easy access to and from Antalya Airport which is located just 9 km away. With its prime location and excellent services, this hotel is ideal for both business travelers and leisure tourists visiting Antalya.
– Convenient location near popular attractions
– Modern amenities including free WiFi
– Comfortable guest rooms with air conditioning
– Option to choose rooms with kitchenettes
– Buffet or halal breakfast available
Most Expensive Hotels in Antalya
Antalya, known for its stunning beaches and rich history, is also home to some of the most exclusive and luxurious hotels in the world. These opulent accommodations offer guests an unparalleled level of service and indulgence, making every stay a truly unforgettable experience. From breathtaking views of the Mediterranean Sea to lavish suites adorned with exquisite decor, these hotels redefine luxury living. With exceptional dining options, state-of-the-art facilities, and personalized attention to detail, Antalya's most expensive hotels cater to discerning travelers seeking nothing short of perfection during their visit.
Oz Hotels Antalya Resort & Spa Adult 9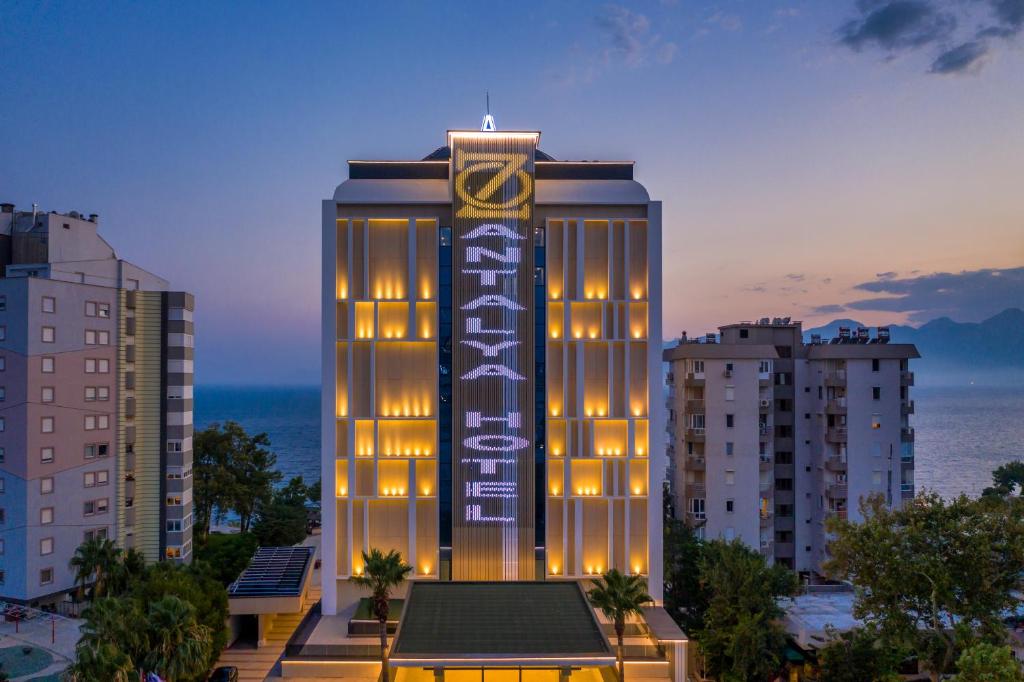 Nestled in the breathtaking coastal district of Lara, Oz Hotels Antalya Resort & Spa Adult 9 is a luxurious retreat offering an array of amenities for discerning travelers. With an outdoor pool and a spa featuring an indoor pool, guests can indulge in relaxation and rejuvenation. The tastefully designed rooms boast a stylish and modern interior with thoughtful traditional touches.
The hotel's Panoramic Restaurant presents a culinary journey with its authentic Turkish dishes and international cuisine options, catering to diverse palates. Complimentary WiFi, flat-screen TVs, and minibars are available in all rooms for added convenience. For seafood enthusiasts, the à la carte restaurants serve fresh catch from the sea.
Pamper yourself with health and beauty treatments at the spa which boasts a traditional Turkish bath, sauna, and fitness center. Whether you seek ultimate relaxation or invigorating exercise sessions during your stay, Oz Hotels Antalya Resort & Spa Adult 9 has it all covered. Additionally, with Antalya Airport just 12 km away and Hadrian's Gate located at a mere distance of 4.8 km from the hotel, accessibility is hassle-free.
– Outdoor pool for refreshing dips
– A variety of dining options including authentic Turkish cuisine
– Well-equipped spa facilities offering various treatments
– Convenient proximity to both the airport and popular attractions
– Free private parking on-site for added convenience
Megasaray Westbeach Antalya – All Inclusive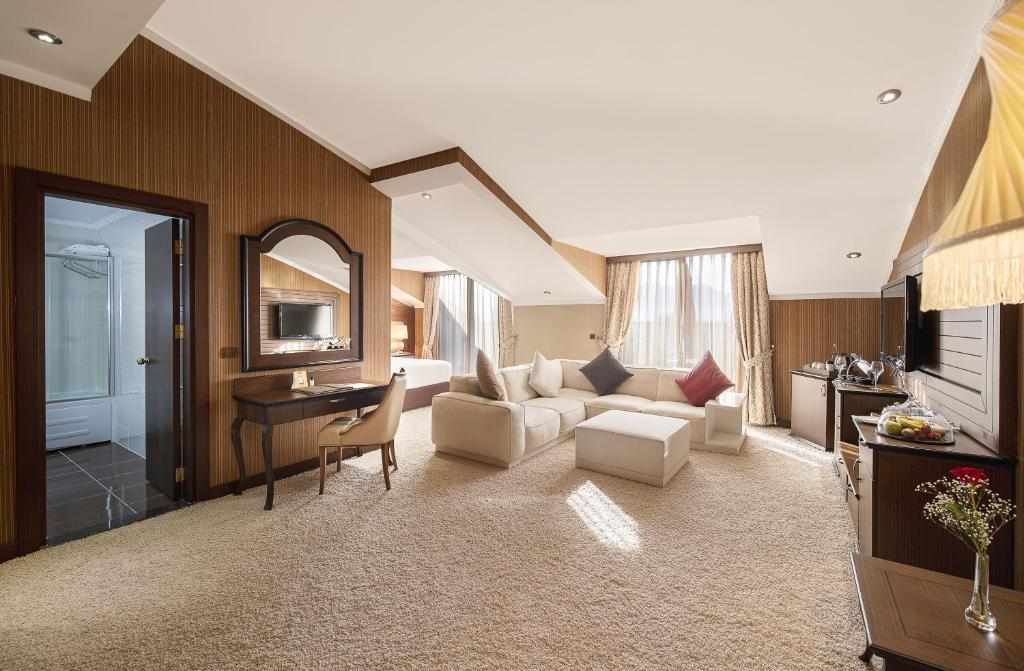 Located on Konyaalti Beach, Megasaray Westbeach Antalya – All Inclusive is a luxurious hotel offering spacious rooms with modern amenities such as flat-screen TV and free WiFi. The hotel boasts a stunning outdoor pool where guests can relax and soak up the sun. Each room is beautifully decorated with elegant furnishings and offers luxury bedding for a comfortable stay. Guests can enjoy breathtaking views of the Mediterranean Sea from their private French balconies. The hotel is conveniently located just 350 meters away from the Akdeniz Blv Bus Stop, making it easy to explore the local area and visit attractions such as Hadrian's Gate and Kesik Minaret, which are just 9 km away. The Aquarium is also nearby, only 2 km away, and the airport can be reached in just a 20-minute drive. With free covered parking available, guests can have peace of mind knowing their vehicles are safe during their stay.
Pros:
– Convenient location near bus stop for easy transportation
– Stunning views of the Mediterranean Sea from private balconies
– Spacious rooms with modern amenities
– Outdoor pool for relaxation and enjoyment
– Free covered parking for added convenience
Luxury Antalya Hotels Information
| | |
| --- | --- |
| 🛎️ Luxury Hotels in Antalya | 11 |
| 💵 Hotels Prices From | $228 |
| 💵 Highest price | $1106 |
| 🥇 Average Review Score | 8.3/10 |
| 🛏️ Average number of Rooms | 292 |
Top Luxury hotels in Antalya
| | |
| --- | --- |
| IC Hotels Green Palace – Kids Concept | 8.9/10 |
| Seven Seas Hotel Life – Ultra All Inclusive & Kids Concept | 8.9/10 |
| Pirate's Beach Club | 8.8/10 |
| Sealife Family Resort Hotel | 8.8/10 |
| Paloma Foresta | 8.5/10 |
FAQ
Q: What are some luxury hotels in Antalya, Turkey?
A: Antalya is known for its stunning luxury hotels that cater to affluent travelers. Some of the top options include the Rixos Premium Belek, a lavish resort with its own beach and multiple swimming pools, the Mardan Palace Hotel which features opulent interiors and a private beach, and the Maxx Royal Belek Golf Resort boasting luxurious suites and an 18-hole golf course.
Q: What amenities can I expect at luxury hotels in Antalya?
A: Luxury hotels in Antalya offer an array of impressive amenities to ensure a memorable stay. These may include private beaches, infinity pools with stunning views, world-class spas offering rejuvenating treatments, gourmet restaurants showcasing international cuisines, fully-equipped fitness centers for health enthusiasts, and personalized services such as butlers or concierge assistance.
Q: How much does it cost to stay at a luxury hotel in Antalya?
A: The cost of staying at a luxury hotel in Antalya varies depending on factors such as location, seasonality, and specific hotel features. On average, you can expect prices starting from around $200 per night for standard rooms up to several thousand dollars per night for premium suites or villas. It's important to note that rates may also fluctuate during high-demand periods such as holidays or special events.
Q: Is it recommended to book a luxury hotel in advance?
A: Yes! Due to the popularity of Antalya as a tourist destination among those seeking luxurious accommodations, it is highly recommended to book your stay at one of the city's luxury hotels well in advance. This will not only guarantee availability but also provide you with more options when choosing your preferred room type or special packages tailored to your needs.
Q: Are there any notable attractions near luxury hotels in Antalya?
A: Absolutely! Antalya is home to many fascinating attractions that are conveniently located near luxury hotels. Some must-visit places include the historic Kaleiçi district with its picturesque narrow streets and charming Ottoman-era houses, the ancient Roman Hadrian's Gate, and the stunning Düden Waterfalls where you can witness nature's beauty up close. Additionally, golf enthusiasts will find exceptional courses nearby for a memorable round of golf during their stay.
Popular Luxury Hotels destinations