Welcome to our latest exploration of opulent accommodations in the stunning region of Algarve, Portugal. Join us as we embark on a captivating journey through the realm of lavish hotels that embody elegance, indulgence, and refinement. Immerse yourself in the allure of this sun-soaked destination where luxury seamlessly blends with natural beauty.
Algarve enchants discerning travelers with its breathtaking coastline, quaint fishing villages, and vibrant culture. It is within this captivating setting that you will find an array of sumptuous establishments that cater to the most sophisticated tastes. From boutique hideaways nestled amongst idyllic cliffs to grand resorts overlooking pristine beaches, each luxury hotel showcases unique offerings that promise an unforgettable stay.
Indulge in unparalleled comfort as you step into luxurious sanctuaries adorned with exquisite furnishings and thoughtful design elements. Experience personalized service tailored to your every desire, ensuring that every moment is memorable and cherished. Savor world-class cuisine created by renowned chefs using fresh local ingredients while enjoying magnificent views from opulent dining venues.
Join us on this exclusive expedition where we dive into the epitome of sophistication and discover the finest luxury hotels in Algarve – a destination that invites you to bask in ultimate relaxation and indulge in an extraordinary experience like no other.
Most Luxurious Hotels in Algarve
Jardim do Vau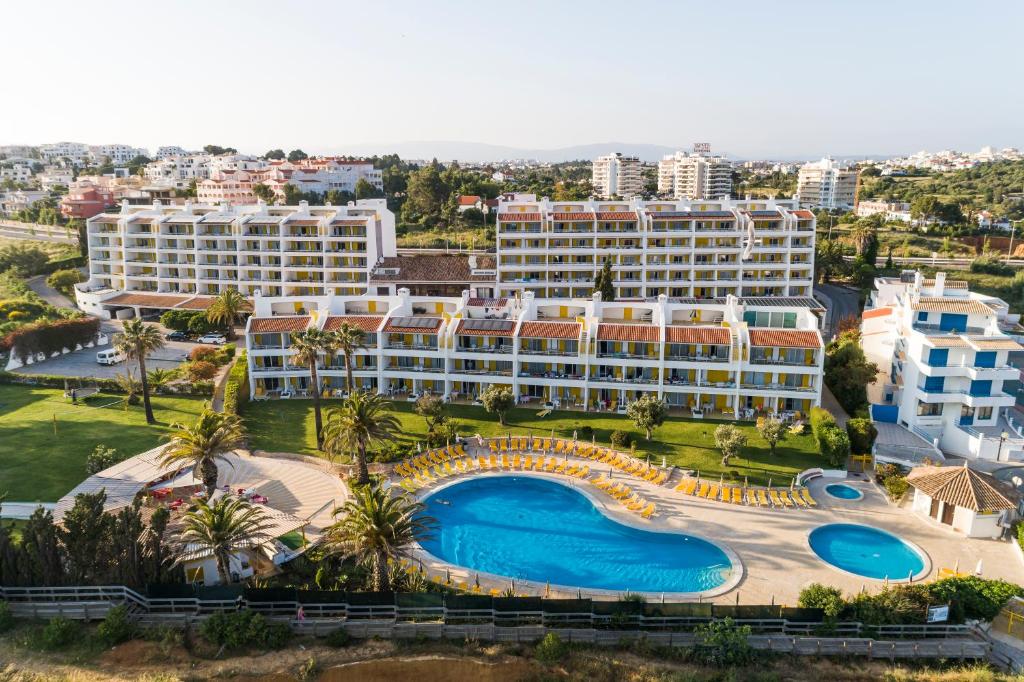 Located on the beachfront with direct access to Praia do Vau, Jardim do Vau is a modern apartment hotel offering spacious one and two-bedroom apartments with fully equipped kitchens. The property boasts both an indoor and outdoor pool, allowing guests to enjoy a refreshing swim while overlooking the sea. Families will appreciate the playground and Junior Club, keeping kids entertained throughout their stay. After a workout in the fitness room, guests can unwind at the cocktail bar or pool bar, sipping on delicious fruit milkshakes or enjoying afternoon tea. Each air-conditioned apartment features a balcony with sun loungers, satellite TV, and a private bathroom with bathtub and shower. Free WiFi is available in all apartments and common areas for added convenience. Indulge in regional and international cuisine at O Jardim restaurant or take advantage of the proximity to Alto Golf Country Club located less than 1 km away. Additionally, Lagos is just over 15 km away for those looking to explore further.
– Beachfront location with direct access to Praia do Vau
– Indoor and outdoor pools overlooking the sea
– Family-friendly amenities including playground and Junior Club
– Well-equipped apartments with balconies and sun loungers
– Close proximity to golf courses at Alto Golf Country Club
Grand Muthu Forte do Vale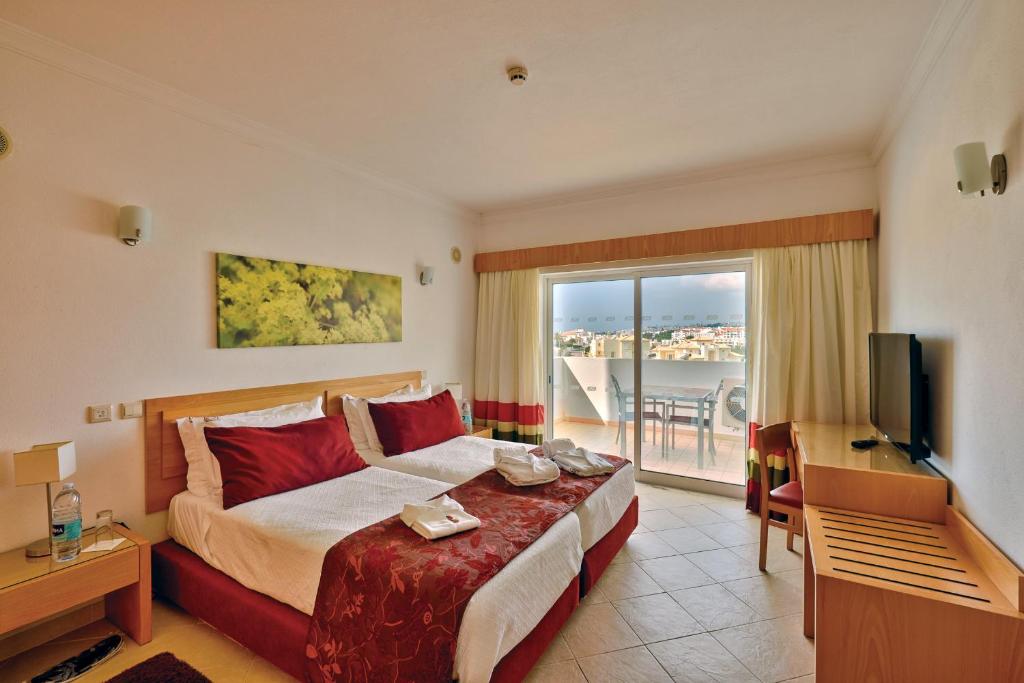 Located in the heart of Albufeira and just 500 meters from the beach, Grand Muthu Forte do Vale is a luxurious hotel offering spacious apartments with kitchenettes and private balconies. The bright and airy apartments are beautifully decorated with modern interiors and feature floor-to-ceiling windows, satellite TV, and private bathrooms. Guests can enjoy the outdoor swimming pool surrounded by a spacious terrace equipped with sun loungers, perfect for soaking up the sun and relaxing. The hotel's restaurant offers a wide selection of speciality restaurants, international buffets, coffee shops, BBQ grill & snacks, bars, and even a disco. With its convenient location, guests have easy access to numerous restaurants, bars, shops in Albufeira. Santa Eulália Beach is 2.2 km away while Modelo Shopping Center is 1.2 km away. Balaia Golf Club is also within close proximity at 3 km distance while Faro International Airport is approximately 33 km away.
Pros:
– Spacious apartments with kitchenettes
– Private balconies
– Outdoor swimming pool with sun loungers
– Convenient location near restaurants and shops
– Wide selection of dining options available
Pine Cliffs Residence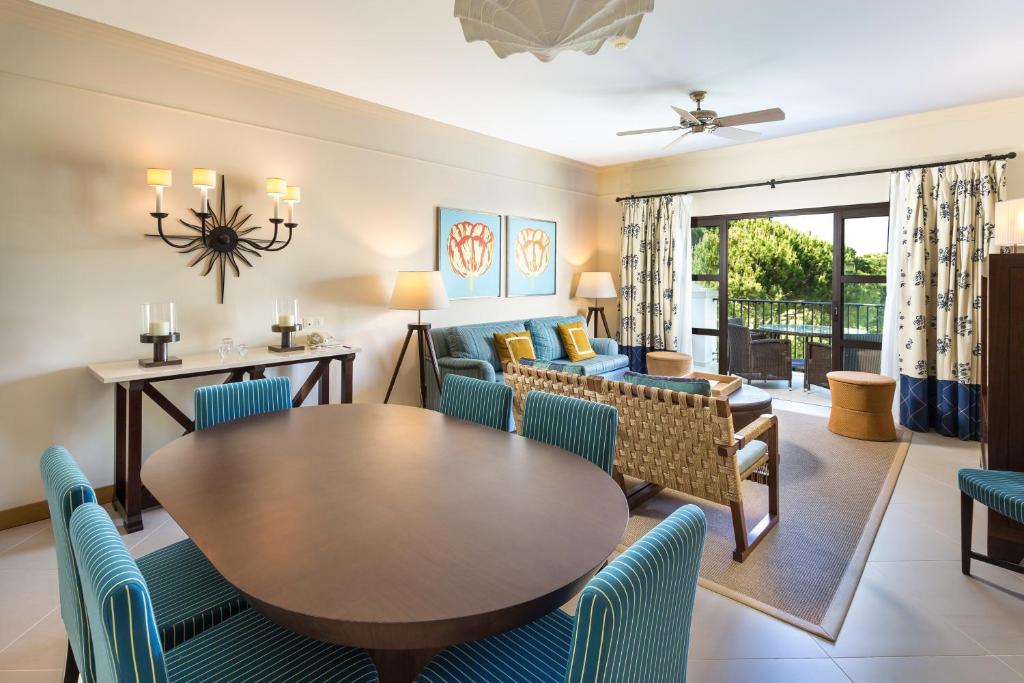 Situated just 800 metres from the stunning Atlantic beaches, Pine Cliffs Residence is a luxury resort nestled amidst natural beauty. Boasting a wellness centre, two swimming pools, and a nine-hole golf course, this hotel offers an array of leisure activities for guests to enjoy. The spacious guest rooms feature satellite TV and air conditioning, with every unit equipped with a kitchenette including a microwave and refrigerator. Indulge in delectable cuisine at the resort's diverse range of restaurants and bars or unwind on the cliff-top sun lounge overlooking the beach. For those seeking adventure, floodlit tennis courts, a fitness centre, and water sports activities are available on-site. With its convenient location just 7 km from Albufeira and 30 km from Faro, guests can easily explore nearby attractions. Free on-site parking and WiFi throughout the property add to the overall convenience of staying at Pine Cliffs Residence.
– Beautiful natural surroundings
– Wellness centre for relaxation
– Access to Atlantic beaches
– Wide variety of dining options
– Recreational facilities including tennis courts
Other places to stay in Algarve
Luxury Hotels in Downtown Algarve
Downtown Algarve boasts a collection of exquisite luxury hotels that offer unparalleled opulence and sophistication. Set against the backdrop of stunning landscapes, these hotels provide the perfect getaway for discerning travelers seeking indulgence and relaxation. With their sleek architectural designs, impeccable service, and attention to detail, guests are treated to an unforgettable experience in the lap of luxury. From elegantly furnished rooms to world-class dining options, every aspect is thoughtfully curated to cater to the most refined tastes. A stay in one of Downtown Algarve's luxury hotels promises a truly luxurious escape where guests can unwind and rejuvenate amidst breathtaking surroundings.
Falésia Hotel – Adults Only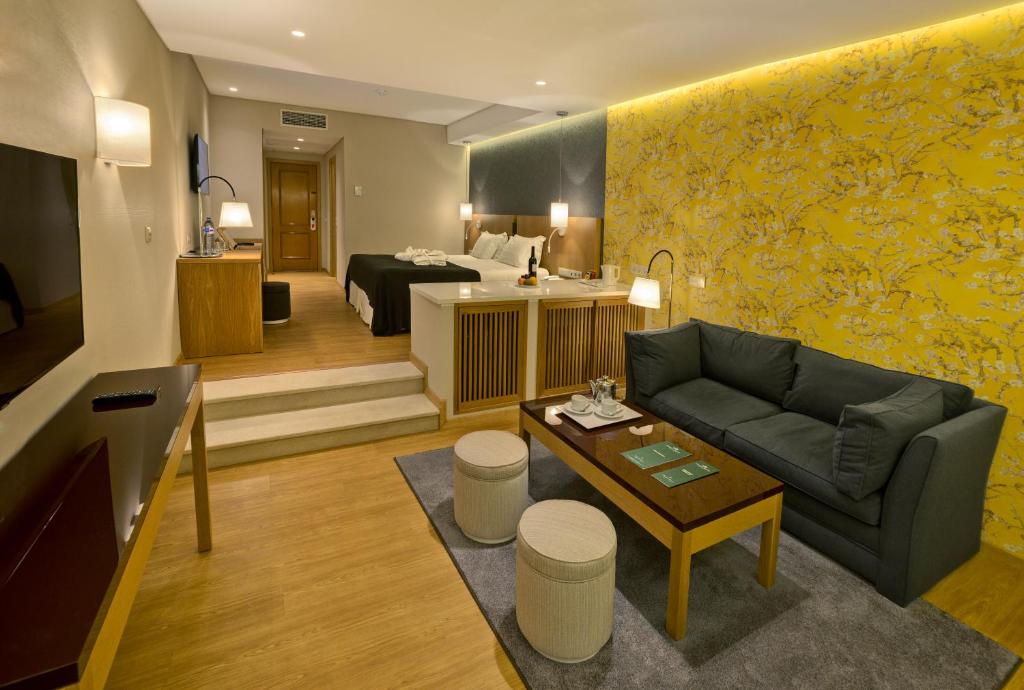 Surrounded by large gardens, the Falésia Hotel – Adults Only offers a tranquil retreat for guests seeking luxury and relaxation. This hotel provides a free shuttle service to Falesia Beach, which is just a 5-minute drive away. Guests can enjoy the indoor and outdoor pools, as well as unwind in the hot tub. For golf enthusiasts, there are several championship courses nearby including Pine Cliffs Golf Course, Vilamoura, and Vila Sol. The elegantly furnished guest bedrooms feature private balconies with beautiful views of the garden or mountains. Each room is equipped with an LCD satellite TV and free WiFi access. Indulge in delectable cuisine at O Lago Restaurant while enjoying stunning views of the garden and pond. During the summer season, live entertainment can be enjoyed at the Show Bar, while refreshing cocktails are served at the Palm Bar in the garden. With car and bicycle rental services available on-site, guests have easy access to explore the surrounding area including Albufeira. Faro International Airport is conveniently located just a 30-minute drive away.
– Free shuttle service to Falesia Beach
– Indoor and outdoor pools
– Hot tub for relaxation
– Elegant guest bedrooms with private balconies
– On-site restaurants offering buffet meals
NAU Salgados Palace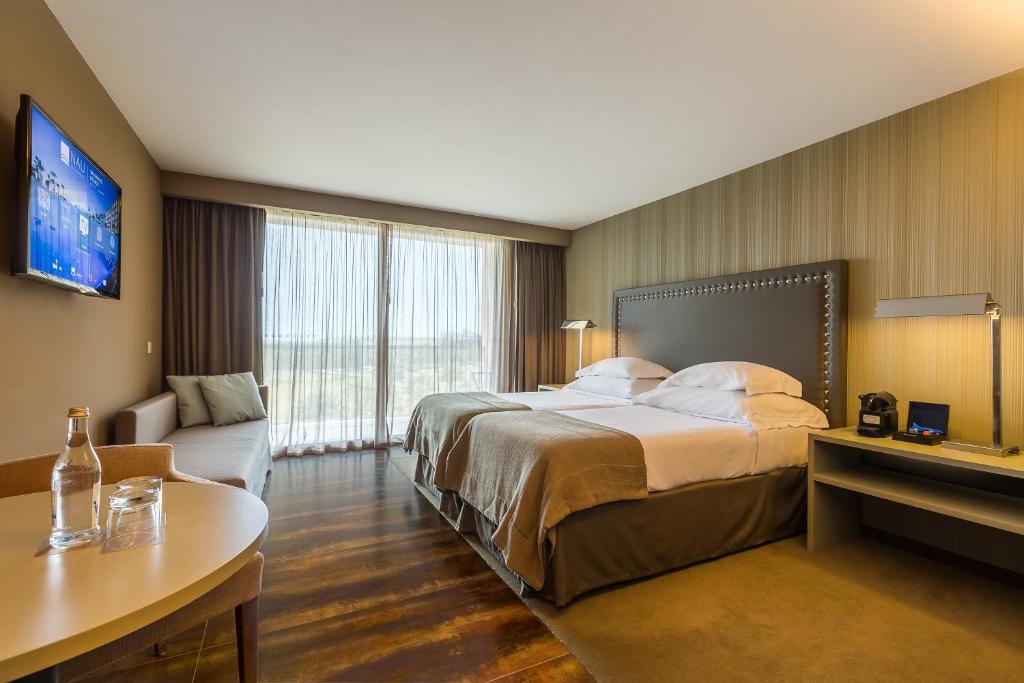 The luxurious 5-star NAU Salgados Palace is a stunning hotel located next to the Salgados Golf, offering breathtaking ocean views. This luxury hotel features three outdoor swimming pools, as well as a SPA& Wellness Centre where guests can indulge in ultimate relaxation. With its restaurants and bars boasting panoramic views, guests can enjoy local and international cuisine while taking in the beautiful surroundings. The modern rooms at NAU Salgados Palace are equipped with all the necessary amenities for a comfortable stay, including flat-screen cable TVs and minibars. Some rooms even offer balconies with ocean and golf course views. Additionally, the hotel provides a state-of-the-art business center for those traveling on business. With easy access to Salgados Beach and Albufeira city center just a short drive away, guests can enjoy both leisurely beach days and exploring the vibrant city atmosphere. Overall, NAU Salgados Palace offers an unbeatable combination of luxury, comfort, and stunning surroundings.
– Beautiful ocean views
– Three outdoor swimming pools
– Spa & Wellness Centre for ultimate relaxation
– Panoramic views from restaurants and bars
– Modern rooms with balcony options
Domes Lake Algarve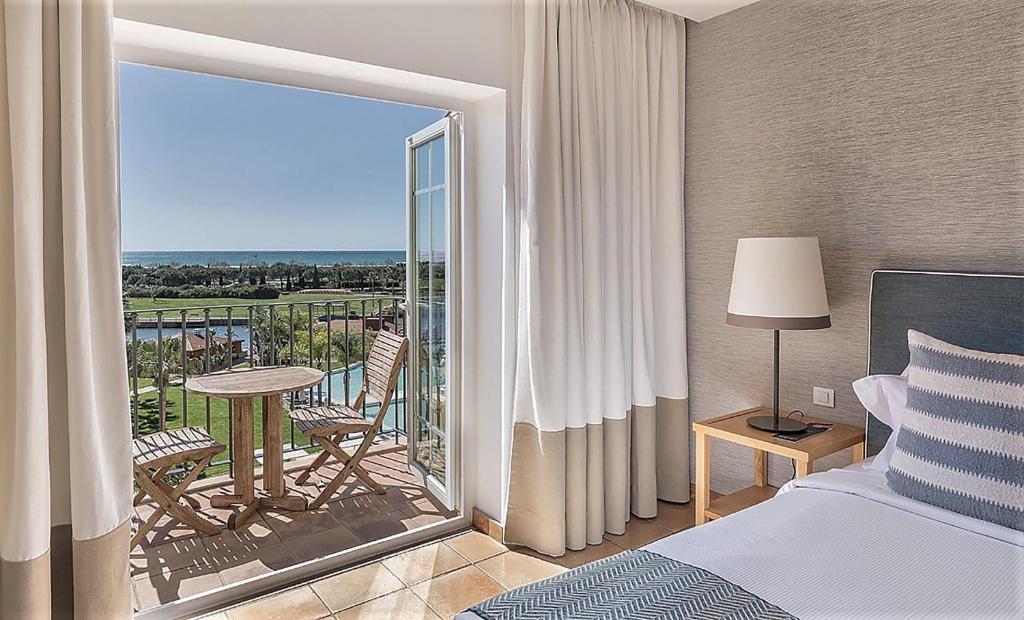 Domes Lake Algarve is a luxurious five-star resort located just 300 meters from Falésia Beach. The resort offers stunning views of the surroundings from its rooms, which feature balconies. Guests can enjoy three restaurants set on the private lake, as well as three swimming pools including a natural sand-bottom pool. Other amenities include a fitness center and spa. Guests can also take advantage of the 24-hour front desk, room service, concierge service, and currency exchange provided by the lobby. The resort also offers Hate-Living services for elite tier accommodations, with exclusive amenities such as a dedicated manager and private lounge with VIP services. The hotel is situated a 20-minute drive from Albufeira and offers shuttle service to Vilamoura golf courses upon request.
Pros:
– Proximity to Falésia Beach
– Stunning views from room balconies
– Three restaurants set on a private lake
– Multiple swimming pools, including a natural sand-bottom pool
– Hate-Living services available for elite tier accommodations
5 Star Luxury Hotels
5 Star Luxury Hotels offer the epitome of elegance and opulence, providing an unparalleled level of comfort and indulgence for discerning travelers. These exclusive establishments boast exquisite design, meticulous attention to detail, and impeccable service that caters to every whim. From lavish accommodations adorned with sumptuous furnishings to world-class dining experiences showcasing culinary masterpieces, these hotels redefine luxury at every turn. With a focus on personalized experiences and tailored offerings, 5 Star Luxury Hotels create an ambiance of sophisticated refinement where guests can truly unwind and indulge in a world of unparalleled luxury.
NAU Salgados Dunas Suites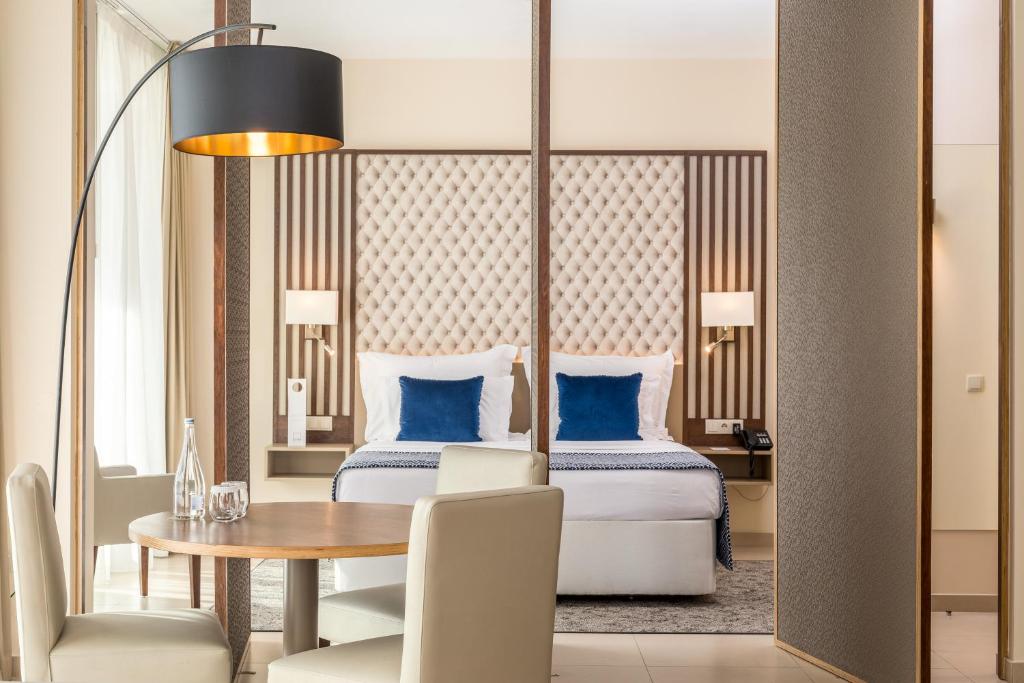 Located just a short stroll from Salgados Beach, the NAU Salgados Dunas Suites is a luxurious 5-star hotel offering guests a truly relaxing and indulgent experience. With its six outdoor swimming pools and modern rooms boasting panoramic views, this hotel is perfect for those seeking a tranquil beachside getaway. Guests can enjoy refreshing cocktails and light meals at the poolside snack bar while lounging in the sun or take advantage of the à la carte restaurant that serves both traditional Portuguese dishes and international flavors on its scenic terrace. The hotel also offers rental bicycles for those looking to explore the area without a car, as well as seasonal entertainment programs and a Kids Club for families. Additionally, golf enthusiasts will appreciate being only a short walk away from Salgados Golf's renowned 18-hole courses. With its convenient location just 6 kilometers from Albufeira and a 40-minute drive from Faro International Airport, NAU Salgados Dunas Suites ensures an unforgettable stay.
– Luxurious 5-star accommodation with panoramic views
– Six outdoor swimming pools for ultimate relaxation
– Poolside snack bar serving refreshing cocktails and light meals
– Convenient bicycle rental service available for exploring the area without a car
– Short walk to acclaimed Salgados Golf's green 18-hole courses
Regency Salgados Hotel & Spa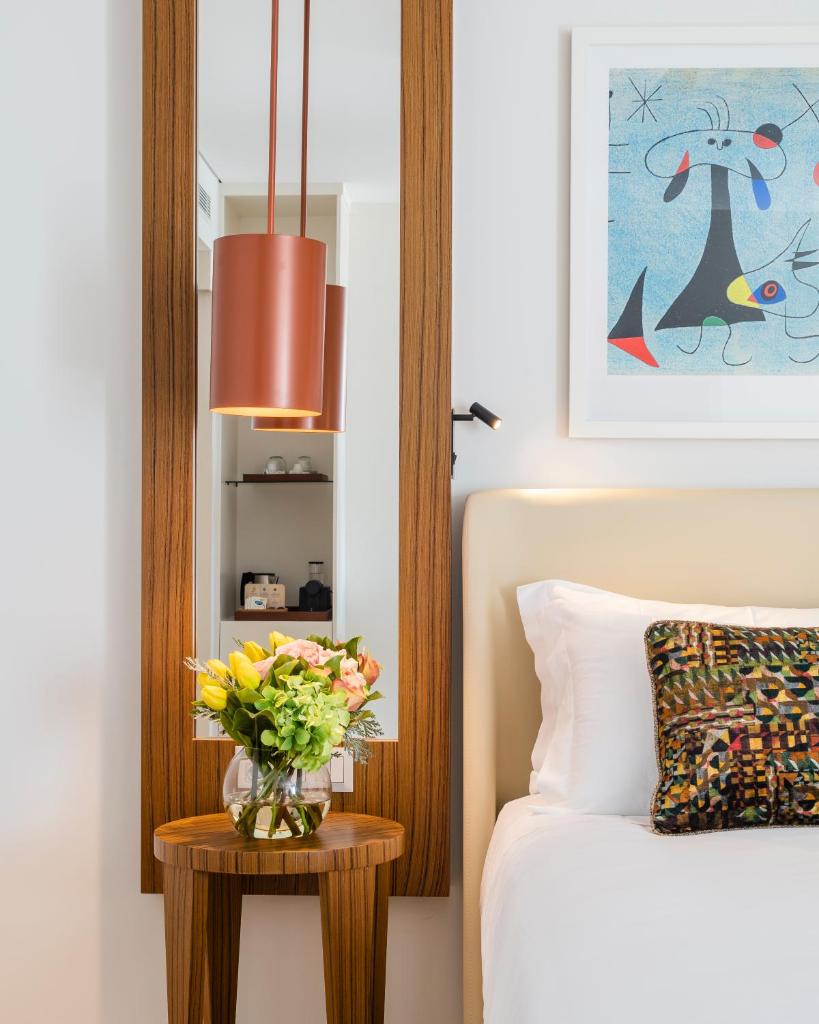 Regency Salgados Hotel & Spa is a luxurious 4-star hotel located in Albufeira, just 1.1 km from Gale West Beach. This newly opened hotel offers guests a range of amenities including an outdoor swimming pool, private parking, a fitness centre, and a beautiful garden. The air-conditioned rooms are elegant and come with private bathrooms and balconies offering stunning sea views. Guests can enjoy the sauna or take advantage of the convenient room service. The hotel also provides a buffet breakfast with various options including gluten-free choices. The friendly staff at the reception desk can assist guests with practical information in English, Spanish, French, and Portuguese. Salgados Beach and Gale East Beach are both within 1.3 km from the property, making it an ideal location for beach lovers. For added convenience, Regency Salgados Hotel & Spa offers a paid airport shuttle service to Faro Airport, which is approximately 49 km away.
Pros:
– Newly opened luxury hotel
– Beautiful sea views from the rooms
– Convenient amenities such as outdoor swimming pool and fitness centre
– Buffet breakfast with various options available
– Helpful multilingual staff for easy communication
Palmares Beach House Hotel – Adults Only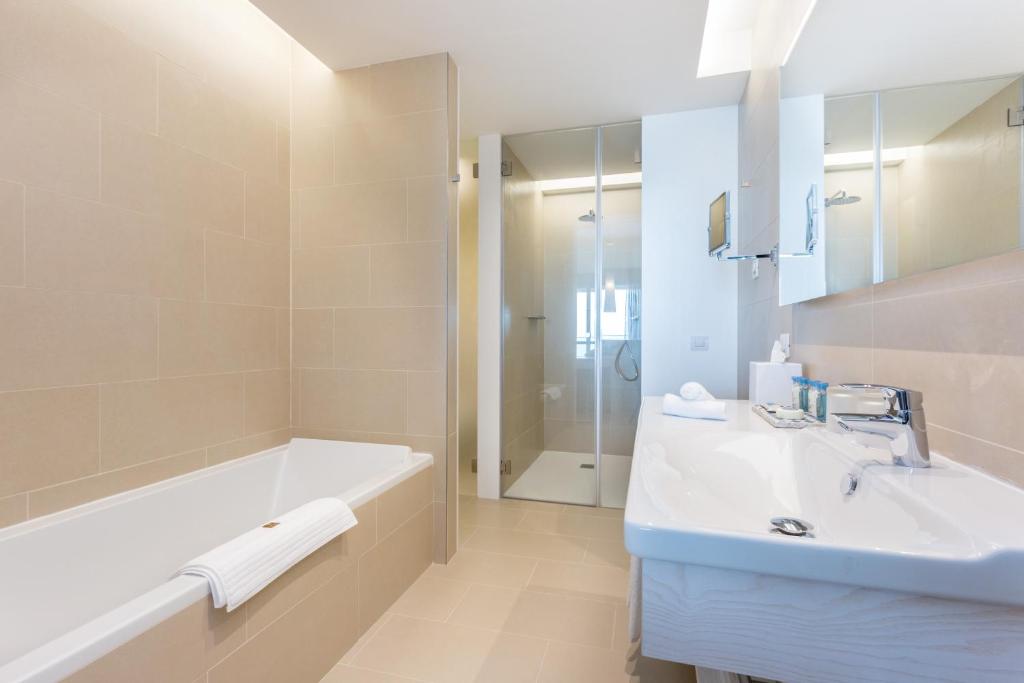 Located in Lagos, Algarve, the Palmares Beach House Hotel – Adults Only offers a luxurious and exclusive retreat for travelers seeking a serene beach getaway. Situated just 3.1 km from Meia Praia Beach, this hotel boasts an outdoor swimming pool and an on-site restaurant where guests can enjoy a delectable daily breakfast and Mediterranean cuisine. The rooms at the Palmares Beach House Hotel are elegantly decorated with private bathrooms, flat-screen cable TVs, balconies, and breathtaking views of the Atlantic Ocean. With a variety of fresh fish and seafood restaurants nearby, many within a short drive away, guests will have no shortage of dining options to explore. Additionally, the surrounding area is perfect for cycling and hiking enthusiasts who wish to immerse themselves in nature's beauty. For those looking to venture further out, the Lagos Marina is only 3.4 km away while Portimão can be reached in just a 25-minute drive. Faro Airport is also conveniently located 81 km from the hotel.
Pros:
– Stunning ocean views from all rooms
– Relaxing outdoor swimming pool
– Convenient location close to Meia Praia Beach
– Delicious Mediterranean cuisine served at on-site restaurant
– Ideal base for exploring Lagos Marina and Portimão
Luxury Algarve Hotels Information
| | |
| --- | --- |
| 🛎️ Luxury Hotels in Algarve | 9 |
| 💵 Hotels Prices From | $283 |
| 💵 Highest price | $883 |
| 🥇 Average Review Score | 8.6/10 |
| 🛏️ Average number of Rooms | 140 |
Top Luxury hotels in Algarve
| | |
| --- | --- |
| Falésia Hotel – Adults Only | 9/10 |
| Domes Lake Algarve | 9/10 |
| Palmares Beach House Hotel – Adults Only | 9/10 |
| Regency Salgados Hotel & Spa | 8.9/10 |
| NAU Salgados Dunas Suites | 8.5/10 |
FAQ
What are some luxury hotels in Algarve, Portugal?
Algarve is home to several luxury hotels that cater to the discerning traveler. Some popular choices include the Conrad Algarve, known for its elegant rooms and top-notch amenities, the Anantara Vilamoura Algarve Resort which offers stunning ocean views and a luxurious spa, and the Vila Vita Parc Resort & Spa, renowned for its beautiful gardens and Michelin-starred restaurant.
What amenities can I expect at luxury hotels in Algarve?
Luxury hotels in Algarve offer a wide range of amenities to ensure a comfortable stay. These may include spacious and well-appointed rooms with private balconies or terraces, swimming pools with panoramic views, world-class spas offering indulgent treatments, fine dining restaurants serving gourmet cuisine, fitness centers equipped with state-of-the-art equipment, and personalized concierge services to assist guests with any requests or arrangements they may need.
Are there any luxury hotels near the beach in Algarve?
Yes! There are several luxury hotels located near the beach in Algarve. Examples include Pine Cliffs Hotel (a Luxury Collection Resort), perched on cliffs overlooking Praia da Falésia beach, EPIC SANA Algarve Hotel which boasts direct access to Praia da Falésia beach as well as stunning ocean views from its infinity pool
What is the best time of year to visit luxury hotels in Algarve?
The best time of year to visit luxury hotels in Algarve is during spring (April – May) or fall (September – October). The weather during these months is pleasant with temperatures ranging from 20-25 degrees Celsius (68-77 degrees Fahrenheit). The high season crowds have yet to arrive or have already left, allowing guests to enjoy a more peaceful and relaxing stay at the luxury hotels.
What activities can I indulge in while staying at luxury hotels in Algarve?
There are plenty of activities to indulge in while staying at luxury hotels in Algarve. Guests can enjoy water sports such as kayaking, stand-up paddleboarding, and jet skiing along the coast. Golf enthusiasts can tee off at world-class golf courses with breathtaking views. Wine lovers can explore vineyards and take part in wine tastings. Additionally, there are opportunities for hiking, biking, exploring historic towns, and enjoying yacht cruises along the coastline.
Popular Most Luxurious hotel destinations