Welcome to an exquisite journey through the lap of luxury in Al Ain, a captivating oasis nestled in the heart of the United Arab Emirates. Prepare to be enthralled as we embark on a mesmerizing exploration of opulent accommodations that redefine finesse and elegance. Al Ain, also known as the "Garden City," is a haven where modernity seamlessly intertwines with tradition, offering an extraordinary escape for discerning travelers seeking unrivaled indulgence.
In this enchanting sanctuary, let your senses be seduced by the magnificence of world-class hotels that epitomize sophistication and grandeur. Discover lavish retreats adorned with ornate architecture, tasteful décor, and unobstructed vistas that stretch as far as the eye can see. From sprawling resorts boasting private plunge pools amidst lush gardens to intimate boutique hideaways exuding timeless charm, Al Ain beckons you to immerse yourself in its regal hospitality.
Whether it's basking under golden sun rays by an idyllic infinity pool or relishing Michelin-starred dining experiences curated by masterful chefs, these luxurious havens will leave no stone unturned in ensuring your every desire is fulfilled. Indulge in rejuvenating spa treatments that transport you into a realm of serenity or partake in exhilarating outdoor adventures offered exclusively for guests eager to explore nature's wonders nearby.
Escape from reality and surrender yourself to a world brimming with indulgence and unsurpassed beauty. Join us on this esteemed voyage where luxury knows no bounds; immerse yourself in unforgettable experiences at meticulously crafted establishments designed solely for those who crave the utmost opulence. This remarkable city promises an unparalleled retreat fit for royalty—prepare to have your expectations exceeded as we navigate through exceptional Luxury Hotels in Al Ain!
Most Luxurious Hotels in Al Ain
Asfar Resorts Al Ain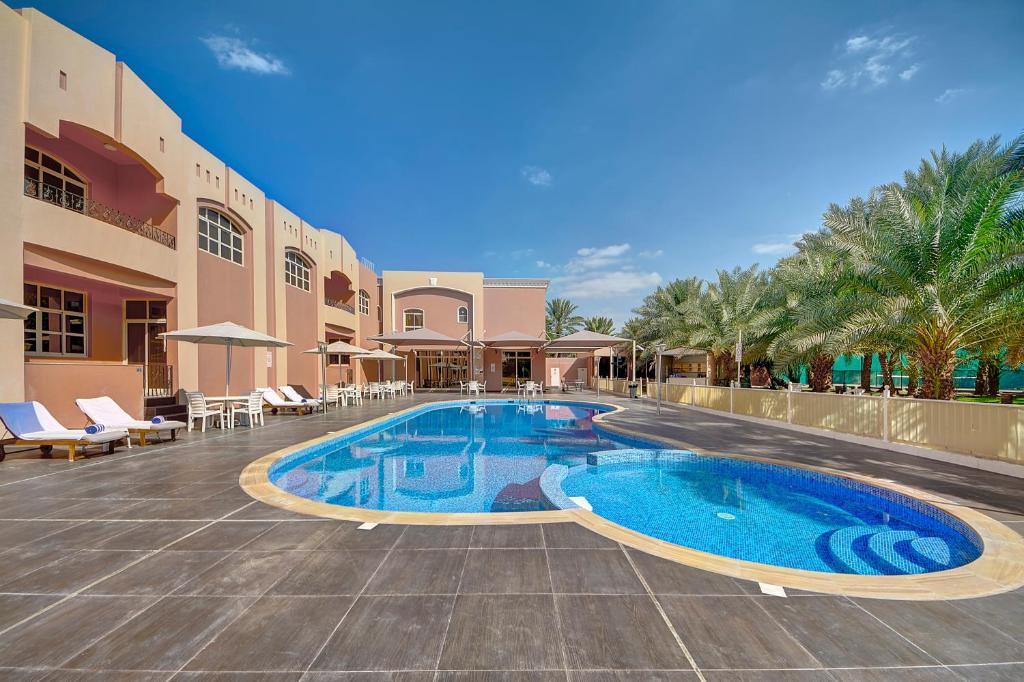 Nestled in the heart of Al Ain, Asfar Resorts offers a luxurious and tranquil getaway. Situated on Al Masoody road, just opposite Safeer Mall, this resort boasts spacious self-catering suites with balconies that provide stunning views of the surrounding landscaped gardens. The resort features an outdoor pool and a fitness center for guests to indulge in leisurely activities during their stay. Each modern suite is equipped with air conditioning, a washing machine, satellite TV, and a fully furnished kitchen with a refrigerator. Guests can savor a delicious breakfast in the privacy of their own room before venturing out to explore the local area. For those craving authentic flavors, the hotel's restaurant serves delectable regional dishes while being conveniently located only a short 10-minute drive from the city center's diverse range of restaurants and bars. Additionally, Bawadi Mall – the largest mall in Al Ain – is easily accessible within a 45-minute drive from the resort. Furthermore, Al Ain International Airport is only 13 km away and complimentary private parking is available on-site.
– Spacious self-catering suites with balconies
– Beautifully landscaped gardens surround the property
– Outdoor pool for relaxation under the sun
– Fitness center for guests who prioritize wellness
– Convenient location near Safeer Mall and city-center attractions
Ayla Bawadi Hotel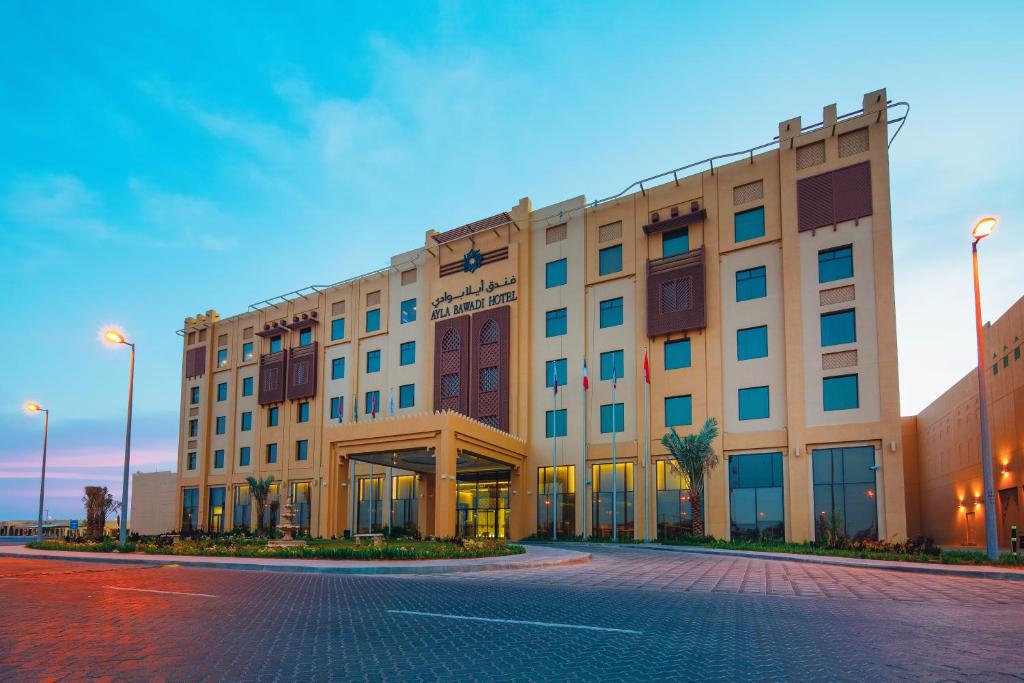 Located adjacent to Bawadi Mall, Ayla Bawadi Hotel is a luxurious 4-star property offering 90 splendid rooms and suites. The modern design of the accommodations complements the values of contemporary Arabian culture, with calm color tones creating a serene atmosphere. Each room is equipped with amenities such as a flat-screen TV, air conditioning, and a desk. Guests can enjoy access to an outdoor swimming pool and Pulse Health Club, which features TechnoGym equipment and specialists to ensure guests stay fit and healthy. The hotel also offers facilities like a steam room, hot tub, sauna, and gym for relaxation. The wellness center provides various signature face and body treatments by expert therapists for the ultimate pampering experience. For business travelers, there are meeting rooms available for successful events and conferences. Dining options include Sedra Bawadi restaurant serving international cuisine in an elegant atmosphere, while Tamra Café located in the lobby offers light meals, sweet delights, diverse coffee aromas, and healthy refreshments. With its convenient location near attractions such as Camel Market (5 minutes by car), Jebel Hafeet (15 minutes by car), Mubazzarah Park (15 minutes by car), Al Ain Zoo (20-minute drive), Al Ain Oasis (15 minutes by car), and Al Ain International Airport just 22 km away; Ayla Bawadi Hotel provides guests with easy access to explore all that Al Ain has to offer.
– Direct access to Bawadi Mall
– Outdoor swimming pool
– Pulse Health Club with TechnoGym equipment
– Wellness center offering signature face/body treatments
– Close proximity to popular attractions
Aloft Al Ain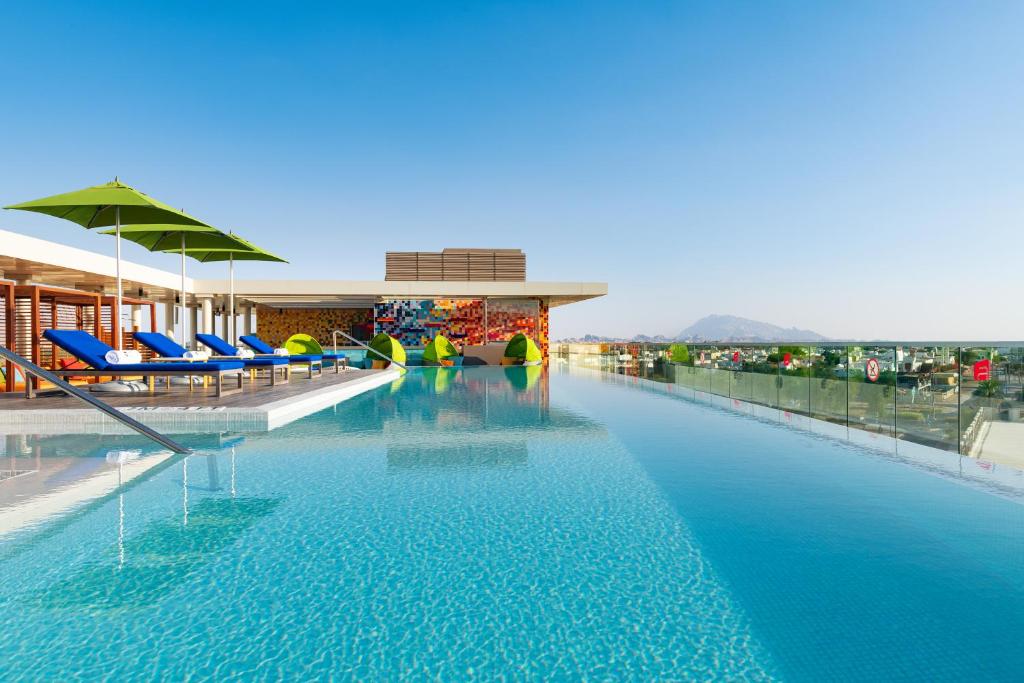 Located in the heart of Al Ain, the Aloft Al Ain is a stylish and trendy hotel situated in the vibrant Al Ain Square. With its convenient location, guests can easily access the city's exciting attractions. The hotel features buzzing public spaces and four innovative restaurants and lounges including Olive Tree, The Rooftop pool & lounge, W XYZ lounge, and Re:fuel by Aloft. The spacious rooms and suites boast high ceilings and large windows, offering a comfortable stay for guests. Amenities such as free WiFi, a flat-screen TV, work desk, complimentary coffee/tea/water bottles, bathrobes, and slippers are provided in each room. The property also offers a 24-hour front desk service for convenience. Whether you're craving Middle Eastern, Western, Arabic or Asian cuisine – there is something to satisfy every palate at one of the hotel's food outlets. Nearby attractions include Palace Museum (6 km) and Al Ain Oasis (6 km), while Al Ain International Airport is just 10 km away from the hotel. Additionally, free parking is available on-site.
Pros:
– Rooftop pool with scenic views
– Convenient location in the heart of Al Ain
– Stylish and trendy ambiance
– Four innovative restaurants and lounges on-site
– Spacious rooms with modern amenities
Luxury Hotels in Downtown Al Ain
Downtown Al Ain boasts a collection of exquisite luxury hotels that offer discerning travelers an unrivaled experience. Nestled amid the vibrant cityscape, these opulent accommodations exude elegance and sophistication in every detail. From the breathtaking architecture to the impeccable service, guests are enveloped in a world of refined luxury from the moment they step through the doors. Each hotel showcases tastefully designed interiors that seamlessly blend modern aesthetics with local charm. The attention to detail extends beyond mere decor, as every aspect is meticulously curated to provide an unforgettable stay for those seeking indulgence and relaxation. With their proximity to renowned attractions and bustling city life, these distinguished hotels offer an ideal retreat for both leisure and business travelers alike.
City Seasons Hotel Al Ain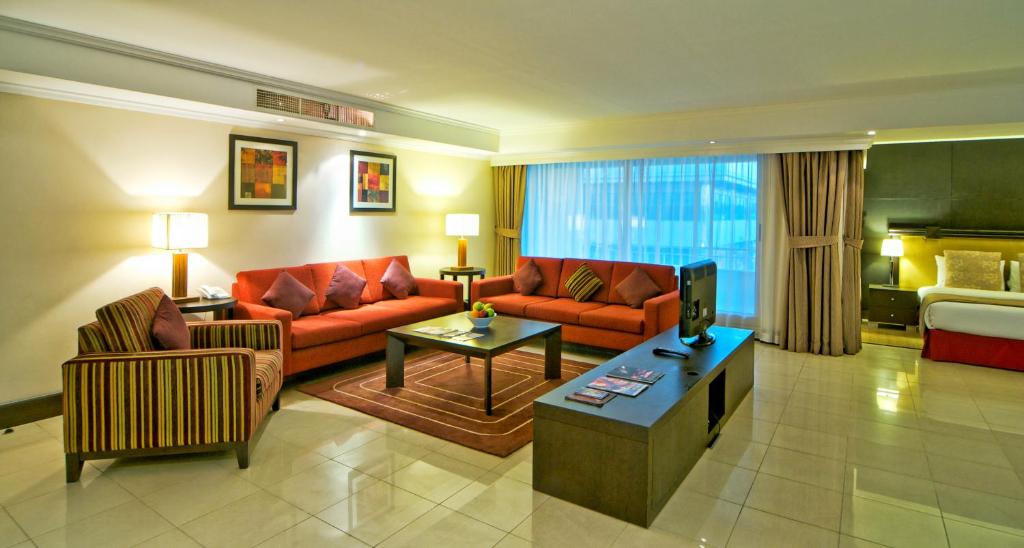 City Seasons Hotel Al Ain is a modern and stylish hotel that offers guests a comfortable stay in the heart of Al Ain. The air-conditioned rooms feature a seating area and flat-screen satellite TV, ensuring guests have everything they need for a pleasant stay. The hotel also boasts an outdoor pool, gym with sauna, and free on-site parking. Dining options include an all-day dining restaurant serving traditional and international dishes, as well as a café offering freshly brewed coffee and snacks. With its convenient location just 15 km from Al Ain Airport, City Seasons Hotel Al Ain is the perfect choice for travelers looking for both comfort and convenience.
– Modern and stylish rooms
– Outdoor pool
– Gym with sauna
– Free on-site parking
– Convenient location near airport
Mercure Grand Jebel Hafeet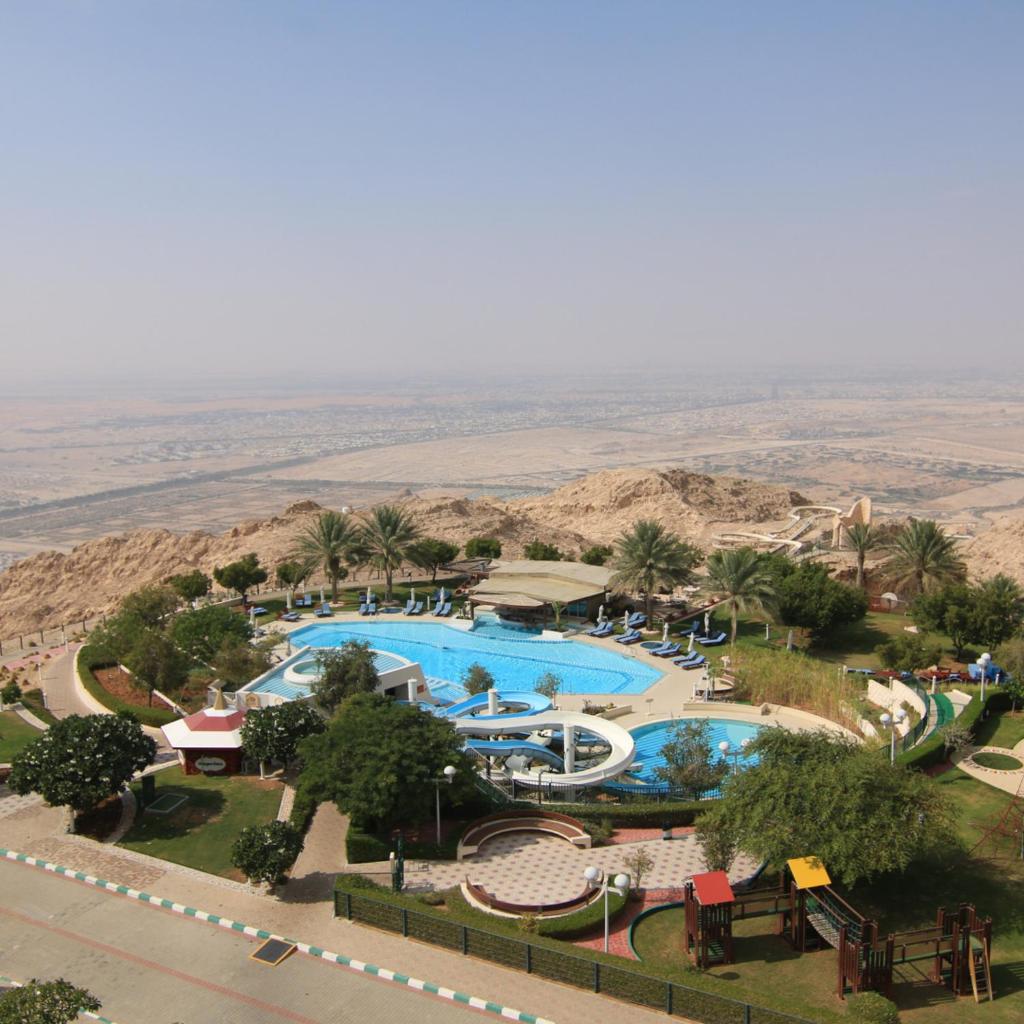 Located on Hafeet Mountain at 915 metres, Mercure Grand Jebel Hafeet is a stunning oasis resort boasting elegant architecture. The hotel offers three restaurants and three swimming pools with exhilarating water slides. The spacious rooms are tastefully decorated in a modern style and come equipped with minibars. Indulge in delectable hot dishes and cold snacks from the convenience of your room or treat yourself to lunch on the terrace while enjoying panoramic views of the city, accompanied by a refreshing cocktail from the bar. Le Belvedere serves an enticing blend of French, Moroccan, and Italian cuisine, while Orient Café delights guests with oriental finger foods. Ideally located just two hours' drive from Abu Dhabi and Dubai, Mercure Grand Jebel Hafeet is also within close proximity to Hili Fun City Park (25 km) as well as the Camel Race Track and zoo (10 km).
– Stunning location atop Hafeet Mountain
– Elegant architecture
– Three restaurants to choose from
– Spectacular views of the city
– Close proximity to popular attractions
Radisson Blu Hotel & Resort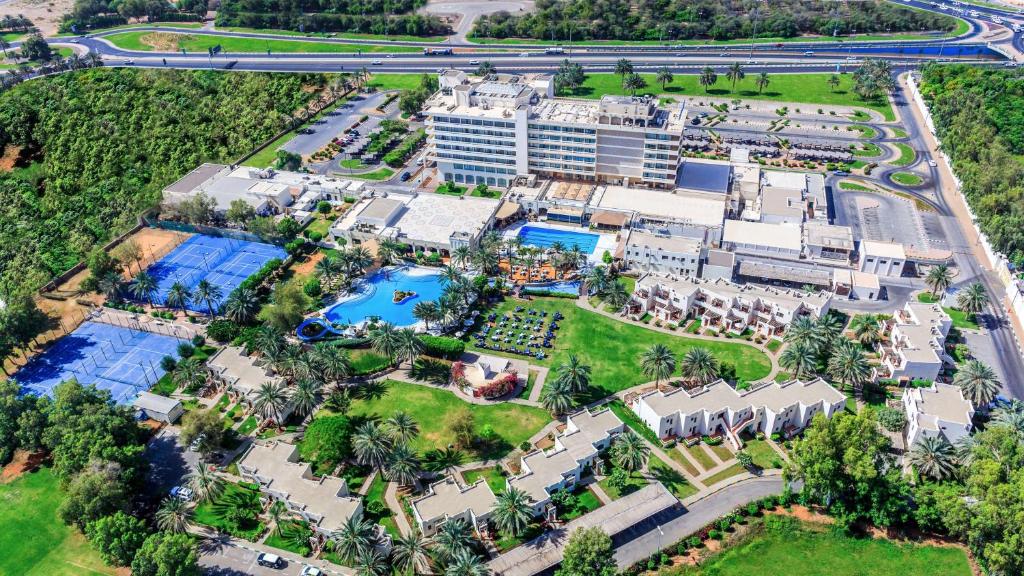 Located in the heart of Al Ain, Radisson Blu Hotel & Resort offers a tranquil retreat surrounded by beautiful landscaped gardens. Guests can escape from the bustling city and relax in one of the three swimming pools or play a game of tennis on the resort's courts. The stylish rooms provide balconies with views of either the pool, mountain, or garden. Each room features an elegant marble bathroom, LCD TV, and both wired and wireless internet access. The hotel boasts a variety of dining options, including Arabic, Italian, Tex-Mex, and Mediterranean cuisines. The recently reopened Flavours restaurant offers seafood and meat dishes as well as street food nights. Paco's Bar provides live music performances and Saturday Brunch for guests to enjoy. For those seeking active pursuits, there is a squash court and four tennis courts available. Families can make use of the family pool which includes a dedicated children's pool area. The hotel is conveniently located just minutes away from Al Ain's attractions such as sand dunes and UNESCO world heritage sites. With its peaceful surroundings yet close proximity to exciting attractions, Radisson Blu Hotel & Resort offers an ideal luxury getaway.
Pros:
– Beautifully landscaped gardens
– Variety of dining options offering international cuisine
– Multiple swimming pools and tennis courts
– Stylish rooms with balconies overlooking scenic views
– Convenient location near Al Ain's attractions
5 Star Luxury Hotels
When it comes to indulging in the epitome of opulence and exclusivity, 5-star luxury hotels stand unparalleled. These exquisite establishments redefine hospitality by offering an exceptional level of service, attention to detail, and a sumptuous ambiance that leaves guests feeling like royalty. From immaculately designed interiors adorned with lavish furnishings to world-class gourmet dining experiences, every aspect is crafted with meticulous care to ensure an unforgettable stay. With a plethora of amenities tailored for relaxation and rejuvenation, along with personalized concierge services catering to every whim and desire, 5-star luxury hotels promise an unrivaled retreat that transcends mere accommodation – they offer an extraordinary experience that lingers in memory long after the departure.
Hili Rayhaan by Rotana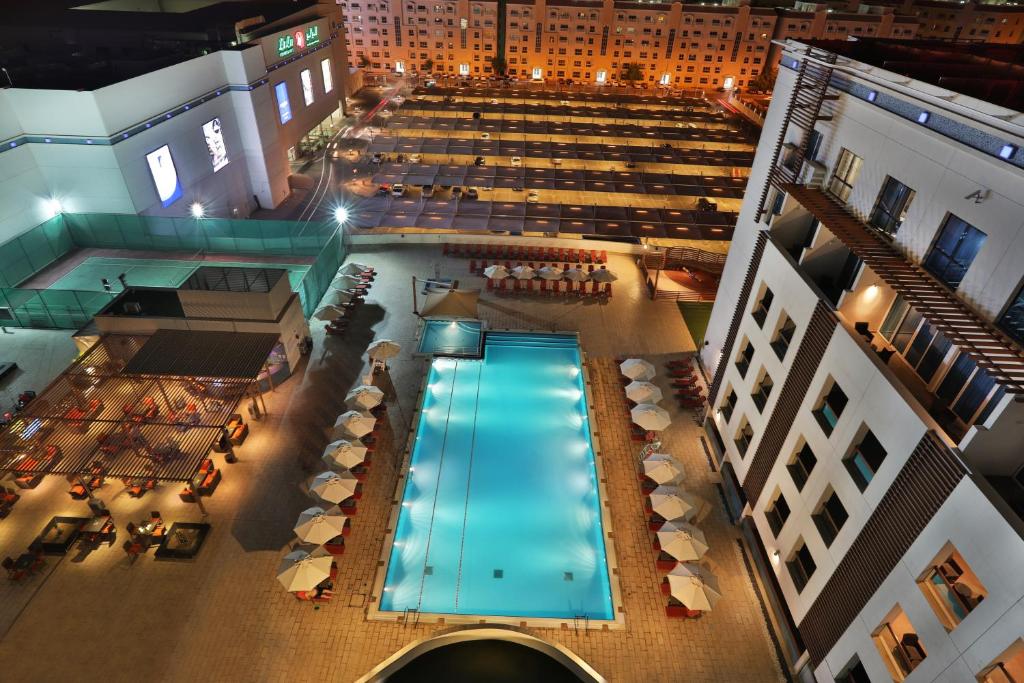 Located in the heart of Al Ain, Hili Rayhaan by Rotana is a luxurious hotel that offers unparalleled convenience with its direct connection to Hili Mall. With over 120 retail outlets, guests can indulge in a world of shopping right at their doorstep. The hotel boasts an array of amenities including an outdoor pool, fitness centre, and tennis court. Each well-appointed unit features modern interiors and a flat-screen TV. The suites also include a spacious living area for added comfort. Guests can choose from three dining venues or enjoy 24-hour room service for ultimate convenience. The conference area provides seven flexible meeting rooms equipped with state-of-the-art audio-visual equipment and a contemporary atmosphere. For leisure activities, guests can unwind at the Bodylines Fitness & Wellness Club which offers top-notch facilities for leisure, sports, and health enthusiasts. A tennis court, outdoor swimming pool, and kids' playground ensure entertainment for everyone. Located just minutes away from Hili District and 16 km from Al Ain Airport, this hotel offers easy access to local attractions. An airport shuttle service is available upon request.
– Convenient location connected to Hili Mall
– Outdoor pool and fitness centre
– Spacious suites with modern interiors
– Choice of three dining venues plus 24-hour room service
– State-of-the-art meeting rooms and conference facilities
Ayla Hotel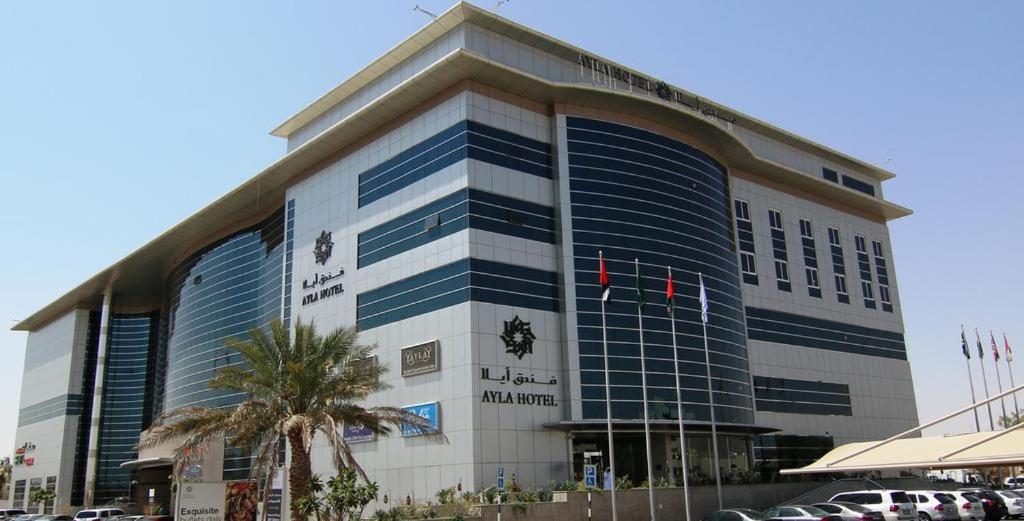 Located in the heart of Al Ain City within a Community Mall, Ayla Hotel offers guests a luxurious and comfortable stay. The hotel features contemporary guest rooms and spacious suites, all equipped with flat-screen TVs and modern furnishings that showcase Arabic elements. The hotel's Pulse Health Club provides guests with a range of wellness facilities including massage treatments, steam room, hot tub, sauna, and a fully-equipped gym. Guests can also take a dip in the indoor temperature-controlled swimming pool. Dining options at Ayla Hotel include an international buffet with various theme nights at the restaurant, refreshments at Tamra Café, and a rooftop chill out lounge called Sky5. For those looking to explore the area, the hotel offers a tour desk and car rental service. Additionally, Al Ain National Museum is just a 5-minute drive away.
– Central location within Al Ain City
– Contemporary guest rooms and spacious suites
– Range of wellness facilities at Pulse Health Club
– Multiple dining options including an international buffet
– Convenience of tour desk and car rental service
Danat Al Ain Resort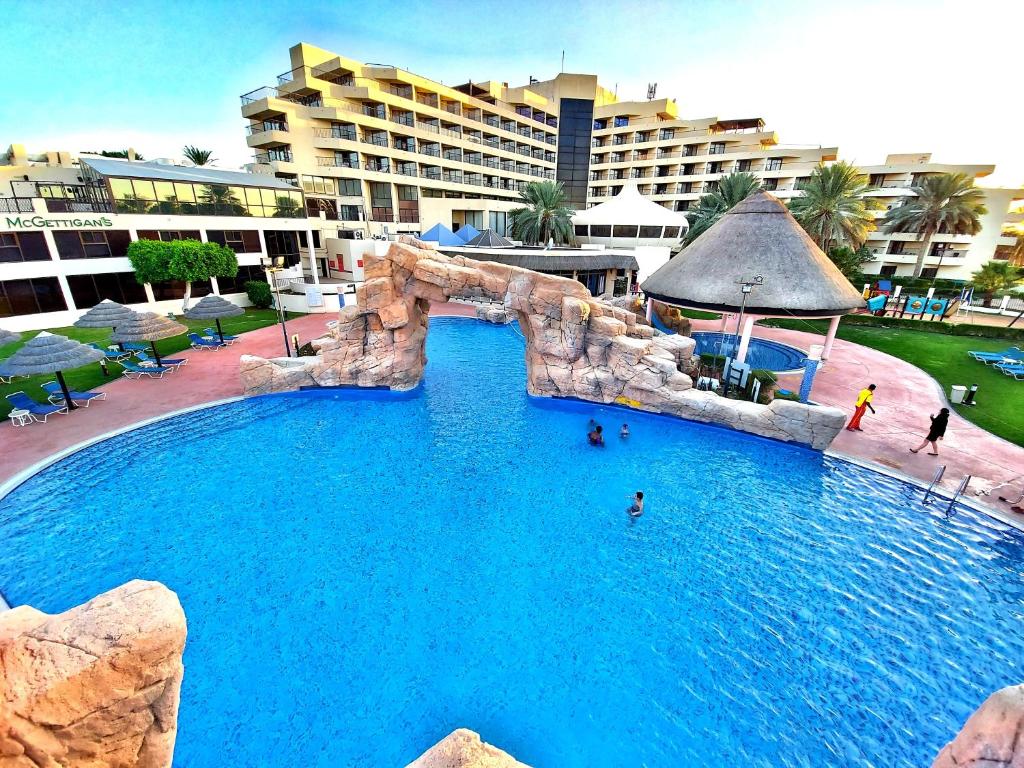 Danat Al Ain Resort is a luxurious retreat nestled amidst lush greenery and stunning gardens. This resort boasts an impressive range of amenities including three swimming pools, tennis and squash courts, a sauna, fitness center, and pampering spa treatments. The guest rooms are elegantly appointed with private balconies offering picturesque views of the gardens, swimming pools, and Jebel Hafeet Mountains. Dining options are plentiful with various international cuisines available at the numerous restaurants and bars on-site, including Far Eastern, Indian, Italian fare as well as an Irish Bar and pool bar. Each room also features modern amenities such as satellite TV, a luxury bathroom, and a convenient work desk. Additionally, guests will enjoy complimentary shaded car parking while conveniently located just 10 km from Jebel Hafeet Mountain and only 5 minutes away from both Al Ain Mall and Bawadi Mall. Families traveling with children will appreciate the supervised play area and babysitting services offered by the hotel.
Pros:
– Beautifully landscaped outdoor pool
– Wide variety of dining options available
– Convenient location near popular attractions
– Luxurious amenities including spa treatments
– Excellent services for families traveling with children
Most Expensive Hotels in Al Ain
Al Ain, a city known for its rich cultural heritage and stunning landscapes, is also home to some of the most luxurious and opulent hotels in the world. These establishments redefine extravagance with their impeccable service, exquisite design, and unparalleled attention to detail. From lavish suites boasting panoramic views of the city's lush greenery to world-class dining experiences that tempt even the most discerning palate, these hotels offer an indulgent escape for those seeking nothing short of perfection. With every aspect carefully curated to provide guests with an unforgettable stay, it comes as no surprise that Al Ain's most expensive hotels are regarded as true havens of luxury and sophistication.
Al Ain Rotana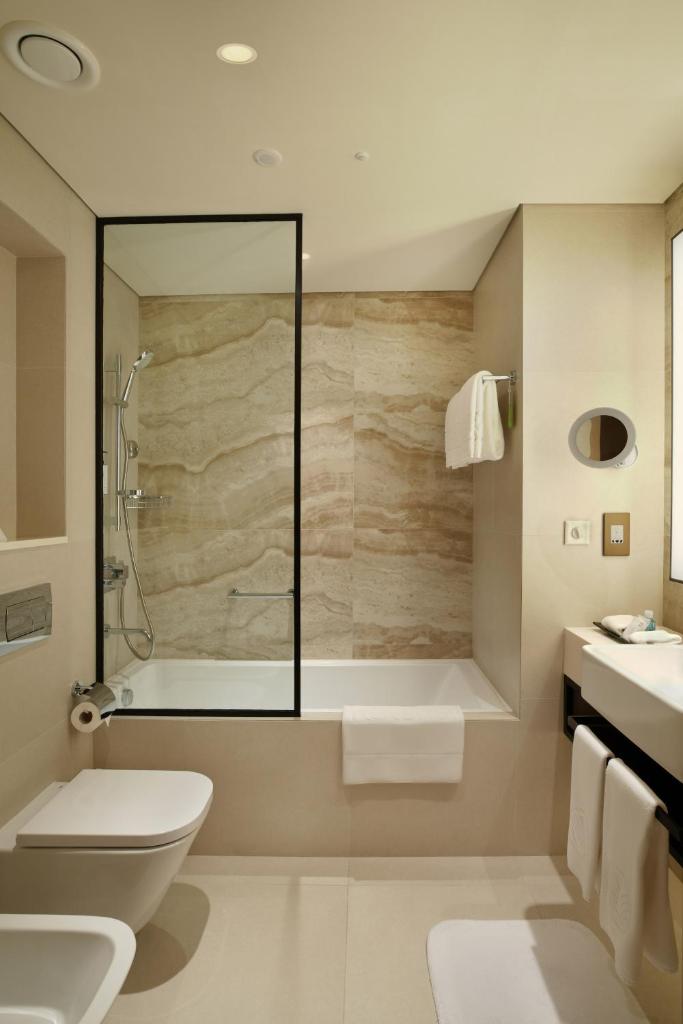 Al Ain Rotana is a luxurious hotel located in the heart of Al Ain, overlooking a beautiful green park. The hotel boasts a large outdoor pool with a sun-lounger terrace, perfect for relaxation and soaking up the sun. The accommodations at Al Ain Rotana are elegant and feature furnished balconies with breathtaking mountain views. With a range of room options including suites, rooms, poolside chalets, and villas, guests can choose the perfect setting for their stay. Guests can indulge in delicious cocktails and snacks at Atrium Café, Moodz bar or enjoy poolside dining at Aquarius. All rooms are equipped with air conditioning, satellite TV, and minibars while some also offer flat-screen TVs and fully equipped kitchenettes. Dining options are abundant at this hotel with all-day dining choices as well as Lebanese and French restaurants featuring belly dancing performances and live music. For fitness enthusiasts, Bodylines Leisure and Fitness Club offers a fully-equipped gymnasium, massage rooms, squash courts, as well as yoga and kickboxing classes. Conveniently located just 3.4 km from Al Ain Mall and less than 2 km from the Palace Museum, Al Ain Rotana provides 24-hour front desk service along with complimentary on-site private parking facilities including car washing services.
– Luxurious accommodations with stunning mountain views
– Large outdoor pool with a sun-lounger terrace
– Variety of dining options including Lebanese and French restaurants
– Fully-equipped fitness center along with relaxing massage rooms
– Convenient location near popular attractions like Al Ain Mall & Palace Museum
Luxury Al Ain Hotels Information
| | |
| --- | --- |
| 🛎️ Luxury Hotels in Al Ain | 10 |
| 💵 Hotels Prices From | $86 |
| 💵 Highest price | $838 |
| 🥇 Average Review Score | 7.8/10 |
| 🛏️ Average number of Rooms | 144 |
Top Luxury hotels in Al Ain
| | |
| --- | --- |
| Radisson Blu Hotel & Resort | 8.2/10 |
| Hili Rayhaan by Rotana | 8.2/10 |
| Ayla Bawadi Hotel | 8.1/10 |
| Ayla Hotel | 8/10 |
| Aloft Al Ain | 7.9/10 |
FAQ
What are some of the luxury hotels in Al Ain?
Al Ain has several luxury hotels that cater to discerning travelers. Some popular options include the luxurious Danat Al Ain Resort, known for its stunning gardens and top-notch facilities, including a golf course and spa. Another great choice is the Hilton Al Ain, which offers elegant rooms and suites with modern amenities and access to a private beach club. If you prefer a more traditional Arabian experience, the Hili Rayhaan by Rotana provides a blend of cultural charm and contemporary luxury.
What amenities can I expect at luxury hotels in Al Ain?
Luxury hotels in Al Ain offer an array of amenities designed to provide guests with ultimate comfort and relaxation. From world-class spas offering rejuvenating treatments to infinity pools with breathtaking views, these properties go above and beyond to ensure an unforgettable stay. You can also expect gourmet dining options serving exquisite cuisines from around the world, state-of-the-art fitness centers equipped with cutting-edge equipment, and personalized services tailored to meet your every need.
Are luxury hotels in Al Ain family-friendly?
Yes, many luxury hotels in Al Ain welcome families and offer family-friendly amenities. These properties often have spacious rooms or suites that can accommodate families comfortably. They may also provide facilities like children's pools or play areas where kids can have fun while parents relax. Additionally, some hotels organize activities for children or offer babysitting services upon request. It is always advisable to check with the hotel directly regarding their specific family-friendly offerings before making a reservation.
What are some nearby attractions near luxury hotels in Al Ain?
Al Ain is known for its rich history and natural beauty, offering plenty of attractions near luxury hotels. One must-visit site is Jebel Hafeet Mountain, where you can enjoy panoramic views from its summit or take a thrilling drive along its winding roads. The charming Al Jahili Fort is another popular attraction that showcases traditional Emirati architecture and hosts cultural exhibitions. For nature enthusiasts, the Al Ain Zoo is home to a wide range of exotic animals and provides an immersive learning experience.
What is the best time to visit Al Ain for a luxury hotel experience?
The best time to visit Al Ain for a luxury hotel experience is during the winter months from November to April when temperatures are mild and pleasant. This period offers ideal weather conditions for outdoor activities and exploration. It is important to note that Al Ain can get quite hot in the summer, with temperatures soaring above 40 degrees Celsius (104 degrees Fahrenheit). Luxury hotels usually have excellent air conditioning systems, but if you prefer outdoor adventures or sightseeing, it's advisable to plan your visit during the cooler months.
Popular Luxury Hotels destinations