Welcome to a captivating journey through the world of opulent accommodations in Aberdeen, a picturesque city nestled in the northern region of the United Kingdom. Prepare to be enchanted by an array of sumptuous lodgings that redefine luxury and elegance. Whether you seek a tranquil escape or a vibrant urban experience, Aberdeen offers an exquisite selection of high-end hotels that cater to every discerning traveler's desire.
Indulge yourself in lavish settings adorned with refined decor and immerse yourself in refined comfort. Each luxury hotel is meticulously designed to provide an unparalleled experience, blending contemporary style with timeless sophistication. From charming boutique establishments steeped in history to modern architectural marvels boasting panoramic city views, Aberdeen's luxury hotels offer an enchanting blend of old-world charm and cutting-edge design.
Prepare to surrender your senses as you are greeted by impeccable service from highly trained staff who anticipate your every need. Savor delectable cuisine prepared by world-class chefs using locally sourced ingredients, ensuring a culinary journey that tantalizes your taste buds. Unwind and rejuvenate at state-of-the-art spas where skilled therapists will pamper you with indulgent treatments inspired by ancient rituals.
In this blog post series, we will take you on a captivating adventure through some of Aberdeen's most exclusive luxury hotels, each one promising its own unique blend of opulence and tranquility. Join us as we explore these havens of refinement where every detail has been carefully curated for the ultimate luxurious experience.
Most Luxurious Hotels in Aberdeen
Maryculter House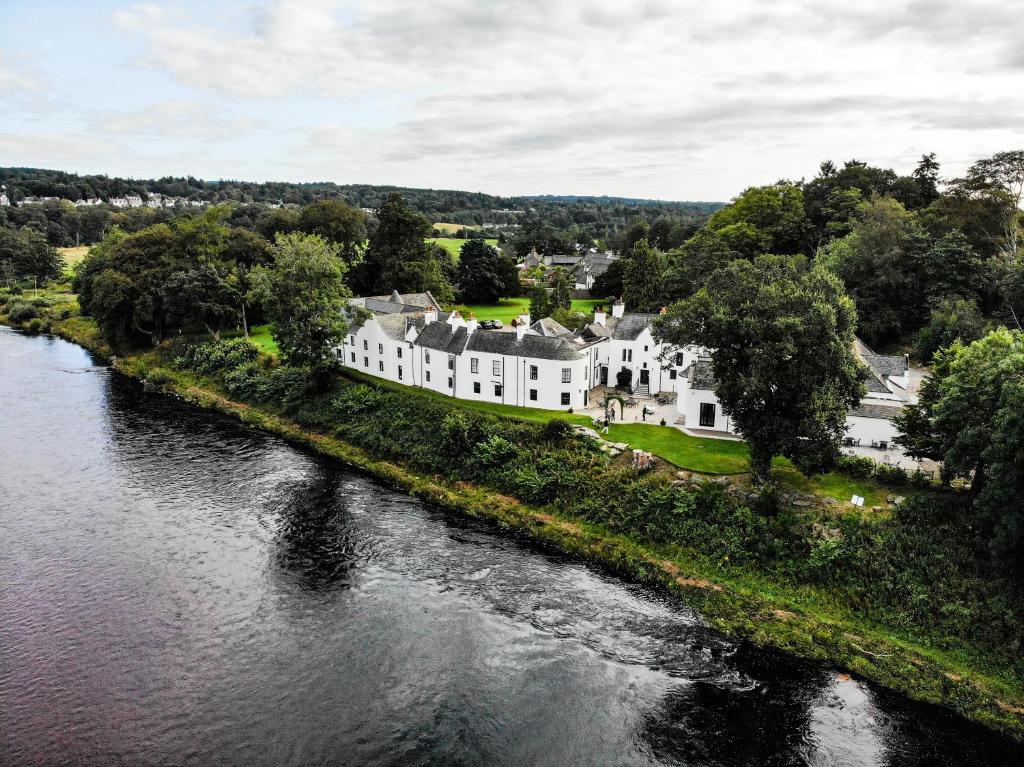 Located on the banks of the River Dee, Maryculter House is a historic Scottish mansion dating back to 1225 AD, once inhabited by the Knights Templar. This charming hotel perfectly blends modern luxury with period details, boasting elegant decor that incorporates natural stone, wood paneling, exposed fireplaces, and tall beamed ceilings. Situated amidst stunning landscapes, guests have countless opportunities to explore Scotland's tourist trails or engage in thrilling activities like skiing, cycling, canoeing, shooting, off-road driving, gliding, diving and rafting.
– Picturesque setting on the banks of River Dee
– Stylish decoration combining modern luxury with period details
– Countless opportunities for outdoor activities including skiing and cycling
– Historic site once home to the Knights Templar
– Close proximity to Scotland's tourist trails
Rox Hotel Aberdeen by Compass Hospitality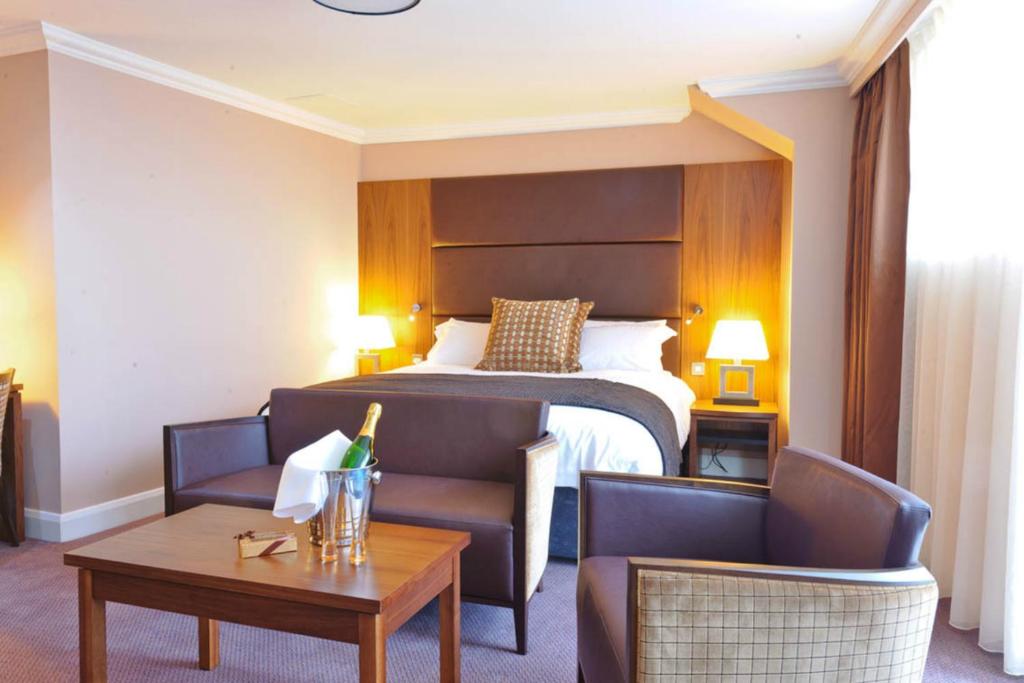 Located in the heart of Aberdeen, the four-star Rox Hotel Aberdeen by Compass Hospitality offers a delightful blend of classical and contemporary design. Guests can enjoy a range of amenities including a free gym and a stylish, modern restaurant. The rooms at The Rox Hotel exude elegance with their black granite bathrooms, velvet cushions, and rain showers. Each room also boasts private en suite bathrooms with toiletries, flat-screen TVs, and free WiFi. Indulge in a culinary feast at Restaurant 21, where you can savor fresh, locally sourced ingredients weaved together to create unique Scottish cuisine. The hotel is conveniently situated less than 2 minutes' walk from Aberdeen's center and within a 20-minute drive from Aberdeen Airport. Additionally, Union Terrace Gardens are just a short 5-minute walk away while Duthie Park can be reached within 25 minutes on foot. With its proximity to rail, ferry and major transport links, this hotel is the ideal choice for both business and leisure travelers.
– Convenient location in the heart of Aberdeen
– Stunning classical and contemporary design
– Modern restaurant serving fresh locally sourced ingredients
– Close proximity to major transport links
– Free gym facilities available
The Craighaar Hotel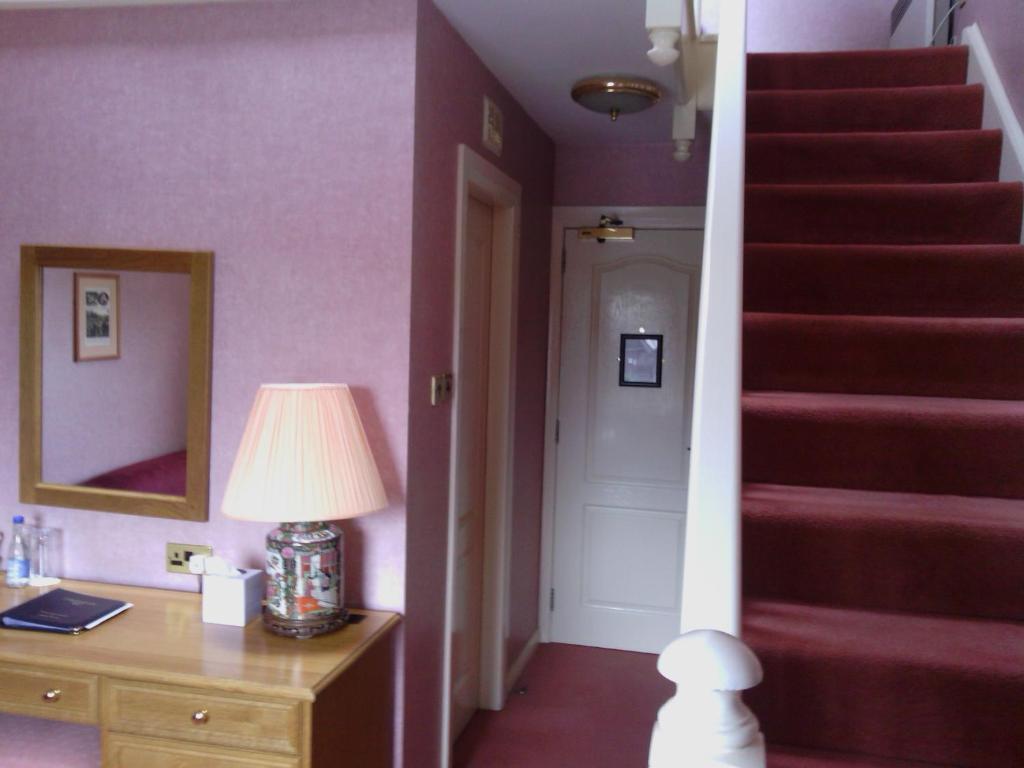 Located just a short 5-minute drive from Aberdeen International Airport and a mere 450 meters from TECA/P and J Live arena, the Craighaar Hotel is the ideal choice for travelers seeking convenience and comfort. Offering free on-site parking and complimentary Wi-Fi throughout, this hotel ensures that guests have everything they need for a seamless stay. Start your day off right with a delicious Scottish or Continental breakfast served each morning. The attentive staff are always on hand to ensure your needs are met, while the en-suite rooms provide a cozy retreat with complimentary tea, coffee, hot chocolate, and shortbread. The bathrooms/shower rooms are stocked with guest toiletries for added convenience, and every room is equipped with a hairdryer and High Definition Smart television – perfect for accessing popular streaming services like Netflix or Amazon Prime. For those looking to indulge in local cuisine, the hotel's stylish restaurant offers some of the finest quality dishes in the area. Afterward, unwind in the cosy lounge bar featuring an inviting open fire and an extensive selection of top-notch malt whiskies – an ideal spot to conclude your day. With regular bus services close by, both the city center and airport are easily accessible from this charming hotel.
– Conveniently located near Aberdeen International Airport
– Complimentary on-site parking
– Free Wi-Fi throughout
– En-suite rooms with complimentary refreshments
– Stylish restaurant serving high-quality local cuisine
Other places to stay in Aberdeen
Luxury Hotels in Downtown Aberdeen
Downtown Aberdeen offers a remarkable selection of luxury hotels that effortlessly blend opulence with modern elegance. These exclusive accommodations boast stunning architectural designs and sophisticated interiors, creating an unmatched ambiance for discerning travelers. From the moment guests step foot in the lobby, they are greeted with unparalleled service and attention to detail. Every aspect of their stay is carefully curated to provide a truly indulgent experience, from fine dining restaurants serving exquisite cuisine to luxurious spa facilities offering rejuvenating treatments. With prime locations in the heart of the city, these luxury hotels in Downtown Aberdeen offer unrivaled access to world-class shopping, cultural attractions, and vibrant nightlife, making them a perfect choice for those seeking an unforgettable stay.
Macdonald Norwood Hall Hotel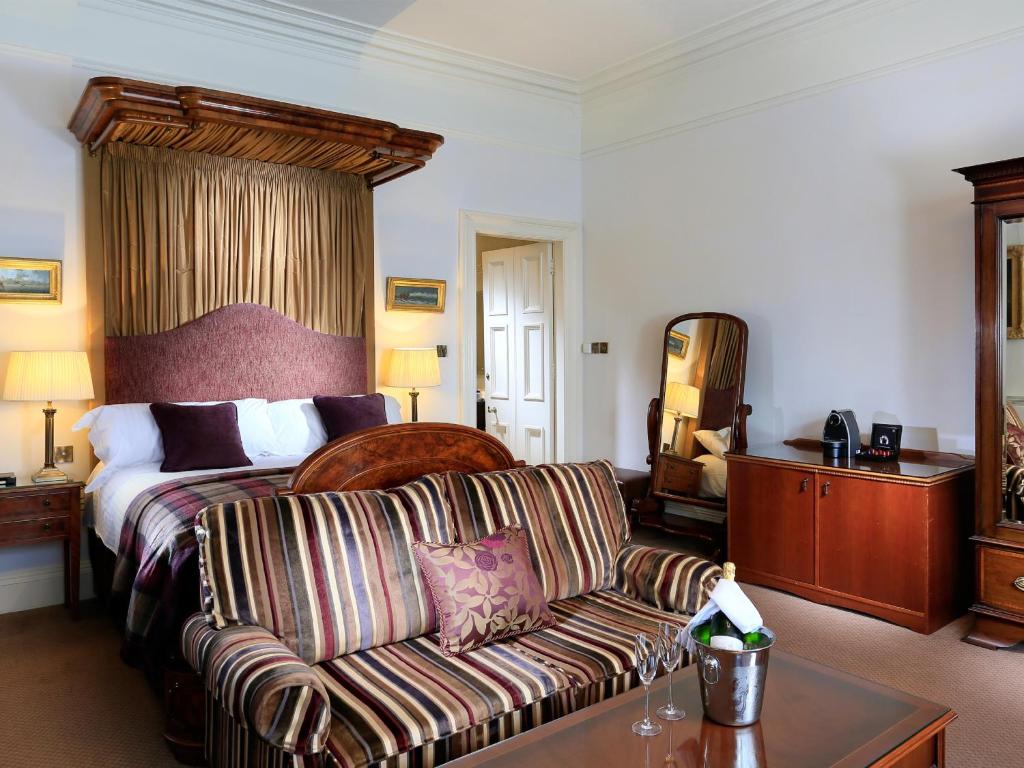 Located just a 10-minute drive from Aberdeen city centre, Macdonald Norwood Hall Hotel is a charming country house hotel that offers a luxurious stay surrounded by log fires, wooded grounds, and secluded gardens. This Victorian-era hotel has been beautifully preserved, showcasing its original features such as sweeping staircases and colonnaded entrances. Guests can relax in the Library or enjoy the outdoor seating areas in the garden. The Tapestry Restaurant serves award-winning cuisine, specializing in fresh seafood sourced from nearby ports and game from Highland estates. With an extensive wine list and a selection of malt whiskies, the Georgian Lounge is perfect for indulging in light meals and drinks. The elegantly decorated rooms boast modern amenities including flat-screen TVs and WiFi access. Some rooms even feature work desks and walk-in showers. Conveniently located in the West End of Aberdeen, Macdonald Norwood Hall Hotel is just a short drive away from Dyce Airport. Additionally, it is within walking distance of Robert Gordon University and only 5 miles away from the University of Aberdeen.
– Charming country house hotel with beautiful Victorian features
– Award-winning cuisine served at The Tapestry Restaurant
– Outdoor seating areas for guests to enjoy
– Elegant rooms with modern amenities including flat-screen TVs
– Convenient location near universities and airport
The Craibstone Suites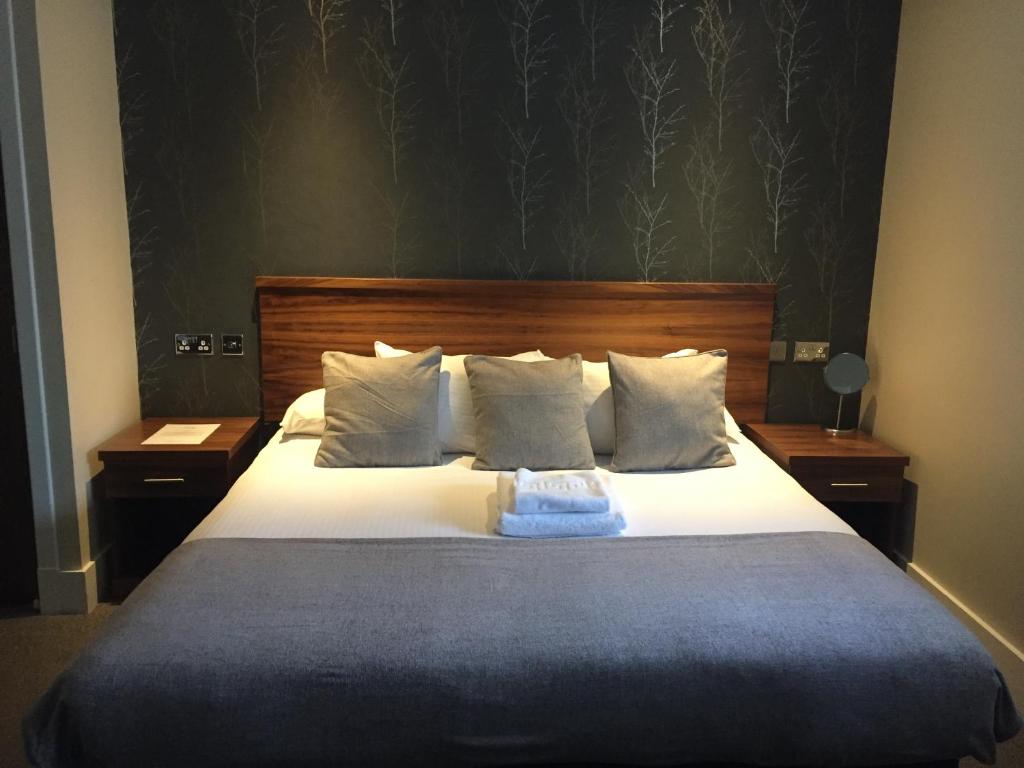 The Craibstone Suites in Aberdeen city centre offer a luxurious and comfortable stay. Nestled in a quiet garden square, these stylish suites provide a serene retreat for guests. Each suite is equipped with modern amenities such as free Wi-Fi, a fully equipped kitchen, a king-size bed, and a flat-screen TV. Boasting original features combined with contemporary luxury, the suites are located in a historic building. The hotel offers two suites on the first floor with balcony areas – The Studio Balcony Suite and the 1 Bedroom Balcony Suite. Additionally, there is the Patio Suite situated on the lower ground floor. Perfect for families, only the 1 Bedroom Suites can accommodate rollaway beds or cots for children up to 12 years old. Conveniently located just 200 meters away from Union Street's shops, bars, and restaurants and 800 meters from Aberdeen Rail Station; each suite provides excellent access to nearby attractions. With over 50 channels available on their flat-screen TVs, guests can unwind after exploring the city. Combining the comforts of a four-star hotel with the privacy of an apartment-style accommodation makes Craibstone Suites an ideal choice for discerning travelers.
– Quiet location overlooking a garden square
– Fully equipped kitchens in each suite
– Original features blend seamlessly with modern luxury
– Convenient proximity to shops, bars, and restaurants
– Excellent access to Aberdeen Rail Station
The Aberdeen Altens Hotel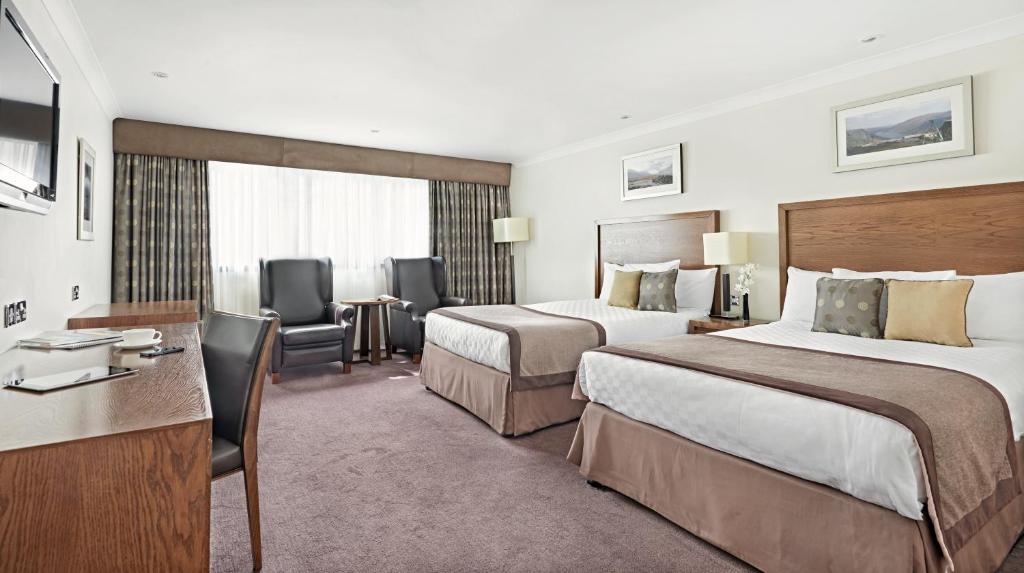 The Aberdeen Altens Hotel is a contemporary hotel located 3 miles from the city centre and just 1 mile from the coast. The hotel offers modern rooms with en suite bathrooms, equipped with amenities such as satellite TV, hairdryer, and work desk. Guests can enjoy the sauna, spa, and indoor pool facilities provided by the hotel. In addition, wireless internet is available throughout the property and free parking is offered to guests. The on-site health and leisure club provides many fitness facilities including a gym and steam room. Situated south of Aberdeen, Royal Deeside is easily accessible from the hotel, making it convenient for guests to explore this beautiful area. Furthermore, popular attractions such as Duthie Park and Nigg Bay Golf Club are within a 10-minute drive of the building.
– Convenient location near both the city centre and coastline
– Modern rooms with en suite bathrooms
– Sauna, spa, and indoor pool facilities available
– Free parking provided
– On-site health and leisure club with various fitness amenities
5 Star Luxury Hotels
5 Star luxury hotels offer the epitome of opulence and indulgence, providing guests with a truly extravagant experience. From the moment you step through the grand entrance, you are transported to a world of refined elegance and impeccable service. Lavishly decorated rooms and suites exude sophistication, featuring plush furnishings, high-quality linens, and state-of-the-art technology. With attention to every detail, these hotels offer an array of exquisite dining options that cater to even the most discerning palate. Pamper yourself in luxurious spas offering rejuvenating treatments or take a dip in stunning pools surrounded by lush landscapes. Whether for business or leisure travel, 5-star luxury hotels redefine hospitality by creating unforgettable experiences that leave guests feeling pampered, rejuvenated, and completely immersed in pure luxury.
Village Hotel Aberdeen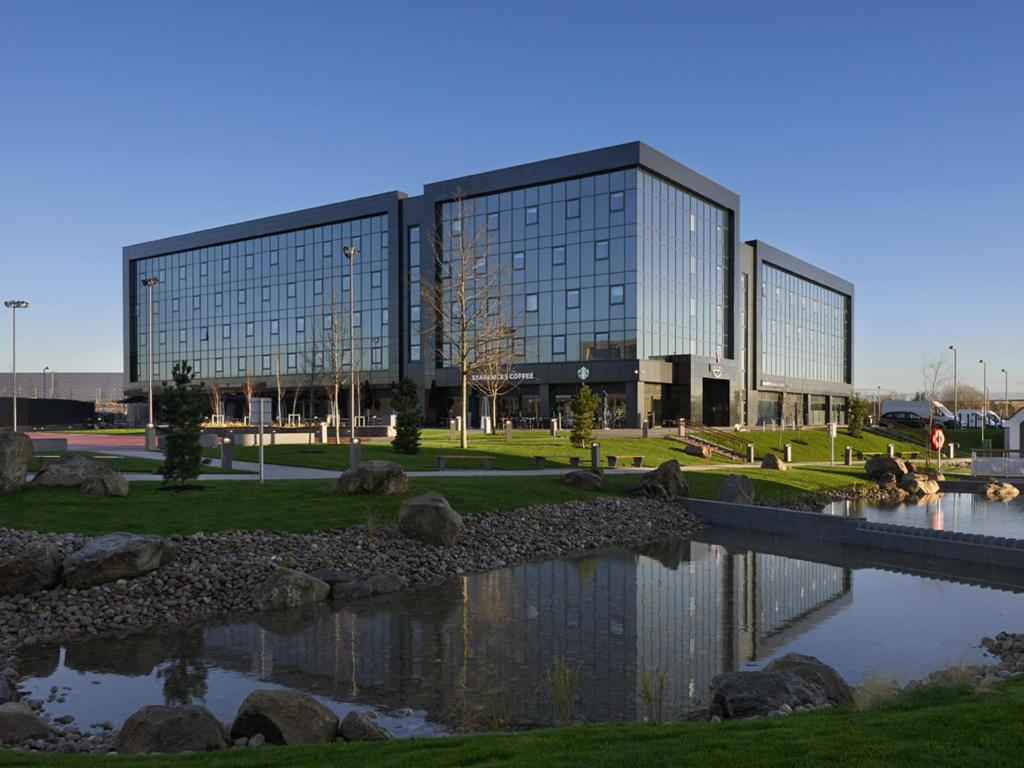 Located in Aberdeen's Kingswell area, Village Hotel Aberdeen offers guests a chic and modern experience. The hotel boasts a contemporary indoor pool and a spa and wellness center for ultimate relaxation. Guests can enjoy all-day dining at the Village Pub & Grill, which serves dishes made from local produce including meat and vegetable skewers, healthy options, and delectable desserts. For an additional fee, guests can access the Village Gym with its swimming pool, sauna, and steam room. Each stylish room is equipped with a modern en suite bathroom, air conditioning, free WiFi, a flat-screen TV with Sky TV and the Sky Sports channel. Convenient amenities such as onsite parking and free WiFi are also provided. The hotel is excellently located just under 6 miles from Aberdeen International Airport and Heliports, making it easily accessible for travelers. It is also 6 miles from Aberdeen city center with its railway and bus stations as well as the Northlink Ferry Terminal.
– Indoor pool
– Spaand wellness centre
– All-day dining at Village Pub & Grill
– Access to Village Gym (swimming pool, sauna,and steam room)
– Stylish rooms with modern amenities
The Chester Hotel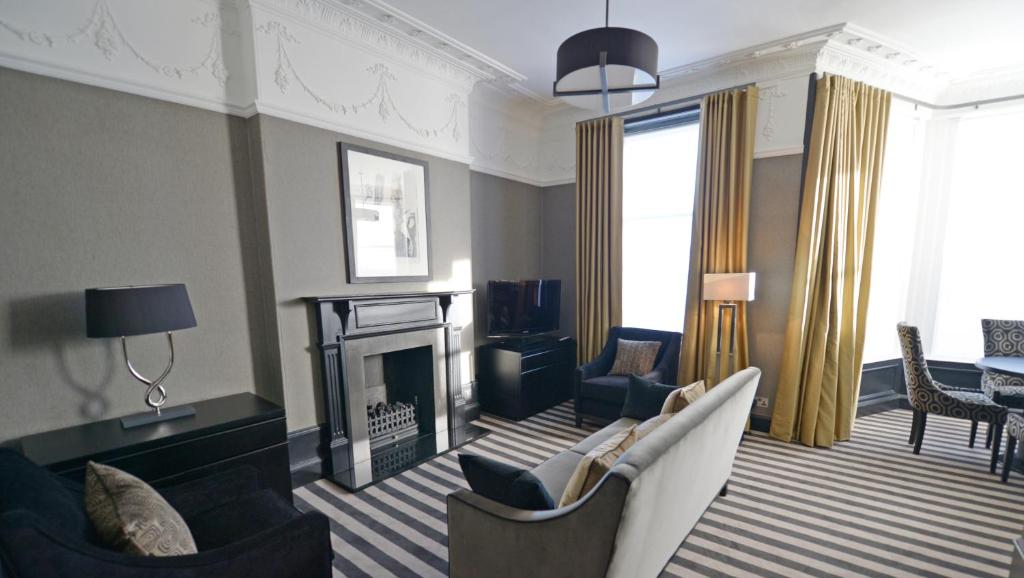 The Chester Hotel is a stunning 19th-century listed building located on Aberdeen's Queens Road. This luxurious hotel seamlessly blends original design with contemporary features, offering guests a unique and unforgettable stay. The hotel boasts an exceptional restaurant, a well-equipped gym, and private dining rooms, ensuring every guest's needs are met. The Gallery Bar provides a sophisticated setting to indulge in delicious Scottish cuisine. The recently refurbished wing of the hotel houses stylish and comfortable rooms, each equipped with modern amenities such as free WiFi, TV, fridge, safe, desk, and a lavish bathroom complete with Noble Isle toiletries. Additional features include Nespresso coffee makers and Twinings tea in every room. Guests can also enjoy the bar's extensive selection of whiskies, international spirits, champagne, cocktails, fine wines,and beers. For those looking for an exquisite afternoon experience,the Chester Hotel offers delightful afternoon tea prepared by their talented pastry chefs.Considering its ideal location just 1.5 miles from Aberdeen Railway Station and within walking distance of the city center,Mediterranean terme sauna the hotel is also conveniently positioned near popular attractions like Aberdeen Ferry Terminal (2 miles away)and Royal Aberdeen Golf Club (a short 10-minute drive). With free on-site parking available,the Chester Hotel ensures both comfort and convenience for all its visitors
Mercure Aberdeen Caledonian Hotel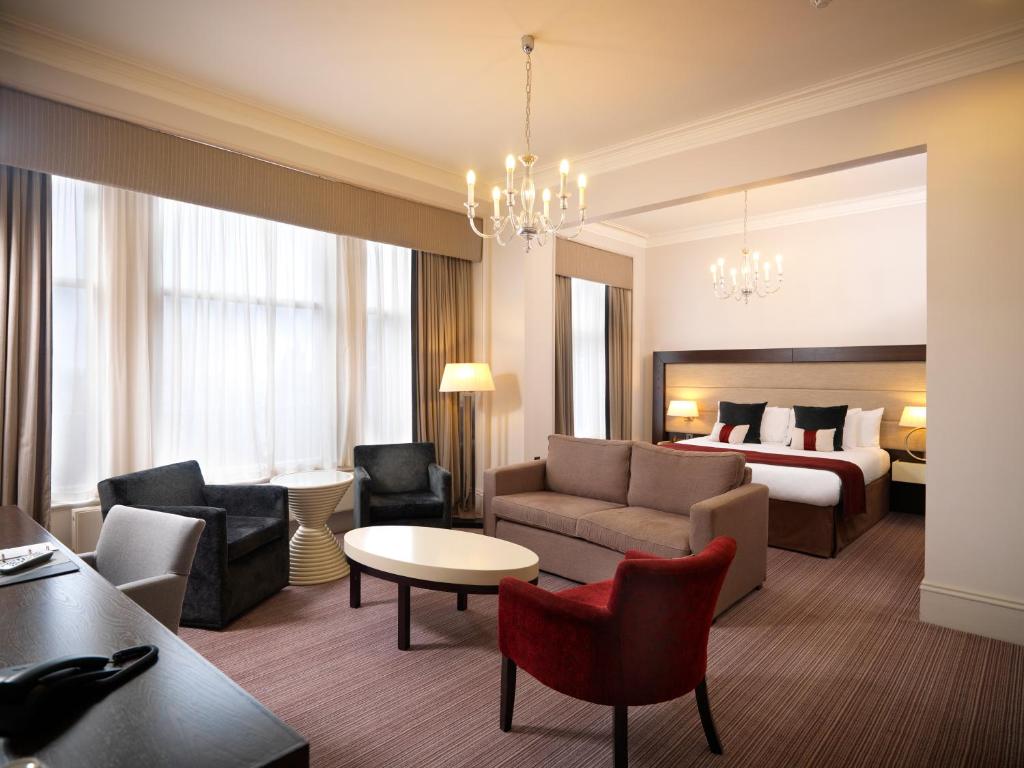 The Mercure Aberdeen Caledonian Hotel is a charming Victorian hotel located in the heart of Aberdeen. Offering modern rooms with en suite facilities, flat-screen TVs, and complimentary toiletries, this hotel provides a comfortable stay for its guests. The award-winning restaurant, Café Bar Caley, serves delicious meals throughout the day in a relaxing atmosphere. Guests can also enjoy afternoon tea or light snacks at this elegant establishment. With amenities such as wireless internet access in all rooms and 24-hour room service available, convenience is guaranteed during your stay. Additionally, the hotel's proximity to city center attractions like the Satrosphere Science Centre, St Mary's Cathedral, and His Majesty's Theatre makes it an ideal choice for travelers looking to explore Aberdeen's cultural offerings.
– Charming Victorian ambiance
– Award-winning restaurant serving delicious meals
– Convenient location near city center attractions
– Modern rooms with en suite facilities
– 24-hour room service available
Most Expensive Hotels in Aberdeen
Aberdeen, located in the northeast of Scotland, offers a collection of exclusive and opulent accommodations for luxury travelers. These properties boast unrivaled levels of sophistication, elegance, and refinement. With their lavish interiors and impeccable service, these most expensive hotels in Aberdeen provide a memorable experience for those seeking the ultimate indulgence. From breathtaking views to gourmet dining options, each hotel exudes grandeur and class. Offering a retreat from the bustling city life, these prestigious establishments ensure an unforgettable stay for discerning guests looking to immerse themselves in luxury at its finest.
Atholl Hotel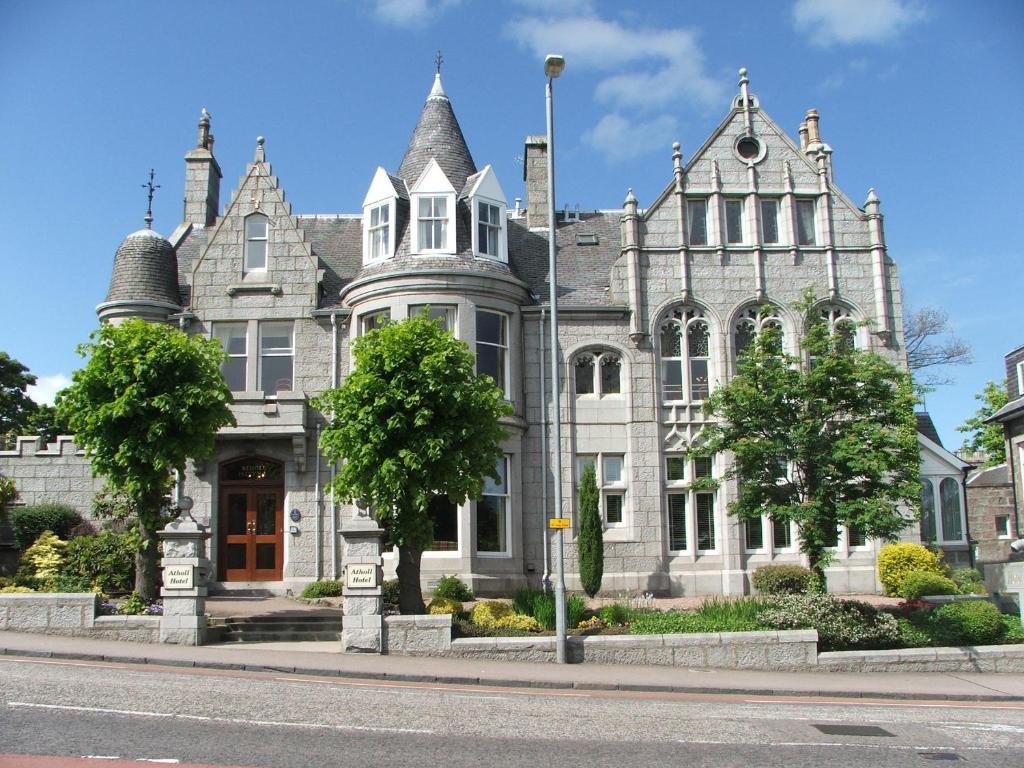 The Atholl Hotel, situated just a few minutes west of Aberdeen city centre, offers guests a tranquil and welcoming atmosphere. With its convenient location off Anderson Drive, one of Aberdeen's main roads, the hotel provides easy access to Aberdeen Airport, the railway station, and the bustling city centre. The rooms at the Atholl Hotel are equipped with free broadband internet access, ensuring that guests stay connected throughout their stay. The hotel also boasts a popular restaurant serving delicious traditional Scottish cuisine and a cozy lounge bar where visitors can unwind after a long day of exploring the city.
– Quiet and peaceful atmosphere
– Convenient location near major transportation hubs
– Free broadband internet access in every room
– Popular restaurant serving traditional Scottish food
– Cozy lounge bar for relaxation
Cults Hotel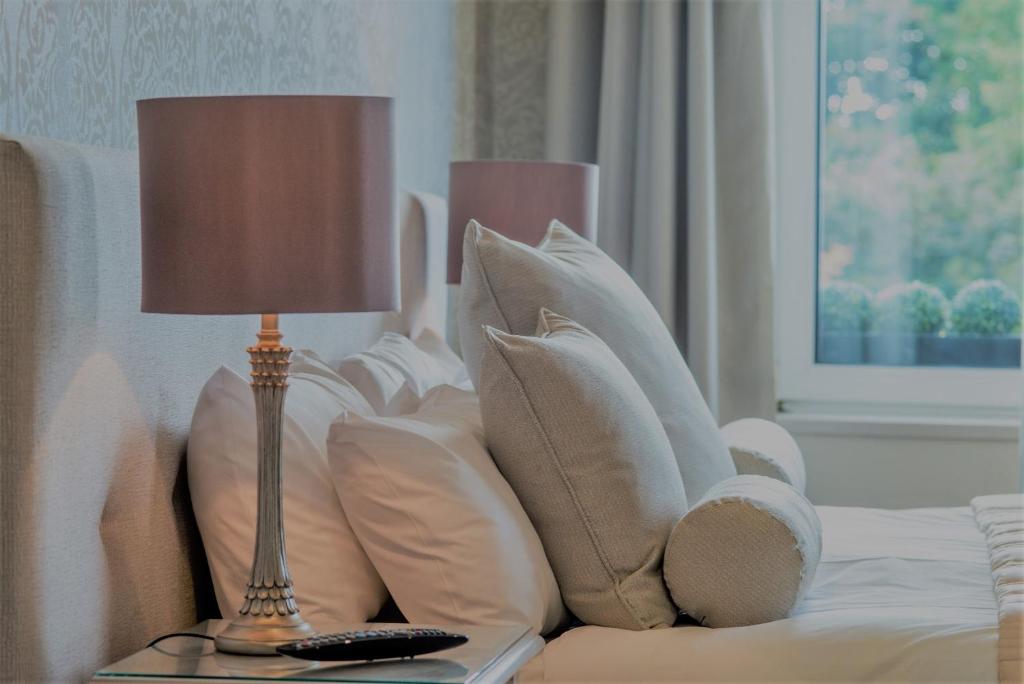 The Cults Hotel is a modern and stylish luxury hotel located just a short 10-minute drive from the center of Aberdeen. Each of its individually styled rooms offers a contemporary decor and comes equipped with amenities such as a TV, free tea and coffee, a telephone, and trouser press. The hotel features a friendly Lounge Bar that serves delicious food from a varied menu, along with real ales. Guests can enjoy the cozy atmosphere of the popular public bar, complete with a pool table, large flat-screen TV, and an inviting open fireplace. For those looking to explore the outdoors, the hotel has two golf courses within 10 minutes' drive, while fishing enthusiasts will be delighted to find the famous River Dee just a short 5-minute walk away. Additionally, guests can arrange for clay pigeon shooting upon request. With its comfortable accommodations and convenient location near both city attractions and outdoor activities, the Cults Hotel is an excellent choice for travelers seeking both relaxation and adventure.
– Modern and stylish accommodations
– Friendly Lounge Bar serving delicious food
– Convenient location near city center
– Close proximity to golf courses and fishing spots
– Opportunity for clay pigeon shooting upon request
Luxury Aberdeen Hotels Information
| | |
| --- | --- |
| 🛎️ Luxury Hotels in Aberdeen | 11 |
| 💵 Hotels Prices From | $101 |
| 💵 Highest price | $1779 |
| 🥇 Average Review Score | 8.2/10 |
| 🛏️ Average number of Rooms | 69 |
Top Luxury hotels in Aberdeen
| | |
| --- | --- |
| Maryculter House | 8.9/10 |
| The Chester Hotel | 8.8/10 |
| Atholl Hotel | 8.8/10 |
| Macdonald Norwood Hall Hotel | 8.7/10 |
| The Craibstone Suites | 8.4/10 |
FAQ
What luxury hotels are available in Aberdeen?
Aberdeen offers a range of luxurious accommodation options for travelers seeking an indulgent experience. Some of the notable luxury hotels in the city include The Marcliffe Hotel and Spa, Trump International Golf Links & Hotel, Mercure Aberdeen Ardoe House Hotel & Spa, and Skene House Rosemount. These hotels boast exceptional amenities, elegant décor, spacious rooms with stunning views, premium dining options, and top-notch service to ensure a truly lavish stay.
Are there any luxury hotels near Aberdeen Airport?
Yes, there are several luxury hotels conveniently located near Aberdeen Airport. One such option is Crowne Plaza Aberdeen Airport hotel which offers stylish rooms with modern decor and amenities like flat-screen TVs and high-speed internet access. Another excellent choice is Jurys Inn Aberdeen Airport hotel known for its contemporary design and comfortable rooms along with facilities such as a fitness center and an on-site restaurant. These hotels provide convenience for travelers looking to stay close to the airport without compromising on luxury.
Which areas in Aberdeen have the highest concentration of luxury hotels?
Aberdeen's city center is where you'll find the highest concentration of luxury hotels. Areas like Union Street, Belmont Street, Chapel Street, and Queen's Road are home to some of the most prestigious accommodations in the city. Here you can enjoy easy access to high-end shopping districts, fine dining establishments offering gourmet cuisine, vibrant nightlife spots along with world-class amenities provided by these luxurious properties.
What amenities can I expect at a luxury hotel in Aberdeen?
Luxury hotels in Aberdeen offer an array of top-notch amenities designed to provide guests with utmost comfort and relaxation during their stay. Depending on the property you choose, you can expect facilities such as spa services including massages and beauty treatments, fitness centers equipped with state-of-the-art equipment for your workout needs, swimming pools or hot tubs for leisurely enjoyment or wellness activities. Additionally, fine dining restaurants serving delicious cuisine prepared by renowned chefs, high-speed internet access, 24-hour concierge service, and luxurious bedding for a restful sleep are some other amenities you can look forward to at these hotels.
What is the best time to visit Aberdeen for a luxury hotel experience?
Aberdeen can be enjoyed year-round when it comes to luxury hotel experiences. However, the summer months from June to August tend to be the most popular time for tourists due to the milder weather and longer daylight hours. During this time, you can make the most of outdoor activities like golfing or visiting beautiful parks. If you prefer a quieter atmosphere with fewer crowds, spring (March to May) and autumn (September to November) also offer pleasant weather conditions while allowing you more flexibility in terms of availability and pricing at luxury hotels.
Popular Luxury Hotels destinations