Welcome to an irresistible guide uncovering the exceptional world of opulent 5-star accommodations nestled in the enchanting city of Zürich, Switzerland. Prepare to be captivated by a symphony of sophistication and indulgence as we embark on an exquisite journey through some of the most luxurious hotels Zurich has to offer.
Immerse yourself in a realm where elegance meets comfort, where impeccable service is a way of life, and where every detail is meticulously crafted to create an unforgettable experience. Whether you are seeking a tranquil retreat or a vibrant city escape, Zürich's collection of five-star havens ensures that your every desire will be met with utmost finesse.
From stylish boutique hotels exuding charm and character to grandiose establishments boasting state-of-the-art facilities, each accommodation beckons you with its unique allure. Unwind in lavishly appointed suites adorned with plush furnishings and breathtaking panoramic views. Indulge in decadent spa treatments that rejuvenate body and soul. Delight your taste buds with culinary masterpieces prepared by renowned chefs, showcasing the finest local produce and international flavors.
Join us on this extraordinary expedition as we unravel the secrets behind these 5-star gems, revealing why Zürich remains an unrivaled destination for luxury seekers across the globe.
Best Five Star Hotels in Zürich
Renaissance Zurich Tower Hotel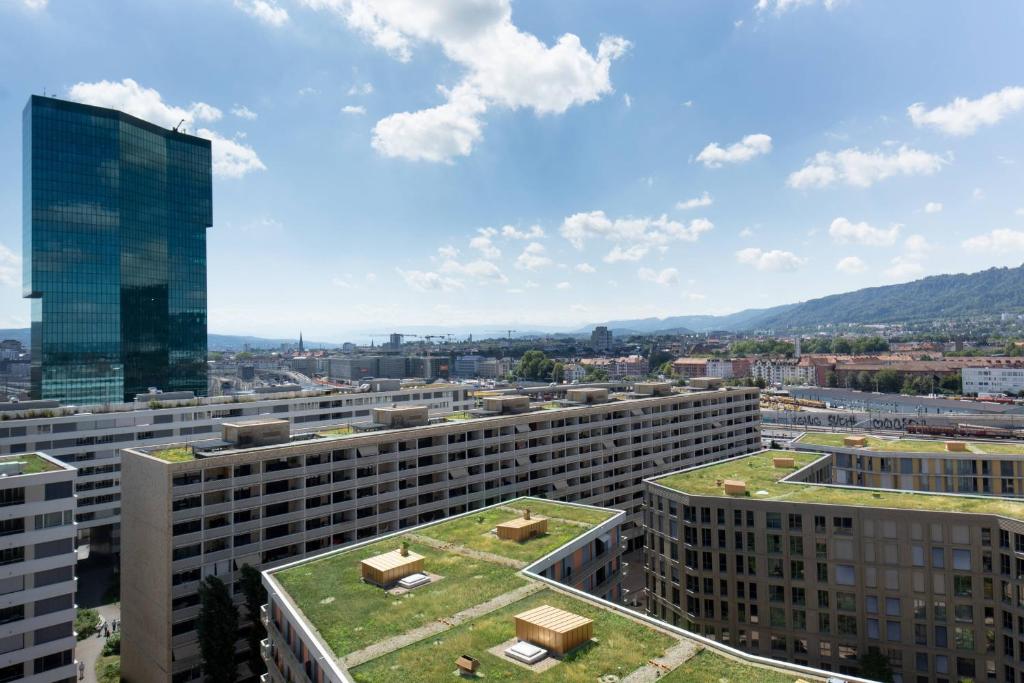 The Renaissance Zurich Tower Hotel is a luxurious 5-star boutique hotel located in the trendy Zurich-West district, housed within the Mobimo Tower. Its unique location puts guests within walking distance of corporate offices as well as popular clubs like Moods im Schiffbau, Komplex457, and Hive. The nearby Zurich Hardbrücke railway station provides direct connections to Zurich Central Station, with the iconic Zurich Lake and famous shopping mile Bahnhofstrasse just a few minutes away. The hotel offers elegant air-conditioned rooms and suites with floor-to-ceiling windows that provide breathtaking panoramic views. Each room features modern amenities such as flat-screen TVs equipped with Chromecast and complimentary tea/coffee-making facilities. Guests staying in Club rooms or suites also enjoy free access to breakfast at the hotel's restaurant, as well as complimentary drinks and food during select hours at Lucid Bar. For those looking to stay active during their stay, there is a gym on the 15th floor boasting impressive views over Zurich. The Equinox restaurant serves a diverse range of delectable dishes and wines, while the summer terrace provides a relaxing space for guests to unwind. Additional amenities include the Lucid bar offering refreshing drinks and snacks throughout the day, as well as 24/7 room service for added convenience. With easy access to Zurich Airport via (S16) train within just 11 minutes, Renaissance Zurich Tower Hotel presents itself as an ideal choice for indulging in luxury while exploring Switzerland's vibrant city of Zurich.
Pros:
– Unique location in trendy Zurich-West district
– Panoramic views from floor-to-ceiling windows
– Complimentary access to breakfast (Club room/suite bookings)
– Impressive gym with stunning vistas
– Convenient transport links to top attractions including Bahnhofstrasse
Park Hotel Vitznau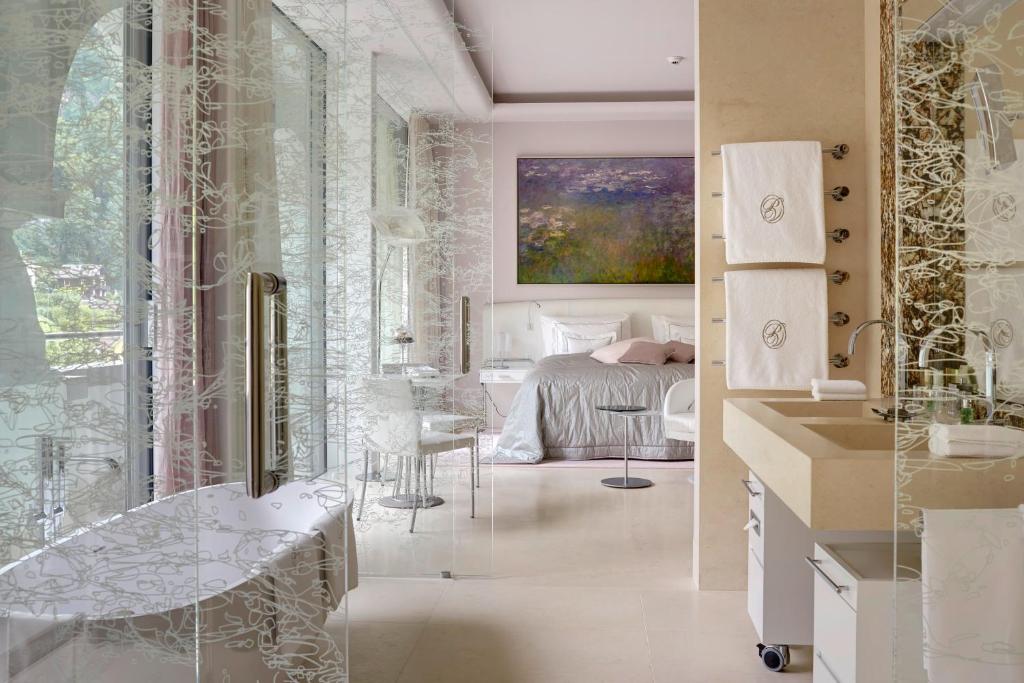 The Park Hotel Vitznau is a luxurious 5-star hotel located on the picturesque banks of Lake Lucerne. Recently renovated in 2012 and 2013, this exquisite hotel offers guests a truly indulgent experience. With its own private beach, two restaurants, a spacious spa area, and free garage parking, the Park Hotel Vitznau ensures that every guest's needs are met. The individually designed suites and residences provide ultimate comfort and convenience, with amenities such as 24-hour room service, complimentary WiFi access, Nespresso Coffee Machines, and tea makers. The hotel's two restaurants serve a delectable range of gourmet dishes while offering breathtaking views of the lake from their inviting terrace. The spa facilities are second to none and include various saunas and steam baths, an ice grotto, a hot tub, as well as indoor and outdoor pools for complete relaxation. Additionally, guests can indulge in an impressive selection of fine wines from around the world that are stored in six wine cellars on-site. For those looking to explore the surrounding area, the hotel provides a complimentary shuttle service to the Rigi Cable Car. The Küssnacht Train Station is conveniently located just 13 km away while Lucerne is only 26 km away.
– Beautiful location on the banks of Lake Lucerne
– Private beach for exclusive use by hotel guests
– Individually designed suites with top-notch amenities
– Excellent dining options with stunning lake views
– Extensive spa facilities including saunas, steam baths,
ice grottoes,and both indoor and outdoor pools
Bürgenstock Hotels & Resort – Bürgenstock Hotel & Alpine Spa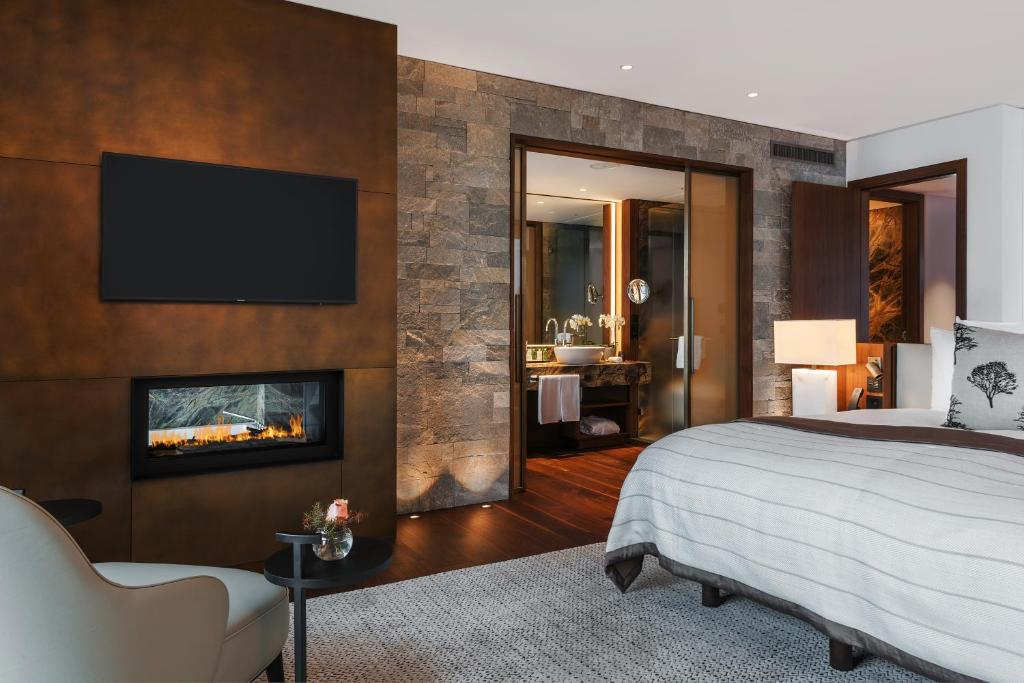 Located 450 meters above Lake Lucerne in the canton of Nidwalden, Bürgenstock Hotels & Resort – Bürgenstock Hotel & Alpine Spa offers a luxurious and traditional Swiss experience. This 5-star hotel boasts modern comforts and stunning views of Lake Lucerne. Guests can enjoy free access to the impressive Bürgenstock Alpine Spa, which features a 10,000 m² wellness area complete with indoor and outdoor pools. The hotel is conveniently situated on the piazza at the heart of the resort, next to the Bürgenstock funicular that provides easy access to Lucerne. With several restaurants offering terrace dining options and panoramic views of the lake and mountains, guests can truly immerse themselves in Switzerland's natural beauty. Additionally, there are plenty of opportunities for relaxation and adventure in the area, including hiking, mountain biking, and exploring nearby attractions like Europe's highest outdoor lift (the Hammetschwand lift) and an alpine golf course. Complimentary transportation services such as a shuttle boat to Lucerne and free use of the funicular make it convenient for guests to explore all that this enchanting destination has to offer.
Pros:
– Stunning panoramic views of Lake Lucerne
– Access to an expansive spa area with indoor and outdoor pools
– Convenient location near attractions like Europe's highest outdoor lift
– Complimentary transportation services provided
Other places to stay in Zürich
Luxury 5 Star Hotels in Zürich
Luxury 5 star hotels in Zurich offer an unparalleled level of elegance, sophistication, and opulence. From impeccable service to exquisite design, these hotels provide a haven of luxury for travelers seeking the utmost comfort and indulgence during their stay in the city.
La Réserve Eden au Lac Zurich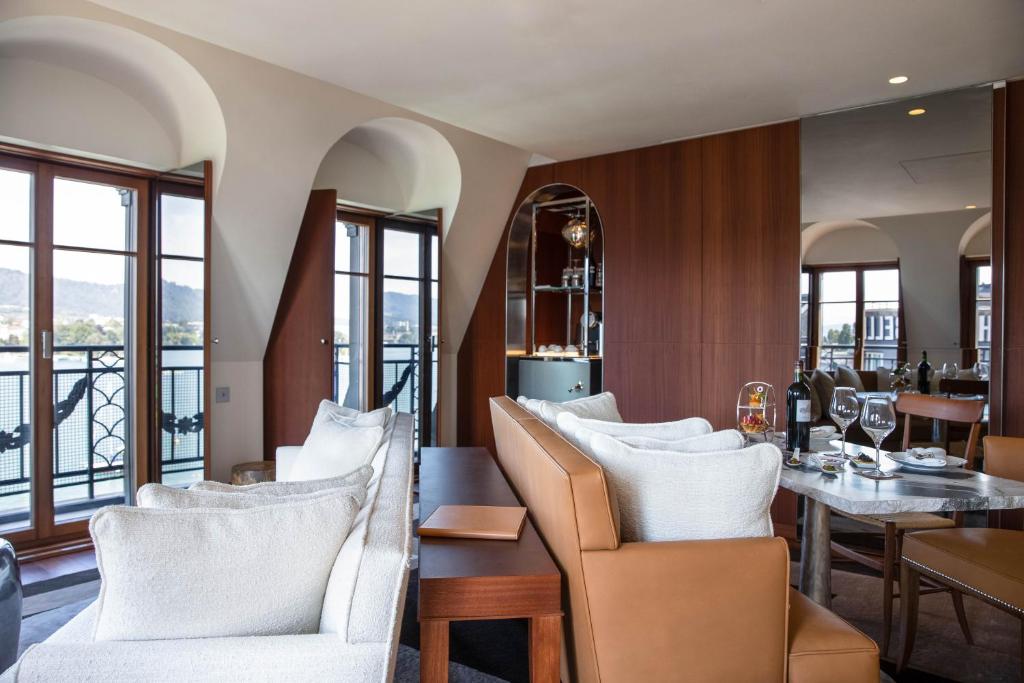 Built in 1909, La Réserve Eden au Lac Zurich is a luxurious 5-star hotel that has been catering to an international clientele for over a century. Located on Zurich's elegant Utoquai, just a short 10-minute walk from the famous Bahnhofstrasse shopping street, this hotel offers a picturesque lakeside setting. With its newly designed interior by Philippe Starck, the hotel seamlessly blends historic charm with modern sophistication. The individually furnished rooms and suites exude urbanity and style, many of which feature balconies or terraces offering stunning views of Lake Zurich, the city skyline, and the snow-capped Alps in the distance. Guests can indulge in exquisite gastronomy at Eden Kitchen & Bar restaurant which serves innovative culinary creations and an extensive selection of international wines. The rooftop bar La Muna is the perfect spot to unwind during summer months while enjoying panoramic views. The hotel also boasts a 24-hour reception for guests' convenience. With Zürich Airport just 12 km away and Zürich Main Station within easy reach at only 2.5 km, La Réserve Eden au Lac Zurich is an ideal choice for discerning travelers seeking luxury and elegance in Switzerland's largest city.
– Scenic lakeside location
– Stylish design by Philippe Starck
– Spectacular views of Lake Zurich and the Alps
– Exquisite dining at Eden Kitchen & Bar
– Close proximity to major transportation hubs
The Dolder Grand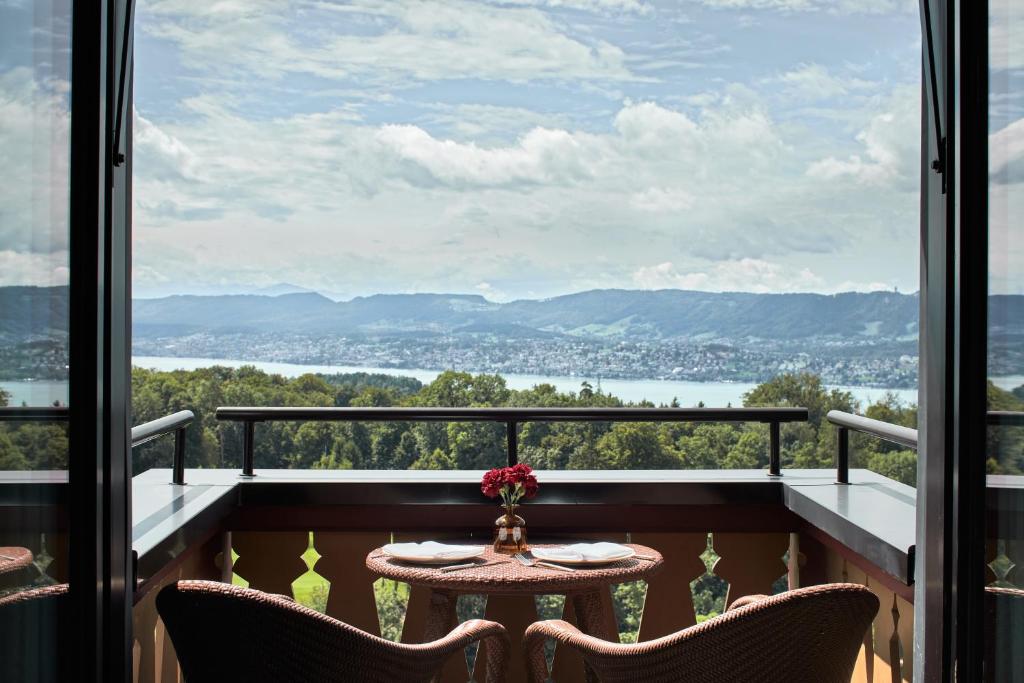 Located in a privileged natural setting above Zurich, The Dolder Grand is an exceptional 5-star hotel offering guests a luxurious retreat. With its close proximity to the cog railway station, guests can easily access the city center. The hotel boasts a magnificent 4,000 m² spa, complete with a large pool that offers panoramic views and separate facilities for both men and women. There are also 18 treatment rooms and two Spa Suites available for ultimate relaxation. Additionally, The Dolder Grand features two renowned restaurants – Saltz Restaurant which has been awarded with 14 Gault Millau points, and The Restaurant which holds an impressive 19 Gault Millau points and two Michelin stars. Both options serve delectable international cuisine in elegant settings with breathtaking views of Zurich, Lake Zurich, the Alps or the nearby forest. Other amenities include free Wi-Fi access throughout the property and a complimentary shuttle service to the city center. For those seeking upscale transportation services, a limousine service is also available upon request.
– Stunning location in natural surroundings
– Expansive spa offering various treatments
– Award-winning restaurants serving exquisite cuisine
– Panoramic views of Zurich, Lake Zurich, the Alps or nearby forest from many rooms
– Free shuttle service to city center
Alden Suite Hotel Splügenschloss Zurich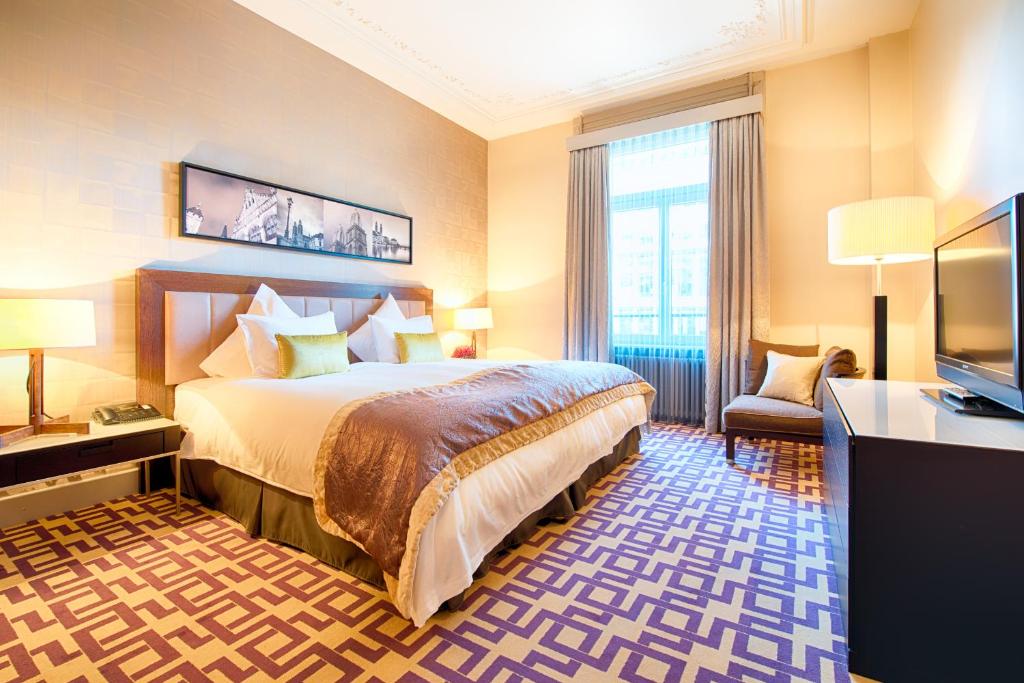 The Alden Suite Hotel Splügenschloss Zurich is a small 5-star luxury hotel located in the heart of Zurich. Situated in a peaceful area, guests can enjoy a quiet stay while still being within walking distance to many attractions. The rooms are well-appointed with an entertainment system including a flat-screen TV, and some even offer additional amenities such as a hot tub or gym equipment upon request. Within just a 5- to 10-minute walk, guests can explore Lake Zurich, beautiful parks, the concert hall, the opera house, the renowned Bahnhofstrasse with its luxurious boutiques, and the charming old town. As an added bonus, all rates at this hotel include complimentary perks such as a welcome drink upon arrival, free soft drinks from the minibar, your choice of newspaper delivered daily, and bathroom amenities. Furthermore, guests can enjoy delicious meals at the hotel's steakhouse or savor open-air dining during the summer months.
Pros:
1. Prime central location
2. Well-equipped rooms with modern amenities
3. Complimentary welcome drinks and minibar refreshments
4. Close proximity to top attractions and shopping district
5. On-site steakhouse and open-air dining options available
Five Star Hotels in Downtown Zürich
Downtown Zürich offers an array of luxurious five-star hotels, providing discerning travelers with top-notch accommodations in the heart of the city. These hotels epitomize elegance and style, offering exceptional service and a refined atmosphere for a truly unforgettable stay.
Grand Resort Bad Ragaz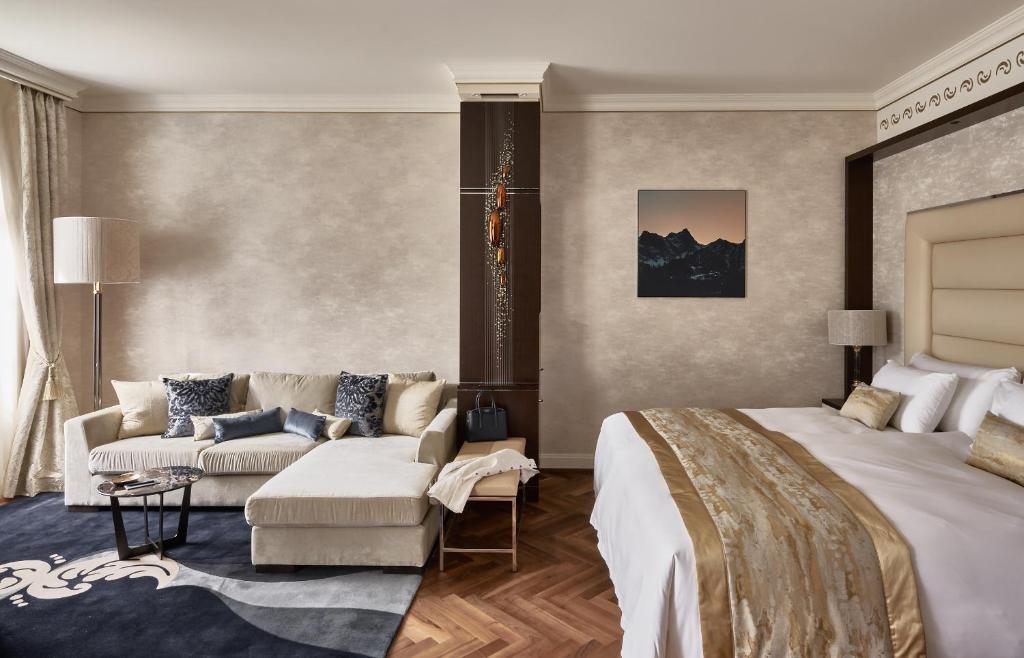 Located in Eastern Switzerland, just a one hour drive from Zurich, the Grand Resort Bad Ragaz is a luxurious 5-star spa hotel nestled amidst the stunning foothills of the Alps. Guests can enjoy breathtaking mountain views and explore picturesque hiking trails and world-class ski resorts nearby. The resort offers an array of fantastic amenities including two golf courses, a state-of-the-art meetings and events center, the Tamina Therme thermal spa, and even its own casino. The thermal spa features multiple pools, sauna areas, and utilizes thermal water from the nearby Tamina gorge. With its own thermal spring and medical health center on-site, guests can truly indulge in relaxation and well-being during their stay. Accommodation options at the Grand Resort Bad Ragaz are elegant, beautifully designed, and provide utmost comfort. Food enthusiasts will be delighted with seven restaurants on-site that have a combined total of 75 GaultMillau points and six Michelin stars to ensure an exceptional dining experience. Additionally, there is also a sushi takeaway option as well as a bistro and café available for guests' convenience. This comprehensive spa offering is further enhanced by the renowned medical expertise available at both the medical health center and Bad Ragaz Clinic which specializes in treating convalescent patients.
Pros:
– Spectacular mountain landscape with hiking trails
– Proximity to world-class ski resorts
– Abundance of leisure facilities including golf courses
– Multiple pools and sauna areas in the thermal spa
– Outstanding dining options with award-winning restaurants
Widder Hotel – Zurichs luxury hideaway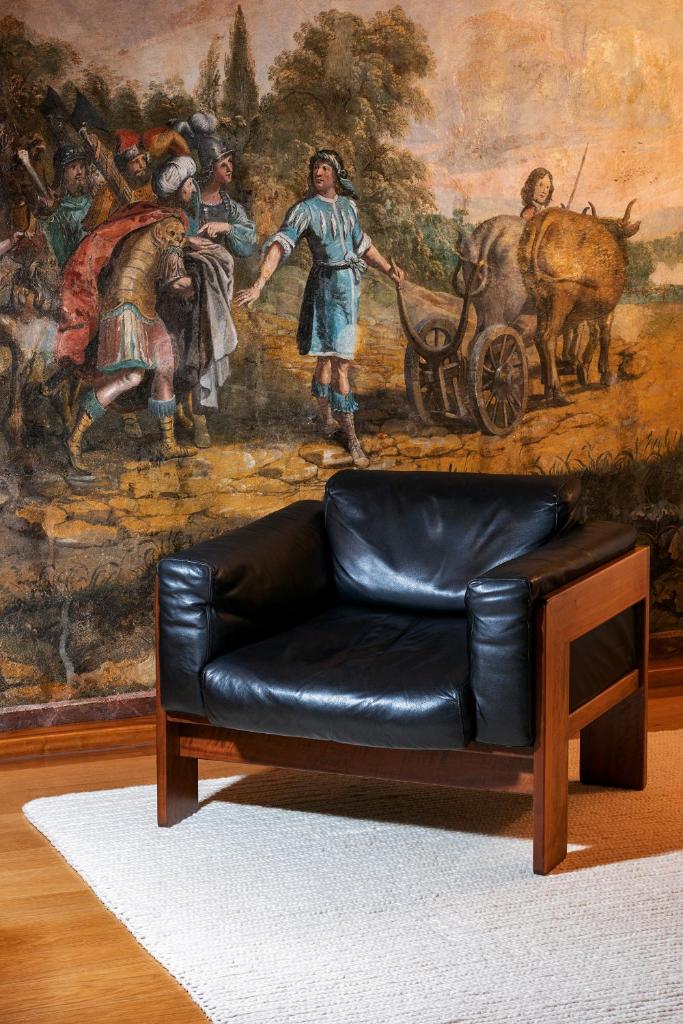 Nestled in a peaceful corner of Zurich's Old Town, just steps away from the famous Bahnhofstrasse shopping street, Widder Hotel offers an intimate and luxurious stay. This 5-star boutique hotel is housed in nine meticulously renovated historic buildings adorned with exquisite artworks by renowned artists such as Mies van der Rohe, Frank Lloyd Wright, Le Corbusier, and Andy Warhol. The hotel boasts an award-winning gourmet restaurant serving Swiss and international cuisine that has been recognized with 15 points by the Gault Millau guide. Guests can indulge in individually decorated rooms featuring modern amenities like air conditioning, complimentary soft drinks, B&O entertainment systems, and elegant bathrooms. Traditional Swiss dishes are available at the Zur Schtund restaurant while the courtyard provides a charming setting for summer dining. At the Widder Bar, guests can savor an extensive selection of spirits from around the world while enjoying live jazz performances. The hotel's prime location allows for easy access to Zurich's Main Train Station and Lake Zurich within a short 10-minute walk.
– Tranquil location in Zurich's Old Town
– Carefully refurbished historical buildings adorned with artwork by famous artists
– Award-winning gourmet restaurant serving Swiss and international cuisine
– Individually decorated luxurious rooms with modern amenities
– Widder Bar offering a vast selection of spirits from around the world and live jazz performances
Mandarin Oriental Palace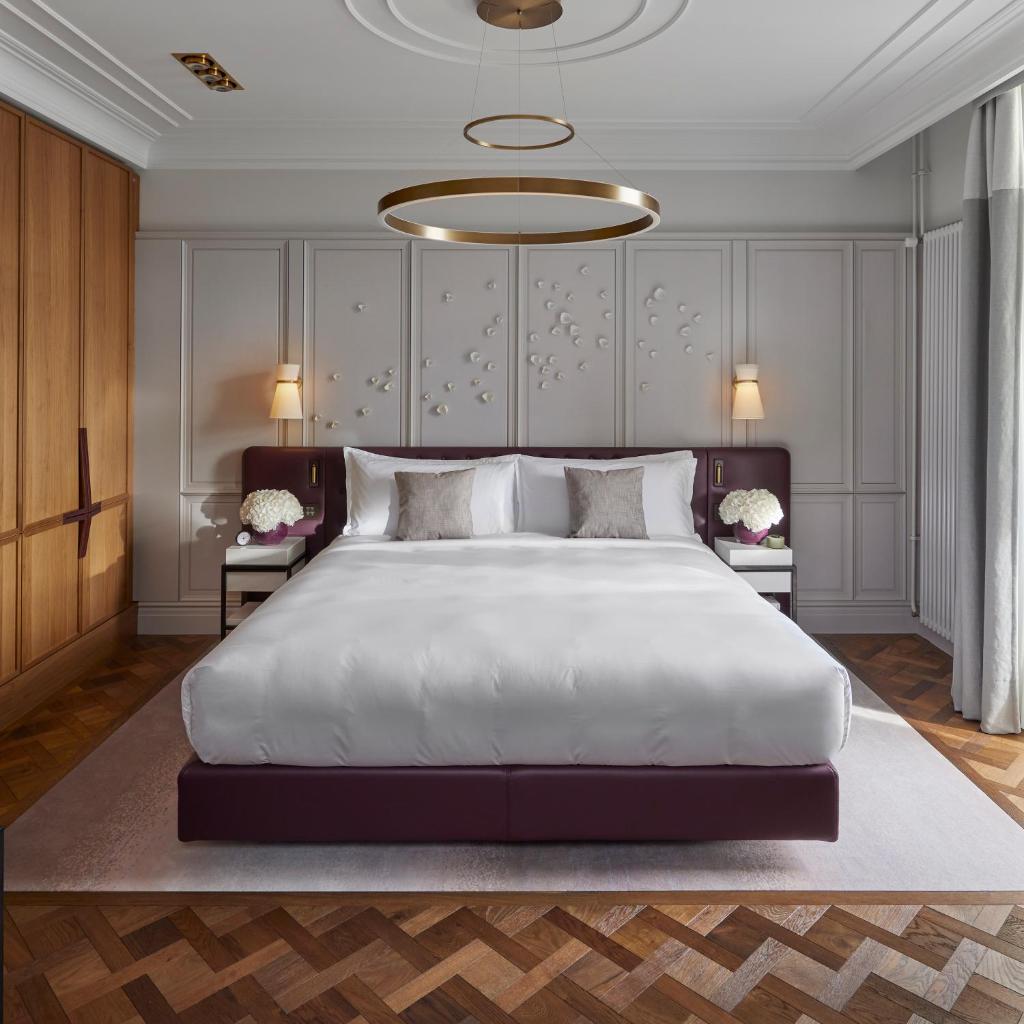 Opened in June 2022, Mandarin Oriental Palace is a luxurious 5-star hotel located in Luzern, just 1.7 km from Lido Luzern. This elegant hotel offers guests a range of exceptional amenities including a beautiful garden, private parking, a terrace, and an exquisite restaurant. With a bar on-site as well as room service and 24-hour front desk assistance, guests can indulge in ultimate comfort and convenience throughout their stay. Each spacious room features a desk and a private bathroom equipped with complimentary toiletries. Some units also boast balconies for breathtaking views of the surroundings. Guests can start their day with a delicious breakfast buffet offering continental or American options. The hotel's excellent location allows easy access to popular attractions such as Lion Monument, KKL Culture and Convention Centre Lucerne, and Chapel Bridge. For those arriving by air, Zurich airport is approximately 64 km away with the option of paid airport shuttle services provided by the property.
– Newly opened luxury hotel
– Beautiful garden and terrace
– Exquisite on-site restaurant
– Convenient amenities such as private parking and safety deposit boxes
– Close proximity to popular attractions
Zürich Cheap 5 Star Hotels
Zürich offers a range of affordable 5 star hotels that provide guests with comfortable and luxurious accommodations. These properties offer excellent value for money, allowing visitors to enjoy a high-quality stay without breaking the bank.
FIVE Zurich – Luxury City Resort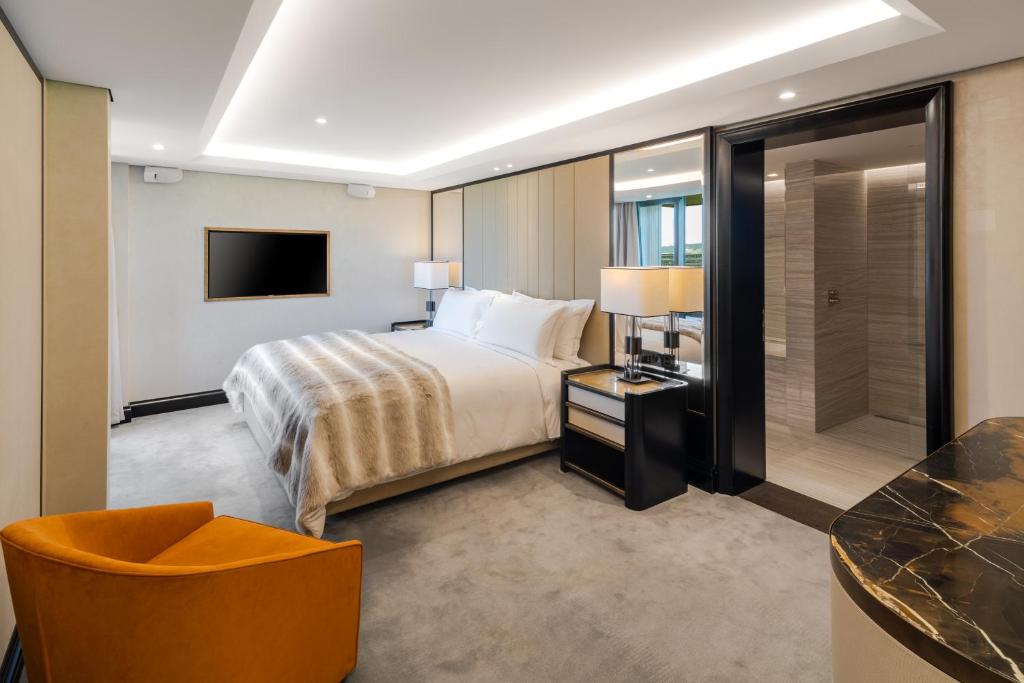 FIVE Zurich – Luxury City Resort, located in the Wiedikon district of Zürich, offers a luxurious experience with its range of amenities and facilities. The hotel features a restaurant, free bikes, a seasonal outdoor swimming pool, and a fitness centre. Guests can also enjoy an indoor pool and hammam as well as unwind in the hot tub and sauna. The accommodation provides 24-hour front desk service, room service, and currency exchange facilities. Each room is equipped with air conditioning, a seating area, flat-screen TV with satellite channels, safety deposit box, and private bathroom with bathrobes and slippers. Some rooms even come with additional amenities such as a kitchenette with fridge, dishwasher, and oven. A buffet or à la carte breakfast is available for guests to enjoy at the hotel. With activities like hiking and cycling nearby in Zürich's picturesque surroundings, guests have plenty to explore during their stay. Additionally, the property offers paid airport shuttle services for convenience.
Pros:
– Wide range of amenities including outdoor/indoor pools
– Luxurious spa facilities like hot tubs and saunas
– Convenient location in the Wiedikon district near attractions
– Options for dining within hotel premises
Zürich 5 star Hotels Information
| | |
| --- | --- |
| 🛎️ 5 star Hotels in Zürich | 10 |
| 💵 Hotels Prices From | $196 |
| 💵 Highest price | $1395 |
| 🥇 Average Review Score | 9/10 |
| 🛏️ Average number of Rooms | 129 |
Top 5 star hotels in Zürich
| | |
| --- | --- |
| Park Hotel Vitznau | 9.5/10 |
| Bürgenstock Hotels & Resort – Bürgenstock Hotel & Alpine Spa | 9.5/10 |
| Widder Hotel – Zurichs luxury hideaway | 9.3/10 |
| Mandarin Oriental Palace | 9.3/10 |
| Grand Resort Bad Ragaz | 9.2/10 |
FAQ
What are the top luxury 5 star hotels in Zürich?
Zürich offers a variety of exquisite 5 star hotels that cater to discerning travelers. Some of the top luxury options in the city include Baur au Lac, The Dolder Grand, Widder Hotel, Park Hyatt Zürich, and Atlantis by Giardino. These hotels provide exceptional service, opulent accommodations, and world-class facilities to ensure an unforgettable stay.
What amenities can I expect at a luxury 5 star hotel in Zürich?
Luxury 5 star hotels in Zürich leave no stone unturned when it comes to providing an indulgent experience for their guests. You can expect amenities such as spacious and elegantly designed rooms with stunning views, plush bedding and linens, high-speed Wi-Fi connectivity, state-of-the-art fitness centers, rejuvenating spa facilities, fine dining restaurants offering gourmet cuisine, and personalized concierge services to assist with any request.
Which luxury hotels in Zürich offer Michelin-starred dining options?
Food lovers will be pleased to know that several luxury hotels in Zürich boast Michelin-starred dining establishments within their premises. Notable options include Pavillon at Baur au Lac (2 Michelin stars), The Restaurant at The Dolder Grand (2 Michelin stars), Ecco Zurich at Atlantis by Giardino (2 Michelin stars), and Rive Gauche at Hotel Widder (1 Michelin star). These gastronomic experiences promise exceptional culinary delights that will satisfy even the most discerning palates.
Are there any luxury boutique hotels worth considering in Zürich?
If you prefer a more intimate setting with unique character and charm, Zürich also has some exceptional boutique 5 star hotels to offer. Hotel Storchen is one such establishment known for its historic architecture and riverside location. Marktgasse Hotel is another popular choice, boasting stylish rooms and a central location in the old town. These boutique hotels combine luxury amenities with personalized service to create an intimate and memorable experience for their guests.
What is the best time of year to visit Zürich for a luxurious hotel stay?
Zürich offers a delightful experience throughout the year, but if you want to make the most of your luxurious hotel stay, it's recommended to visit during spring or autumn. These seasons offer mild temperatures, fewer crowds, and lower rates compared to peak summer months. Additionally, Zürich hosts several cultural events and festivals during these times, allowing you to immerse yourself in the rich local traditions while enjoying world-class hospitality.
Popular Five Star Hotels destinations