Welcome to the enchanting city of York, nestled in the heart of the United Kingdom. Prepare to be captivated by its rich history, charming cobbled streets, and awe-inspiring architecture. As a luxury hotel connoisseur, I am delighted to share with you my expert insights into the top-notch accommodations that this ancient city has to offer.
Indulge yourself in a haven of opulence and elegance as you enter the realm of 5-star hotels in York. Each establishment exudes a sense of grandeur and sophistication that is sure to leave you breathless. Whether it's a boutique hotel tucked away in a historic building or a modern masterpiece overlooking the majestic York Minster, these luxurious retreats are guaranteed to exceed your every expectation.
Allow yourself to be pampered beyond measure by their impeccable service and attention to detail. Relax in sumptuous suites adorned with exquisite furnishings, ensuring your utmost comfort during your stay. Delight your taste buds with delectable cuisine crafted by world-class chefs using only the finest local ingredients. And don't forget to take advantage of their lavish spa facilities for some well-deserved rejuvenation after exploring all that York has to offer.
In this blog post, we will embark on an extraordinary journey through the most remarkable 5-star hotels that make York an unparalleled destination for discerning travelers seeking the pinnacle of luxury hospitality. Join me as we uncover hidden gems nestled within this charming cityscape, where unforgettable experiences await at every turn.
Best Five Star Hotels in York
The Grand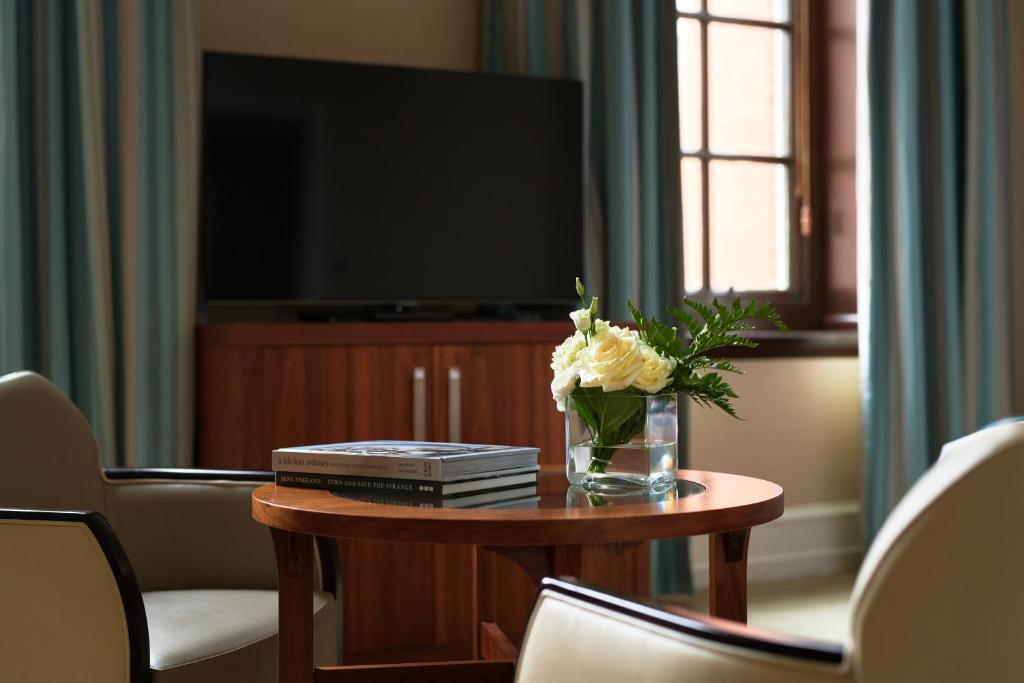 The Grand Hotel is an exquisite 5-star establishment known for its stylish rooms and luxurious vaulted spa. Housed in the iconic Grade II listed former railway headquarters, the hotel offers a range of amenities to ensure a comfortable stay. The well-appointed bedrooms feature free WiFi, flat-screen TVs, plush bathrobes, slippers, Molton Brown toiletries, and even an evening turn-down service. The Rise restaurant provides guests with an immersive dining experience where they can savor modern British cuisine made from locally sourced ingredients. In addition to this culinary delight, guests have access to the hotel's impressive spa facilities which include a 13-meter swimming pool, hot tubs, sauna, steam room as well as a variety of health and wellness therapies within the treatment rooms. For those wanting to maintain their fitness routine while traveling there is also a modern fitness center available for use (reservation required). With its unparalleled combination of luxury and convenience, The Grand Hotel is the perfect destination for discerning travelers.
– Stylish rooms with luxurious amenities
– Immersive dining experience at The Rise restaurant
– Impressive spa facilities including swimming pool and treatment rooms
– Modern fitness center available for guest use (reservation required)
– Convenient location in a historic building
Judge's Lodging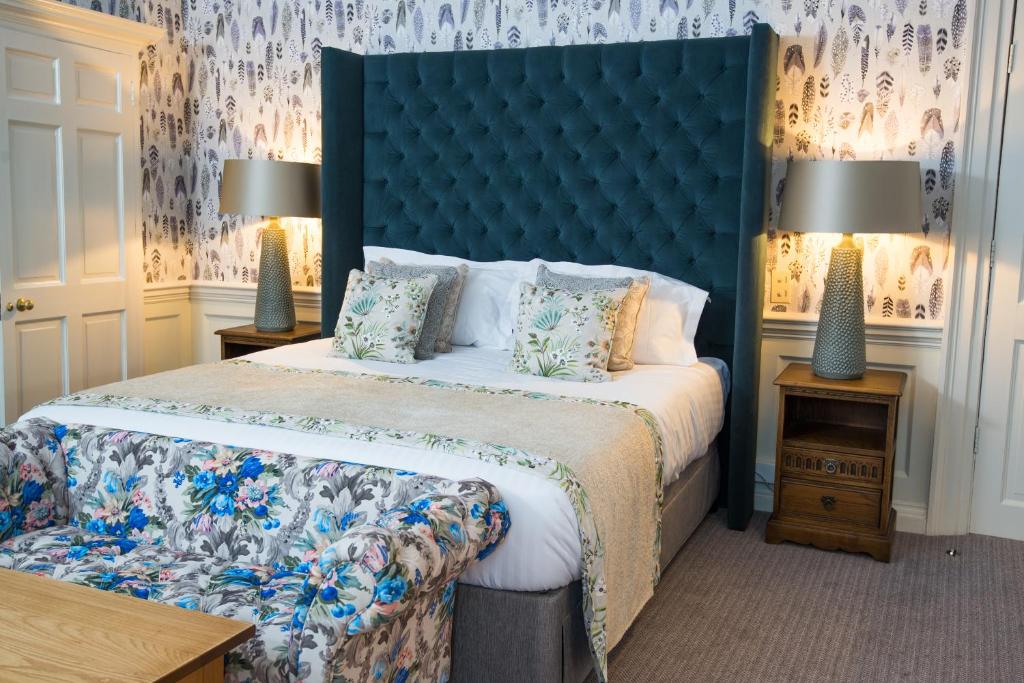 The Judges Lodging is a charming Grade I listed Georgian townhouse that offers a luxurious stay in the heart of York. With its picturesque views of York Minster, this boutique hotel features 2 bars and rooms that are equipped with free Wi-Fi and LCD Freeview TVs. The beautifully designed bedrooms are adorned with thoughtful touches such as complimentary toiletries to enhance your stay. Guests can indulge in a delicious full English breakfast, which is included in the room rate and focuses on using local suppliers whenever possible. For those seeking culinary delights, the on-site restaurant serves up modern British cuisine in a relaxed atmosphere. Located just a short stroll away from York Train Station and Theatre Royal, this hidden gem provides a peaceful retreat away from the bustling crowds. Additionally, guests will find themselves conveniently close to another must-visit spot – Betty's Tearooms – along with other dining options nearby.
– Stunning views of York Minster
– Complimentary Wi-Fi throughout the hotel
– Thoughtfully designed luxurious bedrooms
– Delicious full English breakfast included
– Convenient location near popular attractions and eateries
Manor House Lindley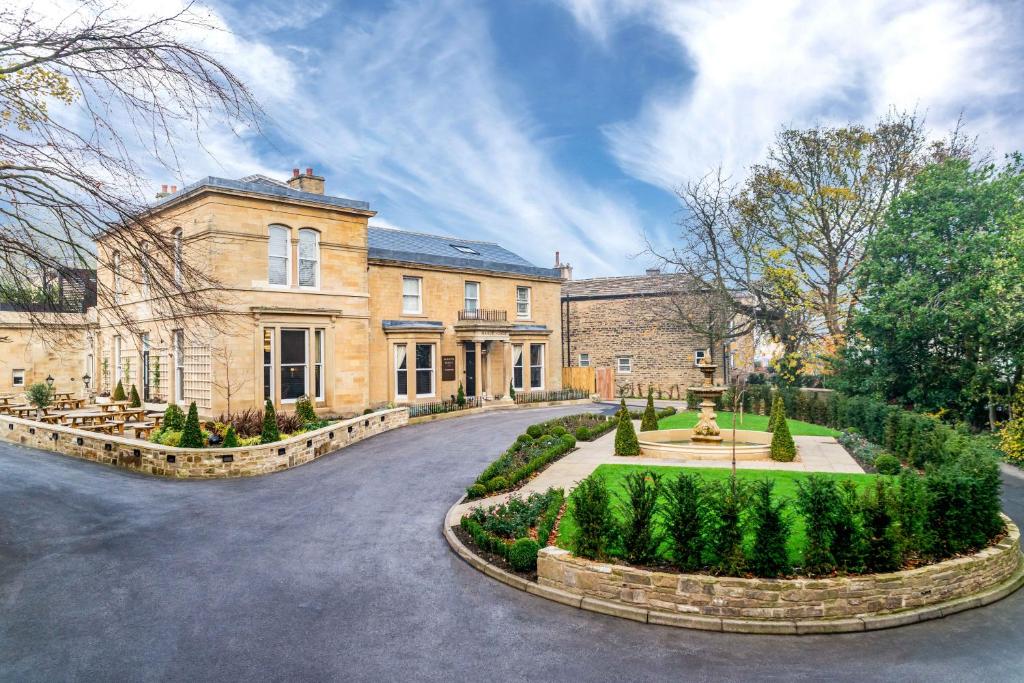 Located in Huddersfield, just 9.2 km from Victoria Theatre, Manor House Lindley is a luxurious 5-star hotel offering a range of amenities to ensure a comfortable and enjoyable stay. The hotel features a fitness centre, free private parking, a beautiful garden, and a terrace for guests to relax and unwind. With its elegant design and impeccable service, Manor House Lindley provides air-conditioned rooms with free WiFi and private bathrooms equipped with all the necessary amenities. Guests can enjoy delicious meals at the on-site restaurant or opt for room service. The hotel also offers convenient facilities such as a 24-hour front desk, luggage storage, and daily breakfast options including à la carte, continental, and Full English/Irish choices. For those interested in shopping or exploring nearby attractions, White Rose Shopping Centre is just 28 km away while Trinity Leeds is only 29 km from the hotel. With its prime location and exceptional services, Manor House Lindley guarantees an unforgettable luxury experience.
– Convenient location near shopping centres
– Fitness centre for guests to stay active
– Elegant design and impeccable service
– Free private parking available
– Delicious dining options at on-site restaurant
Other places to stay in York
Luxury 5 Star Hotels in York
Luxury 5 star hotels in York offer discerning travelers an unparalleled level of opulence and sophistication. From elegant decor to impeccable service, these hotels create an unforgettable experience for those seeking the utmost comfort and luxury during their stay in this historic city.
Goldsborough Hall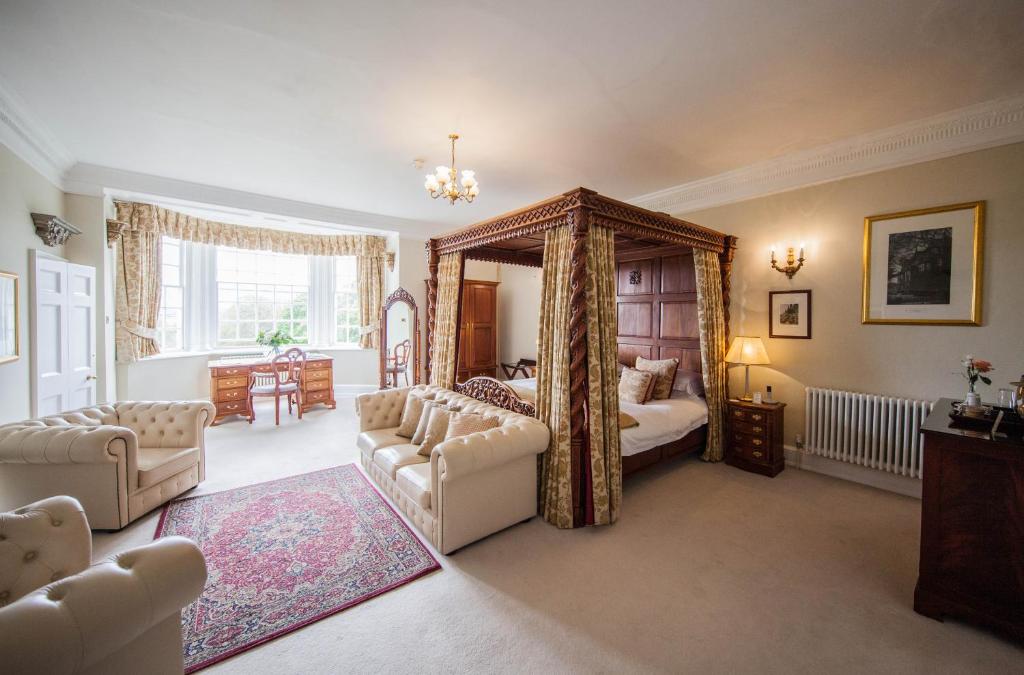 Located in a stunning part of North Yorkshire, Goldsborough Hall is a majestic stately manor that once belonged to Princess Mary, the aunt of Queen Elizabeth II. Offering accommodation on a room only basis, this 400-year-old manor is surrounded by beautiful grounds with unspoilt views over parkland, just 11 km from Harrogate. With its grand setting and rich history, Goldsborough Hall provides a truly luxurious and romantic getaway experience. Some of the main hall suites feature exquisite Jacobean hand-carved four-poster beds, ivory leather chesterfield sofas, 50-inch plasma-screen TVs, iPod docking stations, and private bathrooms complete with spa baths and wireless controlled monsoon showers. Guests can also enjoy free WiFi throughout their stay. While the Dining Room is closed on Mondays and Tuesdays, guests can indulge in gourmet dining options at an additional cost or visit the nearby sister property The Bay Horse Inn for food which is just a short walk away.
– Stunning location in North Yorkshire
– Rich history with ties to royalty
– Luxurious main hall suites with elegant furnishings
– Gourmet dining options available
– Close proximity to Harrogate
Jorvik House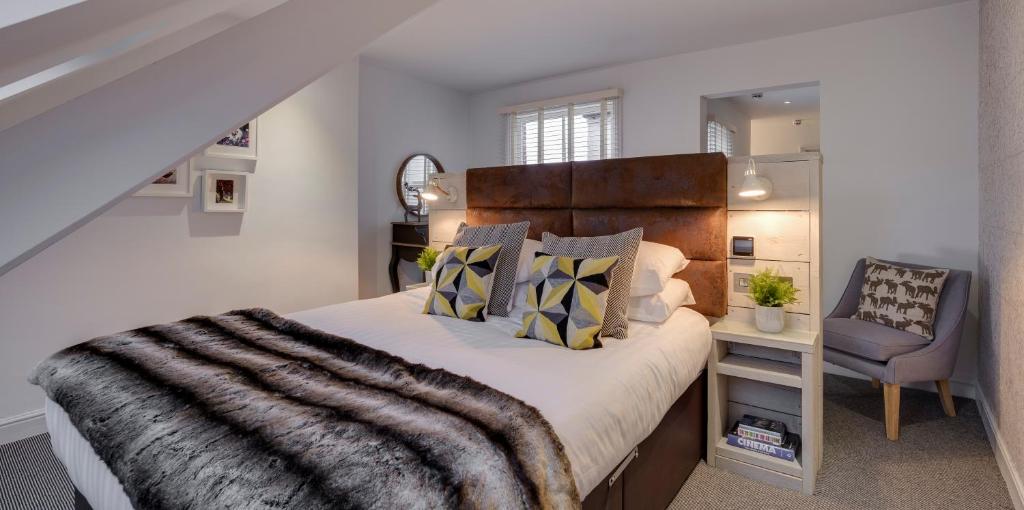 Dating back to the 1750s, Jorvik House is a charming luxury hotel that offers stunning views of the 11th-century church of St Olafs and the remains of St Mary's Abbey. This boutique hotel boasts a 24-hour front desk and a cozy bar for guests to relax in. Throughout the property, guests can enjoy complimentary WiFi. The spacious rooms at Jorvik House are beautifully decorated and feature en-suite facilities with either a bath and shower over or a walk-in shower. Complimentary toiletries are also provided for added convenience. Each room is equipped with modern amenities including a flat-screen TV with Freeview channels, tea/coffee making facilities, and luxurious Egyptian cotton sheets. In the morning, guests can indulge in a delicious continental breakfast to start their day off right. Conveniently located, York Rail Station is just a short 10-minute walk away from Jorvik House, while York Museum Gardens can be reached in just over 5 minutes on foot.
Pros:
– Charming luxury hotel dating back to the 1750s
– Stunning views of historic landmarks
– Spacious rooms with modern amenities
– Complimentary WiFi throughout the property
– Conveniently located near attractions such as York Rail Station and York Museum Gardens
Franklins Apartments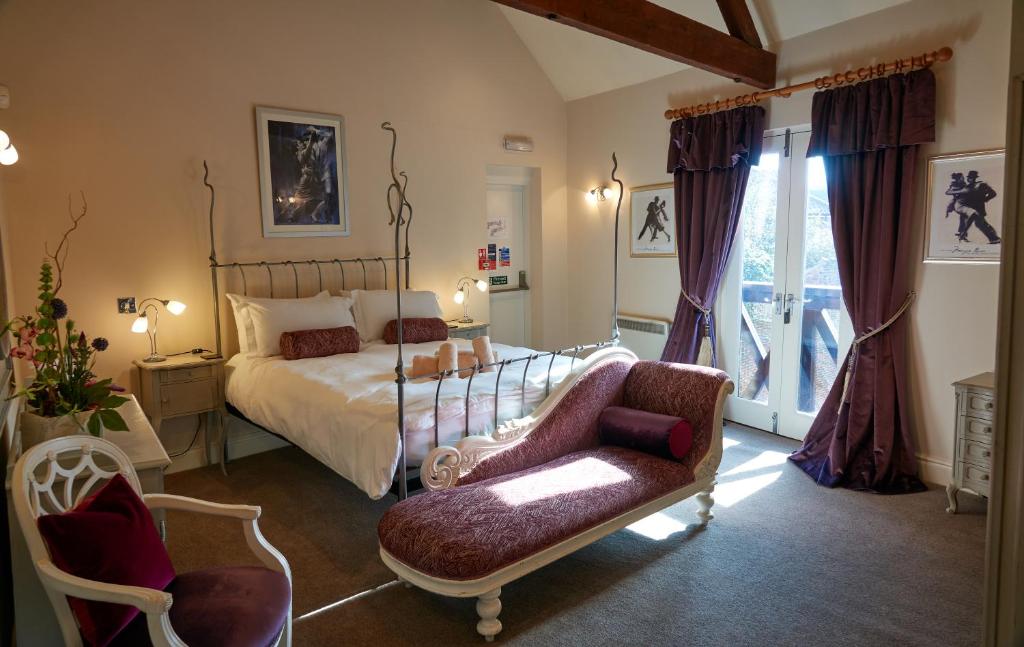 Located in York's historic center, Franklins Apartments is a luxurious 5-star gold awarded apartment hotel that offers stylish self-catering accommodations. Each spacious apartment features a seating area with a flat-screen TV, a fully fitted kitchen, and a bathroom with Molton Brown toiletries. Guests are greeted with a chilled bottle of sparkling wine and a welcome basket filled with locally sourced produce upon arrival. The modern kitchens are equipped with an oven, microwave, refrigerator, and kitchenware. Complimentary tea, coffee, and Nespresso pods are also provided. Additionally, guests have access to free Wi-Fi and free on-site parking. The hotel's exclusive location in Franklins Yard makes it conveniently situated next to the River Foss and just a 5-minute walk from the magnificent York Minster.
– Awarded 5-star gold by Visit England
– Free Wi-Fi access
– Chilled bottle of sparkling wine upon arrival
– Locally sourced welcome basket
– Free on-site parking
Five Star Hotels in Downtown York
Downtown York offers a range of luxurious five-star hotels, providing guests with exceptional service and sophisticated accommodations. With their prime locations, guests can enjoy easy access to the city's vibrant cultural attractions and renowned dining options.
Rockliffe Hall Hotel Golf & Spa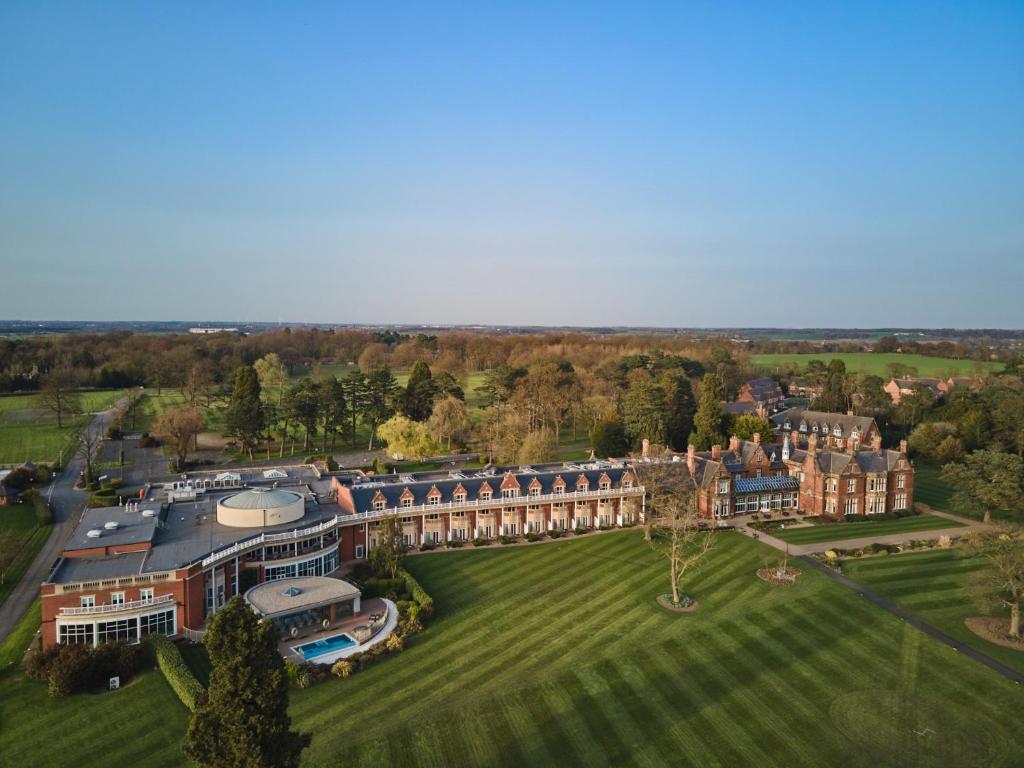 Rockliffe Hall Hotel Golf & Spa is a luxurious resort situated on a stunning 365-acre estate on the County Durham and North Yorkshire border. It offers guests one of the largest spas in the country, an 18-hole championship golf course, and award-winning dining options at the flagship Orangery restaurant. Whether you're seeking a romantic getaway, planning a wedding or special event, or looking for an impressive place to conduct business, Rockliffe Hall Hotel Golf & Spa is the perfect destination. Located in the peaceful village of Hurworth, this five-star retreat allows guests to forget about the outside world and indulge in all that their country retreat has to offer. From relaxing spa treatments to engaging in outdoor activities or exploring Durham's treasures and the dramatic North East coastline, there is something for everyone here.
– One of the largest spas in the country
– Award-winning dining at the flagship Orangery restaurant
– Stunning location on a 365-acre estate
– Ideal venue for weddings and special occasions
– Close proximity to vibrant towns, picturesque villages, and stunning coastline
City Centre Luxury Holiday House with Outdoor Bath and Parking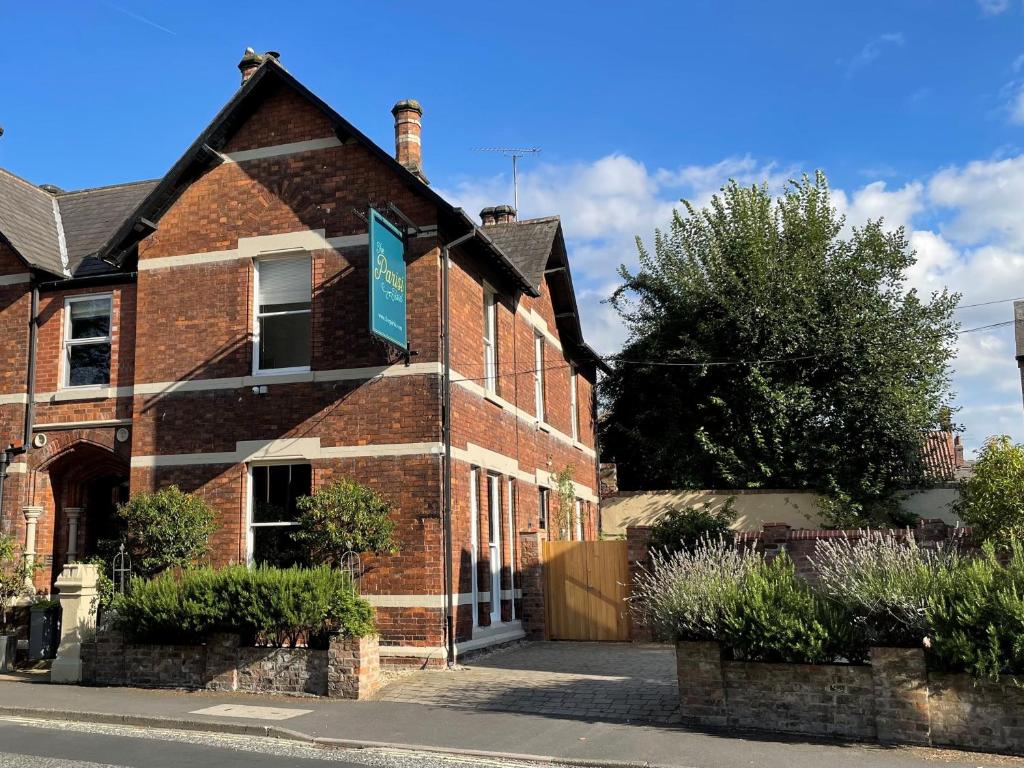 The City Centre Luxury Holiday House with Outdoor Bath and Parking offers a truly luxurious experience in the heart of York city centre. Overlooking the 15th century Church of St Denys, this family-run holiday home is situated in an area famous for its thriving independent food and drink scene. With its excellent central location, almost all of York's attractions are within a 10-minute walk.
Each room in this modernly designed holiday house features a flat-screen TV with Freeview channels, an iPod docking station, and an en suite bathroom with a bath or shower and eco-friendly luxury toiletries. The property boasts four bedrooms, each with its own en-suite bathroom. Guests can relax in the stylish sitting room library, complete with a 55' smart TV (with Netflix), Nintendo Wii, and wood-burning stove.
For those who enjoy cooking their own meals, there is a generously equipped kitchen dining room featuring an induction Rangemaster cooker, bean-to-cup coffee machine, dishwasher, large farmhouse-style dining table, pantry with washing machine and tumble dryer. The highlight of the property is undoubtedly its beautiful walled garden where guests can unwind in comfortable seating or dine at the outdoor table while enjoying a barbecue or even indulging in an outdoor bath.
In addition to these fantastic amenities, guests have access to private onsite parking for up to three cars – a rare find in such a central location. Housed within a refurbished Victorian rectory dating back to the late 1800s, this holiday house provides easy access to York's many attractions.
Pros:
– Excellent central location
– Modern design and amenities
– Beautiful walled garden with outdoor bath
– Private onsite parking for up to three cars
12 Pear Tree House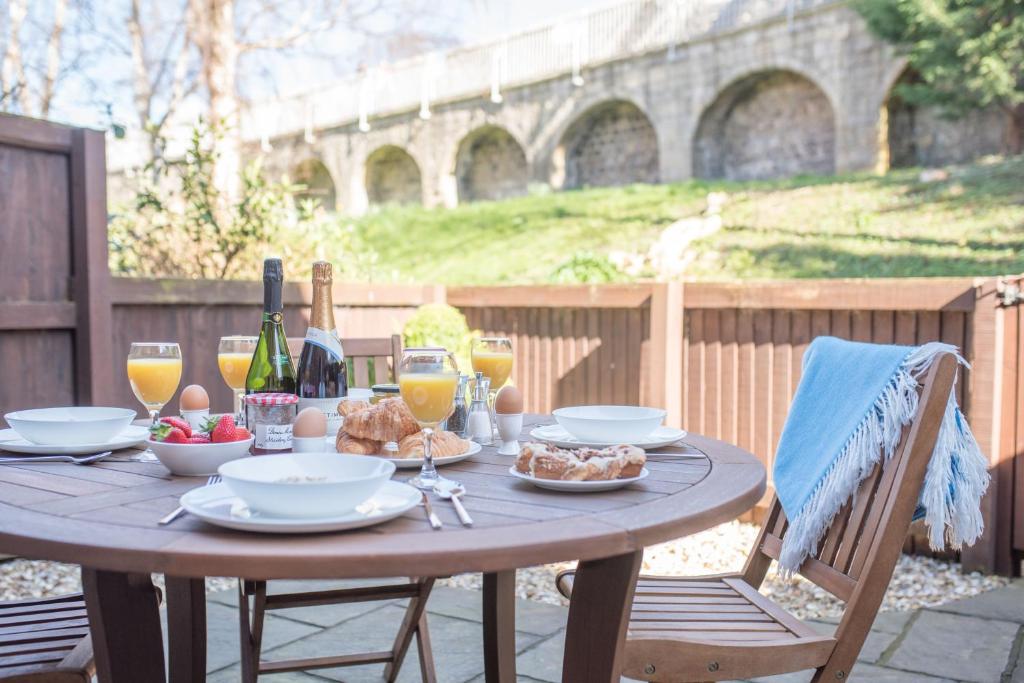 12 Pear Tree House is a luxurious holiday home located in the heart of York City Centre. Situated just steps away from popular attractions such as York Minster and the Grand Opera House, this property offers guests a convenient and comfortable stay. The holiday home features two spacious bedrooms, each equipped with a flat-screen TV for entertainment. Guests can also enjoy the convenience of a fully equipped kitchen with modern appliances including a dishwasher and microwave, as well as a washing machine for their laundry needs. With two bathrooms complete with showers, guests can relax and unwind after exploring the city. Free WiFi is available throughout the property, allowing guests to stay connected during their stay. The property also offers free private parking for added convenience. Bettys Cafe Tea Rooms and Cliffords Tower are within walking distance from 12 Pear Tree House, making it an ideal choice for those looking to immerse themselves in the local culture. Leeds Bradford International Airport is located just 52 km away, providing easy access for travelers.
York Cheap 5 Star Hotels
York Cheap 5 Star Hotels offer a budget-friendly option for travelers looking to experience the luxury and comfort of a five-star hotel without breaking the bank. These hotels provide excellent service, comfortable accommodations, and convenient locations, making them a great choice for those on a tight budget.
West Layton Manor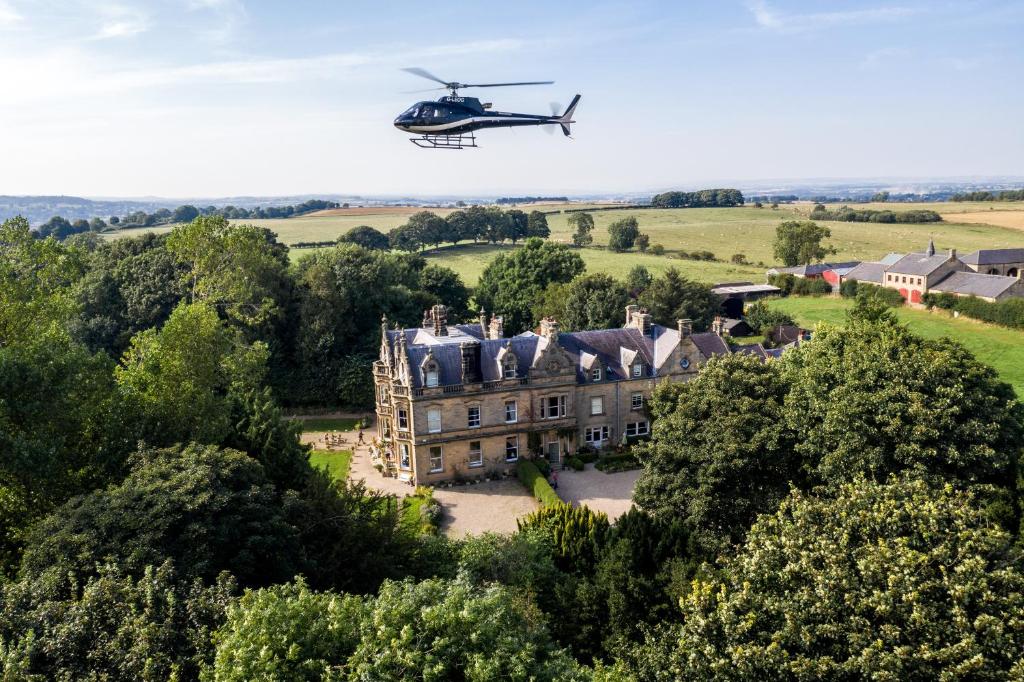 Located 5 miles from Richmond, North Yorkshire, West Layton Manor is a historical English Manor House that dates back to 1872. This charming property offers six individually decorated guest bedrooms, each equipped with en-suite bathrooms and complimentary Noble Isle toiletries. Guests can enjoy various attractions nearby, including the Yorkshire Dales, the Bowes Museum, Richmond Castle, and Barnard Castle. The hotel also provides free WiFi access and on-site parking for added convenience. With its reading gallery, guest drawing room with bar, and cozy open fireplace in the Reception Hall, West Layton Manor offers a perfect blend of comfort and luxury. Each day starts with a delicious full English breakfast to ensure a memorable stay for all guests. Plus points of this hotel include its proximity to Newcastle International Airport (62 km away) as well as easy access to major roads like junction 53 of the A1 at Scotch Corner (10 km away) and the A66 road which is just 300 meters from the property.
– Individually decorated guest rooms
– Complimentary Noble Isle toiletries
– Reading gallery and guest drawing room
– Full English breakfast served daily
– Close proximity to attractions such as Yorkshire Dales and Richmond Castle
York 5 star Hotels Information
| | |
| --- | --- |
| 🛎️ 5 star Hotels in York | 10 |
| 💵 Hotels Prices From | $73 |
| 💵 Highest price | $1552 |
| 🥇 Average Review Score | 9.2/10 |
| 🛏️ Average number of Rooms | 33 |
Top 5 star hotels in York
| | |
| --- | --- |
| City Centre Luxury Holiday House with Outdoor Bath and Parking | 10/10 |
| Franklins Apartments | 9.8/10 |
| 12 Pear Tree House | 9.7/10 |
| West Layton Manor | 9.7/10 |
| Manor House Lindley | 9.2/10 |
FAQ
1. What are some of the top luxury 5 star hotels in York?
York boasts several exquisite 5 star hotels for discerning travelers. The Grand Hotel & Spa is one of the most highly recommended options, offering elegant rooms, a rooftop spa, and fine dining experiences. Another popular choice is The Principal York, a historic hotel with stunning architecture and luxurious amenities. Other notable mentions include Middlethorpe Hall & Spa, a country house hotel surrounded by beautiful gardens, and The Judge's Lodging, a charming boutique hotel nestled in the heart of the city.
2. Are there any 5 star hotels that offer views of famous landmarks in York?
Yes! For travelers seeking breathtaking views of famous landmarks in York while enjoying their stay at a luxury 5 star hotel, options such as The Principal York and The Grand Hotel & Spa are fantastic choices. Both hotels provide stunning vistas overlooking iconic sights such as York Minster – an awe-inspiring cathedral with centuries-old history. Waking up to these remarkable views will undoubtedly enhance your overall experience during your visit to this beautiful city.
3. What amenities can I expect from a 5 star hotel in York?
When staying at a luxury 5 star hotel in York, you can expect an array of world-class amenities designed to pamper and delight guests. These may include spacious and stylishly appointed rooms or suites equipped with modern comforts like plush bedding and high-end toiletries. You might also enjoy access to on-site spas offering rejuvenating treatments or wellness facilities like swimming pools and fitness centers for relaxation and exercise purposes respectively.
4. How can I find the best deals for luxury 5 star hotels in York?
To secure the best deals for your stay at a luxury 5-star hotel in York, it's advisable to start by researching online travel agencies or directly visiting the official websites of desired hotels for exclusive offers or promotional rates. Signing up for newsletters or following the social media accounts of these hotels may grant you access to limited-time discount codes or flash sales, ensuring you maximize your savings while enjoying a lavish experience in York.
5. Are there any renowned restaurants within the 5 star hotels in York?
Absolutely! Many luxury 5-star hotels in York are home to renowned and award-winning restaurants that offer exceptional culinary experiences. For example, The Grand Hotel & Spa houses "Hudsons by Craig Atchinson," a Michelin-starred restaurant known for its innovative and exquisite dishes using locally sourced ingredients. Similarly, The Principal York features "The Refectory Kitchen & Terrace" which offers delectable cuisine amidst elegant surroundings. These gastronomic delights are sure to satisfy even the most discerning palates.
Popular 5 Star Hotels destinations