As a connoisseur of the finer things in life, it's no surprise that I find myself drawn to the opulent 5-star hotels of Vienna. Nestled in the heart of Austria, this beautiful city boasts some of the most magnificent accommodations in Europe. From regal suites to serene spas, Vienna's luxury hotels offer an experience like no other.
One such hotel is the lavish palace-turned-hotel that sits majestically on the Ringstrasse boulevard. With its decadent interiors and impeccable service, it's easy to see why this property has become a favorite among discerning travelers year after year. And for those seeking a more modern take on luxury, there are several contemporary boutique hotels that fuse cutting-edge design with old-world charm.
Whether you're looking for an indulgent spa retreat or simply want to soak up the grandeur of Vienna from your private balcony, these 5-star hotels offer nothing but the best for their guests. So why not treat yourself to a stay at one of these luxurious properties on your next visit to Austria?
Best Five Star Hotels in Vienna
Hotel Imperial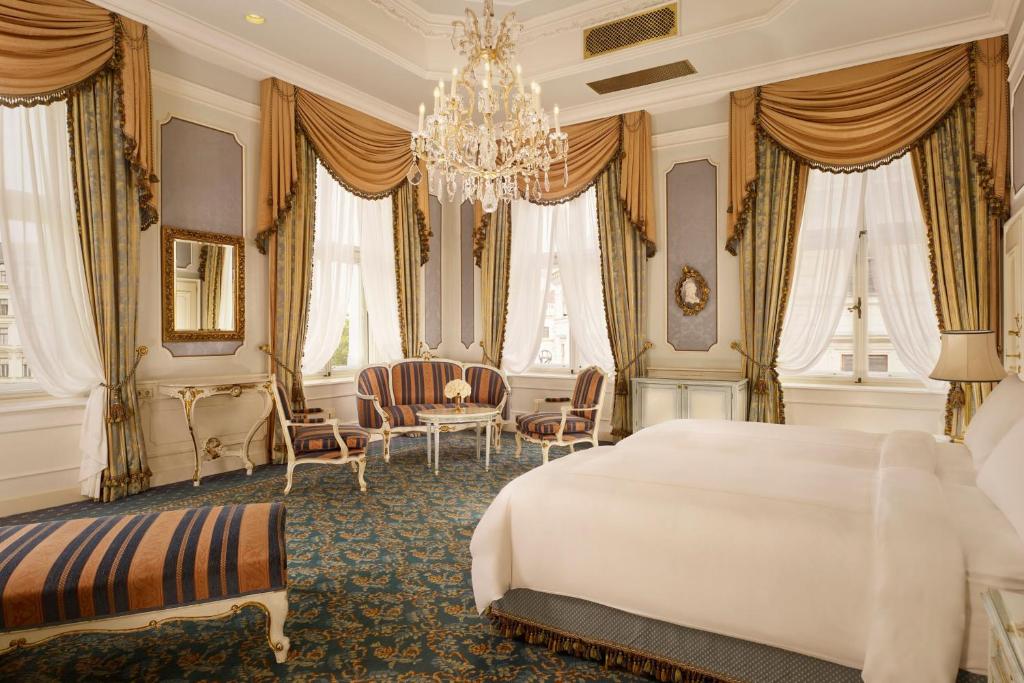 Located on the prestigious Ringstraße boulevard, Hotel Imperial offers a 5-star luxurious experience in Vienna. The hotel boasts elegant rooms and suites decorated with antiques and silk walls, combined with modern amenities such as air conditioning, sound system and large TV. Guests can enjoy award-winning dining at Restaurant Opus or indulge in Viennese coffee and pastries at Café Imperial, including the famous Imperialtorte. A personal butler service is available for suite guests, while the rooftop fitness center includes a sauna. The historic Festsaal and Marmorsaal can accommodate events, while 1873 Hallensalon offers live piano music and cocktails. Proximity to Musikverein, Karlsplatz Underground Station, State Opera House and Kärntner Straße shopping adds convenience to luxury.
– Prime location on Ringstraße boulevard
– Elegantly furnished rooms with modern amenities
– Award-winning dining options
– Personal butler service for suite guests
– Rooftop fitness center with sauna
The Guesthouse Vienna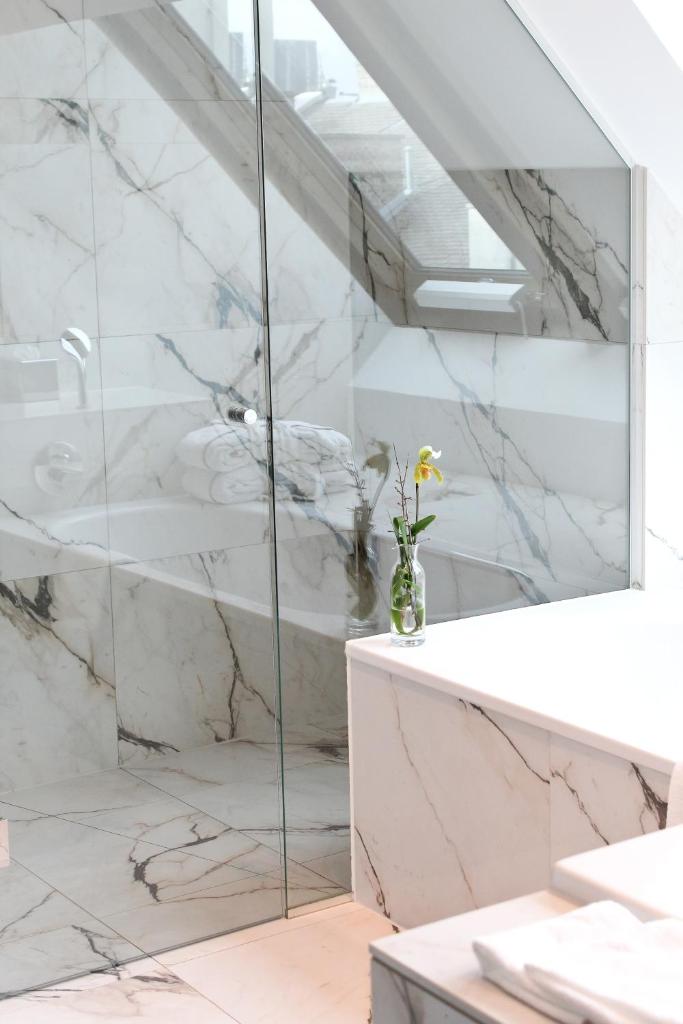 The Guesthouse Vienna is a beautiful boutique hotel located in the heart of Vienna, just a short walk away from Saint Stephen's Cathedral and the Albertina Museum. The hotel offers an individual atmosphere with free WiFi and an on-site bakery. Each modern room is air-conditioned and features high-quality furniture, a Bang & Olufsen TV and audio system, living area, and bathroom with shower. Guests can enjoy an à la carte breakfast all day long or choose from various breakfast options including more affordable choices. The upper floor rooms boast stunning views of the State Opera and city centre. Additional amenities include a concierge service, four complimentary bottles of Austrian wine, beer, non-alcoholic drinks, tea and coffee in each room, as well as a brasserie serving light dishes and freshly baked goods.
– Central location near popular sights
– Free WiFi available
– On-site bakery for fresh breads and sweets
– Complimentary beverages provided in each room
– Concierge service available
Hotel Sacher Wien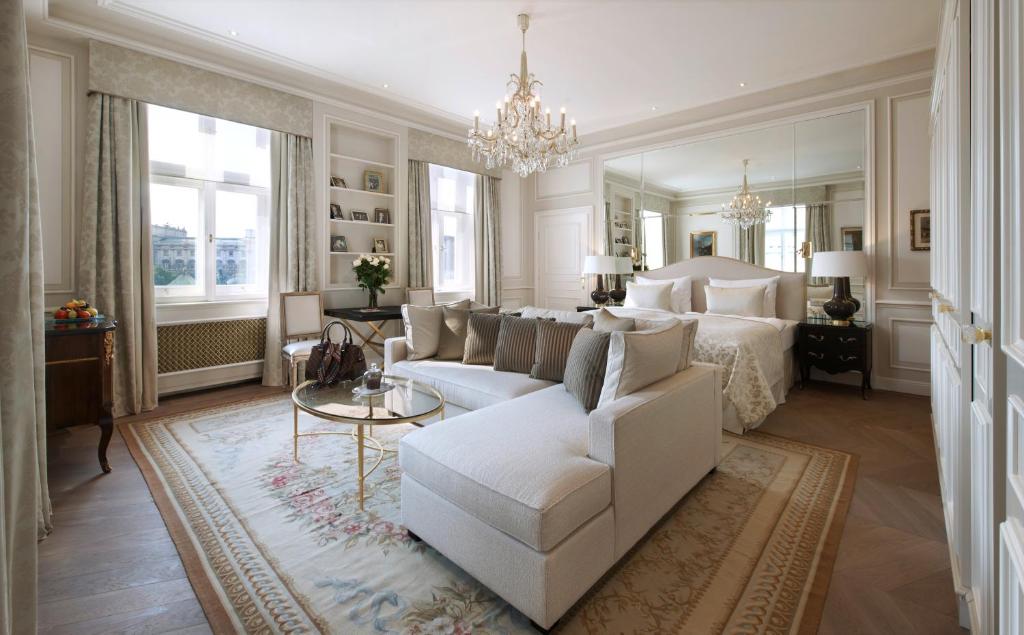 Located in the heart of Vienna, opposite the State Opera and right next to Kärntner Straße, Hotel Sacher Wien is a luxurious traditional hotel that can be easily accessed from Karlsplatz transport hub. The hotel boasts a range of amenities such as the Sacher Spa offering massages and wellness treatments. Guests can enjoy international and traditional Viennese cuisine at Rote Bar and Grüne Bar or meet up with friends at the popular Blaue Bar. For classic Viennese coffee and delicious original Sacher-Torte, guests can visit Café Sacher. The rooms are individually decorated with high-quality materials and furnished with valuable antiques, elegant furniture, and famous paintings. With its central location, many attractions are just a short walk away.
– Convenient location for exploring Vienna's city center
– Elegant interior design featuring valuable antiques
– Wide selection of restaurants serving international cuisine
– Quality spa services available for ultimate relaxation
– Complimentary non-alcoholic beverages from minibar provided
Other places to stay in Vienna
Luxury 5 Star Hotels in Vienna
Luxury 5-star hotels in Vienna offer elegant and sophisticated accommodations with impeccable service. Guests can indulge in the city's rich culture and history while enjoying luxurious amenities, such as spas, fine dining restaurants, and opulent rooms with beautiful views.
The Amauris Vienna – Relais & Châteaux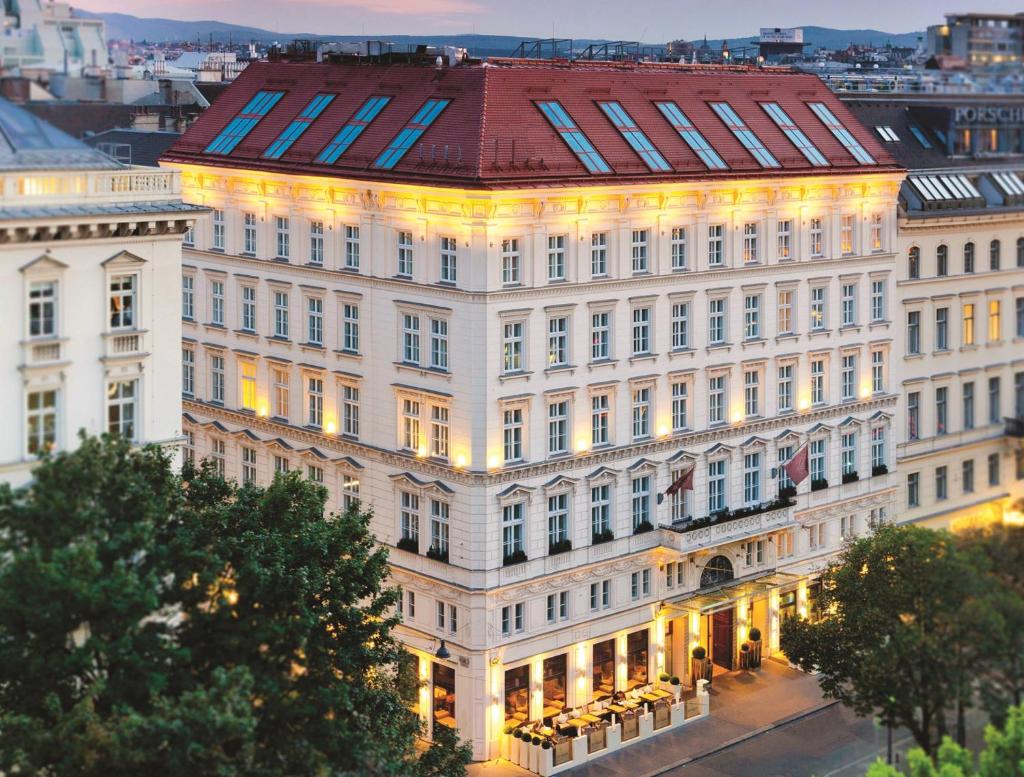 Located in the heart of Vienna on Ringstraße boulevard, The Amauris Vienna – Relais & Châteaux is a modern and elegant design hotel positioned just 200 meters from the State Opera. The hotel offers free Wi-Fi throughout and is surrounded by famous landmarks including museums, restaurants, and shopping districts. The property features dining options at Restaurant Glasswing where executive Chef Alexandru Simon blends cultural heritage with new flavors to provide guests with exquisite meals. Moreover, guests can immerse themselves in relaxation at the spa that includes steam room, Finnish sauna, ice fountain and indoor pool featuring massage jets and a counter current system under a glass roof. Lastly, the hotel's 19th-century façade hides historic details such as the listed lift adding charm to it.
– Perfect location for sightseeing
– Free Wi-Fi
– Dining experience at Restaurant Glasswing
– Luxurious spa facilities
– Historic charm
Park Hyatt Vienna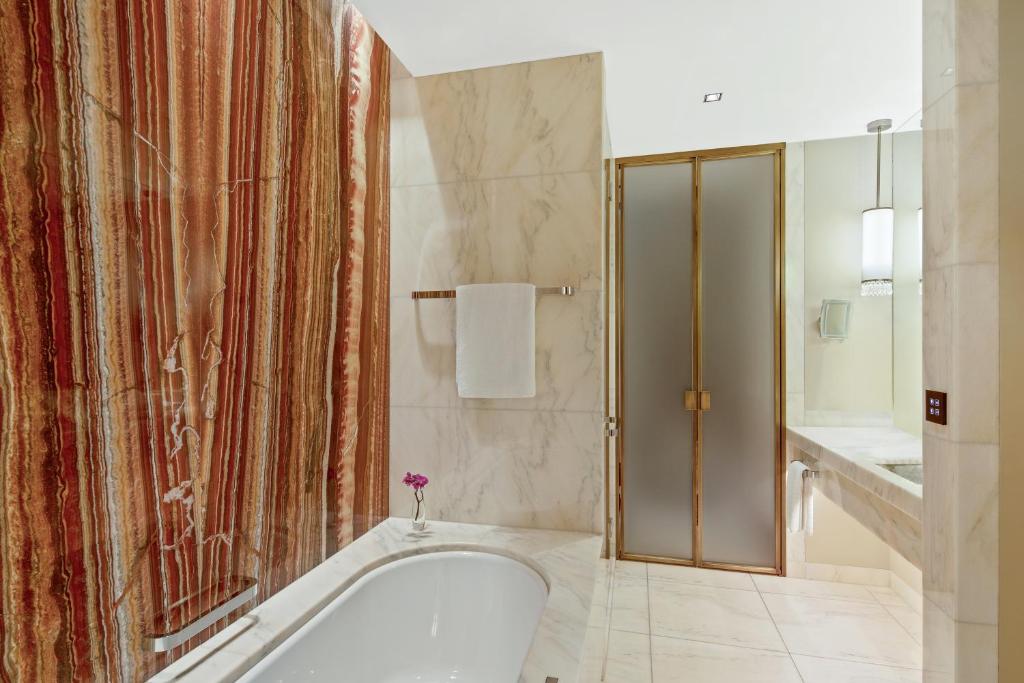 The Park Hyatt Vienna is a luxurious hotel situated in the heart of the Golden Quarter. Housed in a former bank building from the early 1900s, this hotel blends Viennese elegance with modern luxury. It features an indoor pool, state-of-the-art fitness centre, and an à la carte restaurant. Guests can indulge in various beauty and body treatments at Arany Spa or hold meetings in 800 square metres of modern meeting space equipped with state-of-the-art technology. The rooms are elegantly furnished and range from 35 to 170 m², featuring high-end appliances, minibars, flat-screen TVs, and private bathrooms with free toiletries. Some pros of staying at Park Hyatt Vienna include:
– Perfect location for sightseeing and shopping
– Excellent wellness facilities including an indoor pool
– Wide range of dining options including traditional Viennese coffee specialities
– Beautifully restored historical meeting spaces for corporate events
– Free WiFi available throughout the hotel
Hotel Bristol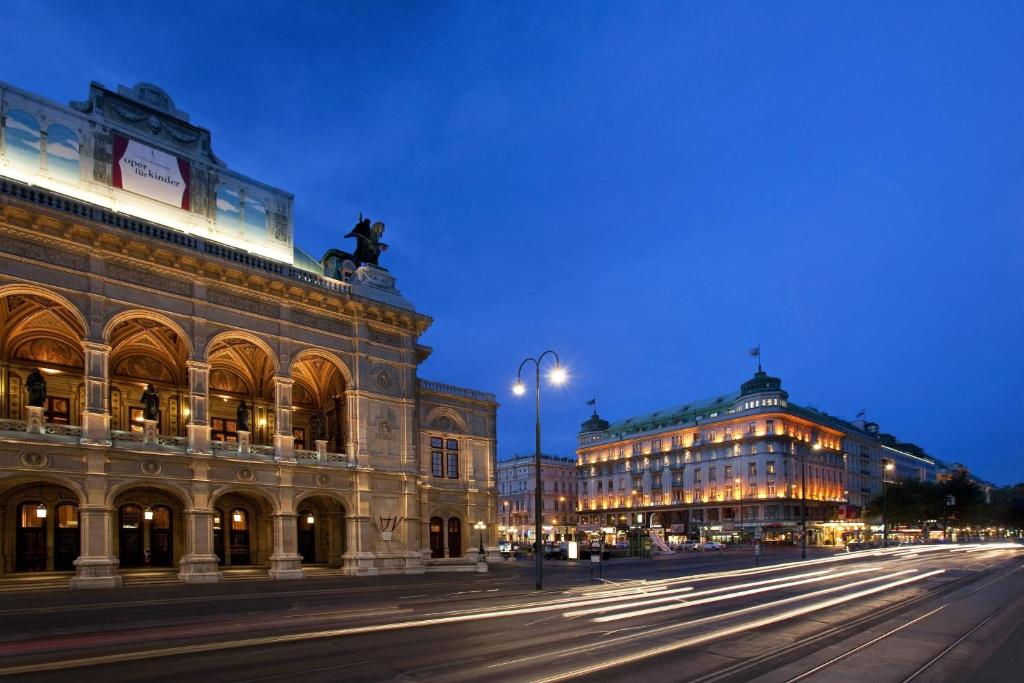 Hotel Bristol is a luxurious hotel that has been welcoming guests since 1892. The hotel's central location next to the Vienna State Opera allows easy access to the major sights of the city, including St. Stephan's Cathedral and Kärntner Straße Shopping Boulevard. Guests can choose from elegant rooms and suites featuring air conditioning, flat-screen TVs, and marble bathrooms. The hotel offers Clefs d'Or concierge service to help guests plan their stay and arrange for city tours or event tickets. Dining options include the award-winning Bristol Lounge Restaurant serving Austrian delicacies and international cuisine, as well as an afternoon tea with sweet treats accompanied by fine pastries and sandwiches. The hotel also features Vienna's first American Bar, a 24-hour gym with fantastic views of the Vienna Ring Road and State Opera, a business center equipped with computers and printers, valet parking service, free Wi-Fi throughout the property.
– Ideal location next to Vienna State Opera
– Award-winning Bristol Lounge Restaurant
–
Five Star Hotels in Downtown Vienna
Five star hotels in downtown Vienna offer luxurious accommodations with impeccable service and prime locations. These hotels provide easy access to popular tourist attractions, high-end shopping districts, and fine dining options.
Steigenberger Hotel Herrenhof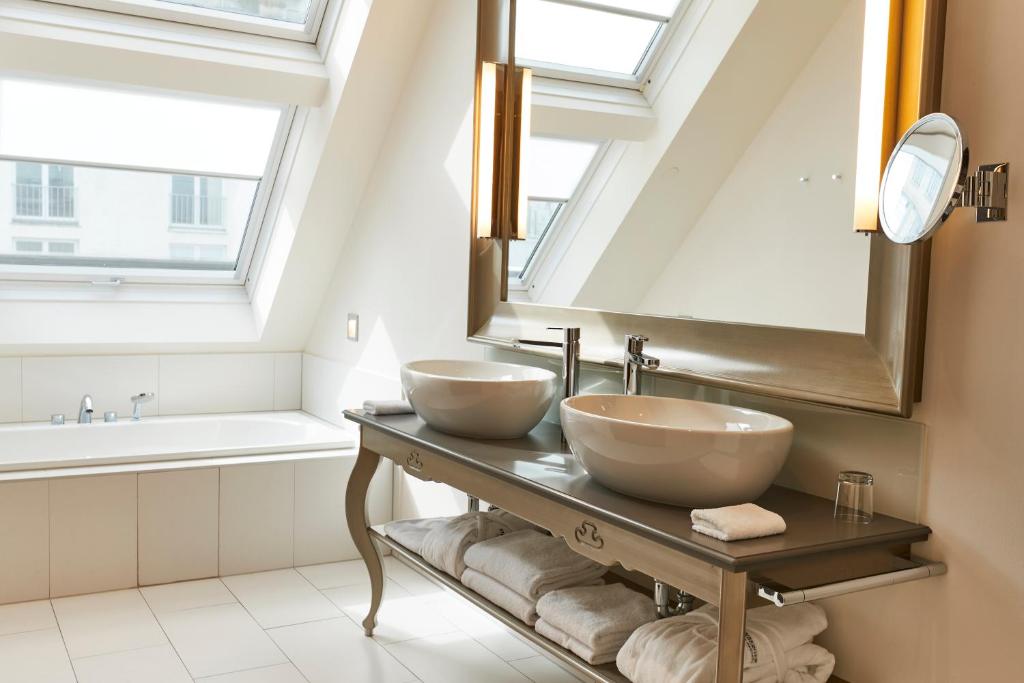 Steigenberger Hotel Herrenhof is a luxurious hotel situated in the heart of Vienna's historic first district, just a stone's throw away from the Hofburg Imperial Palace. The air-conditioned rooms are spacious and stylishly decorated by Viennese studio Einwaller, incorporating various styles from Baroque to Art Déco. The hotel offers an elegant spa programme consisting of 2 saunas spread over 250 m² on two floors. Guests can also make use of the fitness centre. Other nearby attractions include luxury shopping streets such as Kohlmarkt and Graben, St. Stephen's Cathedral and the UNESCO World Cultural Heritage Site of Vienna's historic district.
– Prime location in historic district
– Elegant spa programme with 2 saunas available
– Spacious and stylishly decorated rooms featuring various styles
– Fitness centre on site for guests to use
Palais Hansen Kempinski Vienna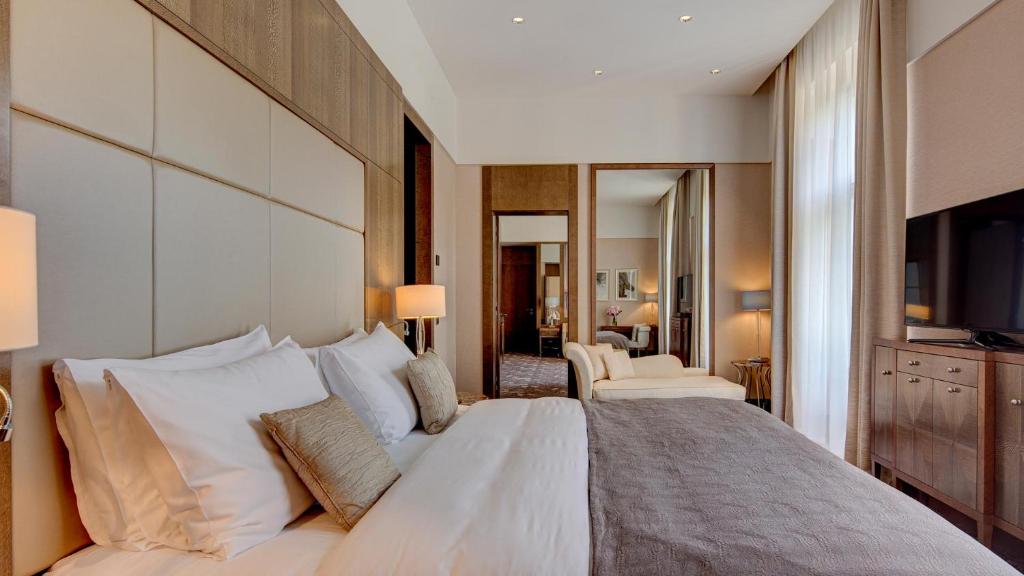 The Palais Hansen Kempinski Vienna is a 5-star superior hotel located in the heart of Vienna on the famous Ringstraße boulevard. This historic landmark building offers luxurious lifestyle and is only a short walk away from St. Stephen's Cathedral, the imperial palace ("Hofburg") as well as most other touristic attractions within the city center. The hotel features an 800 m2 luxury spa with hydro pool and several saunas, fitness center, Michelin star restaurant, and two additional restaurants serving typical Viennese specialties as well as international dishes. The spacious rooms are adorned with high-quality fabrics and carpets and equipped with a Nespresso coffee machine, in-room tablet, and Salvatore Ferragamo toiletries in the marvelous bathrooms. Non-smoking rooms offer views of the surrounding historic buildings or the inner courtyard with free WIFI and air conditioning throughout the entire property. In addition to these amenities Hotel Palais Hansen Kempinski Vienna also has its own cigar lounge where guests can enjoy fine cigars
Grand Ferdinand Vienna – Your Hotel In The City Center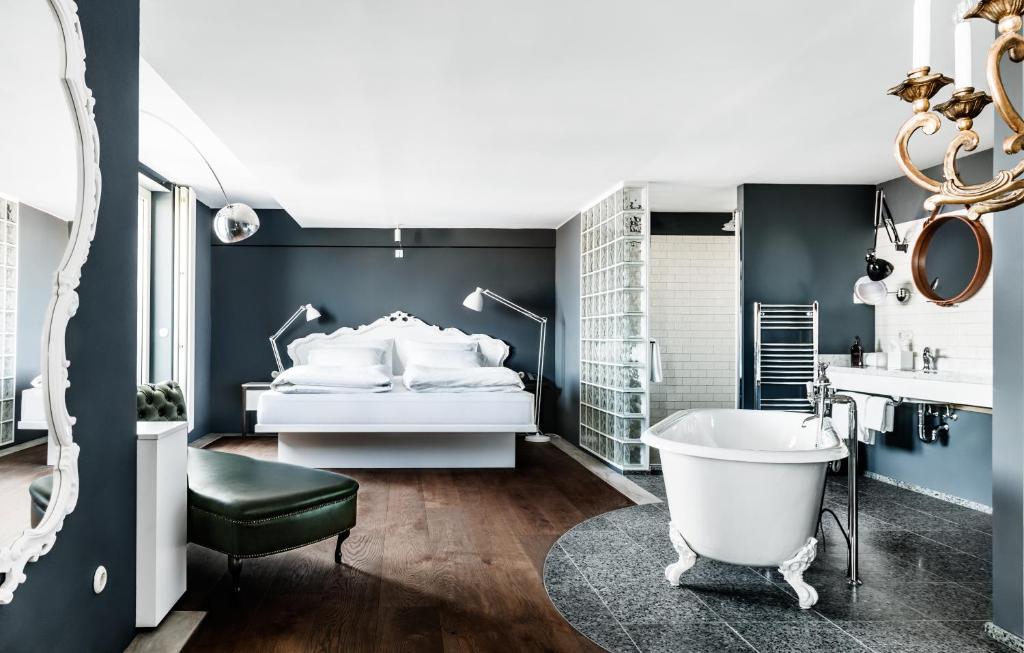 Grand Ferdinand Vienna – Your Hotel In The City Center is a luxury hotel located in the heart of Vienna. This hotel offers a rooftop pool, 3 restaurants, free WiFi access, fitness centre, and a gift shop. Breakfast is served at The Grand Étage where guests can enjoy breathtaking views while dining. Guests can also dine at Gulasch & Söhne for quick bites or at Meissl & Schadn which serves local classic cuisine. The rooms are designed with modern guests' preferences in mind featuring air conditioning, flat-screen TV, minibar and wooden floors with hangers instead of wardrobes. St. Stephen's Cathedral is only a 10-minute walk away.
– Located in the center of Vienna
– Offers a rooftop pool and fitness center
– Has three different on-site restaurants
– Air-conditioned rooms with modern design features
– Within walking distance to local attractions like St. Stephen's Cathedral
Vienna Cheap 5 Star Hotels
Vienna offers several options for budget-friendly 5-star hotels. Despite the lower prices, these hotels offer excellent service and comfort to their guests, making them a great option for those looking for luxury on a budget.
Hotel Topazz & Lamée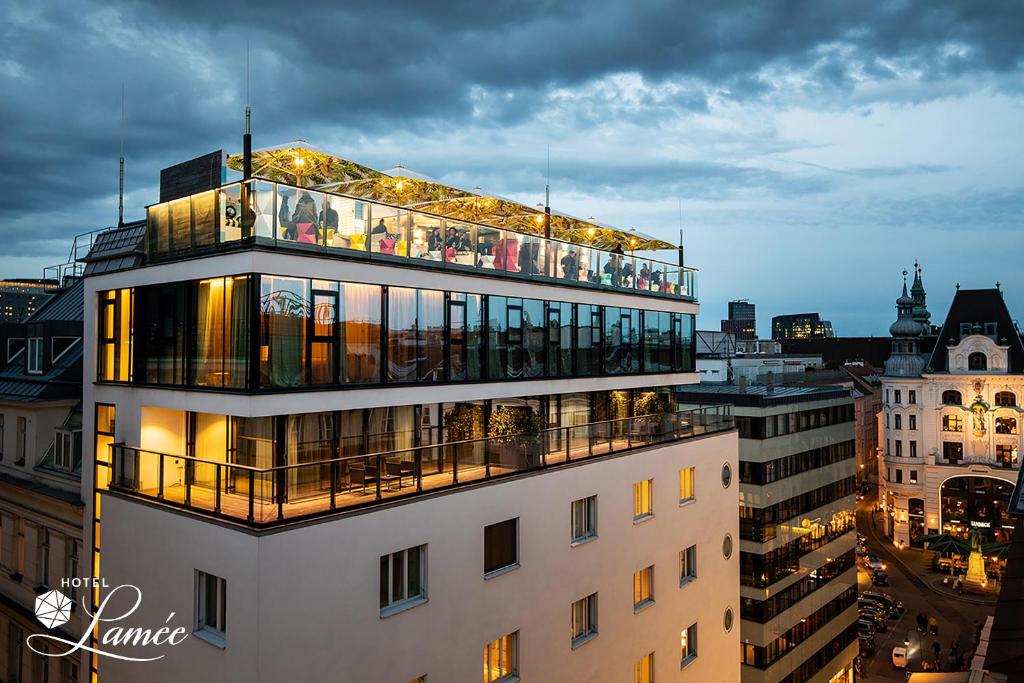 Hotel Topazz & Lamée is a luxury hotel located in the heart of Vienna, just 200 metres from Saint Stephen's Cathedral and close to exclusive shopping streets. This property consists of two hotels situated across the road from each other. The rooms offer modern design with some featuring divan windows and balconies for relaxation and unique views of the city. Each non-smoking room is furnished with custom-made furniture, mahogany and marble elements in spacious bathrooms, as well as offering satellite TV with Sky channels and minibar (surcharge). Guests can enjoy breakfast at Hotel Topazz or dine at the restaurant on the ground floor of Hotel Lamée. Schwedenplatz station, which connects to many tram lines and underground lines U1 and U4, is only 400 meters away.
Pros:
– Prime location in the heart of Vienna
– Modern design with unique room features
– Luxury amenities including satellite TV with Sky channels
– Onsite restaurant for convenience
– Easy access to transportation options
Hilton Vienna Plaza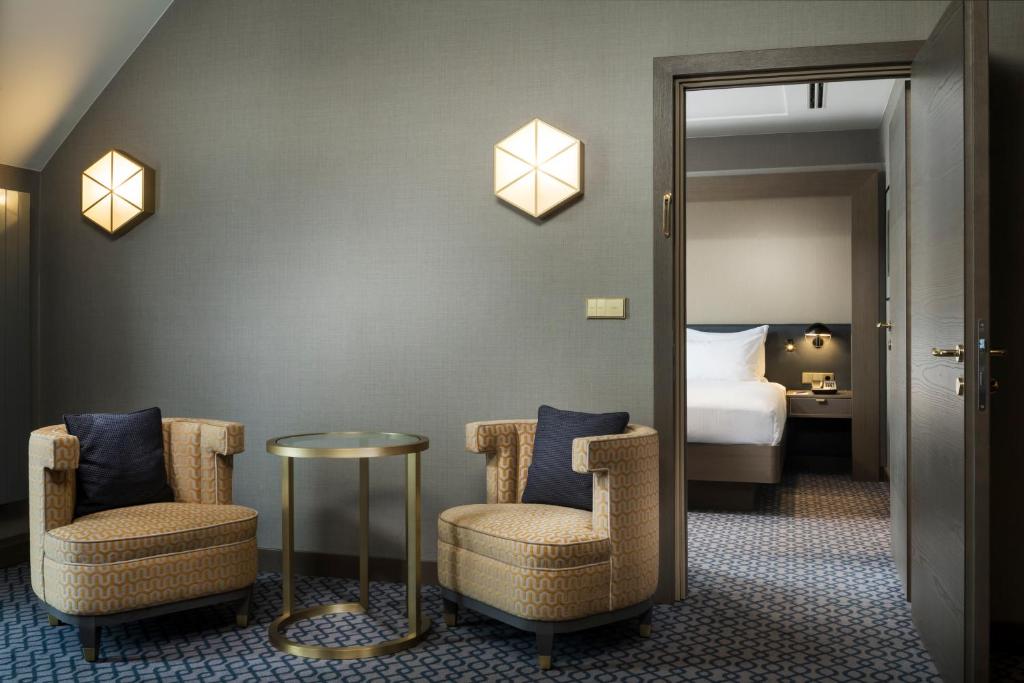 The Hilton Vienna Plaza is located on the historic Ringstraße boulevard just opposite the Stock Exchange. This luxurious hotel combines modern and Art Déco design elements and features a sauna, fitness center, free WiFi in public areas and free Apple/PC workstations. Guests can enjoy afternoon tea or coffee in the lobby while taking in the elegant furniture and marble details of their rooms or suites' bathrooms. The hotel's ÉMILE Restaurant serves Austrian and international dishes prepared with fresh seasonal ingredients alongside an extensive wine selection, while the ÉMILE Bar invites guests to relax with Martini specials and other drinks. The Vienna Plaza's Executive Lounge offers coffee and tea throughout the day as well as a happy hour from 6pm-8pm. Additionally, Schottentor Underground Station (line U2) is just a quick 2-minute walk away.
– Luxurious accommodations with elegant furniture
– Sauna and fitness center available for guests 24 hours a day
– Afternoon tea or coffee served
SO/ Vienna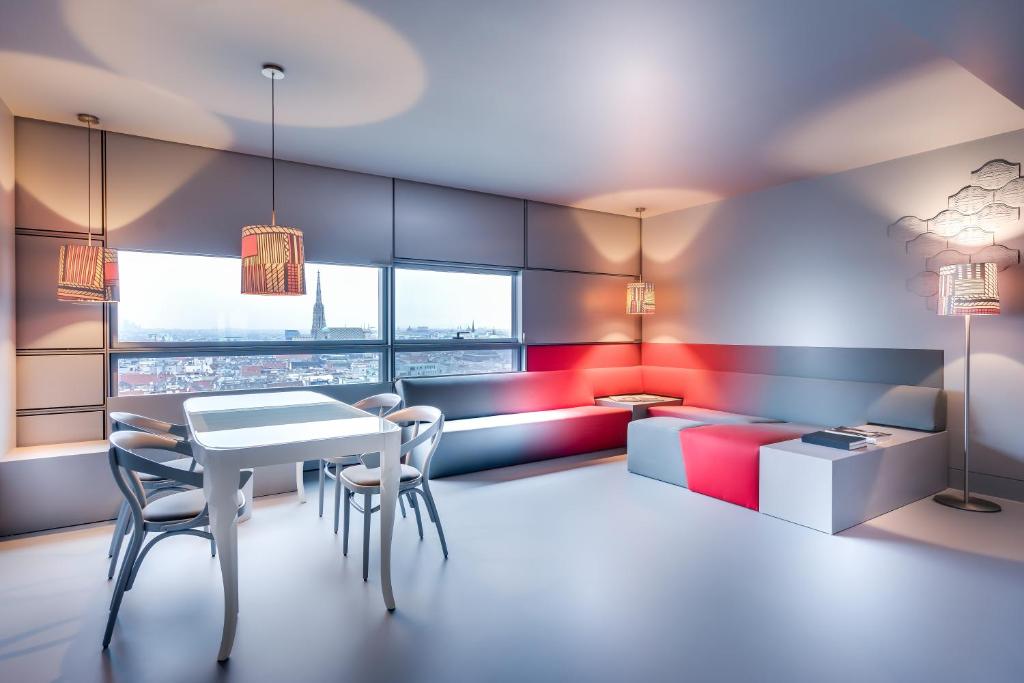 Designed by the renowned architect Jean Nouvel, SO/ Vienna is a luxurious and stylish hotel located in the heart of Vienna. The hotel offers breathtaking panoramic views of the city, a gourmet restaurant, a free gym, and a 750 m² spa area for guests to unwind. Air-conditioned rooms feature modern amenities such as rain showers and complimentary minibar including mineral water and fruit juices. A unique blend of Viennese architecture with contemporary design sets this hotel apart from others.
– Prime location in the centre of Vienna
– Spectacular panoramic views over the city
– Complimentary minibar in all rooms
– Elegant glass façade combining traditional Viennese architecture with modern design
– Free access to gym and spa facilities
Five Star Family Hotels in Vienna
Vienna offers plenty of options for those seeking luxurious family-friendly hotels. These five-star accommodations typically offer top-notch amenities and services, making them ideal for families traveling with children. Many of these hotels also provide easy access to popular tourist attractions in the city.
Palais Coburg Hotel Residenz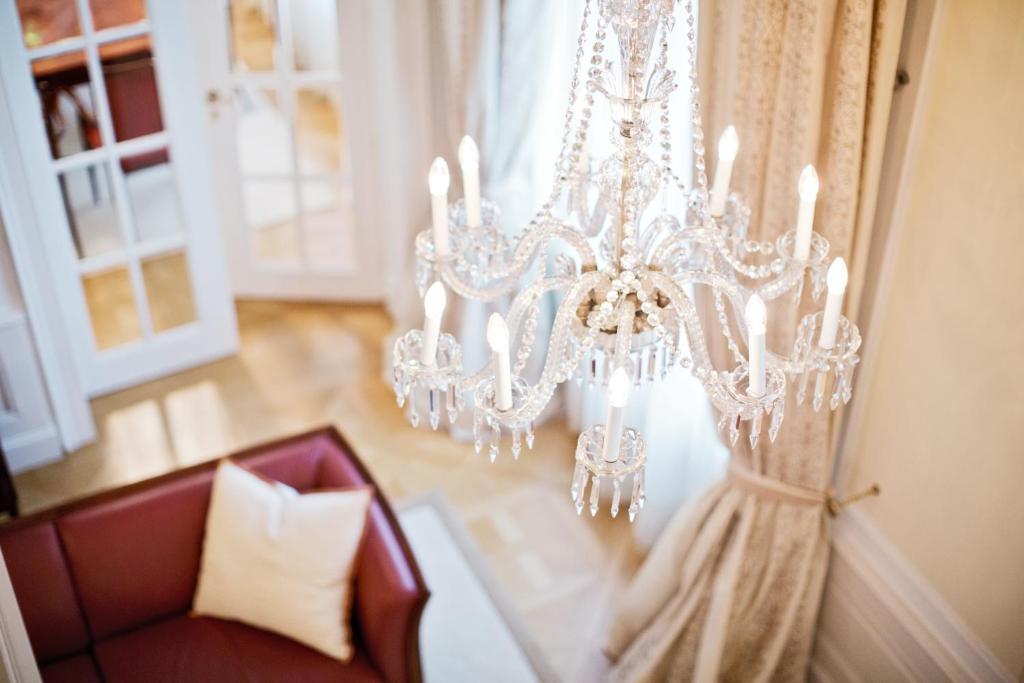 Palais Coburg Hotel Residenz is a 5-star luxury hotel located in the heart of Vienna. It boasts air-conditioned suites, two restaurants serving Austrian and international gourmet cuisine, a modern fitness center, and an exclusive spa area with a sauna, steam bath, hot tub, indoor pool, and sun terrace. Guests are provided with a bottle of champagne, fruit/chocolate treatment, and flower bouquet upon arrival. The hotel also offers free minibar consumption and on New Year's Eve guests can attend the black tie gala dinner. Short walks away from St. Stephen's Cathedral, the Stadtpark, and several underground stations.
– Historic building in the centre of Vienna
– Two gourmet restaurants with fine wine selection
– Exclusive spa area over the roofs of Vienna
– Complimentary champagne, fruit/chocolate treatment and flower bouquet
– Free minibar consumption
Hotel Ambassador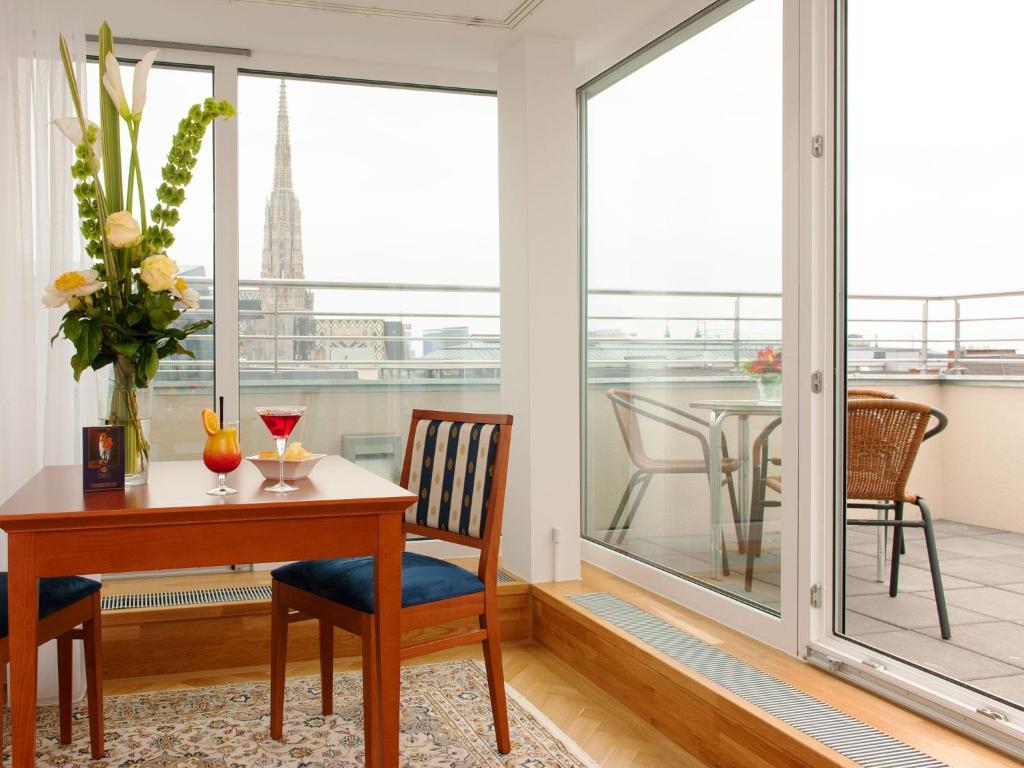 Located on the famous Kärntner Straße shopping street in the heart of Vienna, Hotel Ambassador is a luxurious hotel just 200 metres away from Stephansplatz and Karlsplatz Underground Stations. The hotel, which opened in 1898, has an impressive history of hosting renowned guests such as Marlene Dietrich and Mark Twain. The rooms are decorated with select antiquities and equipped with adjustable air conditioning, satellite TV, minibar and safe. In addition to free WiFi, guests can enjoy Austrian cuisine at the hotel's restaurant or sip cocktails at the atrium bar while overlooking historic Neuer Markt square. Other notable attractions within a short walking distance include St. Stephen's Cathedral and Hofburg Imperial Palace.
– Convenient location on Kärntner Straße
– Rich history dating back to 1898 with famous past guests
– Elegant rooms decorated with antique furnishings
– Enjoy Austrian cuisine at the on-site restaurant or relax at the atrium bar
The Ritz-Carlton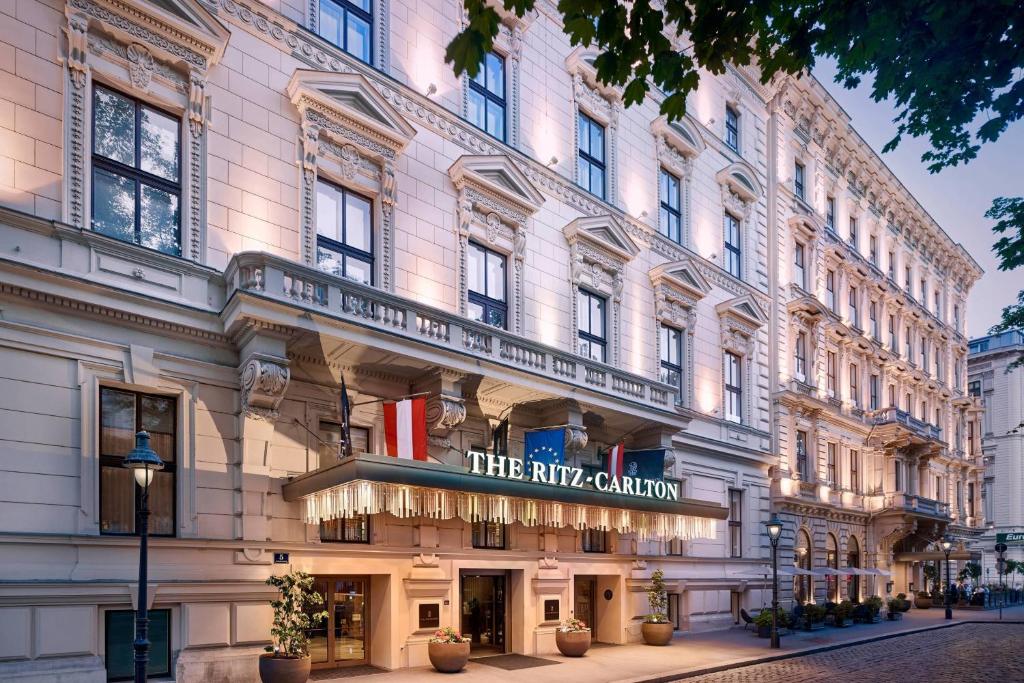 The Ritz-Carlton, Vienna is a luxurious hotel located in the heart of the city, occupying four historic palaces. Guests can enjoy air-conditioned rooms and suites with marble bathrooms, amenities such as free Wi-Fi and flat-screen TVs, and access to facilities like a fitness room, indoor pool with underwater music, saunas and steam baths for men and women, as well as spa suites where they can receive treatments using Susanne Kaufmann products. The hotel's restaurants serve delicious food made from local produce while guests sip on exquisite cocktails at the rooftop bar. Other features include a Club Lounge with private check-in service and unlimited champagne. With popular sights such as St. Stephen's Cathedral just a few minutes away on foot, this is an ideal starting point for exploring Vienna.
– Indoor pool with underwater music
– Spa treatments featuring Susanne Kaufmann products
– Rooftop bar with panoramic views of Vienna
– Delicious food prepared using local produce served at restaurants
– Convenient location close
Vienna 5 star Hotels Information
| | |
| --- | --- |
| 🛎️ 5 star Hotels in Vienna | 15 |
| 💵 Hotels Prices From | $160 |
| 💵 Highest price | $1450 |
| 🥇 Average Review Score | 8.9/10 |
| 🛏️ Average number of Rooms | 135 |
Top 5 star hotels in Vienna
| | |
| --- | --- |
| Hotel Sacher Wien | 9.4/10 |
| The Amauris Vienna – Relais & Châteaux | 9.4/10 |
| Palais Coburg Hotel Residenz | 9.4/10 |
| Hotel Imperial | 9.3/10 |
| Park Hyatt Vienna | 9.3/10 |
FAQ
What are some of the top luxury hotels in Vienna, Austria?
Vienna is home to many luxurious hotels, but some of the most notable ones are: The Ritz-Carlton Vienna, Park Hyatt Vienna, Hotel Sacher Wien, and Palais Coburg Residenz. These hotels offer exquisite accommodations with elegant decor and excellent amenities such as spas, fine dining restaurants and personalized service.
What is the best time to visit Vienna for a luxury hotel experience?
The best time to visit Vienna for a luxury hotel experience would be during the months of April through October when temperatures are mild and outdoor activities can be enjoyed. However, if you prefer a quieter stay with fewer crowds and lower prices then visiting in November through March may be more suitable.
What should I expect from a typical luxury hotel room in Vienna?
In general, rooms in luxury hotels in Vienna offer spacious layouts with stylish furnishings that exude elegance. They typically feature high-end amenities such as plush bedding, minibars stocked with premium items and luxurious bathroom products. Some rooms also provide stunning views of the city or other picturesque scenery.
Is it easy to get around from Luxury Hotels in Vienna?
Luxury hotels in Vienna are centrally located making it easy for guests to explore the city's many attractions on foot or by public transportation which includes buses, trams and trains. Taxis are also readily available at most hotels making getting around extremely convenient.
What sets apart Luxury Hotels in Vienna from regular ones?
Luxury hotels in Vienna stand out due to their exceptional attention to detail when it comes to providing personalized service. Guests can expect everything from 24-hour concierge services that can help make restaurant reservations or arrange transportation around town, top-notch spa facilities featuring indulgent treatments using high-quality ingredients like gold leaf or caviar-infused facial creams as well as lavish indoor pools all designed to provide an unforgettable experience for travelers.
Popular 5 Star Hotels destinations