Welcome to our guide on the opulent 5-star accommodations nestled along the breathtaking Tuscany Coast, Italy. Prepare to be enthralled by the unparalleled charm and elegance of these luxurious establishments, where every moment is crafted to perfection. From the picturesque landscapes to the world-class amenities, this region offers an exquisite escape for discerning travelers seeking nothing but the finest.
Indulge in an unforgettable experience as you immerse yourself in the timeless beauty of Tuscany's coastal retreats. Each hotel showcases its own unique blend of sophistication and authenticity, capturing the essence of Italian luxury at its finest. Immerse yourself in a setting that seamlessly combines old-world charm with modern comforts, allowing you to unwind and rejuvenate amidst panoramic views over turquoise waters and sun-kissed beaches.
Allow us to invite you on a journey through some of Tuscany's most coveted havens of relaxation and indulgence. Whether it's savoring culinary delights prepared by renowned chefs or unwinding in sumptuous spas offering exclusive treatments, these prestigious hotels promise an unforgettable stay filled with tranquility and refined extravagance. Let us be your guide as we unveil hidden gems along this captivating coastline that are sure to leave you enchanted by their sheer magnificence.
Best Five Star Hotels in Tuscany Coast
Baglioni Resort Alleluja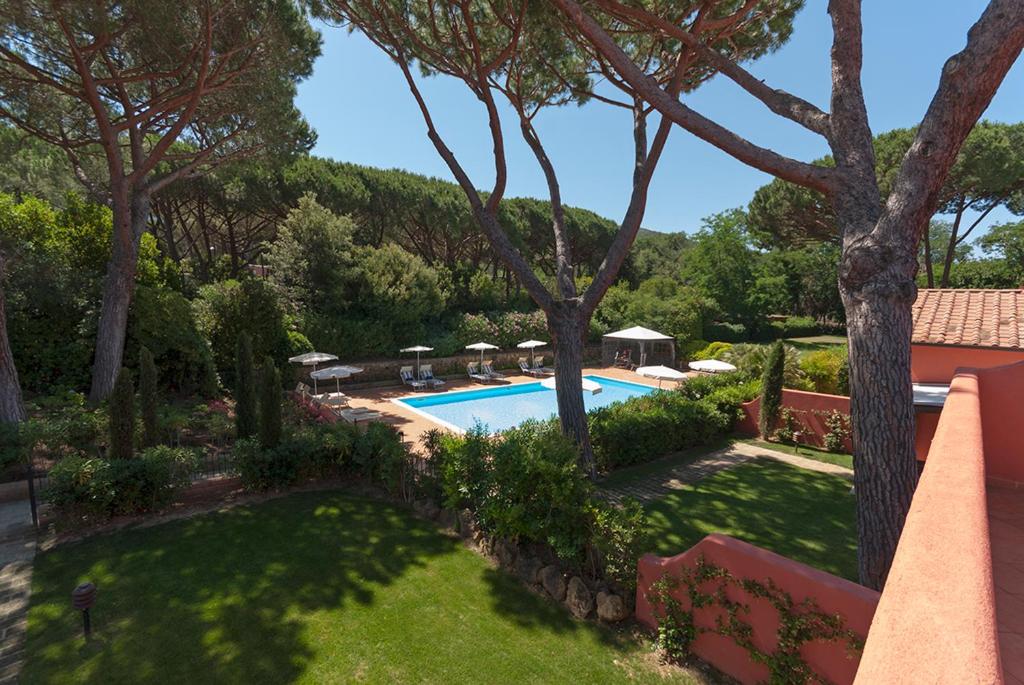 Located in Punta Ala, just a short distance from Punta Ala Beach, Baglioni Resort Alleluja is a luxurious 5-star hotel offering a range of amenities and services for its guests. The resort features a seasonal outdoor swimming pool, free private parking, a beautiful garden, and even a tennis court. Each of the accommodations at this resort offers stunning garden views and free WiFi. For those who enjoy outdoor activities, the area is perfect for hiking and cycling, with bike hire available on-site. Golf enthusiasts will also appreciate that the property is located just 600 meters from Golf Club Punta Ala. The air-conditioned rooms are spacious and well-appointed with modern amenities including a desk, coffee machine, fridge, dishwasher, safety deposit box, flat-screen TV, terrace and private bathroom with bidet. Some units even offer pool views or balcony access. Guests can start their day with a delicious buffet breakfast or choose from à la carte or continental options. Baglioni Resort Alleluja also provides a children's playground to keep the little ones entertained. The friendly staff are fluent in German English Spanish and French ensuring that guests feel welcomed and cared for throughout their stay. With Piombino Port located 46 km away and Piombino Train Station just 45 km away it is easy to explore other nearby attractions as well.
Pros:
– Excellent location near the beach
– Beautiful gardens and outdoor facilities
– Spacious and well-appointed rooms
– Variety of dining options for breakfast
– Friendly multilingual staff available at all times
Hotel Byron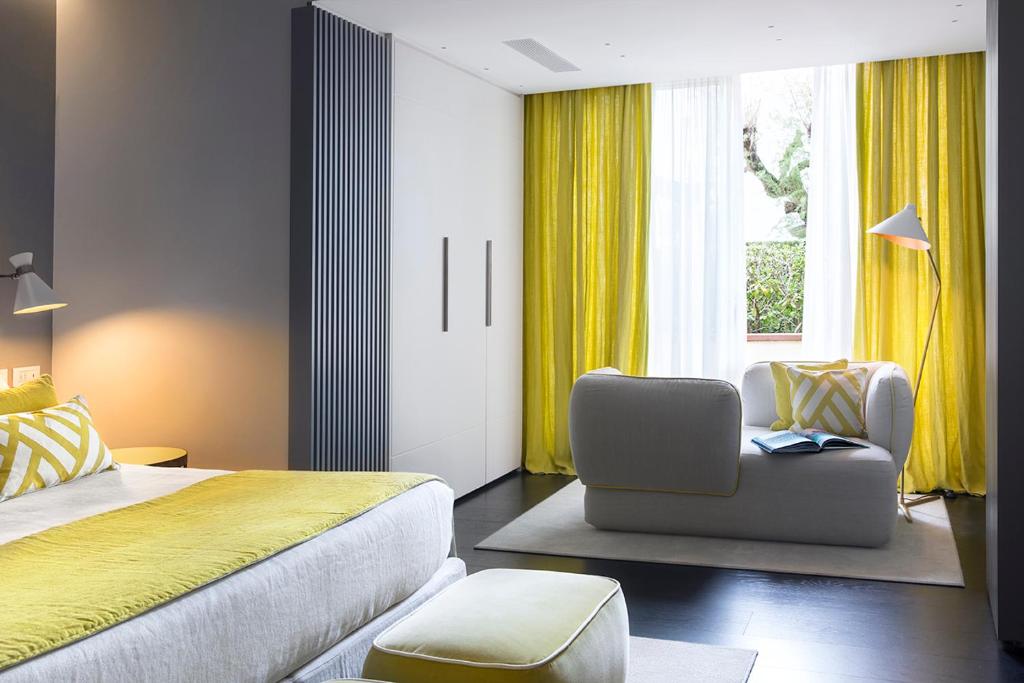 Located in the heart of Forte dei Marmi, Hotel Byron is a luxury 5-star hotel that offers a serene and elegant stay. The beautiful Tuscan villa is set on the seafront, providing breathtaking views of the Tyrrhenian Sea and its private garden with the Apuan Alps in the distance. With 29 finely furnished rooms and suites, guests can expect modern amenities such as free Wi-Fi access, wood floors, and marble bathrooms. The hotel features both an indoor and outdoor pool, allowing guests to relax and unwind at their leisure. For dining options, guests can enjoy homemade pasta, bread, and desserts either in the restaurant or out on the terrace while taking in panoramic views. The restaurant specializes in fresh fish and local cuisine accompanied by a comprehensive wine list. Additionally, Hotel Byron offers cooking classes with master chef Cristoforo Trapani for those looking to enhance their culinary skills. Conveniently located near major transportation hubs such as the A12 motorway and Forte dei Marmi Station, guests have easy access to explore nearby attractions including tennis courts just 200 meters away, horse riding at 2 km away, and Versilia 18-hole golf course at 4 km away.
Pros:
– Stunning seafront location with panoramic views
– Elegant accommodation with modern amenities
– Indoor and outdoor pools for relaxation
– Fine dining experience with fresh seafood dishes
– Cooking classes offered with master chef
Cala del Porto Resort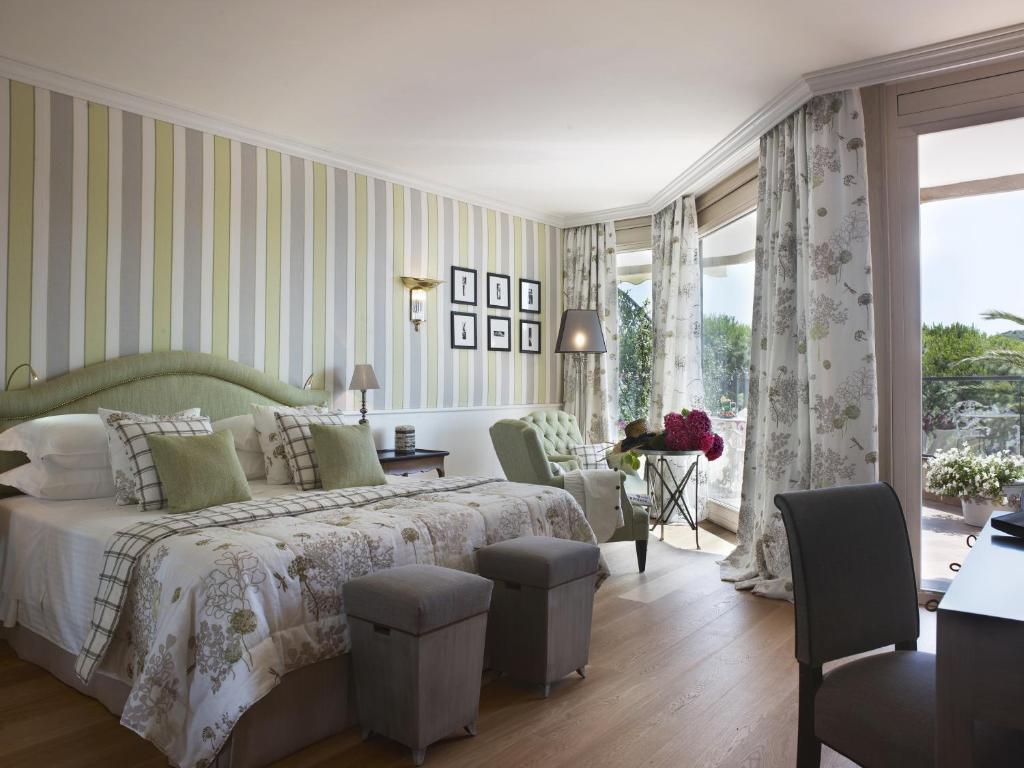 Cala del Porto Resort – The Leading Hotels of the World in Punta Ala is a stunning 5-star hotel that offers breathtaking views of the Bay dominated by Elba Island. The rooms at Cala del Porto are elegantly decorated with pastel colors and equipped with air conditioning. Guests can enjoy a typical Italian breakfast buffet in the morning, as well as Mediterranean cuisine served in the hotel's restaurants. Fine dining under the stars is also available on the terrace. The property provides a free shuttle service to its private golden sand beach area, located just 3 km away, and Golf Club Punta Ala is only a 10-minute drive from the hotel. With its coastal location facing Elba Island, this luxurious retreat is just an hour and thirty minutes' drive from Pisa.
– Magnificent views of the Bay dominated by Elba Island
– Elegant rooms decorated with pastel colors
– Typical Italian breakfast buffet
– Free shuttle service to private beach area
– Nearby golf club with panoramic views of Tyrrhenian Sea
Other places to stay in Tuscany Coast
Luxury 5 Star Hotels in Tuscany Coast
The Tuscany Coast offers a captivating blend of stunning landscapes and exquisite cuisine, making it an ideal destination for luxury 5 star hotels. With their elegant ambiance and impeccable service, these hotels provide the perfect retreat for travelers seeking relaxation and indulgence in this enchanting region.
Augustus Hotel & Resort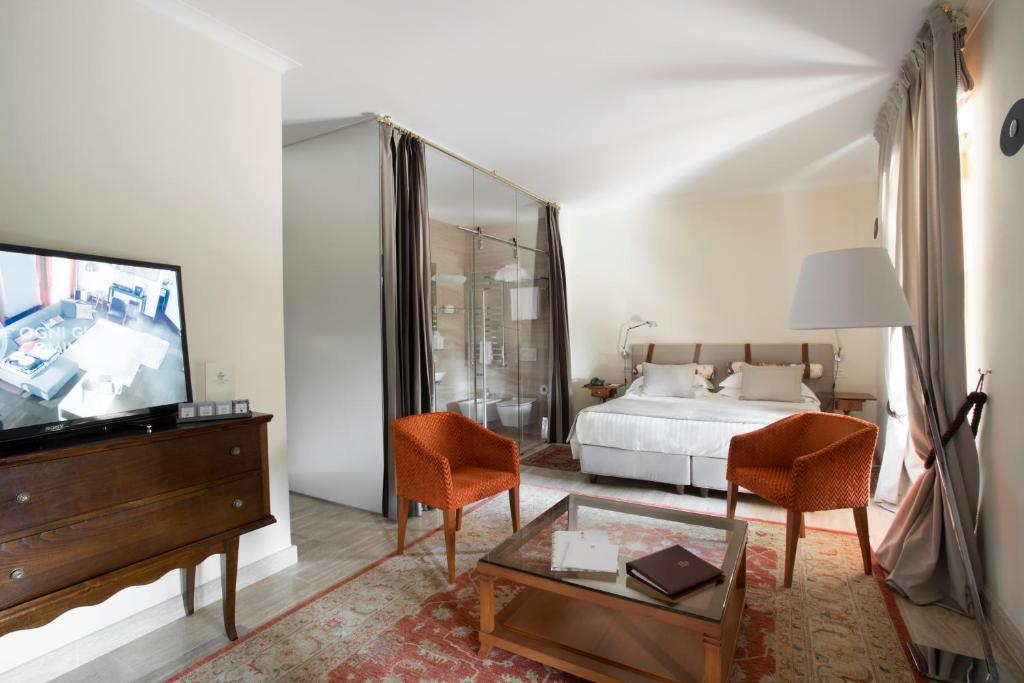 Nestled within a sprawling pinewood and just steps away from its exclusive private beach, Augustus Hotel & Resort offers a luxurious getaway with its array of amenities. Guests can enjoy the comfort of air-conditioned rooms, indulge in fine dining at two restaurants, take a dip in the pool, or relax at the spa offering beauty treatments and massages. The property boasts a fitness center and free Wi-Fi for guests' convenience. Accommodations are available in the main building as well as separate buildings like La Nave and Augustus Lido, with La Nave featuring marine-inspired rooms complete with balconies. Start your day with a delectable buffet-style breakfast served on the terrace, and experience culinary delights specializing in local and national fish and meat dishes at the à la carte restaurant. The hotel is ideally situated near Marina di Pietrasanta's pristine beaches, while popular destinations like Lucca are only 40 minutes away by car.
– Serene location amidst a vast pinewood
– Accessible private beach just moments away
– Diverse dining options offering local specialties
– Relaxing spa facilities including hot tubs
– Close proximity to popular attractions
Hotel Plaza e de Russie – Relais & Châteaux (Viareggio)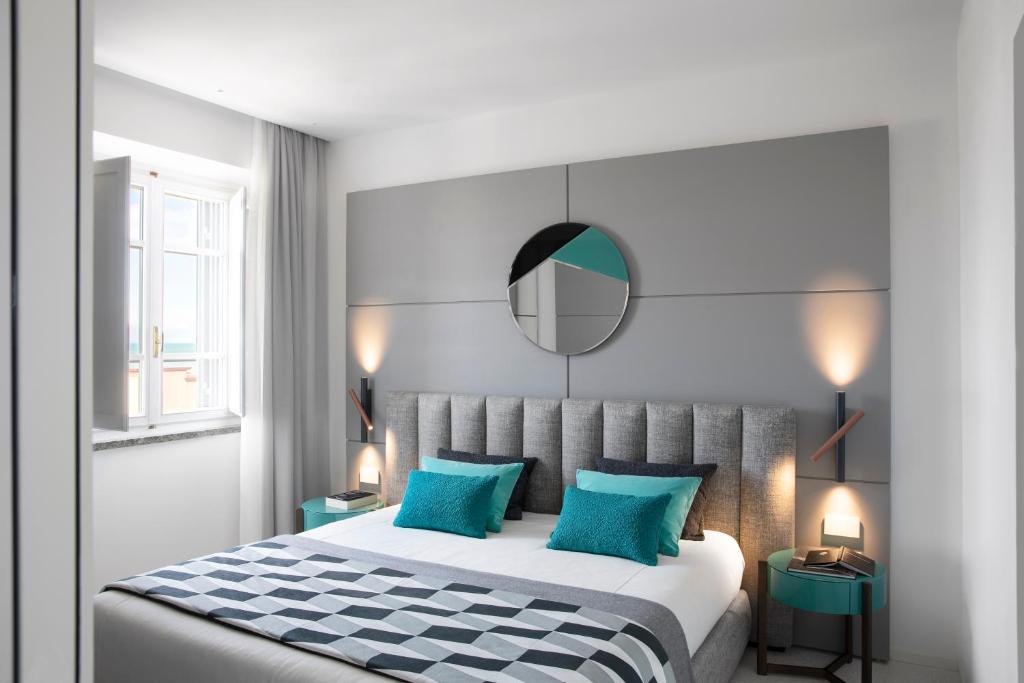 Hotel Plaza e de Russie – Relais & Châteaux is a charming 5-star hotel located on the main promenade of Viareggio, just 50 meters from the beach. With its friendly and professional staff, this luxury hotel offers a comfortable lounge room and an exquisite gastronomic restaurant. The hotel's convenient location places it 800 meters away from the central station, with bus and taxi stations right in front of the property. Additionally, guests can easily explore the historical center of Viareggio within a short 5-minute walk. For those looking to venture further, the picturesque towns of Pisa and Lucca are only 20 kilometers away.
– Prime location on Viareggio's main promenade
– Friendly and professional staff
– Lounge room for relaxation
– Gastronomic restaurant offering fine dining experience
– Convenient access to transport options
A Point Porto Ercole Resort & Spa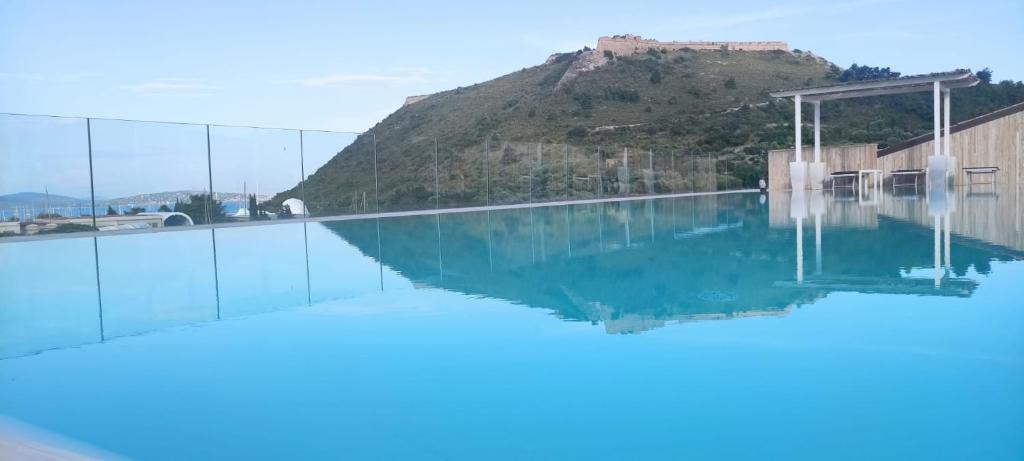 Located in the beautiful peninsula of Monte Argentario, just 2 km from Feniglia Beach, A Point Porto Ercole Resort & Spa is a luxurious 5-star design hotel. This contemporary hotel boasts LED lighting and glass walls, creating a modern and stylish atmosphere. Guests can indulge in the spa facilities which include a sauna, Turkish bath, indoor pool, and outdoor pool. The hotel offers a buffet breakfast each morning and features two restaurants with terraces. TantoForte is an à la carte restaurant serving traditional Tuscan dishes while TantAcqua is a buffet restaurant with stunning sea views. The rooms at A Point Porto Ercole Resort & Spa have a sleek modern design with LED lights and minimalist furniture. Each room is air-conditioned and equipped with a flat-screen TV with satellite channels. Some rooms offer panoramic views of the Mediterranean Sea while others overlook the hills or garden. The hotel's location just outside Port Ercole allows for easy access to explore the charming town, and it is only a 10-minute drive from Orbetello.
Pros:
– Stunning location on the Monte Argentario peninsula
– Contemporary design with LED lighting and glass walls
– Luxurious spa facilities including sauna, Turkish bath, indoor pool, and outdoor pool
– Two restaurants offering delicious Tuscan cuisine and breathtaking sea views
– Conveniently located near Port Ercole for exploring nearby attractions such as Feniglia Beach and Orbetello
Five Star Hotels in Downtown Tuscany Coast
Five Star Hotels in Downtown Tuscany Coast offer an exquisite blend of luxury and charm, providing guests with a truly unforgettable experience. With their prime locations, stunning architecture, and exceptional service, these hotels are the epitome of indulgence on the beautiful Tuscan coastline.
Hotel Principe Forte Dei Marmi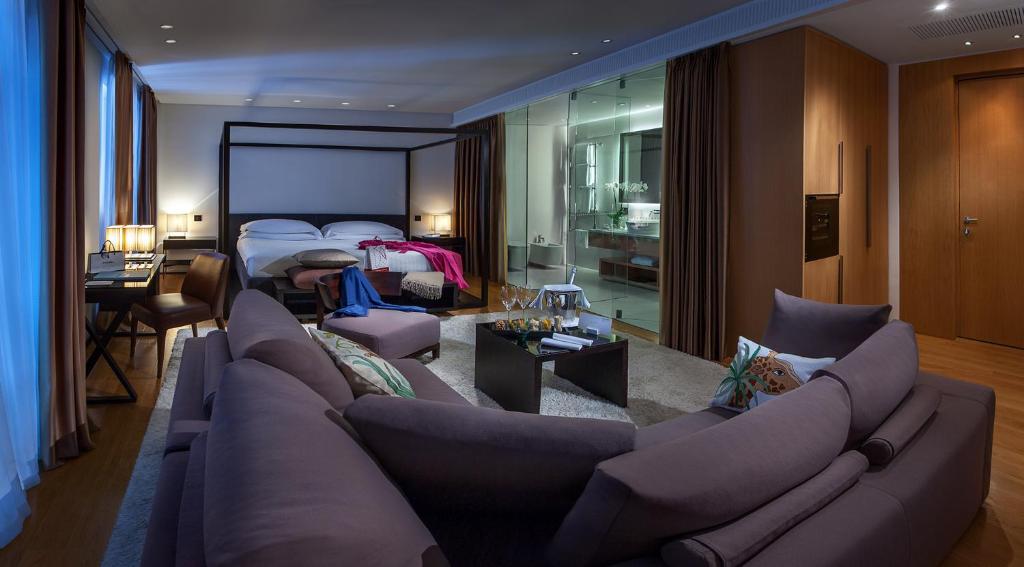 Hotel Principe Forte Dei Marmi is a luxurious 5-star hotel located just steps away from its own private beach. The hotel boasts a stunning panoramic sun terrace, two fine-dining restaurants, and a spa center. Guests can enjoy free Wi-Fi throughout the property. The 67 lounge bar offers evening aperitifs, while the beachside Dalamzia restaurant serves delectable dishes made with fresh fish. For an unforgettable dining experience, guests can head to Lux Lucis restaurant on the rooftop, which has been awarded a Michelin star and offers local cuisine with a contemporary twist. The rooms at Hotel Principe Forte Dei Marmi are beautifully decorated in relaxing colors and feature flat-screen TVs with satellite channels. Many of the rooms offer views of the garden and come with elegant parquet floors and four-poster beds. The Egoista Spa provides an array of indulgent amenities including a Turkish bath, sauna, and hydromassage pool. Guests can also take advantage of the complimentary gym facilities and request various treatments for ultimate relaxation. As one of the Leading Hotels of the World, Hotel Principe Forte Dei Marmi offers personalized services to ensure each guest's stay is tailored to their needs. Additionally, guests can freely use bicycles provided by the hotel or take advantage of the convenient shuttle service to Querceta Train Station.
– Convenient location near private beach
– Panoramic sun terrace
– Two fine-dining restaurants
– Michelin-starred rooftop restaurant serving local cuisine with a contemporary twist
– Luxurious spa facilities including Turkish bath and hydromassage pool
Grand Hotel Imperiale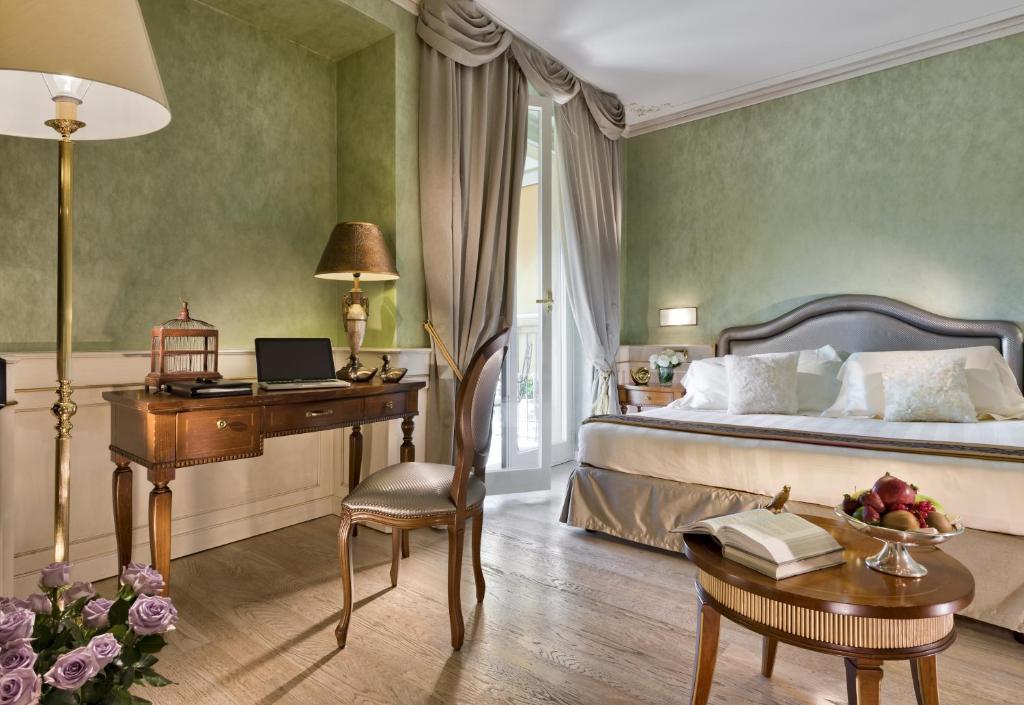 The Grand Hotel Imperiale in Forte dei Marmi is a luxury 5-star hotel that offers an exquisite experience surrounded by pine woods. With its indoor and outdoor pools, this hotel provides the perfect setting for relaxation and rejuvenation. The hotel boasts a stunning private beach just 300 meters away, ensuring guests can enjoy the sun and sea in style. The luxurious rooms and suites feature large marble bathrooms, private balconies, LCD TV, fax machines, multi-function telephones, and free Wi-Fi. The attentive and friendly staff are always available to assist guests with recommendations for tours, restaurants, and local activities. Guests can indulge in fine dining at the elegant on-site restaurant.
Pros:
– Indoor and outdoor swimming pools
– Beautiful private beach nearby
– Luxurious rooms with marble bathrooms
– Attentive and friendly staff providing excellent service
– Elegant on-site restaurant offering gourmet dining experience
Grand Hotel Principe Di Piemonte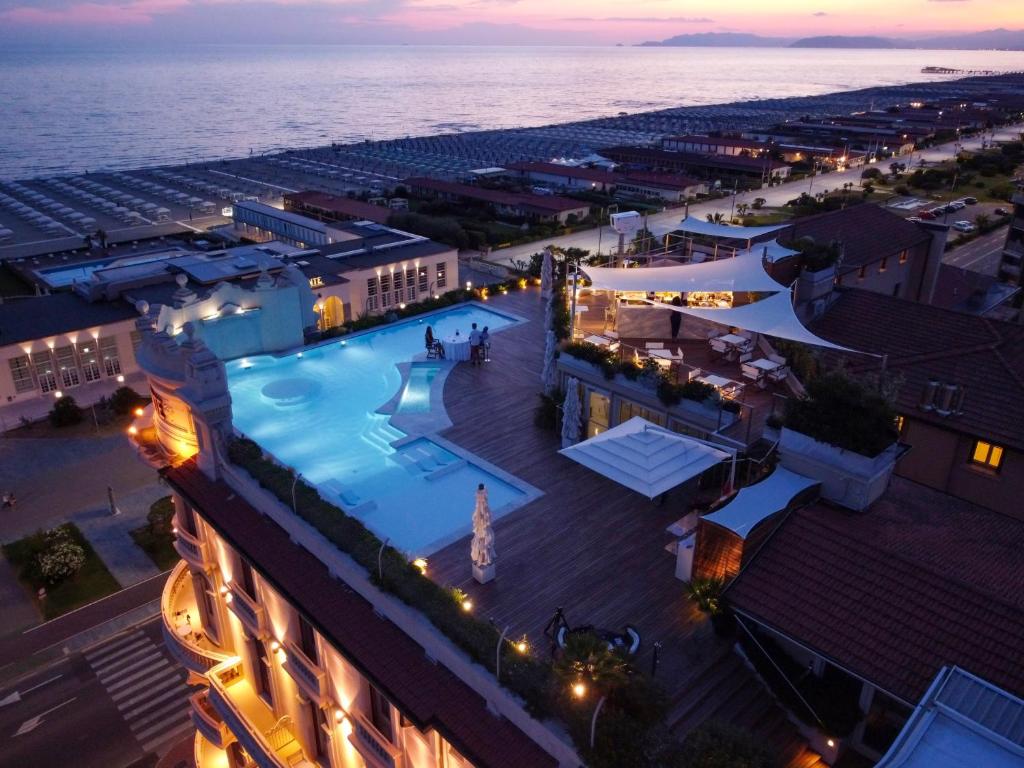 The Grand Hotel Principe Di Piemonte is a luxurious 5-star hotel located on Viareggio's stunning promenade, right in front of the sea. This exceptional hotel boasts two exquisite restaurants, a rejuvenating wellness center, and a rooftop terrace with a pool and hydromassage, offering breathtaking views of the Versilia coast and the majestic Apuan Alps. The hotel features accommodation spread across five floors, with most rooms and suites offering mesmerizing sea views. Indulge your taste buds at the Piccolo Principe restaurant located on the ground floor veranda, overlooking the beautiful sea promenade. For something truly special, head to the Maitò Viareggio restaurant situated on the 5th-floor rooftop terrace where you can savor delectable local specialties, seafood delights, and mouthwatering pizza. Start your day off right with a buffet breakfast served at this remarkable hotel. As an added bonus to your stay, enjoy complimentary access to Thermarium – an oasis of relaxation offering a Finnish spa experience, Turkish bath rituals, Salidarium equipped with cozy lounge chairs for ultimate comfort, as well as refreshing showers.
– Spectacular oceanfront location
– Two outstanding restaurants showcasing local cuisine
– Rooftop terrace with pool and hydromassage
– Stunning sea view from most rooms and suites
– Complimentary access to Thermarium wellness center
Tuscany Coast 5 star Hotels Information
| | |
| --- | --- |
| 🛎️ 5 star Hotels in Tuscany Coast | 9 |
| 💵 Hotels Prices From | $141 |
| 💵 Highest price | $1450 |
| 🥇 Average Review Score | 8.2/10 |
| 🛏️ Average number of Rooms | 41 |
Top 5 star hotels in Tuscany Coast
| | |
| --- | --- |
| Grand Hotel Principe Di Piemonte | 9.1/10 |
| Hotel Principe Forte Dei Marmi | 8.9/10 |
| Baglioni Resort Alleluja | 8.3/10 |
| Hotel Byron | 8.2/10 |
| Cala del Porto Resort | 8.2/10 |
FAQ
What are some of the top 5 star hotels on the Tuscany Coast?
The Tuscany Coast boasts a range of luxurious 5 star hotels. Some notable options include Hotel Il Pellicano, known for its stunning views and Michelin-starred restaurant, and Castiglion del Bosco, a charming retreat set in a historic estate with its own golf course and vineyard. Another popular choice is Belmond Hotel Splendido, offering elegance and breathtaking sea views from its hillside location in Portofino.
What amenities can I expect at a 5 star hotel on the Tuscany Coast?
When staying at a 5 star hotel on the Tuscany Coast, you can expect an array of luxurious amenities. These may include spacious and beautifully designed rooms or suites with private balconies or terraces overlooking the sea, gourmet restaurants serving delectable local cuisine, lavish spa facilities offering indulgent treatments, outdoor swimming pools surrounded by lush gardens, fitness centers equipped with state-of-the-art equipment, concierge services to assist with any requests or bookings for activities in the area, and sometimes even access to private beaches.
Are there any family-friendly 5 star hotels on the Tuscany Coast?
Yes! The Tuscany Coast offers several family-friendly 5 star hotels that cater to both adults and children. For instance, Argentario Golf Resort & Spa provides spacious family suites along with kid's clubs and activities such as golf lessons for little ones. Another great option is Tombolo Talasso Resort which offers connecting rooms for families as well as a kids' club and beach service tailored specifically for children.
What is the best time to visit the Tuscany Coast?
The best time to visit the Tuscany Coast depends on personal preferences. The summer months from June to August are peak season when temperatures are high and beaches are lively. This is ideal if you enjoy a vibrant atmosphere and want to make the most of water activities. However, if you prefer milder temperatures and fewer crowds, the months of May, September, and October are great choices. During these times, you can still enjoy pleasant weather and have a more tranquil experience exploring the coastal towns.
What activities can I engage in while staying at a 5 star hotel on the Tuscany Coast?
While staying at a 5 star hotel on the Tuscany Coast, there are plenty of activities to engage in. You can explore charming seaside towns such as Portofino or Forte dei Marmi, visit historic sites like Pisa's Leaning Tower or Florence's art museums, take boat trips along the coast to discover hidden coves and picturesque islands, indulge in wine tastings at local vineyards, play golf at world-class courses with stunning views, relax on beautiful sandy beaches, or simply unwind by enjoying luxurious amenities offered by your hotel such as spa treatments or private dining experiences overlooking the sea.
Popular Five Star Hotels destinations