Welcome to the enchanting world of opulence and grandeur nestled amongst the majestic Swiss Alps. Prepare to be captivated as we embark on a journey through the idyllic realm of luxury five-star accommodations in this picturesque destination. Switzerland, renowned for its breathtaking landscapes and impeccable hospitality, offers an array of exquisite hotels that promise an unforgettable stay.
Immerse yourself in the lap of extravagance as you indulge in the pinnacle of refined elegance at these prestigious establishments. Be prepared to have your senses delighted as you traverse through plush corridors adorned with tasteful art pieces and intricate chandeliers. The harmonious blend of traditional Swiss charm and contemporary sophistication will transport you into a realm where every desire is meticulously catered to.
Whether you seek solitude amidst nature's splendor or an adrenaline-fueled adventure, these exceptional hotels offer a perfect haven for any discerning traveler. From world-class spas offering rejuvenating treatments to Michelin-starred restaurants serving gastronomic delights, prepare to be pampered beyond measure. Join us on this exploration as we uncover the most exclusive retreats nestled amidst Switzerland's snow-capped peaks, promising a truly unparalleled experience in luxury hospitality.
Best Five Star Hotels in Swiss Alps
AlpenGold Hotel Davos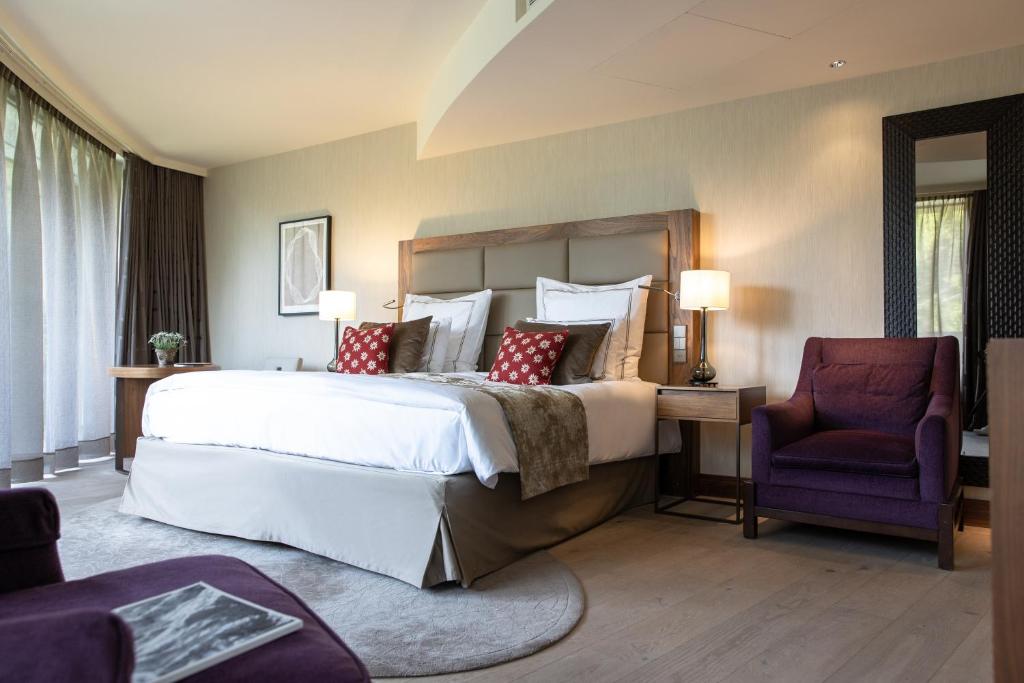 The AlpenGold Hotel Davos is a luxurious 5-star hotel that opened in December 2013. It boasts an impressive range of amenities, including indoor and outdoor pools, a spa area with a fitness center, sauna, and steam bath. The hotel also offers free WiFi and a complimentary shuttle service within Davos. Guests can enjoy delicious meals at the three à-la-carte restaurants and unwind in the elegant cocktail lounge. The rooms and suites are beautifully appointed with hardwood floors, satellite TV, private bathrooms, and fully stocked minibars. Other features include 24-hour room service, a business center, free ski storage, an on-site ski school, and a ski-pass vendor. Additionally, the hotel provides private parking with the first 3 hours free of charge. Families will appreciate the kids' and teenager club which offers film screenings for their entertainment. With its convenient location near a ski lift and train station, as well as close proximity to Davos' Congress Centre, AlpenGold Hotel Davos is an excellent choice for both leisure and business travelers.
Pros:
– Extensive spa area with indoor and outdoor pools
– Complimentary shuttle service within Davos
– Three à-la-carte restaurants offering delicious meals
– Free ski storage with on-site ski school
– Convenient location near train station and Congress Centre
The Onya Resort & Spa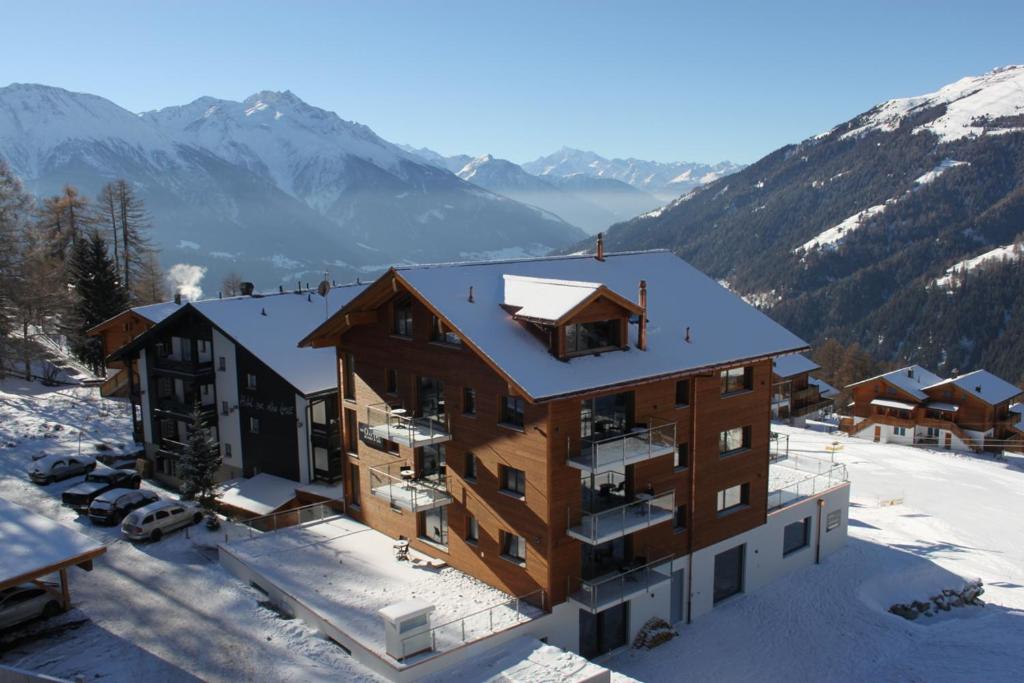 Located in the picturesque Canton of Valais region, The Onya Resort & Spa is a luxurious 5-star hotel that opened its doors in January 2017. Boasting stunning views of the Matterhorn and Weisshorn mountains, this hotel offers ski-to-door access for winter sports enthusiasts. Set against a backdrop of lush forests with hiking tracks, guests can also enjoy a range of wellness facilities including a fitness center, indoor pool, sauna, hammam, hot tub, and infra-red cabin. The hotel features an on-site restaurant and bar where guests can indulge in delicious meals and drinks. Each room is equipped with modern amenities such as a flat-screen TV and coffee machine. Some rooms even have a separate seating area for relaxation purposes. Guests will appreciate the private bathrooms fitted with bathrobes, slippers, and hairdryers. Additionally, the hotel offers convenient services such as massage and beauty treatments upon request for an additional fee. With its proximity to various activities including skiing, horse riding tennis, minigolf, and cycling; there's something for everyone at The Onya Resort & Spa.
– Spectacular views of the Matterhorn and Weisshorn mountains
– Ski-to-door access
– Luxurious wellness facilities including indoor pool and sauna
– Convenient location near ski school and children's playground
– Variety of activities available nearby such as skiing or cycling
The Omnia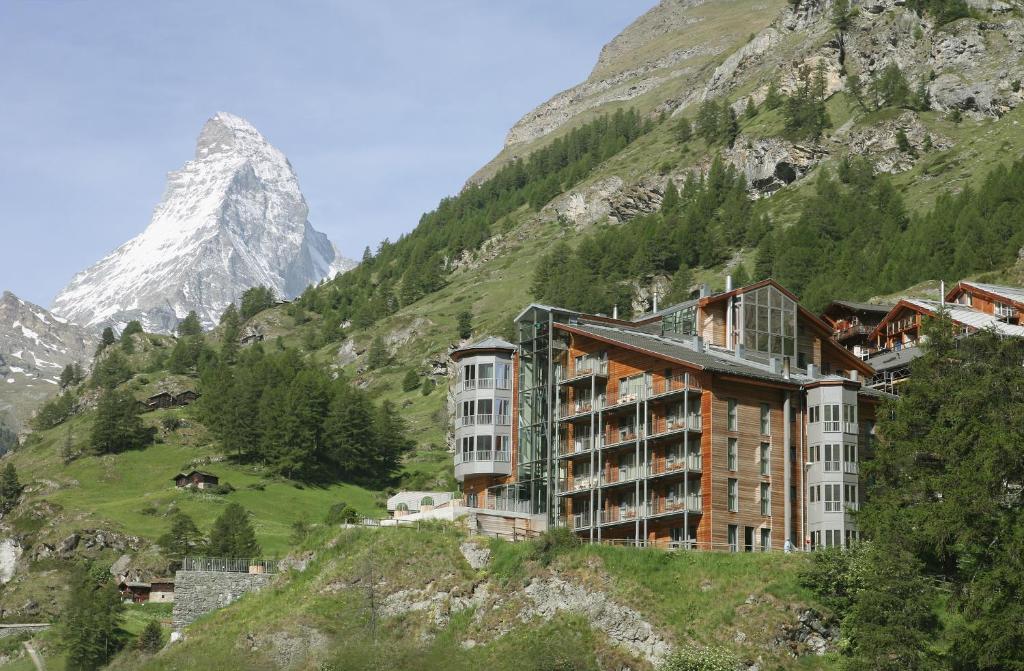 The Omnia is a luxurious 5-star hotel located on a rock, 45 metres above the roofs of central Zermatt. Guests can access the hotel through a tunnel that leads to an elevator, directly into the lobby. The hotel offers refined international cuisine made from seasonal ingredients in its restaurant and on the terrace. Each unit at The Omnia features elegant modern design, private balconies, and varying layouts and sizes. After indulging in a delicious dinner, guests can unwind by relaxing on the sofa in front of the fireplace while enjoying an espresso or grappa. The spa area provides various treatments to help guests relax after a day spent in the fresh mountain air. Additionally, wireless internet is available throughout the entire hotel free of charge. The Omnia even offers its own taxi service for transportation to and from Zermatt railway station, car park, or heliport. For those looking to travel further distances, shuttle or helicopter services can be arranged by the helpful hotel team. Zermatt's winter sports area is conveniently within reach either by a 15-minute walk or electrically-powered buses and taxis. However, please note that nearby construction work may cause noise disturbance between April 1st, 2021 and August 1st,
2024.
Pros:
– Stunning location with breathtaking views
– Elegant modern design throughout
– Delicious international cuisine made from seasonal ingredients
– Relaxing spa with various treatments
– Convenient transportation services
Other places to stay in Swiss Alps
Luxury 5 Star Hotels in Swiss Alps
Luxury 5 star hotels in the Swiss Alps offer guests an unparalleled experience, with breathtaking views of snow-capped mountains and pristine alpine landscapes. From elegant accommodations to world-class service, these hotels provide a perfect retreat for those seeking a luxurious getaway in one of the most beautiful regions in the world.
Relais & Châteaux Chasa Montana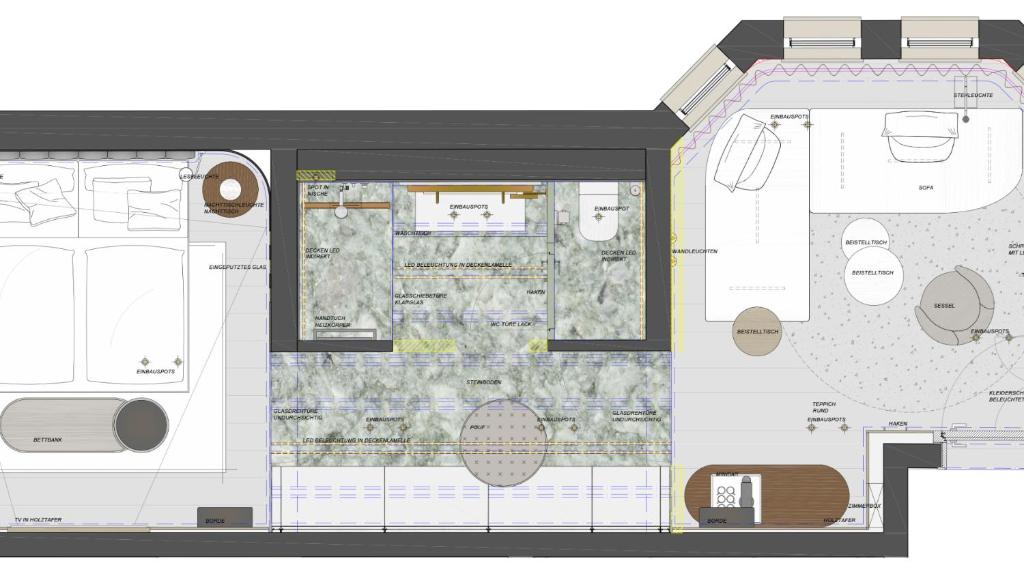 Located at an impressive 1,850 metres above sea level in the international Silvretta Ski and Hiking Arena Samnaun-Ischgl, Wellness Hotel Chasa Montana is a luxurious 5-star superior hotel nestled in the heart of Samnaun. With its charming Engadine architecture and stylish interior, this hotel offers guests a truly indulgent experience. The rooms are tastefully decorated and equipped with modern amenities such as a sitting area, satellite TV, a safe and a minibar. The highlight of this hotel is undoubtedly the spaoasis, complete with a Roman indoor pool, saunas, steam bath and professional beauty and massage centre. The restaurant at Chasa Montana showcases an array of gourmet dishes including seafood specialities, venison, lamb and veal as well as traditional Samnaun cuisine or low calorie/low carb options. In summer, guests can enjoy a five-course set meal of their choice while in winter they can relish in a six-course set meal to tantalize their taste buds. Alongside its exceptional dining offerings and wellness facilities, Chasa Montana also provides sports activities for active guests and duty-free shopping opportunities within the duty-free area between Switzerland and Austria.
Pros:
– Breathtaking location at 1,850 metres above sea level
– Beautiful Engadine architecture combined with stylish interiors
– Luxurious spaoasis with Roman indoor pool for ultimate relaxation
– Gourmet dining options showcasing both local specialties and international flavors
– Convenient access to duty-free shopping between Switzerland and Austria
Grand Hotel des Bains Kempinski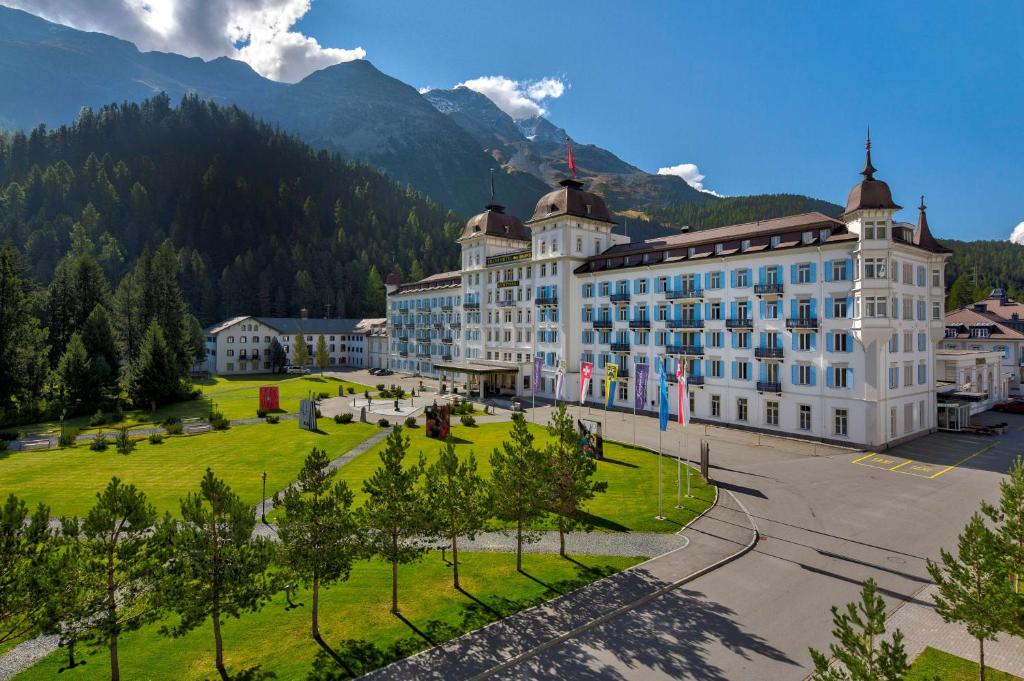 The Grand Hotel des Bains Kempinski is a 5-star luxury hotel nestled in the picturesque Engadine countryside of Sankt Moritz. This opulent establishment boasts a rich tradition and offers guests a truly indulgent experience. With its large, Alpine-style spa, 24-hour fitness center, and two award-winning restaurants, this hotel is poised to exceed every expectation. The Michelin-starred restaurant Ca d´Oro treats diners to gourmet cuisine while the Enoteca restaurant serves up regional dishes in a relaxed atmosphere. The rooms and suites are luxuriously spacious, many featuring balconies or terraces for breathtaking views. Guests can indulge in steak specialties and sushi at the Grand Restaurant Les Saisons, or unwind at The Spa which spans an impressive 2,800 square meters and includes a heated indoor pool, saunas, steam baths, sun beds, and relaxation areas.
– Rich tradition steeped in luxury
– Two exceptional award-winning restaurants
– Spacious rooms with balconies or terraces
– Extensive spa facilities with heated indoor pool
– Stunning views of the Engadine countryside
LeCrans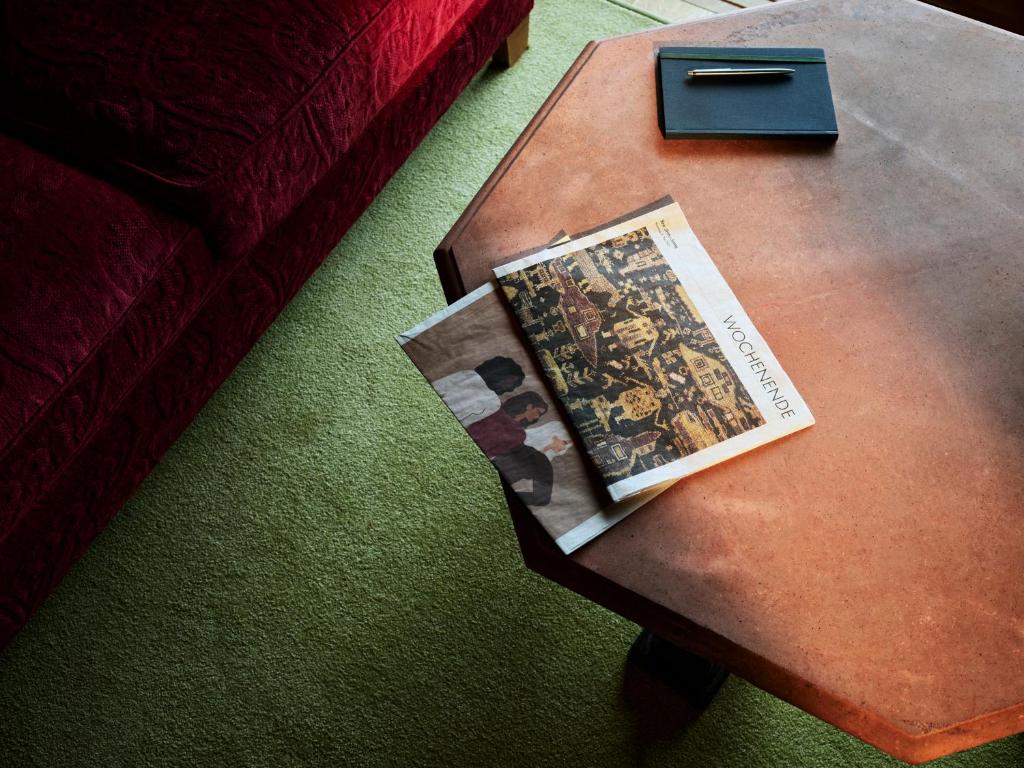 Perched high above Crans Montana, the luxurious and exclusive LeCrans hotel offers a truly exquisite chalet-style atmosphere. Its fine-dining restaurant, led by Yannick Crepaux, boasts a Michelin star and an impressive 17 GaultMillau points. Surrounded by mountains and forests, this 5-star retreat provides breathtaking views of the Alps and the iconic Mont Blanc. The exceptional on-site restaurant serves both traditional Swiss dishes and international cuisine in a stunning setting with panoramic mountain vistas. The opulent rooms and suites are elegantly furnished, creating an intimate ambiance while offering a wealth of amenities. Each room is uniquely themed, transporting guests to different regions or mountains from around the world, such as the Himalayas or Kilimanjaro. Adorned with rare objects and rich wall hangings, each suite reflects its chosen theme in its decor. LeCrans also features LeSpa where one can indulge in ultimate relaxation amidst stone, wood, water, and tranquility that mimics the nearby mountains' serene ambiance. Eastern and Western treatments are offered along with massages, hammam sessions, sauna experiences, and hot tub indulgences to rejuvenate both body and soul. Guests can enjoy incomparable views of Europe's highest mountains from their broad balconies or terraces or take a dip in the heated outdoor pool before dining at the hotel's brasserie.
Five Star Hotels in Downtown Swiss Alps
Downtown Swiss Alps offers an unparalleled experience with its range of luxurious five-star hotels. Nestled amidst breathtaking mountain landscapes, these hotels boast opulent accommodations and world-class service, making them the perfect retreat for discerning travelers seeking both comfort and adventure.
La Vue Luxury Living Apartments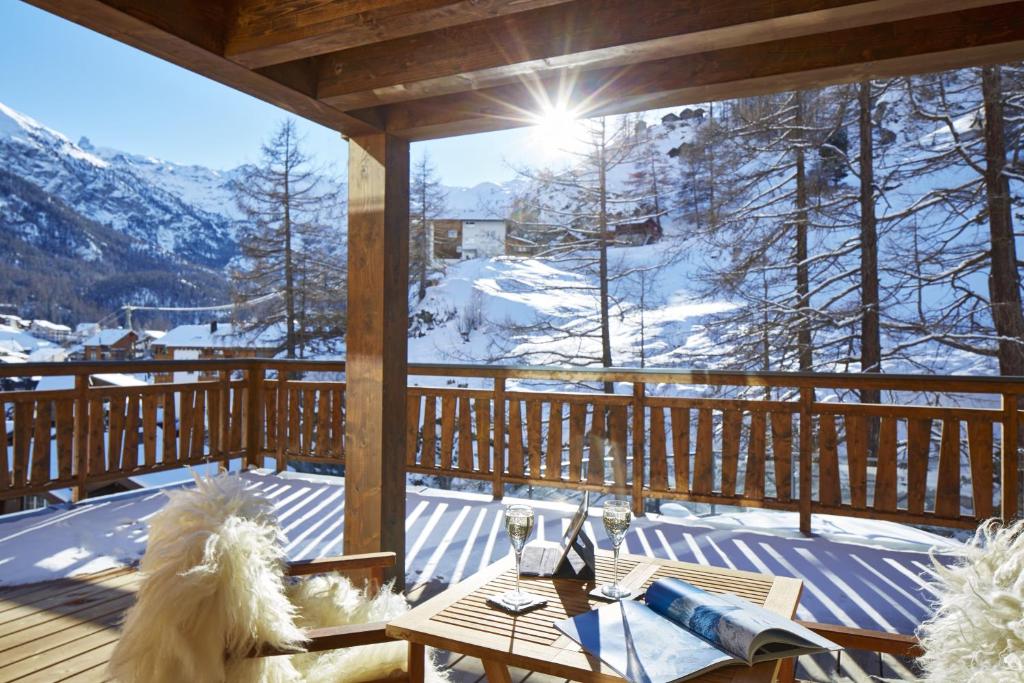 La Vue Luxury Living Apartments is a stunning apartment hotel that offers guests breathtaking 360-degree views of Zermatt and the surrounding Alpine panorama. Located in a quiet part of the village, this luxurious property features spacious and modern apartments with high-quality furniture, balconies, and large living areas equipped with electronic devices like Apple TVs, Blu-ray players, and iPads. Guests can enjoy a free spa area with a large hot tub, steam bath, and Finnish sauna. Daily breakfast is served in the privacy of each apartment, and additional amenities include free WiFi throughout the property, daily cleaning services, and the option to have a private chef prepare dinner. The hotel also offers grocery deliveries and special diet menus upon request. With its prime location just steps away from the Matterhorn Glacier Paradise and the main square, La Vue Luxury Living Apartments is an ideal choice for discerning travelers seeking an unforgettable stay in Zermatt.
– Breathtaking 360-degree views
– Free spa area with hot tub, steam bath, and sauna
– Modern apartments with high-quality furnishings
– Private chef available for dinner preparations
– Prime location near popular attractions
W Verbier (Verbier)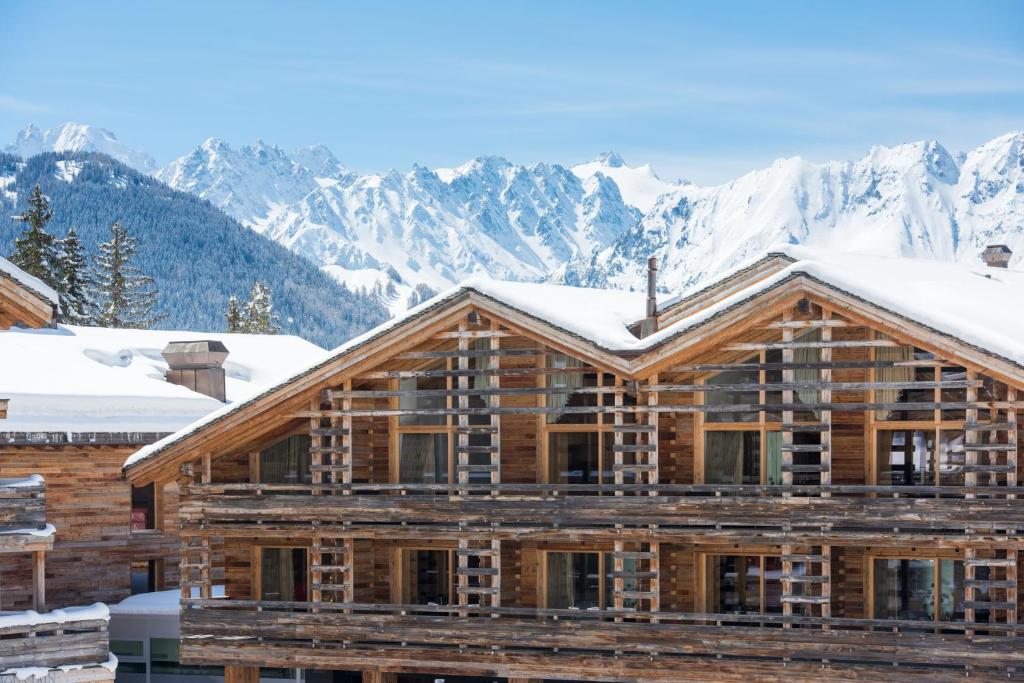 W Verbier is a luxurious 5-star hotel located in the heart of Verbier, offering guests a blend of contemporary alpine design and world-class amenities. This modern house features a spa area with both an indoor and heated outdoor pool, providing the perfect relaxation after a day on the slopes. With its prime location next to the Verbier Cable Car, ski-to-door access is easily accessible for skiing enthusiasts. The hotel consists of 6 chalets situated around Place Blanche, the town center square.
Each room at W Verbier boasts stylish furnishings and comes equipped with modern comforts including a balcony, flat-screen TV, coffee machine, and private bathroom with either shower or bathtub. Some rooms offer breathtaking views of the mountains or valley below. Guests can enjoy complimentary WiFi throughout their stay.
The culinary offerings at W Verbier are exceptional. Start your day with a delicious breakfast served each morning before heading out to explore all that Verbier has to offer. For dinner, indulge in delectable Swiss and Mediterranean cuisine at the W Kitchen restaurant or savor tapas dishes created by renowned chef Sergi Arola in the tapas bar. Additionally, guests can experience Japanese flavors at the sushi bar or simply relax with a coffee in the on-site café.
To enhance your stay even further, take advantage of the hotel's 24-hour concierge service which is always ready to assist you with any request or recommendation you may need during your time in Verbier.
Pros:
– Conveniently located next to the Verbier Cable Car
– Ski-to-door access for easy accessibility to slopes
– Modern spa area featuring both indoor and heated outdoor pools
– Stylish rooms with balconies and stunning mountain views
– Various dining options including Swiss-Mediterranean cuisine and tapas bar
Fairmont Le Montreux Palace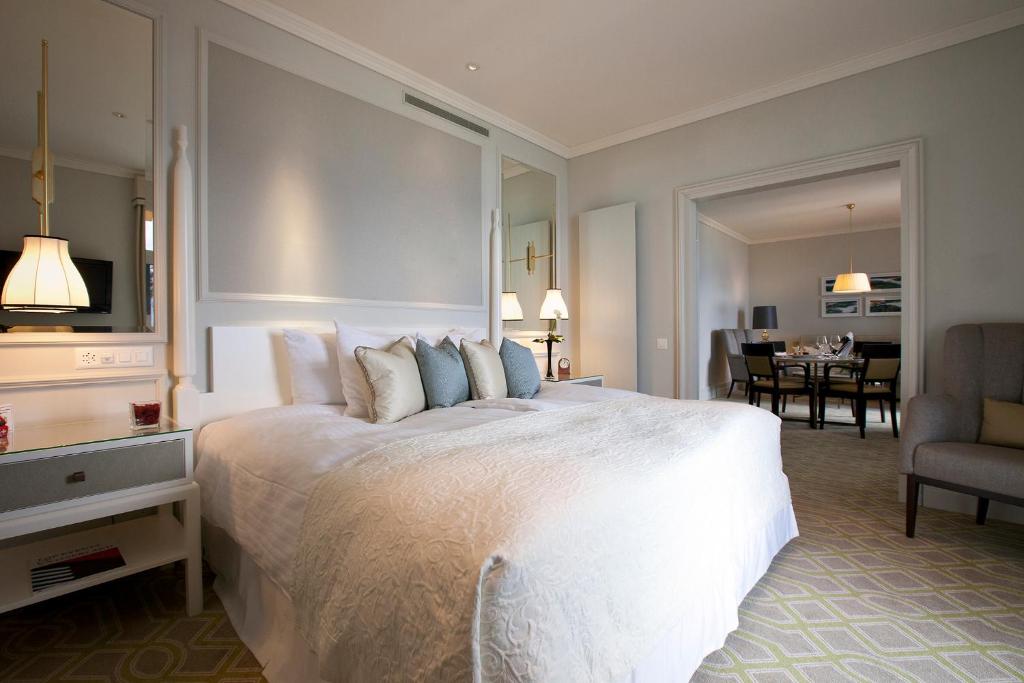 Fairmont Le Montreux Palace, known as 'The Pearl of the Swiss Riviera', is a luxury hotel located on the shores of Lake Geneva. Offering breathtaking views of the lake and the Alps, this historic hotel was built in 1906 and combines traditional elegance with modern technology. Guests can enjoy a range of amenities including indoor and outdoor pools, a hot tub, fitness room, sauna, and hammam. The hotel boasts several dining options such as MP's Bar & Grill with its outdoor terrace and cocktail bar serving locally sourced produce and fine wines. Funky Claude's Bar offers a relaxed atmosphere for drinks late into the night while The Lounge provides light breakfast options, snacks throughout the day, and pre-dinner drinks in the evening. In summer, guests can dine at La Terrasse du Petit Palais which offers Mediterranean cuisine with stunning views over the lake and mountains. Room service is available 24/7. The Fairmont Spa features extensive fitness facilities covering 2000 m² where guests can access various massages and face/body treatments (additional charges apply). Situated in the heart of Montreux, Fairmont Le Montreux Palace is an ideal base for exploring attractions like Chillon Castle, museums in Vevey village or nearby mountain ranges.
Pros:
1) Beautiful location on Lake Geneva with scenic views of the Alps.
2) Variety of dining options offering delicious cuisine using local ingredients.
3) Relaxation facilities including indoor/outdoor pools and spa services.
4) Conveniently located near popular attractions for sightseeing or excursions.
5) Combination of traditional elegance with modern technology for a luxurious experience.
Swiss Alps Cheap 5 Star Hotels
Swiss Alps Cheap 5 Star Hotels offer travelers a budget-friendly option to experience the beauty and charm of the region without compromising on luxury. With stunning mountain views, cozy accommodations, and impeccable service, these hotels provide an affordable yet memorable stay in the heart of the Swiss Alps.
7132 Hotel, VALS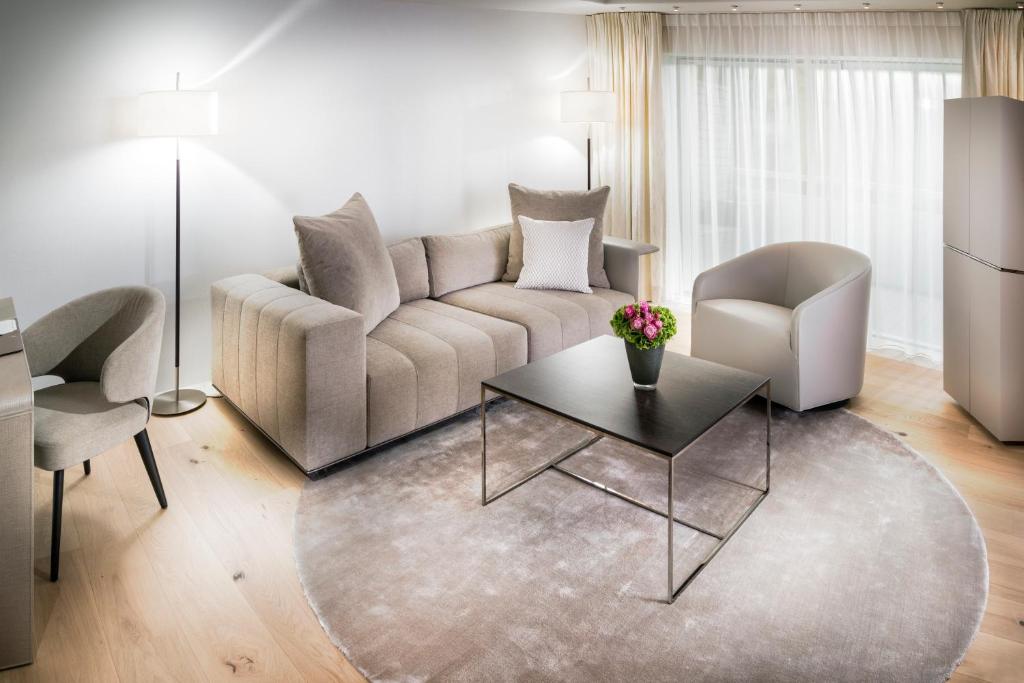 The 7132 Hotel in Vals is a luxurious 5-star hotel that opened its doors in September 2019. Located just 29 km from Freestyle Academy – Indoor Base, this stunning hotel offers an array of amenities including an outdoor swimming pool, free private parking, a fitness center, and a beautiful garden. Guests can indulge in the hotel's world-class service with room service and a concierge service readily available. The highlight of the hotel is its exceptional wellness facilities which include a hammam and terrace for relaxation. For those who love outdoor activities, the area is perfect for hiking and skiing with bike hire also available at the hotel. The 7132 Hotel provides everything guests could possibly need for their stay including a 24-hour front desk, airport transfers, a kids' club, and free WiFi throughout the property.
– Superb location with stunning mountain views
– Outstanding wellness facilities including a hammam and terrace
– Excellent service with attentive staff
– Wide range of dining options including French, Italian, and European cuisine
– Convenient amenities such as airport transfers and free WiFi
Swiss Alps 5 star Hotels Information
| | |
| --- | --- |
| 🛎️ 5 star Hotels in Swiss Alps | 10 |
| 💵 Hotels Prices From | $154 |
| 💵 Highest price | $1161 |
| 🥇 Average Review Score | 9.1/10 |
| 🛏️ Average number of Rooms | 79 |
Top 5 star hotels in Swiss Alps
| | |
| --- | --- |
| La Vue Luxury Living Apartments | 9.8/10 |
| The Omnia | 9.7/10 |
| LeCrans | 9.5/10 |
| 7132 Hotel, VALS | 9.4/10 |
| Relais & Châteaux Chasa Montana | 9.1/10 |
FAQ
1
What are some of the top luxury 5 star hotels in the Swiss Alps?
The Swiss Alps offer a range of luxurious 5-star hotels that cater to discerning travelers. Some of the top options include The Chedi Andermatt, a stunning alpine retreat with lavish rooms and exceptional amenities, Badrutt's Palace Hotel in St. Moritz, known for its legendary service and breathtaking mountain views, and The Dolder Grand in Zurich, which combines modern elegance with panoramic vistas. These hotels provide an unforgettable experience for those seeking ultimate luxury in the heart of the Swiss Alps.
2
What services can I expect from a luxury 5-star hotel in the Swiss Alps?
Luxury 5-star hotels in the Swiss Alps go above and beyond to provide guests with exceptional services. You can expect personalized concierge assistance to help you plan your activities and make reservations at top restaurants. Many hotels also have exquisite spa facilities offering rejuvenating treatments after a day spent exploring the mountains. Additionally, these hotels often have fine dining establishments serving gourmet cuisine prepared by renowned chefs using locally sourced ingredients.
3
Do luxury 5-star hotels in the Swiss Alps have fitness facilities?
Yes! Most luxury 5-star hotels in the Swiss Alps boast state-of-the-art fitness facilities. These gyms are equipped with modern cardio machines, weight training equipment, and sometimes even personal trainers on hand to assist guests with their workouts. Some hotels also offer additional wellness amenities such as swimming pools or yoga studios where guests can further unwind and take care of their physical well-being while enjoying breathtaking views of nature.
4
What types of recreational activities are available near luxury 5-star hotels in the Swiss Alps?
Luxury 5-star hotels located amidst Switzerland's stunning alpine landscapes offer an array of recreational activities for guests to enjoy. Depending on the season, you can indulge in skiing or snowboarding down pristine slopes during winter or embark on hikes and mountain biking adventures during summer. Many hotels also offer guided tours, providing opportunities for guests to explore the picturesque surroundings while engaging in activities like horseback riding, paragliding, or even helicopter rides for a truly memorable experience.
5
Are luxury 5-star hotels in the Swiss Alps family-friendly?
Yes, many luxury 5-star hotels in the Swiss Alps cater to families and provide a range of amenities and services tailored for children. These may include dedicated kids' clubs offering supervised activities, babysitting services upon request, special menus at the restaurants with options suitable for younger palates, and even child-friendly rooms or suites with additional space or connecting doors. Family-friendly hotels ensure that both parents and children have an enjoyable stay amidst the breathtaking beauty of the Swiss Alps.
Popular Five Star Hotels destinations