Welcome to the enchanting city of Stuttgart, Germany, where luxury meets sophistication in the form of magnificent 5-star hotels. Nestled amidst the picturesque landscapes and cultural heritage, these opulent accommodations offer an unparalleled experience for discerning travelers seeking nothing but the finest. Prepare yourself to be immersed in a world of elegance and indulgence as we explore some of Stuttgart's most exquisite establishments.
With its rich history and thriving automotive industry, Stuttgart is a city that effortlessly combines tradition with modernity. And nowhere is this more evident than in its selection of high-end hotels. From stately buildings boasting timeless architecture to sleek contemporary designs, each hotel exudes its own unique charm and allure. Immerse yourself in refined comfort as you revel in spacious rooms adorned with tasteful decor and equipped with state-of-the-art amenities. Whether you prefer classic sophistication or cutting-edge style, these 5-star retreats cater to every preference.
Indulge your senses further by sampling the delectable culinary delights offered within these luxurious establishments. From Michelin-starred restaurants showcasing gourmet cuisine to cozy lounges serving artisanal cocktails, gastronomic experiences at these hotels are nothing short of extraordinary. Embark on a culinary journey as renowned chefs artfully craft exquisite dishes using locally sourced ingredients that celebrate the region's flavors.
Whether you're visiting for business or pleasure, Stuttgart's array of 5-star hotels promises an unforgettable stay that exceeds expectations. Soak in the city's vibrant atmosphere before retiring to your elegant abode where exceptional service awaits at every turn. Allow yourself to be pampered and rejuvenated amidst an ambiance of refined luxury – because here in Stuttgart, true indulgence knows no bounds
Best Five Star Hotels in Stuttgart
Burg Staufeneck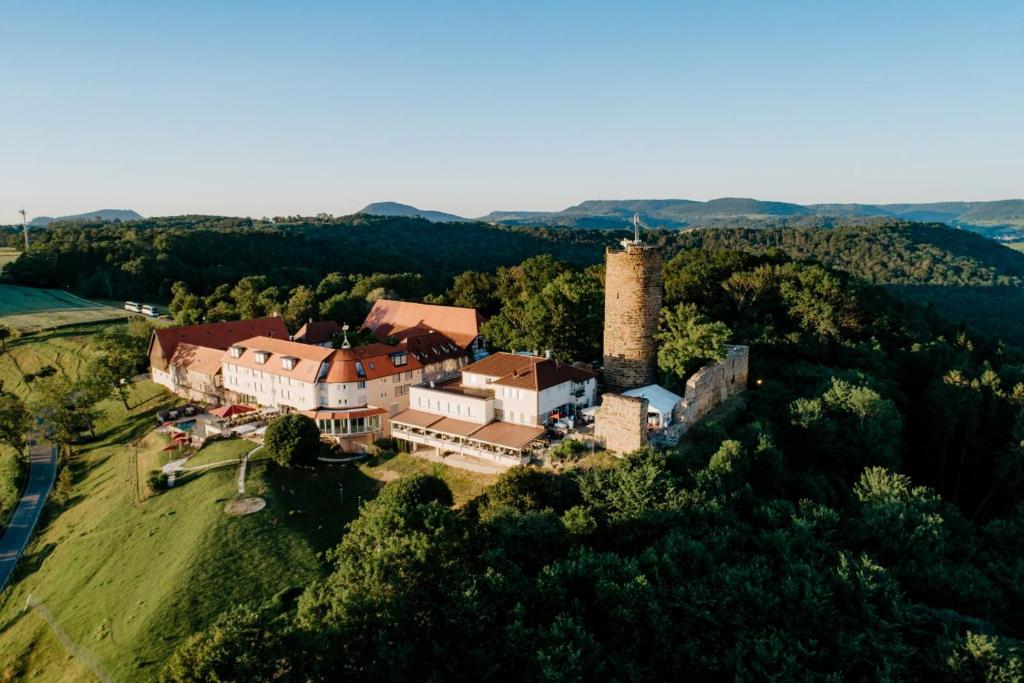 Located in the peaceful town of Salach, in the Swabian Alb region, 50 km south-east of Stuttgart, Burg Staufeneck offers a luxurious stay within a historic castle. This 5-star-superior hotel boasts elegantly furnished and spacious rooms with top-class amenities. Guests can indulge in award-winning cuisine at the gourmet restaurant and enjoy fine wines. The hotel also features a stylish wellness area with a sauna, baths, massage showers, and a state-of-the-art fitness room. A heated panoramic outdoor pool provides stunning views of the Fils river valley. While there is ongoing extension and renovation work at the spa area, every effort will be made to minimize any disruptions during guests' stay.
Pros:
– Historic castle setting
– Luxurious accommodation
– Award-winning cuisine
– Relaxing wellness area with various treatments available
– Beautiful views over Fils river valley
Steigenberger Graf Zeppelin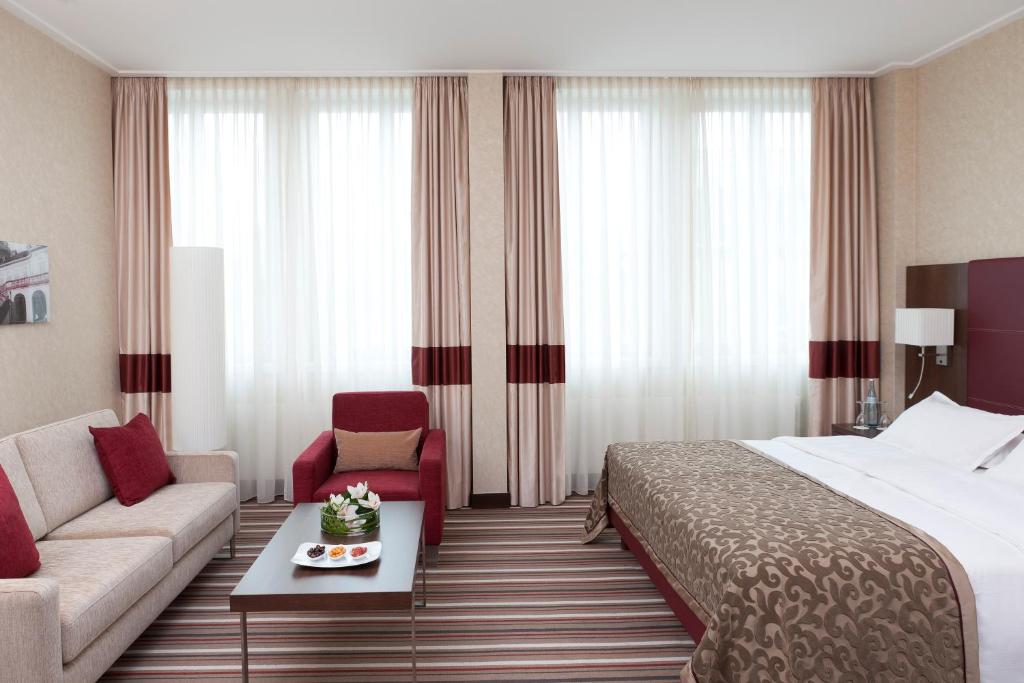 Located in the heart of Stuttgart, directly across from Stuttgart Central Station, Steigenberger Graf Zeppelin is a deluxe hotel that offers a prime location for exploring the city's top attractions. The Königstraße shopping street, National Gallery Stuttgart, and Schlossplatz are all within walking distance. This luxury hotel features soundproofed rooms with modern amenities such as a flat-screen TV and free WiFi. Guests can indulge in international and regional cuisine at the on-site restaurants or enjoy a cocktail at the Zeppelin Bar. The rooftop spa is perfect for relaxation with its sauna, steam bath, fitness room, and massage services. With its convenient location and luxurious amenities, Steigenberger Graf Zeppelin is an ideal choice for travelers seeking comfort and convenience.
– Prime location in the center of Stuttgart
– Soundproofed rooms with modern amenities
– Rooftop spa with sauna and steam bath
– On-site restaurants offering international cuisine
– Close proximity to popular city sights
Hotel Traube Tonbach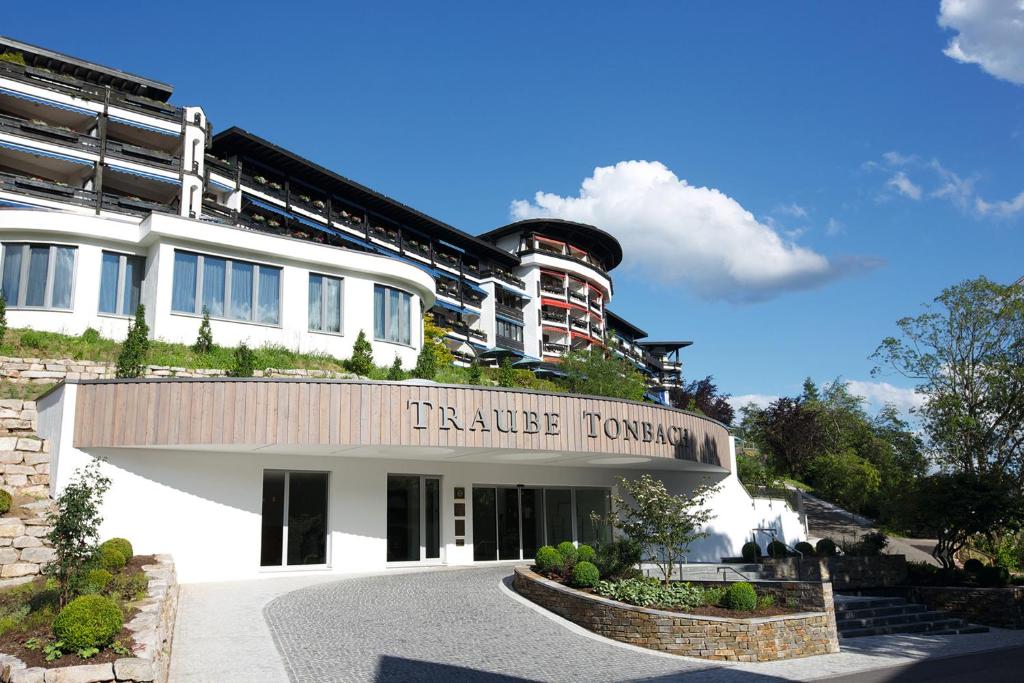 Located in the picturesque Black Forest countryside, Hotel Traube Tonbach is a luxurious 5-star hotel situated just 4 km from Baiersbronn. This elegant hotel boasts an impressive range of amenities including four restaurants, free WiFi, and complimentary access to the spa area. Each room offers a lavish bathroom and a balcony with breathtaking panoramic views of the Black Forest. Indulge in award-winning French and local Black Forest cuisine at the Schwarzwaldstube restaurant or explore dining options at the 1789, Schatzhauser or Silberberg restaurants. Guests can also enjoy free use of hot tubs, saunas, steam rooms, and fitness facilities. Treat yourself to a variety of massages and beauty treatments or take advantage of the hotel's children's facilities which include an indoor playroom, playground, children's restaurant, cooking lessons for kids, indoor football area, and toy cars. Additionally, Hotel Traube Tonbach offers a wide range of free activities such as hikes, sports programs excursions, yoga classes and other courses.
– Scenic location in the beautiful Black Forest countryside
– Four exquisite restaurants offering diverse culinary options
– Luxurious rooms with stunning panoramic views
– Complimentary access to spa facilities including hot tubs and saunas
– Impressive range of activities for both adults and children
Other places to stay in Stuttgart
Luxury 5 Star Hotels in Stuttgart
Luxury 5 star hotels in Stuttgart offer impeccable service and exquisite accommodations, ensuring a truly indulgent experience for discerning travelers. From elegant interiors to upscale dining options, these hotels are the epitome of luxury and provide a haven of comfort and opulence.
Hotel Dollenberg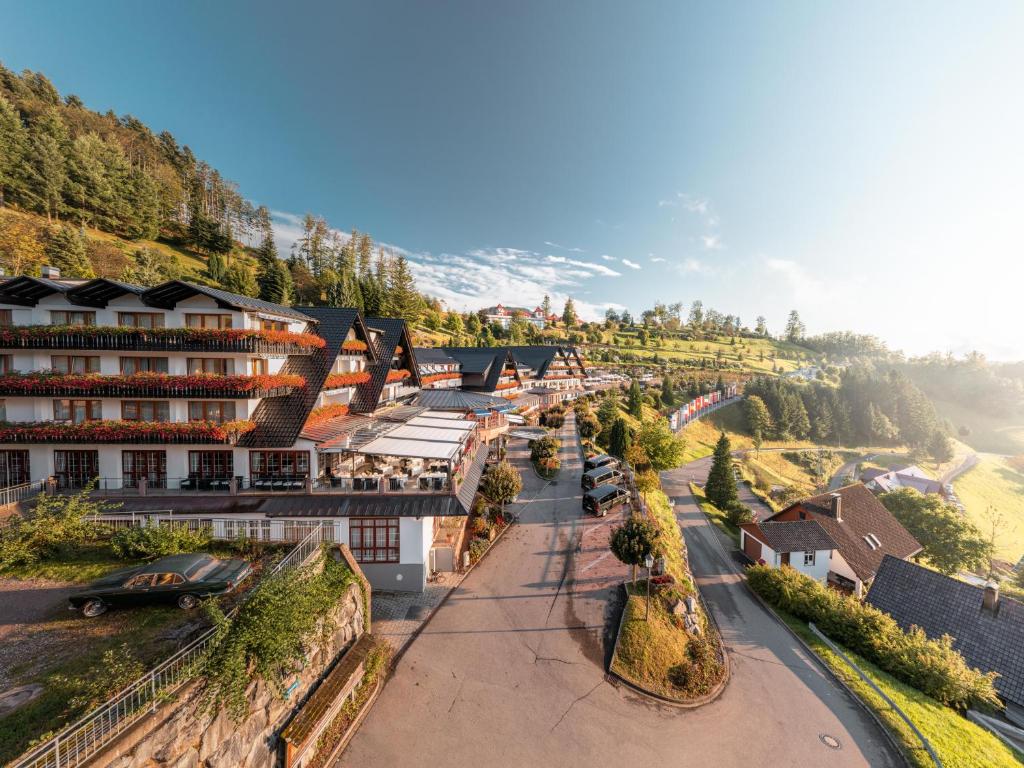 Located in the picturesque Black Forest countryside, Hotel Dollenberg is a luxurious 5-star retreat in Bad Peterstal-Griesbach. With its exquisite cuisine and state-of-the-art spa, guests can indulge in a truly pampering experience. The Dollina spa offers a range of facilities including indoor and outdoor pools, saunas, a gym, and an array of massages and treatments. The hotel's traditional-style exteriors blend seamlessly with its high-quality contemporary furnishings. Each room and suite features a balcony, sofa, TV, and private bathroom with shower. Dining at LePavillion restaurant offers breathtaking mountain views along with gourmet cuisine accompanied by an extensive selection of wines and cheeses. Guests can also unwind at the bar or enjoy international brunches on offer. For those looking to stay active during their stay, there is a tennis court available as well as entertainment staff to keep guests entertained throughout their visit. The hotel also provides valuable services such as a ticket office and tour desk for convenience. With skiing, hiking, cycling opportunities right on its doorstep, Hotel Dollenberg perfectly caters to nature enthusiasts seeking adventure amidst stunning scenery.
– Gorgeous location in the Black Forest
– Exceptional cuisine
– Extensive spa facilities
– Charming traditional exteriors blended with contemporary furnishings
– Variety of activities available
Hotel Engel Obertal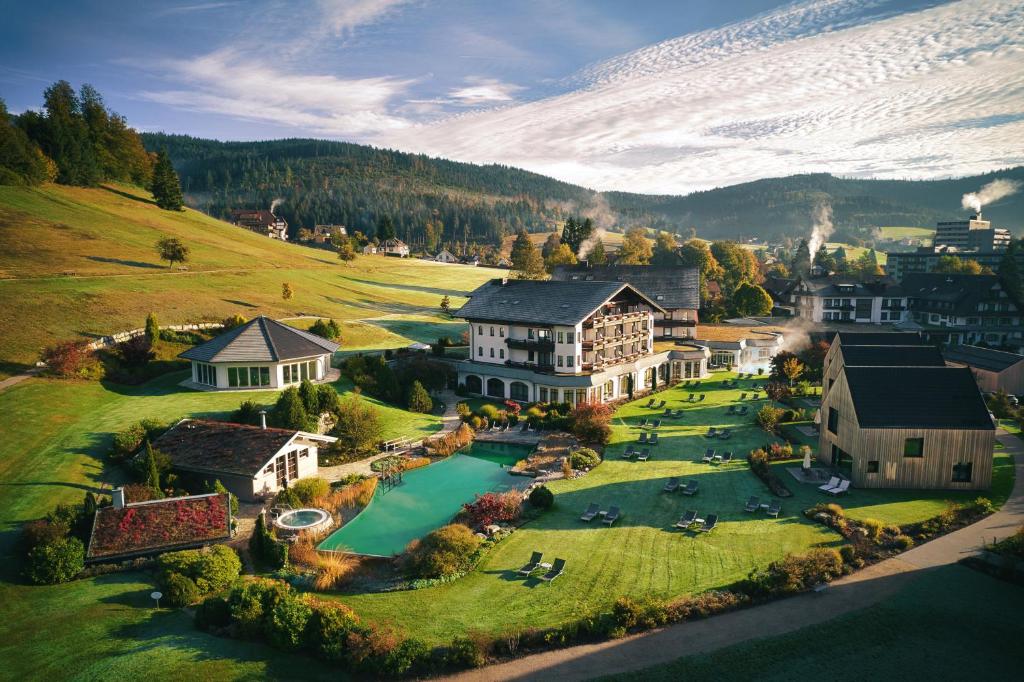 Hotel Engel Obertal is a luxurious 5-star hotel located in Baiersbronn, offering guests an exceptional experience. With its outdoor swimming pool, fitness center, and beautiful garden, the hotel provides a serene environment for relaxation. Guests can enjoy delicious meals at the hotel's restaurant or unwind on the terrace. Additionally, there is an indoor pool and sauna for those seeking ultimate relaxation after a day of hiking or skiing in the area. The hotel also offers amenities such as a hot tub, room service, and free WiFi throughout the property. The rooms are elegantly decorated and come equipped with modern amenities including flat-screen TVs, safety deposit boxes, and private bathrooms with complimentary toiletries. Some rooms even have kitchenettes with microwaves. A buffet breakfast is available daily at Hotel Engel Obertal to start your day off right. The multilingual staff at the reception is friendly and ready to assist you in German, English or French ensuring smooth communication during your stay. Karlsruhe/Baden-Baden Airport is conveniently located just 54 km away from Hotel Engel Obertal.
– Outdoor swimming pool
– Fitness center
– Indoor pool and sauna
– Hot tub
– Free WiFi
Le Méridien Stuttgart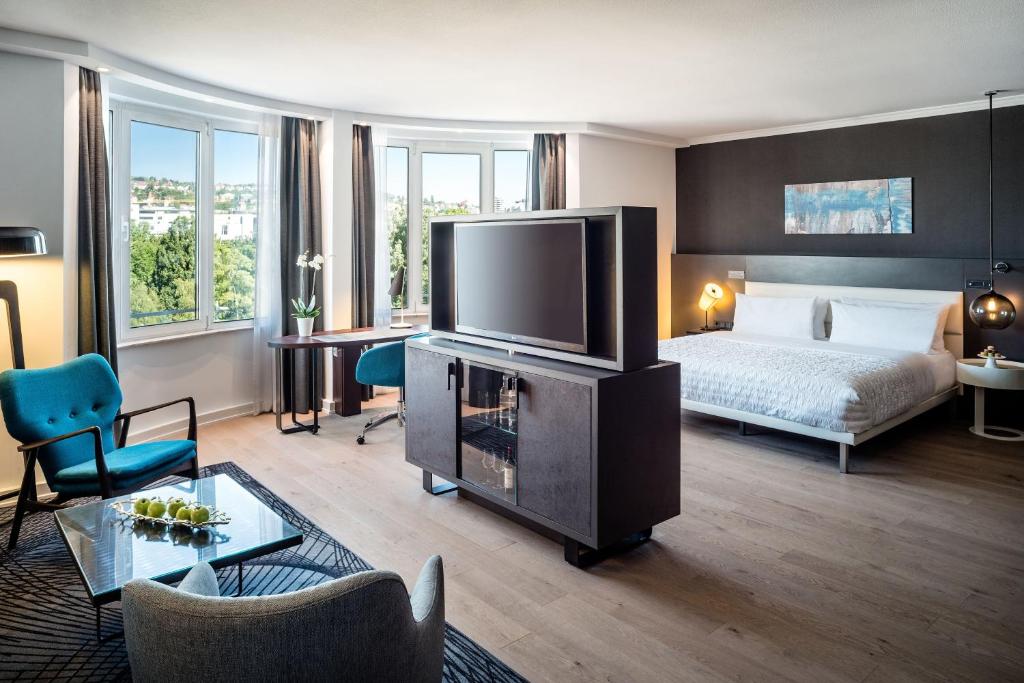 Le Méridien Stuttgart is a luxurious 5-star hotel located opposite the beautiful Schlossgarten Park in Stuttgart. The hotel features spacious and classical-style rooms and suites, all of which are air-conditioned and equipped with modern amenities such as flat-screen TVs and full-length mirrors. The large windows, elegant furniture, and soft materials create an inviting and comfortable atmosphere for guests. The highlight of the hotel is its impressive spa and fitness center, Le SPA, which covers 850m² in size. Here, guests can enjoy an indoor pool, hot tub, steam bath, saunas, and a 24-hour gym. Additionally, the spa offers a range of relaxing massages and beauty treatments. For dining options, guests can head to the Lillet bar that serves not only refreshing cocktails but also food choices alongside selected wines and local craft beers. Another convenient feature of Le Méridien Stuttgart is the public garage located beneath the hotel which can be accessed directly from the lobby.
– Opposite Schlossgarten Park
– Impressive spa with indoor pool
– Classical-style rooms with modern amenities
– Lillet bar serving food & cocktails
– Convenient access to public garage
Stuttgart 5 star Hotels Information
| | |
| --- | --- |
| 🛎️ 5 star Hotels in Stuttgart | 6 |
| 💵 Hotels Prices From | $152 |
| 💵 Highest price | $1074 |
| 🥇 Average Review Score | 8.4/10 |
| 🛏️ Average number of Rooms | 118 |
Top 5 star hotels in Stuttgart
| | |
| --- | --- |
| Hotel Engel Obertal | 8.8/10 |
| Burg Staufeneck | 8.7/10 |
| Hotel Traube Tonbach | 8.7/10 |
| Hotel Dollenberg | 8.3/10 |
| Steigenberger Graf Zeppelin | 8/10 |
FAQ
What are the top luxury 5 star hotels in Stuttgart?
Stuttgart offers a range of luxurious 5-star hotels for discerning travelers. Some of the top choices include the Althoff Hotel am Schlossgarten, which boasts elegant rooms, Michelin-starred dining options, and a central location near the city's main attractions. Another excellent option is the Le Méridien Stuttgart, known for its modern style, spacious rooms with stunning views, and an impressive spa and wellness center. The Steigenberger Graf Zeppelin is also highly recommended for its opulent decor, impeccable service, and convenient proximity to the train station.
Is it easy to find 5 star hotels in Stuttgart?
Yes, it is relatively easy to find 5-star hotels in Stuttgart as there are several renowned establishments catering to luxury travelers. The city offers a diverse selection of high-end accommodations that blend timeless elegance with contemporary amenities. Whether you prefer a hotel located in the heart of the city or one surrounded by tranquil greenery on its outskirts, Stuttgart has options to suit every preference.
What amenities can I expect at a luxury 5 star hotel in Stuttgart?
Luxury 5-star hotels in Stuttgart provide an array of amenities aimed at ensuring guests have an unforgettable stay. Typically, you can expect beautifully appointed rooms or suites with premium bedding and lavish furnishings. Additionally, these hotels often offer world-class restaurants serving delectable cuisine prepared by acclaimed chefs. Spa facilities featuring relaxing treatments such as massages and facials are also common at these establishments.
Are luxury 5 star hotels expensive in Stuttgart?
Luxury often comes with a higher price tag but depending on your budget and preferences there can be options available for different price ranges too. While some may consider luxury 5-star hotels in Stuttgart pricey compared to other accommodation choices within the city, they do offer exceptional value for money considering their exclusive amenities and personalized services. It's always advisable to check for special deals or packages that the hotels may be offering to make your stay more affordable.
What is the best time to book a luxury 5 star hotel in Stuttgart?
The best time to book a luxury 5-star hotel in Stuttgart depends on your travel plans and preferences. Generally, booking well in advance, especially during popular events or peak tourist seasons, is recommended to secure the best rates and availability. However, if you prefer a quieter experience with potentially lower rates, consider visiting during shoulder seasons like spring or autumn when there are fewer crowds but still pleasant weather conditions.
Popular Five Star Hotels destinations