Welcome to the enchanting region of South Tyrol, nestled in the heart of Italy. Known for its breathtaking landscapes and rich cultural heritage, this destination is a hidden gem that promises an unforgettable luxury experience. In this guide, we will unveil the epitome of opulence – the 5-star hotels that grace this picturesque land.
Indulge yourself in unrivaled comfort and sophistication at these lavish accommodations. From sprawling resorts to boutique hideaways, each establishment exudes timeless elegance paired with modern amenities. Prepare to be captivated by their impeccable attention to detail and personalized service that caters to your every whim.
Immersed in nature's embrace, these esteemed hotels offer a sanctuary where tranquility meets grandeur. Discover a haven of relaxation as you unwind in luxurious spa facilities or bask in the glory of panoramic views from your private balcony. With their gourmet restaurants showcasing regional delicacies and world-class chefs at your service, let your taste buds embark on a culinary journey like no other.
Whether you seek adventure amidst towering peaks or desire serenity amid vineyards and apple orchards, South Tyrol's 5-star hotels are an idyllic retreat that will leave you yearning for more. Join us as we embark on an exploration of refined elegance and unparalleled luxury in this captivating Italian wonderland.
Best Five Star Hotels in South Tyrol
Lake Spa Hotel SEELEITEN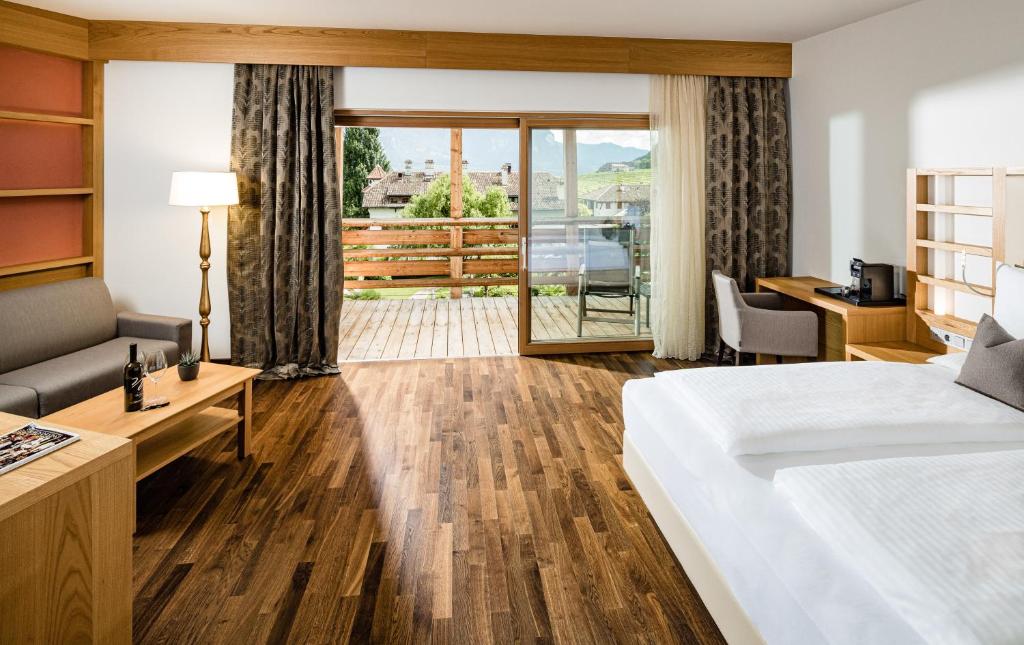 Hotel Seeleiten is a charming family-run property located in Caldaro, offering breathtaking views of Lake Caldaro and the lush surrounding vineyards. With its own private beach just 500 meters away, guests can indulge in a tranquil retreat by the lakeshore. The hotel features a free wellness center complete with sauna, hot tub, and Turkish bath for ultimate relaxation. For dining options, the on-site restaurant offers a delightful selection of international and South Tyrol dishes. The spacious rooms are elegantly furnished with balconies that provide stunning views of either the garden or lake. Each room is equipped with modern amenities including air conditioning, free Wi-Fi, and an LCD TV with satellite channels. Guests can start their day with a delicious American-style buffet breakfast consisting of eggs, bacon, cereal, and fresh fruit. Additional amenities include a free gym for fitness enthusiasts and organized entertainment activities for all ages to enjoy. Free parking is available on site and there is a convenient bus stop just outside the hotel's entrance. For those arriving by train, a shuttle service can be arranged upon request to Ora Train Station which is approximately 7 km away.
Pros:
– Stunning panoramic views of Lake Caldaro
– Relaxing wellness center with sauna and hot tub
– Family-friendly facilities including organized entertainment
– Spacious rooms with balconies offering picturesque views
– Conveniently located near public transportation options
Vigilius Mountain Resort (Lana)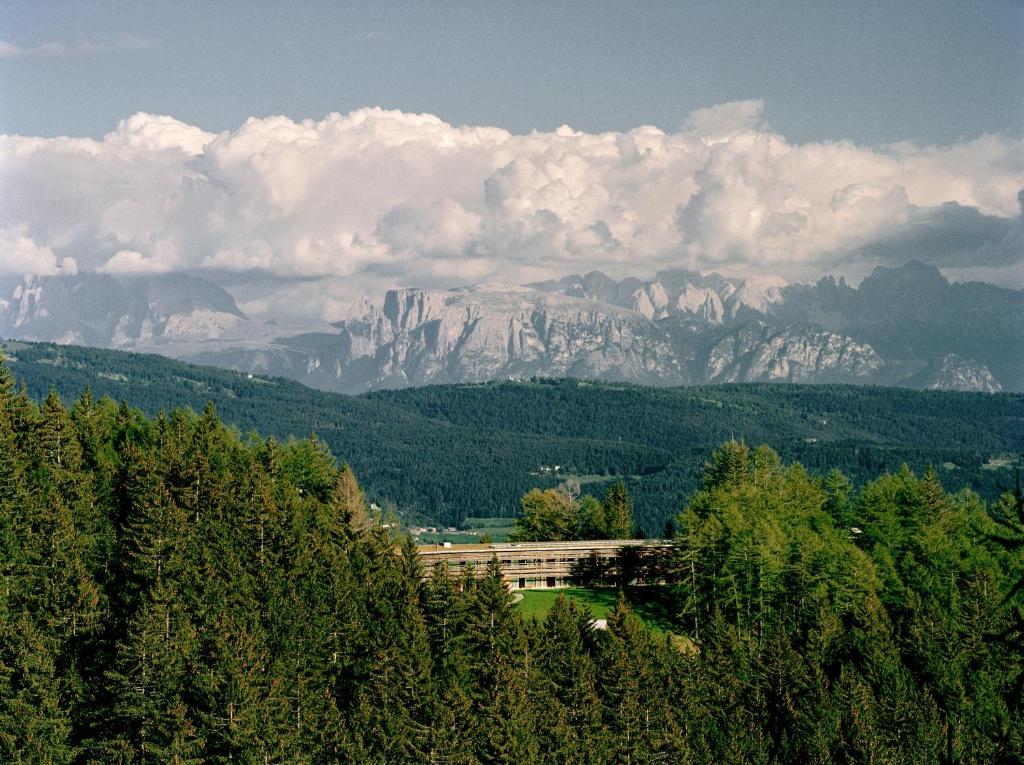 Located at an altitude of 1500 meters, Vigilius Mountain Resort in Lana is a boutique hotel that offers a unique and eco-friendly experience. Guests can reach the resort via a cable car ride from the town of Lana. The hotel features spacious rooms constructed from sustainable materials, with parquet floors and furnished balconies or patios offering stunning panoramic views of the Dolomites. The resort boasts a free wellness center offering various spa treatments, as well as two restaurants serving regional and international cuisine. There is also a physical trainer organizing free activities such as hiking, meditation, and the Five Tibetans. Additionally, guests have access to complimentary mountain bike tours and Nordic walking sessions. With its convenient location just 7 km from Merano and a short drive from Bolzano, Vigilius Mountain Resort provides both luxury accommodations and an opportunity to connect with nature.
Pros:
– Eco-friendly resort
– Free wellness center with spa treatments
– Two restaurants serving regional and international cuisine
– Complimentary activities organized by physical trainer
– Convenient location near Merano and Bolzano
Hotel Quelle Nature Spa Resort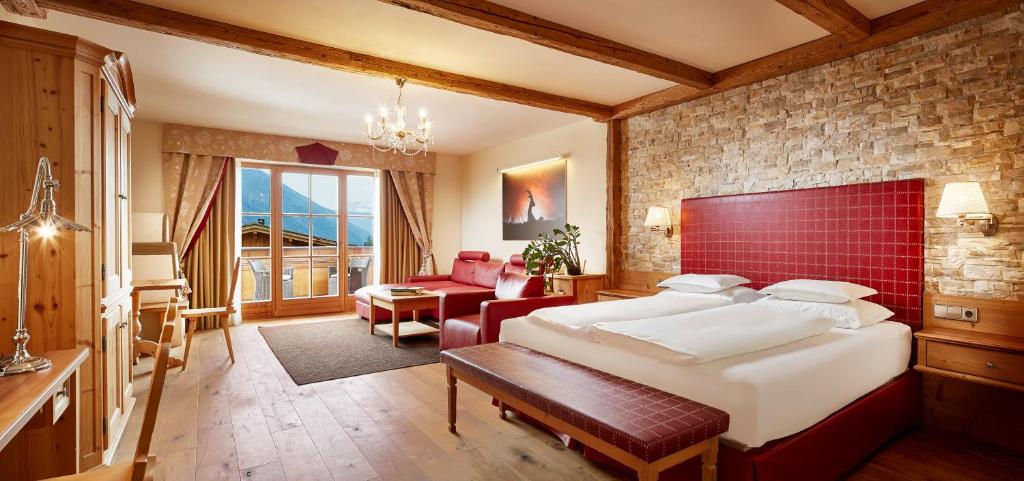 Nestled in the picturesque Valle di Casies valley, Hotel Quelle Nature Spa Resort offers a luxurious retreat for guests seeking relaxation and rejuvenation. The hotel boasts a sprawling 4,500-m² wellness center featuring the new Timeless Sky SPA, as well as 8 indoor and outdoor pools with breathtaking panoramic views of the Dolomites. Guests can unwind in the outdoor hot tub while taking in the stunning mountain scenery. The spacious rooms at Hotel Quelle Nature Spa Resort are elegantly furnished and equipped with LCD satellite TVs and balconies. The hotel also provides free parking and Wi-Fi for its guests. Surrounded by a beautiful 5,000-m² garden complete with a charming little lake, this resort offers guests access to 12 different saunas, including various outdoor spa highlights and a Kneipp course. In addition to the comprehensive wellness facilities, guests can enjoy complimentary bike hire from reception or take advantage of ski storage during the winter months. Each room features wood-paneled walls, minibars, soft bathrobes, and slippers in private bathrooms. Some rooms offer garden views while others provide magnificent mountain vistas. A sumptuous breakfast buffet is served daily at Hotel Quelle Nature Spa Resort, offering an array of delicious options such as omelettes, homemade wholegrain breads, and local organic cheeses. For lunch or dinner meals inspired by Mediterranean cuisine and South Tyrolean specialties can be enjoyed at the restaurant on-site.
• Sprawling luxury wellness center
• Stunning panoramic views of the Dolomites
• Complimentary bike hire
• Convenient ski storage in winter months
• Delicious breakfast buffet with local organic cheeses
Other places to stay in South Tyrol
Luxury 5 Star Hotels in South Tyrol
Luxury 5-star hotels in South Tyrol offer an unparalleled experience of elegance and sophistication, showcasing breathtaking mountain views and a seamless blend of modern comfort with traditional charm. With impeccable service and attention to detail, these hotels provide a haven for relaxation and indulgence in the stunning surroundings of South Tyrol.
Forestis Dolomites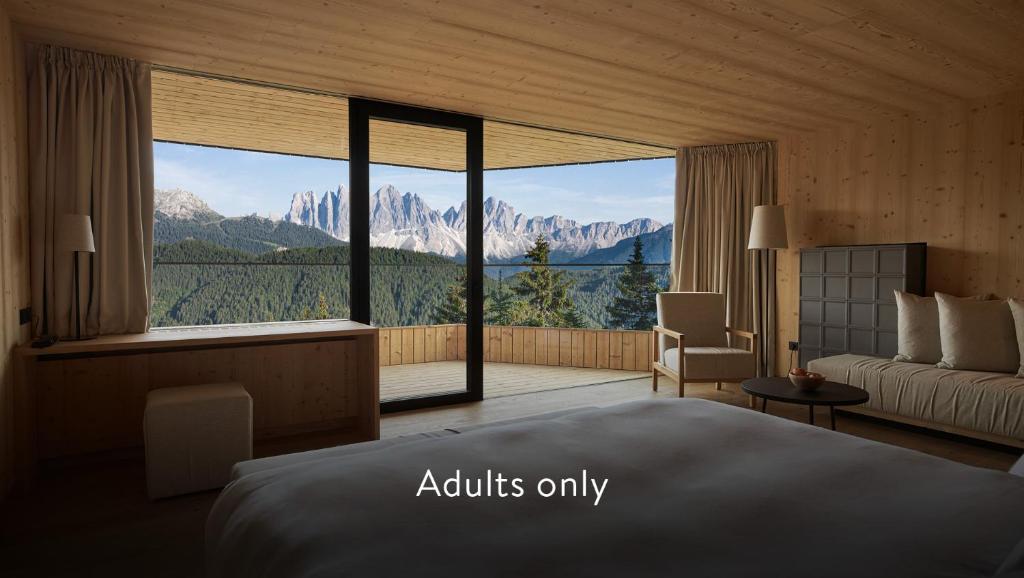 Located in Plancios, just 20 km from Bressanone, Forestis Dolomites offers an unforgettable luxury experience with its ski-to-door access and breathtaking views of the Dolomites, a UNESCO World Heritage Site. This family-run hotel features beautifully designed suites with modern wooden furnishings, comfortable lounges, LCD satellite TVs, and furnished balconies. The onsite wellness center offers an outdoor hot tub, bio herbal sauna, steam room, and a range of massages and beauty treatments. Guests can also unwind in the garden furnished with hammocks and hand-crafted sun loungers. The hotel serves a delicious breakfast featuring freshly squeezed fruit and vegetable juices as well as organic cakes, muesli,cold meats,and cheeses.Plus,dinner and afternoon snacks are included.The property is conveniently located on the Plose ski slopes and offers free ski storage. The friendly staff can also arrange ski lessons at a nearby school.
– Ski-to-door access
– Panoramic views of the Dolomites
– Onsite wellness center
– Delicious breakfast included
– Free ski storage
ADLER Lodge RITTEN (Soprabolzano)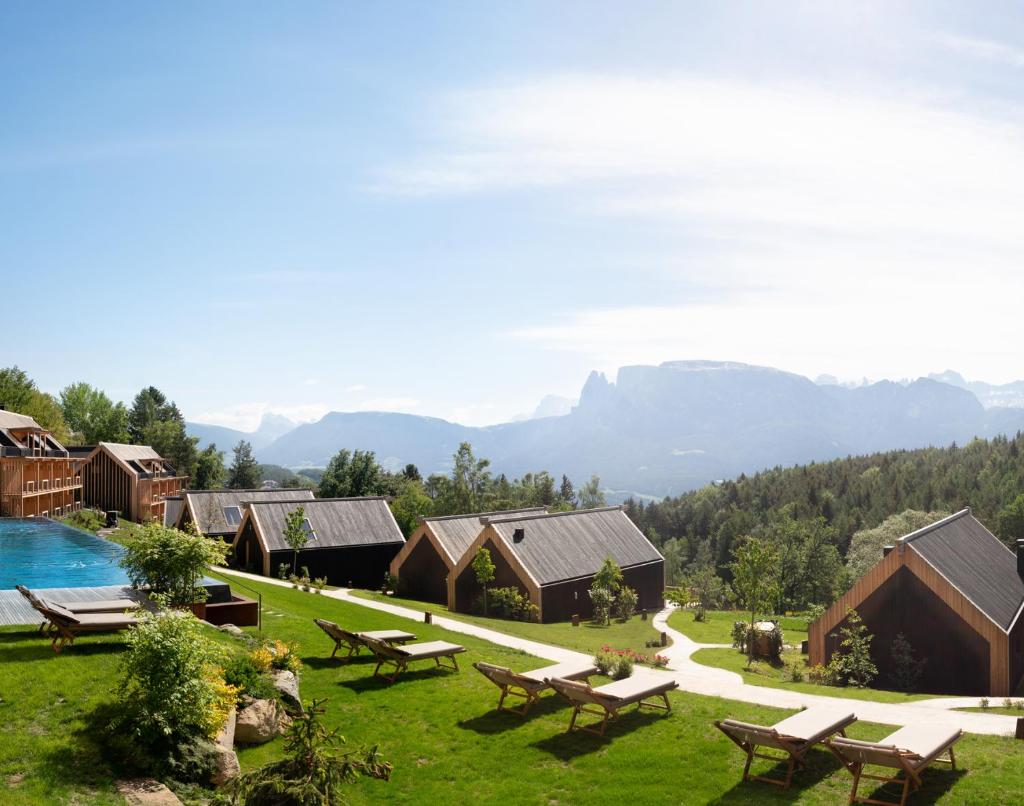 ADLER Lodge RITTEN, a luxury 5-star hotel located in Soprabolzano, opened its doors in September 2019. Situated just 39 km from Carezza Lake, this exquisite property offers guests a range of amenities and services for an unforgettable stay. The hotel features an outdoor swimming pool, a fitness centre, and even provides free bikes for those looking to explore the surrounding area. Guests can enjoy a delicious breakfast with buffet, à la carte or continental options before embarking on their adventures. The hotel boasts stunning mountain views and has a terrace where guests can unwind and take in the scenery. The on-site restaurant serves delectable meals and the bar is perfect for enjoying a drink after a long day of exploration. Each room at ADLER Lodge RITTEN is equipped with modern conveniences including a coffee machine and free WiFi. Selected rooms offer breathtaking lake views as well. For relaxation, guests can visit the spa and wellness centre which includes a sauna or simply relax in the garden. Activities such as cycling are available both within and near Soprabolzano, providing endless entertainment for all visitors to enjoy. With nearby attractions like Saslong just 44 km away and The Gardens of Trauttmansdorff Castle at 48 km distance, there is no shortage of things to see while staying at ADLER Lodge RITTEN. The nearest airport is Bolzano Airport located 22 km away.
– Newly opened luxury hotel
– Outdoor swimming pool
– Free bike rentals
– Stunning mountain views
– Spa & wellness center with sauna
Hotel Sassongher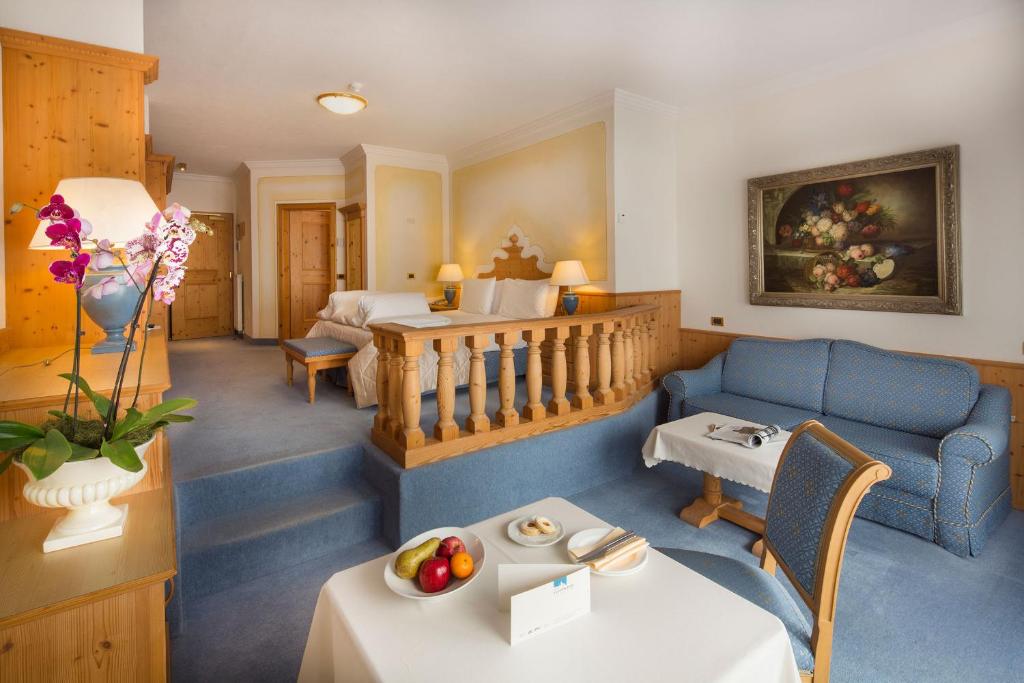 Located in the picturesque village of Corvara, in the Sellaronda ski area, Hotel Sassongher is a luxurious 5-star hotel that offers an array of amenities to ensure a truly memorable stay. Guests can enjoy free parking and a convenient free ski bus service, as well as spacious rooms equipped with satellite LCD TVs. The hotel's restaurant serves mouthwatering traditional Italian cuisine, and guests opting for the half board option can choose from five different menus. Each room at Hotel Sassongher comes with a minibar, bathrobe, slippers, and bag for the wellness area. Most rooms also feature a balcony boasting breathtaking panoramic views of the surrounding mountains or valley. The hotel boasts additional facilities such as a cozy Stube lounge and a piano bar where guests can unwind while enjoying live jazz music. For ultimate relaxation, guests can indulge in massages and beauty treatments at the hotel's wellness centre or soak up some sun in the solarium. After an exhilarating day on the slopes, guests can relax their muscles in the sauna. Situated just a short 10-minute walk from Corvara's city center, Hotel Sassongher provides easy access to nearby ski lifts through its shuttle bus service which takes only three minutes by car. Cross-country ski routes are also conveniently located just five minutes away on foot.
– Convenient location near Corvara's city center
– Stunning panoramic mountain or valley views from most rooms
– Range of dining options with traditional Italian cuisine
– Relaxing spa facilities including massages and beauty treatments
Five Star Hotels in Downtown South Tyrol
Downtown South Tyrol offers a delightful array of luxury five star hotels, where guests can indulge in the finest service and opulent accommodations. The perfect destination for those seeking an upscale stay in a vibrant and picturesque setting.
Familienhotel Familiamus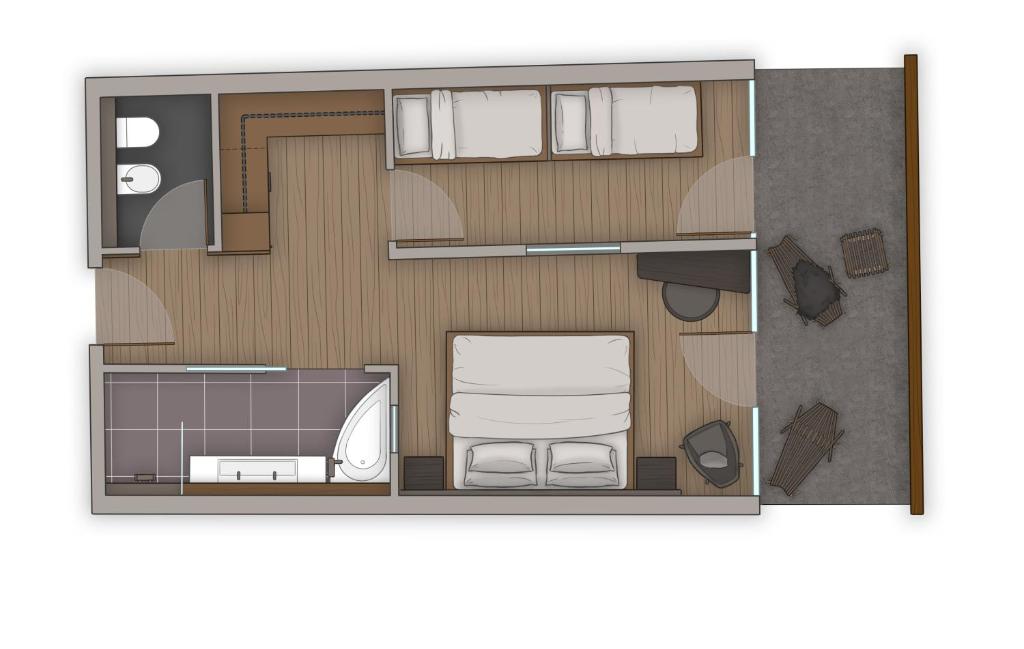 Familienhotel Familiamus is a luxurious 5-star hotel located in Maranza, just 17 km from Novacella Abbey. This brand new hotel, which opened in June 2022, offers guests a truly indulgent experience. With stunning mountain views from every room, guests can relax and unwind in the tranquil surroundings. The hotel boasts a range of amenities including a restaurant, bar, indoor pool, hot tub, hammam and spa center. For those looking to stay active during their visit, there are plenty of activities on offer including billiards, table tennis, hiking and skiing. Families will also appreciate the kids' club and evening entertainment options available. The friendly multilingual staff are always on hand to assist guests with any requests or questions they may have. Additional perks include free private parking and a buffet breakfast served daily. For those arriving by train or plane, the hotel offers paid airport shuttle service and is conveniently located within easy reach of the Bressanone train station and Bolzano airport.
– Newly opened luxury hotel with magnificent mountain views
– Excellent facilities including a restaurant, bar and spa center
– Wide range of activities for both adults and children
– Convenient location near Bressanone train station and Bolzano airport
Park Hotel Mignon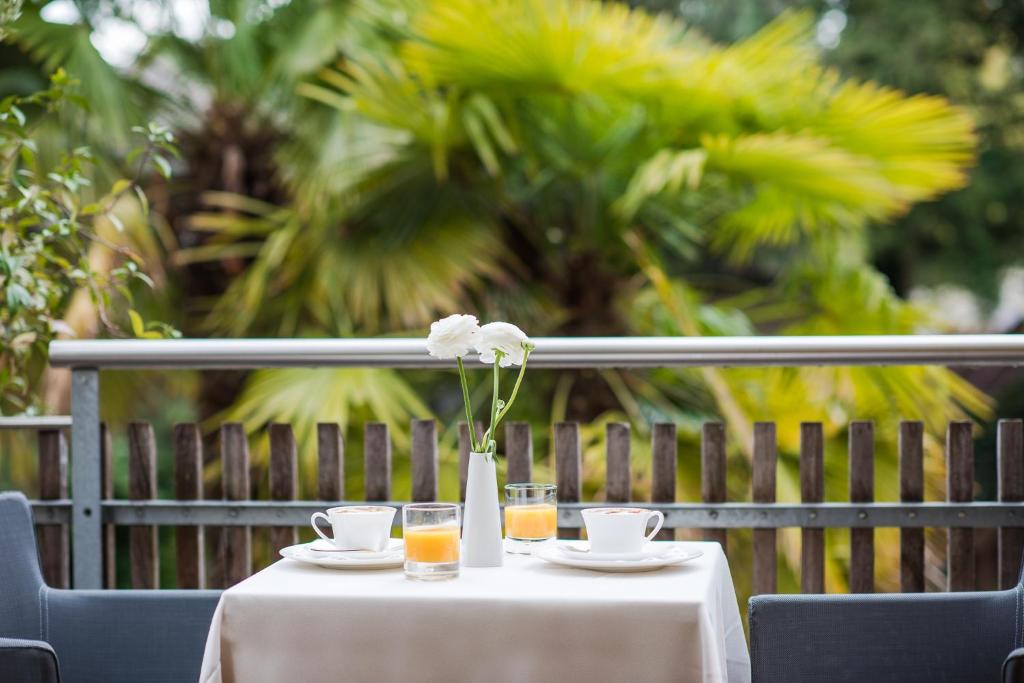 Located in the heart of Merano, the Park Hotel Mignon is a luxurious 5-star hotel with stunning mountain views. The hotel offers a wide range of amenities including indoor and outdoor pools, a large wellness center, and free parking. Guests can enjoy facilities such as a hot tub, Turkish bath, and an indoor pool. In the summer months, there is also a heated outdoor pool complete with a cocktail bar. The hotel's wellness center offers various treatments including massages, facials, and body wraps. The spacious rooms at Park Hotel Mignon feature classic-style furnishings and come with a mountain-view balcony. Each room includes an LCD TV with satellite channels and free Wi-Fi is available throughout the property. A delicious buffet breakfast is served daily featuring freshly baked pastries, eggs, cheeses, breads, and fruit juices. The on-site restaurant showcases both local and national cuisine made from seasonal ingredients. For those looking to explore the town of Merano, free bikes are available at reception for guests to use. Additionally, the hotel is only 3 km away from the Meran 2000 Ski Slopes which makes it perfect for winter sports enthusiasts. Bolzano can be reached within a 30-minute drive from the hotel.
Pros:
– Luxurious 5-star accommodation
– Indoor and outdoor pools
– Large wellness center offering various treatments
– Beautiful mountain views from spacious rooms with balconies
– Convenient location for exploring Merano or hitting the ski slopes at Meran 2000
Hotel Cappella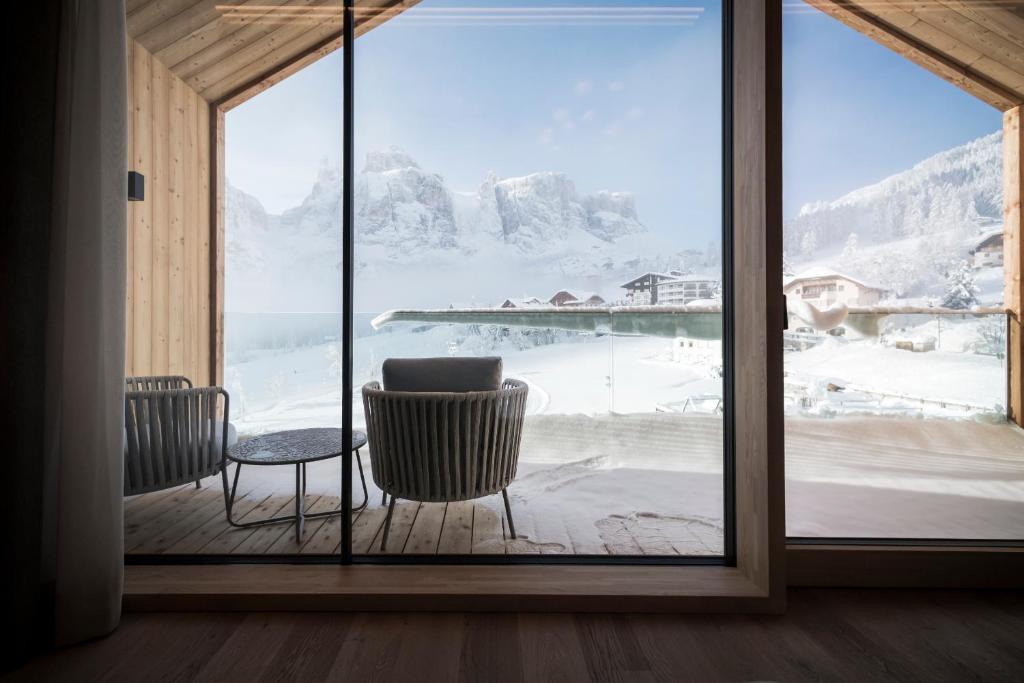 Hotel Cappella is a luxurious 5-star hotel located right on the slopes in Colfosco, the highest mountain village of Alta Badia. This stunning hotel seamlessly combines Alpine design with modern architecture, creating a truly unique and elegant atmosphere. Each room and suite at Hotel Cappella has been individually created by local designers and artists, adding a touch of charm and character to each space. The hotel boasts two gourmet restaurants that offer a delightful mix of local, Mediterranean, and international dishes, ensuring a culinary experience to remember. With amenities such as TV and free WiFi available in each room, guests can stay connected during their stay. Most rooms also feature balconies where they can soak in the breathtaking views of the surrounding mountains. The Palais d'Orient spa is an oasis of relaxation with its large indoor pool overlooking the Sella Mountains, Turkish bath, Finnish sauna, and fitness equipment for those looking to stay active during their vacation. After indulging in some pampering at the spa, guests can enjoy traditional afternoon tea in the charming tea room or unwind with a book by the cozy fireplace in the reading lounge. Throughout Hotel Cappella's hallways and common areas are numerous sculptures and paintings that add an artistic touch to this already mesmerizing hotel. The dining experience is further enhanced by two rustic dining rooms that host themed evenings for guests' enjoyment. And wine enthusiasts will be delighted by the extensive selection of over 400 wines available at Hotel Cappella.The combination of impeccable service, breathtaking views,and exceptional amenities make Hotel Cappella an unforgettable destination for luxury travelers.
Pros:
– Stunning location right on the slopes
– Unique blend of Alpine design with modern architecture
– Individually designed rooms by local artists
– Gourmet restaurants offering diverse cuisine options
– Luxurious spa facilities including indoor pool with mountain view
South Tyrol Cheap 5 Star Hotels
In South Tyrol, cheap 5-star hotels offer a budget-friendly option without compromising on luxury. These accommodations provide travelers with the opportunity to explore the beautiful region while enjoying top-notch services and amenities at affordable rates.
Villa Eden a member of Leading Hotels of the World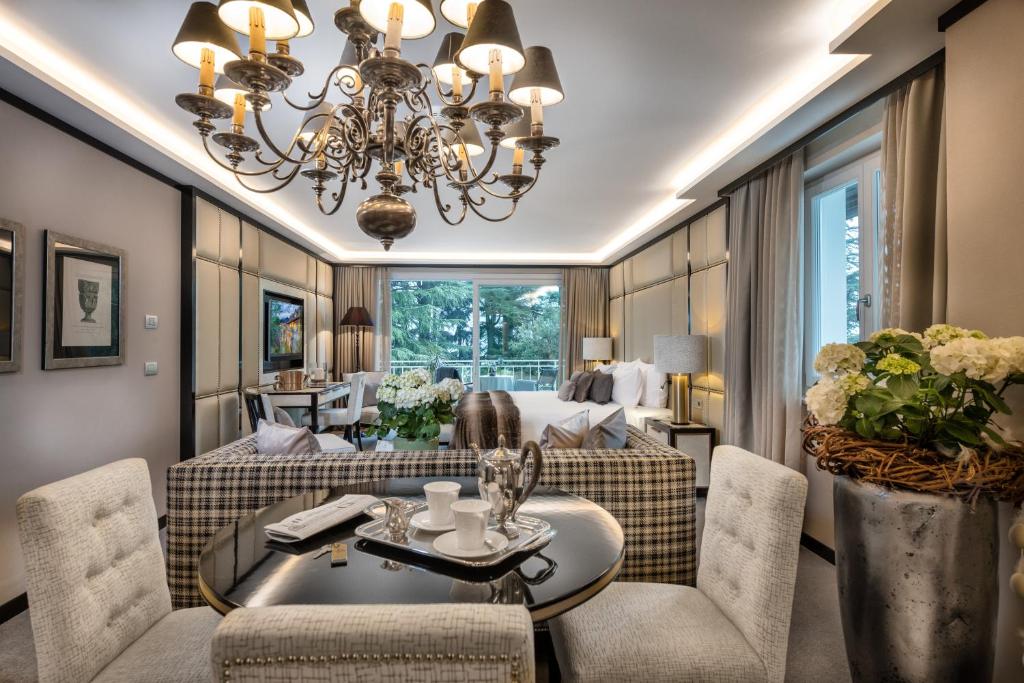 Nestled in a tranquil residential area, Villa Eden is a prestigious 5-star hotel that belongs to the esteemed Leading Hotels of the World collection. Situated in a sprawling park, this luxurious retreat offers guests breathtaking panoramic views of the South Tyrolean Alps and local vineyards. The highlight of Villa Eden is its renowned Longevity Medical & SPA Centre, which has been operating for over 40 years and provides top-notch medical diagnostics, check-ups, as well as detox, anti-aging, antistress, and remise en forme treatments. Guests can indulge in ultimate relaxation at the complex's indoor and outdoor swimming pools or book personalized wellness programs and revitalizing detox treatments. The well-appointed rooms exude elegance with their plush furnishings, carpeted floors, satellite TVs with Sky channels, balconies overlooking scenic vistas, and luxurious bathrooms complete with bathrobes and slippers. In addition to its exceptional spa facilities and comfortable accommodations, Villa Eden also features an on-site fitness studio equipped with Technogym machines for guests to maintain their fitness routines during their stay. Dining options include a delightful varied buffet breakfast served each morning and an à la carte restaurant offering carefully curated specialties to satisfy discerning palates. The hotel also boasts a cozy rustic reading room adorned with a warm fireplace where guests can unwind after a long day exploring the surrounding areas. Convenient amenities such as free Wi-Fi access and complimentary on-site parking add further convenience to guests' stay at Villa Eden.
– Serene location set in an expansive park
– High quality spa offering medical treatments
– Free indoor and outdoor swimming pools
– Stunning views of the South Tyrolean Alps
– Elegant rooms with modern amenities
Romantik Hotel Turm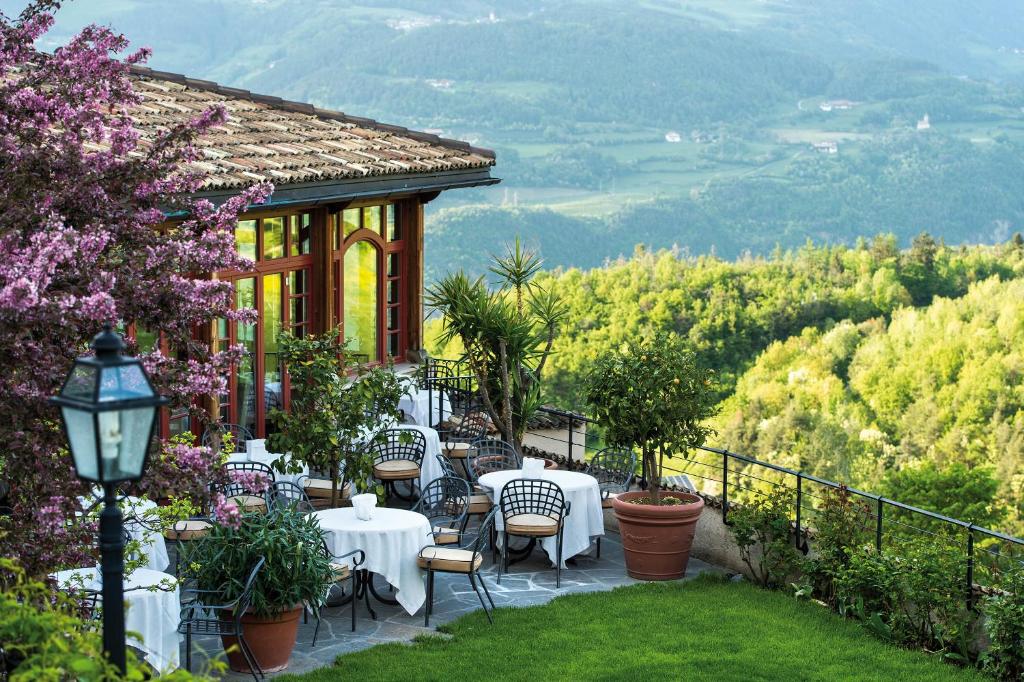 Located in Fie allo Sciliar, Romantik Hotel Turm is a luxurious 5-star hotel that offers guests a truly exceptional experience. With its historic towers dating back to the 13th century, this unique property exudes charm and elegance. The hotel boasts an award-winning restaurant that serves delicious local dishes and an extensive selection of South Tyrolean wines. Guests can also take advantage of discounts at the nearby Castel Rotto Alpe di Siusi Golf Club. The wellness centre at Romantik Hotel Turm is a haven of relaxation, complete with saunas, a gym, and a swimming pool. For added indulgence, there is even a salt grotto available for guests to unwind in. The hotel also features a private art collection that adds an extra touch of sophistication to the surroundings. Nature lovers will be thrilled with the close proximity to attractions such as the Sciliar Nature Reserve, while skiing enthusiasts will appreciate being near the Alpe di Siusi ski resort. Additionally, hiking and mountain bike routes abound in this picturesque area.
– Historic towers dating back to the 13th century
– Award-winning restaurant serving local dishes and South Tyrolean wines
– Discounts at Castel Rotto Alpe di Siusi Golf Club
– Luxurious wellness centre with saunas, gym, swimming pool, and salt grotto
– Close proximity to scenic nature reserve and ski resort
Quellenhof Luxury Resort Passeier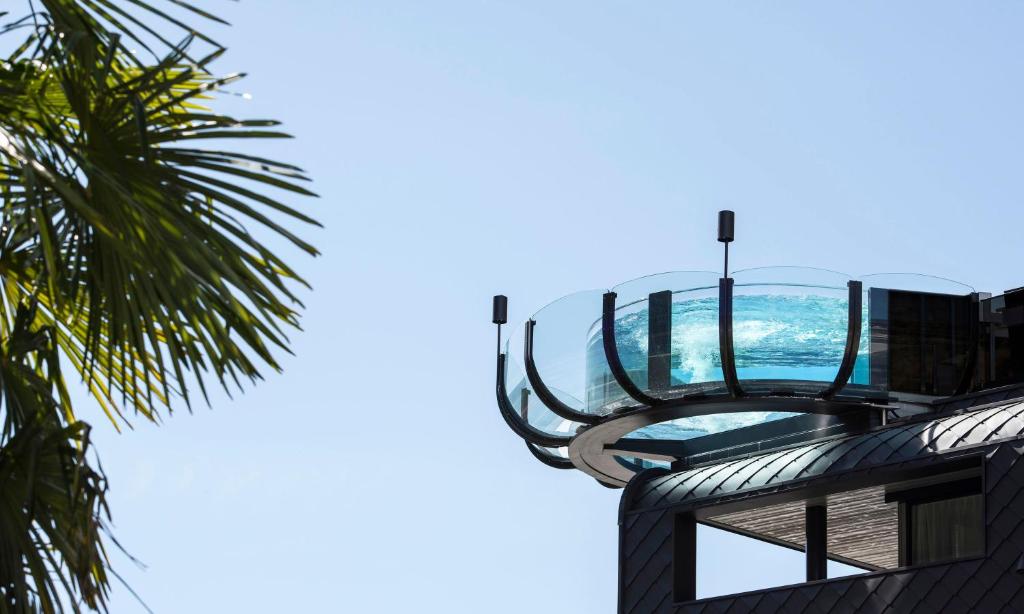 The Quellenhof Luxury Resort Passeier is a stunning 5-star hotel nestled in the breathtaking Sarntal Alps, just 10 km from Merano. This luxurious resort offers an impressive array of amenities including a sprawling 10,000 m² spa, a private 4-hole golf course, and both outdoor and indoor swimming pools. Guests can indulge in delectable Tyrolean and Mediterranean specialties at the onsite restaurant or explore the extensive wine cellar. With free private parking and proximity to Merano Train Station, convenience is paramount at Quellenhof Luxury Resort Passeier. Sports enthusiasts will delight in the range of activities available such as a well-equipped gym, two saunas, and hot tub facilities. The hotel also organizes exciting hiking and biking excursions throughout South Tyrol. Even during the winter months, guests can still enjoy swimming in two outdoor pools with water heated to a comfortable 34°C. The tastefully decorated rooms feature light wood furniture and carpeted floors while some boast balconies and seating areas for ultimate relaxation. For those looking to explore further afield, Bolzano is just a short 40-minute drive away.
– Expansive spa spanning over 10,000 m²
– Private golf course exclusively for guests
– Variety of sports activities including gym, saunas, hot tubs
– Exciting hiking and biking excursions organized by the hotel
– Convenient location near Merano Train Station
South Tyrol 5 star Hotels Information
| | |
| --- | --- |
| 🛎️ 5 star Hotels in South Tyrol | 12 |
| 💵 Hotels Prices From | $217 |
| 💵 Highest price | $1520 |
| 🥇 Average Review Score | 9.4/10 |
| 🛏️ Average number of Rooms | 42 |
Top 5 star hotels in South Tyrol
| | |
| --- | --- |
| Familienhotel Familiamus | 10/10 |
| Hotel Quelle Nature Spa Resort | 9.8/10 |
| Forestis Dolomites | 9.7/10 |
| ADLER Lodge RITTEN (Soprabolzano) | 9.7/10 |
| Hotel Cappella | 9.5/10 |
FAQ
What are some of the best 5 star hotels in South Tyrol, Italy?
South Tyrol boasts a range of luxurious 5 star hotels that offer exceptional services and amenities. Some of the top choices include Rosa Alpina Hotel & Spa, Castel Fragsburg, and Vigilius Mountain Resort. These properties are known for their exquisite accommodations, Michelin-starred restaurants, spa facilities, and breathtaking views of the surrounding natural landscapes.
What types of amenities can I expect at a 5 star hotel in South Tyrol?
When staying at a 5 star hotel in South Tyrol, you can expect a wide array of lavish amenities to enhance your experience. These may include spacious and elegantly designed rooms or suites with modern furnishings, state-of-the-art fitness centers and wellness spas offering various treatments and therapies, gourmet dining options serving both local and international cuisine, outdoor swimming pools with panoramic views, concierge services to assist with any travel arrangements or special requests, as well as access to recreational activities such as golf courses or ski slopes.
Is it worth staying at a 5 star hotel in South Tyrol instead of other accommodation options?
Staying at a 5 star hotel in South Tyrol offers an unparalleled level of luxury and comfort that sets it apart from other accommodation options. The attention to detail in terms of design aesthetic and service is incomparable. With world-class facilities including fine dining restaurants showcasing regional delicacies using fresh local ingredients and extensive wine lists featuring the finest selections from renowned vineyards nearby. Additionally, these hotels often provide exclusive experiences such as guided tours through scenic landscapes with expert guides who share detailed insights into the region's rich culture and history.
How do I choose the right 5 star hotel for my stay in South Tyrol?
Choosing the right 5 star hotel for your stay depends on your preferences and needs during your visit. Consider factors such as location, amenities, and the overall ambiance of the hotel. If you are looking for a mountain retreat, opt for a property nestled in the heart of the Dolomites. If relaxation is your priority, choose a hotel with an extensive spa and wellness center. Additionally, take into account any specific activities or attractions you wish to explore during your stay and ensure they are easily accessible from your chosen hotel.
What is the average price range for 5 star hotels in South Tyrol?
The average price range for 5 star hotels in South Tyrol varies depending on factors such as location, seasonality, and facilities offered. Generally, you can expect prices to range from around $300 to $1000 per night. Prices may be higher during peak tourist seasons such as summer or winter when visitors flock to South Tyrol for outdoor activities like hiking or skiing. It is advisable to book well in advance and check for any special offers or packages that may provide additional value for your stay at these luxury establishments
Popular 5 Star Hotels destinations