Welcome to a majestic journey through the enchanting realm of top-notch hotels in Sicily, Italy. As avid travelers seek unforgettable experiences and unparalleled luxury, few destinations can rival the charm and opulence offered by this captivating Mediterranean island. Nestled amidst the azure waters of the Tyrrhenian Sea, Sicily boasts a mesmerizing fusion of natural beauty, rich history, and delectable cuisine that all converge to create an ideal backdrop for indulgence and relaxation. Prepare to immerse yourself in a world where ancient ruins whisper tales of the past, picturesque coastal towns beckon with their idyllic allure, and exquisite 5-star hotels stand as epitomes of refined elegance.
From the moment you arrive at your chosen destination in Sicily, prepare to be captivated by impeccable hospitality that caters to your every whim. Each magnificent hotel exudes timeless grandeur while seamlessly blending traditional elements with modern luxuries. Immerse yourself in sumptuous surroundings adorned with ornate décor and lavish furnishings that evoke a sense of indulgence fit for royalty. With their impeccable attention to detail and personalized service that goes above and beyond expectations, these 5-star sanctuaries promise an unforgettable stay on this sun-kissed Italian island.
Uncover hidden gems nestled along Sicily's coastlines or retreat inland to bask in tranquility surrounded by rolling vineyards and centuries-old olive groves. Whether you seek a beachfront paradise overlooking turquoise waters or prefer the seclusion offered by historic palatial villas set against lush landscapes, Sicily's luxury hotels offer something extraordinary for every discerning traveler's taste. Get ready for an exclusive experience that will surpass even your wildest dreams as we delve into the world of 5-star accommodations scattered across this captivating island sanctuary.
Best Five Star Hotels in Sicily
Grand Hotel Palace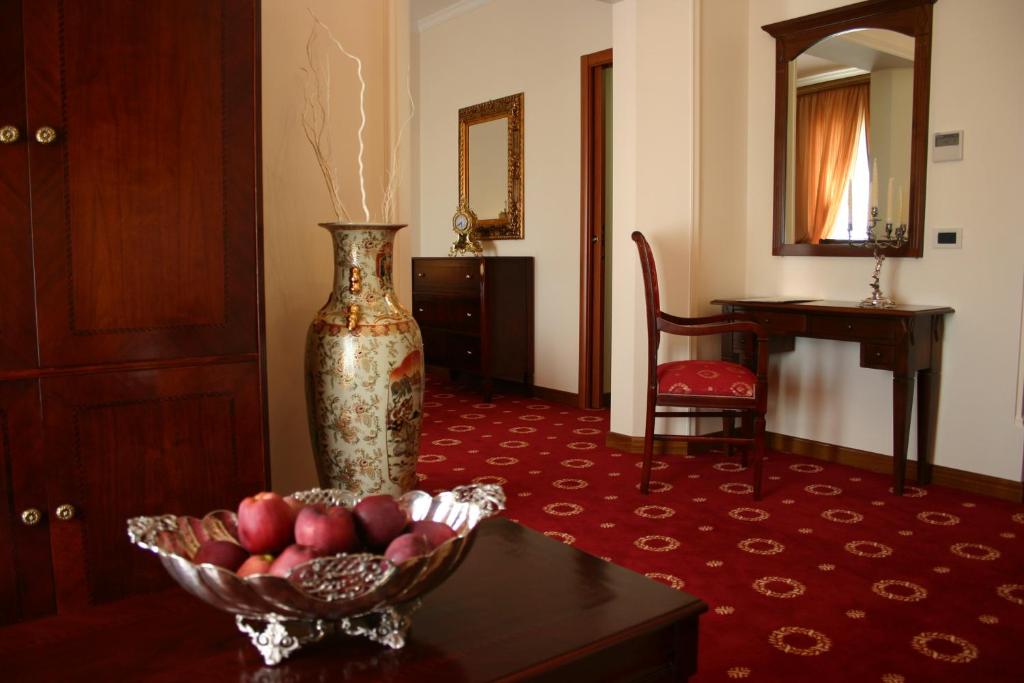 Located on the picturesque seafront of Marsala, the Grand Hotel Palace offers a luxurious and unforgettable stay. Guests can indulge in the hotel's outdoor swimming pool, relax on the stunning sea-view terrace, and savor exquisite Sicilian cuisine. The hotel features elegant air-conditioned rooms with private bathrooms and flat-screen TVs, some of which offer breathtaking garden or full sea views. Start your day with a delightful buffet-style breakfast before enjoying a wide range of local and international specialties at the elegant restaurant. The cellar boasts an impressive selection of local and national wines, while the bar serves refreshing drinks and tasty snacks throughout the day. In addition to its luxurious amenities, the hotel's convenient location allows easy exploration of famous Sicilian archaeological sites like Mozia, Segesta, and Selinunte. Guests can take advantage of free outdoor parking or opt for a garage with direct access to reception for added convenience.
Villa Sant'Andrea
The luxurious 5-star Belmond Villa Sant'Andrea is situated in a picturesque location, overlooking the stunning Mediterranea Sea. Located just a short 5-minute drive from the center of Taormina, this hotel offers an array of exceptional amenities and services. Guests can enjoy a private beach, outdoor pool, kids club, and wellness facilities. The on-site restaurant Oliviero serves delectable Sicilian cuisine and fresh seafood on its beautiful terrace, providing panoramic views of the Bay of Mazzarò. The rooms and suites are elegantly decorated with refined fabrics and antique furniture, offering free Wi-Fi and luxurious Bulgari and Molton Brown bathroom toiletries. Most accommodations also feature a furnished sea-view balcony. The hotel's wellness center is surrounded by lush tropical gardens and features a fitness center equipped with new Technogym equipment. In-room massages and treatments are available for ultimate relaxation. For added convenience, the Belmond Villa Sant'Andrea offers a complimentary shuttle service to and from Taormina as well as free boat cruises along the coast during summer months. Private shuttle services can be arranged for transportation to/from the airport or station upon request. Situated in front of the cable car to Taormina's old town, this hotel provides easy access to all that Taormina has to offer. The Taormina-Giardini Naxos Station is only a 5-minute drive away while Catania Airport is approximately 60 km from the property.
– Spectacular panoramic views of Bay of Mazzarò
– Private beach for exclusive guest use
– Array of wellness facilities including spa treatments
– Complimentary shuttle service to/from Taormina
– Convenient location near cable car for easy access to historic town
Il San Corrado di Noto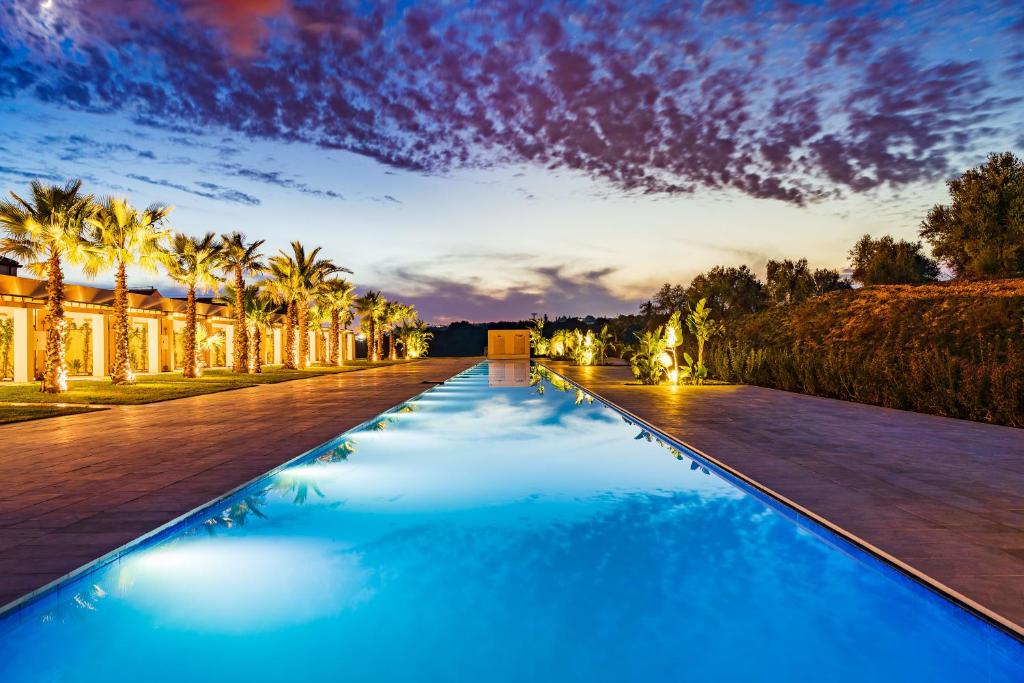 Located in the charming city of Noto, Il San Corrado di Noto is a recently opened boutique hotel offering luxurious 5-star accommodations. With its prime location just 11 km from Cattedrale di Noto, guests can easily explore the city's attractions. The hotel features a range of amenities including free bikes, free private parking, a seasonal outdoor swimming pool and a fitness centre. For those seeking relaxation, there is also a spa centre with a sauna and hammam. The hotel offers air-conditioned rooms with modern amenities such as flat-screen TVs, minibars, and private bathrooms with free toiletries. Some rooms even offer pool views and have patios for guests to enjoy. In addition to the comfortable rooms, guests can indulge in delicious cuisine at the on-site restaurant or take advantage of the various recreational activities available such as billiards and tennis. With its exceptional service and convenient location near Vendicari Natural Reserve and Castello Eurialo, Il San Corrado di Noto is an ideal choice for those seeking a luxury retreat.
Pros:
– Convenient location near major attractions
– Range of amenities including a spa centre and fitness centre
– Modern and comfortable rooms with luxurious amenities
– On-site restaurant offering delicious cuisine
– Recreational activities available for guests' entertainment
Other places to stay in Sicily
Luxury 5 Star Hotels in Sicily
Luxury 5-star hotels in Sicily offer a perfect blend of opulence and cultural immersion, with their exquisite design, breathtaking views, and impeccable service. Guests are treated to an unforgettable experience that combines world-class comfort and indulgence with the rich history and natural beauty of the island.
Relais Antica Badia – San Maurizio 1619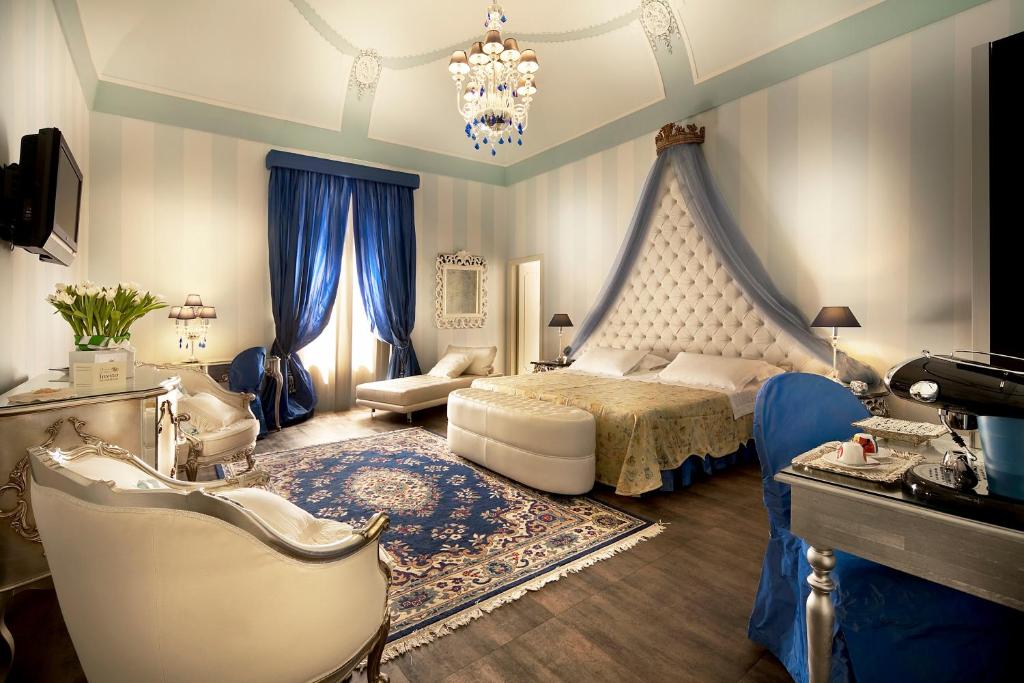 Relais Antica Badia – San Maurizio 1619 is a charming boutique hotel located in the heart of Ragusa. Housed in an impressive 18th-century villa, this luxury property offers a unique experience for guests looking to immerse themselves in Sicilian history and culture. The hotel boasts a luxurious spa, complete with a sauna, Turkish bath, and massage services, providing the ultimate relaxation retreat.
The heritage of Relais Antica Badia has been meticulously preserved during its renovation, showcasing grand halls adorned with magnificent Baroque-style frescoes. The rooms are elegantly decorated with opulent fabrics and antique furniture sourced from Sicily and across Europe, creating an atmosphere of timeless sophistication. All rooms come equipped with free Wi-Fi for added convenience.
For those seeking extra space and comfort, the hotel offers spacious suites that can accommodate an additional bed if needed. Guests can also take advantage of the private guarded parking available 24 hours a day.
Pros:
– Stunning 18th-century villa steeped in history
– Luxurious spa facilities including sauna and Turkish bath
– Elegantly decorated rooms featuring opulent fabrics and antique furniture
– Complimentary Wi-Fi throughout the property
– Convenient 24-hour private guarded parking
NH Collection Taormina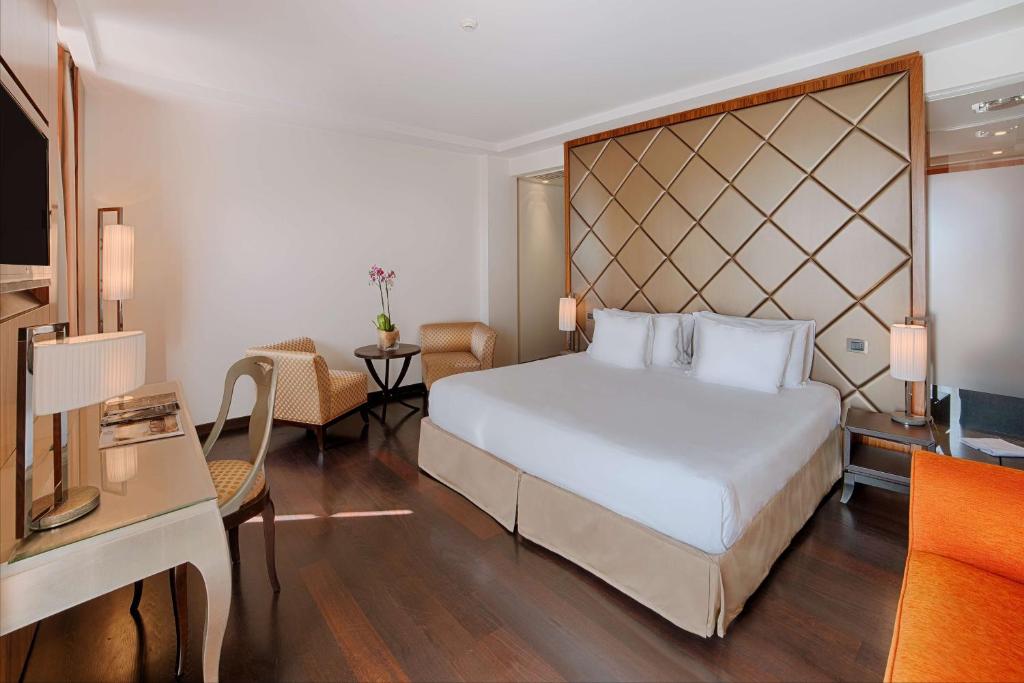 NH Collection Taormina is a luxury 5-star hotel located in the heart of Taormina's historical center. The hotel offers guests a range of amenities including a roof-top terrace with panoramic views and a cocktail bar, an à la carte restaurant serving Sicilian cuisine, spacious rooms with design bathrooms and LCD TVs, and an infinity pool overlooking the bay. The property also boasts a modern wellness center with a sauna, Turkish bath, therapy showers, and an exclusive 260 m² spa area. Guests can enjoy breakfast featuring organic products each morning and explore Corso Umberto I, the city's main street, just minutes away on foot.
– Stunning rooftop terrace with panoramic views
– Modern wellness center with spa facilities
– Infinity pool overlooking the bay
– Delicious breakfast featuring organic products
– Convenient location near Corso Umberto I
Almar Giardino di Costanza Resort & Spa (Mazara del Vallo)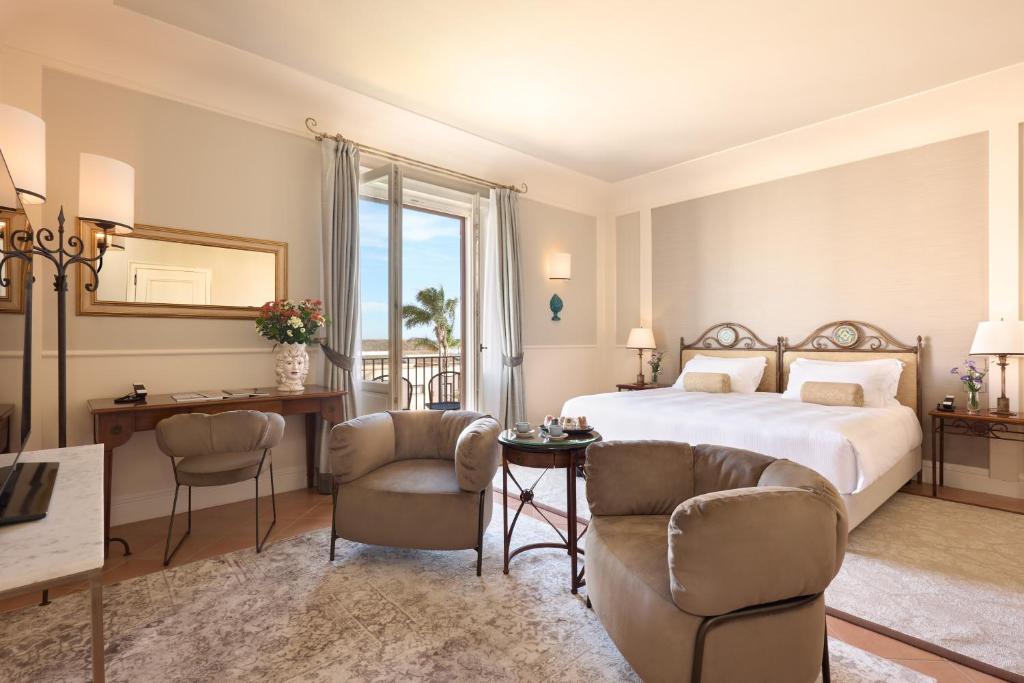 Almar Giardino di Costanza Resort & Spa, located just 9 km from Mazara del Vallo beach, is a luxurious 5-star hotel offering a range of amenities to ensure a truly indulgent stay. The hotel boasts an elegant restaurant, both an indoor and outdoor pool set amidst a beautiful Mediterranean garden, as well as a wellness centre where guests can relax and rejuvenate. With free Wi-Fi throughout the property, guests can stay connected while enjoying the tranquil surroundings. Each air-conditioned room features a balcony or terrace, along with modern amenities such as a flat-screen TV and telephone. The private bathrooms are spacious and well-appointed with both bath and shower facilities. Guests can also take advantage of the fitness room for their workouts or treat themselves to soothing massages. Conveniently located near Trapani and Palermo Airports, Almar Giardino di Costanza Resort & Spa offers the perfect escape for those seeking luxury and relaxation.
– Stunning Mediterranean garden
– Indoor and outdoor pools
– Wellness centre with massage services
– Convenient location near Trapani and Palermo Airports
– Free Wi-Fi throughout the property
Five Star Hotels in Downtown Sicily
Five star hotels in downtown Sicily offer a luxurious and sophisticated experience, with impeccable service and exquisite accommodations. Guests can expect to indulge in fine dining, relax in elegant spas, and enjoy stunning views of the cityscape or waterfront.
Wellness Spa Hotel Principe Fitalia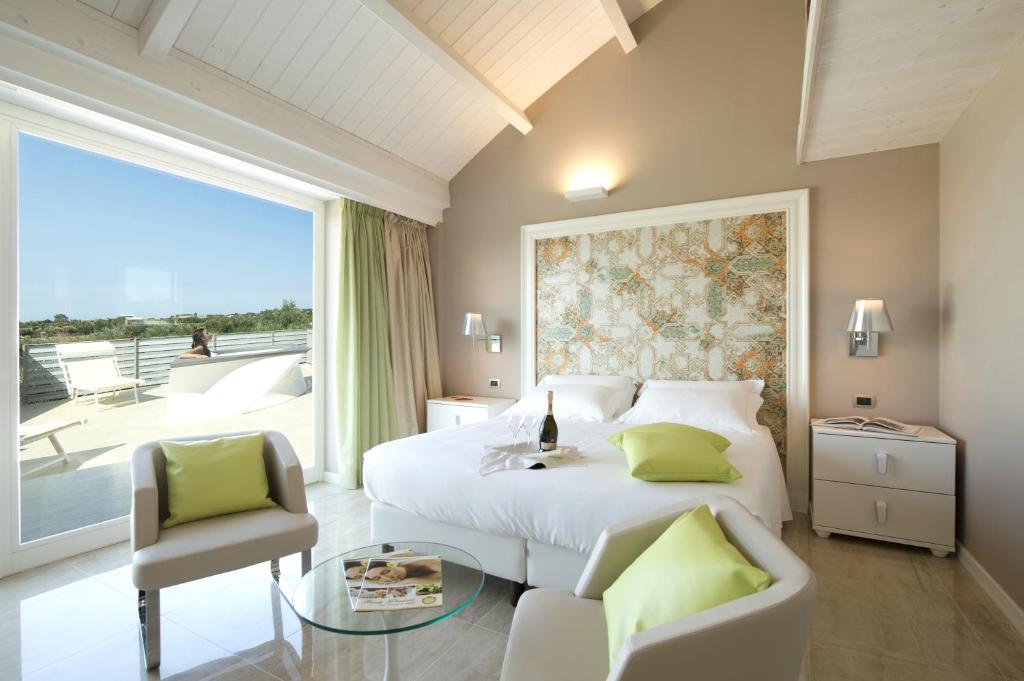 Located just a 3-minute drive from the stunning Mediterranean coast, Wellness Spa Hotel Principe Fitalia in Fanusa offers a luxurious escape with its range of amenities. The hotel features a restaurant, fitness center, and two swimming pools, ensuring guests have plenty of options for relaxation and recreation. The air-conditioned rooms come with modern comforts such as free WiFi, a satellite flat-screen TV, and private bathrooms complete with bathrobes and slippers. Some rooms even offer the added indulgence of a spa bath or balcony. Guests can start their day with a delicious breakfast and unwind in the hotel garden. For ultimate rejuvenation, the on-site wellness center offers spa treatments and massages along with unique features like the Kneipp path, Wassar path, and Vichy shower. Additionally, there is also a hairdresser available for guests' convenience. Situated within the Plemmirio Natural Reserve, this hotel provides easy access to Punta Milocca at 2.2 km away while Syracuse is just a short 20-minute drive from the property.
– Convenient location near Mediterranean coast
– Luxurious amenities including two swimming pools
– Modern rooms with spa baths or balconies available
– On-site wellness center offering various treatments
– Easy access to nearby natural reserve and attractions
Grand Hotel Ortigia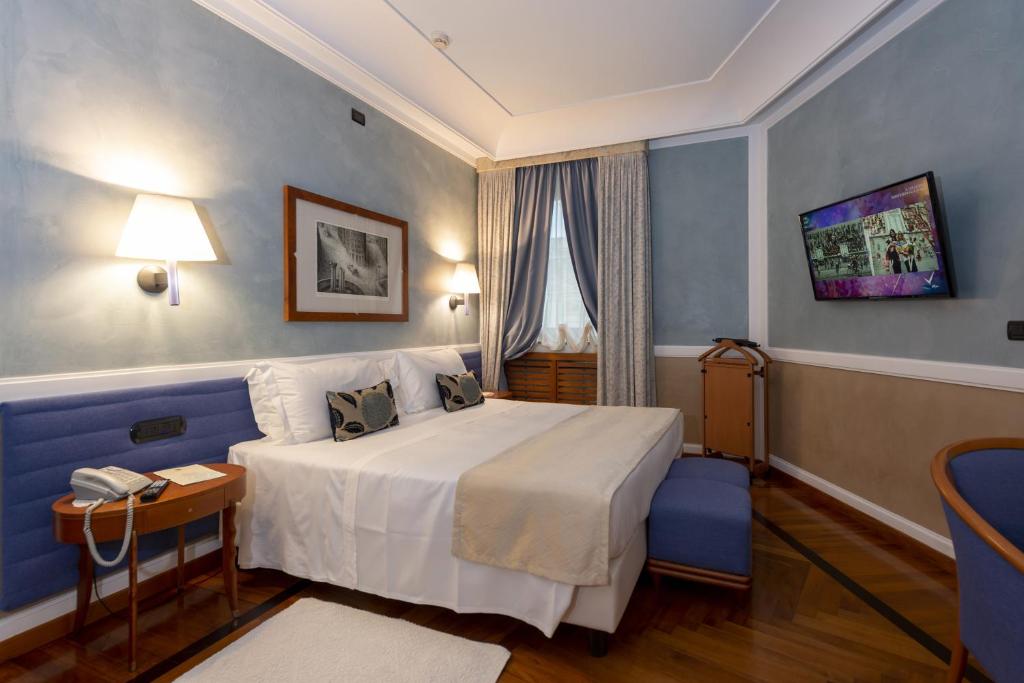 The Grand Hotel Ortigia is a luxurious 5-star hotel located next to the main harbor and just a 5-minute walk from the Aretusa Fountain in Ortigia. Offering breathtaking sea views, the hotel boasts a rooftop terrace and a glass elevator that adds to its opulent charm. What sets this hotel apart from others in Ortigia is its private parking facility and spa amenities, making it an ideal choice for those seeking relaxation and convenience. The rooms at Grand Hotel Ortigia are elegantly designed with ample space, featuring modern amenities such as free Wi-Fi access, flat-screen TVs, and air conditioning for maximum comfort. Indulge yourself with exquisite dining experiences at the Terrazza sul Mare restaurant located on the top floor of the hotel, where you can savor fine wines along with regional specialties while enjoying panoramic vistas of the sea and harbor.
– Convenient private parking
– Luxurious spa facilities
– Spacious rooms with modern amenities
– Spectacular views from the rooftop terrace
– Exquisite dining experience at Terrazza sul Mare restaurant
Rocco Forte Villa Igiea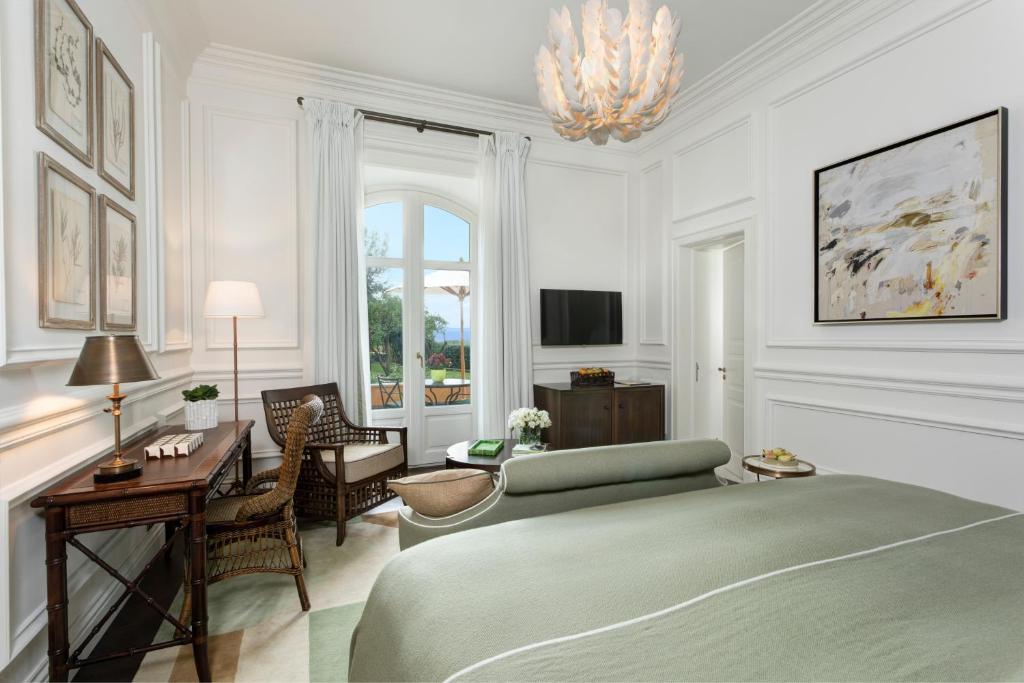 Offering panoramic views of the Bay of Palermo, Rocco Forte Villa Igiea is a luxurious 5-star hotel located just 2 km from Palermo Harbour. The hotel boasts elegant rooms and suites, each uniquely designed with its own layout and style. Guests can enjoy amenities such as air conditioning, satellite TV with pay-per-view movies, and a writing desk in every room. With a bar serving refreshing drinks and a restaurant offering delectable Sicilian specialties, guests will have plenty of dining options to choose from. The hotel also features an outdoor swimming pool, tennis court, gym, solarium, and massage rooms for ultimate relaxation. Whether you're admiring the stunning views or taking advantage of the various facilities offered, Rocco Forte Villa Igiea ensures a truly luxurious stay.
– Panoramic views of the Bay of Palermo
– Elegant and uniquely designed rooms
– Restaurant serving delicious Sicilian specialties
– Outdoor swimming pool and tennis court on site
– Gym, solarium, and massage rooms for relaxation
Sicily 5 star Hotels Information
| | |
| --- | --- |
| 🛎️ 5 star Hotels in Sicily | 9 |
| 💵 Hotels Prices From | $250 |
| 💵 Highest price | $1329 |
| 🥇 Average Review Score | 9/10 |
| 🛏️ Average number of Rooms | 57 |
Top 5 star hotels in Sicily
| | |
| --- | --- |
| Almar Giardino di Costanza Resort & Spa (Mazara del Vallo) | 9.6/10 |
| Il San Corrado di Noto | 9.5/10 |
| Villa Sant'Andrea | 9.4/10 |
| Wellness Spa Hotel Principe Fitalia | 9.2/10 |
| Rocco Forte Villa Igiea | 9.2/10 |
FAQ
What are the top 5 star hotels in Sicily?
Sicily boasts a wide range of luxurious 5-star hotels, but some of the top choices include Belmond Grand Hotel Timeo in Taormina, Verdura Resort in Sciacca, The Ashbee Hotel in Taormina, Donna Carmela Resort & Lodges in Carruba di Riposto, and Monaci delle Terre Nere in Zafferana Etnea. These hotels offer impeccable service, stunning views, elegant rooms, and world-class amenities to ensure an unforgettable stay.
Are there any beachfront 5 star hotels in Sicily?
Yes, Sicily is blessed with several beachfront 5-star hotels that provide ultimate luxury combined with breathtaking coastal views. Some notable options include Belmond Villa Sant'Andrea and Metropole Taormina Maison d'Hôtes on the Ionian Sea coast renowned for their private beaches and stunning panoramas. Another exceptional choice is Verdura Resort located on Sicily's southwestern coast offering an exclusive private beach along with outstanding facilities.
Which 5 star hotel in Sicily offers the best spa services?
If you're seeking unparalleled spa experiences during your stay in Sicily, look no further than Verdura Resort. This luxurious resort features a world-class spa spanning over two floors with various treatment rooms offering indulgent massages, facials, body scrubs as well as wellness therapies such as hydrotherapy pools and saunas. Their expert therapists will ensure you leave feeling relaxed and rejuvenated like never before.
Do any 5 star hotels in Sicily cater to families traveling with children?
Absolutely! Many 5-star hotels throughout Sicily warmly welcome families traveling with children by providing excellent family-friendly amenities. One such example is Ragosta Hotels Collection which offers spacious interconnecting rooms suitable for families along with swimming pools for both adults and kids to enjoy. Additionally, they provide kids' clubs with various activities to keep the little ones entertained while parents can relax and enjoy their stay.
What are some must-visit attractions near 5 star hotels in Sicily?
When staying at a luxurious 5-star hotel in Sicily, you will have easy access to several must-visit attractions. For instance, if you're in Taormina, make sure to visit the ancient Greek Theater and Isola Bella. In Palermo, don't miss out on exploring the mesmerizing Norman Palace and Monreale Cathedral. And if you happen to be near Agrigento, a trip to the Valley of the Temples is a definite highlight. These attractions add an extra layer of cultural richness and historical significance to your luxurious vacation experience in Sicily.
Popular Five Star Hotels destinations