Welcome to my latest guide on experiencing the lap of luxury in Salzburg Austria. Nestled in the heart of Austria, Salzburg is famous for its scenic beauty and historic landmarks. It's no secret that this city attracts thousands of tourists each year, looking to indulge themselves in the finest 5-star hotels and hospitality.
When it comes to luxury accommodation, Salzburg has plenty of options to choose from. Whether you're looking for a lavish palace or a hidden gem tucked away in the city's alleys, these hotels offer nothing short of world-class service and amenities. From exquisite dining experiences to rejuvenating spa treatments, each property provides an experience like no other.
But there's more than just opulence and comfort at these hotels; they also offer stunning views overlooking some of Salzburg's most iconic attractions such as Hohensalzburg Fortress and Mirabell Palace Gardens. With attentive staff ready to cater to your every need, these 5-star hotels guarantee a memorable stay that will leave you feeling refreshed and reinvigorated by the time you depart from this charming city.
Best Five Star Hotels in Salzburg
A-ROSA Kitzbühel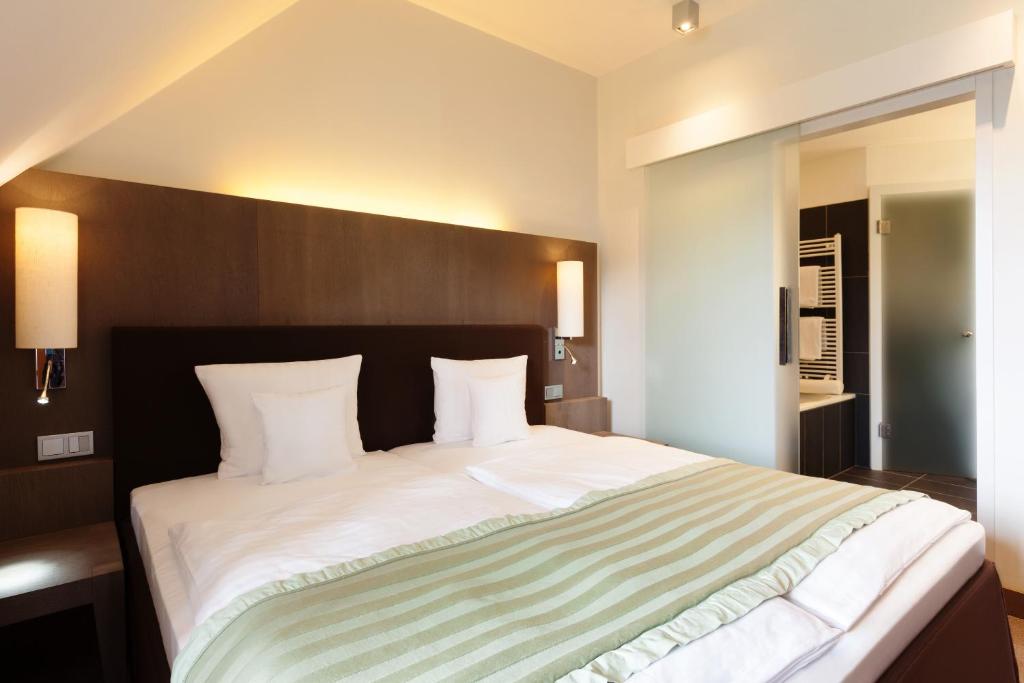 A-ROSA Kitzbühel is a stunning hotel, styled like a traditional Tyrolean castle and surrounded by the breathtaking scenery of the Tyrolean Alps. The 3,000 m² spa area offers guests an extensive selection of wellness and beauty treatments in a sophisticated atmosphere. With 7 saunas, 21 treatment rooms, indoor and outdoor swimming pools, a fully equipped gym, hammam (Turkish bath), and rasul (traditional Arab bath), visitors can relax in style. Personal trainers are also available to cater to individual fitness needs. Additionally, families can enjoy fun activities for children between ages 3 and 12 at the Rosinis club while parents unwind. A-ROSA Kitzbühel offers two restaurants that serve varying themed buffets in one restaurant or meat dishes overlooking the golf course at Steakhouse Kaps; both options offer delicious dining experiences. Finally, with direct access to a nine-hole golf course plus an additional nineteen courses in proximity, this location is perfect for golf lovers. Other activities include hiking, mountain biking, skiing snowboarding and paragliding all within reach from A-ROSA Kitzbühel.
Pros:
– Impressive spa facilities
– Varied dining options
– Great choice for families with young children
– Access to its nine-hole golf course as well as nearby locations
– Excellent range of outdoor activities
Hyperion Hotel Salzburg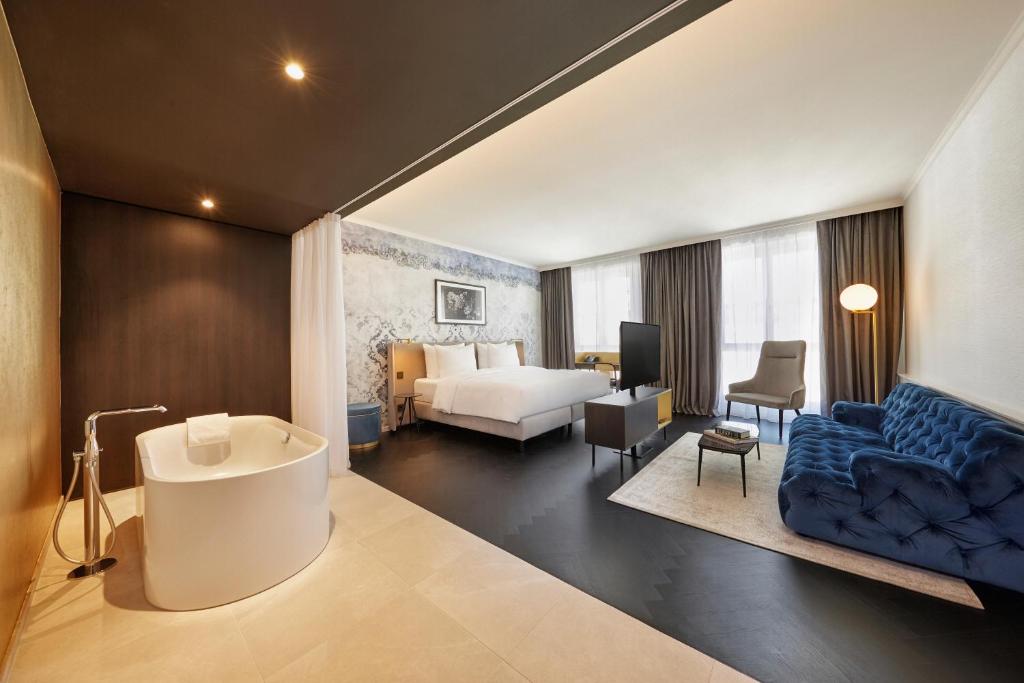 Hyperion Hotel Salzburg is a newly opened luxury hotel located in Salzburg. With its prime location, guests can easily visit renowned attractions such as Mirabell Palace, Mozart's Birthplace and Salzburg Cathedral. The hotel features concierge services, allergy-free rooms, free Wi-Fi throughout the property and a restaurant serving buffet, continental or vegetarian breakfast. Other amenities include room service, 24-hour front desk and currency exchange for guests. Air-conditioned rooms with a flat-screen TV, safety deposit box and private bathroom with shower are also provided to ensure utmost comfort during the stay.
– Prime location near noteworthy attractions
– Concierge services available for ease of travel planning
– Free Wi-Fi throughout the entire property
– Allergy-free rooms for added comfort
– Delicious restaurant serving various breakfast options
Sheraton Grand Salzburg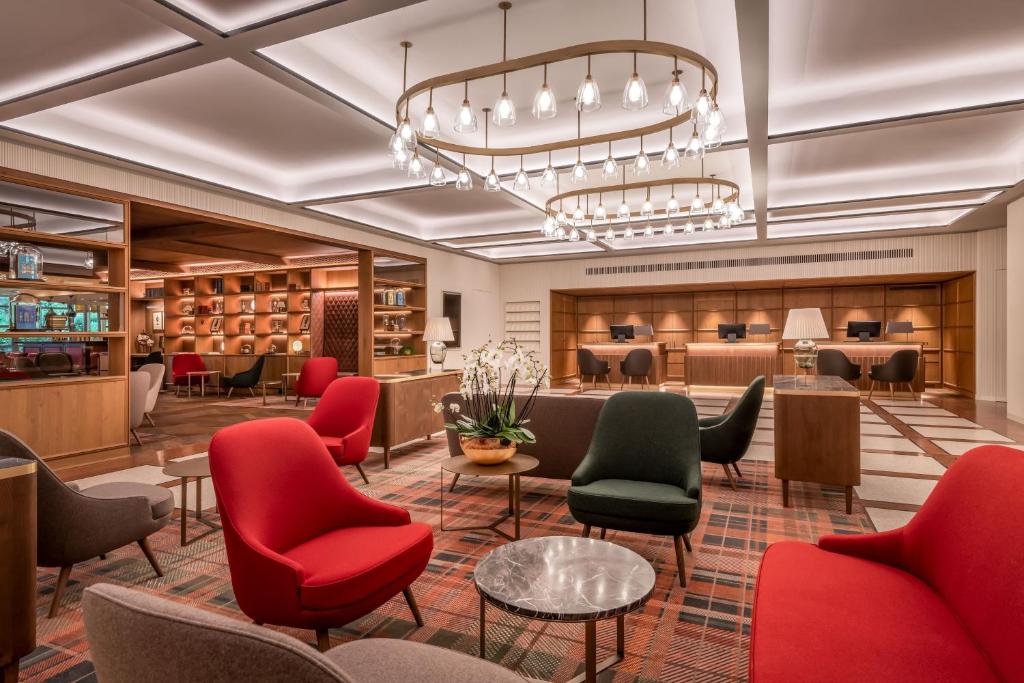 The Sheraton Grand Salzburg Hotel is a luxurious 5-star hotel located in the heart of Salzburg, just opposite the picturesque Mirabell Palace and Gardens. Its central location allows guests to easily explore some of the city's top attractions such as Mozarts Birthplace, Festspielhaus and Salzburg Cathedral within a 15-minute walk. The hotel offers elegantly styled rooms and suites that come with modern or classic decor, Sheraton Signature beds as well as spacious bathrooms that include complimentary toiletries, slippers, and bathrobes. The hotel also features free WiFi throughout its premises along with 24-hour room service. Moreover, fitness enthusiasts can enjoy access to an on-site fitness center equipped with a sauna and steam bath while also having the option of getting massages upon request.
– Located in walking distance from many popular tourist spots
– Elegant and comfortable rooms with high-end amenities
– On-site fitness center for health enthusiasts
– Complimentary Wi-Fi throughout the entire property
– Two
Other places to stay in Salzburg
Luxury 5 Star Hotels in Salzburg Austria
Luxury 5-star hotels in Salzburg, Austria offer world-class accommodation and excellent service to their guests. With their elegant interiors and stunning views of the city, these hotels are perfect for travelers seeking a luxurious stay in one of Europe's most beautiful destinations.
Der Lärchenhof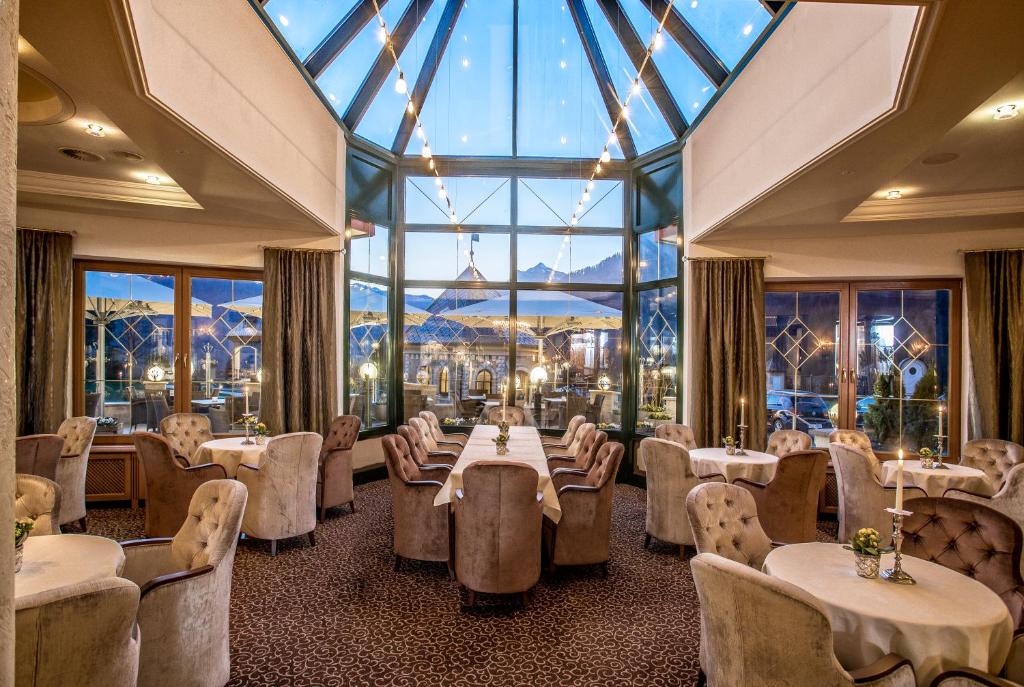 Der Lärchenhof is a luxurious 5-star boutique hotel located in the scenic Kitzbühel mountains of Erpfendorf, just 16 km from Kitzbühel. This exquisite hotel features an indoor and outdoor pool, 4700 m² spa with options from Barth, Maria Galland, Environ and Alpienne, fitness center with Pilates, Aqua-fit and Nordic Walking classes. Guests can also enjoy romantic horse-drawn carriage rides or activities such as curling or guided cross-country ski tours during their stay. The hotel offers a gourmet restaurant along with Austrian specialties for dinner and breakfast buffet featuring organic corner. With its own ski lift and ski school on site guests have easy access to Steinplatte Ski Area only 5 km away while Hanneshof riding stables are next door for equestrians. Other amenities include reserved parking spaces, child care for children over three years old tennis academy with five clay courts and three indoor courts as well as biathlon
Kaiserhof Superior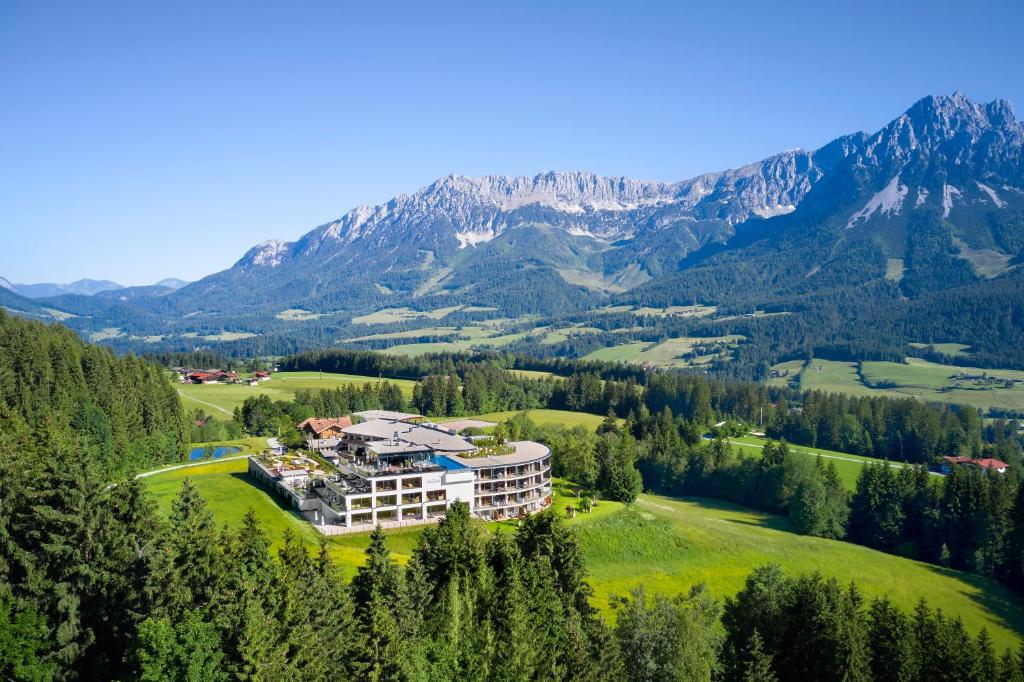 The Kaiserhof Superior is a 5-star hotel located in the picturesque village of Ellmau, offering breathtaking views of Wilder Kaiser Mountain. With direct access to ski slopes and the Hartkaiser Cable Car, this hotel boasts 52 spacious and modern rooms and suites featuring panoramic windows, wooden floors, elegant bathrooms, balconies, and high-quality toiletries. The property features two individual spa areas, including a rooftop mountain pool with panoramic views of Ellmau. Guests can indulge in award-winning Austrian and international cuisine at 5 onsite restaurants or enjoy meals on the terrace overlooking the mountains. Other highlights include beauty treatments, Ayurveda massages as well as an on-site natural swimming pond during summers.
– Direct access to ski slopes
– Two individual spa areas
– Award-winning restaurants serving gourmet cuisine
– Onsite natural swimming pond during summers
– Breathtaking panoramic views from rooftop mountain pool
Salzburgerhof Wellness-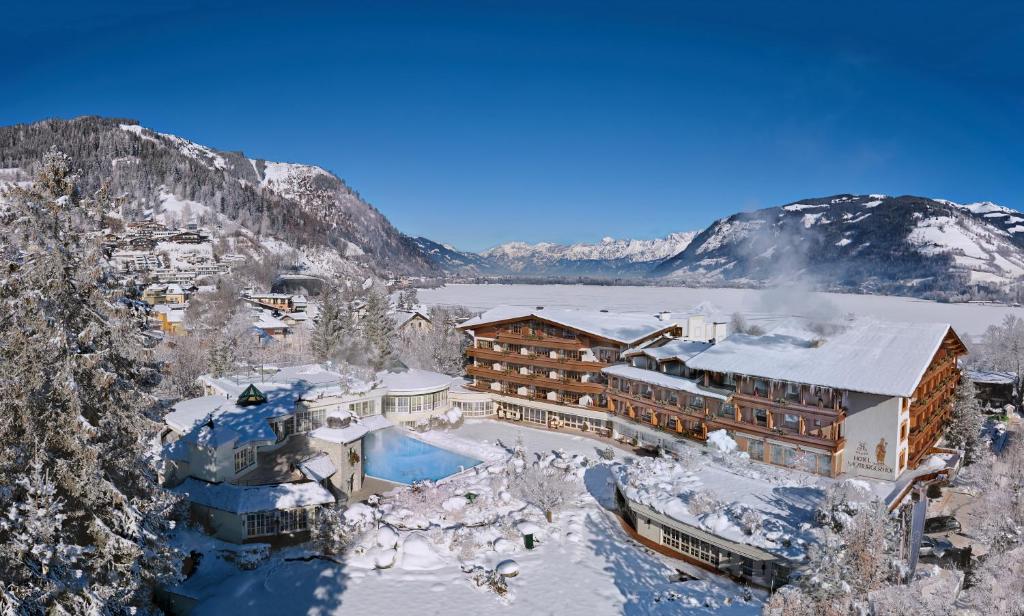 Salzburgerhof Wellness is a luxurious family-run spa, golf and pleasure hotel located in the beautiful location of Zell am See. This 5-star hotel offers a unique holiday experience with its splendid natural landscape, elegant country-style suites equipped with all amenities, and excellent gourmet dishes served with top-quality wines. The hotel also offers a green fee discount of 30% at the Zell am-See-Kaprun Golf Course (36 holes) and 34 other courses in Salzburg and Tyrol. The Salzburgerhof features a magical garden park with a pool, natural swimming pond, underground "Sole-Dome" filled with salt from the Dead Sea, extensive range of saunas, steam baths, massages and professional treatments offered by its legendary "wellness palace". The modern indoor golf course is available for all golf players to enjoy. Moreover, the hotel has its own private beach on Lake Zell which is just 500 metres away.
Pros:
– Luxurious accommodations equipped with
Five Star Hotels in Downtown Salzburg Austria
Downtown Salzburg Austria has a great selection of luxury five-star hotels, which offer premium services and amenities to their guests. These hotels are recognized for their top-notch hospitality, lavish rooms, and convenient location in the heart of the city.
Hotel Krallerhof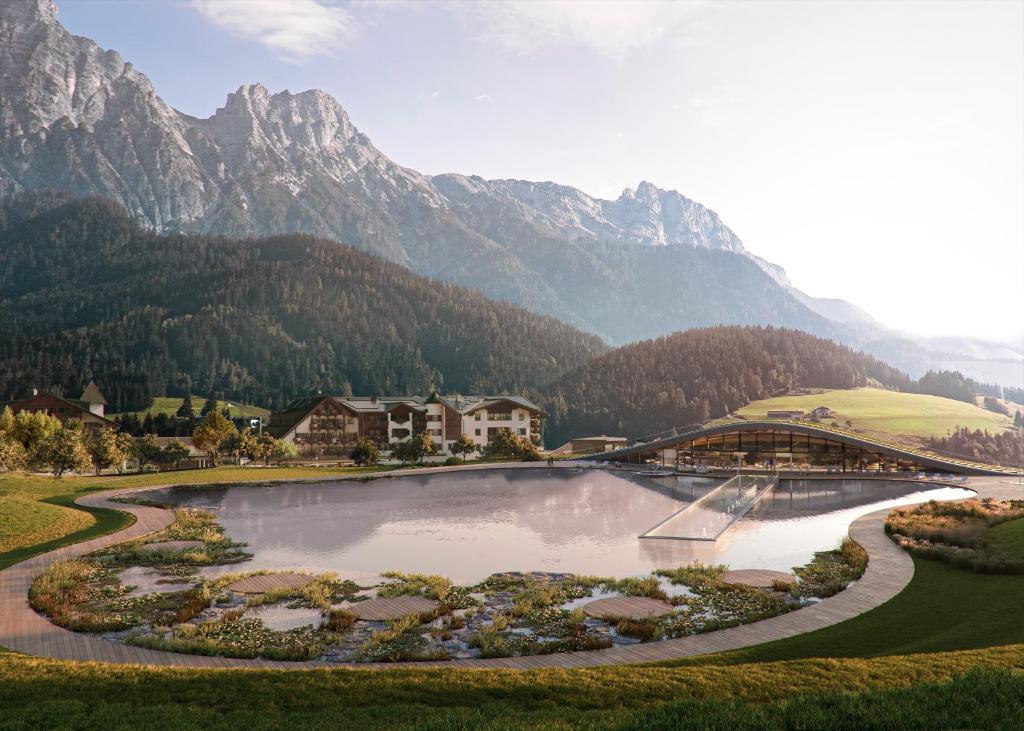 The Krallerhof is a luxurious 5-star superior hotel situated in an idyllic setting, atop a sunny plateau in Leogang. The hotel boasts a sprawling 2,500 m² spa and fitness area – Refugium – replete with different saunas, like the family sauna, hot tubs, private spas, nude pools among others. A large selection of beauty and massage treatments are provided to guests along with professional child care services for parents traveling with kids. Additionally, the hotel has an indoor pool combined with a seasonal heated outdoor pool. The spacious guest rooms offer scenic views from the balcony and are equipped with modern amenities that include minibars and DVD players. Besides skiing during winter on their private ski lift or booking lessons at their ski school, summer visitors can enjoy free mountain bike hire, play tennis or squash while taking guided hikes on various occasions each week.
Pros:
– Large spa area
– Professional child care services available
– Modern guest rooms with balconies
–
Hotel Goldener Hirsch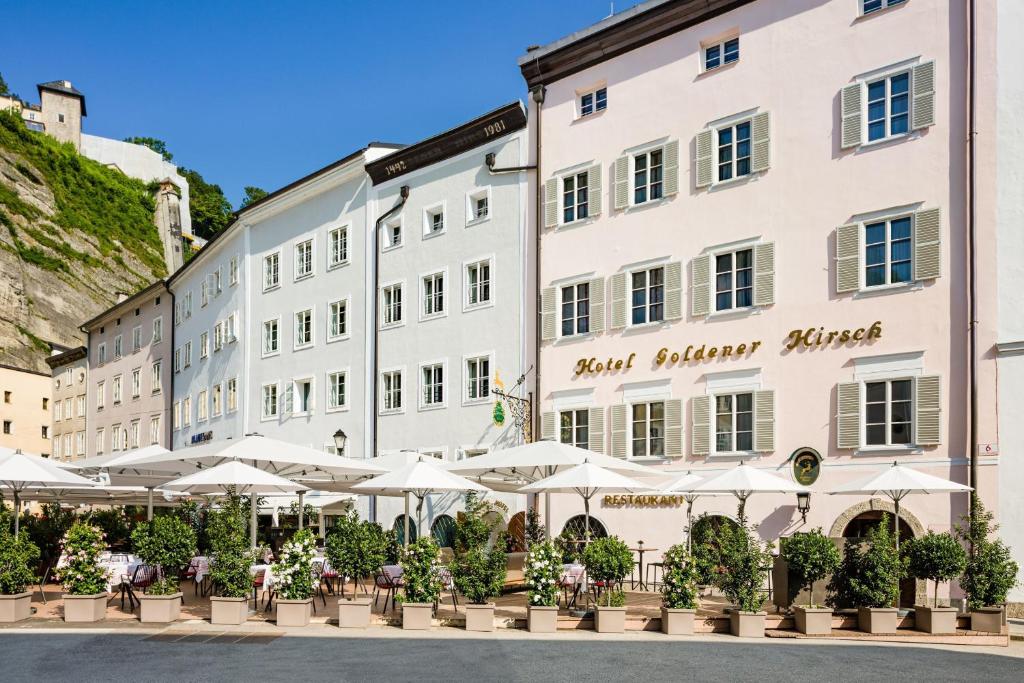 Hotel Goldener Hirsch – a Luxury Collection Hotel, Salzburg is a traditional luxury hotel located in the heart of Salzburg's Old Town. This historic building from the 15th century offers free WiFi throughout the property, and its classic Austrian-style rooms are furnished with antiques and handmade furniture. The non-smoking hotel features two restaurants that serve Austrian and international cuisine, as well as a bar that serves a wide range of drinks in an elegant setting. Guests can also take advantage of the library and computer available for use free of charge. Located directly opposite Festival Hall and just steps away from Mozart's Birthplace, this hotel provides easy access to all major sights in Salzburg.
– Centrally located in Salzburg's Old Town
– Free WiFi throughout the property
– Two on-site restaurants offer traditional Austrian dishes
– Elegant bar with a wide selection of drinks
– Library and computer available for guests to use free of charge
Hotel Bristol Salzburg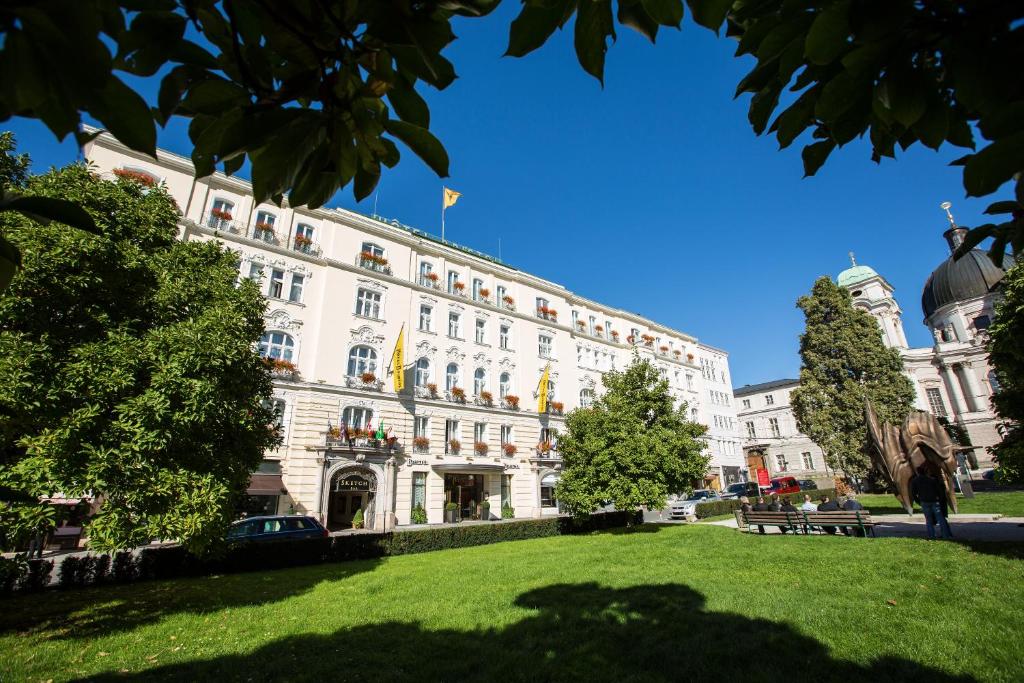 Hotel Bristol Salzburg is a historic 5-star boutique hotel located in the heart of Salzburg, just steps away from Mirabell Palace and the Festival Houses. This family-run hotel has been operated for 3 generations and offers free WiFi throughout the property. The rooms are spacious and elegant with individual furnishings, air-conditioning, and overlook the city. Guests can enjoy complimentary non-alcoholic drinks from the minibar, which is restocked daily. The award-winning Polo Lounge restaurant serves international and Austrian cuisine while Sketch Bar and Lounge hosts regular piano evenings for guests to enjoy cocktails. Other amenities include valet parking, a concierge service, library, and booking massages in advance.
Pros:
– Located in the heart of Salzburg near major attractions
– Family-run for three generations
– Award-winning Polo Lounge restaurant
– Spacious and elegantly designed rooms with complimentary non-alcoholic drinks
– Regular piano evenings at Sketch Bar and Lounge
Salzburg 5 star Hotels Information
| | |
| --- | --- |
| 🛎️ 5 star Hotels in Salzburg | 9 |
| 💵 Hotels Prices From | $136 |
| 💵 Highest price | $1615 |
| 🥇 Average Review Score | 9/10 |
| 🛏️ Average number of Rooms | 79 |
Top 5 star hotels in Salzburg
| | |
| --- | --- |
| Der Lärchenhof | 9.4/10 |
| Kaiserhof Superior | 9.4/10 |
| Hotel Goldener Hirsch | 9.4/10 |
| Salzburgerhof Wellness- | 9.2/10 |
| Hyperion Hotel Salzburg | 9/10 |
FAQ
What are the best luxury hotels in Salzburg, Austria?
Salzburg boasts a variety of luxurious hotel choices. Among them, Hotel Sacher Salzburg is an iconic 5-star hotel located near the river with stunning views of Salzburg's Old Town. Another great option is Schloss Mönchstein Hotel, a castle-like hotel set on top of a hill providing panoramic views of the city and mountain range. Additionally, Bristol Hotel Salzburg provides modern elegance combined with historic charm in its prime location near Mirabell Palace and Gardens.
Is it worth staying at a luxury hotel in Salzburg?
Absolutely! Staying at one of these luxurious hotels offers more than just comfortable rooms. It provides guests with an unforgettable experience and exceptional service they will cherish for years to come. From personalized concierge service to unique amenities such as Michelin-starred restaurants or rooftop terraces boasting breathtaking views, luxury hotels offer exclusivity that cannot be found elsewhere.
What kind of amenities can I expect from a luxury hotel in Salzburg?
Luxury hotels are known for offering exclusive amenities such as spas featuring world-class treatments, gourmet dining experiences led by famous chefs or rooftop bars overlooking the city skyline. Some hotels even offer complimentary chauffeur-driven cars for guests' convenience or private tours customized according to their preferences.
What are some popular attractions near Luxury Hotels in Salzburg?
Luxury hotels in Salzburg often provide convenient access to many popular attractions such as Hohensalzburg Castle, Mozart's Birthplace Home Museum or Mirabell Palace and Gardens which all provide rich history lessons alongside stunning architecture and breathtaking scenery.
How much does it cost to stay at a Luxury Hotel in Salzburg?
Prices vary depending on factors such as level of service offered, time of year visited and room availability but generally start around €300 per night with suites ranging up into thousands per night during peak tourist seasons (summer and Christmas). However, luxury hotels enable travelers to create unforgettable memories and experiences worth every penny spent.
Popular Five Star Hotels destinations