If you're looking for an upscale place to stay in New Orleans, look no further than the opulent 5-star hotels scattered around the city. These luxury accommodations offer a range of lavish amenities and exceptional service, ensuring that your time in NOLA will be nothing short of extraordinary.
Whether you're seeking a riverside retreat or a grand historic hotel, there are plenty of options to choose from. Many of these top-rated properties boast stunning architecture and decor that reflects the city's rich history and culture. Indulge in world-class dining, luxurious spa treatments, and state-of-the-art fitness facilities during your stay.
Beyond their impeccable offerings indoors, most 5-star hotels in New Orleans are located within walking distance to some of the city's key attractions like Bourbon Street and Jackson Square. With their ideal locations paired with luxurious amenities, these lodgings make for an unforgettable trip filled with indulgence and sophistication.
Best Five Star Hotels in New Orleans
The Ritz-Carlton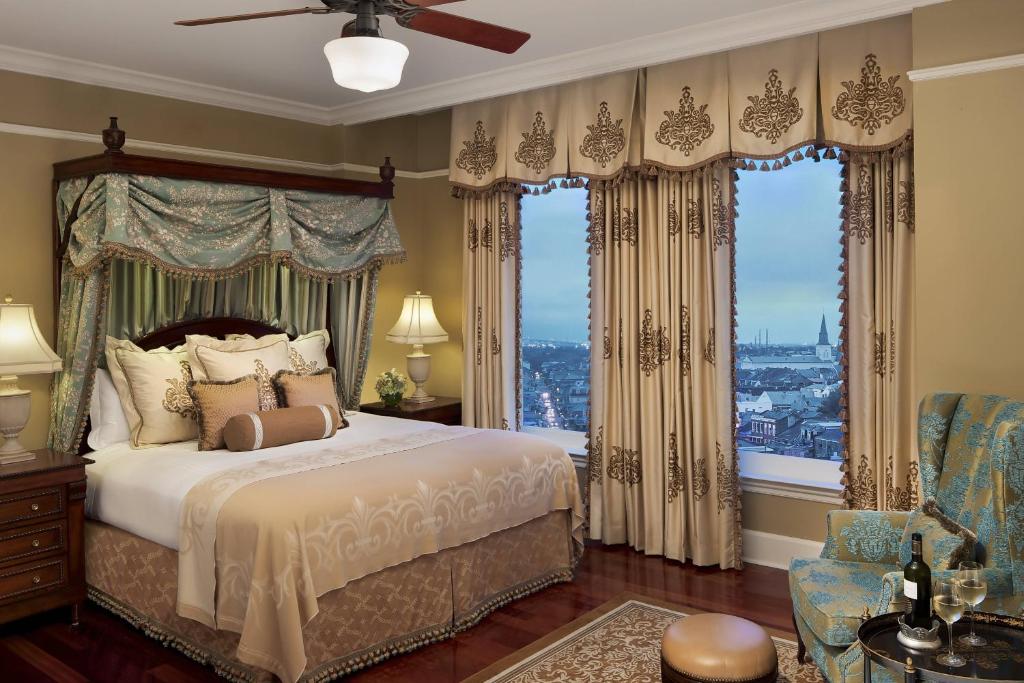 Located at the edge of the French Quarter, The Ritz-Carlton is a luxury hotel that offers guests a truly indulgent experience. With onsite dining options and a destination spa offering over 100 treatments, this hotel is perfect for anyone looking to relax and unwind. The rooms are spacious and come with fully-stocked minibars and iPod docking stations. Guests can enjoy 24-hour room service, complimentary overnight shoeshine service, and overnight laundry service. The 25,000-square-foot spa and fitness centre has everything you need to stay fit while on vacation. M bistro serves upscale Cajun and Caribbean cuisine for breakfast, lunch, and dinner; while The Davenport Lounge offers afternoon tea and evening cocktails accompanied by live jazz on select evenings. Pros:
– Onsite destination spa offering more than 100 treatments
– Upscale dining options serving local cuisine
– Complimentary overnight shoeshine service
– Live jazz music in the lounge on select evenings
– Close proximity to
Four Seasons New Orleans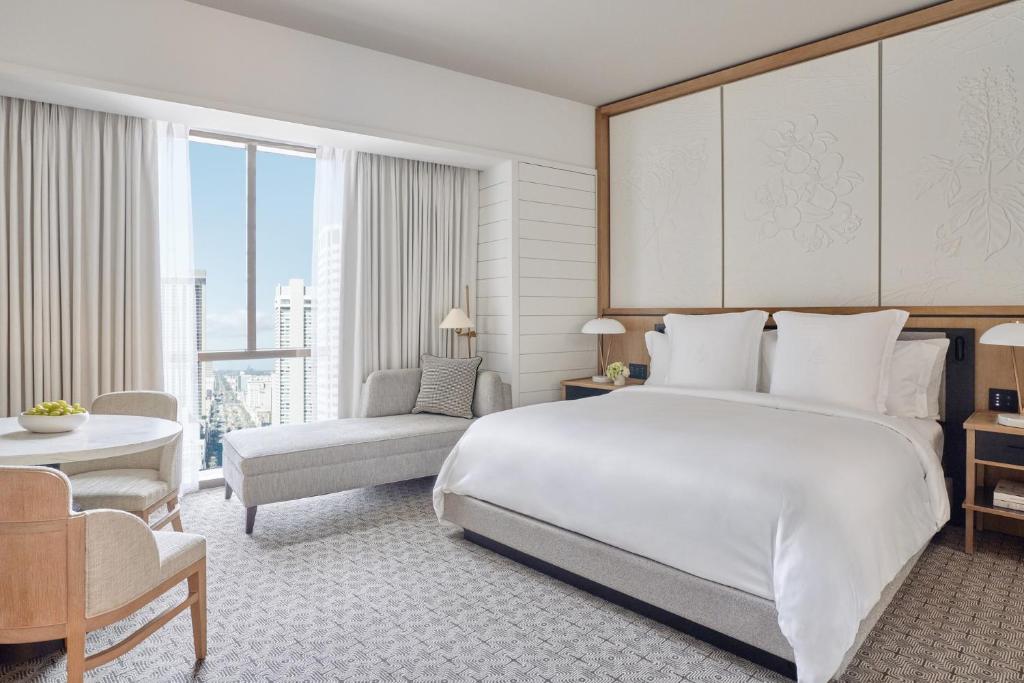 Opened in June 2021, Four Seasons New Orleans is a luxurious hotel in the heart of the vibrant city of New Orleans. This property boasts a range of amenities including a fitness centre, restaurant, bar and garden, as well as concierge service and terrace for guests to enjoy. With a 24-hour front desk, airport transfers and free WiFi available throughout the hotel, Four Seasons New Orleans provides impeccable service to its guests. The hotel also features a business centre with access to newspapers, fax machine and photocopier along with an ATM on-site for added convenience. Situated close to popular attractions such as Bourbon Street and St Louis Cemetery No 1, this property is an excellent choice for those seeking both comfort and convenience.
– Convenient location near top attractions
– Luxurious amenities including fitness centre and restaurant
– High-quality service with concierge service available
– Business centre equipment available on-site
– Free WiFi throughout the property
NOPSI Hotel New Orleans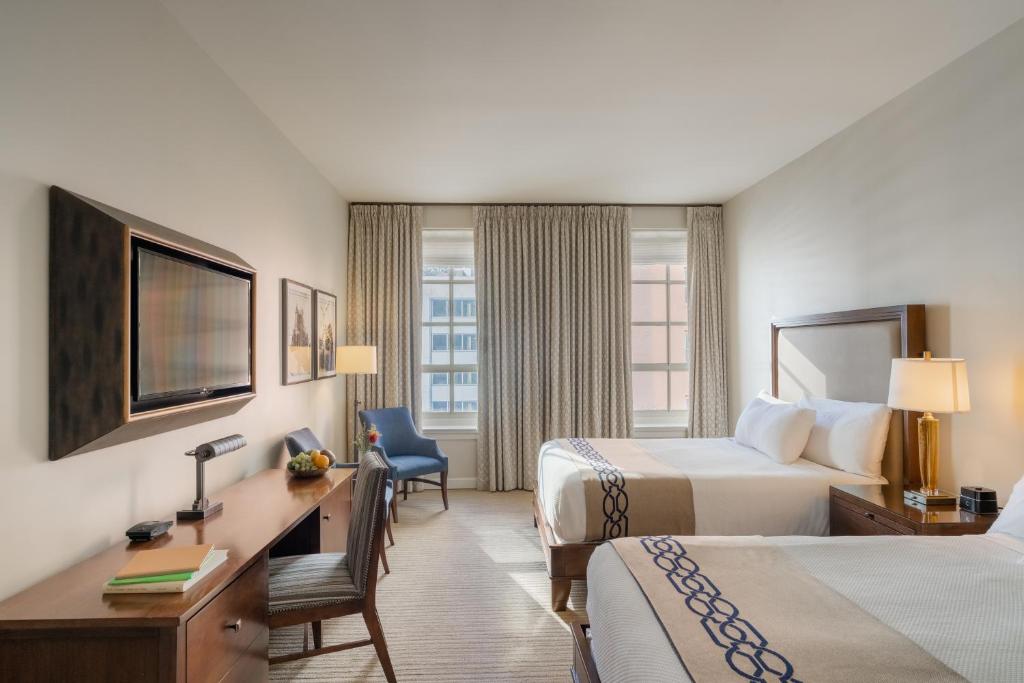 NOPSI Hotel New Orleans is a luxury hotel opened in May 2017, offering pet-friendly accommodations with free WiFi and an outdoor pool. The property is within walking distance of the French Quarter where guests can enjoy local attractions such as Bourbon Street and Mercedes-Benz Superdome. Each room at NOPSI Hotel features a flat-screen TV with satellite channels, private bathroom, and some units include a seating area. Additional amenities include bike hire, car hire, sun terrace, and an on-site restaurant.
Other places to stay in New Orleans
Luxury 5 Star Hotels in New Orleans
New Orleans is a city known for its rich history, vibrant culture and unique architecture. The luxury 5-star hotels in New Orleans offer guests the opportunity to experience all of this in style with impeccable service, luxurious accommodations, fine dining and world-class amenities.
1 and 2 BR Private Condos Steps Away From French Quarter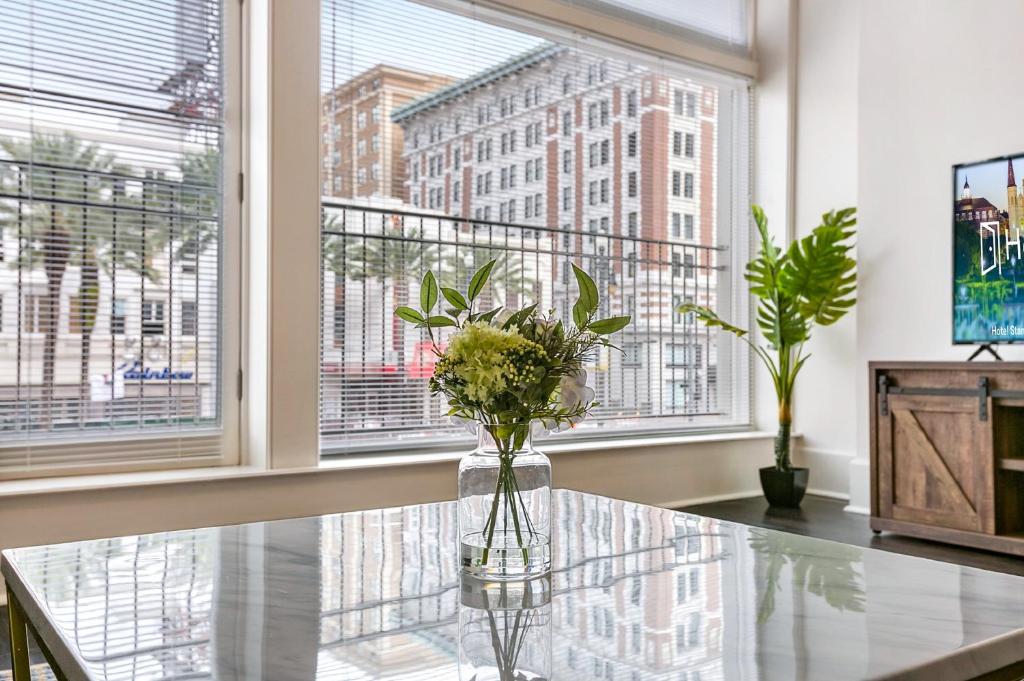 1 and 2 BR Private Condos Steps Away From French Quarter is a newly opened hotel in the heart of New Orleans offering complimentary Wi-Fi throughout the property and a terrace. The hotel features family rooms with modern amenities including air conditioning, flat-screen TV with cable channels, kitchen, dining area, private bathroom with free toiletries and seating area. The hotel provides some rooms with city views while every room is equipped with bed linen and towels. This centrally located hotel places you near top attractions such as Mercedes-Benz Superdome, Morial Convention Center, Touro Synagogue, Union Station and Uptown New Orleans Historic District within just a few kilometers. Some of the benefits of staying here include fully equipped kitchenettes available in each room to cook your own meals or enjoy complimentary continental breakfast option served daily at the property's restaurant. Free coffee service throughout the day adds an extra touch of convenience for guests on-the-go. Enjoy downtime on-site at the terrace or explore nearby restaurants serving local cuisine like Po'boy sandwiches or indulge in beignets from Cafe Du Monde only steps away from this hotel's doorstep.
New Orleans 5 star Hotels Information
| | |
| --- | --- |
| 🛎️ 5 star Hotels in New Orleans | 4 |
| 💵 Hotels Prices From | $200 |
| 💵 Highest price | $1727 |
| 🥇 Average Review Score | 8.7/10 |
| 🛏️ Average number of Rooms | 268 |
Top 5 star hotels in New Orleans
| | |
| --- | --- |
| The Ritz-Carlton | 8.8/10 |
| Four Seasons New Orleans | 8.8/10 |
| NOPSI Hotel New Orleans | 8.7/10 |
| 1 and 2 BR Private Condos Steps Away From French Quarter | 8.4/10 |
FAQ
What are the top luxury hotels to stay in while visiting New Orleans?
New Orleans is home to some of the best luxury hotels in the country. Some of the most popular ones include The Ritz-Carlton, Windsor Court Hotel, and Hotel Monteleone. Each of these hotels offers a unique and luxurious experience for its guests. The Ritz-Carlton boasts stunning views of the Mississippi River and has an on-site spa, while Windsor Court Hotel boasts an award-winning restaurant and rooftop pool, and Hotel Monteleone has been a landmark in New Orleans since 1886 with its classic elegance.
What amenities can I expect from luxury hotels in New Orleans?
Luxury hotels in New Orleans offer an array of amenities that ensure a comfortable and enjoyable stay for their guests. These include on-site spas, fitness centers, fine dining restaurants, concierge services, valet parking, room service, rooftop pools with stunning views, high-speed internet access and more.
Which neighborhoods have the best luxury hotel options?
There are several neighborhoods in New Orleans where you can find luxurious accommodations including French Quarter, Central Business District (CBD), Garden District/Uptown area. In French Quarter you can immerse yourself into iconic culture of New Orleans surrounded by upscale restaurants and bars while staying at charming boutique hotel or at grand European-style residence. CBD is good choice if you prefer modern style building with top-notch facilities close to major attractions like Mercedes-Benz Superdome or Harrah's Casino. Garden District is known for gracious Southern mansions offering tranquility away from hustle & bustle but still remaining close enough to enjoy best features NOLA has on offer.
Are there any special events or festivals happening near luxury hotels in New Orleans?
New Orelans hosts many special events throughout year which makes this city perfect place all year round no matter what your interests are – foodies will love indulging at Jazz & Heritage Festival or taking part in Restaurant Week, while music lovers can attend the Essence Festival or French Quarter Festival. Additionally, there are many parades and celebrations during Mardi Gras season that take place around luxury hotels in various neighborhoods throughout the city.
What is the approximate price range for luxury hotels in New Orleans?
The price range of luxury hotels in New Orleans varies depending on location, amenities, time of year and availability. Generally speaking you can expect to pay $250 to $500 per night for a luxurious hotel room. However, some accommodations like suites with river views at Ritz-Carlton or presidential suite at Windsor Court Hotel may cost upwards of $1000 per night especially during peak tourist season. It's recommended to book your stay well in advance to secure desired room at best possible rate.
Popular 5 Star Hotels destinations