Welcome to the enchanting world of luxurious accommodations in Michigan, the Great Lakes State! If you're seeking an indulgent escape where opulence meets natural beauty, look no further than the 5-star hotels that dot this magnificent region. From lavish resorts nestled amidst picturesque landscapes to sophisticated urban sanctuaries, Michigan offers an array of exquisite options for discerning travelers yearning for a truly extravagant experience.
Discover pure elegance and unmatched hospitality as you immerse yourself in the grandeur of Michigan's finest establishments. Prepare to be enchanted by the state's rich history and culture while basking in unparalleled luxury. Whether you find solace in serene spa retreats or prefer being surrounded by vibrant city life, Michigans's top-tier hotels are sure to exceed your expectations. With impeccable attention to detail, personalized service, and a plethora of amenities tailored for those accustomed to the finer things in life, these 5-star havens are meticulously designed with utmost care and passion.
Get ready to embark on a remarkable journey through some of Michigan's most captivating destinations adorned with extraordinary hospitality and refined extravagance. Let their allure sweep you off your feet as we take a closer look at these awe-inspiring retreats that redefine what it means to stay in style.
Best Five Star Hotels in Michigan
The H Hotel (Midland)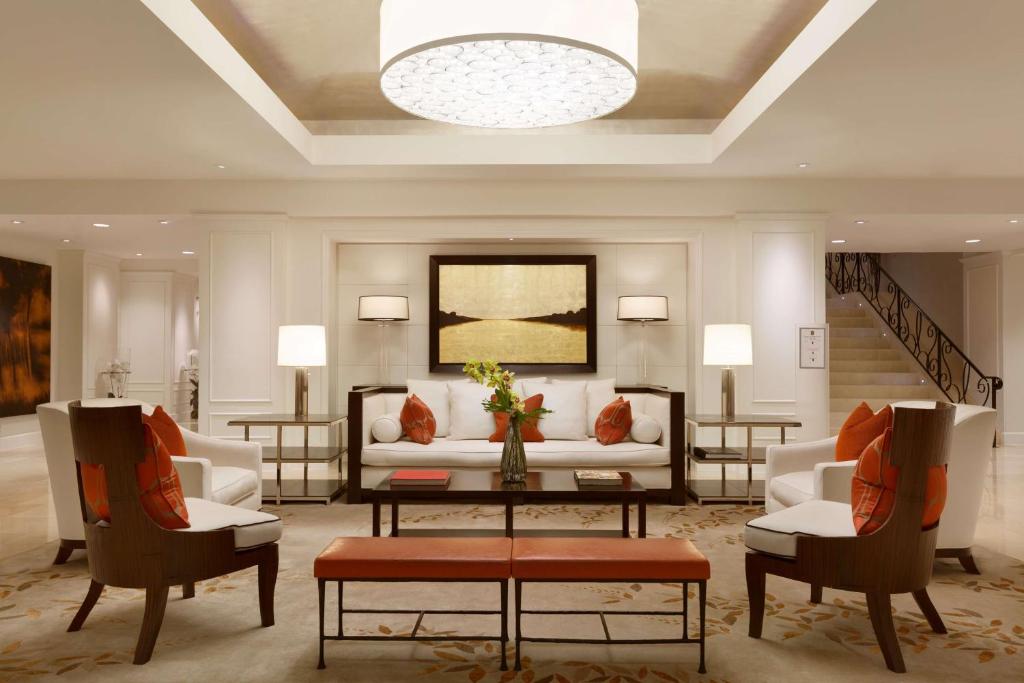 The H Hotel is a luxury 5-star hotel located in downtown Midland, Michigan, just minutes away from Dow Gardens. This elegant hotel offers a range of amenities to ensure a comfortable and enjoyable stay for its guests. The guest rooms are well-appointed and feature modern amenities such as free Wi-Fi, upgraded bedding, cable TV, work desks, and coffee makers. With an indoor pool and a state-of-the-art fitness center, guests can relax and rejuvenate during their stay. The hotel also provides concierge services and free on-site parking for added convenience. Dining options at the H Hotel include the upscale ONe Eighteen restaurant, which offers delicious fine dining experiences, as well as the casual Café Zinc and Bar Oxygen O2. Whether you are in Midland for business or pleasure, the H Hotel promises a luxurious and unforgettable experience.
– Prime location in downtown Midland near Dow Gardens
– Free Wi-Fi throughout the hotel
– Indoor pool for relaxation
– Modern fitness center with state-of-the-art equipment
– Delicious dining options on-site
Roam Inn (Munising)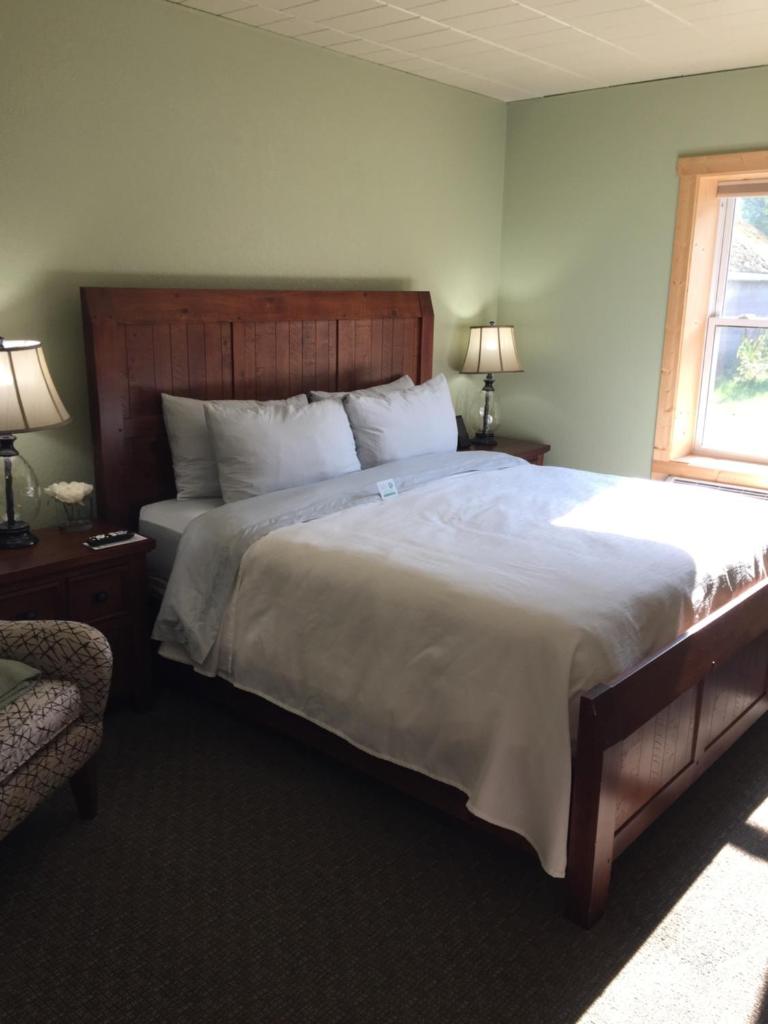 Located in Munising, Roam Inn is a luxurious 5-star hotel that offers guests an exceptional stay. Situated just 37 km from Eben Ice Caves, this hotel provides accommodation with a shared lounge, free private parking, a restaurant, and a bar. The hotel boasts free WiFi throughout the property and features a 24-hour front desk and a business center for added convenience. With family rooms available, each spacious guest room at Roam Inn is elegantly furnished with modern amenities including air conditioning, a flat-screen TV, and a wardrobe. Some rooms even offer balconies to enjoy stunning views of the surroundings. The private bathrooms are well-appointed with showers and complimentary toiletries. Guests can also expect comfortable bedding along with fresh linens and towels provided by the hotel. To unwind and relax in style, Roam Inn offers a sun terrace where guests can soak up the sun's rays. For those traveling by plane, Sawyer International Airport is conveniently located approximately 82 km away from the hotel.
Pros:
– Excellent location near Eben Ice Caves
– Beautifully furnished rooms with modern amenities
– Free parking and WiFi
– Friendly staff available around-the-clock
– Sun terrace for relaxation
The Detroit Club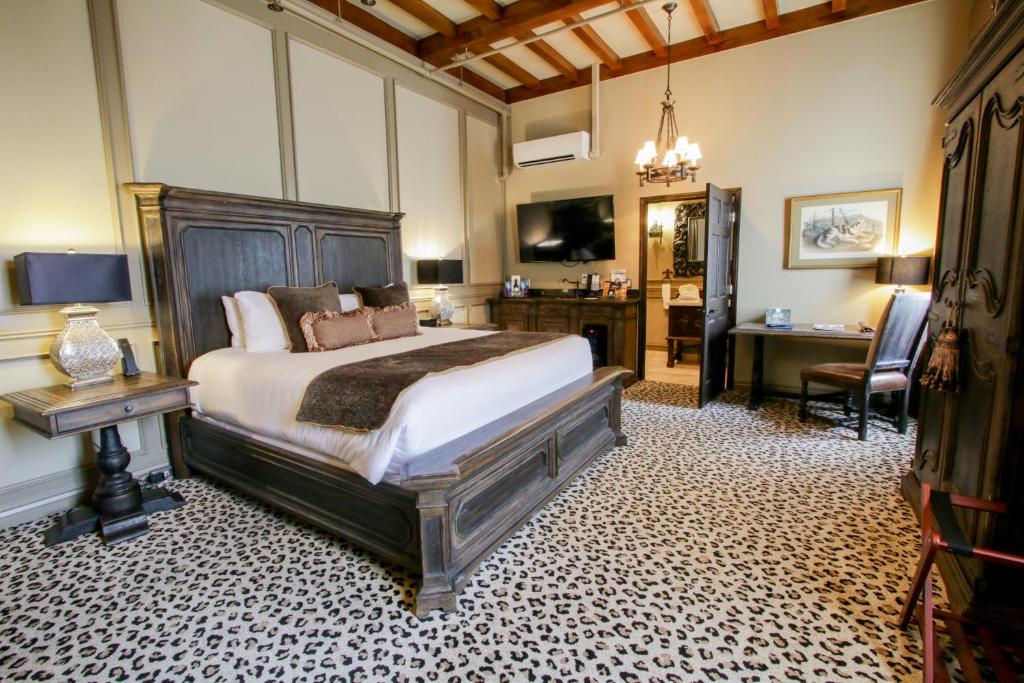 Located in the heart of Detroit, just a 3-minute walk from the TCF Convention Centre, The Detroit Club is a luxurious 5-star hotel that offers an unforgettable stay. Each air-conditioned room features complimentary WiFi and mesmerizing city views. The hotel boasts an exquisite spa, complete with a salt-water jacuzzi in the Grotto, dry saunas, lounges, and a state-of-the-art fitness center. Guests can indulge in pampering body, skin, and nail treatments or seek recommendations from the knowledgeable staff at the reception desk. The rooms are elegantly designed with a wardrobe, flat-screen TV, and a seating area for ultimate comfort. The Grille Room captures the historic charm of The Detroit Club and serves French-inspired American cuisine accompanied by an extensive wine list. In addition to these fabulous amenities, guests can enjoy billiards on-site.
– Prime location in downtown Detroit
– Stunning city views from each room
– Luxurious spa facilities including salt-water jacuzzi
– Exquisite French inspired American cuisine at The Grille Room
– Billiards available for entertainment
Other places to stay in Michigan
Luxury 5 Star Hotels in Michigan
Luxury 5 star hotels in Michigan offer the perfect blend of elegance, comfort, and impeccable service. From stunning lakefront resorts to historic landmarks, these hotels provide a haven of luxury for discerning travelers seeking an unforgettable experience in the heart of the Great Lakes region.
MGM Grand Detroit (Detroit)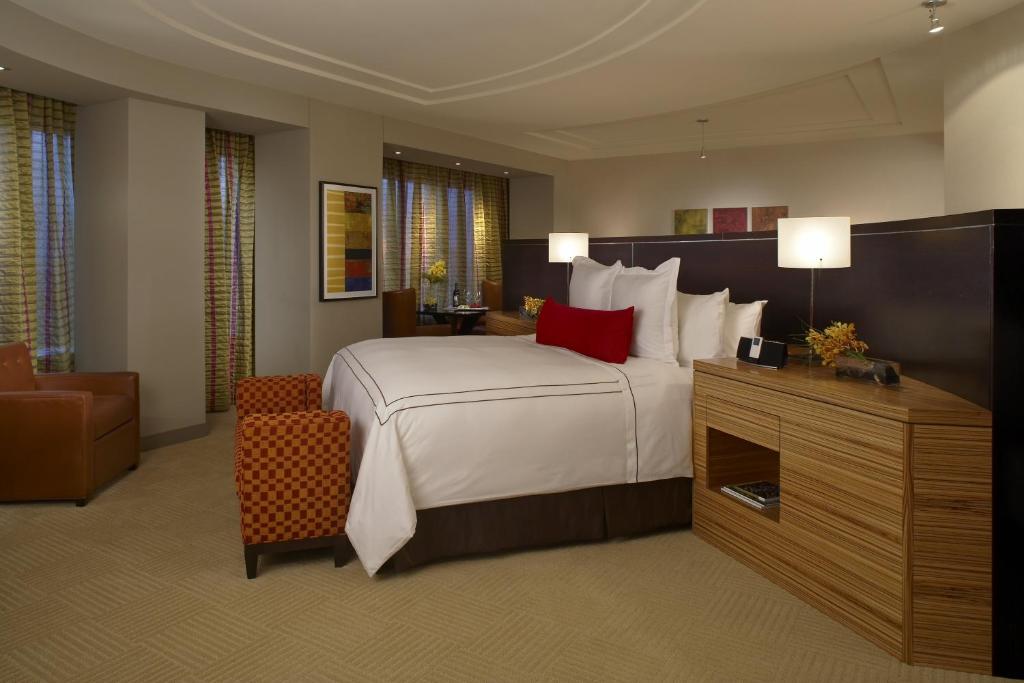 Located in Detroit, Michigan, the MGM Grand Detroit is a luxury 5-star hotel that offers unparalleled amenities and entertainment options. The hotel features an on-site casino where guests can try their luck, as well as a Topgolf lounge for those who enjoy golfing. The luxurious spa provides a range of treatments and services, while the indoor infinity-edge pool allows guests to relax and unwind. Each room at the MGM Grand Detroit is equipped with a 50-inch flat-screen HDTV with premium cable channels and complimentary bottled water. The private bathrooms offer spa-inspired showers with rainfall shower heads. Additionally, the hotel has a modern fitness center, business center, and on-site shops for guests' convenience. Dining options include D.PRIME Steakhouse which offers a delectable dinner menu of steaks, meats, and seafood selections, as well as TAP for a more laid-back meal option. In-room dining services are also available.
– On-site casino for entertainment
– Topgolf lounge for golf enthusiasts
– Luxurious spa with various amenities
– Indoor infinity-edge pool for relaxation
– Multiple dining options including D.PRIME Steakhouse and TAP
Goldberry Woods- A Modern Farm Resort (Union Pier)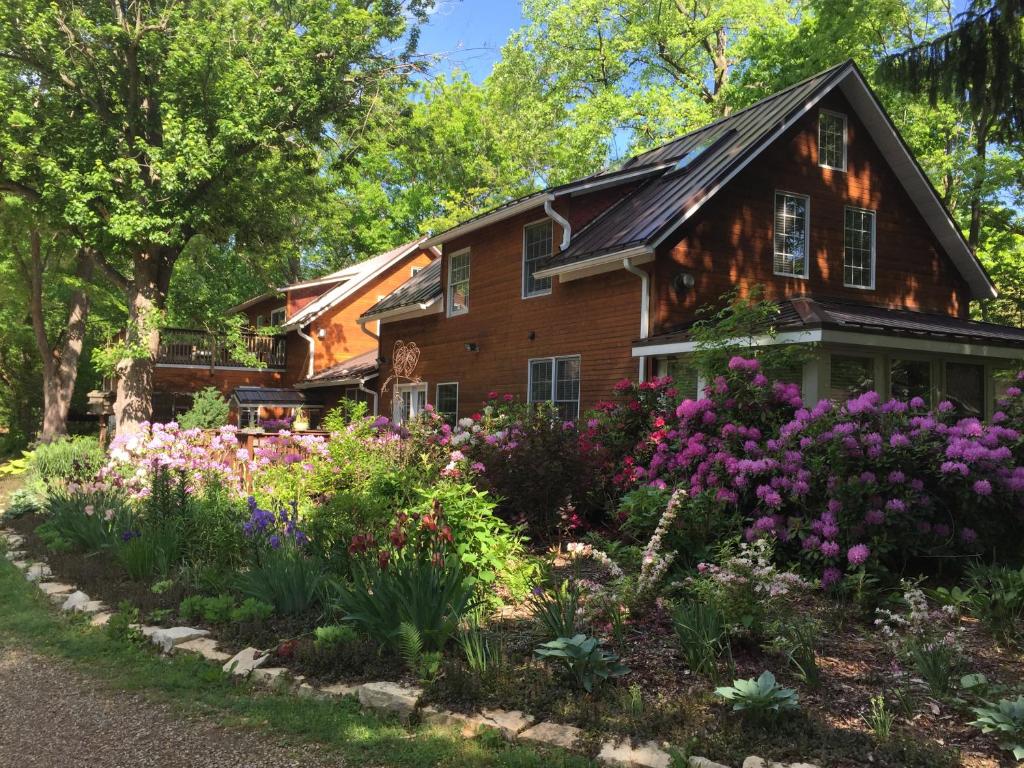 Goldberry Woods Bed and Breakfast and Cottages is a charming modern farm resort located in Union Pier. Nestled on 30 acres of woods, trails, and a river, this bed and breakfast offers a unique experience for guests. The property is just 1 mile away from the beautiful beaches and breathtaking sunsets. Each of the 8 bedrooms in this bed & breakfast features a private bathroom with a luxurious two-person spa bath, locally-made artisan bed frames, a cozy fireplace, and a flat-screen TV with satellite channels. The cottages provide stunning views of the surrounding nature, along with an enclosed porch, barbecue facilities, and another fireplace. One standout feature of Goldberry Woods is its commitment to utilizing farm-to-table ingredients sourced from their own fields or nearby farms. Guests can enjoy fresh local wines and snacks at the property's evening social hour. A communal lounge area with comfortable couches, plush seating options, and board games provides the perfect space for relaxation. For those looking to explore the area further, complimentary kayaks, canoes, and bicycles are available for use by guests. With its convenient location just 15 minutes' drive from Michigan City and within reasonable distance from South Bend and downtown Chicago (60-90 minutes), Goldberry Woods Bed and Breakfast offers an idyllic getaway surrounded by natural beauty.
Pros:
– Stunning location nestled on 30 acres of woods with trails
– Luxurious accommodations featuring private bathrooms with spa baths
– Farm-to-table dining experience using local ingredients
– Complimentary use of kayaks, canoes, bicycles for active guests
– Conveniently located near beaches as well as Michigan City,and Chicago
The Neighborhood Hotel Grand Beach (New Buffalo)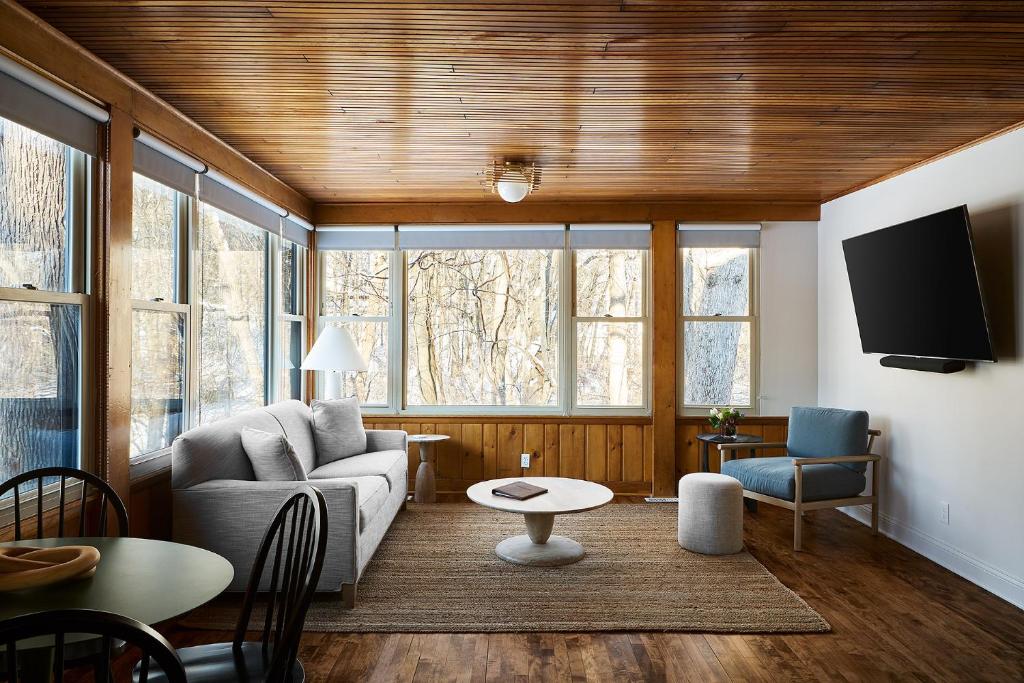 The Neighborhood Hotel Grand Beach, located in New Buffalo, is a newly opened 5-star hotel offering luxurious accommodations. Guests can enjoy a range of amenities including a shared lounge, terrace, and seasonal outdoor swimming pool. The hotel boasts air-conditioned rooms with free WiFi and private bathrooms. For entertainment, guests can engage in activities such as table tennis. Family rooms are available to accommodate larger groups. Each room is equipped with a flat-screen TV and some even offer balconies for breathtaking views. The nearest airport, South Bend Regional Airport, is located 62 km away.
Pros:
– Newly opened luxury hotel
– Convenient location in New Buffalo
– Seasonal outdoor swimming pool
– Free WiFi throughout the property
– Family-friendly accommodations
Michigan 5 star Hotels Information
| | |
| --- | --- |
| 🛎️ 5 star Hotels in Michigan | 6 |
| 💵 Hotels Prices From | $240 |
| 💵 Highest price | $1464 |
| 🥇 Average Review Score | 8.8/10 |
| 🛏️ Average number of Rooms | 63 |
Top 5 star hotels in Michigan
| | |
| --- | --- |
| Goldberry Woods- A Modern Farm Resort (Union Pier) | 9.3/10 |
| The H Hotel (Midland) | 9.2/10 |
| Roam Inn (Munising) | 9.1/10 |
| The Neighborhood Hotel Grand Beach (New Buffalo) | 9/10 |
| The Detroit Club | 8.6/10 |
FAQ
1. Can you recommend any luxury 5-star hotels in Michigan?
Certainly! Michigan offers a range of luxurious 5-star hotels that cater to different preferences. The Townsend Hotel in Birmingham is renowned for its elegant decor and personalized service, making it a top choice for discerning travelers. For those looking for waterfront views, the Grand Hotel on Mackinac Island provides a charming and opulent experience with its historic architecture and stunning surroundings. Another notable option is the MotorCity Casino Hotel in Detroit, which combines upscale accommodations with a vibrant casino atmosphere.
2. Do these luxury hotels offer any special amenities or services?
Absolutely! Luxury 5-star hotels in Michigan go above and beyond to ensure an exceptional stay for their guests. Many of them feature world-class spas where you can indulge in rejuvenating treatments and wellness therapies. Additionally, most offer exquisite dining options ranging from fine dining restaurants to cozy cafes serving gourmet cuisine prepared by renowned chefs. Fitness centers, swimming pools, concierge services, complimentary Wi-Fi, and valet parking are some other amenities commonly found at these establishments.
3. How can I make reservations at these luxury hotels?
Making reservations at luxury 5-star hotels in Michigan is generally straightforward. Most hotels have their own dedicated websites where you can book directly online by selecting your desired dates and room type. Alternatively, you may also contact the hotel's reservation team via phone or email to inquire about availability and secure your booking.
4. Are there any popular attractions located near these luxury hotels?
Yes, many of Michigan's luxury 5-star hotels are strategically located near popular tourist attractions for guests' convenience. If you're staying at one of the downtown Detroit properties like The Westin Book Cadillac or MGM Grand Detroit Hotel & Casino, attractions such as the Detroit Institute of Arts, Comerica Park (home to the Detroit Tigers), and Greektown Casino are just steps away. The Grand Hotel on Mackinac Island offers easy access to attractions like Fort Mackinac and the beautiful Arch Rock, while The Townsend Hotel in Birmingham is situated close to high-end shopping destinations and fine dining establishments.
5. Do these luxury hotels offer any transportation services?
Yes, many luxury 5-star hotels in Michigan provide transportation services for their guests. Most offer complimentary shuttle services within a certain radius, allowing you to explore nearby attractions or travel to popular areas without worrying about parking or navigation. Additionally, these hotels often have partnerships with trusted car rental companies and can assist in arranging private transfers or chauffeur services upon request.
Popular 5 Star Hotels destinations