Welcome to the enchanting city of Cochin, India, where opulence and grandeur converge in the form of pristine 5-star accommodations. Nestled along the scenic Malabar Coast, Cochin boasts a rich cultural heritage that beautifully intertwines with its modern cosmopolitan vibe. A true haven for luxury seekers, this fascinating destination offers an array of majestic hotels that effortlessly combine traditional Indian hospitality with contemporary elegance.
Prepare to be mesmerized as you step into a world of unmatched extravagance and impeccable service. Immerse yourself in the warm ambience adorned with intricate architectural details and exquisite furnishings – a testament to the city's vibrant history. From palatial suites boasting panoramic views of Cochin's charming backwaters to indulgent spa retreats designed to rejuvenate your senses, these 5-star establishments spare no expense in providing guests with an unforgettable experience.
Whether you're exploring Cochin's bustling streets or delving into its captivating past, rest assured that your stay at one of these luxurious havens will be nothing short of extraordinary. Indulge in authentic regional delicacies at their award-winning restaurants or unwind by soaking up the sun on their pristine private beaches. Let every moment be steeped in luxury as you embark on a remarkable journey through one of India's most extraordinary destinations – Cochin!
Best Five Star Hotels in Cochin
Spice Village – CGH Earth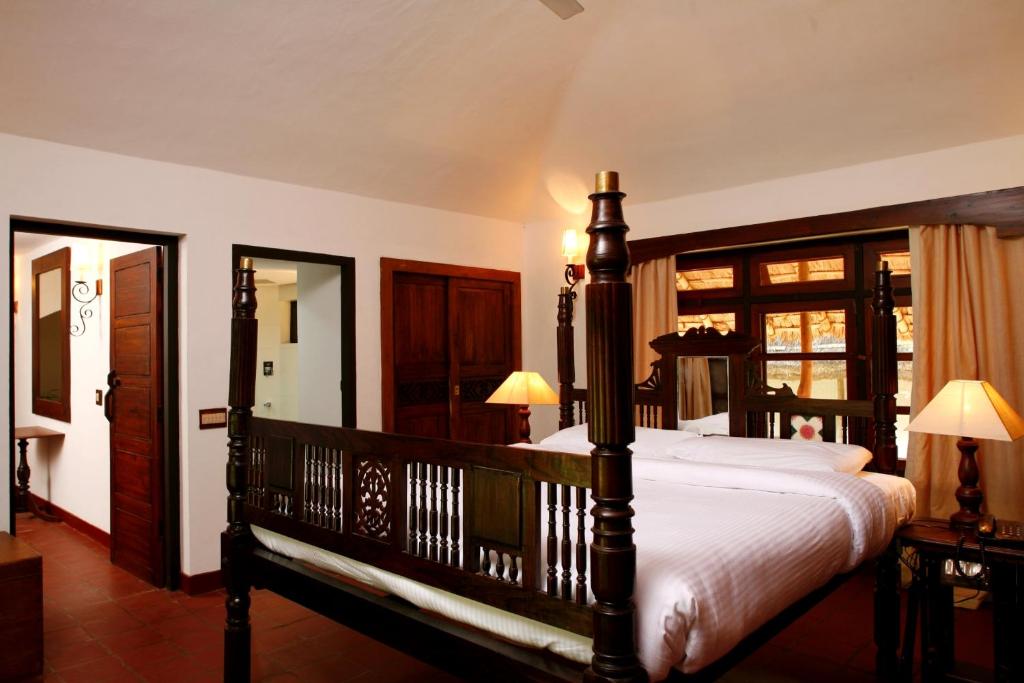 Located in Kerala, India, Spice Village – CGH Earth is a luxurious resort that offers guests an immersive experience in a traditional tribal village setting. The thatched-roof cottages provide a cozy and authentic atmosphere, complete with a minibar and private verandah overlooking fruit trees and herb beds. Guests can enjoy the outdoor pool, tennis court, and the expertise of skilled Ayurvedic doctors. The restaurant serves delicious Kerala cuisine infused with local spices, as well as Western dishes upon request. With its convenient location near transportation hubs and amenities such as free parking, billiards at Woodhouse Bar, tour desk services, laundry facilities, and airport shuttles (extra charge), Spice Village ensures that guests have everything they need for a memorable stay.
– Thatched-roof cottages offering an authentic tribal village experience
– Beautifully landscaped grounds with fruit trees and herb beds
– Outdoor pool and tennis court for leisure activities
– Skilled Ayurvedic doctors available to provide wellness treatments
– Convenient location near transportation hubs and amenities
Trident Cochin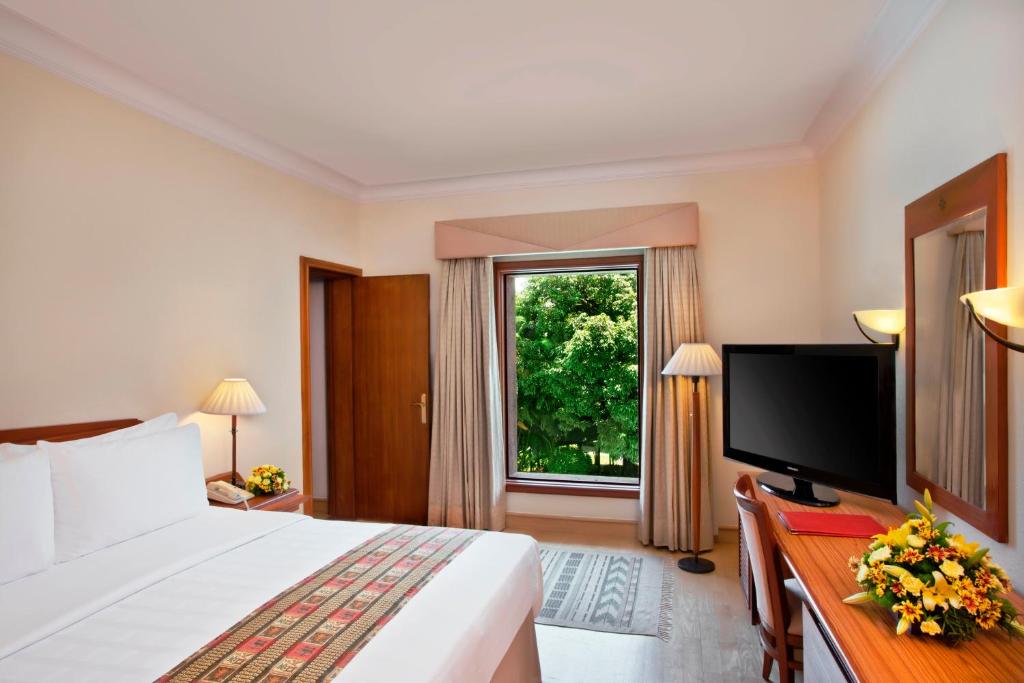 Trident Cochin is a luxurious 5-star hotel located on Willingdon Island. It offers an array of amenities including an outdoor pool, Ayurvedic spa treatments, and a fitness centre. The hotel features four on-site restaurants where guests can enjoy Indian and Continental dishes, as well as fresh seafood dinners. The air-conditioned guestrooms and suites offer views of the garden or pool and are equipped with satellite TV and minibar. Complimentary WiFi is available in all rooms, and suites also include a separate living room. The hotel is conveniently located just a 20-minute drive from Cochin's business district and railway station, while Cochin Airport is only a 50-minute drive away. Other facilities provided by Trident Cochin include a business centre, laundry services, car rentals, tour desk for arranging day trips, and a 24-hour front desk.
– Outdoor pool for relaxation
– Ayurvedic spa treatments for rejuvenation
– Four on-site restaurants offering diverse cuisine options
– Convenient location near the business district and airport
– Complimentary WiFi available in all rooms
Amritara Shalimar Spice Garden Resort & Spa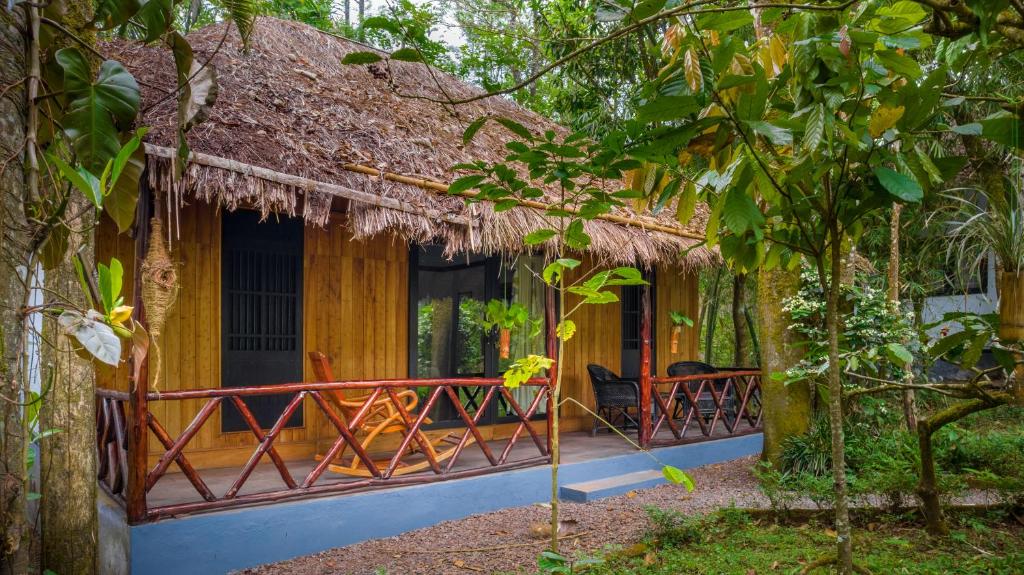 Located amidst the serene mountains of Thekkady, Amritara Shalimar Spice Garden Resort & Spa offers a truly enchanting experience. Surrounded by lush green spice plantations and with a mountain stream flowing through the property, this resort is perfect for those seeking tranquility. The resort features an outdoor pool and two dining options. The rooms and cottages at Shalimar blend European and Indian decor, providing a charming ambiance. Each accommodation boasts a terrace with garden views, as well as amenities such as tea/coffee making facilities and a minibar. Guests can indulge in delicious Indian and European dishes at Falling Leaves restaurant or enjoy drinks in the cozy atmosphere of The Red Lounge by the crackling fireplace. For relaxation, there is an Ayurvedic spa offering rejuvenating massages, as well as a library for those looking for some quiet time. Adventure enthusiasts will appreciate the tour desk's assistance in arranging activities like trekking, rafting, and tribal village visits. With its scenic location and luxurious amenities, Amritara Shalimar Spice Garden Resort & Spa promises an unforgettable stay.
– Serene mountain location
– Outdoor pool
– Blend of European and Indian decor
– Ayurvedic spa offering rejuvenating massages
– Assistance in arranging adventure activities
Other places to stay in Cochin
Luxury 5 Star Hotels in Cochin
Luxury 5 star hotels in Cochin offer discerning travelers a lavish and opulent experience, combining exquisite design, impeccable service, and world-class hospitality. With their refined elegance and attention to detail, these hotels provide the perfect retreat for those seeking indulgence and relaxation.
The Postcard Mandalay Hall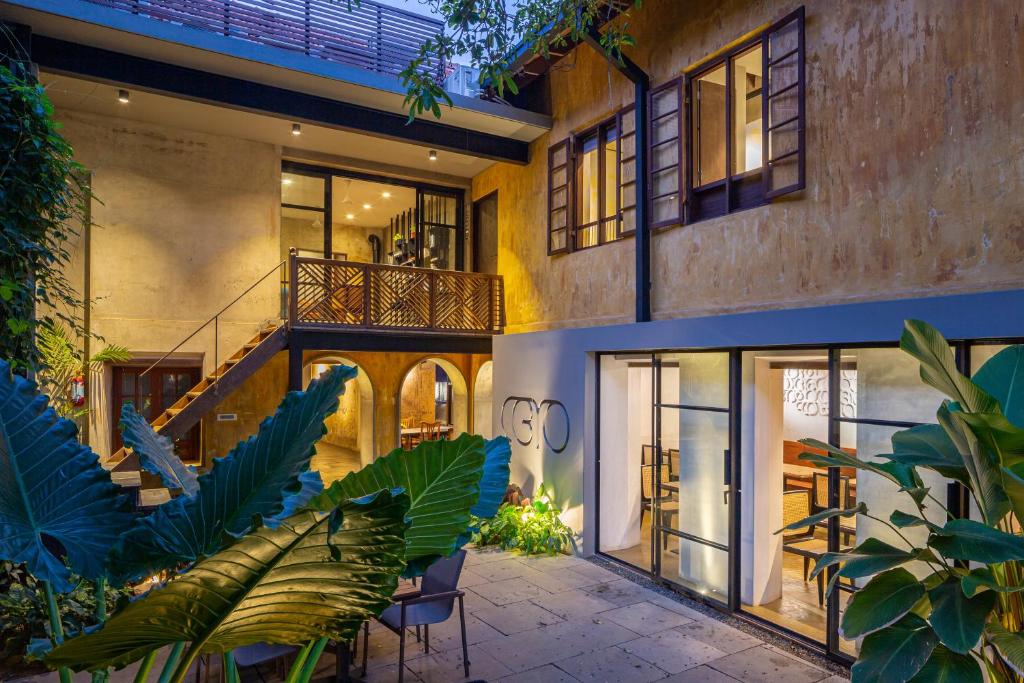 The Postcard Mandalay Hall in Kochi, Cochin is a luxurious boutique hotel offering 5-star accommodation. Nestled amidst a beautiful garden, this hotel features an outdoor swimming pool and a restaurant. The air-conditioned rooms are elegantly designed and come with free WiFi and private bathrooms. Guests can enjoy an à la carte or Asian breakfast during their stay. The hotel also provides excellent services such as room service and a 24-hour front desk. Some rooms offer stunning views of the garden, while each room is equipped with a kettle for tea or coffee. Bed linen and towels are provided in every room. Guests can take advantage of the business centre facilities or unwind in the snack bar area. The Postcard Mandalay Hall is conveniently located near popular attractions including Fort Kochi Beach (3 km) and Kochi Biennale (2.1 km). Cochin International Airport is just 42 km away, and guests have the option to avail of the paid airport shuttle service.
– Luxurious boutique hotel set amidst a beautiful garden
– Outdoor swimming pool for relaxation
– Elegantly designed rooms with free WiFi
– Excellent services including room service and 24-hour front desk
– Convenient location near popular attractions
Novotel Kochi Infopark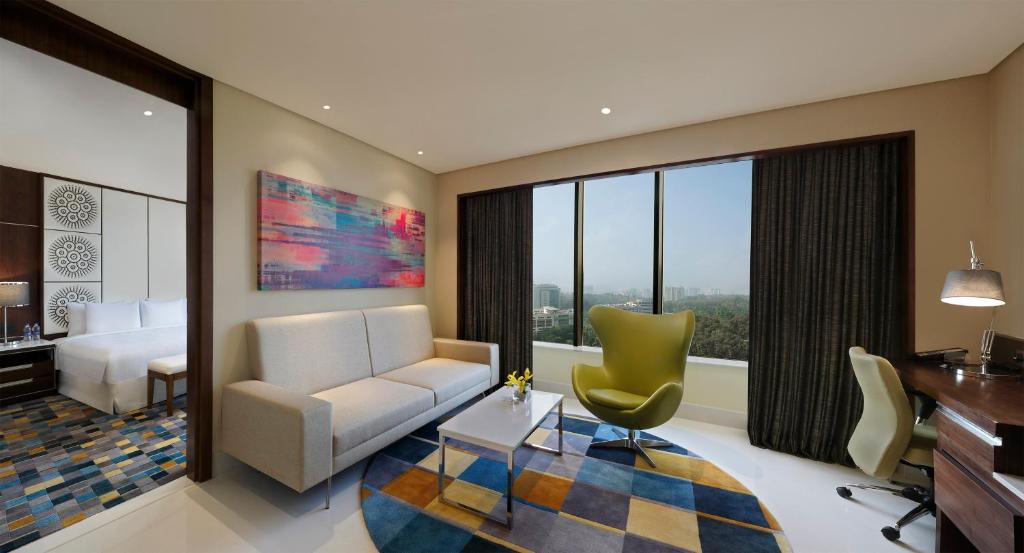 Novotel Kochi Infopark is a luxury hotel located in Cochin, offering an array of amenities for its guests. The hotel features a fitness center, terrace, restaurant, and bar. Guests can also enjoy the indoor swimming pool and take advantage of the car rental service. The 24-hour front desk, airport transfers, room service, and free WiFi throughout the property ensure convenience for all guests. Each unit at Novotel Kochi Infopark is equipped with air conditioning, a seating area, flat-screen TV with satellite channels, safety deposit box, and private bathroom with a shower and complimentary toiletries. Bed linen and towels are provided in every room. Guests can start their day with an à la carte breakfast that includes continental or American options. Popular attractions such as Kochi Biennale (25 km) and Cochin Shipyard (15 km) are within reach from the hotel. The nearest airport is Cochin International Airport (26 km), making it easily accessible for travelers.
– Luxury amenities including fitness center and indoor swimming pool
– Convenient 24-hour front desk service
– Complimentary WiFi throughout the property
– A variety of breakfast options available
– Close proximity to popular attractions like Kochi Biennale and Cochin Shipyard
Casino Hotel – CGH Earth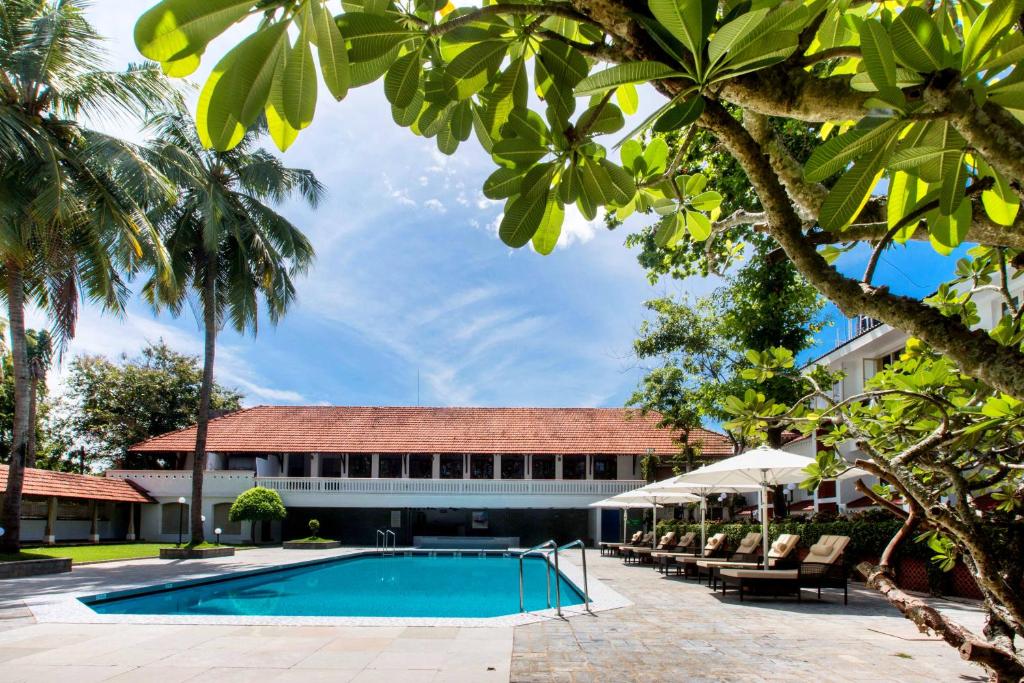 Hotel Casino, part of the CGH Earth group, is conveniently located just 6 km from Ernakulam and offers a quick 10-minute ferry ride to Fort Cochin and Mattancherry. This luxurious 5-star hotel boasts an outdoor pool, four dining options, in-house Ayurvedic massage services, and free WiFi access throughout the property. The air-conditioned guest rooms are elegantly furnished with a personal safe, minibar, satellite television, and en suite bathroom with toiletries and a hairdryer. Guests can indulge in rejuvenating Ayurvedic treatments at an additional cost or engage in recreational activities such as badminton. Tharavadu restaurant serves a mouthwatering buffet of Indian, Chinese, and continental dishes all day long while Fort Cochin specializes in delectable seafood specialties. For grilled food and healthy drinks, guests can head to The Garden Cafe or enjoy alcoholic beverages at Vasco da Gama Bar. Hotel Casino is easily accessible as it is only 40 km from Cochin International Airport and 8 km from Ernakulam Junction Railway Station. Additional perks include free on-site parking.
Pros:
– Convenient location near major attractions
– Outdoor pool for relaxation
– Four dining options offering diverse cuisine choices
– In-house Ayurvedic massage services for ultimate pampering
– Free WiFi access throughout the property
Five Star Hotels in Downtown Cochin
Downtown Cochin boasts a selection of luxury five-star hotels that cater to the discerning traveler. These properties offer impeccable service, refined accommodations, and a central location for guests to explore the city's vibrant culture and historic landmarks.
The Fog Munnar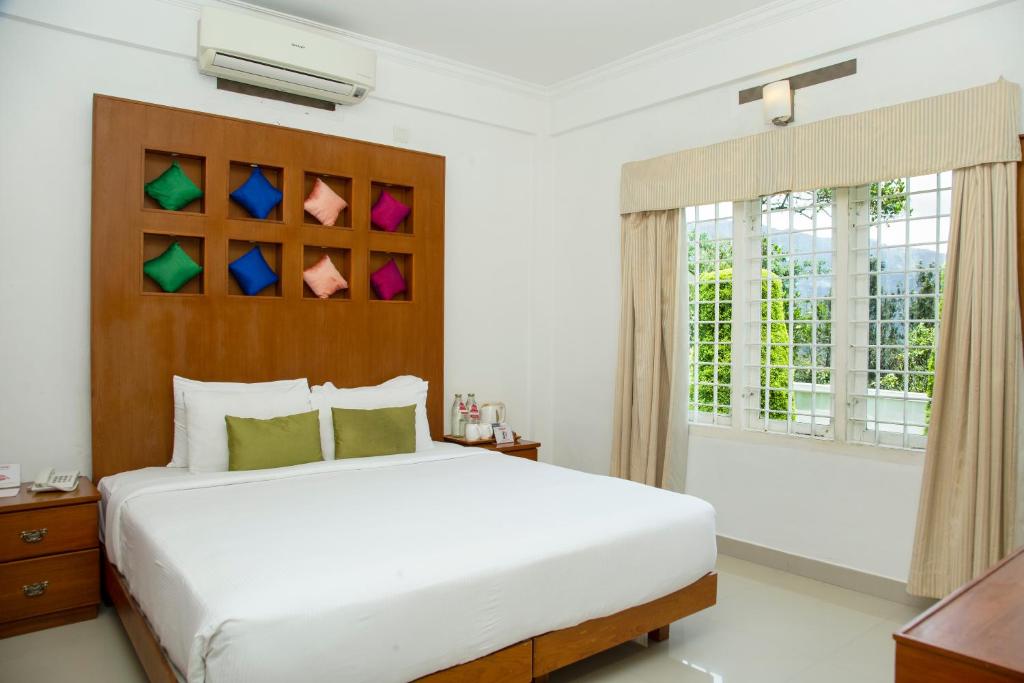 The Fog Munnar is a luxurious resort and spa located in the picturesque surroundings of Munnar. This resort offers an outdoor pool, a restaurant, and free WiFi access for guests to enjoy during their stay. The accommodation features comfortable rooms equipped with a TV, air conditioning, and private bathrooms complete with amenities such as a hairdryer and free toiletries. Additional amenities include a seating area, cable channels, 24-hour front desk service, a garden, and a terrace. Guests can also take advantage of entertainment staff, ticket services, and a tour desk. The resort offers various activities like cycling for guests to enjoy on-site or in the surrounding areas. Free parking is available for added convenience. For dining options, the in-house restaurant serves Indian, Chinese and continental delicacies or guests can opt for room service for in-room dining comforts. Nearby attractions include Dreamland Park (1 km), Munnar Tea Museum (14 km), Mattupetty Dam (20 km), Munnar Bus Station (14 km), Ernakulam South Railway Station (95 km), and Cochin International Airport (140 km).
– Outdoor pool
– Free WiFi access
– Comfortable rooms with modern amenities
– In-house restaurant serving diverse cuisine
– Convenient location near popular attractions
Ramada Resort by Wyndham Kochi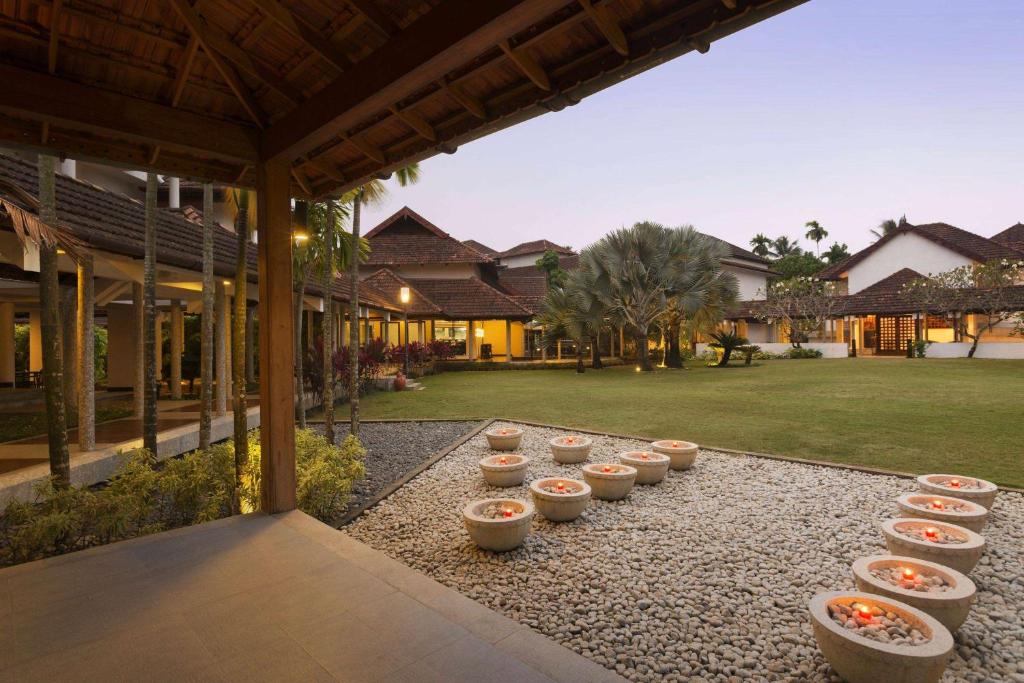 Ramada Resort by Wyndham Kochi is a stunning luxury hotel located just a 5-minute walk from Kumbalam Lake in Kerala. The resort offers beautiful rooms with breathtaking views of the countryside, Kumbalam Lake, or tropical gardens. The rooms are luxurious and well-appointed, featuring flat-screen satellite TVs, ironing facilities, and minibars. With spacious interiors adorned with high ceilings and fine furnishings, some rooms even have private balconies.
The resort boasts an Ayurvedic Centre that provides specialized treatments like rejuvenation therapies for guests looking to relax and unwind. Additionally, guests can indulge in massages and beauty treatments at the spa. For recreational activities, there is a games room with dart boards and PlayStations available.
When it comes to dining options, Ramada Resort has you covered with four different choices. Fennel Restaurant offers an international spread alongside an outdoor dining experience for those who prefer to enjoy their meals al fresco. Club 11 Hundred provides a casual lounge bar setting as well as a discotheque for those seeking some late-night fun.
For those looking to relax by the poolside while enjoying refreshing beverages, Strokes is the sunken pool bar that serves up delicious drinks. Overall, Ramada Resort goes above and beyond to ensure that guests have an unforgettable stay filled with luxury amenities.
Conveniently located within a 1-hour drive from Cochin International Airport, Ramada Resort is also situated near popular tourist attractions such as Santa Cruz Cathedral, Jain Temple, and Mattancherry Palace – all within 10 km from the hotel.
Pros:
– Beautiful views of Kerala's countryside or Kumbalam Lake
– Luxurious rooms with high ceilings and fine furnishings
– Ayurvedic Centre offering rejuvenation therapies
– Multiple dining options including outdoor dining experience
– Convenient location near popular tourist attractions
Holiday Inn Cochin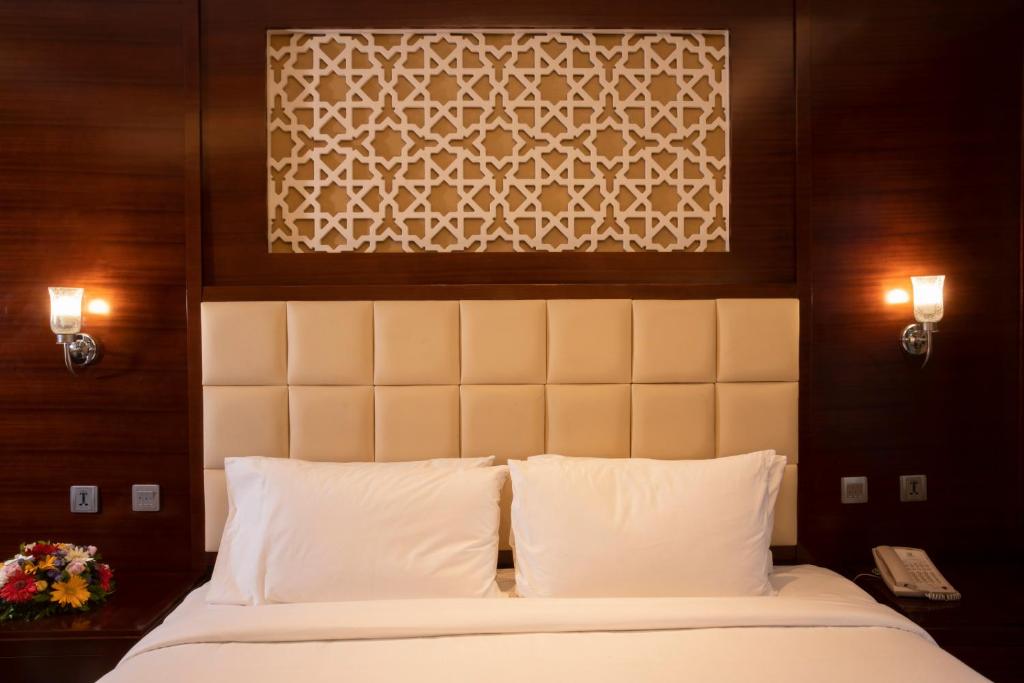 Located just 5 km from the city center of Cochin, Holiday Inn Cochin is a luxury hotel that offers a range of top-notch amenities. The hotel features a rooftop pool where guests can relax and enjoy stunning views. There are also five dining options available, including Masala, which offers a multi-cuisine buffet as well as an á la carte menu, and Roma, which serves delicious Italian dishes. Deli KC is perfect for those looking for snacks and beverages. The hotel also boasts an outdoor pool and a gym for guests to stay fit during their stay. Each spacious modern room includes amenities such as Wi-Fi access, personal safe, fax facilities, flat-screen TV with cable channels, coffee/tea making facilities, minibar, bathtub and shower in private bathrooms. In addition to these exceptional offerings, Holiday Inn Cochin's tour desk can help arrange day trips for guests who want to explore the area further. The 24-hour front desk is always ready to assist with laundry or dry cleaning services. Drivers can park on-site at no extra cost.
– Luxury hotel with rooftop pool
– Five dining options available
– Spacious modern rooms with various amenities
– Tour desk to help arrange day trips
– Free on-site parking
Cochin 5 star Hotels Information
| | |
| --- | --- |
| 🛎️ 5 star Hotels in Cochin | 9 |
| 💵 Hotels Prices From | $243 |
| 💵 Highest price | $1507 |
| 🥇 Average Review Score | 8.4/10 |
| 🛏️ Average number of Rooms | 105 |
Top 5 star hotels in Cochin
| | |
| --- | --- |
| The Postcard Mandalay Hall | 9.4/10 |
| Spice Village – CGH Earth | 8.9/10 |
| The Fog Munnar | 8.7/10 |
| Amritara Shalimar Spice Garden Resort & Spa | 8.6/10 |
| Trident Cochin | 8.3/10 |
FAQ
What are the top 5 star hotels in Cochin?
Cochin offers a range of luxurious 5 star hotels that promise an exceptional stay. Some of the top options include Taj Malabar Resort & Spa, Grand Hyatt Kochi Bolgatty, Crowne Plaza Kochi, Le Meridien Kochi, and Trident Cochin. These hotels offer world-class amenities, stunning views of the city or backwaters, excellent dining options, and impeccable service to ensure an unforgettable experience.
What is the average cost per night for a 5 star hotel in Cochin?
The average cost per night for a 5 star hotel in Cochin can vary depending on factors such as location, seasonality, and specific hotel offerings. On average, you can expect to pay around INR 8,000 to INR 15,000 per night for a luxurious stay at a 5 star property in Cochin. However, it's worth noting that prices may fluctuate based on availability and special promotions.
Which areas in Cochin have the highest concentration of luxury hotels?
Cochin has several areas with a high concentration of luxury hotels catering to discerning travelers. The Fort Kochi area is known for its charming heritage properties with colonial architecture offering a unique experience. Other popular areas include Marine Drive with its waterfront views and bustling shopping districts like MG Road and Broadway where you will find some renowned international luxury hotel chains.
What facilities can I expect at a typical 5 star hotel in Cochin?
A typical 5 star hotel in Cochin boasts an array of facilities designed to provide utmost comfort and convenience to guests. You can expect spacious and elegantly furnished rooms or suites equipped with modern amenities such as flat-screen TVs, minibars, Wi-Fi access and plush bedding. Additionally these hotels often feature multiple dining options serving international cuisine along with fitness centers or gyms,pools, spas, and business centers.
Are there any 5 star hotels in Cochin that offer views of the backwaters?
Yes, there are several 5 star hotels in Cochin that offer breathtaking views of the backwaters. One such example is Taj Malabar Resort & Spa which is situated on Willingdon Island and provides stunning vistas of the Cochin harbor and backwaters. Another option is Grand Hyatt Kochi Bolgatty located on Bolgatty Island offering beautiful scenery of Vembanad Lake. These hotels allow guests to enjoy the tranquility and beauty of Kerala's famous backwaters right from their rooms or common areas.
Popular 5 Star Hotels destinations