Welcome to the enchanting world of opulence and indulgence in Kitzbühel, Austria! Nestled in the heart of the breathtaking Austrian Alps, this magnificent destination is renowned for its unrivaled beauty and world-class ski slopes. Prepare to embark on a remarkable journey as we unveil the luxurious secrets of Kitzbühel's 5-star hotels, where elegance meets sophistication.
Immerse yourself in the lap of luxury as you step foot into these prestigious havens. Discover a realm where lavishness knows no bounds, with exquisite decor that exudes refinement and splendor at every turn. From regal chandeliers that illuminate grand halls to sumptuous furnishings adorned with meticulously crafted details, these hotels redefine elegance.
Indulge your senses further by savouring culinary delights prepared by award-winning chefs using only the finest ingredients. Feast your eyes upon picturesque views of snow-capped mountains while sipping on delectable cocktails at rooftop bars that offer an unparalleled vista over Kitzbühel's charming village.
With exceptional service delivered by attentive staff who anticipate your every need, prepare to be pampered beyond measure. Whether it's arranging exclusive access to private ski instructors or organizing unforgettable excursions amidst nature's wonders, these 5-star hotels in Kitzbühel go above and beyond to ensure an unforgettable experience filled with indelible memories.
Join us on an extraordinary journey through Kitzbühel's most esteemed accommodations as we delve into their unmatched levels of luxury and hospitality. Unwind like royalty, surrounded by alpine serenity and incomparable extravagance – welcome to a world where dreams come true amidst the majestic beauty of Austria's jewel in the crown: Kitzbühel.
Best Five Star Hotels in Kitzbühel
Tennerhof Gourmet & Spa de Charme Hotel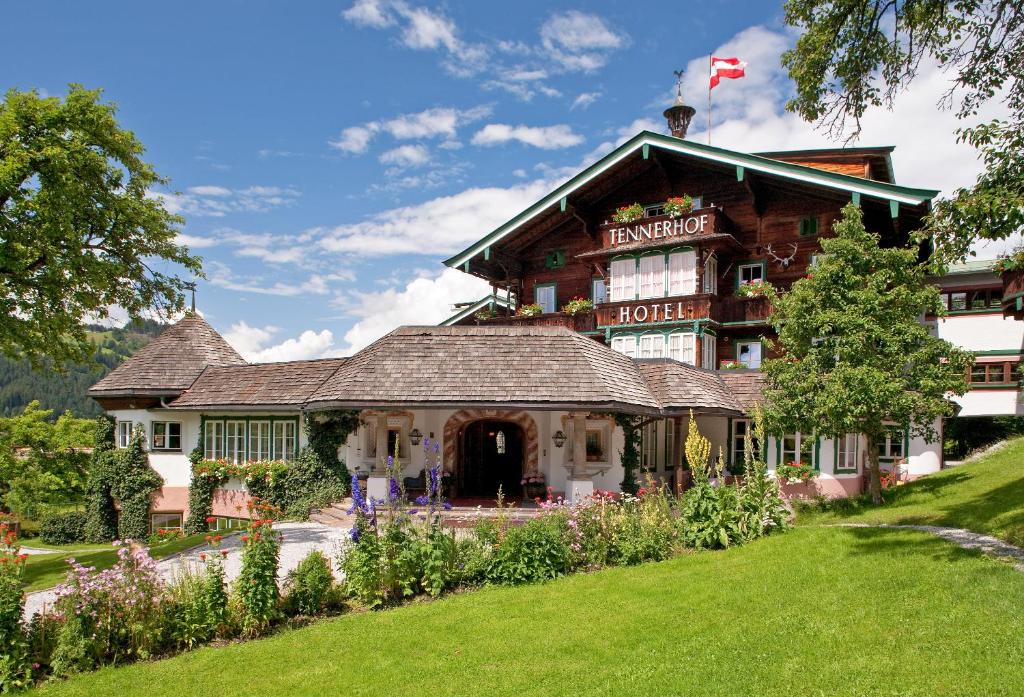 The Tennerhof Gourmet & Spa de Charme Hotel is a boutique 5-star hotel that offers breathtaking panoramic views of Kitzbühel and the surrounding mountains. This historic estate, dating back to 1679, features individually decorated rooms with family-owned furniture and antiques. Guests can enjoy the indoor and heated outdoor pools, as well as three different restaurants, including the award-winning gourmet restaurant Tennerhof. The elegant spa area includes a hot tub, Finnish sauna, and steam bath for ultimate relaxation. With its peaceful garden and convenient location only 1 km from the center of Kitzbühel, this luxury hotel is the perfect destination for a tranquil getaway.
– Stunning panoramic views of Kitzbühel and surrounding mountains
– Indoor pool and heated outdoor pool
– Award-winning gourmet restaurant on-site
– Elegant spa area with hot tub, Finnish sauna, and steam bath
– Convenient location just 1 km from the center of Kitzbühel
Hotel Alpine Palace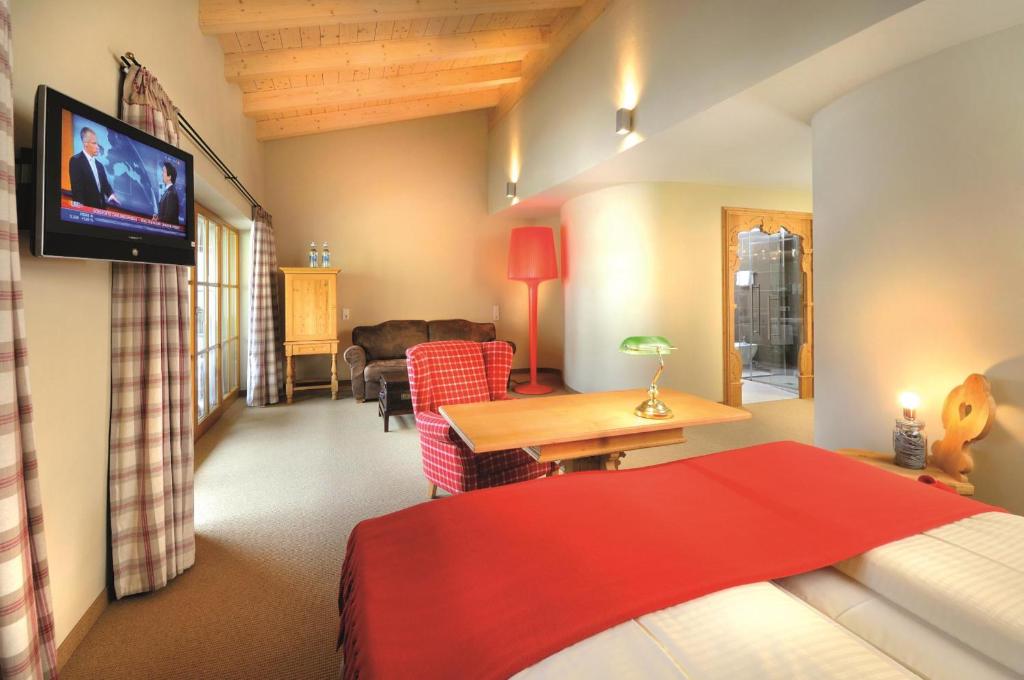 Located directly next to the Reiterkogel Cable Car in Hinterglemm, the Hotel Alpine Palace is a luxury hotel offering guests access to the Saalbach-Hinterglemm-Leogang-Fieberbrunn Ski Circus. The hotel boasts a large spa area, featuring nine different saunas and steam baths, an indoor pool, a brine pool, a hot tub, and various relaxation rooms. Guests can indulge in culinary delights at the award-winning gourmet restaurant Arte Vinum or enjoy traditional fare at Bürgerstube. The hotel also offers high-quality spa treatments and a fitness room with modern equipment. Outdoor enthusiasts can take advantage of skiing instruction and ski rental services in winter or partake in summer activities such as hiking tours, mountain biking tours, canoeing, and more. Childcare services are available for families traveling with children.
Pros:
– Access to Saalbach-Hinterglemm-Leogang-Fieberbrunn Ski Circus
– Large spa area with various amenities
– Award-winning gourmet restaurant
– High-quality spa treatments offered
– Wide range of outdoor activities available
(Note: It seems that some information was repeated in your original text; I have removed the repetitions for clarity.)
Hotel Weißes Rössl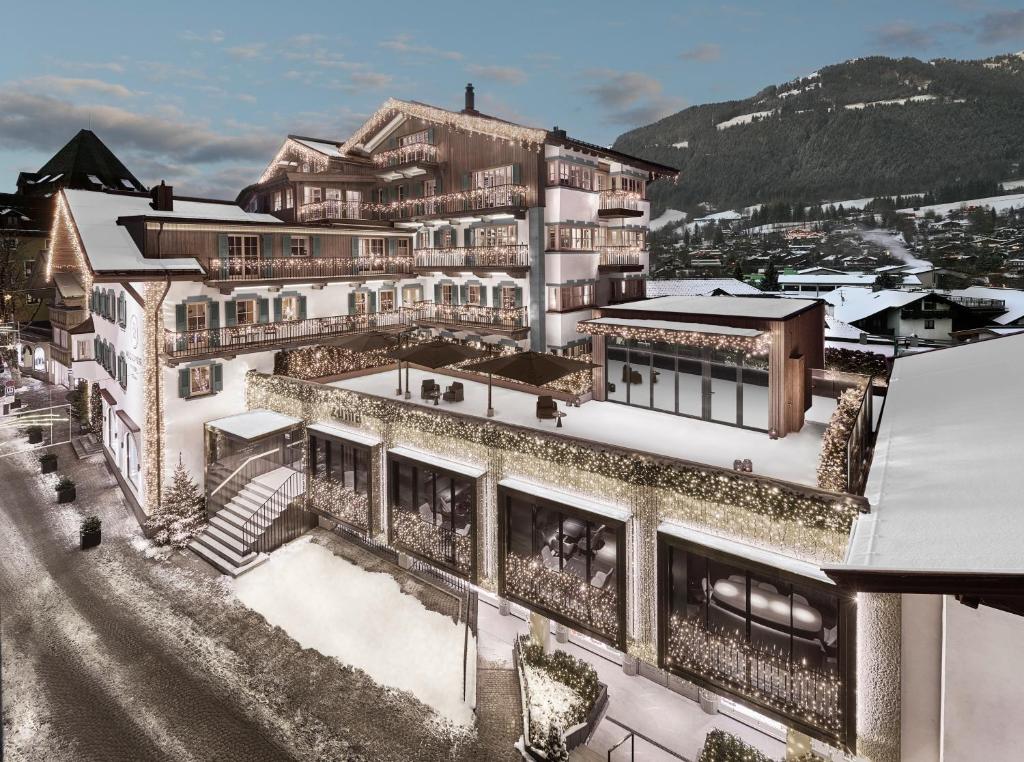 Located at the entrance to the medieval old town, Hotel Weißes Rössl is perfectly situated for guests who want to explore exclusive boutiques, cozy cafés, and top-notch restaurants. With the Hahnenkamm lift nearby, guests can easily access the surrounding mountains for outdoor adventures. The hotel's Zuma Restaurant Kitzbühel offers Japanese cuisine of the highest quality. The use of high-quality materials such as natural stone, oak wood, and stainless steel creates a luxurious and inviting atmosphere throughout the hotel. Whether you're dining at Zuma or relaxing in your room, you'll experience a carefully selected mix of luxury and unpretentious elegance that befits a member of "The Leading Hotels of the World".
– Prime location near old town and ski lift
– Authentic Japanese cuisine at Zuma Restaurant
– Luxurious materials create a cozy ambiance
– Carefully curated mix of luxury and elegance in every room
Luxury 5 Star Hotels in Kitzbühel
Luxury 5 star hotels in Kitzbühel offer opulent accommodations and unparalleled service, ensuring a lavish and comfortable stay for discerning travelers. With an emphasis on attention to detail and exquisite design, these hotels provide an indulgent retreat amidst the breathtaking natural beauty of the surrounding mountains.
Kaiserhof Superior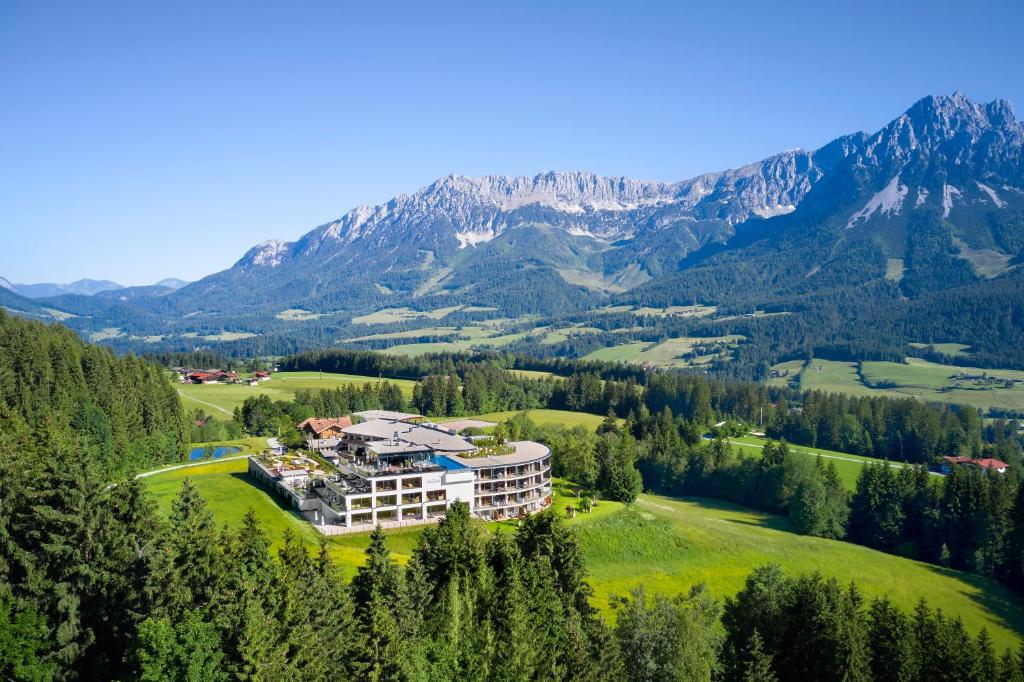 Located in Ellmau and offering stunning panoramic views of the Wilder Kaiser Mountain, Hotel Kaiserhof Superior is a luxurious 5-star superior hotel situated right next to the ski slopes and the Hartkaiser Cable Car. This exquisite hotel features two individual spa areas and is proud to boast five award-winning restaurants. With its modern and award-winning spa area spanning four floors, guests can indulge in ultimate relaxation with facilities such as saunas, a steam bath, unlimited mountain pool with rooftop access, and breathtaking panoramic views high above Ellmau. The hotel's owner, Günter Lampert, was named Austria's Chef of the Year in 2011. Additionally, guests can enjoy meals on the panoramic terrace overlooking the surrounding mountains during fine weather. Beauty treatments including Ayurveda treatments and massages are also available for those seeking further pampering. Guests can take advantage of the on-site natural swimming pond during summer months. The hotel offers 52 spacious rooms and suites that have been newly renovated with oversized panoramic windows allowing for magnificent views, fine wooden floors, exclusive furnishings, spacious bathrooms equipped with bathrobes, slippers and high-quality toiletries, as well as extensive balconies and terraces. Ski passes can be purchased directly at the hotel which provides a convenient ski storage room for guests' use. Located only 2 km away from Ellmau's city center.
Pros:
– Stunning panoramic views of Wilder Kaiser Mountain
– Direct access to ski slopes and Hartkaiser Cable Car
– Two individual spa areas for ultimate relaxation
– Five award-winning restaurants serving Austrian and international gourmet cuisine
– Newly renovated rooms with luxurious amenities like oversized windows and spacious bathrooms
Salzburgerhof Wellness-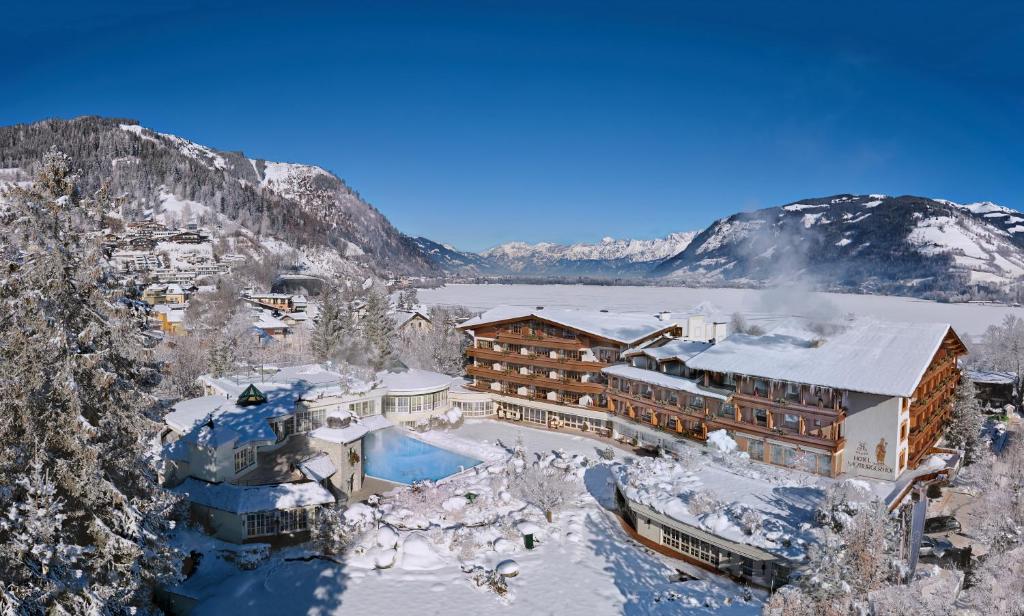 Located in the picturesque Zell am See, Salzburgerhof Wellness is a luxurious 5-star hotel that offers guests a unique and unforgettable holiday experience. This family-run spa, golf, and pleasure hotel combines 5-star comfort with top-notch spa quality and culinary delights. Guests can enjoy a green fee discount of 30% at the nearby Zell am-See-Kaprun Golf Course, as well as on many other courses in Salzburg and Tyrol. The hotel boasts elegant country-house style suites equipped with all amenities, along with a magical garden park featuring a pool, natural swimming pond, and the legendary "wellness palace" offering first-class beauty products and treatments. The expansive spa area covers over 3,500 m² and includes various saunas, steam baths, massages, and even an underground "Sole-Dome" filled with salt from the Dead Sea for a truly unique experience. For golf enthusiasts, there is also a modern indoor golf course available. Additionally, the Salzburgerhof has its own private beach on Lake Zell just 500 meters away.
Pros:
– Stunning location surrounded by beautiful natural landscapes
– Discounted green fees at one of the most beautiful golf courses in the Alps
– Elegant country-house style suites equipped with modern amenities
– Expansive spa area offering a wide range of treatments and facilities
– Private beach access to Lake Zell
Grand Tirolia Kitzbühel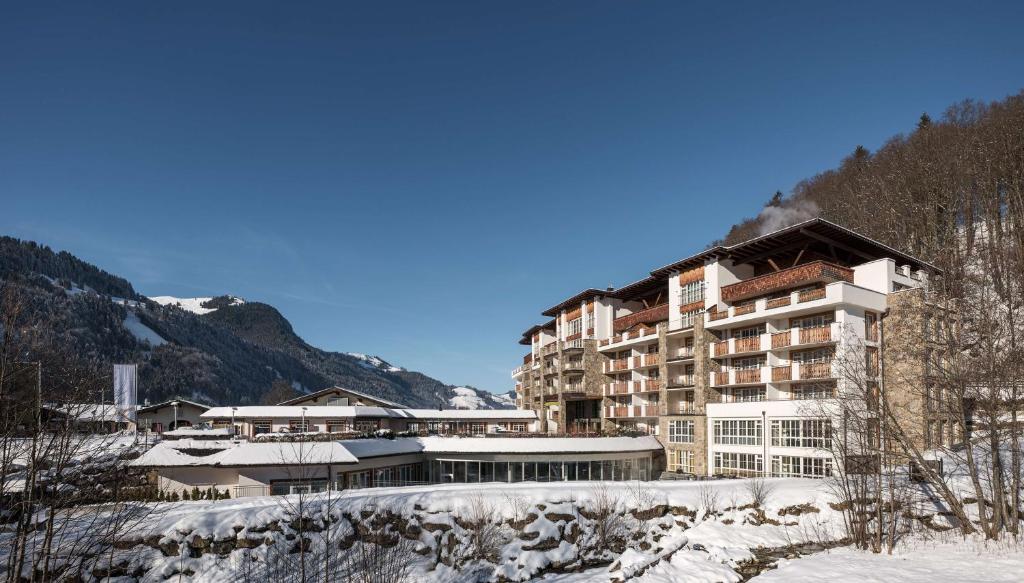 The Grand Tirolia Kitzbühel hotel, a member of the Hommage Luxury Hotels Collection, is situated in the stunning Alpine landscape surrounding the renowned 18-hole championship golf course Eichenheim. With its picturesque hillside views and extravagant amenities, this luxurious hotel offers guests an unforgettable experience. Indulge yourself with a visit to the spa, which features both indoor and outdoor pools, six saunas, and massage rooms. The elegantly furnished rooms and suites provide ultimate comfort, boasting amenities such as reading chairs or pull-out sofas, 49-inch interactive TVs, ironing facilities, and touch panel in-room controls. For those seeking breathtaking vistas of the Tyrolean Alps and golf course itself, many accommodations offer large balconies or terraces. The Restaurant Grand Tirolia serves up delectable Austrian specialties for guests to savor either indoors or on the sun terrace. Wind down in style at the lobby bar and lounge while enjoying your favorite beverage. Additionally, during winter months guests can take advantage of a complimentary shuttle service to explore all of Kitzbühel's ski areas easily while in summer hiking enthusiasts will be thrilled by nearby trails that traverse beautiful meadows and mountain streams.
– Spectacular views of the Tyrolean Alps
– Luxurious spa with indoor/outdoor pools & saunas
– Elegant rooms & suites with modern amenities
– Complimentary shuttle service to Kitzbühel's ski areas
– Convenient location for hiking trails during summer
Five Star Hotels in Downtown Kitzbühel
Downtown Kitzbühel offers a range of luxurious five-star hotels, providing an unparalleled level of comfort and service. With their prime location and exquisite attention to detail, these hotels ensure an exceptional stay for discerning travelers seeking the utmost in sophistication and indulgence.
A-ROSA Kitzbühel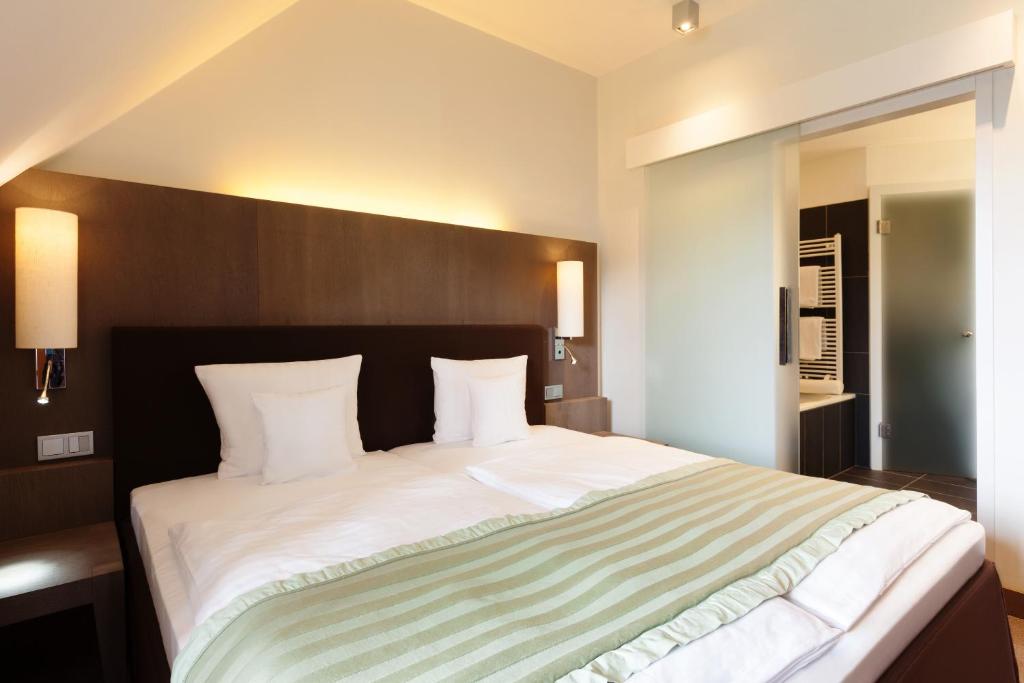 Nestled in the stunning landscape of the Tyrolean Alps, A-ROSA Kitzbühel is a picturesque retreat designed to resemble a traditional Tyrolean castle. The hotel boasts an expansive 3,000 m² spa area where guests can indulge in a wide range of luxurious wellness and beauty treatments. With 7 saunas, 21 treatment rooms, indoor and outdoor swimming pools, a fully-equipped gym, hammam (Turkish bath), and rasul (traditional Arab bath), relaxation is taken to new heights. The elegantly designed rooms at A-ROSA seamlessly blend modern aesthetics with a touch of tradition, featuring flat-screen TVs and spacious layouts starting at 28 m². Personal trainers are available for those seeking additional fitness guidance. Dining options abound with two restaurants on-site—Streif offers themed buffets while Steakhouse Kaps grants panoramic views of the golf course—ensuring every culinary desire is catered to. Families will delight in Rosinis club which offers an array of exciting activities for children aged between 3 and 12 years old while allowing parents some well-deserved downtime. Golf enthusiasts will be thrilled by the resort's own 9-hole course along with an additional selection of 19 courses found throughout the region. And for sports enthusiasts, the surrounding mountains present endless opportunities for hiking, mountain biking, climbing, paragliding as well as skiing and snowboarding during winter months – with iconic slopes like Streif within sight from A-ROSA Kitzbühel.
Pros:
– Breathtaking location surrounded by the scenic Tyrolean Alps
– Extensive spa area offering indulgent wellness treatments
– Elegant rooms combining modern design and traditional ambiance
– Two excellent restaurants providing diverse dining options
– Abundance of outdoor activities nearby including golfing and skiing
Der Lärchenhof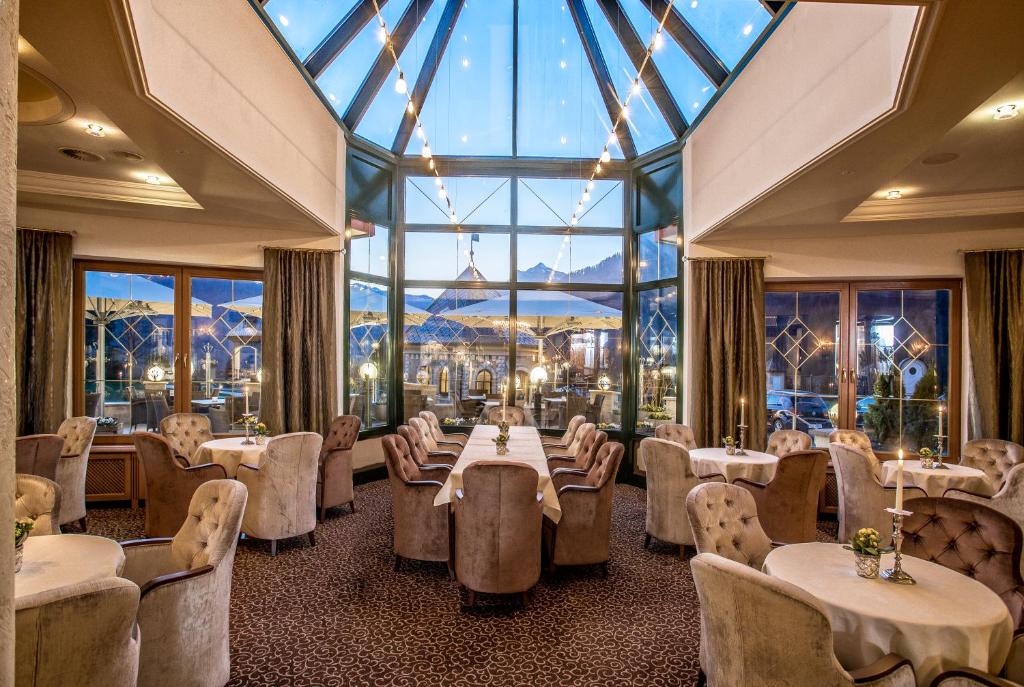 Located in the picturesque Kitzbühel mountains, Der Lärchenhof is a luxurious 5-star boutique hotel situated in the tranquil setting of Erpfendorf, just 16 km away from Kitzbühel. This exquisite property offers an array of amenities including a gourmet restaurant, indoor and outdoor pools, and a sprawling 4,700 m² spa area featuring top brands such as Barth, Maria Galland, Environ, and Alpienne. Guests can indulge in various leisure activities such as horse-drawn carriage rides or guided ski tours while also taking advantage of the modern fitness center and on-site ski lift and school. The hotel's sauna provides breathtaking views of the surrounding mountains, and guests can start their day with a sumptuous organic breakfast buffet followed by delectable Austrian cuisine for dinner. With reserved parking spaces available at the nearby Steinplatte Ski Area and activities like mountain biking and winter hiking offered onsite, Der Lärchenhof ensures that every guest has an unforgettable experience amidst this stunning alpine landscape. Other highlights include tennis courts at their own academy, golf options at their 9-hole course or 6-hole academy next door, equestrian facilities at Hanneshof stables nearby as well as biathlon tracks on site. Additionally, being just 50 km away from Salzburg adds to its appeal.
– Gourmet restaurant offering exceptional dining experiences
– Extensive spa area with premium beauty treatments available
– Wide range of leisure activities including skiing and horse-drawn carriage rides
– Modern fitness center for health-conscious guests
– Breathtaking views from the newly-built sauna garden
Kitzbühel Lodge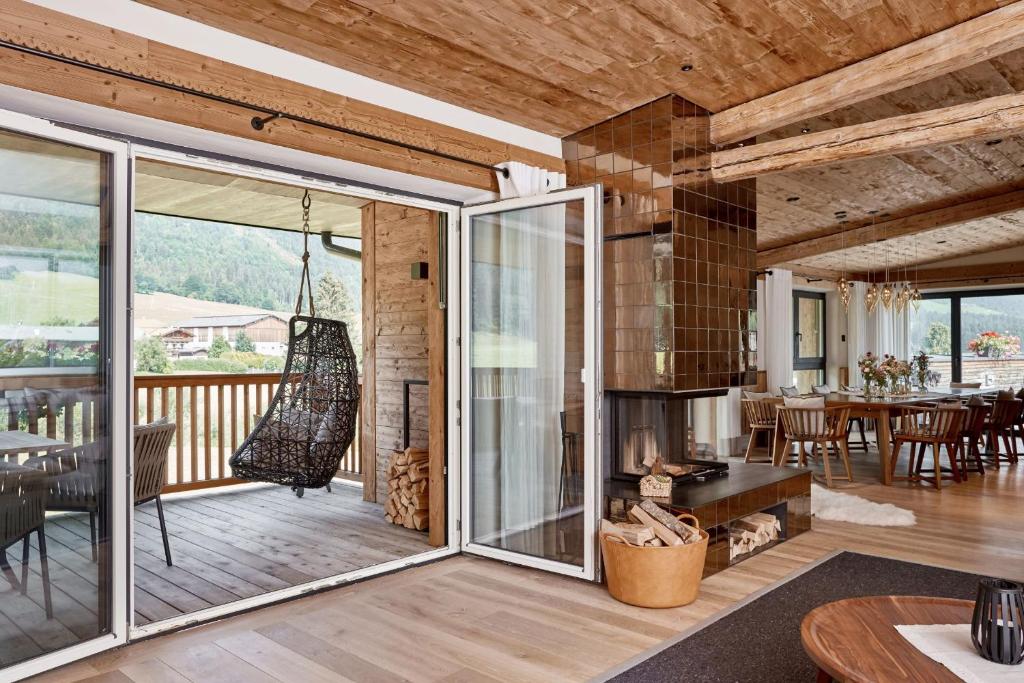 The Kitzbühel Lodge is a luxurious apartment hotel located in Reith bei Kitzbühel, just a short 7-minute drive from Kitzbühel. With its personalized service and alpine-style chalets, it offers a truly unique experience. Guests can enjoy the convenience of a free private shuttle service to the ski slopes, as well as free Wi-Fi throughout the property. The lodge boasts an array of amenities, including a home cinema, art exhibitions, and an entertainment program featuring readings, tastings, and dance music. Each unit is equipped with modern comforts such as a seating area, flat-screen TV with Netflix, and a private bathroom complete with free toiletries and bath facilities. The spacious living rooms feature open fireplaces for added coziness. Additionally, guests can indulge in delicious meals at the gourmet restaurant or relax in the wine cellar or cigar lounge. The lodge also features a private lounge with a library, fireplace, and bar for guests to unwind after exploring their beautiful surroundings. For ultimate relaxation and pampering, there is a spa and wellness center offering facilities such as a natural stone pool and fitness studio. A ski pass sales point and ski storage space are available on-site for those looking to hit the slopes during their stay.
– Free private shuttle service to ski slopes
– Home cinema & art exhibitions
– Personalized service
– Spa & wellness center
– Gourmet restaurant & wine cellar
Kitzbühel 5 star Hotels Information
| | |
| --- | --- |
| 🛎️ 5 star Hotels in Kitzbühel | 9 |
| 💵 Hotels Prices From | $232 |
| 💵 Highest price | $1595 |
| 🥇 Average Review Score | 9/10 |
| 🛏️ Average number of Rooms | 59 |
Top 5 star hotels in Kitzbühel
| | |
| --- | --- |
| Kitzbühel Lodge | 9.7/10 |
| Kaiserhof Superior | 9.4/10 |
| Der Lärchenhof | 9.4/10 |
| Salzburgerhof Wellness- | 9.2/10 |
| Tennerhof Gourmet & Spa de Charme Hotel | 9.1/10 |
FAQ
What are the top 5 star hotels in Kitzbühel?
Kitzbühel is home to some of the most luxurious 5 star hotels in Austria. Some of the top options include Hotel Aurelio, Grand Tirolia Kitzbühel, Tennerhof Gourmet & Spa de Charme Hotel, Schwarzer Adler Kitzbühel, and A-ROSA Kitzbühel. These hotels offer a range of exquisite amenities including world-class spas, gourmet restaurants, and stunning mountain views.
What is the average price range for 5 star hotels in Kitzbühel?
The average price range for 5 star hotels in Kitzbühel varies depending on the season and specific hotel. However, you can expect to pay anywhere from $300 to $800 per night for a luxurious stay at one of these high-end properties. Keep in mind that prices may increase during peak tourist seasons such as winter ski season or summer golf season.
Which 5 star hotel in Kitzbühel offers the best spa facilities?
If you're looking for an exceptional spa experience during your stay in Kitzbühel, look no further than Hotel Aurelio. This 5-star hotel features a state-of-the-art wellness area complete with saunas, steam baths, relaxation rooms, and an indoor pool with panoramic views of the surrounding mountains. Indulge yourself with rejuvenating treatments and massages provided by highly trained professionals.
Are there any pet-friendly 5 star hotels in Kitzbühel?
Yes! If you plan on traveling with your furry friend to Kitzbühel, there are several pet-friendly 5-star hotels that will warmly welcome both you and your four-legged companion. The Grand Tirolia Kitzbühel is one such establishment that not only allows pets but also provides special amenities such as dog beds, food bowls, and even dog-sitting services so you can fully enjoy your stay.
What are some popular activities near 5 star hotels in Kitzbühel?
Kiztbühel offers a wide range of exciting activities for travelers staying in 5-star luxury hotels. During winter, guests can enjoy world-class skiing on the famous Hahnenkamm mountain or explore the picturesque town center with its charming shops and cafes. In summer, golf enthusiasts will find themselves surrounded by lush green fairways at the nearby Golf & Country Club Rasmushof while nature lovers can embark on scenic hikes or mountain biking adventures in the stunning Alpine landscapes surrounding Kitzbühel.
Popular 5 Star Hotels destinations