Welcome to the enchanting world of opulence and indulgence in Jimbaran, Indonesia. Nestled on the southwestern coast of Bali, this picturesque destination is renowned for its pristine beaches, luxury resorts, and mesmerizing sunsets. Today, we embark on a journey through the realm of 5-star hotels in this idyllic paradise.
Prepare to be captivated by the sheer grandeur and sophistication that await you in Jimbaran's elite hotel offerings. From lavish beachfront retreats to secluded hillside havens, each establishment exudes an air of exclusivity that is sure to leave a lasting impression on even the most discerning traveler.
As you step into these luxurious abodes, you will find yourself surrounded by impeccable craftsmanship and refined aesthetics. Every detail has been carefully curated to create an ambiance of refined elegance and tranquility. Indulge in world-class amenities such as infinity pools overlooking the azure ocean waters or rejuvenate your senses with bespoke spa treatments inspired by ancient Balinese healing traditions.
The culinary scene here is no less extraordinary – embark on a gastronomic adventure as you savor delectable dishes prepared by renowned chefs using locally sourced ingredients bursting with flavor. Whether it's a romantic candlelit dinner under the stars or a casual beachfront feast accompanied by gentle sea breezes – prepare for an unparalleled dining experience that will leave your taste buds yearning for more.
Join us as we explore these exquisite havens where impeccable service meets unrivaled luxury amidst breathtaking natural beauty. Jimbaran beckons you with open arms – immerse yourself in its charm and discover why it has become synonymous with indulgence and blissful relaxation.
Best Five Star Hotels in Jimbaran
Melia Bali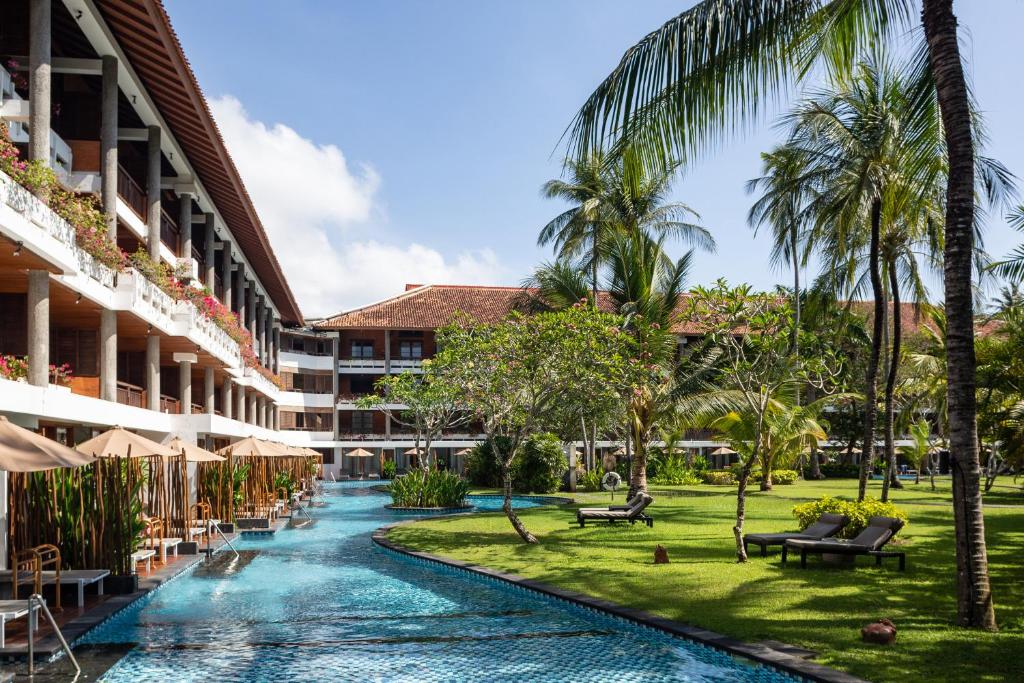 Melia Bali is a luxurious resort situated along the beautiful shores of Nusa Dua Beach. With its large lagoon swimming pool, tropical landscaped garden, and five restaurants serving delicious cuisines from around the world, this hotel offers guests a truly memorable experience. The rooms are spacious and well-appointed, with private balconies or terraces overlooking either the gardens or lagoon pool. For those seeking ultimate comfort and privacy, Melia Bali also offers THE LEVEL service which includes personalized concierge service and a range of daily activities for both adults and families. Whether it's canoeing, paddle surfing, archery, or simply relaxing at the YHI Spa, there is something for everyone here. The hotel also provides bicycles and cars for rental, as well as free WiFi throughout the property. With its multilingual staff and acceptance of Union Pay cards, Melia Bali ensures that guests from all over the world feel welcomed and catered to. Overall Pros:
– Beautiful outdoor pool
– Delicious dining options
– Exclusive THE LEVEL service
– Wide range of complimentary resort activities
– Multilingual staff
The Sintesa Residence Jimbaran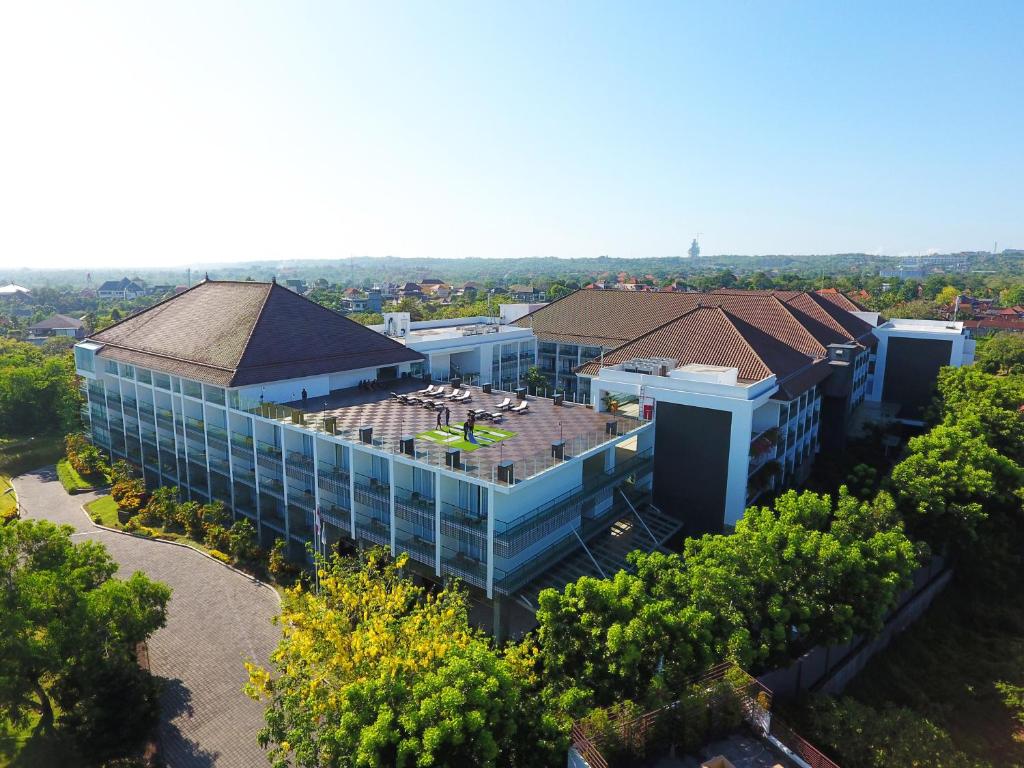 The Sintesa Residence Jimbaran is a luxurious 5-star hotel located in the beautiful town of Jimbaran, just 2.2 km away from The Rock Bar. The hotel offers air-conditioned accommodation, complete with a hot tub for ultimate relaxation. Each unit features a spacious seating and dining area, as well as a kitchenette equipped with modern amenities such as a dishwasher, microwave, toaster, fridge, stovetop, and coffee machine. Guests can enjoy the comfort of their own private bathroom with bathrobes provided. The hotel also boasts an outdoor pool where guests can unwind and soak up the sun's rays. Additionally, there is an on-site restaurant offering delicious meals for guests to savor. Billiards enthusiasts will be pleased to find that they can enjoy a game during their stay at this fantastic property.
– Convenient location near popular attractions
– Luxurious accommodations with hot tubs
– Well-equipped kitchenettes in every unit
– Outdoor pool for relaxing and swimming
– On-site restaurant serving delicious meals
Permata Ayung Private Estate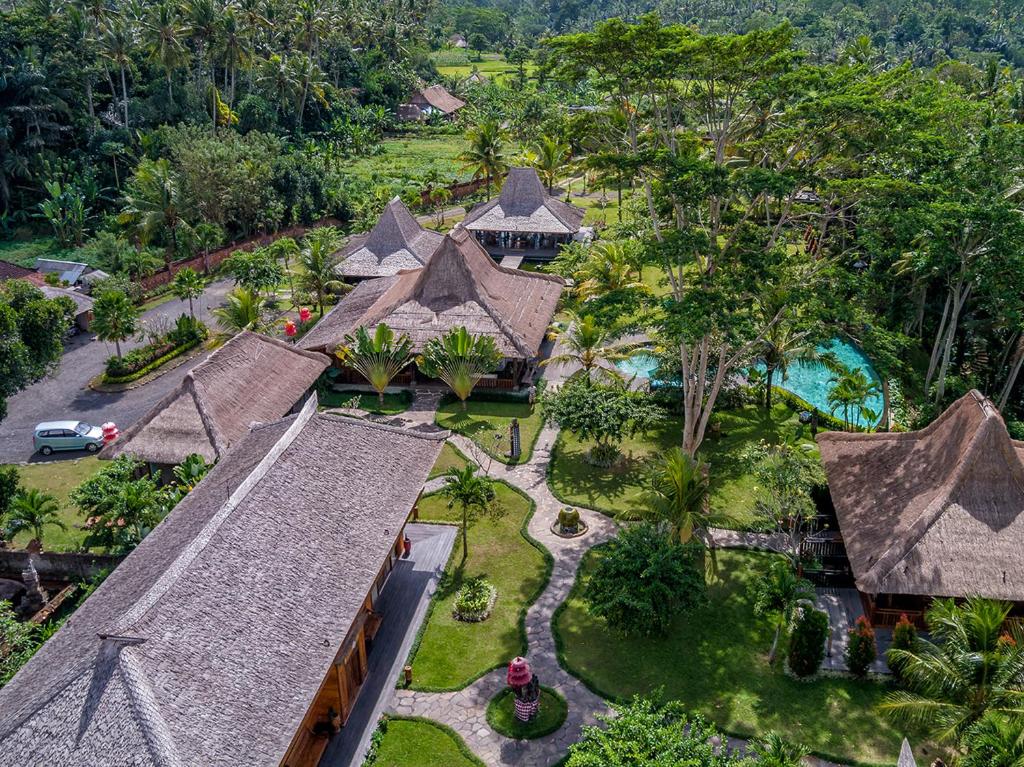 Nestled in a picturesque valley overlooking the Ayung River and terraced rice paddies, Permata Ayung Private Estate offers luxurious Indonesian wooden accommodations in Ubud. With its enchanting riverside setting and five hectares of tropical gardens, this exclusive hideaway provides a serene escape. Guests can enjoy an outdoor pool, spa center, and free private parking. The resort features beautifully crafted rooms built with Javanese wood by Indonesian artisans and a Dutch designer. Each room is air-conditioned and equipped with a flat-screen TV, while some also have a seating area, terrace or balcony. Guests can savor delicious drinks at the Bulldog Bar and indulge in various activities such as cycling and hiking in the surrounding areas. Additionally, the resort offers bike hire for further exploration. For those interested in discovering Bali's traditional side, crossing the river via the swinging bridge and hiking through the terraced rice fields is highly recommended. The village of Bongkasa is just outside the gates of the estate and presents an opportunity to immerse oneself in local culture. Furthermore, Bali Swing is only four kilometers away from Permata Ayung Private Estate – perfect for creating unforgettable memories and capturing stunning IG posts. Ubud's attractions like temples, museums, palaces, boutiques, and restaurants are conveniently located eight kilometers away; transportation can be arranged with the estate's car service (extra charge). With its breathtaking location immersed in nature yet close to cultural landmarks of Bali, Permata Ayung Private Estate promises an extraordinary stay.
Pros:
– Stunning views overlooking Ayung River and rice paddies
– Luxurious wooden accommodations crafted by Indonesian artisans
– Serene riverside setting with tropical gardens
– Outdoor pool and spa center for relaxation
– Close proximity to Ubud's cultural attractions
Luxury 5 Star Hotels in Jimbaran
Luxury 5 star hotels in Jimbaran offer a truly indulgent experience, with impeccable service and exquisite attention to detail. From stunning ocean views to luxurious accommodations, these hotels are the epitome of luxury and provide a serene escape for discerning travelers.
RIMBA by AYANA Bali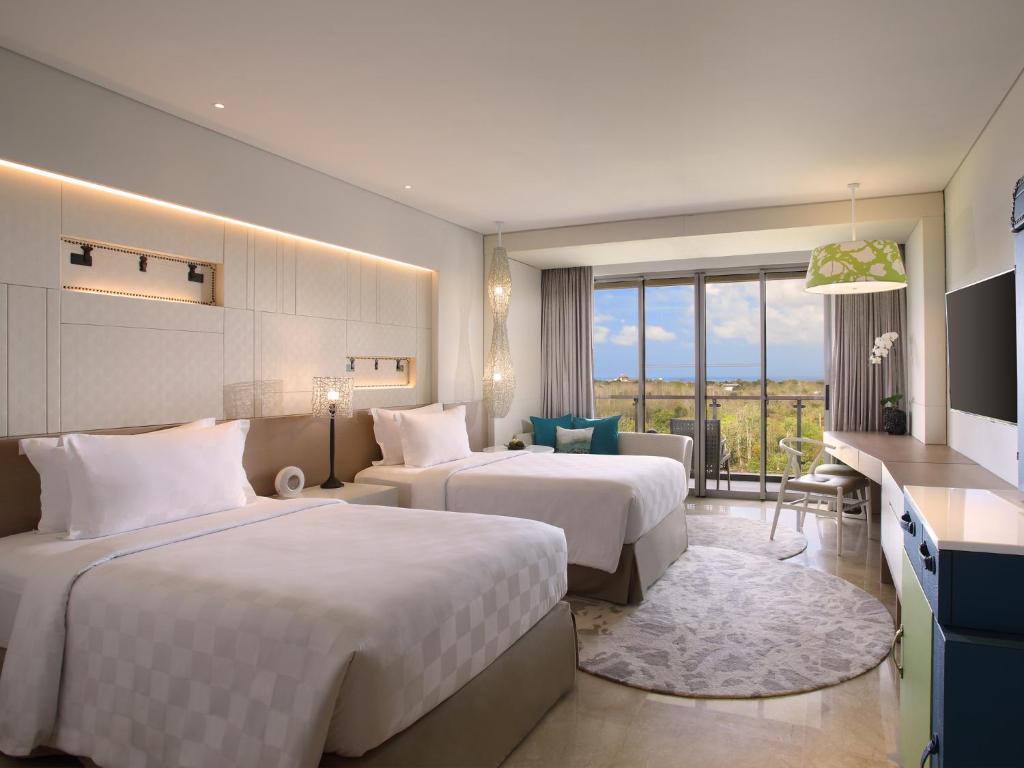 RIMBA by AYANA Bali is a luxurious 5-star accommodation that offers guests an unforgettable experience. With its 12 outdoor pools and well-equipped gym, it provides the perfect setting for relaxation and rejuvenation. The resort boasts 19 dining options, ensuring that guests have a variety of culinary experiences to choose from. The rooms at RIMBA are beautifully furnished and offer breathtaking views of the tropical landscapes surrounding the resort. Guests also have priority access to the renowned Rock Bar and spa & wellness center at AYANA Resort Bali. Free WiFi is available throughout the property, including in all guest rooms. Additionally, RIMBA provides convenient amenities such as a children's playground, business center, and tour desk. Union Pay is accepted here, adding to the convenience of guests' stay. Staff members are multilingual, speaking English, Mandarin, Japanese, Korean, Russian, and Bahasa Indonesia. Overall,RIMBA by AYANA Bali offers a truly luxurious experience with its stunning accommodation options and exceptional facilities.
– 12 outdoor pools for ultimate relaxation
– Access to famous Rock Bar and spa & wellness center at AYANA Resort Bali
– 19 dining options offering a wide variety of cuisines
– Beautifully furnished rooms with scenic views
– Free WiFi accessible in all areas
Capella Ubud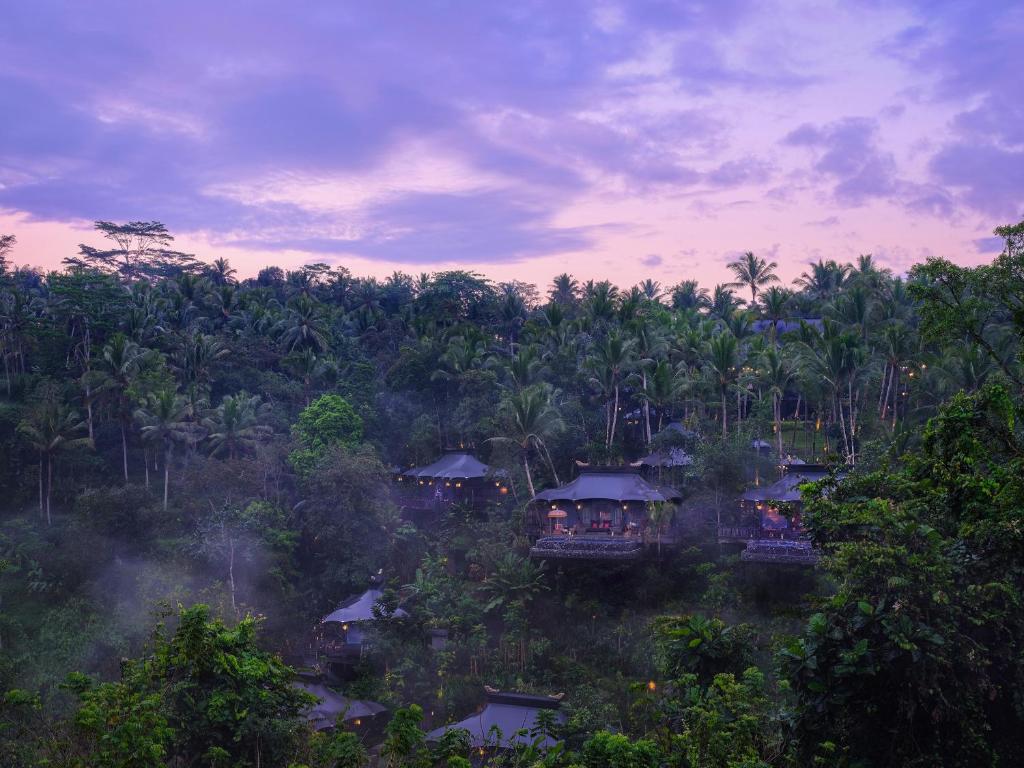 Nestled in the heart of Ubud's lush greenery, Capella Ubud offers a unique luxury resort experience that seamlessly combines unspoiled nature with modern comforts. Featuring tented accommodation with private saltwater pools, this resort is just 7 km from the city center and boasts large terraces and outdoor decks overlooking rice fields or the surrounding rainforest. The spacious rooms feature eclectic Balinese-style design with arts and antiques, as well as modern amenities like air conditioning, a personal safe, and an electric kettle. Guests can indulge in excellent fine dining at the on-site restaurant, which serves a blend of Balinese and international cuisine. For more dining options, guests can choose between Mads Lange or Api Jiwa for delicious Asian fare or enjoy camp snacks and nostalgic movies at the Camp Fire. The friendly staff provides non-stop assistance at the reception and is happy to provide information about the area and activities on the island. With free bikes available for guests to explore their surroundings, cycling is among the many activities that guests can enjoy near Capella Ubud.
Pros:
– Tented accommodation with private saltwater pools
– Large terraces and outdoor decks overlooking rice fields or rainforest
– Excellent fine dining offering Balinese and international cuisine
– Friendly staff providing non-stop assistance
– Complimentary bikes for guests to explore their surroundings
Discovery Kartika Plaza Hotel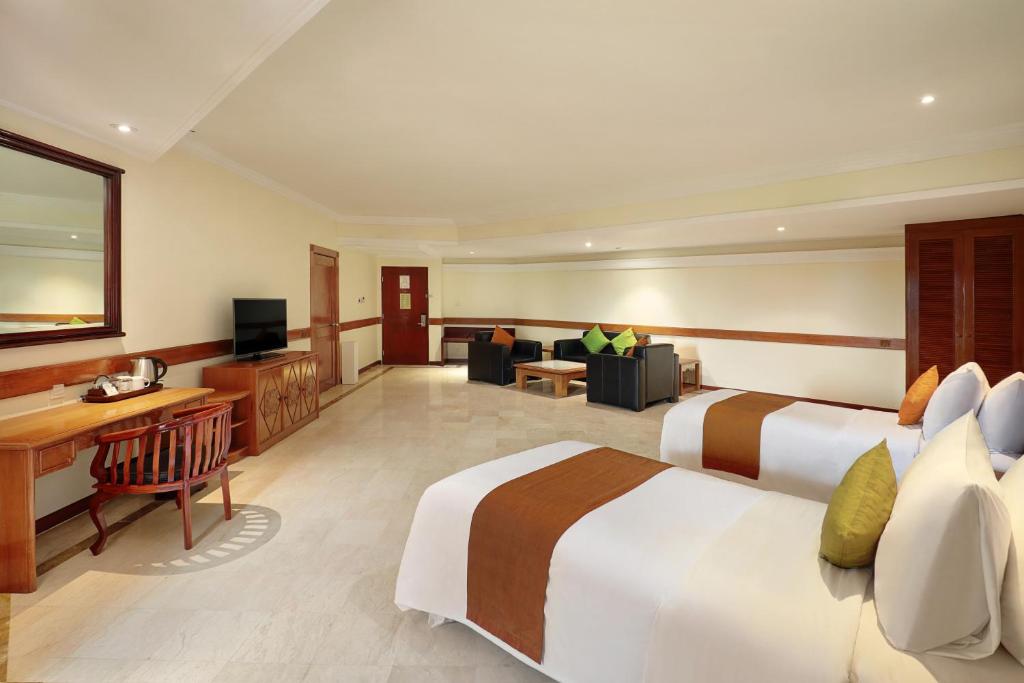 Located in South Kuta, Discovery Kartika Plaza Hotel is a luxurious resort that offers beachfront rooms surrounded by lush tropical gardens. With an outdoor pool and amenities like a kids pool, kids club, three restaurants, and free internet, this hotel ensures a comfortable and enjoyable stay for its guests. The rooms feature contemporary Balinese architecture with private balconies offering stunning views of the garden, pool, or ocean. Some rooms even provide direct access to a private garden or the resort pool. Each room is equipped with modern amenities such as a 32-inch LCD TV, minibar, and safety deposit box. Guests can indulge in a relaxing massage at the spa or stay active at the fitness center. The hotel's Activity Centre assists guests with booking tours and exciting activities like low-altitude helicopter rides above Bali Island. Tepan Restaurant serves delicious breakfasts with an ocean view in both indoor and open-air deck seating options. Conveniently located within walking distance to Kuta center and Waterbom Bali water park, as well as just a short drive from Ngurah Rai International Airport, Discovery Kartika Plaza Hotel offers convenience alongside luxury.
Pros:
– Beachfront location surrounded by tropical gardens
– Outdoor pool for relaxation
– Kids club and kids pool for family-friendly stays
– Multiple dining options including Tepan Restaurant with ocean view
– Assistance with booking tours and activities through the hotel's Activity Centre
Five Star Hotels in Downtown Jimbaran
Downtown Jimbaran offers a range of luxury five-star hotels that provide impeccable service and a tranquil atmosphere. With their stunning views and strategic location, these hotels are the perfect choice for discerning travelers seeking an unforgettable stay in this vibrant destination.
Ibah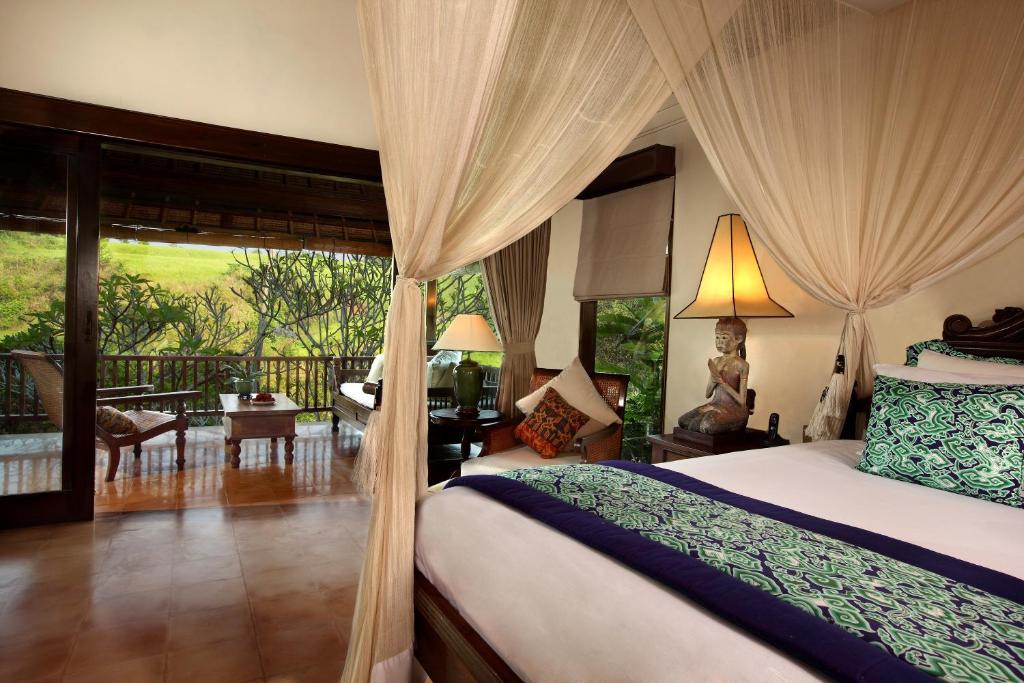 Located in a sloping valley by the Campuhan River, Ibah is a luxurious resort in Ubud that offers guests a truly immersive and tranquil experience. The hotel features an inviting outdoor pool set within a stunning stone garden, complete with relaxation corners and day beds built into a large stone wall. Guests can indulge in delicious meals by the pool or waterfall, or opt for dining in the beautiful garden. The suite villas at Ibah are adorned in traditional Balinese style and offer breathtaking views of the surrounding natural scenery. Each suite boasts a balcony/terrace and a marble bathroom, as well as amenities like cable TV, DVD player, and fridge. The spa provides rejuvenating massages, while the reading lounge offers solace for bookworms. The restaurant at Ibah serves delectable Indonesian favorites, international dishes, vegetarian options, and an impressive wine selection to cater to all tastes. With its convenient location just 1.5 km from Ubud Royal Palace and offering complimentary shuttle services to central Ubud, Ibah truly encompasses luxury living amidst nature's beauty.
– Beautifully designed traditional Balinese-style suite villas
– Inviting outdoor pool set within a serene stone garden
– Convenient free shuttle service to central Ubud
– Tranquil spa offering soothing massages
– Exquisite dining options with Indonesian favorites & international dishes
Four Seasons Resort Bali at Jimbaran Bay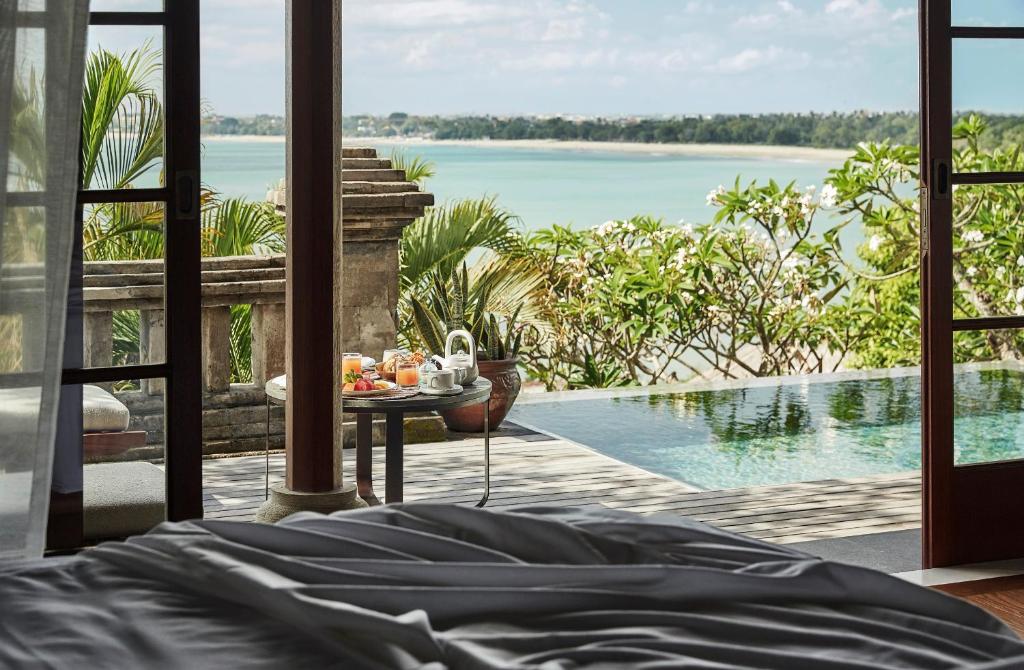 Located on the picturesque Jimbaran Bay, Four Seasons Resort Bali at Jimbaran Bay is a luxurious 5-star hotel offering breathtaking views of the Indian Ocean. The resort boasts Balinese-style villas surrounded by lush tropical gardens and features an outdoor pool for guests to relax in. With three dining options on-site, including Taman Wantilan serving Indonesian specialties and Sundara offering fusion Asian delights, guests can indulge in a variety of culinary experiences. The resort also offers recreational activities such as cooking classes, gym workouts, and spa treatments for ultimate relaxation. Within a short walk from the hotel, guests can enjoy the famous seafood restaurants along Jimbaran Beach or take in the local scenery. Each spacious villa at Four Seasons Resort Bali at Jimbaran Bay includes a private outdoor pool, flat-screen satellite TV with DVD player, and a minibar. The en-suite bathrooms are equipped with large bathtubs and complimentary toiletries. For added convenience, the staff at the tour desk can assist with sightseeing arrangements and ticket services, while currency exchange is also available on-site. With free WiFi accessible throughout the property, guests can stay connected during their stay.
Pros:
– Stunning views of the Indian Ocean
– Luxurious Balinese-style villas surrounded by tropical gardens
– Three dining options offering a range of delicious cuisine
– A variety of recreational activities available including cooking classes and spa treatments
– Convenient location near Jimbaran Beach and Ngurah Rai International Airport
AYANA Resort Bali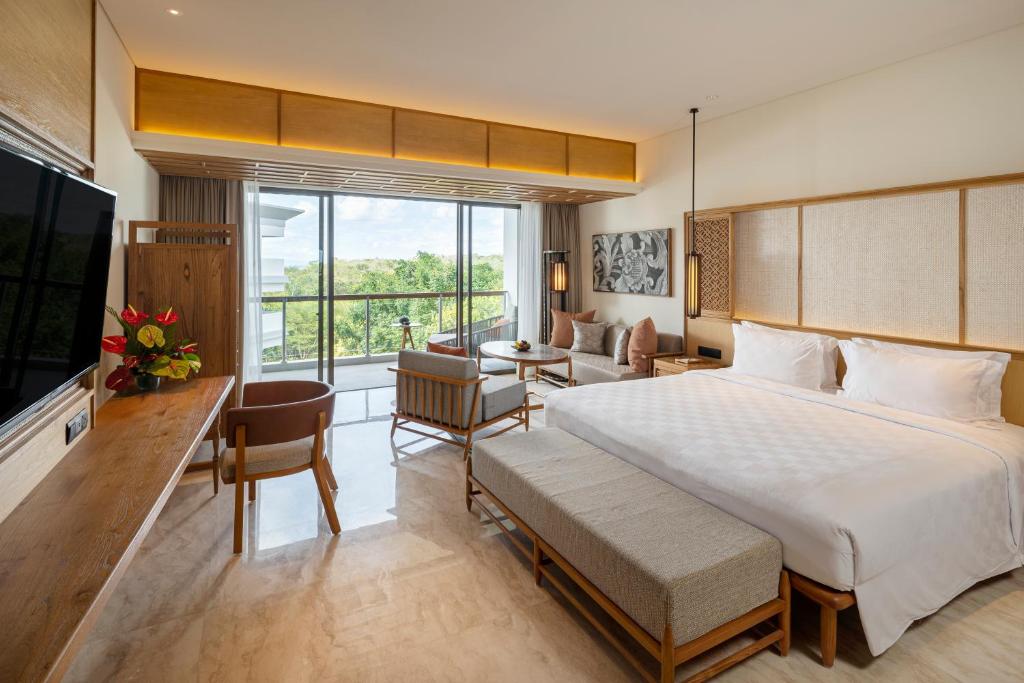 AYANA Resort Bali is a luxurious 5-star resort located in Jimbaran, just 8 km from Central Jimbaran. Set on 90 hectares of cliff-top tropical gardens overlooking the stunning white sand beaches of Jimbaran Bay, this resort offers a truly breathtaking setting. The resort features 12 swimming pools and 19 dining options, including the famous Rock Bar. The rooms are elegantly decorated with wooden furnishings and offer modern amenities such as LED TVs and marble bathrooms. Guests can indulge in Thalasso massage therapies at the spa, play golf at the putting course or enjoy various activities at the on-site tennis court and fitness center. Union Pay is accepted here and multilingual staff are always available to assist guests during their stay. Additionally, Padi Restaurant serves a daily buffet breakfast surrounded by lotus ponds.
– Breathtaking cliff-top location overlooking Jimbaran Bay
– Luxurious rooms with modern amenities
– Multiple swimming pools to choose from
– Variety of dining options including the famous Rock Bar
– Spa with Thalasso massage therapies
Jimbaran 5 star Hotels Information
| | |
| --- | --- |
| 🛎️ 5 star Hotels in Jimbaran | 9 |
| 💵 Hotels Prices From | $196 |
| 💵 Highest price | $845 |
| 🥇 Average Review Score | 8.7/10 |
| 🛏️ Average number of Rooms | 313 |
Top 5 star hotels in Jimbaran
| | |
| --- | --- |
| Permata Ayung Private Estate | 9.4/10 |
| Capella Ubud | 9.4/10 |
| Four Seasons Resort Bali at Jimbaran Bay | 9.3/10 |
| RIMBA by AYANA Bali | 9/10 |
| Ibah | 9/10 |
FAQ
What are some notable 5 star hotels in Jimbaran?
Jimbaran, Indonesia offers a range of luxury 5 star hotels that cater to the discerning traveler. Some notable options include the Four Seasons Resort Bali at Jimbaran Bay, renowned for its breathtaking ocean views and spacious villas, and The Ritz-Carlton, Bali which boasts elegant accommodations and world-class amenities.
What is the average price per night for a 5 star hotel in Jimbaran?
The average price per night for a stay at a luxury 5 star hotel in Jimbaran can vary depending on the season and specific hotel chosen. However, on average, guests should expect to pay around $300 to $500 per night for a truly indulgent experience.
What amenities can I expect at a 5 star hotel in Jimbaran?
A stay at a 5 star hotel in Jimbaran promises an array of luxurious amenities designed to enhance your comfort and enjoyment. These may include but are not limited to spacious swimming pools with stunning views, state-of-the-art fitness centers, world-class restaurants serving gourmet cuisine, rejuvenating spa facilities offering various treatments, private beach access, personalized concierge services, and much more.
Is it possible to find all-inclusive packages at 5 star hotels in Jimbaran?
Yes! Many luxury resorts in Jimbaran offer all-inclusive packages that provide guests with exceptional value for their money. These packages often include accommodations, meals (breakfast, lunch & dinner), selected beverages such as cocktails or non-alcoholic drinks throughout the day, recreational activities like water sports or yoga classes as well as access to spa facilities. It's advisable to check with each individual hotel about their specific all-inclusive offerings.
Can I book excursions or tours from my 5-star hotel in Jimbaran?
Absolutely! Most luxury hotels will have dedicated concierge services that can assist you in booking various excursions and tours in and around Jimbaran. Whether you want to explore the nearby cultural sites, immerse yourself in adventurous outdoor activities like surfing or hiking, or simply take a day trip to nearby islands, the hotel staff will be more than happy to curate a memorable experience tailored to your preferences.
Popular Five Star Hotels destinations