Welcome to the majestic city of Jaipur, where opulence and grandeur seamlessly merge with rich cultural heritage. Nestled in the heart of India's royal state of Rajasthan, Jaipur is a treasure trove of architectural marvels, bustling bazaars, and vibrant festivals. In this regal landscape, 5-star hotels shine like gems, offering an unparalleled experience that reflects the city's charm and splendor.
When it comes to luxury accommodation in Jaipur, prepare to be pampered by world-class hospitality that goes above and beyond your expectations. These exquisite establishments are synonymous with elegance and refinement, enveloping you in a cocoon of comfort from the moment you step through their doors. Immerse yourself in the timeless beauty of palatial suites adorned with intricate artwork, ornate furnishings, and plush amenities that cater to your every need.
In addition to indulging in lavish surroundings, these 5-star hotels also provide a gateway to exploring Jaipur's captivating attractions. From iconic landmarks like Hawa Mahal (Palace of Winds) to the magnificent Amer Fort overlooking Maota Lake, each destination exudes historical significance as tales of valor and romance come alive before your eyes. After a day venturing through the Pink City's narrow lanes filled with colorful textiles and aromatic spices, rejuvenate yourself at spa sanctuaries within these luxurious retreats or savor delectable Rajasthani cuisine prepared by master chefs.
Join us as we embark on a journey through Jaipur's most prestigious 5-star hotels – where modern comforts blend harmoniously with ancient traditions – promising an unforgettable stay fit for royalty.
Best Five Star Hotels in Jaipur
Radisson Jaipur City Center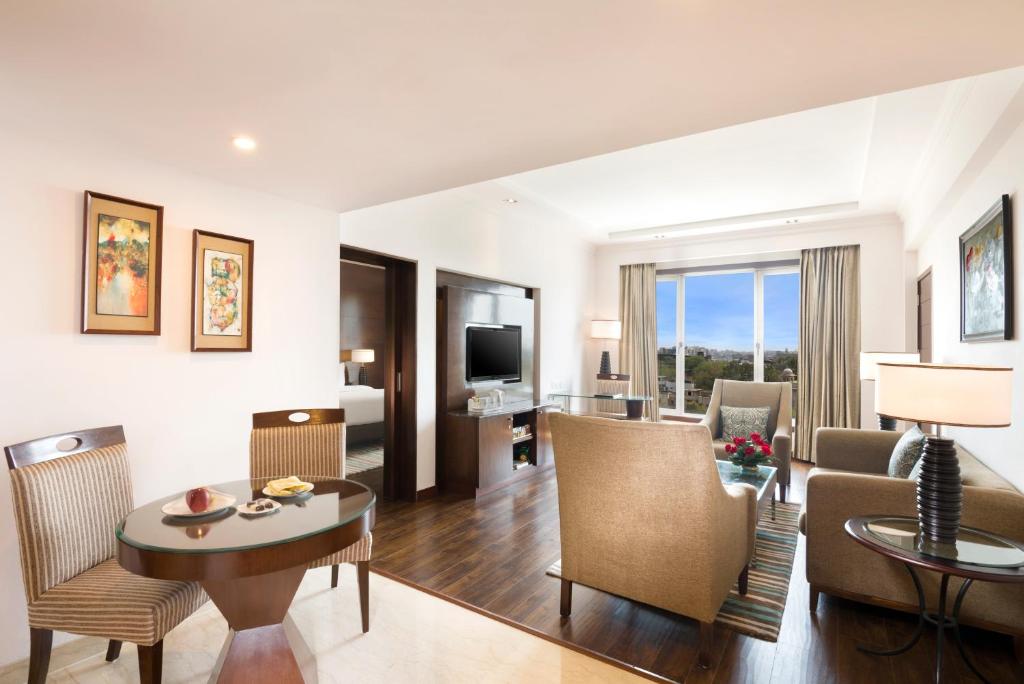 Located in Jaipur, just 1.1 km from Jaipur Railway Station, Radisson Jaipur City Center is a luxurious 5-star hotel that offers an array of amenities and services to ensure a comfortable stay for guests. This hotel features an outdoor swimming pool, free private parking, a fitness center, and a restaurant. With room service available around the clock and a 24-hour front desk, guests will always have their needs attended to. The hotel also provides free WiFi access for all guests. The rooms are elegantly furnished with air conditioning, flat-screen TVs with cable channels, fridges, kettles, bidets, free toiletries and desks. Each room has its own private bathroom with a shower and hairdryer as well as stunning city views. Additionally, all rooms come complete with a seating area for relaxation purposes. Guests can start their day off right by enjoying either the buffet or continental breakfast offered at the accommodation. The hotel's convenient location allows for easy access to attractions such as City Palace (3.4 km away) and Jantar Mantar (3.5 km away). For travelers arriving by air, Jaipur International Airport is conveniently located just 13 km from the hotel.
Pros:
– Outdoor swimming pool
– Free private parking
– Fitness center
– Restaurant on-site
– Free WiFi access
Trident Jaipur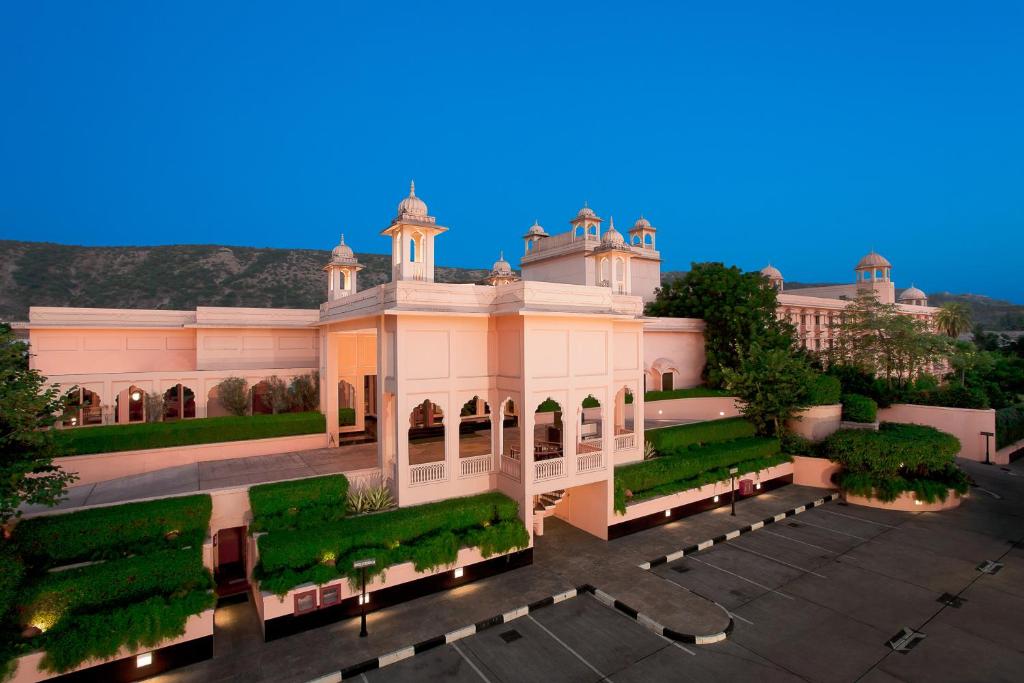 Trident Jaipur is a luxurious 5-star hotel, offering breathtaking views of peaceful Mansagar Lake and the Aravalli Range. The hotel features a large outdoor pool with loungers, pool bar, and fitness facilities. Guests can enjoy poolside barbecues at The Verandah and indulge in hearty buffets at Jal Mahal. The spacious rooms at Trident Jaipur open out to private balconies overlooking either the lake or the hotel's landscaped grounds. In-room amenities include a flat-screen TV, bathtub, and separate shower. The hotel offers free WiFi in all rooms. Trident Jaipur is conveniently located near popular attractions such as Nahargarh Fort, Jal Mahal, and Bapu Bazaar. It provides free parking and is just 21 km from Jaipur Airport. The hotel offers 24-hour reception with concierge services as well as childcare services. Other facilities include a business center, children's playground and club, and barbecue facilities on-site. Mansagar is the perfect spot for enjoying an after-meal cocktail or nightcap.
Pros:
– Stunning views of Mansagar Lake
– Luxurious accommodation with spacious rooms
– Large outdoor pool with poolside bar
– Convenient location near popular attractions
– Excellent service provided by attentive staff
The Raj Palace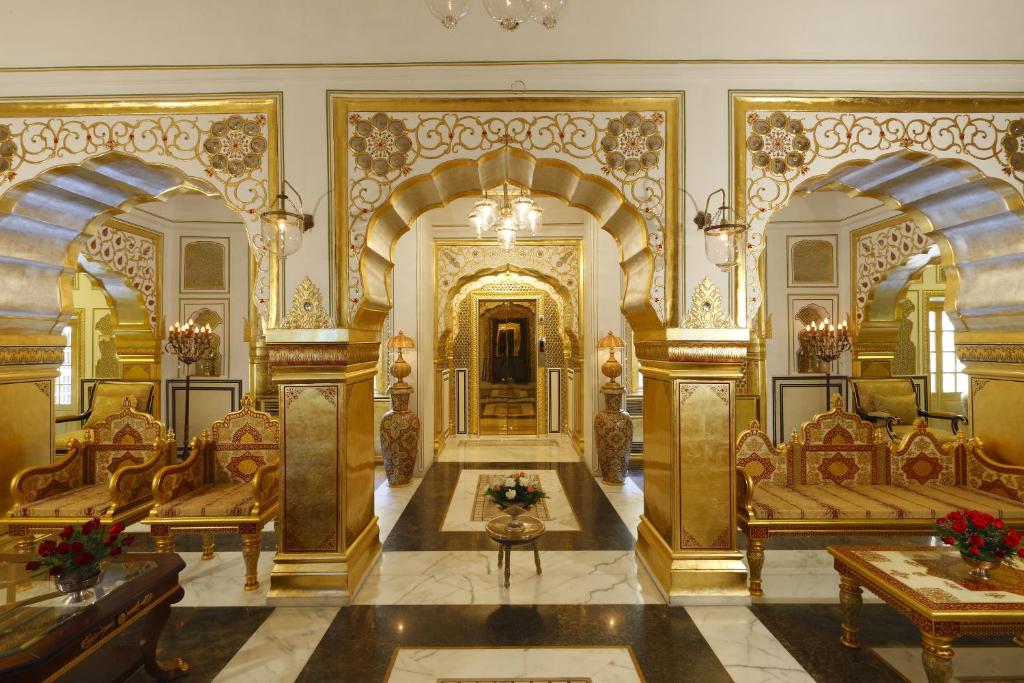 The Raj Palace, a boutique hotel built in 1727, is one of Jaipur's first palace hotels and showcases elements of the Mughal period. With its charming interior adorned with crystal chandeliers and double-height ceilings, this luxurious hotel offers guests a truly regal experience. The property boasts a relaxing pool and health club for guests to enjoy. Each room at The Raj Palace is unique, exuding the spirit of the illustrious guests who once stayed here. Decorated with traditional Indian décor and antique furnishings, the rooms are spacious and equipped with modern amenities like cable TV and air conditioning. Premium bath amenities and free Wi-Fi are also provided, adding to the comfort of each guest's stay. Many rooms even feature pieces from the Royal Family's museum collection, allowing visitors to immerse themselves in history. Guests can unwind in the swimming pool or indulge in massages at the spa for ultimate relaxation. The hotel also offers on-site entertainment options including theatre performances and marionette shows for those seeking cultural experiences during their stay. Furthermore, The Raj Palace features well-equipped meeting rooms named after royals for business travelers looking to host events or conferences in a royal setting. When it comes to dining options, Swapna Mahal serves up an array of international cuisine while The Kebab Shop specializes in delicious Mughlai dishes including live barbecue preparations. For drinks and pastries, head over to The Royal Lounge which is sure to satisfy your cravings. Lastly, Shikarbadi offers a wide selection of alcoholic and non-alcoholic beverages for guests' enjoyment throughout the day.The Raj Palace is conveniently located just a 20-minute drive from Jaipur International Airport as well as being within close proximity (10-minute drive) to both Amber Palace Fort and Jal Mahal Lake.
– Unique rooms that showcase traditional Indian décor
– Luxurious spa offering rejuvenating massage treatments
– On-site entertainment including theatre performances
– Well-equipped meeting rooms for business events
– Wide variety of dining options serving international and Mughlai cuisine.
Other places to stay in Jaipur
Luxury 5 Star Hotels in Jaipur
Luxury 5 star hotels in Jaipur offer unparalleled opulence and world-class service, ensuring a memorable stay for discerning travelers. From elegant interiors to exquisite dining experiences, these hotels exude sophistication and provide an oasis of luxury in the heart of this vibrant city.
Alila Fort Bishangarh Jaipur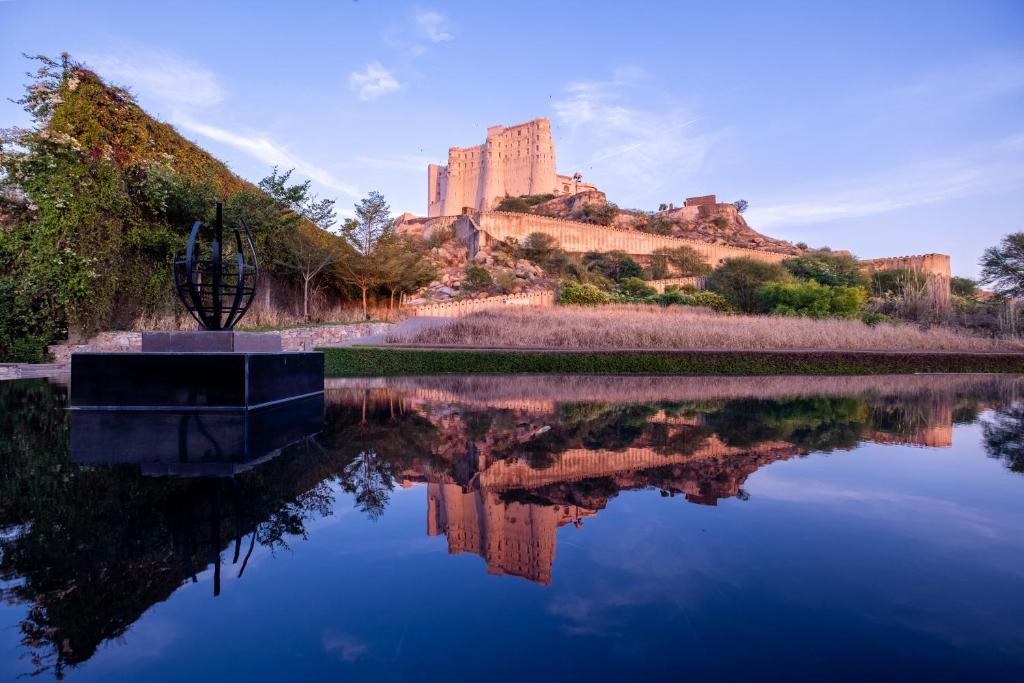 Perched upon a mesmerizing granite hill, Alila Fort Bishangarh Jaipur boasts breathtaking 360-degree views of the Rajasthani landscape. This luxury hotel offers complimentary WiFi and features a sun terrace with a swimming pool, fitness center, and garden. The architectural design showcases the influences of both Rajput and Mughal styles. Each room is elegantly furnished with a flat-screen TV, private bathroom with bath and free toiletries, and selected rooms include a balcony. Guests can enjoy a continental breakfast and make use of amenities such as the children's playground, library, and spa center. The all-day dining venue at Alila Fort Bishangarh is Amarsar which serves an array of delicious dishes inspired by age-old traditional recipes from the Silk Route. With its convenient location between Delhi (197 km) and Jaipur (69 km), this hotel is easily accessible for travelers seeking an exclusive getaway.
– Stunning 360-degree views of the Rajasthani landscape
– Complimentary WiFi available throughout the property
– Sun terrace with swimming pool for relaxation
– All-day dining venue offering delectable dishes inspired by Silk Route recipes
– Convenient location near both Delhi and Jaipur airports
The Leela Palace Jaipur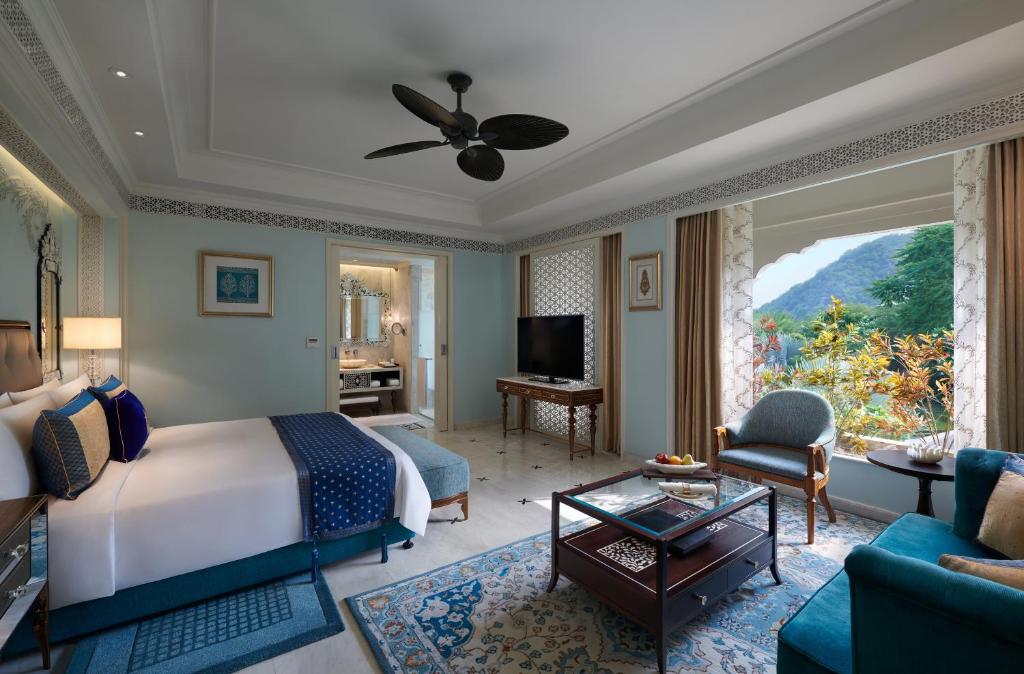 The Leela Palace Jaipur, located in the vibrant city of Jaipur, offers a luxurious and unforgettable stay. Guests can enjoy a range of amenities, including a fitness center, swimming pool, 24-hour front desk, and tour desk. The hotel also provides convenient services such as dry-cleaning, laundry, and ironing. Dining options are abundant with Sukh Mahal offering international and local cuisine with an interactive live kitchen concept. Jharokha is the perfect spot for lounging and enjoying an array of coffees and cocktails. For a memorable dining experience under the stars, guests can visit Hawa Mahal rooftop restaurant overlooking the Aravalli Hills. The hotel features on-site parking and free WiFi access in public areas. All air-conditioned rooms are equipped with modern amenities such as a 49-inch LED TV, tea/coffee making facilities, minibar, iPod docking station, safety deposit box, and spacious bathrooms with four fixtures. Additionally, guests can indulge in various experiences at The Leela Palace Jaipur's spa which focus on delivering four distinctive benefits: Calm, Indulge Invigorate and Renew. Inspired by the Sheesh Mahal at Amer Fort in Jaipur is Mohan Mahal which exudes an atmosphere of refined elegance with its candle-lit mirror decor – perfect for enjoying delicious grills with friends or family members. With its excellent location near popular attractions like Jaigarh Fort and Jalmahal,and being just 29 km away from Jaipur International Airport,this hotel is the perfect choice for luxury travelers seeking comfort,class,and convenience.
Pros:
– Luxurious amenities including fitness center and swimming pool
– Multiple dining options to suit every palate
– Spa treatments tailored to individual needs
– Stunning candlelit atmosphere at Mohan Mahal
– Convenient location near popular attractions
Shakun Hotels And Resorts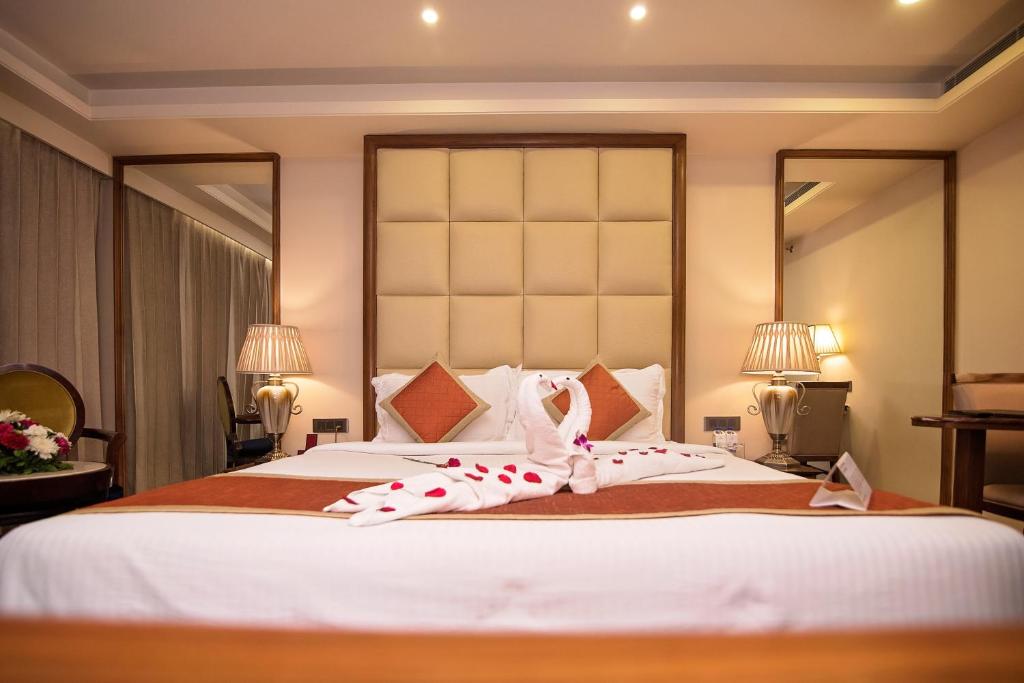 Shakun Hotels And Resorts is a luxurious pure vegetarian property located in Jaipur, just 1.1 km from Sindhi Camp. This hotel offers free WiFi throughout the property and features an on-site restaurant where guests can enjoy delicious meals. The rooms are elegantly designed with air conditioning and a flat-screen TV with satellite channels. Some units even have a seating area for relaxation. Each room comes with a kettle, private bathroom, bath robes, and complimentary toiletries for added comfort.
The hotel provides excellent amenities including a 24-hour front desk for any assistance required by guests and a tour desk to help make travel arrangements. There is also a banquet/meeting facility and business center available for those who need them. Guests can dine at the multi-cuisine Pantheon restaurant or enjoy coffee at Tamarind, the 24-hour coffee shop. Additionally, the hotel offers 24-hour room service to cater to guests' needs at any time.
Shakun Hotels And Resorts is conveniently located near popular attractions such as Jantar Mantar and City Palace which are both around 2.2 km away from the property. Amber Palace and Hawa Mahal are also within close proximity, approximately 4.2 km away. For travelers flying into Jaipur, the nearest airport is Jaipur International Airport which is approximately 11.5 km away from Shakun Hotels And Resorts.
– Free WiFi throughout the property
– Pure vegetarian establishment
– Elegant rooms with modern amenities
– On-site restaurant offering multi-cuisine options
– Convenient location near popular attractions
Five Star Hotels in Downtown Jaipur
Downtown Jaipur offers a range of luxurious five-star hotels that allow guests to immerse themselves in the rich cultural heritage and vibrant atmosphere of the city. With their impeccable service, opulent interiors, and convenient location, these hotels ensure a memorable stay for discerning travelers seeking both comfort and style.
ITC Rajputana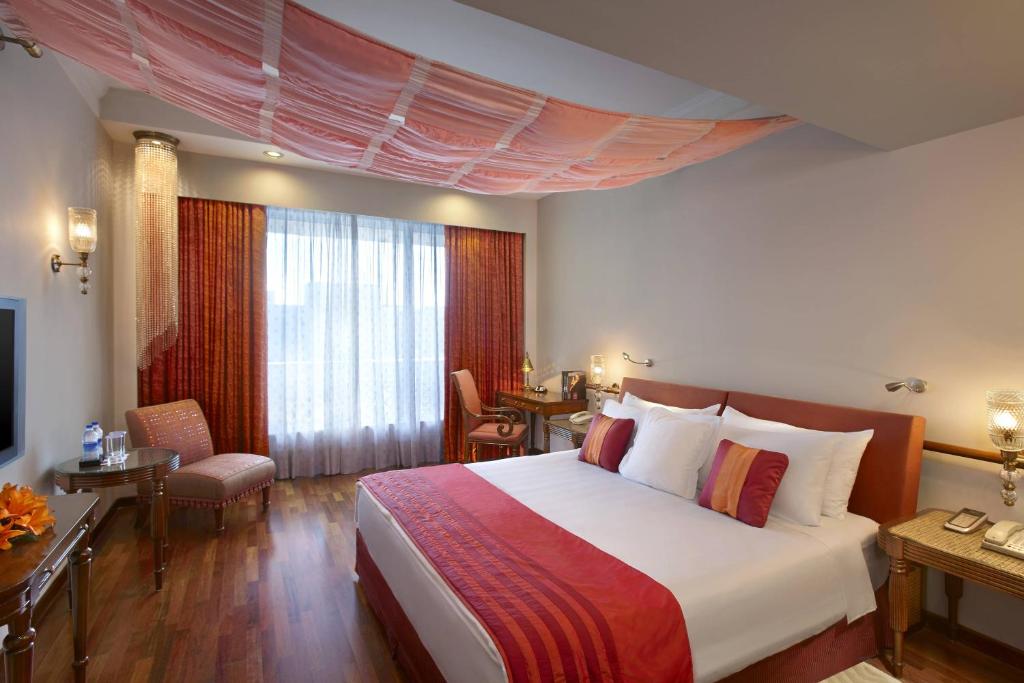 Located just 500 meters from Jaipur's city center, the ITC Rajputana is a luxury hotel that offers modern air-conditioned rooms and free private parking. With 218 rooms, the hotel features an outdoor swimming pool, spa, and five food and beverage options. Guests can relax with a swim or enjoy various treatments at the spa, which also includes a steam room, sauna, and fitness center. The hotel offers other guest facilities such as a 24-hour front desk, business center, and hair salon. Dining options include Peshawri serving North-Western Frontier cuisine, Jal Mahal offering a buffet spread of Indian and International dishes, and The Jaipur Pavilion – open 24 hours – which has a menu of Indian, Chinese, and continental dishes. Attractions such as Albert Museum, Jantar Mantar,and the City Palace are all within 6 km of the hotel while Jaigarh Fortand Amber Fort are further away at16 km.It is conveniently located 15 km to Jaipur Airportand only500 meters totheJaipur Junction Railway Station.
Pros:
– Modern air-conditioned rooms
– Outdoor swimming pool
– Spa with various treatments
– Multiple dining options
– Convenient location
Royal Heritage Haveli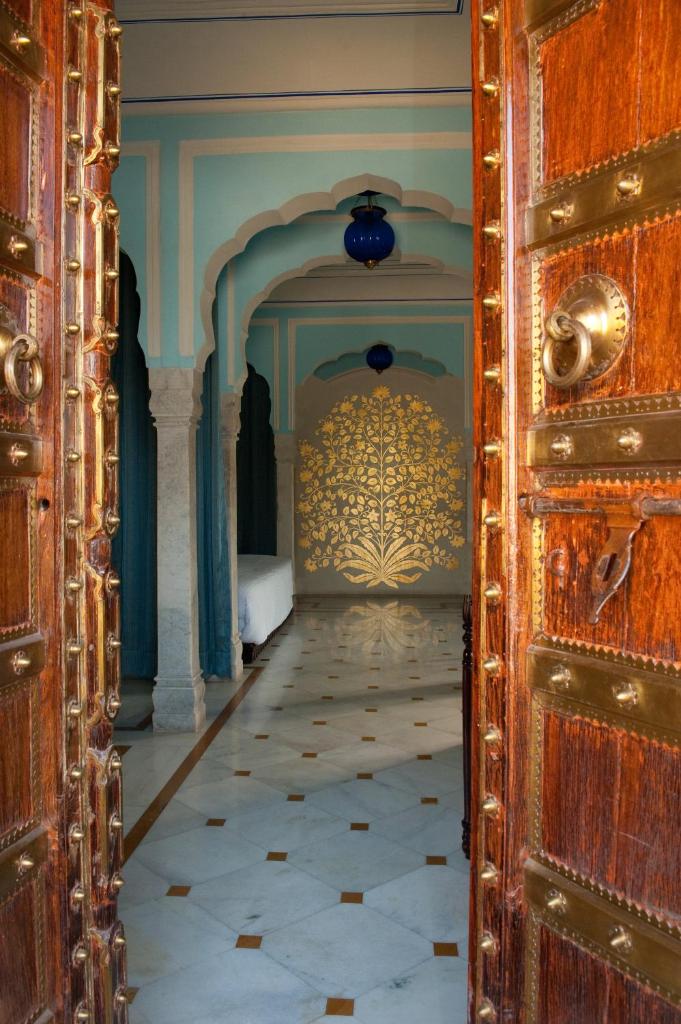 The Royal Heritage Haveli is a luxurious boutique hotel in Jaipur, India that dates back to the 18th century. After being closed for 150 years, this stunning heritage property has been beautifully restored and transformed into a haven of elegance and tranquility. From the moment you arrive, you will be greeted by the charming ambiance of this historic haveli, with its serene courtyards, lush gardens, and grand interiors. The hotel features an inviting outdoor swimming pool, perfect for a refreshing dip on a hot day. The rooms at the Royal Heritage Haveli are tastefully designed with arched doorways and adorned with beautiful wall frescoes. Each room offers a comfortable seating area and a flat-screen TV for your entertainment. Guests can also enjoy complimentary WiFi throughout their stay. Indulge in delicious meals at the hotel's multi-cuisine restaurant or opt for in-room dining for added convenience. For those looking to relax and rejuvenate, the hotel offers yoga sessions as well as Swedish or Kerala massages upon request. The Royal Heritage Haveli also provides excellent business facilities with its well-equipped business center and attentive staff who can assist you with any travel arrangements or tour bookings you may need during your stay. Be sure to visit the hotel's bar and coffee shop for some light refreshments before heading out to explore nearby attractions such as Hawa Mahal and Jal Mahal which are both within a short distance from the property.
Pros:
– Beautifully restored 18th-century heritage property
– Serene courtyards and lush gardens
– Inviting outdoor swimming pool
– Tastefully designed rooms with arched doorways and wall frescoes
– Excellent amenities including yoga sessions and massage services
Sarovar Premiere Jaipur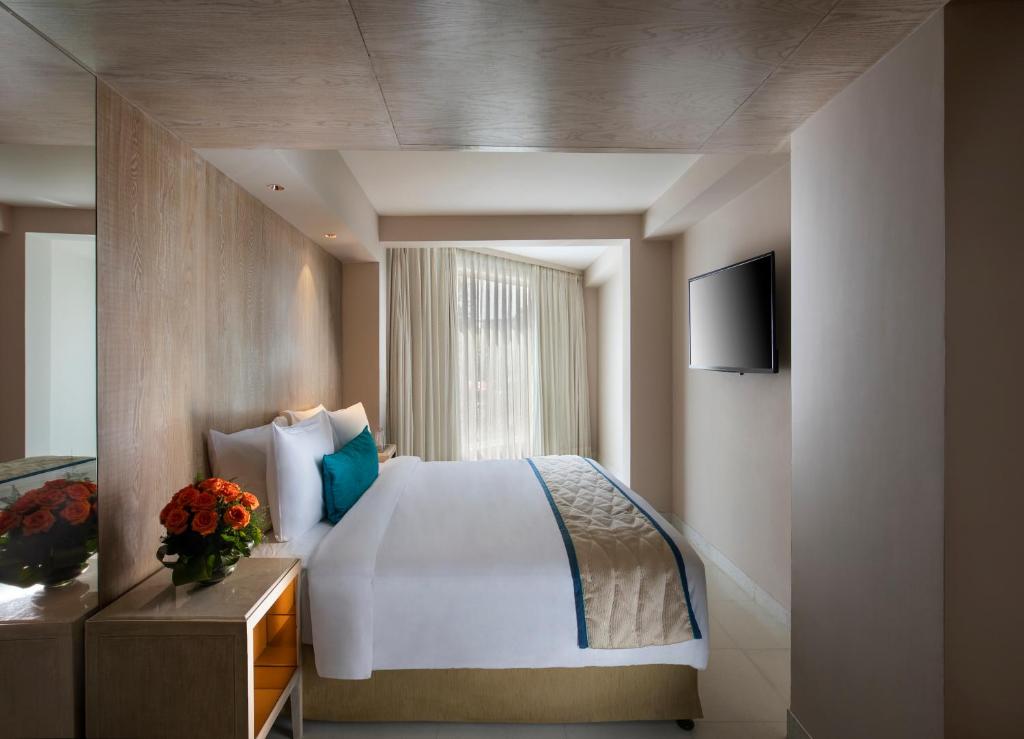 Sarovar Premiere Jaipur is a luxury hotel located in Jaipur, just 8 km away from Govind Dev Ji Temple. This property features free WiFi, a bar, a restaurant, and an outdoor pool. Guests can enjoy stunning city views from their rooms, which are equipped with a desk and a flat-screen TV. The hotel also offers a continental breakfast daily. Lakshmi Narayan Temple is conveniently located 5 km away from the accommodation, and the nearest airport is Jaipur International Airport, just 8 km away.
– Free WiFi available
– Outdoor pool for relaxation
– Convenient location near popular attractions
– Beautiful city views from guest rooms
– Continental breakfast served daily
Jaipur 5 star Hotels Information
| | |
| --- | --- |
| 🛎️ 5 star Hotels in Jaipur | 9 |
| 💵 Hotels Prices From | $106 |
| 💵 Highest price | $1774 |
| 🥇 Average Review Score | 8.3/10 |
| 🛏️ Average number of Rooms | 127 |
Top 5 star hotels in Jaipur
| | |
| --- | --- |
| Royal Heritage Haveli | 9.1/10 |
| The Leela Palace Jaipur | 9/10 |
| The Raj Palace | 8.9/10 |
| Trident Jaipur | 8.6/10 |
| Alila Fort Bishangarh Jaipur | 8.6/10 |
FAQ
1. What are some of the best 5 star hotels in Jaipur?
Jaipur offers a range of luxurious 5 star hotels that cater to discerning travelers. Some of the top-rated options include The Raj Palace Grand Heritage Hotel, Rambagh Palace, Fairmont Jaipur, Oberoi Rajvilas, and Taj Jai Mahal Palace. These hotels provide world-class amenities, impeccable service, stunning architecture, and a glimpse into the city's rich history and culture.
2. Are there any 5 star heritage hotels in Jaipur?
Absolutely! Jaipur is known for its magnificent heritage properties that have been transformed into lavish 5-star hotels. The city boasts several such establishments including Samode Haveli, Narain Niwas Palace Hotel, Alsisar Haveli, Shahpura House, and Diggi Palace Hotel. Staying at one of these heritage properties not only guarantees opulence but also allows guests to experience the regal charm and grandeur of Rajasthan's bygone era.
3. What are the must-have amenities in a luxury hotel in Jaipur?
Luxury hotels in Jaipur strive to provide an extravagant experience for their guests by offering an array of top-notch amenities. Some essential features include spacious rooms or suites with elegant decor and modern furnishings, state-of-the-art fitness centers and spas for relaxation and rejuvenation, fine dining restaurants serving delectable cuisine from around the world as well as local specialties, well-equipped business centers for corporate travelers' needs,and concierge services that can arrange exclusive tours and experiences.
4. How much does it cost to stay at a 5 star hotel in Jaipur?
The cost of staying at a luxury 5-star hotel in Jaipur can vary depending on factors such as location, reputation,class,and seasonality.Despite this,the average price per night typically ranges from INR12ktoINR30k,with some properties charging even more for premium suites and exclusive services. However, it's important to note that these rates can fluctuate based on demand and availability, so it is advisable to book in advance or avail of any ongoing promotions.
5. What are the advantages of staying at a 5 star hotel in Jaipur?
Staying at a 5-star hotel in Jaipur promises a host of advantages that ensure an unforgettable experience. These hotels offer impeccable service with courteous staff members who go above and beyond to cater to guests' needs. The luxurious accommodations are elegantly appointed, providing comfort and style while reflecting the city's rich heritage. Additionally, amenities such as world-class dining options, spa facilities, swimming pools,and well-equipped fitness centers contribute to an indulgent stay where every need is taken care of.
Popular 5 Star Hotels destinations