Welcome to the captivating city of Indore, India, where opulence seamlessly merges with tradition. Indulge in a world of luxury as we explore the finest 5-star accommodations that this enchanting destination has to offer. Get ready to embark on a journey filled with grandeur and impeccable service, as we delve into the realm of lavishness.
Indore, often hailed as the "mini Mumbai," is a city that exudes charm and sophistication at every corner. Nestled in the heart of Madhya Pradesh, this vibrant metropolis boasts an array of magnificent 5-star hotels that cater to the discerning traveler seeking nothing but excellence. From exquisite architecture to elegantly designed interiors, each hotel offers its own unique blend of modern amenities and traditional aesthetics.
Prepare to be pampered like royalty as you step foot into these luxurious havens. Immerse yourself in plush surroundings adorned with tasteful furnishings and upscale decor. Whether you seek tranquility or prefer an active lifestyle, these hotels provide an extensive range of services and facilities tailored to meet your desires. So buckle up for an unforgettable sojourn through Indore's most splendid 5-star establishments that will leave you longing for more!
Best Five Star Hotels in Indore
Indore Marriott Hotel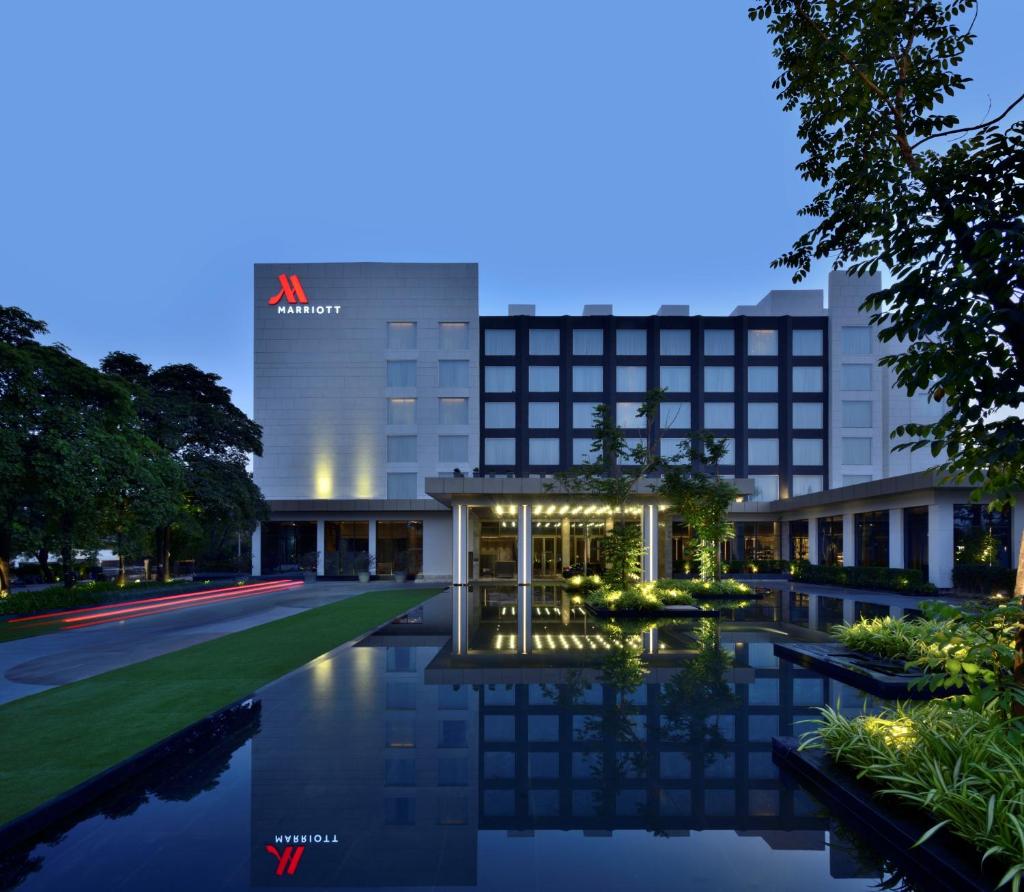 Indore Marriott Hotel is a luxurious 5-star hotel located in Indore, offering a range of excellent amenities and services. Guests can enjoy a fitness centre and a beautiful garden on the premises. The hotel features an inviting bar and an elegant dining venue, allowing guests to indulge in delicious meals and refreshing drinks. The tour desk is also available to assist guests in planning their activities and sightseeing trips. Free parking is provided for added convenience. The rooms at Indore Marriott Hotel are spacious and well-appointed, complete with modern amenities such as a wardrobe and a 49" smart LED TV. Some units even offer stunning city views, while all rooms come with private bathrooms featuring bath or shower facilities. Guests can start their day off right with a continental or Asian breakfast served at the hotel. For those interested in exploring the local attractions, Rajwada Palace is just 6 km away from the property. Additionally, Devi Ahilyabai Holkar International Airport can be reached within a short distance of 9 km from the hotel.
Pros:
– Convenient location near popular attractions
– Well-equipped fitness centre for guests' workouts
– Beautiful garden setting for relaxation
– Excellent dining options including an appealing bar
– Helpful tour desk assistance for planning activities
Radisson Blu Hotel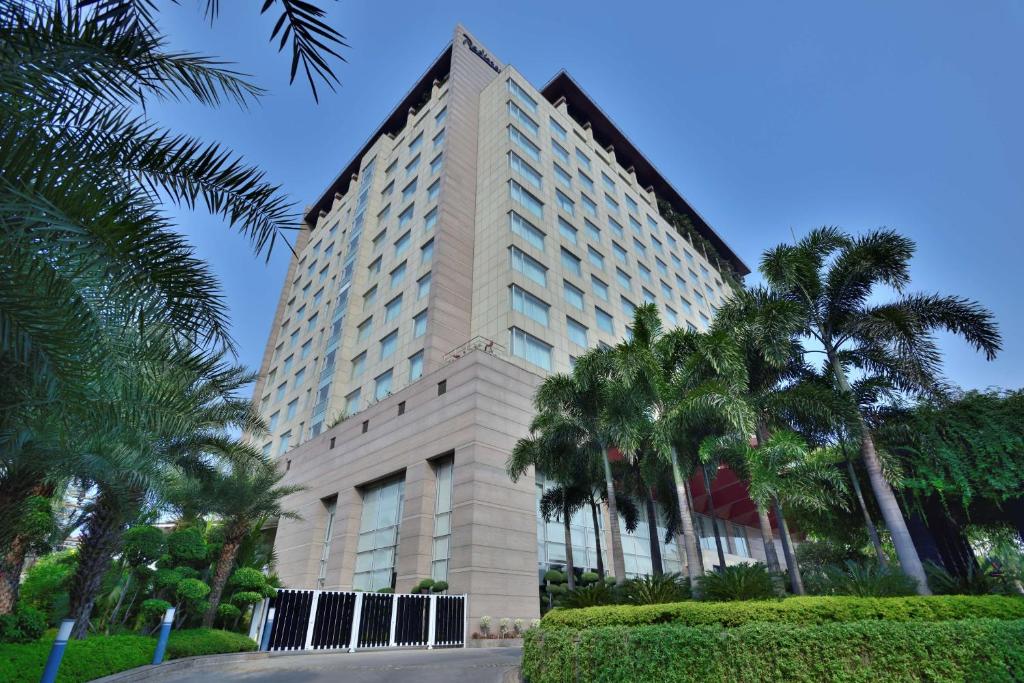 The Radisson Blu Hotel in Indore is a luxurious 5-star hotel with an array of amenities to make your stay comfortable and enjoyable. The hotel boasts an indoor pool, rooftop spa, modern gym, and free Wi-Fi. It also offers 24-hour concierge services, extensive meeting facilities, and four dining options. Located in the heart of the business hub of Indore, the hotel is conveniently situated near popular attractions such as Rajwada, Lal Baag Palace, Bada Ganapati, and the Central Museum. The air-conditioned rooms are spacious and stylishly decorated, featuring a 37-inch satellite flat-screen TV, free wired internet access, an executive work desk, ironing facilities, and some rooms even have a seating area. The en suite bathrooms are equipped with bathtubs for ultimate relaxation. Guests can enjoy international buffet spreads at The Creative Kitchen or indulge in Indian dishes at India Oye. For those with a sweet tooth, Cakewalk offers delectable desserts while the Lobby Bar serves refreshing drinks. Room service is available 24 hours for added convenience. Travelers can also arrange day trips and car rentals at the tour desk. Additionally, the hotel provides a business center for any work needs as well as an in-house doctor and souvenir shop for additional services during your stay.
– Indoor pool
– Rooftop spa
– Modern gym
– Free Wi-Fi
– Convenient location near popular attractions
Essentia Luxury Hotel Indore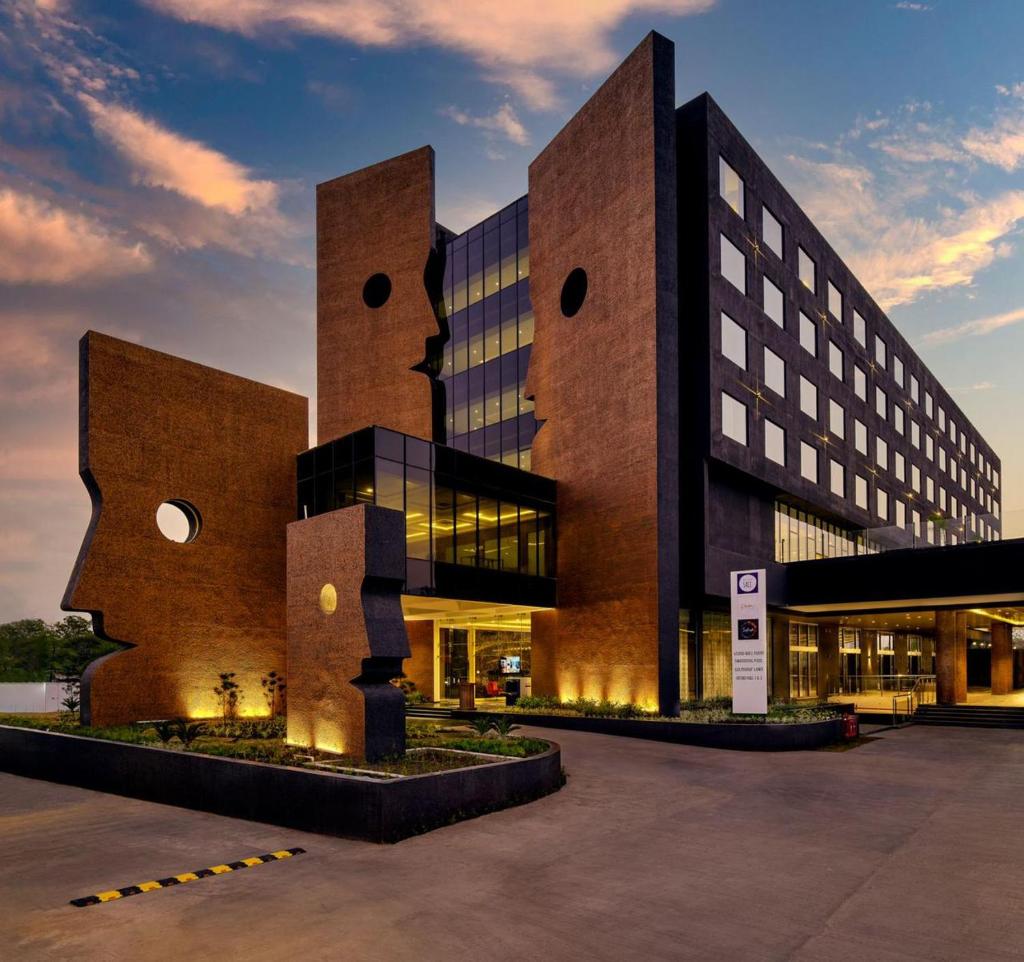 Essentia Luxury Hotel Indore is a newly opened 5-star hotel located in Indore, just 4.3 km away from Indore Junction Station. The hotel offers a range of amenities including an outdoor swimming pool, free private parking, a fitness centre, and a garden. Guests can also enjoy a meal at the on-site restaurant or relax in the shared lounge. Free WiFi is available throughout the property. The guest rooms are elegantly appointed and equipped with modern comforts such as a TV and a hairdryer. Popular attractions such as Rajwada Palace and ISKCON Indore are within close proximity to the hotel. The hotel also provides conveniences like a 24-hour front desk, concierge service, and currency exchange for guests' convenience. A buffet breakfast with continental or vegetarian options is served daily at the property. Additionally, guests can take advantage of the sun terrace for relaxation purposes. With its convenient location and luxurious facilities, Essentia Luxury Hotel Indore ensures an unforgettable stay for its guests.
– Newly opened luxury hotel
– Outdoor swimming pool
– Fitness centre
– On-site restaurant
– Free WiFi throughout the property
Luxury 5 Star Hotels in Indore
Luxury 5 star hotels in Indore offer guests an exquisite experience with their impeccably designed interiors, world-class service, and attention to detail. These hotels provide a seamless blend of opulence and comfort, making them the perfect haven for discerning travelers visiting the city.
FabHotel Marbella Hotel & Resort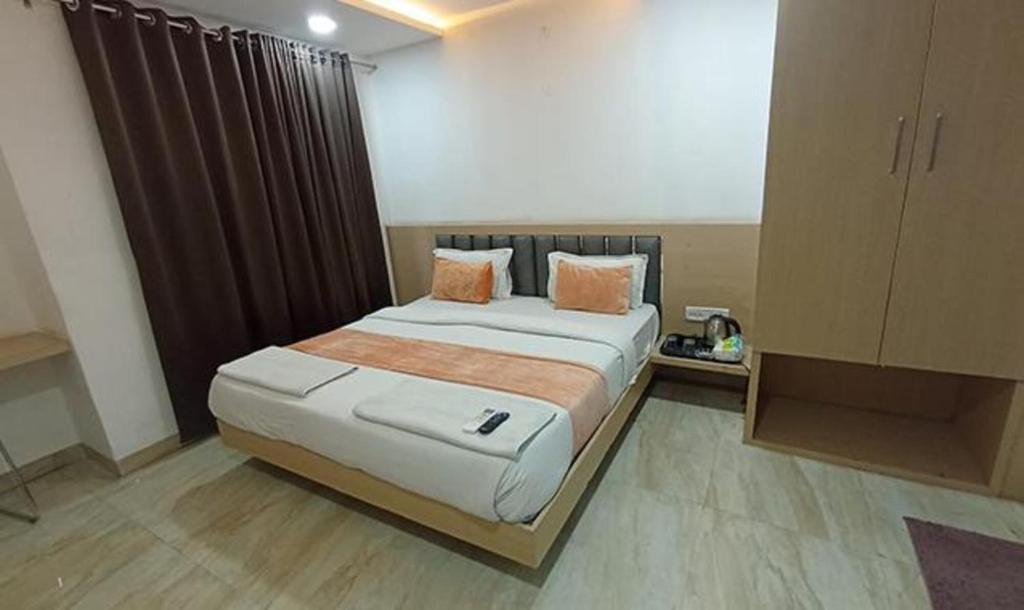 FabHotel Marbella Hotel & Resort is a luxurious 5-star hotel located in Indore, just under 1 km away from ISKCON Indore. Boasting a modern and sophisticated design, this newly opened hotel offers top-notch amenities and services to ensure a memorable stay. Guests can enjoy the beautiful terrace, indulge in delicious meals through room service, and rely on the attentive 24-hour front desk for any assistance needed. The hotel also features spacious family rooms for those traveling with loved ones. Conveniently situated, Indore Junction Station is only 11 km away, while Rajwada Palace is 12 km from the property. Devi Ahilya Bai Holkar Airport serves as the closest airport at a distance of 16 km.
Pros:
– Modern and sophisticated design
– Excellent location near popular attractions
– Terrace for relaxation and enjoyment
– Attentive 24-hour front desk service
– Spacious family rooms available
WOW Hotel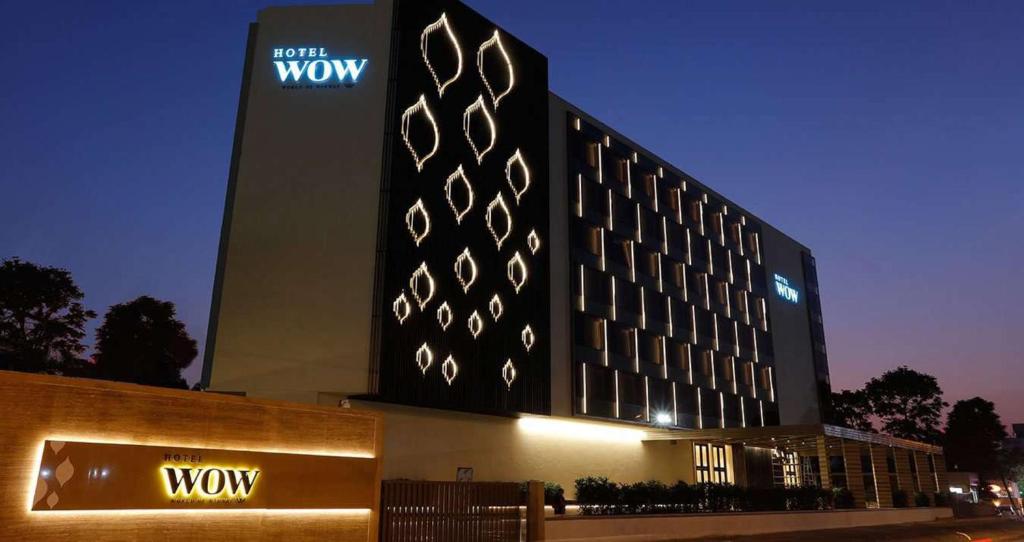 Located in Indore, WOW Hotel is a luxurious 5-star hotel situated just 5.6 km from ISKCON Indore and 6.7 km from Rajwada Palace. The hotel offers spacious rooms with free WiFi access and stunning city views. Each room at WOW Hotel is elegantly designed with a desk, flat-screen TV, and a private bathroom complete with free toiletries. Some units also feature a separate seating area for added comfort. Guests can start their day with a delicious breakfast that includes continental and buffet options, served each morning at the hotel's in-house restaurant which specializes in Asian cuisine. The hotel also provides a fitness center, terrace, and round-the-clock assistance at the front desk. With Devi Ahilya Bai Holkar Airport just 18.5 km away, WOW Hotel offers convenience along with its luxurious amenities.
– Free WiFi access
– Stunning city views
– Fitness center available
– In-house restaurant serving Asian cuisine
– Round-the-clock assistance at the front desk
Sayaji Indore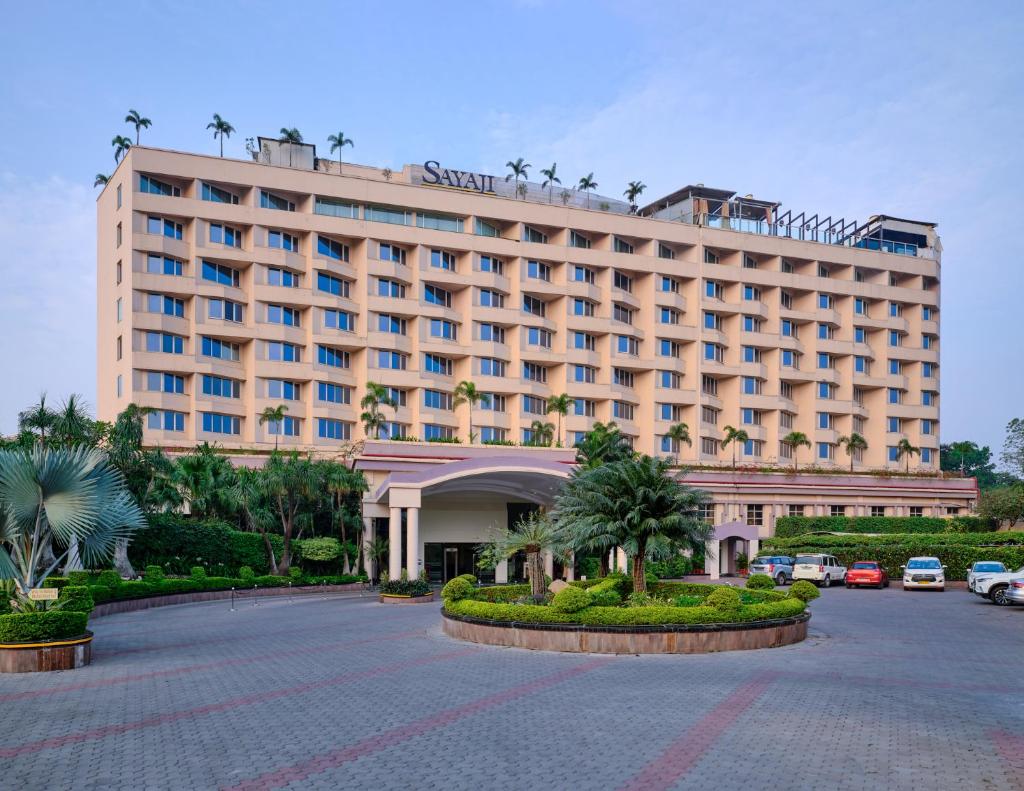 Sayaji Indore is a luxury hotel located 6 km from Indore Railway Station and Regional Park Boating Club. This hotel offers an outdoor swimming pool, a fitness centre, and a spa and wellness centre. The rooms are modern and air-conditioned, equipped with cable TV, minibar, and electric kettle. The hotel features multiple dining options including the Cravings multi-cuisine restaurant and Kebab Ville poolside restaurant. Guests can enjoy various activities like table tennis, squash, and bowling. There is also a tennis court and massage parlour on-site. Additional amenities include free WiFi access, ticket service, tour desk, luggage storage, free parking, Quoram bar serving refreshing beverages, and 24-hour room service.
– Indoor and outdoor pools for guests to relax in
– Multiple dining options offering delicious cuisine
– Fitness centre and spa for guests' well-being
– Variety of activities available to enjoy
– Free parking for convenience
Indore 5 star Hotels Information
| | |
| --- | --- |
| 🛎️ 5 star Hotels in Indore | 6 |
| 💵 Hotels Prices From | $50 |
| 💵 Highest price | $1147 |
| 🥇 Average Review Score | 7.9/10 |
| 🛏️ Average number of Rooms | 145 |
Top 5 star hotels in Indore
| | |
| --- | --- |
| Essentia Luxury Hotel Indore | 8.1/10 |
| Indore Marriott Hotel | 8/10 |
| FabHotel Marbella Hotel & Resort | 8/10 |
| Radisson Blu Hotel | 7.9/10 |
| Sayaji Indore | 7.7/10 |
FAQ
1. What are some of the top luxury 5 star hotels in Indore?
Indore offers a range of luxurious 5 star hotels that cater to the needs and preferences of discerning travelers. Some of the top luxury hotels in the city include The Grand Bhagwati Palace, Radisson Blu Hotel, Sayaji Hotel, Marriott Indore, and Lemon Tree Premier.
2. What amenities can I expect at a luxury 5 star hotel in Indore?
Luxury 5 star hotels in Indore provide an array of world-class amenities to ensure a comfortable and indulgent stay for their guests. These may include spacious rooms with elegant decor, fine dining restaurants serving delectable cuisine, state-of-the-art fitness centers, rejuvenating spa facilities, swimming pools, concierge services, and much more.
3. Are there any luxury boutique hotels available in Indore?
Yes, Indore boasts several luxury boutique hotels that offer personalized experiences and unique charm. These boutique properties are often characterized by their intimate ambiance, stylish interiors showcasing local artistry and culture, impeccable service tailored to individual needs, and attention to detail that ensures a memorable stay for guests seeking exclusivity.
4. Can I find 5 star business hotels with conference facilities in Indore?
Absolutely! Many luxury 5 star hotels in Indore cater specifically to business travelers by offering well-equipped conference rooms and meeting spaces along with professional event planning services. These business-oriented properties ensure all necessary amenities for successful corporate gatherings including high-speed internet access, audio-visual equipment support, and executive lounges.
5. How does one make reservations at a luxury 5 star hotel in Indore?
Making reservations at a luxurious 5-star hotel in Indore is quite straightforward. Most of these properties have dedicated websites where you can check availability based on your preferred travel dates and book directly online or contact their reservations team via phone or email for assistance. It is advisable to book well in advance, especially during peak travel seasons, to secure your desired accommodation option.
Popular 5 Star Hotels destinations