Welcome to the enchanting world of opulence and indulgence in Halkidiki, Greece. Prepare to be captivated by the sheer beauty of this breathtaking destination, renowned for its pristine beaches, crystal-clear turquoise waters, and rich cultural heritage. Nestled along the stunning Aegean coastline, Halkidiki offers an array of luxurious 5-star hotels that promise to transport you into a realm of unparalleled sophistication and tranquility.
Immerse yourself in the lap of luxury as you step foot into these lavish retreats that epitomize elegance and refinement. Each hotel exudes its own unique charm, seamlessly blending traditional Greek architecture with contemporary design elements. Indulge your senses with a myriad of world-class amenities and impeccable service that cater to your every whim. Whether you're seeking a romantic getaway or a family vacation filled with unforgettable moments, Halkidiki's 5-star hotels offer an oasis of serenity where dreams become reality.
Prepare to embark on a journey like no other as we delve into the magnificent world of Halkidiki's luxury accommodations. With their idyllic locations amidst lush landscapes and picturesque coastal vistas, these hotels create an ambiance that is unrivaled in its splendor. From spacious suites adorned with plush furnishings to private villas boasting infinity pools overlooking the azure sea – every detail has been meticulously crafted to ensure an extraordinary stay.
Indulge in gourmet dining experiences featuring exquisite flavors from both international cuisines and local Greek delicacies prepared by masterful chefs. Unwind at opulent spa sanctuaries offering rejuvenating treatments inspired by ancient healing traditions – allowing your mind, body, and soul to find harmony amidst pure bliss.
Join us as we explore these hidden gems where luxury meets paradise; where time stands still while life's pleasures are fully embraced. Let yourself be seduced by the allure of Halkidiki's 5-star hotels – truly havens for the discerning traveler seeking an extraordinary experience that will leave an indelible mark on their hearts.
Best Five Star Hotels in Halkidiki
Eagles Villas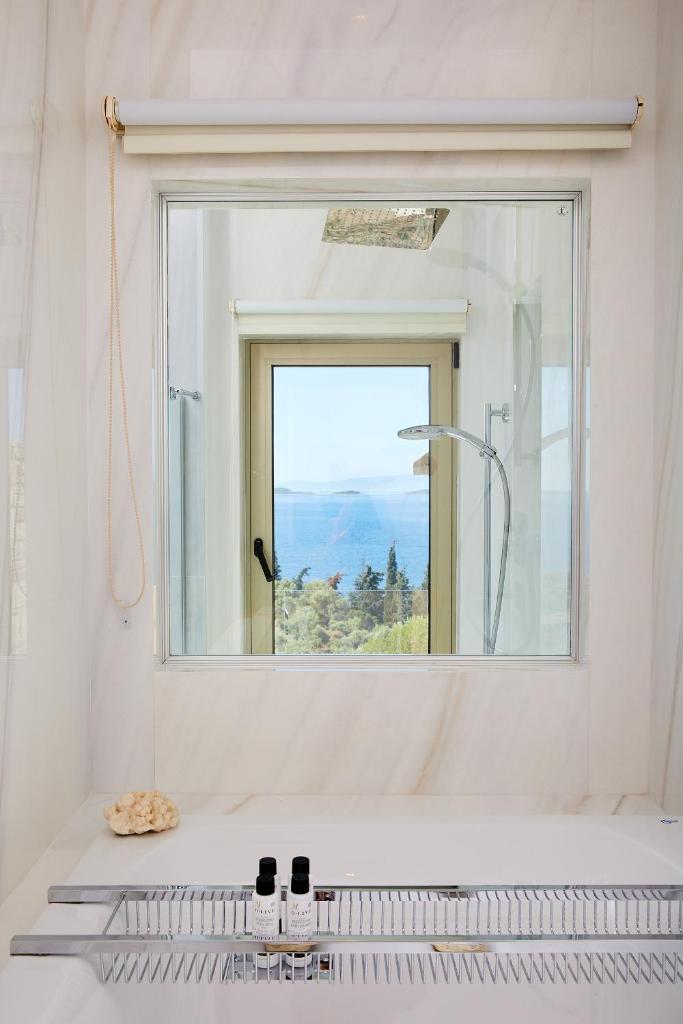 Nestled amidst Mediterranean gardens on a beautiful hilltop overlooking breathtaking views of the gulf and Mount Athos, Eagles Villas – Small Luxury Hotels of The World is the epitome of luxury. With its own state-of-the-art private pool, each luxurious villa offers a soothing palette of colors that will help you unwind and relax. As part of the Eagles Palace resort, guests are entitled to use its expansive facilities including the award-winning spa, private beach, water sports activities, PADI diving centers, and four renowned restaurants and bars. With free WiFi throughout the property and a butler service as well as a 24-hour club car service for convenient resort transportation, Eagles Villas ensures an indulgent stay in close proximity to the picturesque village of Ouranoupolis.
– Stunning views to the bay
– Luxurious villas with private pools
– Access to Eagles Palace resort amenities
– Butler service for ultimate convenience
– Convenient location near Ouranoupolis village
Sani Club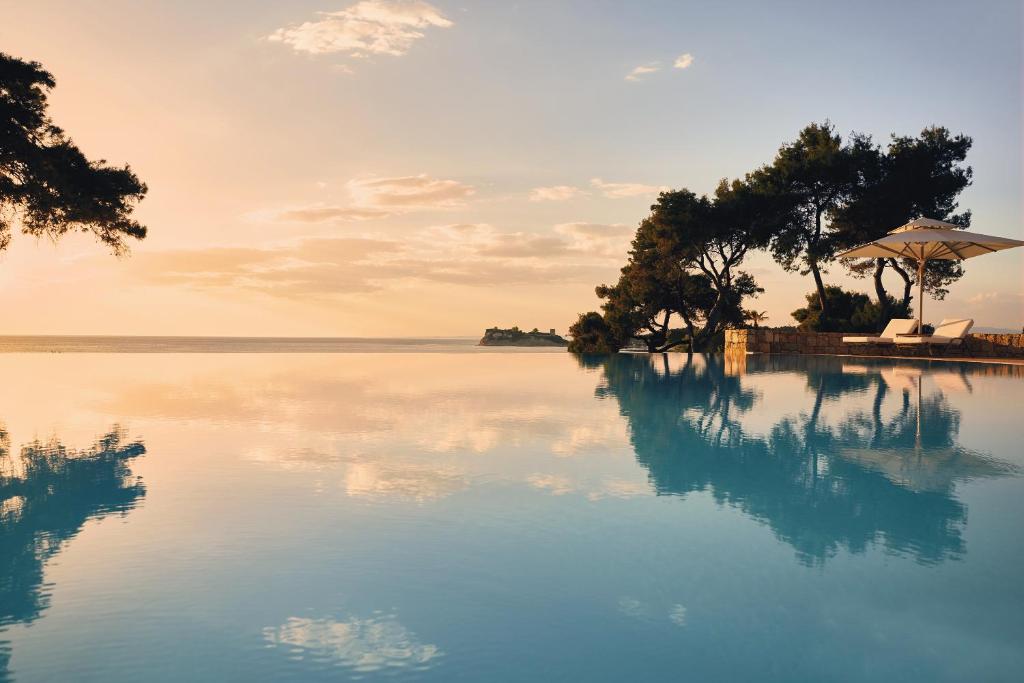 Nestled in a picturesque green bay in Kassandra, with stunning views of the Aegean Sea, Sani Club is a luxurious 5-star hotel that offers guests an unforgettable experience. With its private beach and pool, as well as three restaurants serving delectable cuisine, this hotel is perfect for those seeking relaxation and indulgence. The Club Spa provides rejuvenating treatments such as aromatherapy and features a steam room for ultimate relaxation. Younger guests can enjoy themselves at one of the three children's clubs or take a dip in the supervised shallow pool. Each air-conditioned room comes with a furnished balcony or patio offering breathtaking sea or garden views. With amenities such as a minibar, satellite TV, and DVD player in every room, guests will feel right at home. Whether enjoying buffet breakfasts and dinners at Olympos Restaurant or savoring traditional Greek dishes at Ouzerie, there is something to delight every palate. Live music performances alongside refreshing drinks await guests at the beach bar while free shows are hosted daily at the Garden Theatre. For leisure activities, there is a cinema, discotheque, gymnasium, windsurfing facilities and football grounds available on-site. Conveniently located just 80 km away from Thessaloniki Airport with complimentary private parking provided on-site- Sani Club offers all its visitors an unforgettable holiday experience.
Pros:
– Stunning location overlooking the Aegean Sea
– Private beach and pool for maximum relaxation
– Three restaurants offering exquisite cuisine
– Wide range of amenities including spa facilities and children's clubs
– Convenient proximity to Thessaloniki Airport
Aegean Melathron Thalasso Spa Hotel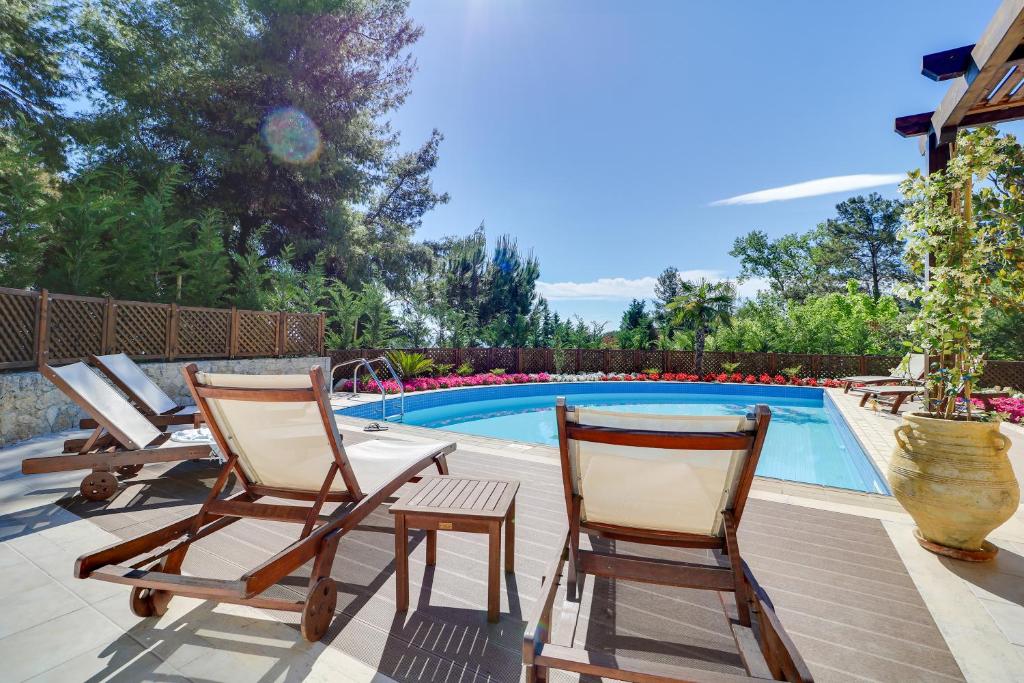 The Aegean Melathron Thalasso Spa Hotel is a luxurious 5-star resort located in the picturesque Toroni Gulf. Surrounded by a forest and offering stunning views of the well-kept gardens, pools, and Aegean Sea, this hotel offers guests a truly relaxing and serene experience. The spacious and modern rooms feature furnished balconies or patios, satellite LCD TVs, and free Wi-Fi access. With 9 swimming pools to choose from (both indoor and outdoor), guests can take a dip at their leisure. The hotel also boasts three pool bars and a beach bar where guests can enjoy ice creams, snacks, and refreshing beverages. For dining options, the Aegeas Restaurant serves a delicious breakfast buffet as well as dinner buffets featuring an array of delectable dishes. The Mistral Restaurant, situated on the beachfront, offers local specialties for those looking to indulge in authentic flavors. In addition to its beautiful pools and beaches, the hotel also features wellness options including massages and treatments with sea extracts – perfect for those looking to rejuvenate their mind and body. With its prime location just 3 km away from the cosmopolitan resort of Kallithea, guests can easily explore nearby attractions during their stay. Free private parking is available on-site.
Pros:
– Access to 9 swimming pools
– Luxurious rooms with views of gardens or Aegean Sea
– Multiple dining options including buffet dinners
– Wellness options such as massages with sea extracts
– Convenient location near Kallithea resort
Luxury 5 Star Hotels in Halkidiki
Halkidiki offers a stunning collection of luxury 5 star hotels that promise an unforgettable experience. From exquisite accommodations to exceptional service, these properties provide the perfect setting for indulgence and relaxation in this picturesque region of Greece.
Alia Palace Hotel – Adults Only 16+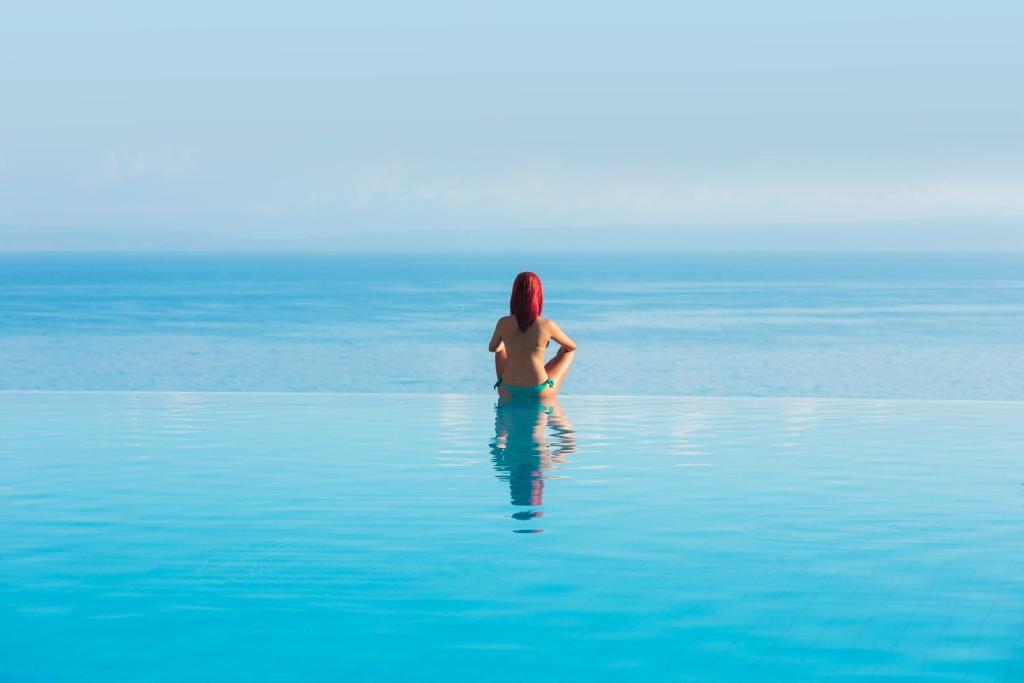 Located in the picturesque region of Chalkidiki and overlooking the Cassandra Gulf, the Alia Palace Hotel is a tranquil 5-star retreat designed to cater to your every desire. Situated near the village of Pefkohori, this adults-only hotel offers easy access to various shops, restaurants, and nightlife options. The property even provides a convenient free shuttle bus to take guests to the nearby beach, just 800 meters away. After a day spent lounging on the sand or by the pool, indulge in some much-needed pampering at the hotel's spa. Treatments include rejuvenating seaweed masks, luxurious massages, invigorating facials, and nail care services. For those looking to stay active during their stay, there is also complimentary access to an on-site gym. Dining options at Alia Palace Hotel are nothing short of exceptional with two restaurants serving delicious Greek cuisine in both à la carte and buffet-style settings. Guests can also enjoy refreshing drinks and coffee at the poolside bar while sipping on a welcome cocktail upon arrival. To ensure convenience for all visitors, there is even a mini market on-site offering essential items like tobacco and newspapers. For international travelers flying into Greece via Thessaloniki International Airport (located 95 km away), transfers can be arranged for a seamless journey to Alia Palace Hotel.
Pros:
– Beautiful location with stunning views overlooking Cassandra Gulf
– Convenient free shuttle bus service provided to nearby beach
– Luxurious spa offering various rejuvenating treatments
– Delicious Greek cuisine served in two restaurant choices
– On-site mini market for everyday necessities
Danai Beach Resort & Villas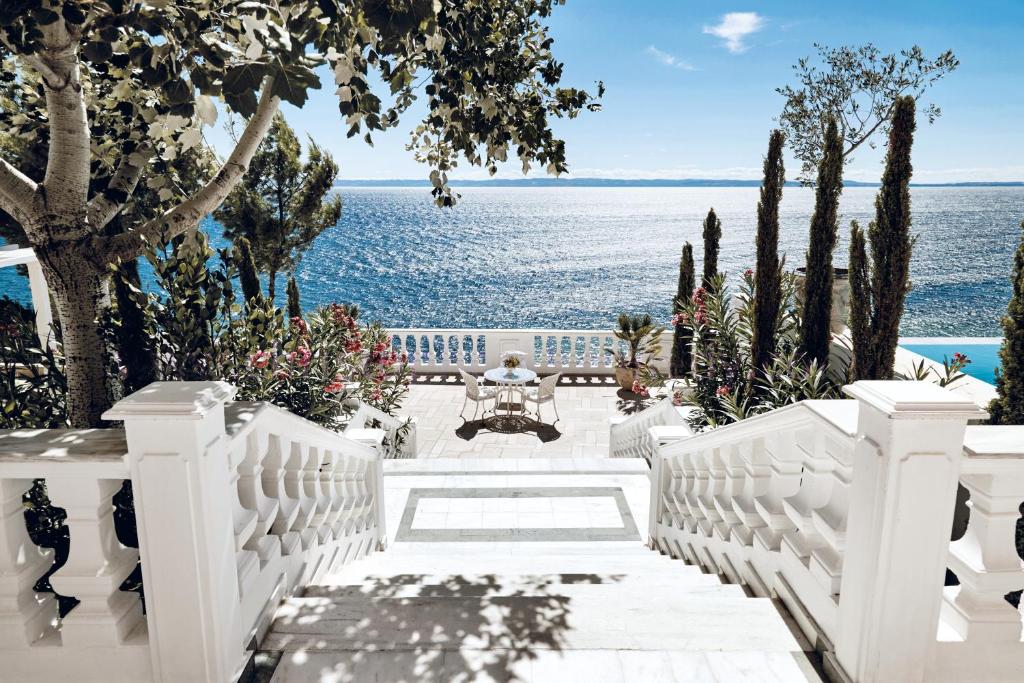 The Danai Beach Resort & Villas is a family-run luxurious hideaway located on the bluffs of the Aegean. As a member of "The Leading Hotels of the World," this resort in Sithonia, Halkidiki offers an unparalleled experience. Surrounded by thriving Mediterranean gardens and boasting one of the finest sandy beaches in Greece, it's no wonder guests are drawn to this stunning destination. The 58 suites and villas are bathed in natural sunlight and individually designed by the founder. Guests can enjoy private pools, as well as the main pool and indoor pool at the spa. The resort features three open-air restaurants with gourmet cuisine options, paired with fine drops from their impressive mountain cellar, which houses the largest wine collection in Greece. For those looking to explore beyond the resort, there's a private yacht available for trips to hidden bays, nearby islands, and even UNESCO World Heritage site Mount Athos. Families will appreciate the kids club with a playground and spacious family suites, while pets are also welcome at this warmhearted retreat. With its weekly changing program featuring smooth jazz nights and culinary events, Danai Beach Resort & Villas ensures that each guest enjoys personalized service from three generations of owner-family hospitality – creating memories that will last a lifetime.
– Family-run luxury hideaway with stunning views of the Aegean
– Individually designed suites and villas flooded with natural sunlight
– Three open-air restaurants offering gourmet cuisine paired with fine wines
– Private yacht available for exploring hidden bays and nearby islands
– Kids club and spacious family suites make it a perfect choice for families
Pomegranate Wellness Spa Hotel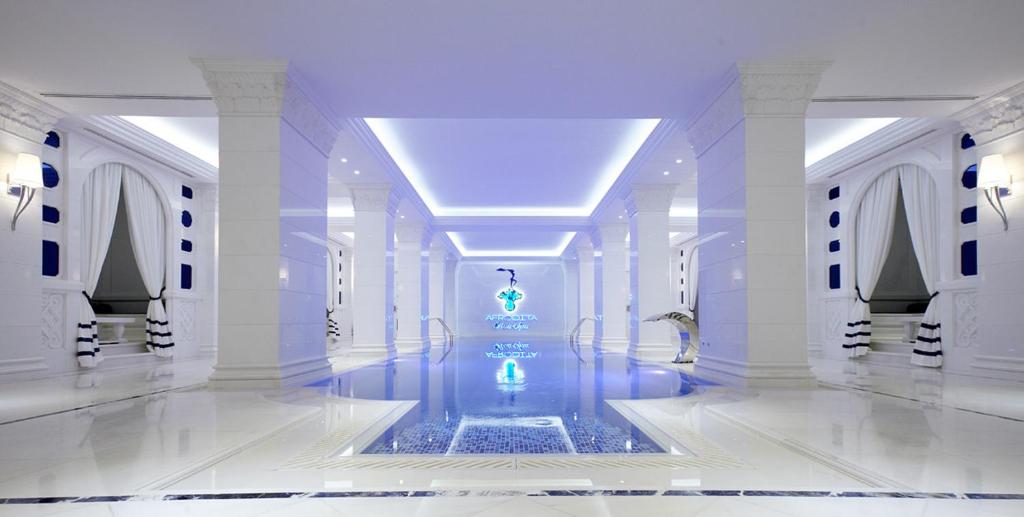 Located in the coastal Nea Poteidaia Town, the 5-star Pomegranate Wellness Spa Hotel is a luxurious resort that offers a range of amenities and facilities to ensure a memorable stay. The hotel features both indoor and outdoor pools, as well as a private beach area for guests to enjoy. The spa center offers a variety of treatments and features amenities such as a sauna and steam bath. The elegantly decorated rooms offer stunning views of either the garden or sea from their balconies. With free Wi-Fi throughout, each room includes modern amenities such as air conditioning, satellite TV, DVD player, and minibar. Guests can indulge in traditional Greek and Mediterranean cuisine at the on-site restaurants or relax with cocktails at one of the various bars within the hotel. Sporting enthusiasts can take advantage of the fitness center, billiards table, tennis court, and beach volleyball facilities. Private parking is available for guests' convenience. Located just 55 km away from Thessaloniki International Airport, transfers to and from the airport can be arranged upon request for an additional fee.
– Wide range of amenities including indoor/outdoor pools
– Luxurious spa center offering various treatments
– Elegant rooms with beautiful views
– On-site restaurants serving delicious Greek and Mediterranean cuisine
– Sports facilities including fitness center, billiards table, tennis court
Five Star Hotels in Downtown Halkidiki
Downtown Halkidiki offers a selection of luxurious five-star hotels that cater to travelers seeking refined accommodations and impeccable service. With prime locations, elegant interiors, and breathtaking views, these hotels create an ideal setting for indulgent experiences in this stunning region of Greece.
Acrotel Athena Residence (Elia)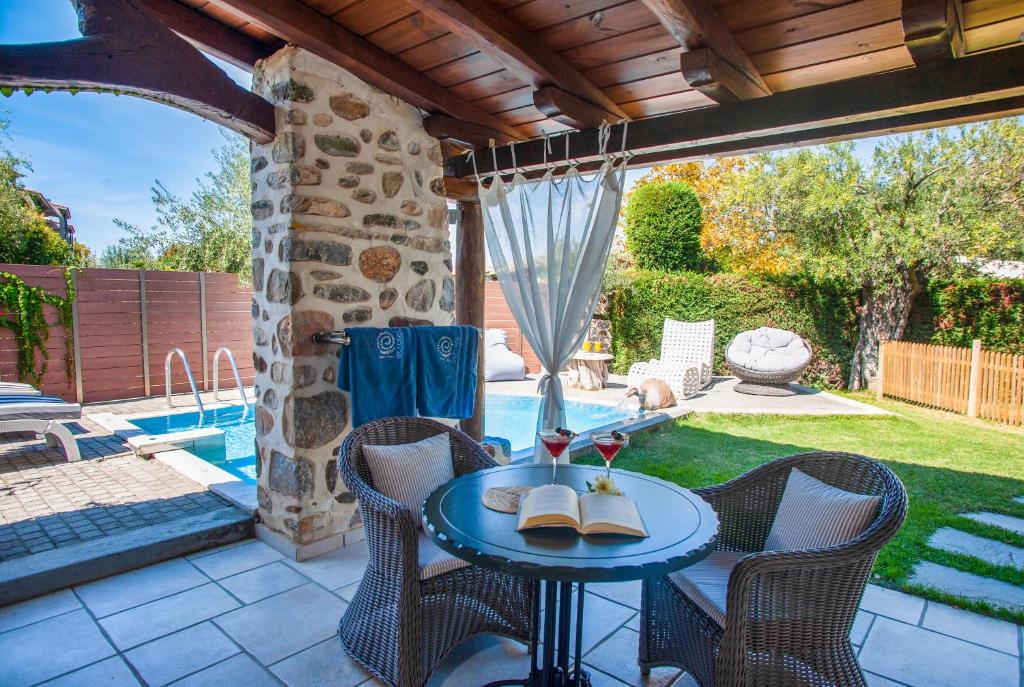 Athena Residence, located on the stunning coast of Elia, offers a luxurious and relaxing getaway. With its convenient location within 8 km of Neos Marmaras and 11 km of Nikiti, guests can easily explore the nearby towns. The hotel provides complimentary WiFi for guests to stay connected during their stay. Thessaloniki Airport is the closest airport, just 95 km away from the property.
– Convenient location near Neos Marmaras and Nikiti
– Complimentary WiFi for all guests
– Stunning coastal views
– Luxurious and relaxing atmosphere
– Close proximity to Thessaloniki Airport
Acrotel Athena Pallas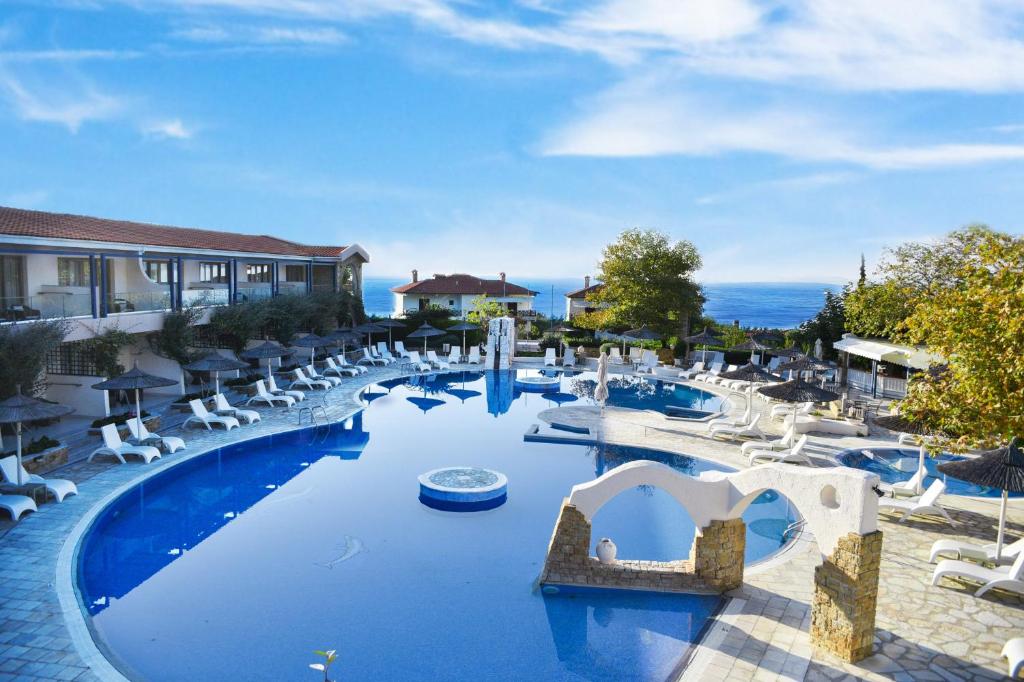 The Acrotel Athena Pallas Village is a luxury hotel located on the coast of Elia, within close proximity to Neos Marmaras and Nikiti. The hotel boasts its own private beach and offers guests a range of amenities and services. Guests can enjoy a certified Greek breakfast and indulge in the "Acrotel Dine Divine" series, which includes five theme restaurants. One of these restaurants, Hierion, was awarded for its unique concept resembling the refectory of Athonian monasteries. The hotel features five bars as well. Accommodation at Athena Pallas includes rooms with satellite TV, air conditioning, and minibars. Maisonettes offer charming wooden beams and stone features. The hotel's spa center covers an expansive 1200 m2 area and offers various treatments such as massages, manicures/pedicures, saunas, steam baths, and salt/herbal essential oil baths – all products are cruelty-free and vegan-friendly. Additional facilities include children's pools, a tennis court, cinema, bowling alley, table tennis and billiards tables, fitness center as well as the Mini Kids Club for younger guests to enjoy. The hotel also provides tours/activities and currency exchange services while organizing various events including wedding receptions, bachelor parties conferences corporate meetings and exhibitions.
– Private beach
– Certified Greek breakfast
– Five theme restaurants (including award-winning Hierion)
– Extensive spa center with cruelty-free/vagan products
– Wide range of facilities including children's pools,tennis court,cinema,bowling alley
Istion Club & Spa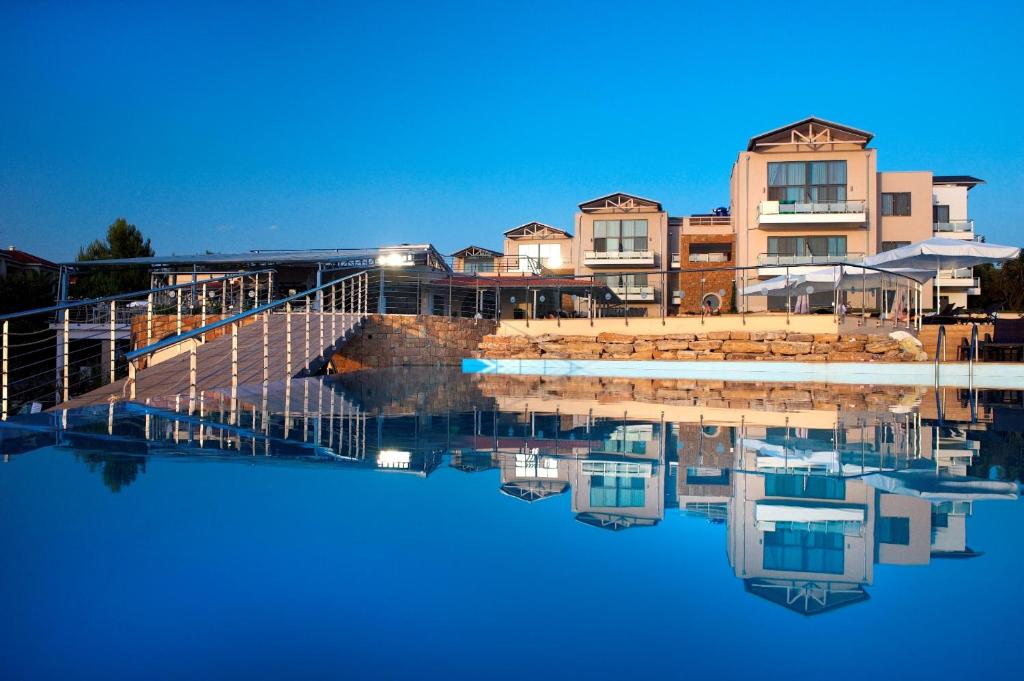 The newly built Istion Club & Spa in Nea Potidea, Halkidiki offers guests a luxurious 5-star experience. The hotel boasts spacious rooms that are tastefully decorated and equipped with modern amenities including air conditioning, satellite TV, minibar, and a safe. Guests can indulge in relaxation at the spa center which features a hot tub, gym, and a variety of beauty treatments. The hotel's restaurant offers three cuisine choices – traditional Greek, Italian, and international – ensuring a delightful dining experience for every palate. Furthermore, the hotel is situated in the picturesque settlement of Nea Potidea at the entrance of the Kassandra Peninsula in Chalkidiki, offering breathtaking views of either the garden or sea from each room's balcony. With its natural beauty and convenient location near various amenities such as restaurants, cafes, taverns, supermarkets, and public services; Istion Club & Spa is an ideal destination for those seeking both comfort and leisure.
– Luxurious 5-star accommodation
– Spacious rooms with balconies offering stunning views
– On-site spa center with hot tub and gym
– Variety of cuisine choices at the hotel's restaurant
– Convenient location near amenities such as restaurants, cafes, taverns
Halkidiki Cheap 5 Star Hotels
Halkidiki offers a range of affordable 5-star hotels, providing guests with the opportunity to indulge in luxury without breaking the bank. From elegant accommodations to impeccable service, these properties allow travelers to experience the beauty of Halkidiki while enjoying all the comforts of a high-end hotel.
Elinotel Sermilia Resort (Psakoudia)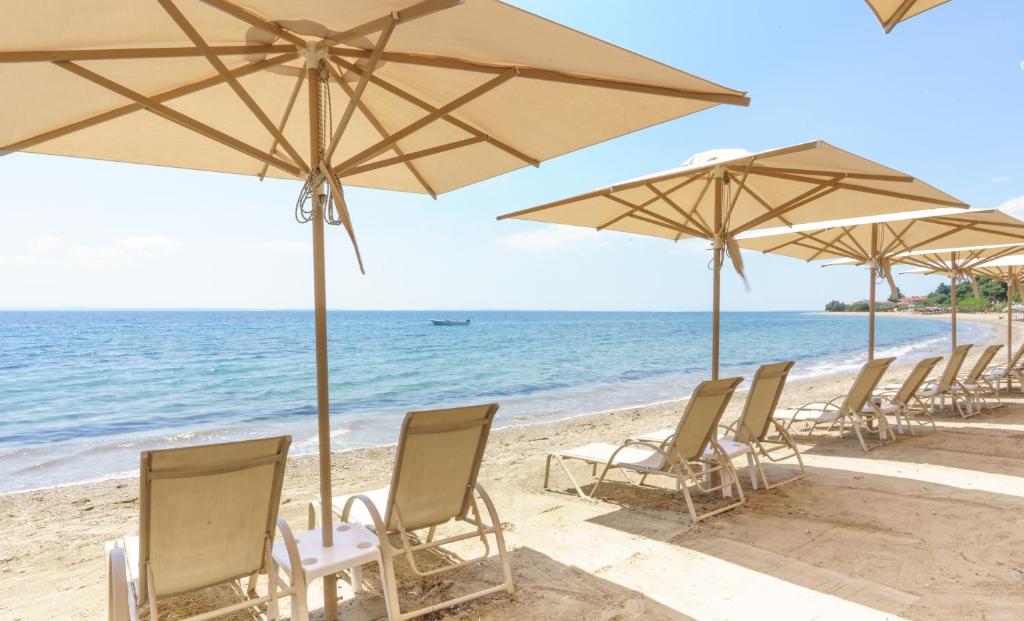 Situated in the picturesque Psakoudia Village of Halkidiki, the Elinotel Sermilia Resort is a luxurious 5-star hotel offering guests a truly remarkable experience. With its private beach area and stunning swimming pool, guests can relax and soak up the sun while enjoying panoramic views of the Aegean Sea from the rooftop bar. The hotel features modern rooms with balconies, equipped with flat-screen TVs, air conditioning, minibars, and safety deposit boxes. The bathrooms are complete with baths or showers, complimentary toiletries, hairdryers, and slippers. Indulge in delicious meals at the on-site restaurant or enjoy a refreshing drink at one of the bars. Additional amenities include a conference center, communal lounge area, and fitness center for guests to stay active during their stay. For those who prefer to unwind by the sea, sun loungers and umbrellas are available on the beach. Conveniently located approximately 75 km away from Macedonia International Airport.
– Private beach area for ultimate relaxation
– Rooftop bar with breathtaking panoramic views
– Modern rooms equipped with luxurious amenities
– Delicious meals served at the on-site restaurant
– Fitness center for staying active throughout your stay
Halkidiki 5 star Hotels Information
| | |
| --- | --- |
| 🛎️ 5 star Hotels in Halkidiki | 10 |
| 💵 Hotels Prices From | $140 |
| 💵 Highest price | $1629 |
| 🥇 Average Review Score | 8.9/10 |
| 🛏️ Average number of Rooms | 106 |
Top 5 star hotels in Halkidiki
| | |
| --- | --- |
| Danai Beach Resort & Villas | 9.7/10 |
| Eagles Villas | 9.4/10 |
| Pomegranate Wellness Spa Hotel | 9.4/10 |
| Sani Club | 9.3/10 |
| Aegean Melathron Thalasso Spa Hotel | 8.9/10 |
FAQ
What are the top 5 star hotels in Halkidiki?
Halkidiki boasts a range of luxurious 5-star hotels that cater to every visitor's needs. Some of the top-rated options include Sani Resort, Eagles Palace, Ikos Olivia, Porto Sani, and Danai Beach Resort & Villas.
Are there any all-inclusive 5 star hotels in Halkidiki?
Yes, there are several all-inclusive 5-star hotels in Halkidiki where guests can enjoy a carefree vacation with everything taken care of. Some popular options include Ikos Olivia, Ikos Oceania, and Porto Sani.
Which 5 star hotel has the best beachfront location in Halkidiki?
When it comes to beachfront locations, Sani Resort stands out as one of the best. Situated on the stunning Kassandra peninsula, this luxury resort offers direct access to pristine sandy beaches and turquoise waters.
What amenities can I expect at a 5 star hotel in Halkidiki?
Luxury is synonymous with 5-star hotels in Halkidiki. Guests can expect an array of high-end amenities including spacious rooms or suites with elegant decor, fine dining restaurants serving gourmet cuisine, state-of-the-art spa facilities for ultimate relaxation, swimming pools with panoramic views, and attentive service from dedicated staff members.
Is it worth staying at a 5 star hotel in Halkidiki?
Absolutely! Staying at a 5-star hotel in Halkidiki guarantees you an unforgettable experience filled with comfort and indulgence. From breathtaking locations to impeccable service and world-class facilities – these luxury properties offer the perfect setting for a truly remarkable vacation experience.
Popular 5 Star Hotels destinations