Welcome to the dazzling city of Frankfurt/Main, Germany! Nestled in the heart of Europe, this vibrant metropolis is a haven for travelers seeking unparalleled luxury and world-class accommodations. Today, we delve into the realm of opulence as we explore the 5-star hotels that adorn this magnificent city.
Prepare to be whisked away on a journey of exquisite elegance and refined indulgence. Frankfurt/Main boasts an impressive array of luxurious lodgings, each offering a unique blend of sophistication and comfort. Whether you are visiting for business or pleasure, these top-tier accommodations will exceed your every expectation.
From lavish suites with breathtaking panoramic views to impeccable service that caters to your every whim, Frankfurt/Main's 5-star hotels leave no stone unturned when it comes to delivering an unforgettable experience. Immerse yourself in the lap of luxury as you unwind in spa retreats boasting state-of-the-art facilities or savor delectable culinary delights crafted by world-renowned chefs. With their meticulous attention to detail and unwavering commitment to excellence, these prestigious establishments redefine what it means to stay in sheer indulgence.
Join us as we embark on an exclusive exploration through Frankfurt/Main's most esteemed 5-star hotels. Be prepared for a sensory journey like no other – where uncompromising luxury meets impeccable design and unrivaled hospitality awaits at every turn.
Best Five Star Hotels in Frankfurt/Main
The Westin Grand Frankfurt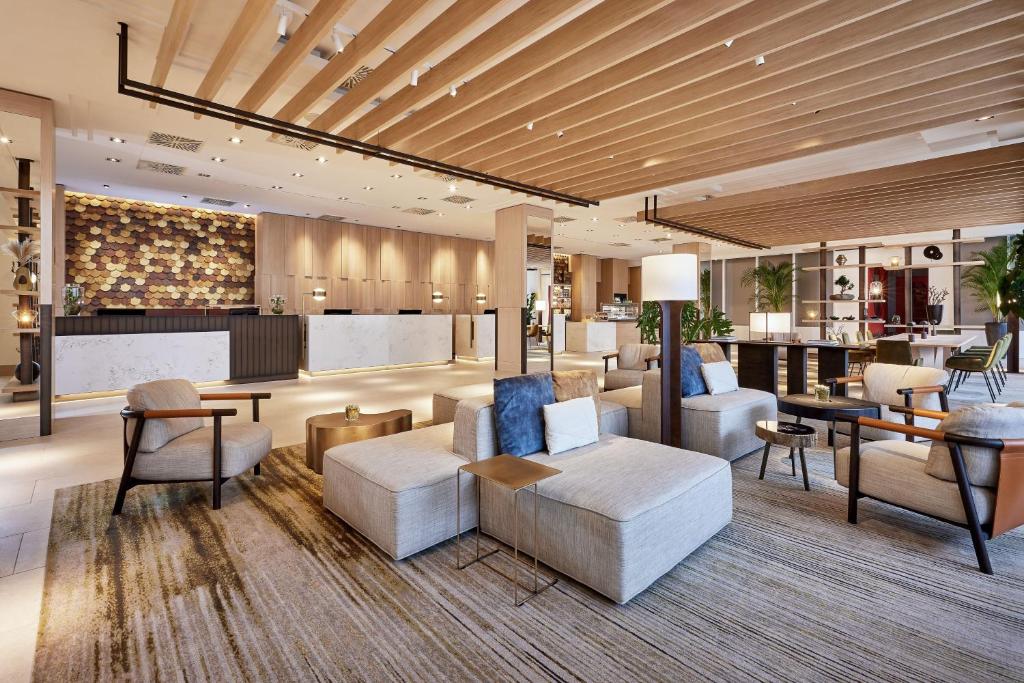 The Westin Grand Frankfurt is a luxurious 5-star hotel located on the corner of the Zeil shopping street in central Frankfurt. This non-smoking hotel offers guests a range of amenities including 3 restaurants, a 24-hour gym, and the new MainTapas Lounge & Bar where they can unwind and relax. The hotel provides free Wi-Fi in the lobby, restaurant, and bar areas for guests' convenience. The spacious and air-conditioned rooms and suites at The Westin Grand Frankfurt are elegantly decorated with modern furnishings and feature a flat-screen TV and heated bathroom floors. Guests can enjoy breakfast buffets at the Motions restaurant as well as gourmet Japanese cuisine at the Sushimoto restaurant. The hotel's prime location makes it easily accessible with Konstablerwache Station S-Bahn and Underground Station located right next to it. On-site parking is available for added convenience. With its recent full renovation in 2022, The Westin Grand Frankfurt ensures that guests experience top-notch luxury during their stay.
Pros:
– Convenient location on Zeil shopping street in central Frankfurt
– Range of dining options including breakfast buffets and gourmet Japanese cuisine
– Modern and spacious rooms with luxurious amenities
– Accessible transportation options with nearby train stations
– Free Wi-Fi available in public areas
JW Marriott Hotel Frankfurt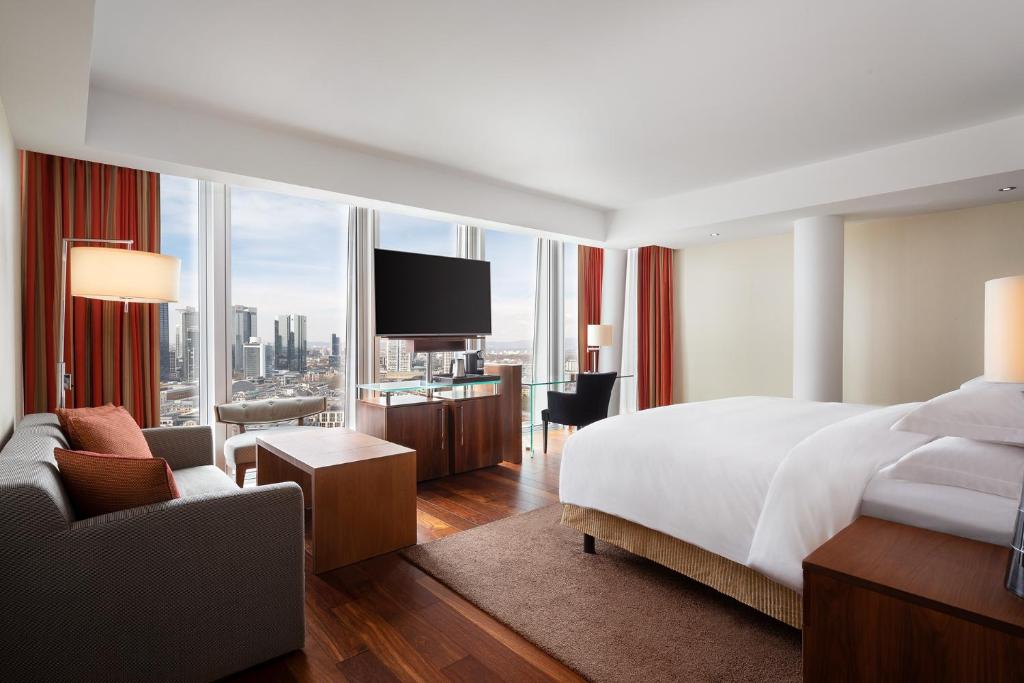 The JW Marriott Hotel Frankfurt is an elegant and luxurious hotel that offers a truly upscale experience. Located in the heart of Frankfurt, just steps away from the famous Zeil shopping street, this hotel impresses guests with its luxurious interior design, modern cuisine, and holistic relaxation offerings. Each room at the JW Marriott features a large painting by contemporary artist Hartwig Ebersbach, as well as top-notch amenities such as a 42-inch TV, Nespresso coffee machine, and an efficient climate control system. The hotel's spa area boasts tropical rain showers and two saunas for ultimate relaxation. Guests can enjoy breathtaking views of the city, Frankfurt's skyline, and the Taunus hills from their spacious rooms or suites. Additionally, they have unlimited access to the Platinum Fitness First Health Club with an indoor pool located in the neighboring building. For dining options, the Max On One restaurant serves seasonal specialties in an elegant setting with a walk-in wine cabinet. With Hauptwache Underground and S-Bahn Train Station only 100 meters away and Römer Square just 700 meters away, guests will find themselves perfectly situated to explore all that Frankfurt has to offer.
– Luxurious interior design
– Top-notch amenities in rooms
– Breathtaking views of the city and skyline
– Access to Platinum Fitness First Health Club with indoor pool
– Convenient location near shopping street and public transportation
Roomers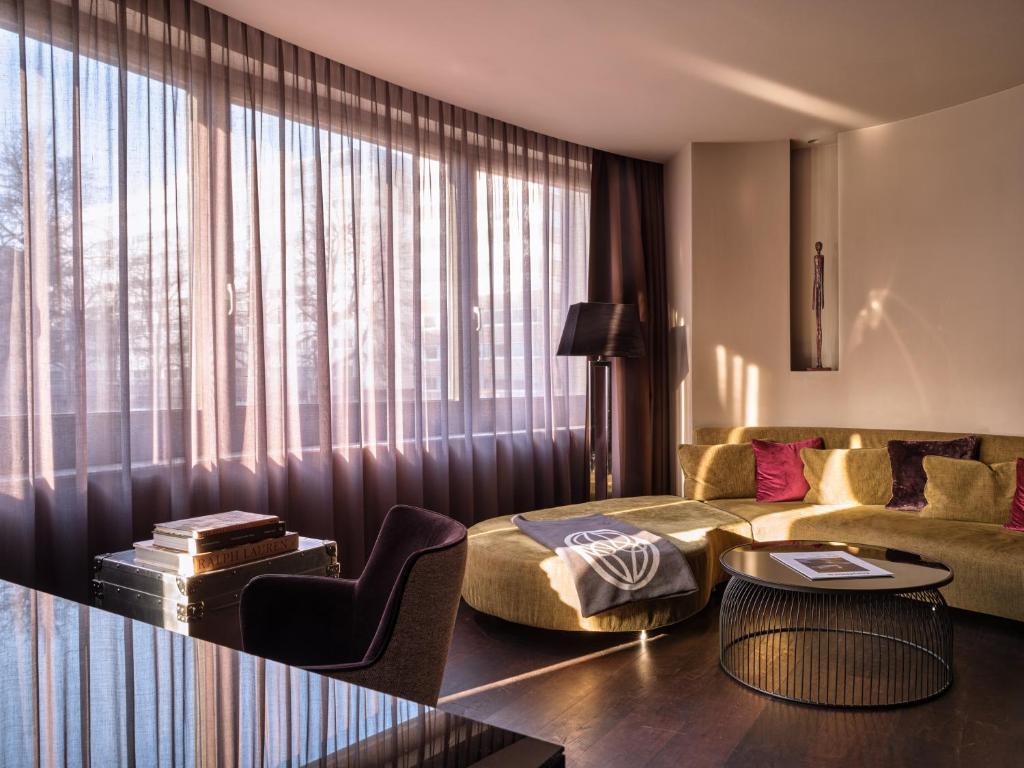 Roomers Frankfurt, a Member of Design Hotels, is a luxurious 5-star hotel ideally located less than 5 minutes' walk from Frankfurt Central Station and the River Main. Offering elegant rooms and free WiFi throughout the property, guests can also enjoy access to a modern top-floor spa with stunning skyline views, an international restaurant, and an award-winning smoking bar. The hotel's stylish rooms feature dark wooden furniture, warm color schemes, marble bathrooms, Bluetooth sound boxes, and flat-screen TVs with Sky channels. Massages and cosmetic treatments can be booked for ultimate relaxation. Start your day with a delicious buffet breakfast featuring international classics and specialties from the Levante region. Don't forget to indulge in treats from the candy bar! In summer, you can savor drinks and meals on the terrace overlooking the cityscape.
– Convenient location near Central Station
– Elegant rooms with luxurious amenities
– Top-floor spa with designer sauna and whirlpool
– International restaurant serving delicious meals
– Award-winning smoking bar offering a unique experience
Other places to stay in Frankfurt/Main
Luxury 5 Star Hotels in Frankfurt/Main
Luxury 5 star hotels in Frankfurt/Main offer discerning travelers an exquisite blend of comfort, elegance, and impeccable service. From lavish accommodations to breathtaking views, these hotels provide a luxurious haven for guests seeking the ultimate in indulgence and sophistication during their stay in this vibrant German city.
Hilton Frankfurt City Centre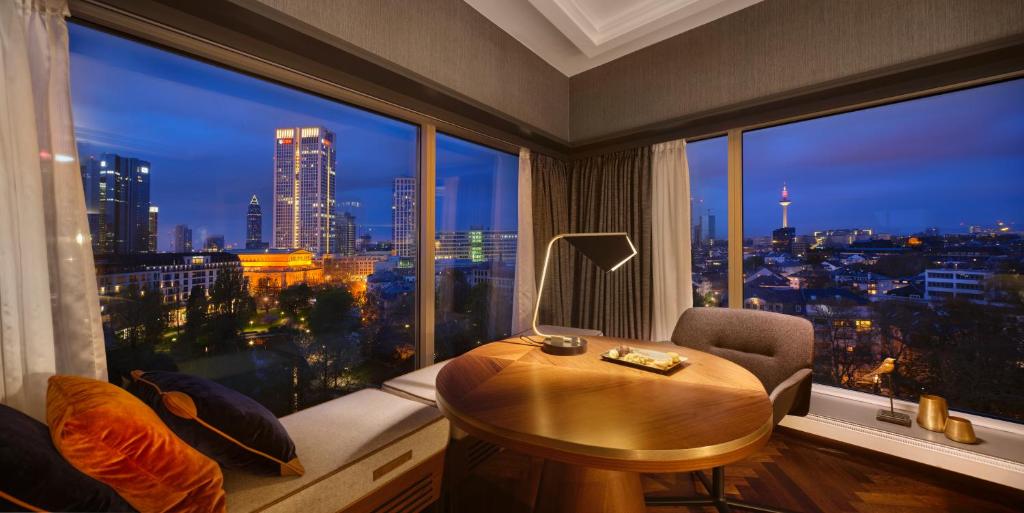 Located in the heart of Frankfurt, just a few minutes' walk from all the main attractions, Hilton Frankfurt City Centre is a luxurious 5-star hotel. The hotel offers soundproofed rooms with panoramic views of the city or Bockenheimer Anlage Park. Each room and suite is spacious and features a large desk, flat-screen TV, and comfortable armchair. Free Wi-Fi is available in public areas, while there is a charge to use it in the rooms.
Guests can enjoy a range of facilities at the hotel's health club, including a 25-meter pool, sauna, hot tub, gym, and beauty treatments upon request. The restaurant offers breakfast with stunning views of the park or an option to dine on the large parkside terrace in good weather. The Hudson Yards Bar & Dining serves local and international dishes as well as a variety of gins and tonics.
Families are welcomed with children receiving special treats and bathrobes. For outdoor relaxation, there is an open park space behind the hotel where guests of all ages can unwind on the terrace. Eschenheimer Tor Underground Station is conveniently located just 150 meters away for easy access to various parts of Frankfurt.
Pros:
– Central location near main attractions
– Health club with complimentary pool
– Soundproofed rooms with panoramic views
– Variety of dining options including rooftop terrace
– Welcoming amenities for families
Frankfurt Airport Marriott Hotel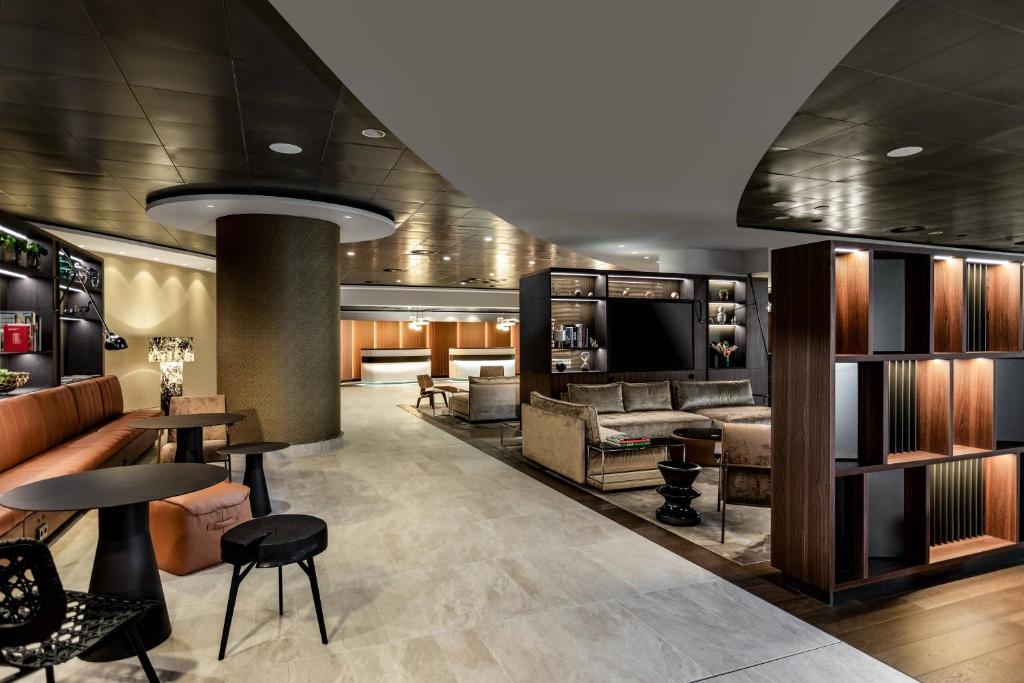 The Frankfurt Airport Marriott Hotel is a luxurious 5-star hotel that opened in November 2019. Situated in Frankfurt/Main, it offers a range of amenities including free bikes, a fitness centre, and an on-site restaurant and bar. The hotel is conveniently located near popular attractions such as the Städel Museum and German Film Museum, both within 11 km from the property. Guests staying at this hotel can expect comfortable guest rooms equipped with air conditioning, a seating area, a flat-screen TV with cable channels, and a private bathroom with complimentary toiletries. The daily breakfast options include buffet, continental or American choices. The friendly staff at the reception desk are available around the clock to assist guests in multiple languages including Arabic, German, English and French. Additional highlights of this luxury hotel include room service and luggage storage facilities for guests' convenience. With its close proximity to Eiserner Steg and Goethe House (both just 12 km away), as well as its convenient location only 3 km from Frankfurt Airport, the Frankfurt Airport Marriott Hotel offers an exceptional stay for travelers seeking ultimate comfort and convenience.
Pros:
– Convenient location near Frankfurt Airport
– Wide range of amenities including free bikes and fitness center
– On-site restaurant and bar offering delicious meals
– Comfortable guest rooms with modern amenities
– Friendly multilingual staff providing excellent customer service
Le Méridien Frankfurt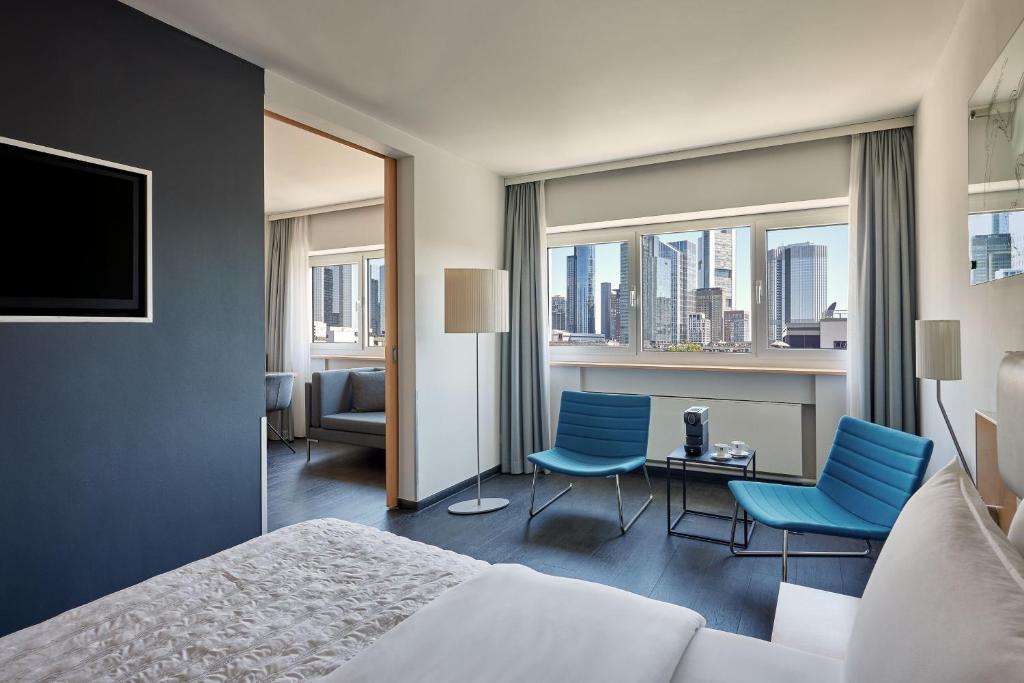 Centrally located in Frankfurt, just 150 metres away from the city's main train station, Le Méridien Frankfurt offers stylish accommodation with spa facilities. The hotel is conveniently situated a short 15-minute walk from the Old Town and Frankfurt Exhibition Centre. The elegant rooms and suites are spread across two separate buildings – the Palais wing and the modern Legacy wing – and all come with complimentary water and free WiFi. Guests can start their day with an extensive breakfast buffet available from 06:30 to 10:30, and dine on traditional and unusual dishes at The Legacy Bar & Grill. The fitness area includes a gym, sauna, and a summer terrace overlooking the city. There is also a spa offering beauty treatments for guests to indulge in. In addition to these amenities, guests can enjoy free access to art exhibitions during their stay. With its convenient location near public transportation, it takes just 15 minutes by train to reach Frankfurt am Main Airport.
– Convenient central location near main train station
– Stylish rooms and suites with modern amenities
– On-site spa facilities including gym, sauna, and beauty treatments
– Extensive breakfast buffet available daily
– Free access to art exhibitions for guests
Five Star Hotels in Downtown Frankfurt/Main
Downtown Frankfurt/Main is home to a selection of luxurious five-star hotels, each offering impeccable service and sophisticated accommodations. Guests can expect elegant interiors, world-class dining experiences, and convenient access to the city's top attractions.
Frankfurt Marriott Hotel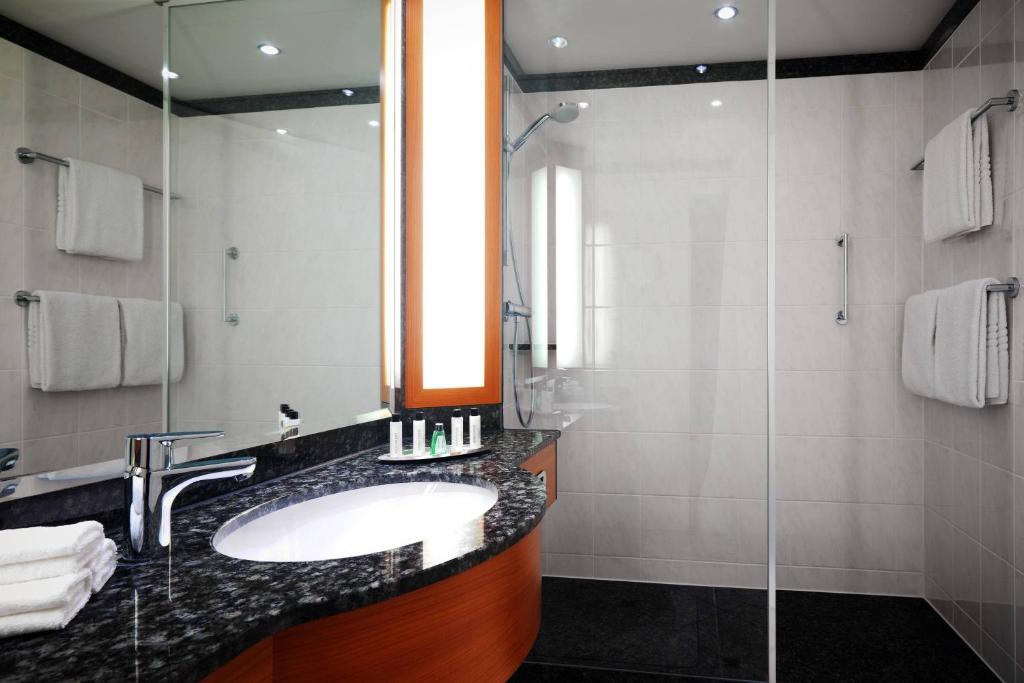 The Frankfurt Marriott Hotel is a luxury 5-star hotel located opposite the Frankfurt Messe exhibition grounds. Offering spacious and modern non-smoking rooms with panoramic views, this hotel ensures a comfortable stay for its guests. The rooms are soundproofed and equipped with amenities such as a 42-inch flat-screen satellite TV, free WiFi in public areas, and some rooms even have access to the exclusive M Club Lounge. The hotel's facilities include a 24-hour fitness center and underground parking for convenience. Guests can enjoy a delicious breakfast buffet at Brasserie ici or relax at Cross, which serves as a bar, lounge, café, and à la carte restaurant. For sports enthusiasts, The Champions is an ideal spot to dine on American dishes while watching major international sports events on television. With its prime location just 500 meters from Festhalle/Messe Underground Station and close proximity to Frankfurt Central Station and the A5 motorway, this hotel provides easy access to various attractions in the city.
Pros:
– Spacious rooms with panoramic views
– Exclusive access to M Club Lounge for some room categories
– Convenient underground parking
– Close proximity to Frankfurt Messe exhibition grounds
– Accessible location near public transportation options
Sofitel Frankfurt Opera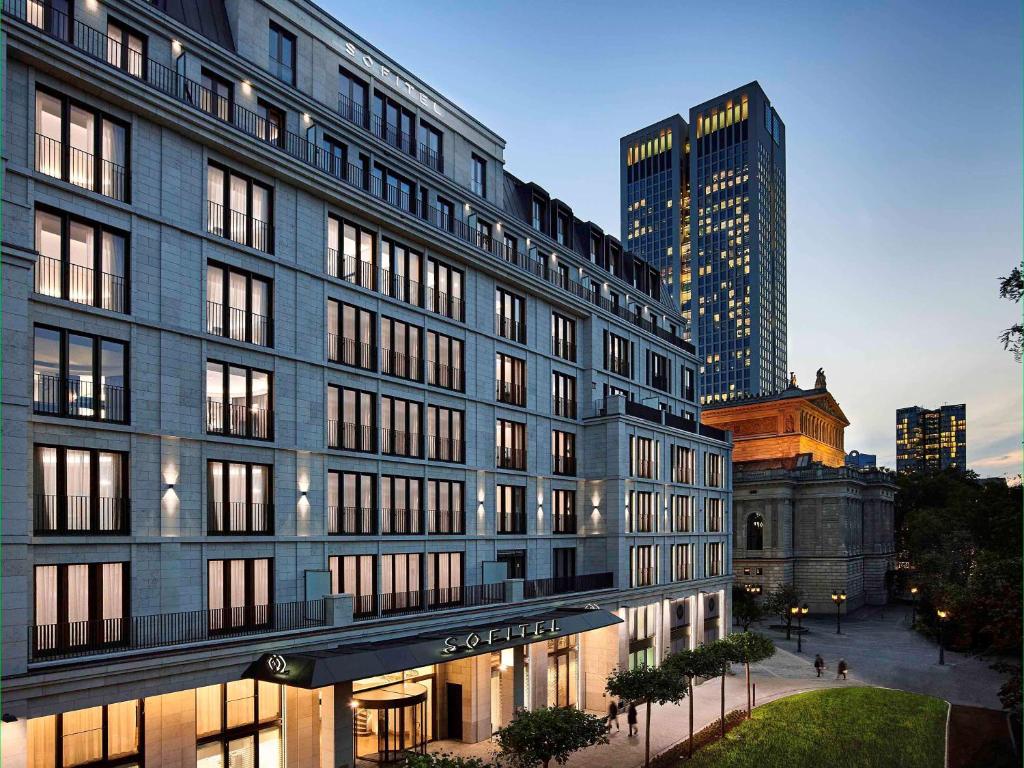 The Sofitel Frankfurt Opera is a luxurious 5-Star Superior hotel located in a prime location at Opera Square, with the famous shopping and entertainment area of Goethestrasse just a short walk away. The rooms are well-appointed with shower or bathtub options, luxury brand toiletries, an espresso machine, and a kettle. The suites offer exclusive designer furnishings and breathtaking views of Frankfurt city center. Guests can enjoy free Wi-Fi, air-conditioning, mini bar, Bose sound system, and private safe in their spacious rooms. The hotel's spa features four treatment rooms and relaxation areas for ultimate pampering. Fitness enthusiasts can take advantage of the gym facilities including the 4,000m² Fitness First Black Label fitness studio (for an additional charge) while an indoor swimming pool is available for guests to take a refreshing swim. Dining options include the Bistronomique-concept Schönemann restaurant serving delicate and casual fare with the option of dining on the terrace for scenic views. Lili's Bar offers a selection of cocktails and light meals while an in-house patisserie prepares snacks in authentic Parisian style. In terms of nearby attractions, guests will find themselves within walking distance of Goethe Haus, German Architecture Museum, and Hauptwache area which offers vibrant activities. Also worth noting is that Frankfurt Airport is only 10 km away.
Pros:
– Prime location near popular shopping area
– Luxurious suites with exclusive designer furnishings
– Spa facilities for ultimate relaxation
– Fitness facilities including a large fitness studio
– Variety of dining options from fine dining to light meals
Frankfurt/Main 5 star Hotels Information
| | |
| --- | --- |
| 🛎️ 5 star Hotels in Frankfurt/Main | 8 |
| 💵 Hotels Prices From | $172 |
| 💵 Highest price | $1715 |
| 🥇 Average Review Score | 8.3/10 |
| 🛏️ Average number of Rooms | 315 |
Top 5 star hotels in Frankfurt/Main
| | |
| --- | --- |
| Sofitel Frankfurt Opera | 8.7/10 |
| The Westin Grand Frankfurt | 8.4/10 |
| JW Marriott Hotel Frankfurt | 8.4/10 |
| Roomers | 8.4/10 |
| Frankfurt Marriott Hotel | 8.4/10 |
FAQ
1. What are some of the best 5-star hotels in Frankfurt/Main?
Frankfurt/Main offers a range of luxurious 5-star hotels that cater to discerning travelers. Some notable options include Villa Kennedy, a beautiful hotel housed within a historic building offering elegant rooms and a spa
2. What amenities can I expect from a luxury 5-star hotel in Frankfurt/Main?
Luxury 5-star hotels in Frankfurt/Main pride themselves on providing exceptional amenities to their guests. These may include spacious and well-appointed rooms or suites with stunning views, high-end toiletries, plush bedding, state-of-the-art fitness centers, luxurious spas offering rejuvenating treatments, gourmet restaurants serving delicious cuisine, concierge services to assist with dining reservations or excursions, valet parking facilities, and attentive staff dedicated to ensuring a memorable stay.
3. Are there any pet-friendly 5-star hotels in Frankfurt/Main?
Yes! If you are traveling with your furry friend(s), there are several pet-friendly 5-star hotels in Frankfurt/Main that will ensure both you and your pets have an enjoyable stay. Some examples include Steigenberger Frankfurter Hof which allows pets up to 30 kg (66 lbs) for an additional fee per night, while Adina Apartment Hotel also welcomes pets at an extra charge but has no weight restrictions.
4. What is the average price range for staying at a luxury 5-star hotel in Frankfurt/Main?
The price range for luxury 5-star hotels in Frankfurt/Main can vary depending on factors such as location, seasonality, room type selected, and included services. On average, you can expect to pay between €200-€400 per night for a standard room at a reputable 5-star hotel. However, prices can go higher for suites or more exclusive properties.
5. Are there any 5-star hotels in Frankfurt/Main that offer airport shuttle services?
Yes, several 5-star hotels in Frankfurt/Main do provide airport shuttle services for their guests' convenience. For example, Hilton Frankfurt Airport Hotel offers a complimentary shuttle service to and from the airport terminals, while Steigenberger Airport Hotel Frankfurt provides a paid transfer service. It's always best to check with your chosen hotel beforehand to ensure availability and any associated charges with this service.
Popular Five Star Hotels destinations