Welcome to my guide on the epitome of opulence and grandeur – the 5-star hotels in Dresden, Germany. Nestled in the heart of this culturally-rich city, these exquisite establishments offer an unrivaled experience that perfectly combines sophistication with lavishness. Prepare to embark on a journey where every desire is met and expectations are exceeded.
Dresden, renowned for its architectural splendor, presents an array of exclusive accommodations that cater to even the most discerning travelers. From majestic palace-like structures adorned with ornate trimmings to sleek modern marvels dominating the skyline, each 5-star hotel exudes charisma and elegance. Immerse yourself in a world of refined luxury as you step into these extraordinary havens that effortlessly merge comfort with style.
Indulge in impeccable service provided by impeccably trained staff who anticipate your every need. The meticulously designed rooms and suites boast tasteful decor, plush furnishings, and cutting-edge amenities to ensure an unforgettable stay. Michelin-starred restaurants tantalize your taste buds with gastronomic delights, while chic bars beckon you for a nightcap amidst an ambiance conducive to relaxation and socializing.
Whether you seek respite after exploring Dresden's historic landmarks or wish to indulge in a pampering spa retreat within a luxurious oasis, rest assured that these prestigious 5-star hotels will surpass your highest expectations. Join me as we venture into this realm of unparalleled luxury where dreams become reality and indulgence knows no bounds.
Best Five Star Hotels in Dresden
Hyperion Hotel Dresden Am Schloss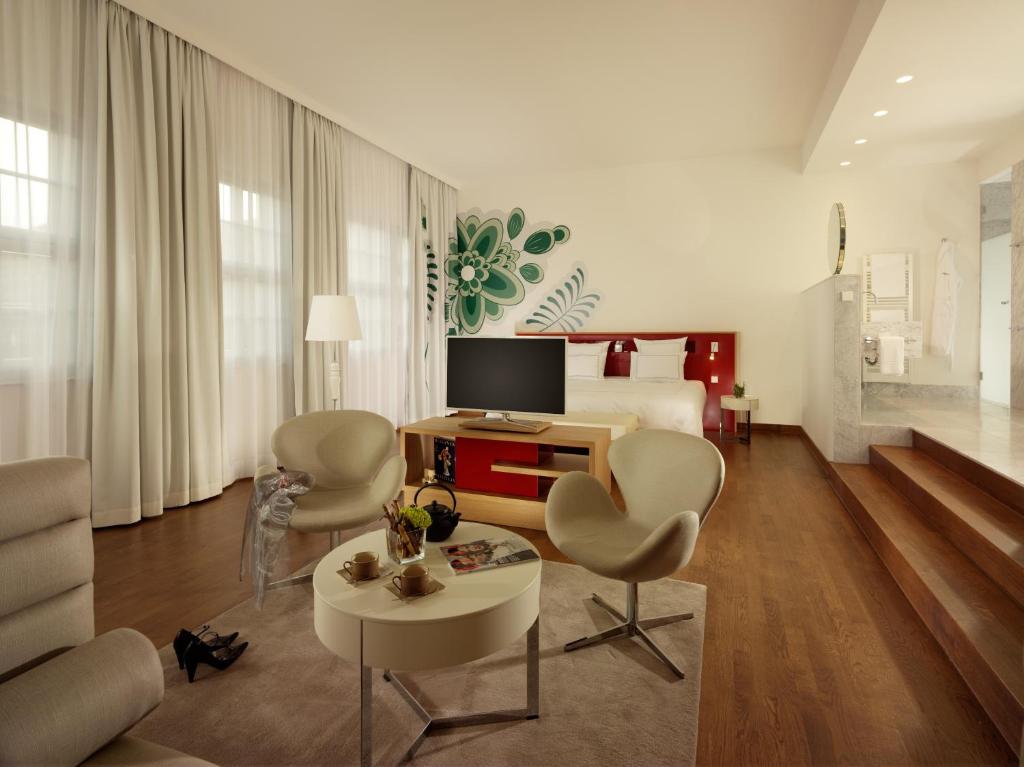 Located in the heart of Dresden's Old Town, Hyperion Hotel Dresden Am Schloss offers an elegant and luxurious stay for its guests. With its prime location next to Dresden Castle, guests can easily explore the city's historic landmarks such as Semper Opera and Frauenkirche church. The hotel features spacious rooms and suites with modern amenities including free Wi-Fi, flat-screen TVs, hot drinks facilities, and a choice of pillows. Guests can enjoy snacks and homemade pastries in the lounge or unwind with a cocktail at the chic bar. For relaxation, the Pürovel Spa offers sauna and massage rooms in a historic stone cellar while active guests can make use of the Alpine-style fitness room. Additionally, convenient tram stops nearby provide easy access to transportation hubs like Dresden Central Station.
– Prime location near Dresden Castle
– Luxurious rooms with modern amenities
– Pürovel Spa for ultimate relaxation
– Lounge offering delectable snacks and pastries
– Convenient access to public transportation
Steigenberger Hotel de Saxe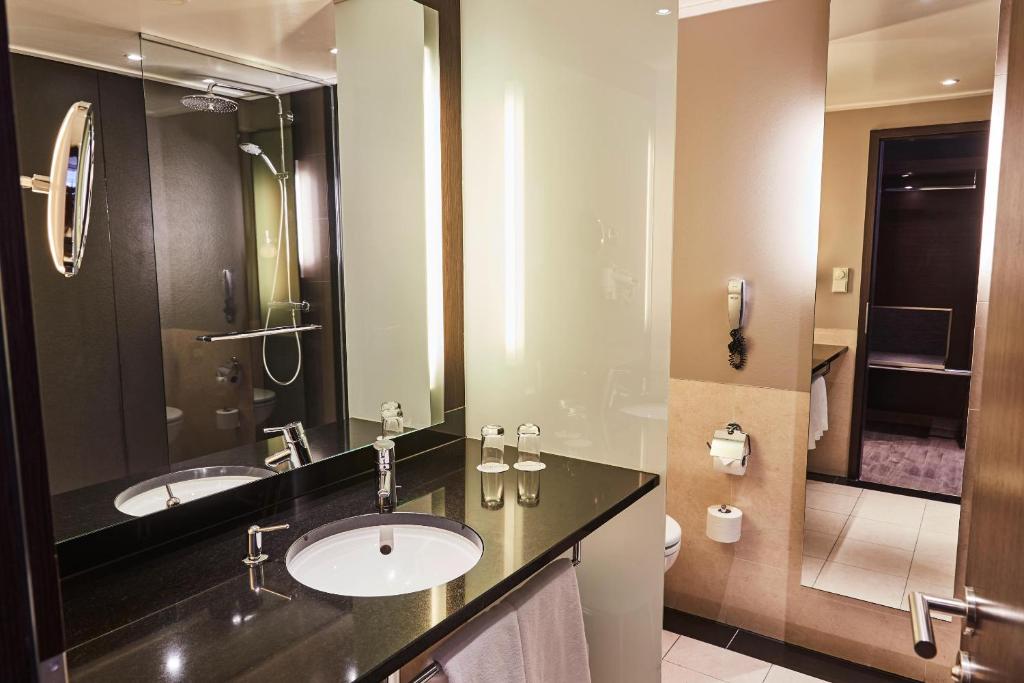 Located in the heart of Dresden, on Neumarkt square, Steigenberger Hotel de Saxe offers elegant rooms with stunning views of the famous Frauenkirche church. All rooms are air-conditioned and equipped with cable flat-screen TV, laptop safe, and tea/coffee facilities. Guests can enjoy a rich breakfast buffet each morning and indulge in healthy regional and international cuisine at the Restaurant de Saxe, which features a balcony for an enhanced dining experience. The hotel is conveniently situated within an 8-minute walk from iconic landmarks such as the Royal Palace, Zwinger, Semper Opera House, and Albertinum Museum.
– Central location in the heart of Dresden
– Elegant rooms with views of Frauenkirche
– Rich breakfast buffet included
– Balcony dining at Restaurant de Saxe
– Close proximity to major landmarks
Wohnung mit Weitblick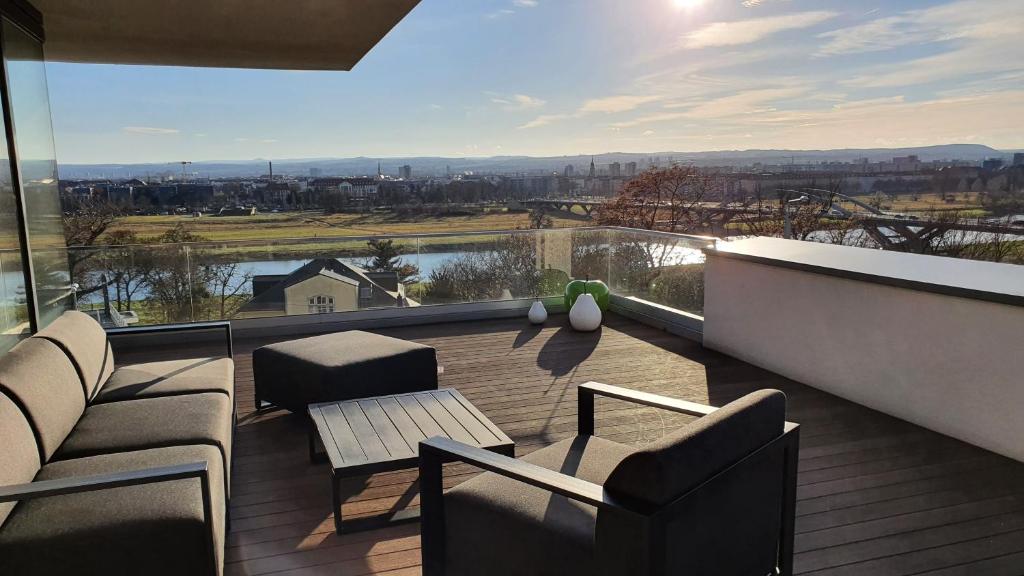 Wohnung mit Weitblick is a luxurious apartment located in Dresden, offering stunning views of the city and the river Elbe. Guests can enjoy free WiFi and free private parking on site. The apartment features a fully equipped kitchen with a dishwasher and oven, as well as a private bathroom. A flat-screen TV and DVD player are also provided for entertainment. Other facilities at Wohnung mit Weitblick include a barbecue area for guests to enjoy outdoor dining. The property is conveniently located, with Frauenkirche Dresden just 3.4 km away and Semperoper and Zwinger within 3.5 km and 3.6 km respectively. Dresden Airport is also easily accessible, just 7 km away.
– Stunning views of the city and river Elbe
– Free WiFi
– Fully equipped kitchen
– Barbecue facilities available
– Convenient location near popular attractions
Luxury 5 Star Hotels in Dresden
Luxury 5 Star Hotels in Dresden offer unrivaled elegance and sophistication, intertwining opulent decor with impeccable service. From lavish rooms to top-notch dining experiences, these hotels create an atmosphere of indulgence for discerning travelers seeking the utmost in luxury accommodations.
Hotel Suitess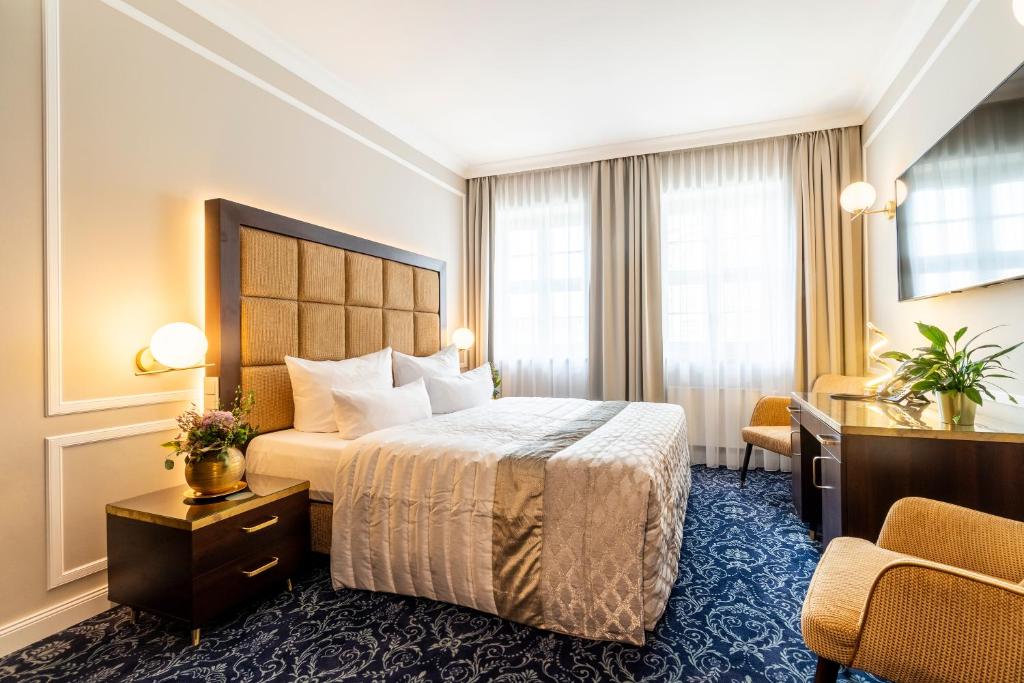 Hotel Suitess is a 5-star-superior hotel located beside Dresden's iconic Frauenkirche Church. Its original Baroque façade adds to its charm, while inside guests can enjoy stylish spa facilities and free WiFi throughout the property. The hotel offers exclusive spa treatments, a hot tub, and a sauna area for ultimate relaxation. The elegant rooms are soundproofed and decorated in a 19th-century style, featuring modern amenities such as flat-screen TVs, CD/DVD players, and luxurious bathrooms with Italian marble. Guests can start their day with an exquisite breakfast served in the hotel's restaurant or dine in the conservatory overlooking the Frauenkirche during warm weather. The hotel also boasts views of the dome of the Frauenkirche Church. Its convenient location ensures that popular attractions such as the Semper Opera House and Zwinger Palace are just a 10-minute walk away. For added convenience, the 24-hour reception can arrange private chauffeurs for guests' transportation needs.
– Prime location next to Dresden's Frauenkirche Church
– Stylish spa facilities for ultimate relaxation
– Elegant rooms decorated in a 19th-century style
– Exquisite breakfast served in an atmospheric restaurant
– Views of the beautiful dome of Frauenkirche Church
Gewandhaus Dresden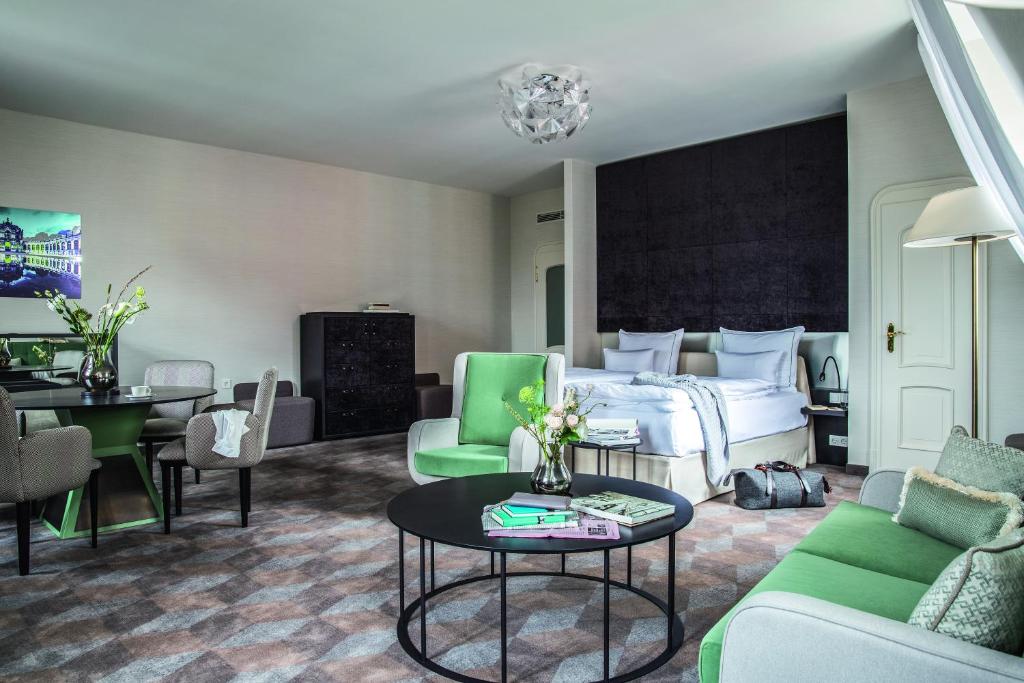 Located in the heart of Dresden, the completely renovated Gewandhaus Hotel combines modern-baroque design with luxury amenities. Just a 10-minute walk from popular attractions like the Frauenkirche Church, this pet-friendly hotel offers comfortable rooms with adjustable air conditioning and stunning bathrooms adorned with Italian marble. Many of the bathrooms even come equipped with spa baths for ultimate relaxation. Guests can also enjoy complimentary magazines that can be downloaded on-site. When it comes to dining options, the hotel has you covered with its specialty restaurant and bar, [m]eatery, which serves up delicious willow beef dishes. The Kuchen Atelier is another great option for tea/coffee enthusiasts looking to indulge in homemade cakes and various specialty beverages. For those wanting to explore further afield, both walking and tram options are available – just two minutes away from the Pirnaischer Platz tram stop where tram number 4 conveniently transports guests to the Semperoper Opera House in only five minutes.
Pros:
– Recently renovated modern-baroque design
– Central location within a walking distance to major attractions
– Luxurious rooms with adjustable air conditioning
– Stunning bathrooms featuring Italian marble and spa baths
– On-site specialty restaurant offering delectable willow beef dishes
Townhouse Dresden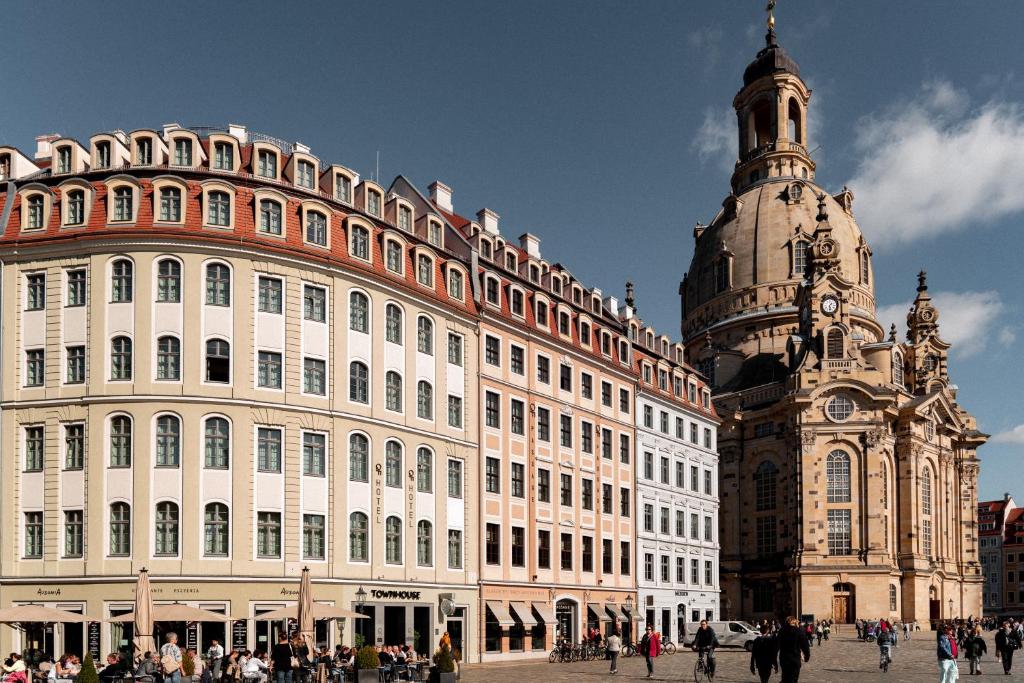 Located beside the famous Frauenkirche church in Dresden, the Townhouse Dresden is a luxurious 5-star hotel that offers free WiFi and a prime location in the heart of the city. Combining 19th century elegance with modern comfort and technology, this hotel provides guests with a distinctive ambience. The spacious and well-appointed rooms and suites are within walking distance of popular attractions such as the Zwinger Palace, Semper Opera House, and congress centre. Each room features a flat-screen cable TV, private bathroom with bathrobes and slippers. Guests can enjoy a delicious breakfast on the first floor while taking in views of Neumarkt square. The breakfast includes regional products, bread, rolls, cakes, and vegan dishes are available upon request beforehand.
Pros:
– Prime location next to Frauenkirche church
– Free WiFi for all guests
– Spacious and well-appointed rooms
– Close proximity to popular attractions such as Zwinger Palace and Semper Opera House
– Delicious breakfast with regional products available
Five Star Hotels in Downtown Dresden
Downtown Dresden offers a range of luxurious five-star hotels that cater to discerning travelers seeking impeccable service, opulent interiors, and convenient locations. These prestigious accommodations provide an exquisite retreat for guests looking to indulge in the city's rich history and cultural offerings.
Hotel Taschenbergpalais Kempinski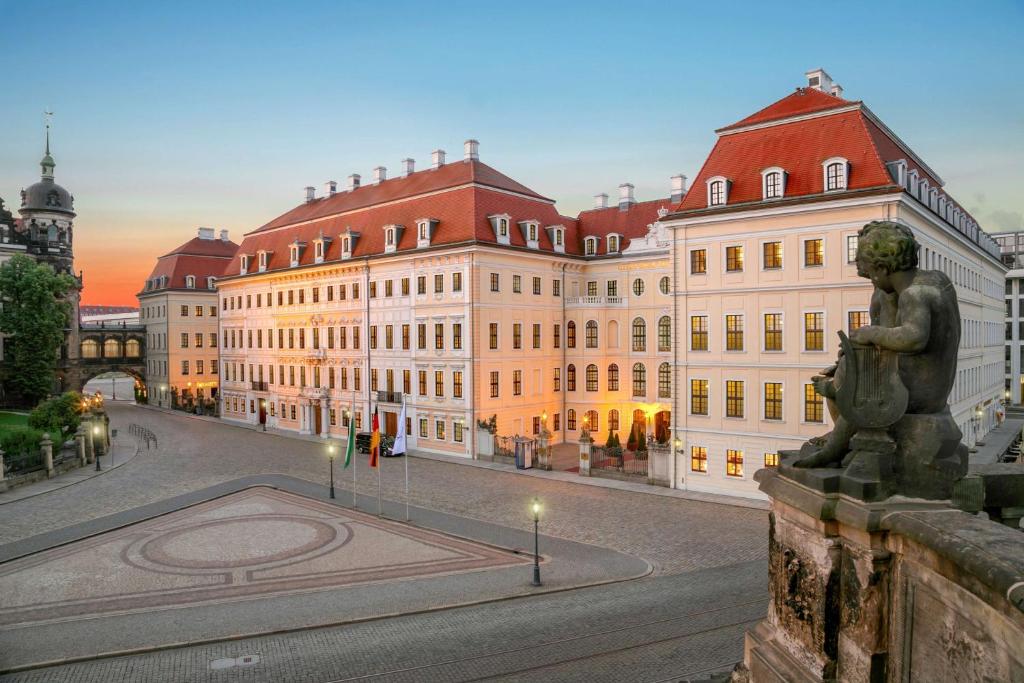 Hotel Taschenbergpalais Kempinski is a luxury 5-star hotel located next to Dresden Castle and just a short walk from the Frauenkirche Church. The hotel offers elegant rooms that are equipped with air conditioning, Wi-Fi access, satellite TV, and a minibar. Guests can enjoy the new pool and sauna area which is open daily, as well as indulge in a range of massages and spa treatments. Additionally, the hotel provides a modern fitness area with information on popular running routes along the Elbe river. Guests can also enjoy drinks at Café Vestibül or in the stylish Karl May Bar, which features live music. The Altmarkt tram stop is conveniently located just 200 meters from the hotel.
– Elegant rooms with modern amenities
– New pool and sauna area
– Range of massages and spa treatments available
– Modern fitness area with running route information
– Stylish bar with live music
Dresden 5 star Hotels Information
| | |
| --- | --- |
| 🛎️ 5 star Hotels in Dresden | 7 |
| 💵 Hotels Prices From | $169 |
| 💵 Highest price | $1849 |
| 🥇 Average Review Score | 8.9/10 |
| 🛏️ Average number of Rooms | 108 |
Top 5 star hotels in Dresden
| | |
| --- | --- |
| Wohnung mit Weitblick | 9.6/10 |
| Hotel Suitess | 9.1/10 |
| Townhouse Dresden | 9/10 |
| Hotel Taschenbergpalais Kempinski | 8.8/10 |
| Hyperion Hotel Dresden Am Schloss | 8.7/10 |
FAQ
Q1
What are the facilities and amenities offered by 5 star hotels in Dresden?
A1
5 star hotels in Dresden offer a multitude of facilities and amenities to provide the ultimate luxury experience. These may include spacious and elegantly designed rooms, high-end restaurants and bars, state-of-the-art fitness centers, relaxing spa treatments, concierge services, valet parking, swimming pools, business centers with meeting rooms, and complimentary Wi-Fi throughout the hotel. Guests can expect nothing short of top-notch service and opulent surroundings during their stay at a 5 star hotel in Dresden.
Q2
Are there any Michelin-starred restaurants within 5 star hotels in Dresden?
A2
Yes, some 5 star hotels in Dresden boast Michelin-starred restaurants that offer exquisite dining experiences for guests. These establishments feature expert chefs who create culinary masterpieces using the finest ingredients. Prepare to indulge your taste buds with innovative dishes that showcase local flavors as well as international cuisines. Whether you're seeking gourmet cuisine or looking to celebrate a special occasion with an unforgettable dining experience, these Michelin-starred restaurants within 5 star hotels in Dresden will surely leave a lasting impression.
Q3
Do 5 star hotels in Dresden offer airport transfer services?
A3
Many 5 star hotels in Dresden understand the importance of providing convenient transportation options for their guests. As such, they often offer airport transfer services to ensure a seamless arrival and departure experience. From chauffeur-driven luxury cars to private shuttles or even helicopter transfers, these high-end hotels go above and beyond to make sure guests feel pampered from the moment they land until their departure.
Q4
What kind of recreational activities can I expect at a 5 star hotel in Dresden?
A4
Recreational activities vary depending on each specific hotel's offerings but you can generally expect an array of options available at most luxury properties in Dresden. These may include well-equipped fitness centers, swimming pools with stunning views of the city, relaxing spa facilities offering a variety of treatments and massages, rooftop bars for enjoying cocktails while taking in panoramic views, and even access to nearby golf courses or tennis courts. 5 star hotels in Dresden strive to provide an all-encompassing luxury experience that caters to the leisure preferences of their guests.
Q5
Are there any historical landmarks near 5 star hotels in Dresden?
A5
Dresden is rich in history and culture, and many 5 star hotels are located within close proximity to its famous landmarks. With the city's iconic attractions such as Zwinger Palace, Semperoper Opera House, Frauenkirche Church, and Royal Palace just a short distance away from these luxury accommodations, guests can easily explore the historical charm of Dresden. Whether you're interested in immersing yourself in architectural marvels or learning about the city's past through its museums and galleries, staying at a 5 star hotel will offer you convenient access to Dresden's fascinating heritage.
Popular Five Star Hotels destinations