Welcome to our latest exploration of opulent accommodations in Cumbria, a haven for discerning travelers seeking nothing but the crème de la crème of luxury hotels. Nestled in the heart of the United Kingdom, Cumbria boasts an array of exquisite 5-star establishments that cater to the most sophisticated tastes. From enchanting countryside retreats to stately manors steeped in history, this captivating region is a treasure trove for those yearning for a lavish escape.
Prepare to be enthralled as we embark on a journey through these elegant abodes that redefine luxury at every turn. Immerse yourself in the grandeur and sumptuousness offered by Cumbria's finest hotels, where no request is too extravagant and every desire is catered to with utmost finesse. Allow us to unveil the glamour and sophistication tucked away within each meticulously designed suite, adorned with lavish furnishings and offering breathtaking vistas that will leave you breathless.
Indulge your senses as we delve into tales of unrivaled comfort and exceptional service found within these extraordinary sanctuaries. From Michelin-starred restaurants serving culinary masterpieces to spa havens where rejuvenation knows no bounds, Cumbria's 5-star hotels are dedicated to creating an experience unlike any other. So join us on this remarkable voyage as we uncover the epitome of refinement amidst the picturesque landscapes of Cumbria – where luxury intertwines harmoniously with nature's splendor.
Best Five Star Hotels in Cumbria
Windermere Suites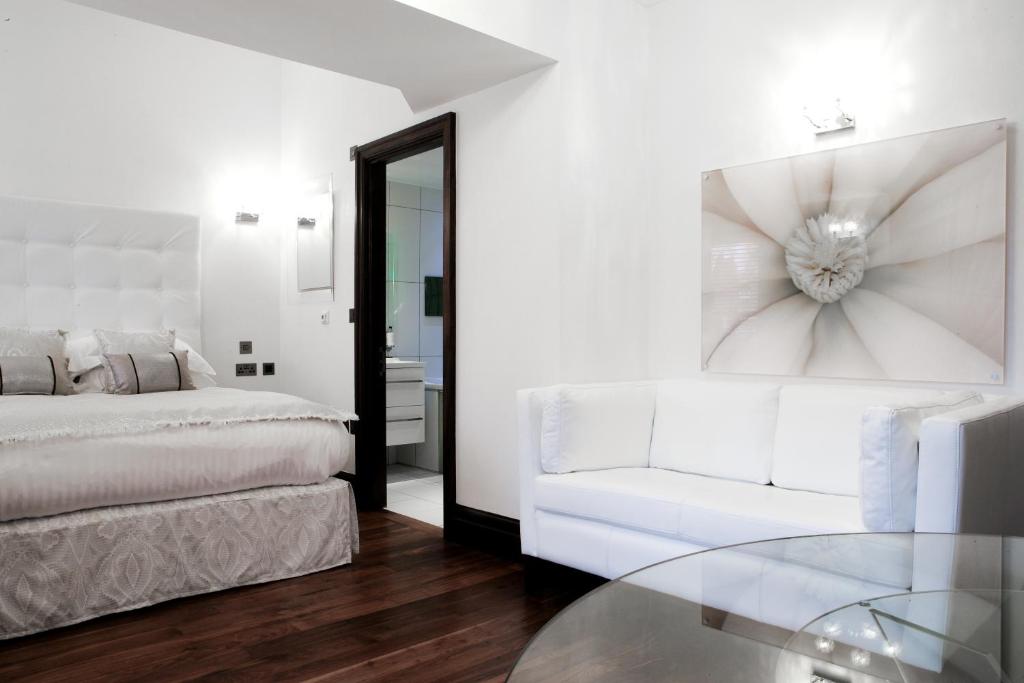 Located just a 2-minute walk from Windermere town centre and train station, Windermere Suites is a luxurious 5-star guest accommodation that offers an exceptional stay. The suites are elegantly designed with modern furniture from renowned designers like Philippe Starck, featuring luxury bathrooms and amenities. Each Super Luxury suite boasts a beautiful handmade silver-leaf Frank Hudson super-king bed, along with a seating area, soundproofing, and dining area. Guests can enjoy their favorite shows on the 42-inch LCD TVs or relax in the air baths for two that come with mood lights and a TV above. Free Wi-Fi is available throughout the property, ensuring guests can stay connected at all times. In the mornings, guests are treated to a hearty Cumbria platter or continental breakfast delivered straight to their suite, complete with freshly ground coffee. Electric vehicle chargers are also available in the car park for those traveling by electric cars. With its prime location near Lake Windermere and Bowness-on-Windermere where the famous 'World of Beatrix Potter' attraction is located, Windermere Suites offers convenience along with luxury.
Pros:
– Luxurious suites with modern furniture from top designers
– Handmade silver-leaf beds for ultimate comfort
– Air baths for two with mood lights and TV above
– Delicious breakfast delivered straight to your suite
– Convenient location near town centre, train station, and local attractions
Moss Grove Organic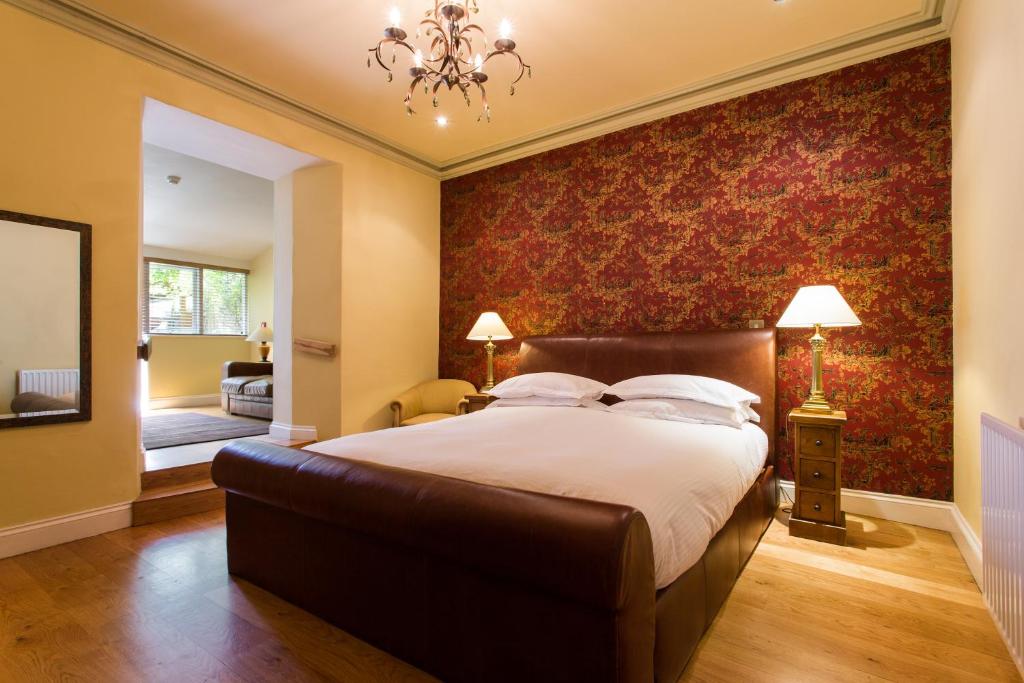 Located in the heart of the Lake District, Moss Grove Organic is a 5-star guest house that combines luxury with eco-friendly practices. The spacious and modern en suite rooms feature amenities such as flat-screen TVs, Bose Entertainment systems, and free internet access. Guests can indulge in the award-winning Mediterranean style buffet breakfast served in the country kitchen, which offers a wide selection of organic, local, and fair trade produce. The bathrooms are equipped with under-floor heating, spa baths, and organic toiletries for ultimate relaxation. The hotel is conveniently situated just over 500 meters from Grasmere Lake and within easy reach of popular Lake District towns such as Ambleside (4 miles to the south) and Keswick (12 miles to the north).
– Luxurious guest accommodation
– Eco-friendly practices
– Award-winning breakfast buffet with organic options
– Convenient location near Grasmere Lake and popular Lake District towns
Willowbeck Lodge Boutique Hotel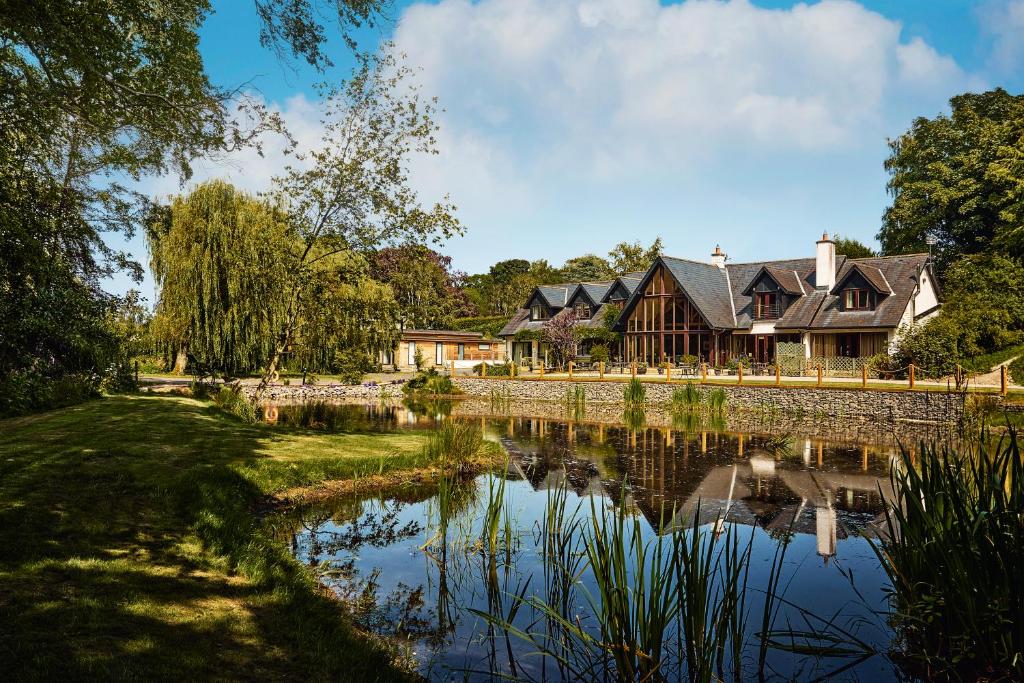 Willowbeck Lodge Boutique Hotel is a luxurious bed and breakfast retreat located in one of the most stunning areas of England. Situated within easy reach of both the Lake District National Park and the World Heritage Site of Hadrian's Wall, this hotel offers guests an unparalleled opportunity to explore the natural beauty and historical significance of the region. With five beautifully appointed en-suite rooms, two of which feature spacious en-suites with corner baths and separate showers, all overlooking a picturesque lake, Willowbeck Lodge provides a serene and tranquil atmosphere for its guests. Additionally, there is a self-contained two-bedroomed garden lodge available for those seeking more privacy. Each room is tastefully furnished in contemporary style and equipped with modern amenities including flat-screen TVs, broadband connection, hairdryers, and tea/coffee making facilities. The ground floor room (Hazel) even offers a private terrace for further relaxation. For business clients, Willowbeck Lodge offers meeting and conference facilities in discreet surroundings. With its breathtaking location and exceptional service offerings, Willowbeck Lodge Boutique Hotel ensures an unforgettable stay for all who visit.
– Stunning location near Lake District National Park
– Elegant en-suite rooms with beautiful lake views
– Self-contained garden lodge for added privacy
– Modern amenities including flat-screen TVs and broadband connection
– Business meeting and conference facilities available
Other places to stay in Cumbria
Luxury 5 Star Hotels in Cumbria
Cumbria offers a selection of luxury 5-star hotels that promise an unforgettable stay. With their impeccable service, elegant interiors, and breathtaking views, these accommodations provide the perfect escape for discerning travelers seeking indulgence and relaxation amidst the stunning natural beauty of this region.
Storrs Gate House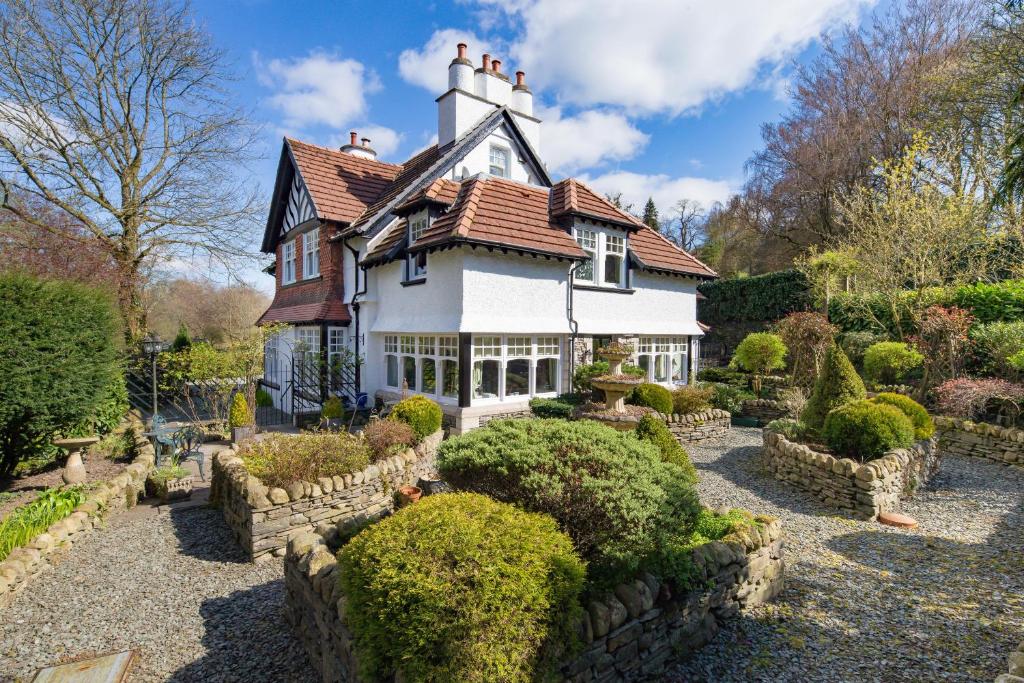 Storrs Gate House is an award-winning bed and breakfast located opposite Lake Windermere in a stunning 19th-century property that was once the gatehouse to Storrs Hall. This beautifully restored B&B offers luxurious bedrooms with free Wi-Fi, ample parking, and delicious hearty breakfasts. Guests can enjoy a full English breakfast featuring local free-range eggs, handmade Cumberland sausage, homemade jam, marmalade, yogurt, and muffins. The rooms are elegantly decorated with rich fabrics and colors, each equipped with a minibar and hairdryer. The bathrooms feature power showers and toiletries from The White Company. Situated less than a mile from Bowness-on-Windermere, guests can easily explore the scenic Lake District through various activities such as fishing, walking, and cycling. The Far Sawrey – Bowness on Windermere ferry Nab is just a 5-minute walk away for those looking to explore the western side of Windermere lake while Wray Castle sits only 3 miles away.
Pros:
– Stunning location opposite Lake Windermere
– Luxurious bedrooms with stylish decor
– Delicious full English breakfast featuring local produce
– Convenient proximity to Bowness-on-Windermere and nearby attractions
– Ample parking for guests
Roundthorn Country House & Luxury Apartments (Penrith)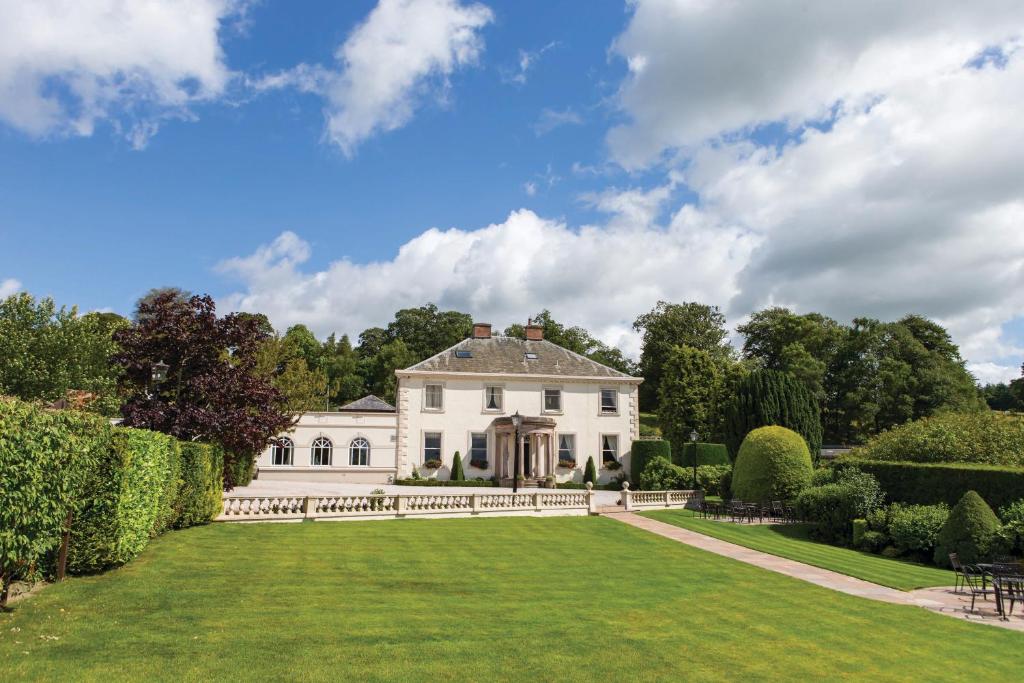 The Roundthorn Country House and Luxury Apartments in Penrith offer guests a truly luxurious and picturesque retreat. Set amidst landscaped gardens, the property boasts stunning panoramic views of the Eden Valley and Lakeland Fells. The en suite bedrooms in the main house are individually styled, ensuring a unique and comfortable stay. With its 5-star VisitEngland Guest Accommodation rating and Gold Award, guests can expect exceptional service and attention to detail. The hotel's bar and lounges, complete with log fires, provide a cozy atmosphere for evening meals. For those who prefer to bask in the beauty of nature, the outside terrace and gardens offer breathtaking views – an ideal spot for enjoying a refreshing drink or cup of coffee. The adjacent self-catering Mews Apartments feature fully fitted kitchens, dining areas, living spaces with large televisions, as well as private decking areas for each bedroom. The upgraded bar and lounge area exudes contemporary style while the re-landscaped gardens now include a charming Victorian-style gazebo.
Pros:
– Beautifully landscaped gardens
– Panoramic views of Eden Valley and Lakeland Fells
– Individually styled en suite bedrooms
– Fully equipped kitchens in self-catering apartments
– Upgraded bar/lounge area with contemporary decor
Aphrodites Group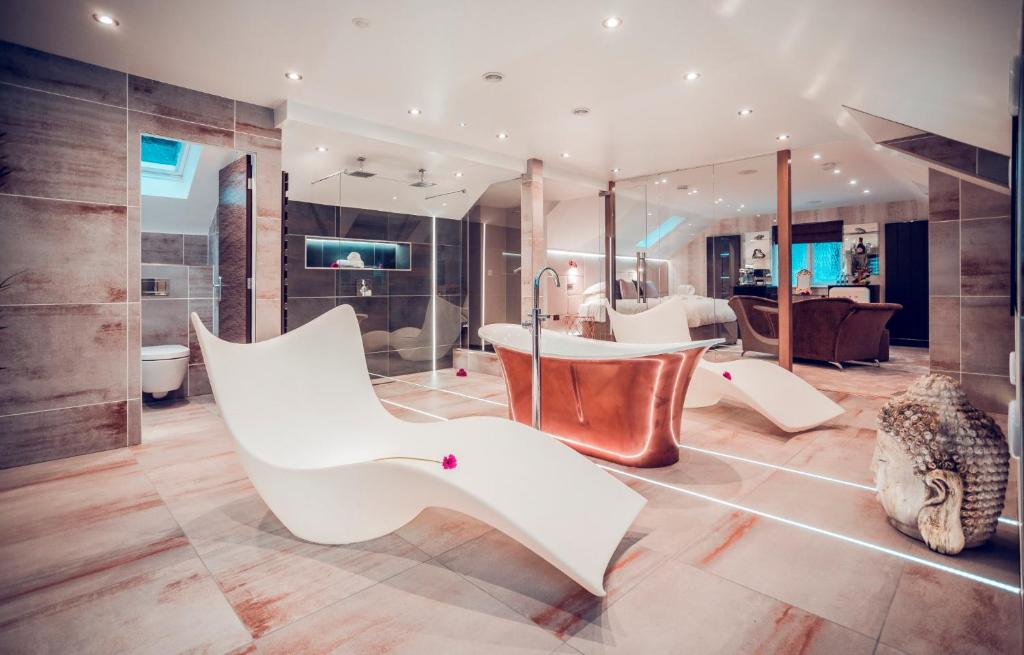 Set in private grounds above Lake Windermere, Aphrodites Group is a luxury hotel offering themed suites with spa baths or private hot tubs. The suites are exquisitely decorated with romantic features and luxurious furnishings, providing a truly indulgent experience. Guests can enjoy full English and continental breakfasts in the restaurant or have it delivered to their rooms for added convenience. The hotel also features amenities such as a sauna and steam room, as well as a stylish conservatory guest lounge. With its scenic location in the beautiful Lake District, Aphrodites is just a short walk away from Bowness Ferry Crossing and the charming town center of Bowness-on-Windermere, filled with shops, restaurants, and pubs.
– Themed suites with spa baths or private hot tubs
– Exquisite decor and luxurious furnishings
– Full English and continental breakfast options
– Sauna and steam room facilities
– Scenic location near Lake Windermere
Five Star Hotels in Downtown Cumbria
Downtown Cumbria boasts a collection of luxurious five-star hotels that offer impeccable service, stunning architecture, and unparalleled comfort. These hotels provide a haven for discerning travelers looking to indulge in the ultimate luxury experience while exploring the enchanting beauty of the region.
Bessiestown Country Guesthouse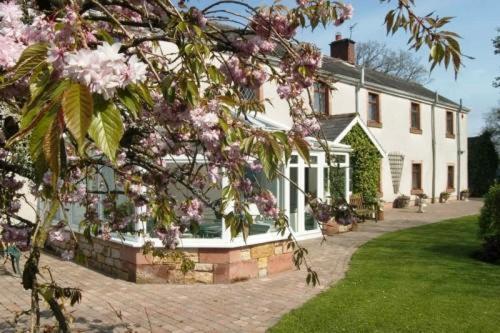 Bessiestown Country Guesthouse is a multi-award-winning 5-star Gold guest house located in a picturesque countryside setting between Gretna Green and Hadrian's Wall. The guest house offers a warm and friendly welcome, along with beautifully decorated en suite bedrooms and delicious home-cooked meals made using local ingredients. Situated just north of Carlisle, the guest house is conveniently located for exploring both the Lake District and the Scottish border region. Guests can enjoy peace and tranquility, as well as scenic walks in the surrounding area.
– Stunning countryside location
– Charming and well-decorated en suite bedrooms
– Friendly and welcoming atmosphere
– Delicious traditional meals made with local ingredients
– Conveniently situated for exploring both the Lake District and Scottish border region
Hawksmoor Guest House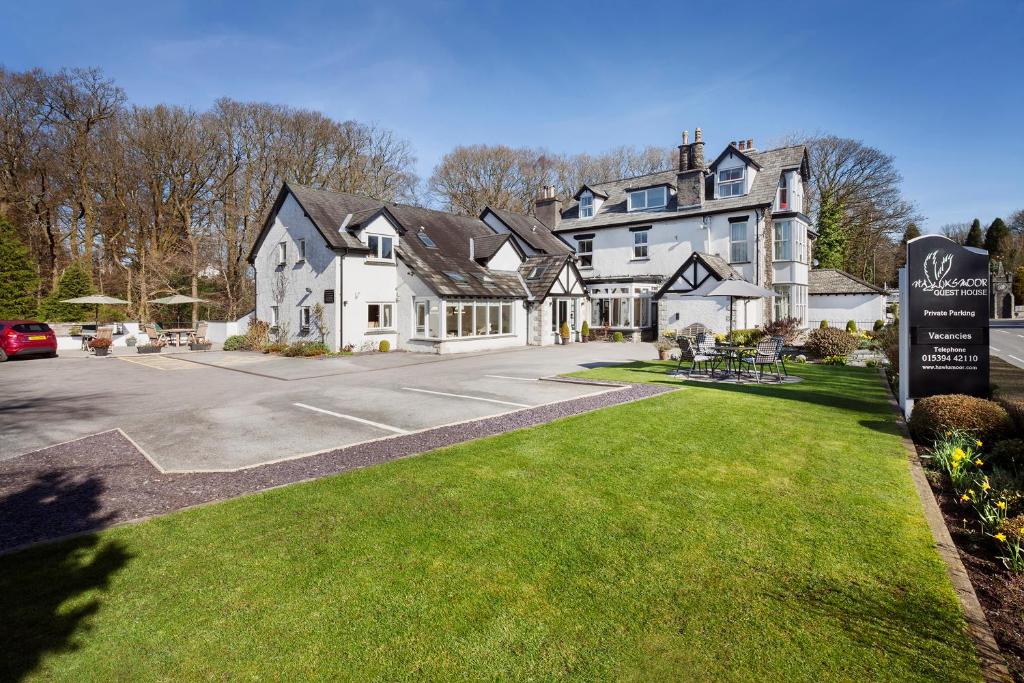 Hawksmoor Guest House is a charming guest house located just a 12-minute walk from Windermere. Offering free Wi-Fi and ample off-road parking, this guest house provides a comfortable and convenient stay for its guests. The rooms are elegantly designed and feature underfloor heating in the bathrooms, as well as tea and coffee making facilities. Guests also have access to the leisure facilities at a nearby health club, which includes a swimming pool, sauna, and gym – all available free of charge. Within walking distance are the picturesque villages of Windermere and Bowness, as well as The World of Beatrix Potter attraction.
– Convenient location within walking distance to Windermere village
– Free Wi-Fi throughout the property
– Ample off-road parking available
– Access to nearby health club with swimming pool, sauna, and gym facilities included
– Close proximity to popular attractions such as The World of Beatrix Potter
The Den – The White House Windermere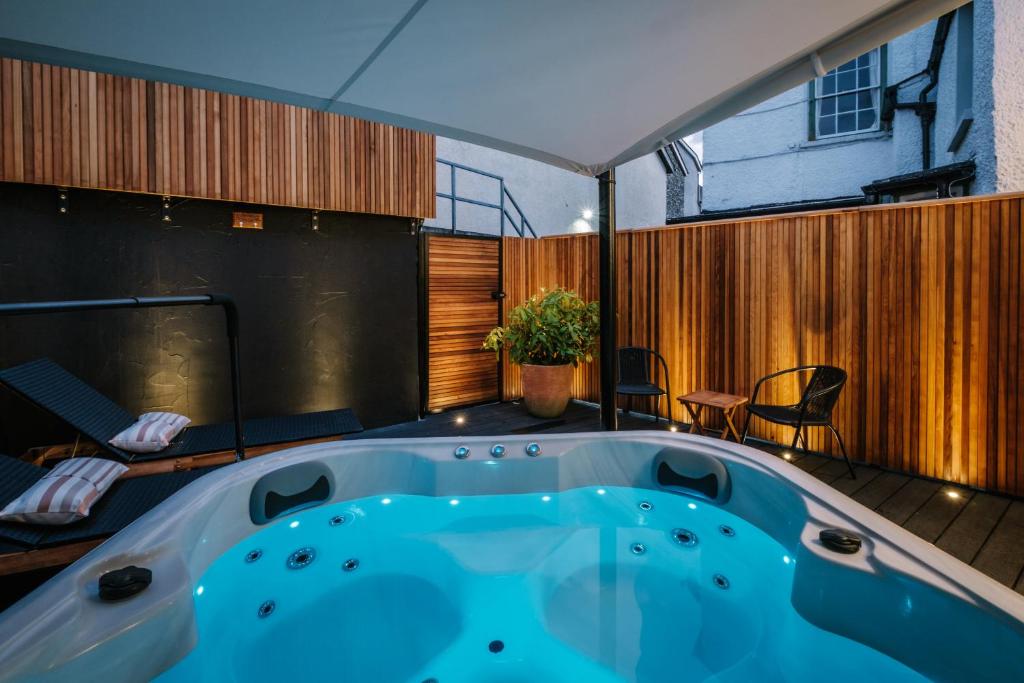 The Den – The White House Windermere is a luxurious 5-star holiday home located in the scenic town of Bowness-on-Windermere, in the beautiful Cumbria region. This elegant property offers free WiFi and features a charming terrace with breathtaking garden views. With 1 bedroom, a spacious living room, and a fully equipped kitchen including a fridge and an oven, guests will find all the amenities they need for a comfortable stay. The bathroom includes a shower and towels and bed linen are provided. For added indulgence, there is also a hot tub available on-site. Guests can enjoy nearby activities such as golfing or simply relax in the well-maintained garden area. The Den – The White House Windermere is conveniently located just 300 meters from the World of Beatrix Potter attraction. Other notable landmarks include Derwentwater at 38 km away and Askham Hall at 42 km away. Leeds Bradford International Airport is the closest airport to the property, located approximately 117 km away.
Pros:
– Stunning terrace with mesmerizing garden views
– Well-equipped kitchen for self-catering convenience
– Luxurious hot tub for ultimate relaxation
– Free WiFi access throughout the property
– Close proximity to popular attractions like World of Beatrix Potter
Cumbria Cheap 5 Star Hotels
Cumbria offers a range of cheap 5-star hotels that provide the perfect blend of luxury and affordability. With stunning surroundings and impeccable service, guests can enjoy an unforgettable stay without breaking the bank.
Lakes Hotel & Spa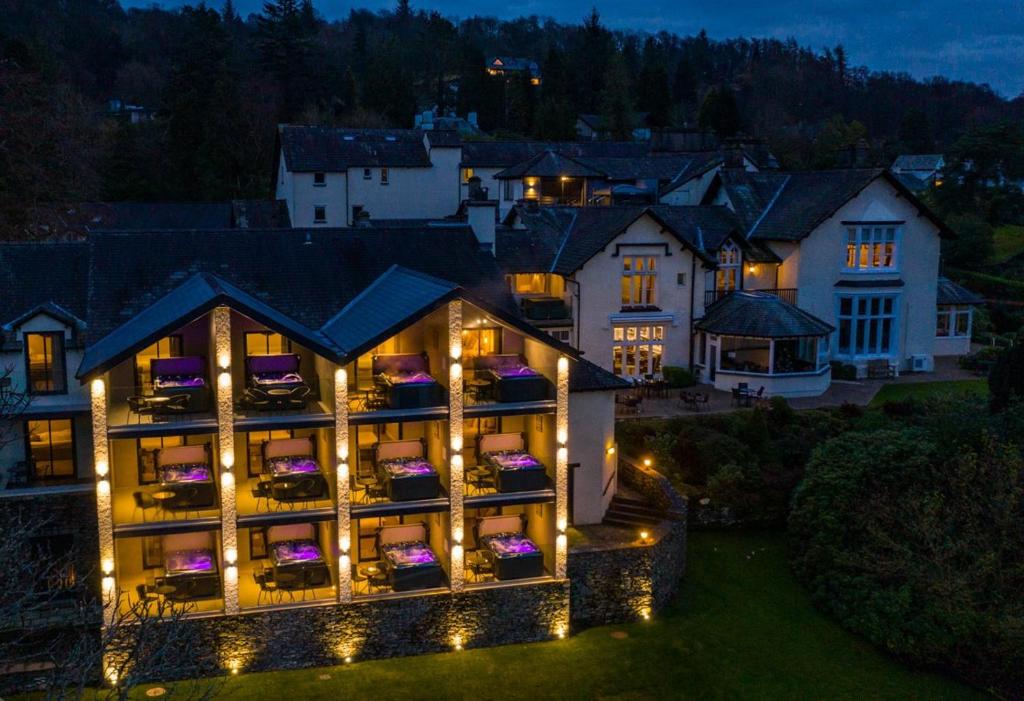 The Lakes Hotel & Spa, previously known as the Burnside Hotel & Spa, is a luxury 5-star hotel located in the picturesque village of Bowness-on-Windermere in Lake District. With stunning views of Lake Windermere and just a short walk from the bustling village center, this hotel offers the perfect base for exploring the area. The hotel boasts excellent on-site facilities including half of its rooms featuring hot tubs on private balconies, an indulgent spa with poolside seating and a bar, a stylish restaurant and cocktail bar, as well as bike hire and exciting water activities such as wakesurfing and paddleboarding. The central location allows guests to easily access shops, boutiques, and restaurants within minutes. Additionally, our concierge is available to provide guests with planned walks straight from the hotel gates. Conveniently located 30 minutes' drive from the M6 motorway and only a 10-minute drive from Windermere train station (where we can arrange for our Bentley to collect you), there is no need for a car when staying at The Lakes Hotel & Spa. This prime location has consistently been rated highly by guests who particularly appreciate its convenience for couples looking to enjoy a romantic getaway in beautiful surroundings.
Ees Wyke Country House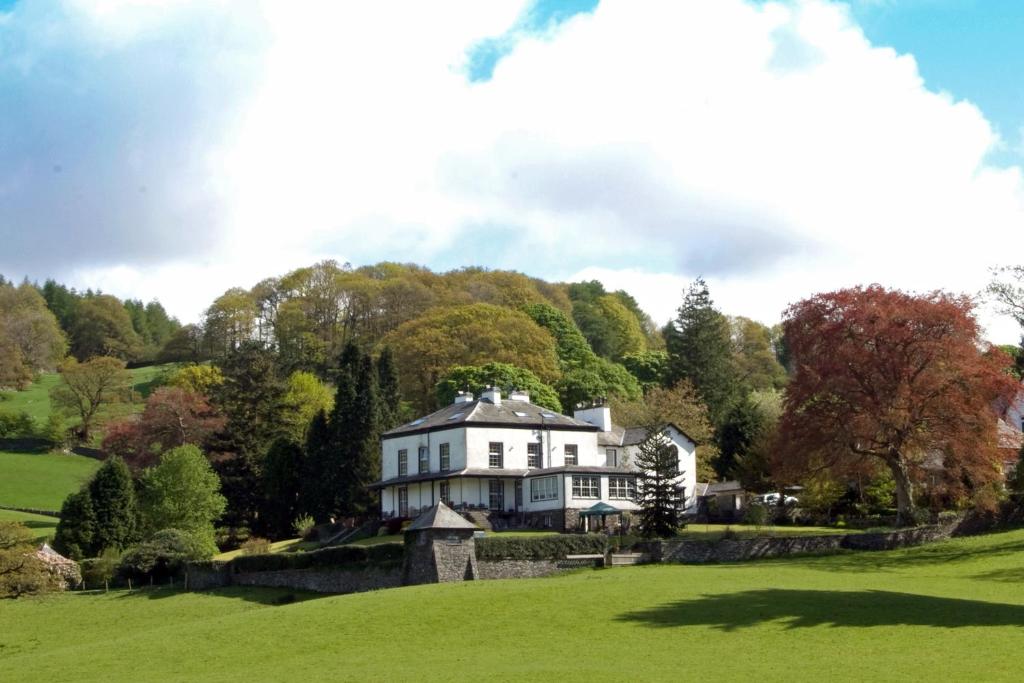 Ees Wyke Country House is an elegant Georgian property located in the stunning Lake District, just under 3 miles from Hawkshead. This historic house offers free parking and enjoys a elevated position with breathtaking views of Esthwaite Water. Once a holiday home of Beatrix Potter, Ees Wyke features two traditional lounges with cozy fireplaces, perfect for relaxing after a day of exploring. The terrace area provides an idyllic setting to admire the famous fells of the Lake District. The bedrooms offer picturesque views of the surrounding countryside and are equipped with en suite bathrooms and TVs. Some rooms also feature charming sloped beamed ceilings. Wake up to the enticing aroma of freshly baked bread accompanying locally sourced bacon and Cumberland sausage at breakfast time. Additionally, guests can choose from a delectable menu that includes options such as Loch Fyne kippers. Nature enthusiasts will delight in the Moss Eccles Tarn walk that starts right at the doorstep, while those looking to explore further can visit Ferry Nab near Bowness-On-Windermere via the Windermere Ferry, conveniently located just 2 miles away.
Pros:
– Elegant Georgian property
– Breathtaking views over Esthwaite Water
– Charming traditional lounges with fireplaces
– Picturesque bedrooms with stunning countryside views
– Convenient location for exploring Lake District walks and attractions
Cumbria 5 star Hotels Information
| | |
| --- | --- |
| 🛎️ 5 star Hotels in Cumbria | 11 |
| 💵 Hotels Prices From | $258 |
| 💵 Highest price | $1134 |
| 🥇 Average Review Score | 9.2/10 |
| 🛏️ Average number of Rooms | 16 |
Top 5 star hotels in Cumbria
| | |
| --- | --- |
| Storrs Gate House | 9.7/10 |
| The Den – The White House Windermere | 9.7/10 |
| Hawksmoor Guest House | 9.6/10 |
| Bessiestown Country Guesthouse | 9.5/10 |
| Windermere Suites | 9.3/10 |
FAQ
1
What are some of the best 5-star hotels in Cumbria, United Kingdom?
The stunning region of Cumbria is home to a number of exceptional 5-star hotels. Some of the best ones include The Gilpin Hotel and Lake House, known for its luxurious rooms and breathtaking views of the Lake District. Another top choice is Holbeck Ghyll Country House Hotel, offering elegant accommodations and a Michelin-starred restaurant. Additionally, Armathwaite Hall Hotel and Spa is renowned for its beautiful surroundings and top-notch spa facilities.
2
What amenities can I expect at a 5-star hotel in Cumbria?
When staying at a 5-star hotel in Cumbria, you can expect an array of luxurious amenities. These may include spacious and beautifully designed rooms or suites with modern furnishings, plush bedding, and panoramic views. Many establishments also provide high-end dining options ranging from gourmet restaurants to intimate bars serving fine wines and cocktails. Furthermore, you might find on-site spas offering various treatments, fitness centers equipped with state-of-the-art equipment, swimming pools or even private access to nearby natural attractions.
3
Are there any activities available near luxury hotels in Cumbria?
Absolutely! Luxury hotels in Cumbria often offer access to a variety of activities both within their premises and nearby areas. From guided hikes through the picturesque Lake District National Park to fishing trips on serene lakes or rivers, there is something for everyone. You may also have the opportunity to experience outdoor adventures like horse riding or cycling trails surrounded by breathtaking scenery. For those seeking relaxation indoors, many hotels organize culinary classes or wine tastings that showcase local specialties.
4
What is the ideal time to visit Cumbria for a luxury hotel experience?
Cumbria offers captivating experiences throughout the year but visiting during spring (March-May) or autumn (September-November) can be particularly enchanting for a luxury hotel experience. During these seasons, the landscapes are adorned with vibrant colors, and the weather is generally mild, allowing you to explore both indoor and outdoor activities comfortably. Plus, you can avoid peak tourist crowds found during the summer months while still enjoying pleasant temperatures and remarkable beauty.
5
How can I book a 5-star hotel in Cumbria?
Booking a 5-star hotel in Cumbria is quite simple. You can visit the official website of your chosen hotel and make a reservation online by selecting your desired dates and room type. Alternatively, you may contact the hotel directly through phone or email for assistance with reservations or any other queries you might have. It's always recommended to book well in advance to secure availability, especially during popular travel seasons or special events in the area
Popular 5 Star Hotels destinations