Welcome to the magnificent world of opulence and grandeur in Cardiff, United Kingdom. Today, we embark on a journey through the realm of luxury accommodations as we explore the exquisite 5-star hotels scattered throughout this vibrant city. Prepare to be enamored by the sheer elegance and sophistication that awaits you in every corner of these splendid establishments.
Nestled amidst enchanting landscapes, these high-end hotels offer an unparalleled experience for those seeking nothing short of perfection. Immerse yourself in a world where comfort and style seamlessly intertwine, where attention to detail is paramount, and where impeccable service is delivered with genuine warmth. From lavishly adorned lobbies to impeccably furnished suites, each hotel exudes its unique charm, captivating even the most discerning travelers with an irresistible allure.
As you step foot into these luxurious havens, prepare to have your senses indulged beyond imagination. Every aspect of your stay has been meticulously curated to ensure an unforgettable experience – from world-class spas offering rejuvenating treatments to award-winning restaurants serving delectable culinary creations prepared by renowned chefs. Whether you're here for business or leisure, Cardiff's 5-star hotels will leave no stone unturned in providing you with a truly extraordinary stay.
So join me on this captivating journey as we delve into the remarkable realm of luxury hospitality in Cardiff. Let us unravel the secrets hidden within these lavish retreats and discover why they are unrivaled in their pursuit of excellence. Get ready for a once-in-a-lifetime adventure that will redefine your perception of luxury and leave you yearning for more!
Best Five Star Hotels in Cardiff
voco St. David's Cardiff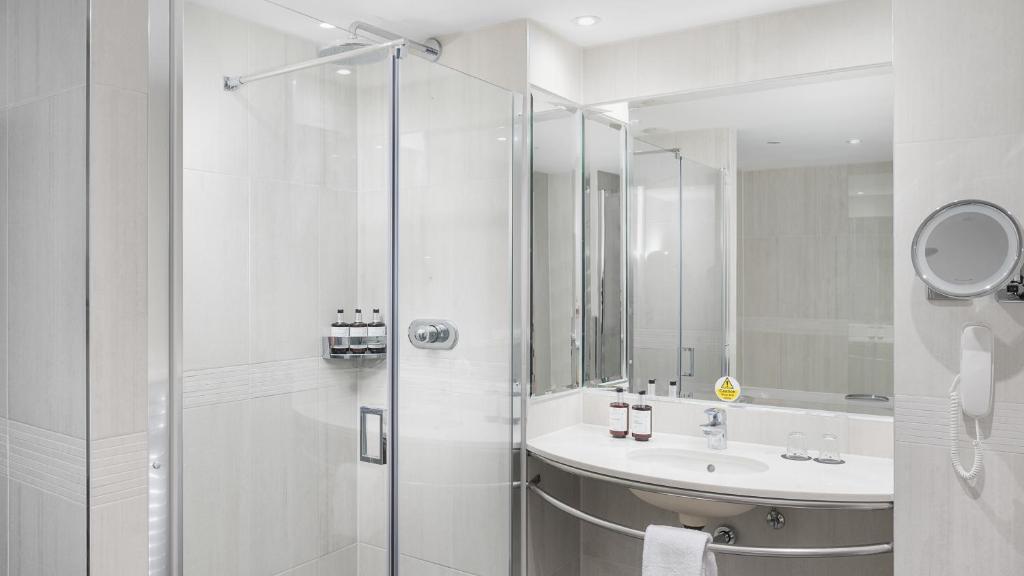 Located in an iconic building with breathtaking views of Cardiff Bay, the 5-star voco – St David's Cardiff offers a luxurious experience with its spa, elegant rooms, and innovative dining options. The spacious bedrooms are tastefully designed with luxury bathrooms, some even featuring private balconies. Guests can indulge in the award-winning Spa at St David's which includes a swimming pool, hydrotherapy pools, a fitness studio, and a relaxation room. The hotel also boasts meeting and conference facilities and is conveniently situated near vibrant Cardiff Docks, just 2 miles from the city centre. Additional amenities include air conditioning, Wi-Fi access throughout the property, on-site parking (charged separately), and the Tir a Mor restaurant offering waterside terrace dining as well as a bar serving cocktails, craft beer, and an extensive wine list.
Pros:
– Stunning views of Cardiff Bay
– Luxurious spa facilities
– Stylishly decorated rooms with modern amenities
– Innovative dining options available
– Convenient location near both the waterfront and city centre
Lucknam Park Hotel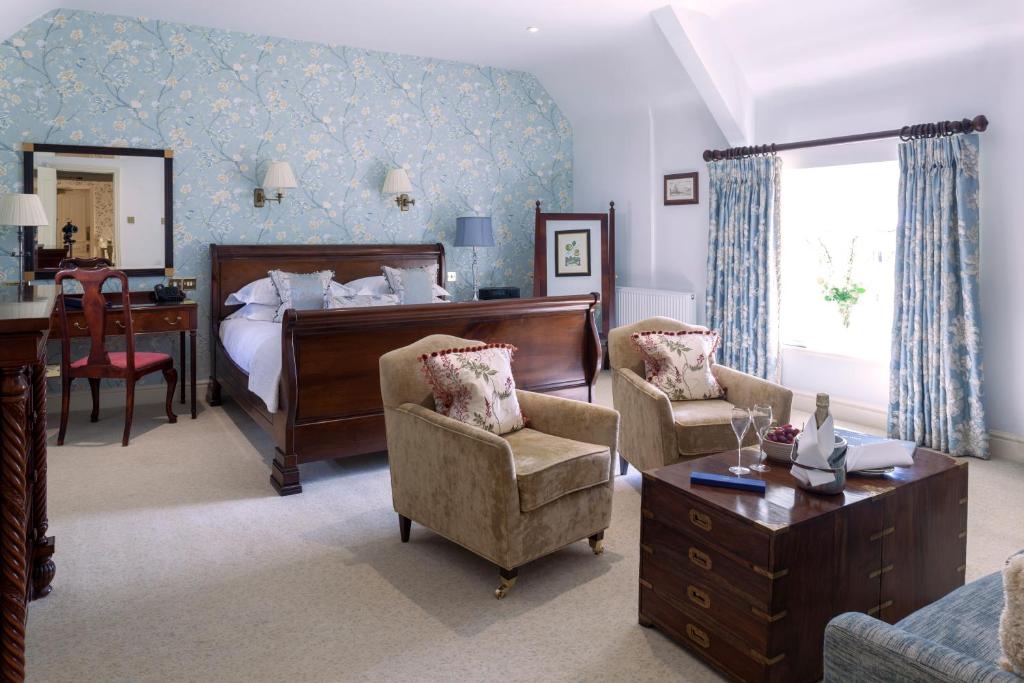 Located just 9.7 km from Bath, Lucknam Park Hotel and Spa is a magnificent countryside retreat set within a private 500-acre estate. With its Michelin Star dining options and majestic 5 Red Star status, this hotel offers guests a truly luxurious experience. The property is known for its extensive award-winning spa, Equestrian Centre with 35 horses, and enchanting walled garden. Guests can also enjoy amenities such as floodlit tennis courts, a 5-a-side football pitch, croquet lawn, and mountain bikes to explore the sprawling estate. The on-site Brasserie serves delicious meals with an open kitchen concept while The Hideaway provides various activities for children. From dinner reservations to indulgent spa treatments and pool use, Lucknam Park Hotel has everything needed for an unforgettable getaway in the countryside.
Pros:
– Michelin Star dining
– Extensive award-winning spa
– Equestrian Centre with horseback riding options
– Wide range of activities available on site
– Perfect escape from city life
The Bath Priory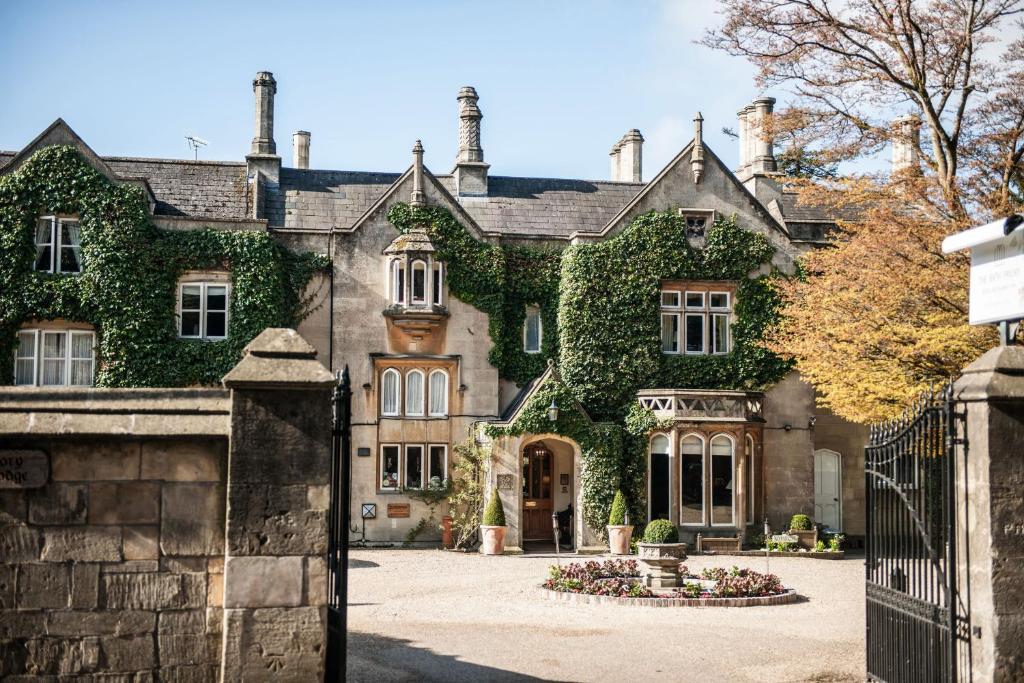 Set within 4 acres of stunning grounds, The Bath Priory Hotel is a luxurious country house retreat in Bath. This 5-star hotel boasts a luxury spa and a highly acclaimed restaurant, making it the perfect choice for a relaxing and indulgent getaway. With its modern French cuisine and seasonal dining options, the restaurant offers an exceptional culinary experience. The hotel's rooms are elegantly decorated with period furniture and feature spacious en-suite bathrooms complete with fluffy bathrobes and designer toiletries. For casual dining and drinks, guests can visit The Pantry, which exudes a cosy atmosphere. The highlight of the hotel is undoubtedly the Provence-inspired Garden Spa by L'Occitane, which includes an indoor heated swimming pool, sauna, steam pod, and offers L'Occitane beauty treatments by appointment. Surrounded by beautiful Avon countryside, the Bath Priory Hotel is just a short walk from popular attractions such as Bath Abbey and the Jane Austen Centre. With free parking available on-site and Bristol only a 20-minute drive away, this hotel truly combines luxury with convenience.
– Set within 4 acres of stunning grounds
– Luxury spa offering L'Occitane beauty treatments
– Highly acclaimed restaurant serving modern French dishes
– Elegant rooms with period furniture
– Convenient location near popular attractions like Bath Abbey
Other places to stay in Cardiff
Luxury 5 Star Hotels in Cardiff
Luxury 5 star hotels in Cardiff offer an exclusive and opulent experience for discerning travelers. From elegant decor to exceptional service, these hotels provide the perfect haven for those seeking utmost comfort and indulgence during their stay in the city.
Luxury Cardiff City Centre Apartments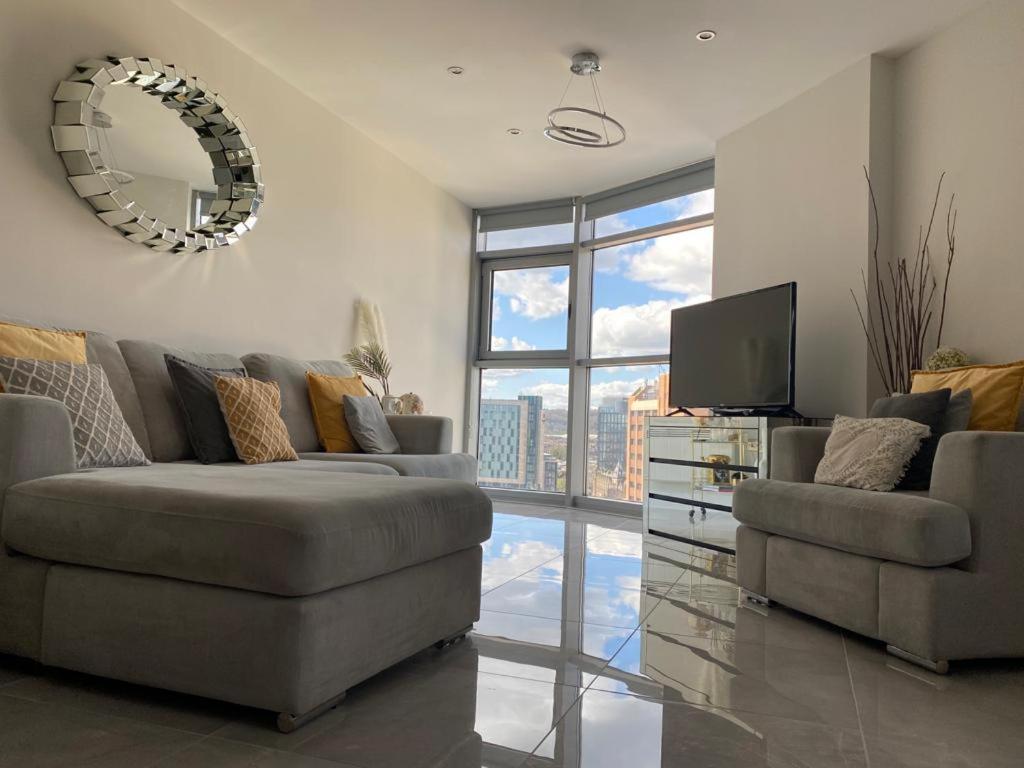 Luxury Cardiff City Centre Apartments are situated in a prime location in the heart of Cardiff. With just 200 meters away from Motorpoint Arena Cardiff and a shopping center, guests have easy access to entertainment and retail options. The apartments offer convenient amenities such as free on-site covered parking with 24-hour security. Each apartment boasts breathtaking panoramic city views and consists of two double bedrooms. The main bedroom features a bathroom with a deep bathtub, while the other room has an en-suite shower room. Both rooms come equipped with toiletries and a hairdryer for added convenience. The fully equipped kitchens include modern appliances like a dishwasher, oven, microwave, Dolce Gusto coffee machine, and kettle. Guests can also enjoy entertainment options such as flat-screen TVs with Netflix and streaming services. Plus, the apartments provide super-fast Fiber broadband of up to 500MB for seamless connectivity throughout your stay. Nearby attractions include St David's Hall (400 meters) and Millennium Stadium (900 meters). For travelers flying into the city, Cardiff Airport is only 15 km away from the accommodation. Please note that apartment allocation will be done prior to arrival as all apartments are located within the same block.
– Convenient central location
– Free onsite covered parking with 24-hour security
– Breathtaking panoramic city views
– Fully equipped kitchen with modern appliances
– Entertainment options including Netflix and super-fast fiber broadband
The Eastbury Hotel & Spa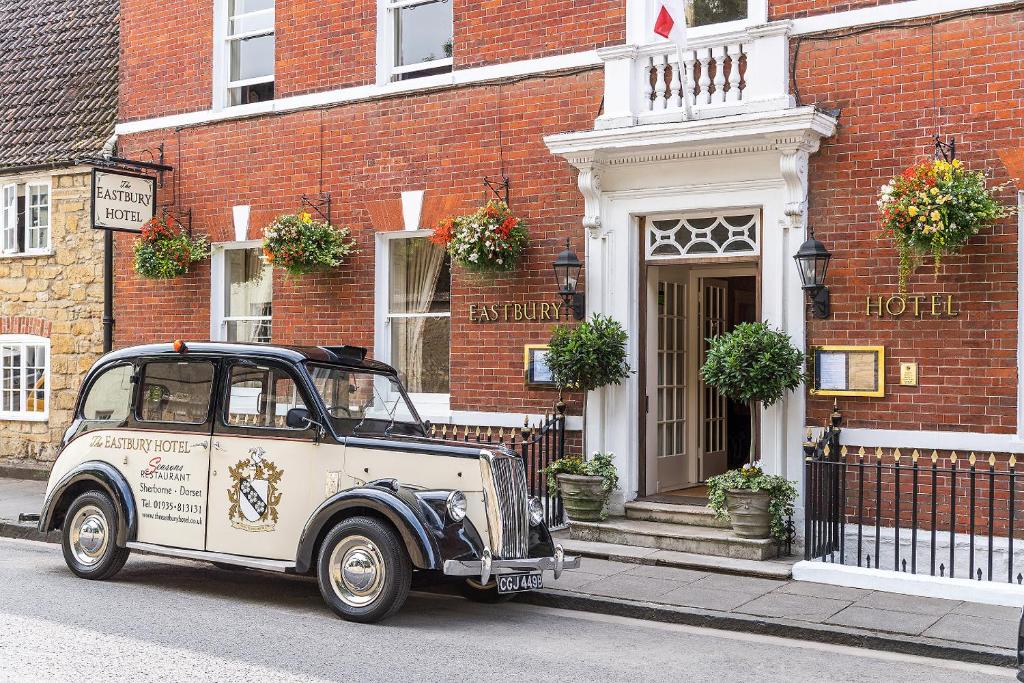 The Eastbury Hotel & Spa is a luxurious Georgian country house style hotel and boutique spa located in the heart of Sherborne, a lively historic town in the Dorset countryside. Originally designed as an 18th-century Georgian gentleman's residence, this charming property offers rooms that are filled with warmth and character, providing guests with a home away from home experience. While the hotel has closed its restaurant, it continues to offer an award-winning breakfast and works closely with local restaurants to ensure guests have access to the best dining options during their stay. The hotel boasts secure parking, individually decorated rooms with en suite bathrooms, exclusive lounges for relaxation, a library and snooker room for entertainment, beautiful walled gardens, and private dining in a pod. With luxurious sofas, fresh flowers, and cozy fireplaces throughout the property, The Eastbury Hotel & Spa offers guests an indulgent bed & breakfast experience.
– Charming Georgian country house style
– Beautifully landscaped gardens
– Exclusive lounges for relaxation
– Unique private dining option in a pod
– Individually decorated rooms filled with character
The Old Vicarage Hotel & Restaurant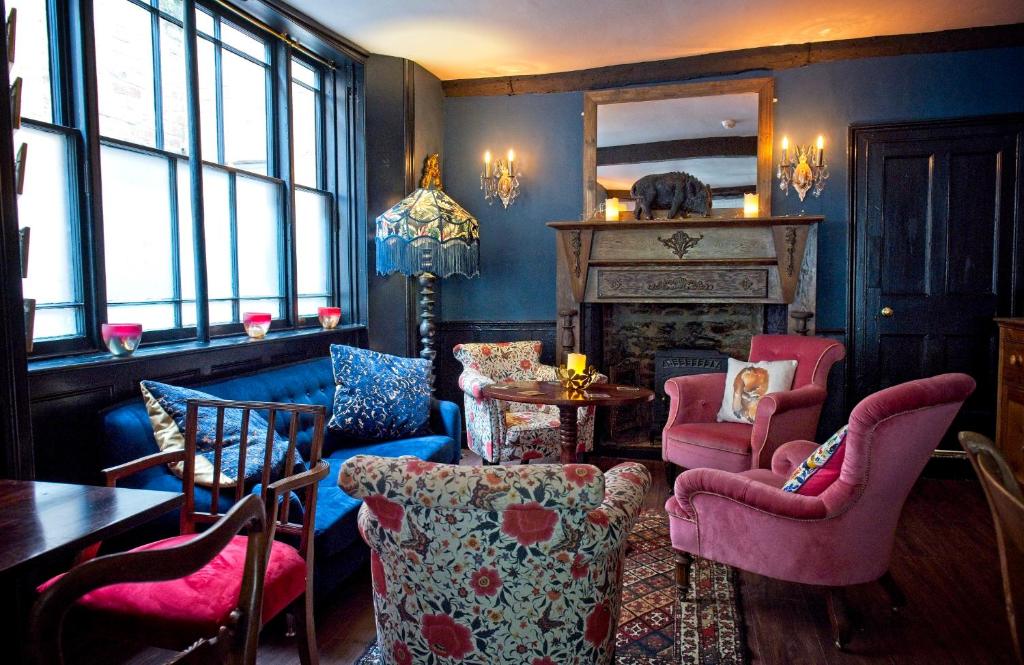 The Old Vicarage Hotel & Restaurant is a historic gem nestled in the heart of Bridgwater. This charming property boasts some parts dating back to the 14th century and has recently undergone extensive renovations to ensure utmost comfort and luxury for its guests. With nine beautifully appointed bedrooms, guests can expect a blend of traditional charm and modern amenities. The hotel's bar and restaurant offer a delightful culinary experience, serving lunch, evening meals, and breakfast options that cater to every palate. From a tastefully cooked full English breakfast to homemade granola and monkey bread, as well as vegetarian, vegan, and gluten-free options like their famous Glamorgan sausages, there is something for everyone. Additionally, the hotel's central location makes it an ideal base for exploring nearby attractions such as Cheddar Gorge, Quantock Hills, Glastonbury, Wells, Wookey Hole, and the vibrant city of Bristol. Whether enjoying morning coffee or sipping a drink on the garden patio area, guests are guaranteed an unforgettable stay at The Old Vicarage Hotel & Restaurant.
– Historic building with renovated rooms
– Varied breakfast options including vegetarian and gluten-free choices
– Central location close to popular attractions
– Charming garden patio area for relaxation
– Elegant bar and restaurant serving delicious meals
Five Star Hotels in Downtown Cardiff
Downtown Cardiff boasts some of the finest five-star hotels, offering unparalleled luxury and top-notch service. With their prime locations and sophisticated ambiance, these hotels provide a perfect retreat for discerning travelers visiting the city.
The Foretop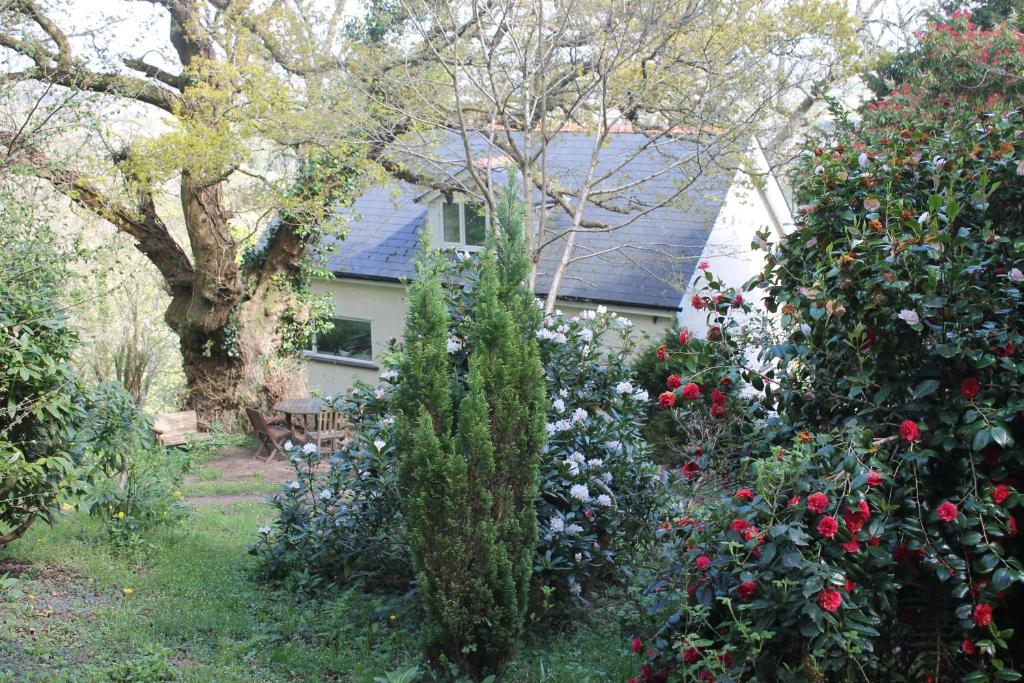 The Foretop is a luxurious 5-star apartment located in Cardiff, offering breathtaking views of the garden. It is conveniently situated just 8.5 km from University of South Wales – Cardiff Campus and Motorpoint Arena Cardiff. The apartment boasts city views and features two spacious bedrooms, a comfortable living room with a flat-screen TV and satellite channels, as well as a fully equipped kitchen with modern appliances. With free WiFi throughout the property and complimentary private parking, guests can truly relax and enjoy their stay. Moreover, hiking enthusiasts will be pleased to find nearby hiking trails while others can unwind in the beautiful garden. The Foretop's location also provides easy access to popular attractions such as Cardiff Castle and Principality Stadium which are both only 10 km away. For those traveling by air, Cardiff Airport is just 26 km from the accommodation.
– Breathtaking garden views
– Spacious apartment with modern amenities
– Complimentary private parking
– Free WiFi throughout the property
– Conveniently located near popular attractions
Cardiff 5 star Hotels Information
| | |
| --- | --- |
| 🛎️ 5 star Hotels in Cardiff | 7 |
| 💵 Hotels Prices From | $300 |
| 💵 Highest price | $703 |
| 🥇 Average Review Score | 8.8/10 |
| 🛏️ Average number of Rooms | 34 |
Top 5 star hotels in Cardiff
| | |
| --- | --- |
| Luxury Cardiff City Centre Apartments | 9.4/10 |
| The Foretop | 9.3/10 |
| Lucknam Park Hotel | 8.9/10 |
| The Old Vicarage Hotel & Restaurant | 8.8/10 |
| voco St. David's Cardiff | 8.5/10 |
FAQ
1
"What are some of the top 5-star hotels in Cardiff?"
Some of the top 5-star hotels in Cardiff include The St. David's Hotel, located on the waterfront and offering stunning views, luxurious rooms, and fine dining options. Another option is The Principal St David's Hotel situated close to Cardiff Bay with its elegant decor, spacious rooms, and excellent amenities. Lastly, guests can consider staying at The Hilton Cardiff which is centrally located and boasts stylish accommodations and a range of facilities including a spa and fitness center.
2
"What amenities can I expect at a luxury hotel in Cardiff?"
Luxury hotels in Cardiff typically offer a wide array of amenities such as well-appointed rooms or suites with plush furnishings, complimentary high-speed internet access, flat-screen TVs with satellite channels, minibars stocked with premium beverages/snacks, private balconies or terraces offering scenic views, luxurious bathrooms complete with designer toiletries and rainfall showers/bathtubs. Guests can also enjoy access to on-site restaurants serving gourmet cuisine prepared by renowned chefs as well as facilities like spas, fitness centers/gymnasiums equipped with state-of-the-art equipment for rejuvenation and relaxation.
3
"Are there any luxury hotels near popular tourist attractions in Cardiff?"
Yes! There are several luxury hotels that are conveniently located near popular tourist attractions in Cardiff. For instance, if you're visiting the historic Cardiff Castle or exploring the city center's shopping district around Queen Street Arcade or St. David's Dewi Sant mall then you may want to consider staying at The Park Plaza Hotel which is within walking distance from these places.The Angel Hotel is another excellent option if you plan to visit Principality Stadium for sports events or concerts as it is situated just minutes away from the venue.
4
"Can I expect personalized service at a luxury hotel in Cardiff?"
Absolutely! Luxury hotels excel in providing personalized service tailored to meet individual guest needs. From attentive concierge services to 24-hour room service, the staff at luxury hotels in Cardiff go above and beyond to ensure a memorable stay. Whether it's arranging transportation, making restaurant reservations, or providing recommendations for local attractions and activities, the staff is dedicated to delivering exceptional service and creating a personalized experience for each guest.
5
"What is the average price range for a night's stay at a 5-star hotel in Cardiff?"
The average price range for a night's stay at a 5-star hotel in Cardiff can vary depending on various factors such as location, time of year, and availability. On average, you can expect prices to start from around £150 per night and go up to £300 or more for premium rooms or suites with additional amenities. It's worth noting that prices may fluctuate during peak seasons or special events in the city.
Popular Five Star Hotels destinations