Welcome, fellow luxury seekers, to the enchanting region of Puglia in Italy! Nestled in the sun-kissed heel of the country's boot-shaped peninsula, this hidden gem is a paradise for those craving an indulgent escape. Prepare to immerse yourself in a world of opulence as we explore the realm of 5-star accommodations that grace this stunning destination.
Puglia, renowned for its picturesque coastal towns and rolling countryside, offers a sublime blend of rich history, captivating culture, and mouthwatering cuisine. As you traverse through its charming landscapes dotted with ancient olive groves and vineyards, be prepared to encounter a selection of exquisite lodgings that embody true decadence. From historic masserias transformed into luxurious retreats to modern boutique hotels boasting cutting-edge design elements, Puglia promises an array of five-star experiences tailored to your every desire.
Indulge in world-class service and unparalleled sophistication as you unwind amidst breathtaking settings that seamlessly fuse traditional Italian charm with contemporary elegance. Immerse yourself in sun-drenched terraces overlooking sparkling azure waters or embrace tranquility within private villas nestled amidst fragrant gardens. With their attention to detail and unwavering commitment to pampering guests, these prestigious hotels will elevate your stay in Puglia beyond imagination.
Prepare yourself for an unforgettable journey as we unveil the crème de la crème among Puglia's luxury accommodations. From lavish spas offering rejuvenating treatments inspired by local traditions to Michelin-starred restaurants tantalizing taste buds with culinary delights crafted from regional produce – get ready to embark on an extraordinary exploration of 5-star bliss in this captivating corner of Italy!
Best Five Star Hotels in Puglia
Hotel Masseria Donnaloia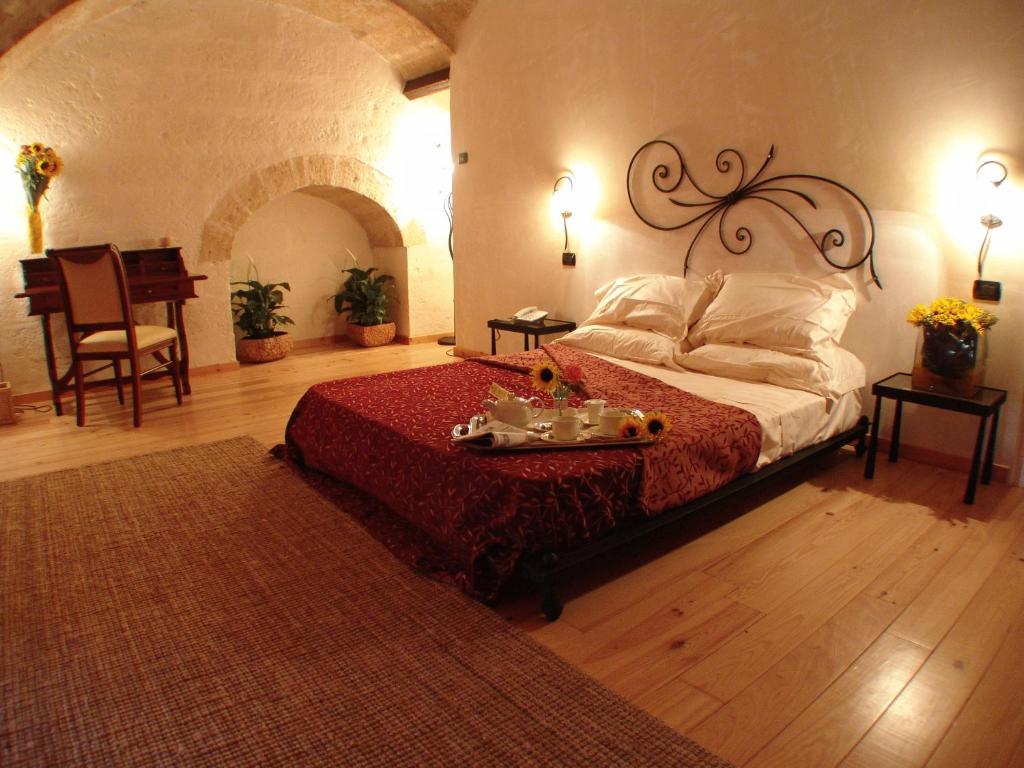 Hotel Masseria Donnaloia is a luxury hotel located 250 meters from the seaside in Puglia, Italy. Housed in a restored farmhouse, the hotel offers a unique blend of traditional and modern styles. Guests can relax by the seasonal pool or explore the nearby beach, just 1.5 km away. The restaurant, located in a converted hay barn with a roof terrace, serves delicious Puglia cuisine including mussels with rice and roast potatoes. The elegant rooms feature wrought-iron beds, antique furnishings, free WiFi, and LCD TVs. Some rooms also have sea-view balconies. Additional amenities include air conditioning, bathrobes and slippers in the bathrooms. Fitness enthusiasts will appreciate the gym facilities and free bike hire offered by the hotel. For those looking to explore further afield, Fasano Zoosafari is just 11 km away and Egnazia Aquapark can be reached in less than 10 minutes by car. The hotel is conveniently located 8 km from Monopoli center and both Bari and Brindisi Airports are within an hour's drive away.
Pros:
– Luxury hotel with indoor and outdoor pools
– Convenient location near the seaside
– Beautifully restored farmhouse with a unique atmosphere
– Delicious Puglia cuisine served at the restaurant
– Fitness facilities available for guests' convenience
Relais Villa San Martino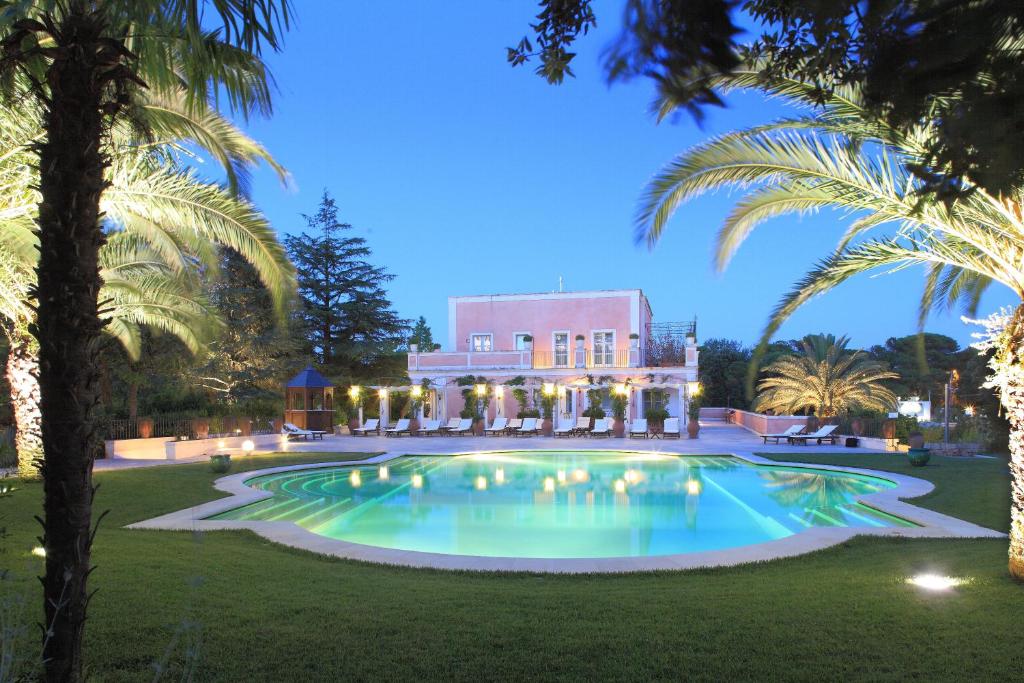 Nestled outside the Baroque city of Martina Franca, Relais Villa San Martino is an elegant 5-star hotel surrounded by a picturesque green park. Perfectly positioned to explore the wonders of Apulia, this enchanting property offers a truly relaxing holiday experience. Adorned with ancient paintings and furnished with exquisite antique furniture, the rooms exude timeless beauty. For those seeking tranquility, select suites boast spacious terraces adorned with vibrant flowers. Indulge in pleasurable moments at the seasonal outdoor swimming pool or unwind at the luxurious wellness center. The hotel also offers a variety of entertaining facilities to ensure an unforgettable stay.
Pros:
– Beautiful green park surrounding the hotel
– Close proximity to protected areas, UNESCO sites, and unique architecture
– Elegant rooms decorated with ancient paintings and antique furniture
– Suites featuring wide terraces adorned with flowers
– Outdoor swimming pool and wellness center for relaxation
Masseria Le Mandorle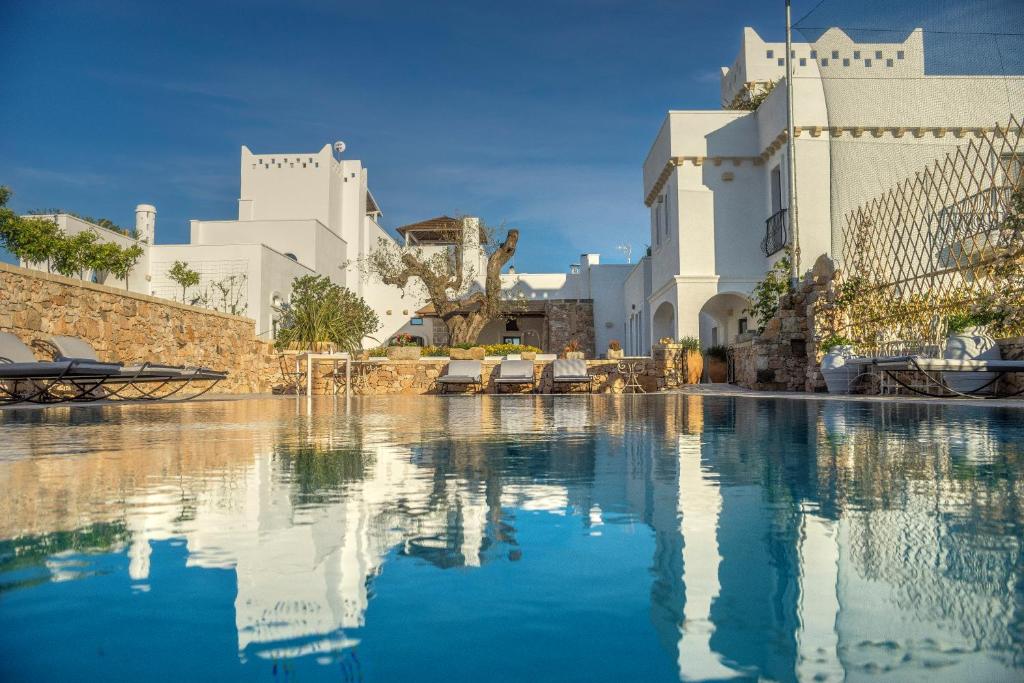 Nestled in the picturesque Salento area of Apulia, Masseria Le Mandorle offers a luxurious and serene escape. The hotel features an outdoor pool and hot tub, perfect for unwinding under the Italian sun. With amenities such as free high-speed WiFi, a gym, and a sun terrace, guests can relax and indulge in modern comforts. The rooms are elegantly furnished with Smart TVs, some also offering a seating area and private terrace or balcony. Guests can savor regional dishes and fresh produce at the property's restaurant while enjoying impeccable service from the 24-hour desk. Sports enthusiasts can make use of the tennis and volleyball courts or explore the surroundings with complimentary bicycles or car hire. Only a short drive away from the Mediterranean Coast and approximately 20km from Gallipoli, Masseria Le Mandorle is an idyllic haven that promises tranquility and luxury.
– Outdoor pool & hot tub
– Free high-speed WiFi
– Gym & sun terrace
– Elegant rooms with Smart TVs
– Regional cuisine at on-site restaurant
Other places to stay in Puglia
Luxury 5 Star Hotels in Puglia
Puglia offers a stunning selection of luxury 5-star hotels, where guests can indulge in world-class service and opulent accommodations. With its beautiful coastal landscapes and rich cultural heritage, Puglia provides the perfect backdrop for an unforgettable luxury getaway.
La Sommità Relais & Chateaux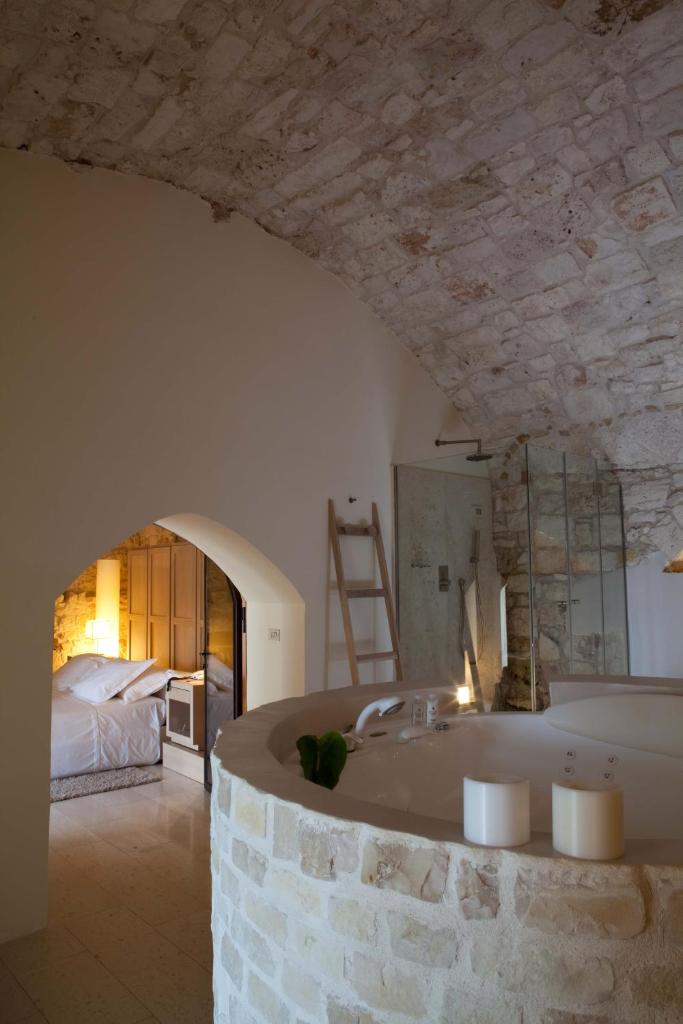 La Sommità Relais & Chateaux is an exceptionally exclusive and enticing luxury hotel that showcases a remarkable historic architecture and a serene garden. Situated in the pedestrian area of Ostuni's historic center, this splendid property presents a Michelin-starred restaurant and an indulgent wellness center. Guests can revel in the sheer opulence of the exclusive spa, offering rejuvenating face and body treatments, as well as exceptional facilities such as a massage parlour and Turkish bath. Alongside its deluxe rooms and suites adorned with elegant furniture, La Sommità Relais boasts an ancient hall, cozy reading lounges, and sun-kissed solarium terraces. The hotel also features a stunning Spanish garden adorned with fragrant olive and orange trees.
– Exquisite Michelin-starred restaurant
– Luxurious wellness center with top-notch spa facilities
– Captivating historic architecture
– Tranquil garden for relaxation
– Convenient location in Ostuni's pedestrian area
Canne Bianche Lifestyle Hotel (Torre Canne)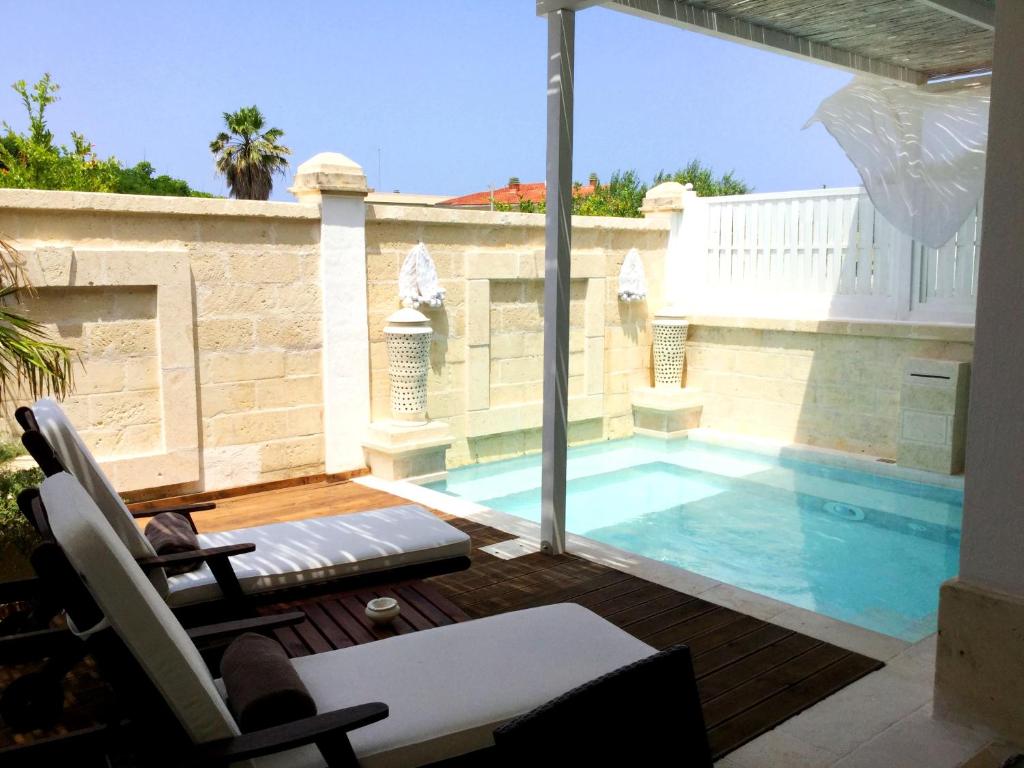 Located on the beautiful seafront in Torre Canne, just a short drive from Fasano, Canne Bianche Lifestyle Hotel is a luxurious 5-star getaway. The hotel boasts a stunning garden with a swimming pool and a state-of-the-art wellness center. The modern rooms feature furnished balconies or patios and offer partial views of the sea, hill, or garden. Each room comes equipped with a 32-inch LCD TV, air conditioning, and a private bathroom with either a hydromassage bath or shower. Guests can indulge in mouthwatering Apulian specialties and classic Italian dishes at the hotel's two restaurants or enjoy drinks at the poolside bar. For those looking for more active pursuits, the hotel offers cooking classes as well as opportunities for horse riding and kitesurfing. Guests can also book sessions in the sauna, Turkish bath, chromotherapy shower, and hot tub for an additional fee. And for fitness enthusiasts, there is even a personal trainer available in the gym. With its convenient location just 20 minutes from Ostuni and 30 km from Alberobello (known for its trulli), Canne Bianche Lifestyle Hotel truly offers guests an unforgettable luxury experience.
– Stunning seafront location
– Beautifully landscaped garden with swimming pool
– Modern rooms with balconies or patios
– Two restaurants serving delicious Apulian specialties
– Exciting activities including cooking classes and horse riding
DOGANA RESORT (Molfetta)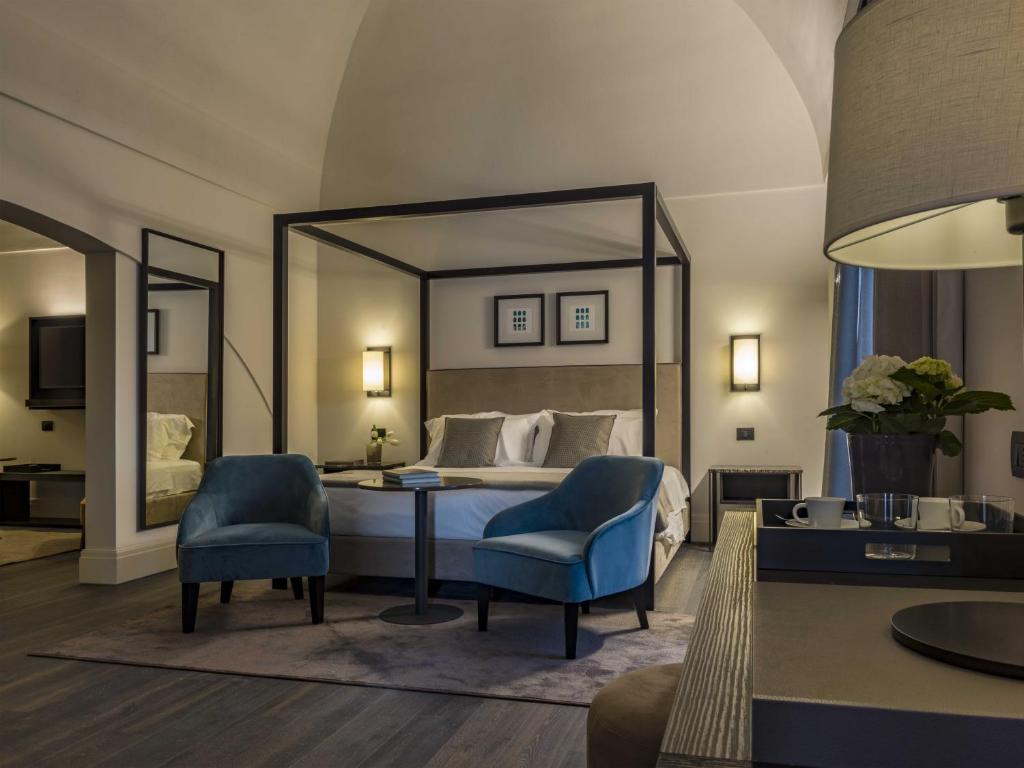 DOGANA RESORT, a luxurious 5-star hotel located in Molfetta, has been open since August 2019. Situated just 2 km from Prima Cala Beach, this stunning resort offers guests a range of amenities and services to ensure a comfortable and memorable stay. With a terrace, private parking, restaurant, and bar on-site, guests have everything they need at their fingertips. The hotel also provides a concierge service and luggage storage for added convenience. Each air-conditioned room is equipped with modern comforts such as a wardrobe, kettle, minibar, safety deposit box,and flat-screen TV. The private bathrooms feature bidets for added comfort. Guests can enjoy an à la carte or continental breakfast each morning before exploring nearby attractions like Scoglio D'Inghilterra Beach or Bari Cathedral. With free WiFi available throughout the property and airport transfers provided by the hotel's attentive staff, DOGANA RESORT truly offers an exceptional luxury experience.
– Convenient location near beautiful beaches
– Excellent customer service with 24-hour front desk assistance
– Stylishly appointed rooms with modern amenities
– Delicious breakfast options to start the day right
– Free WiFi throughout the property for easy connectivity
Five Star Hotels in Downtown Puglia
Downtown Puglia boasts a collection of exquisite five-star hotels that offer unparalleled luxury and sophistication. These opulent establishments promise an indulgent stay, combining impeccable service with exceptional design and breathtaking views, making them the perfect choice for discerning travelers seeking an unforgettable experience in this charming region.
Rocco Forte Masseria Torre Maizza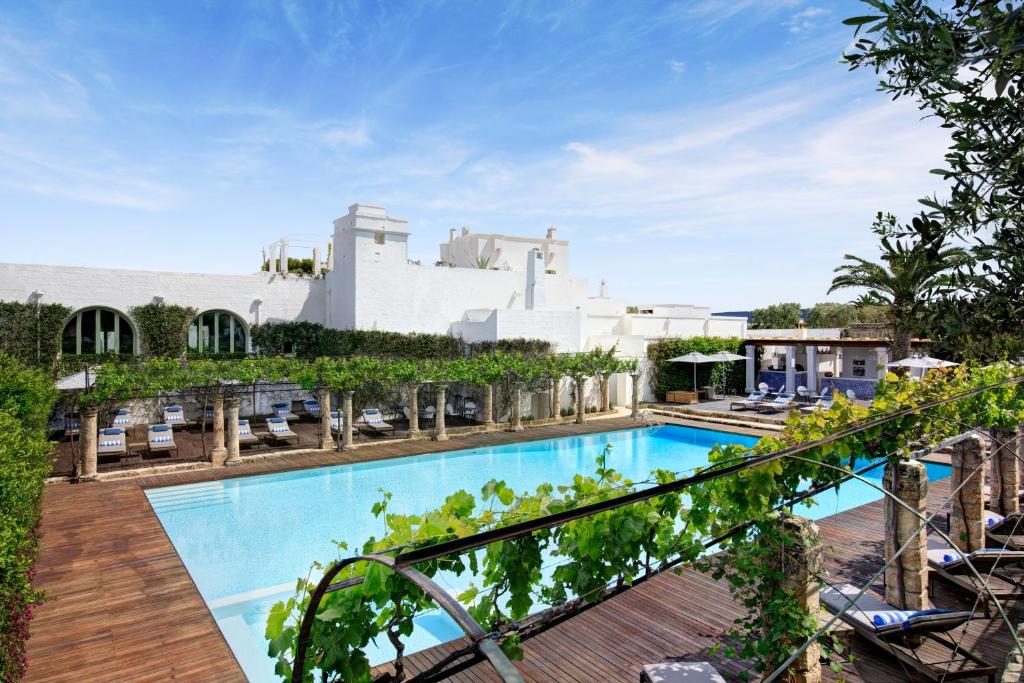 Nestled within the expansive grounds of Savelletri di Fasano, Rocco Forte Masseria Torre Maizza is a luxurious 5-star hotel offering an array of amenities and stunning views of the Apulian countryside. The property boasts a stylish restaurant, a pool bar, and a rooftop bar where guests can enjoy expertly crafted cocktails against scenic backdrops. With a 20-meter pool and a private beach club at your disposal, relaxation and rejuvenation are just steps away. The spacious rooms and suites, furnished by local artisans, each come with their own private garden and offer enchanting vistas. Indulge in fine Italian dining at the on-site bar and restaurant that showcases mouthwatering dishes made using local Puglian ingredients in its charming garden pergola setting. Additionally, guests can take advantage of the spa facilities or indulge in a round of golf at the hotel's 9-hole course. Conveniently located just a short drive from both Brindisi Airport (40 minutes) and Bari Airport (50 minutes), Masseria Torre Maizza is also home to helpful concierge services who are more than happy to provide recommendations for exploring the surrounding area.
Pros:
– Stunning views of Apulian countryside
– Stylish restaurant with fine Italian dining
– Rooftop bar serving expertly crafted cocktails
– Relaxation amenities including pool and private beach club
– Convenient location near airports with helpful concierge services
Borgobianco Resort & Spa – MGallery Hotel Collection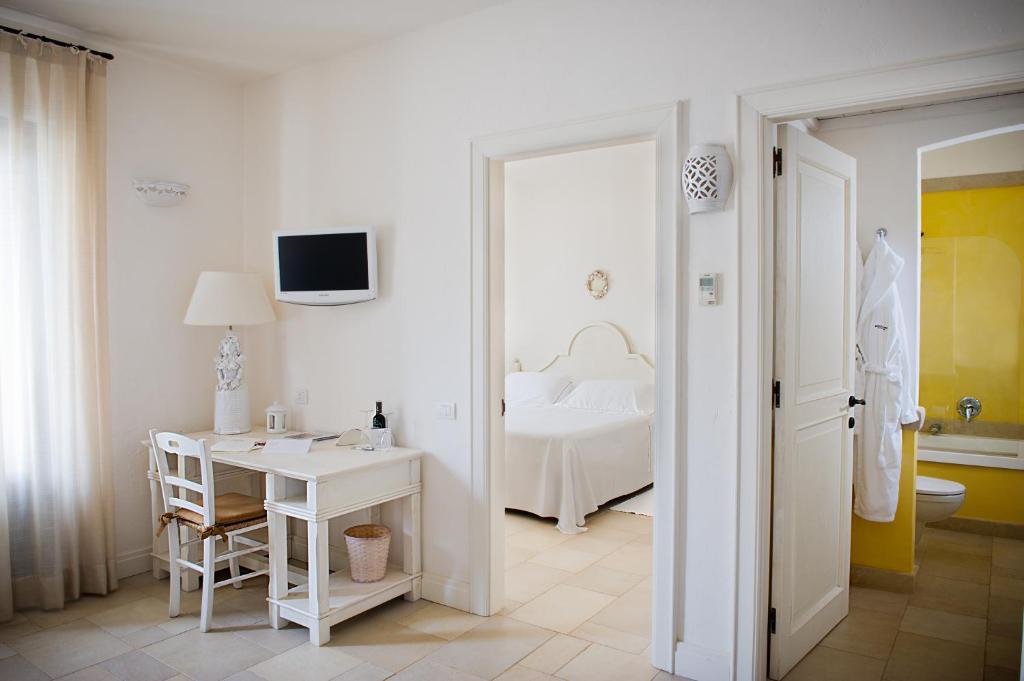 Nestled in the serene Apulian countryside, the luxurious Borgobianco Resort & Spa – MGallery Hotel Collection offers an idyllic retreat with its breathtaking views of Polignano and the Adriatic Sea. The resort provides exceptional amenities including indoor and outdoor pools, a fitness center, a spa and wellness center, and a restaurant serving exquisite local cuisine and prestigious wines. With easy access to beautiful beaches and historic villages in Puglia, guests can explore the region's rich culture while enjoying a truly unforgettable stay. The elegant rooms and suites offer stunning vistas of the Mediterranean olive groves, along with modern conveniences such as free WiFi access.
– Stunning location overlooking Polignano and the Adriatic Sea
– Exceptional facilities including indoor and outdoor pools
– Spa and wellness center for ultimate relaxation
– Restaurant serving fantastic local cuisine accompanied by prestigious wines
– Convenient access to beautiful beaches and historic villages
Furnirussi Tenuta (Carpignano Salentino)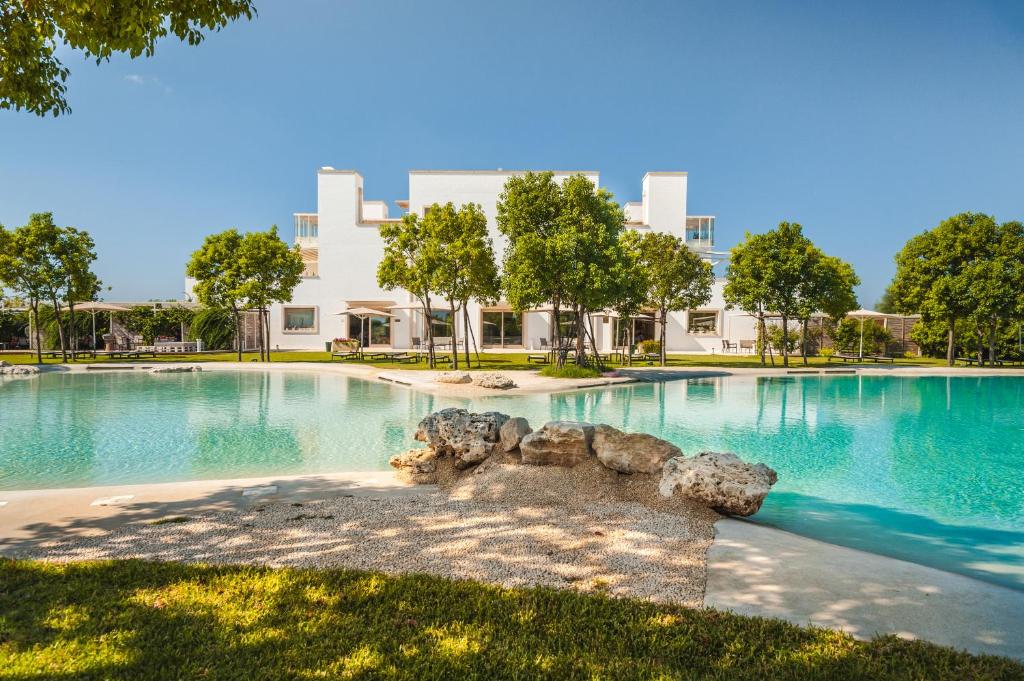 Located in the picturesque Carpignano Salentino, Furnirussi Tenuta is a luxury hotel set in an organic fig orchard. This stunning property offers an array of amenities including a bio-pool, spa, and gym. The spacious and beautifully appointed accommodations feature furnished patios or terraces with garden views. Guests can enjoy satellite flat-screen TVs, comfortable sofas, and private bathrooms with plush bathrobes and slippers. Some rooms even boast luxurious features such as bathtubs and sensory showers. In addition to its exceptional facilities, Furnirussi Tenuta also houses a gourmet restaurant that serves delicious Salento specialties made with organic ingredients from the property's own farm. Free WiFi, parking, and shuttle services are available for guests' convenience. With its prime location near Otranto and Alimini beaches as well as Cannole Station, this hotel is an ideal choice for travelers looking to explore the region's beauty while indulging in luxury hospitality.
Pros:
– Beautiful setting within an organic fig orchard
– Bio-pool and spa for relaxation
– Gourmet restaurant serving organic dishes
– Spacious rooms with luxurious amenities
– Convenient location near beaches and transportation options
Puglia Cheap 5 Star Hotels
Puglia offers a range of cheap 5-star hotels that provide affordable luxury for visitors. With comfortable accommodations and excellent service, these hotels are perfect for travelers looking to experience the beauty and charm of Puglia without breaking the bank.
Borgo Egnazia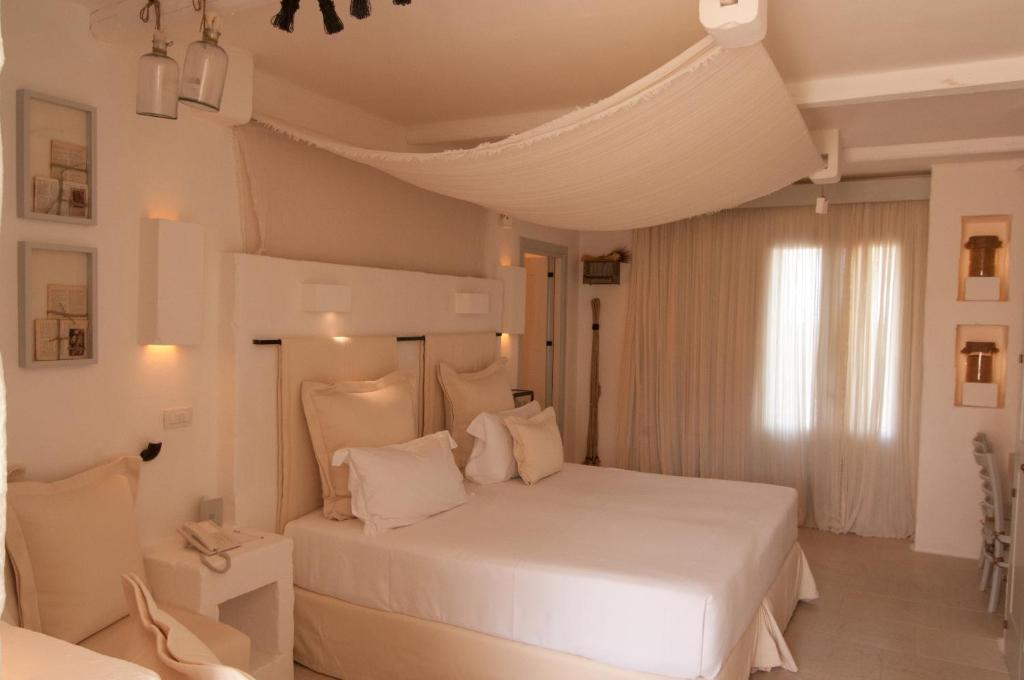 Set in the picturesque region of Puglia, Borgo Egnazia Hotel is a stunning resort that showcases traditional architecture and offers a breathtaking panoramic view of the Mediterranean vegetation. With four swimming pools and an expansive 1800-m² wellness center, guests can relax and rejuvenate in style. The resort is divided into three interconnected areas – La Corte, Il Borgo, and Le Ville – which provide accommodations ranging from rooms to apartments and villas. Each luxurious unit is elegantly decorated in soothing white shades and features a private balcony overlooking either the hills, sea, or golf course. Amenities include flat-screen TVs, free Wi-Fi access, and elegant stone bathrooms. Surrounding the resort are beautiful Arab-style gardens adorned with dry-stone walls. On-site facilities include three tennis courts and a private beach club located just 1.5 km away in Savelletri. Guests can enjoy delectable Mediterranean cuisine on the outdoor sea-view terrace or dine under traditional vaulted ceilings in white stone. To complete the experience, refreshing drinks and cocktails are served either by the beach or in a stylish indoor bar. Conveniently located just a one-hour drive from Bari International Airport, Borgo Egnazia Hotel offers an unforgettable luxury getaway.
– Panoramic setting overlooking San Domenico Golf Club
– Expansive wellness center for ultimate relaxation
– Choice of accommodation options including rooms, apartments, and villas
– Beautifully decorated units with private balconies showcasing scenic views
– On-site facilities include tennis courts and access to a private beach club
Puglia 5 star Hotels Information
| | |
| --- | --- |
| 🛎️ 5 star Hotels in Puglia | 10 |
| 💵 Hotels Prices From | $147 |
| 💵 Highest price | $1357 |
| 🥇 Average Review Score | 8.8/10 |
| 🛏️ Average number of Rooms | 38 |
Top 5 star hotels in Puglia
| | |
| --- | --- |
| Masseria Le Mandorle | 9.7/10 |
| Rocco Forte Masseria Torre Maizza | 9.5/10 |
| DOGANA RESORT (Molfetta) | 9.2/10 |
| Canne Bianche Lifestyle Hotel (Torre Canne) | 9.1/10 |
| Borgo Egnazia | 9.1/10 |
FAQ
What are the best luxury 5-star hotels in Puglia?
Puglia offers a stunning selection of luxury 5-star hotels to choose from. Some of the top options include Borgo Egnazia, a beautiful resort with impeccable service and luxurious amenities, and Masseria Torre Coccaro, a charming property set in a historic farmhouse surrounded by olive groves. Another fantastic choice is Le Alcove Luxury Hotel Nei Trulli, which features unique trulli-style accommodations and elegant facilities.
What amenities can I expect at a luxury 5-star hotel in Puglia?
Luxury 5-star hotels in Puglia go above and beyond to provide an exceptional experience for their guests. You can expect top-notch amenities such as spacious and beautifully decorated rooms or suites, world-class restaurants serving delicious local cuisine, rejuvenating spa facilities offering relaxing treatments, well-equipped fitness centers, swimming pools with panoramic views, concierge services to assist you with all your needs, and often access to exclusive beach clubs or private beaches.
What is the average price range for luxury 5-star hotels in Puglia?
The average price range for luxury 5-star hotels in Puglia varies depending on factors such as location, time of year, and specific hotel offerings. On average, prices can range from around €300 to €800 per night. It's important to note that prices may fluctuate during peak seasons or special events. However, these higher rates are often justified by the exceptional level of service and luxurious amenities provided by these prestigious establishments.
Are there any family-friendly luxury 5-star hotels in Puglia?
Absolutely! Many luxury 5-star hotels in Puglia cater to families traveling with children. These family-friendly properties offer various amenities designed specifically for younger guests such as kids' clubs or play areas supervised by professional staff members who organize engaging activities, children's pools, and even babysitting services. Some noteworthy family-friendly options include Masseria San Domenico and Borgo Egnazia.
What are some popular attractions near luxury 5-star hotels in Puglia?
Puglia is known for its rich cultural heritage and breathtaking natural landscapes. Many luxury 5-star hotels are strategically located near popular attractions to provide guests with easy access to explore the region. Some notable nearby sites include the historic town of Alberobello, famous for its trulli houses
Popular 5 Star Hotels destinations