Welcome to the sunny and enchanting region of Algarve, Portugal, where luxury meets tranquility. In this guide, we will delve into the world of opulent accommodations that await you in this coastal paradise. Whether you seek a serene beachfront retreat or a lavish mountain hideaway, Algarve has an array of five-star hotels that cater to your every desire.
Prepare to be dazzled by the shimmering azure waters and golden sandy beaches that stretch along the picturesque coastline. Indulge in world-class amenities, impeccable service, and breathtaking views at these luxurious establishments. From boutique hotels nestled within charming fishing villages to grand resorts nestled amidst lush greenery, each property offers a unique ambiance that reflects both the region's rich history and its contemporary charm.
Discover a haven of sophistication where elegance intertwines seamlessly with nature's beauty. Immerse yourself in pampering spa treatments, savor exquisite cuisine crafted by award-winning chefs using locally sourced ingredients, and unwind in exquisitely designed suites adorned with plush furnishings and high-end finishes. Whether you're seeking adventure or relaxation, Algarve's prestigious five-star hotels are sure to create an unforgettable experience for discerning travelers like yourself. So join us on this virtual journey as we explore some of Algarve's most luxurious accommodations – a glimpse into heaven on earth!
Best Five Star Hotels in Algarve
Crowne Plaza Vilamoura – Algarve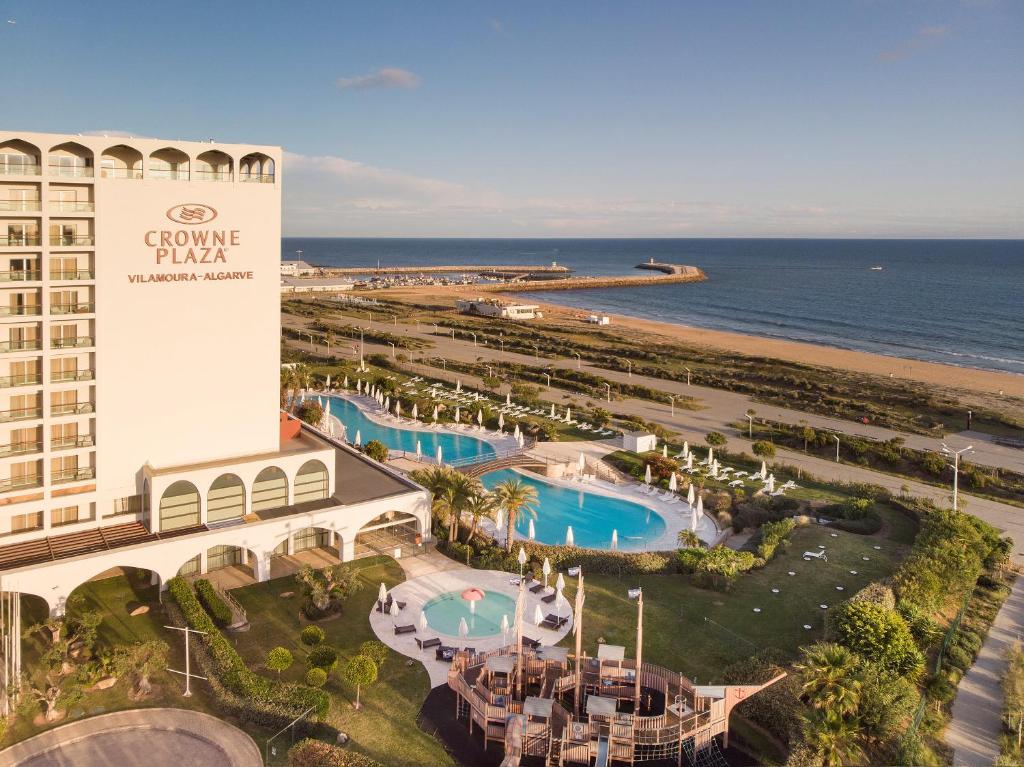 The Crowne Plaza Vilamoura – Algarve is a luxury hotel located in the heart of Vilamoura, just a short walk from the Marina and a 10-minute drive from 5 golf courses. The hotel features beautifully decorated rooms with furnished sea-view balconies. Guests can relax at the outdoor pool, which offers stunning views of the sea and is surrounded by a terrace with loungers and shades. The hotel also offers a Kids Club for young guests and an Almond Tree Wellness Spa for adults to enjoy massages. Dining options include the Cataplana Restaurant, serving regional and international cuisine, and the Caravela Bar, offering a variety of drinks. There is also a sea-facing summer terrace for snacks and BBQ grills. Conveniently located near Vilamoura's center, the hotel provides easy access to shops, restaurants, and attractions. Faro Airport is 20 km away.
– Indoor and outdoor pools
– Sea-view balconies
– Kids Club for young guests
– Almond Tree Wellness Spa for adults
– Convenient location near shops, restaurants, and attractions
Jupiter Albufeira Hotel – Family & Fun – All Inclusive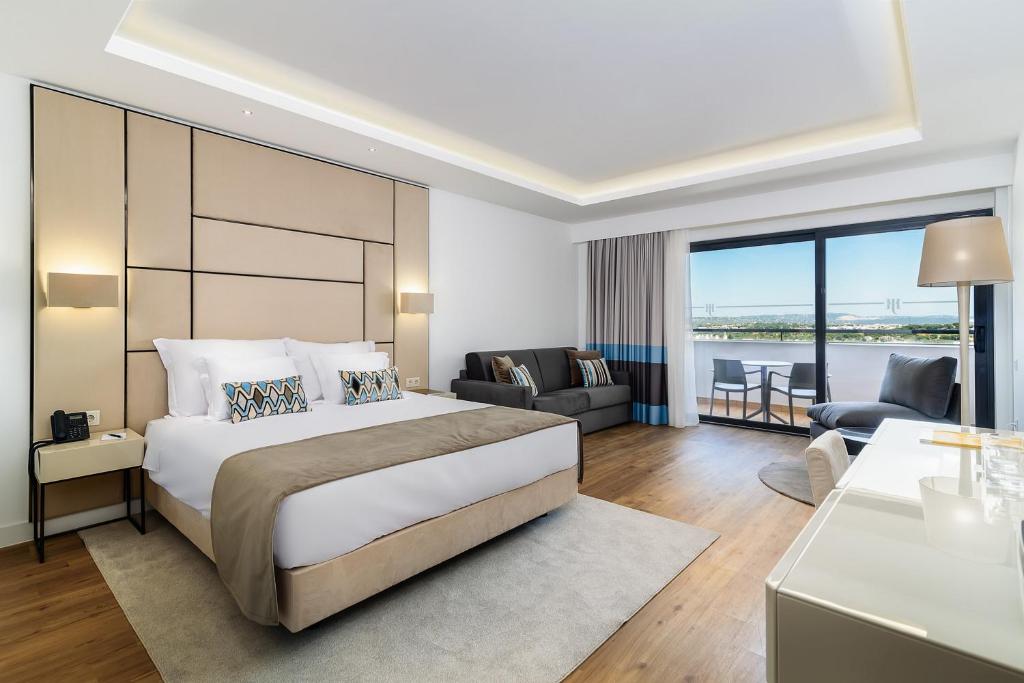 The renovated 5-star Jupiter Albufeira Hotel – Family & Fun – All Inclusive is a luxurious retreat located in the peaceful Montechoro area, just a short drive away from the beautiful Oura Beach and Albufeira's vibrant center. Boasting a water park, multiple outdoor pools, and an indulgent spa (available for a surcharge), this hotel offers guests an array of activities and amenities to enjoy during their stay. The stylishly decorated rooms feature modern furnishings, private balconies, and spacious bathrooms with walk-in showers. Designed with families in mind, each room provides comfortable accommodations for small children. The main buffet restaurant, Montechoro, serves delectable meals throughout the day while the Al Italiu Italian restaurant offers delicious pizzas. Guests can also savor the à la carte menu at the Alecrim Restaurant once per week as part of the all-inclusive program. For breathtaking views over Albufeira and the ocean, visitors can head to the rooftop bar Al Gharb to unwind at day's end. The hotel also features a complimentary shuttle service to Oura Beach and Albufeira's old town center up to 2 to 6 times daily for guests' convenience. With its exceptional amenities and convenient location near Faro International Airport (38 km away), Jupiter Albufeira Hotel promises an unforgettable luxury experience.
Pros:
– Water park on-site
– Multiple outdoor pools
– Indulgent spa with sauna, steam room, and indoor pool
– Complimentary shuttle service to beach and old town center
– Stunning views from rooftop bar
Pine Cliffs Ocean Suites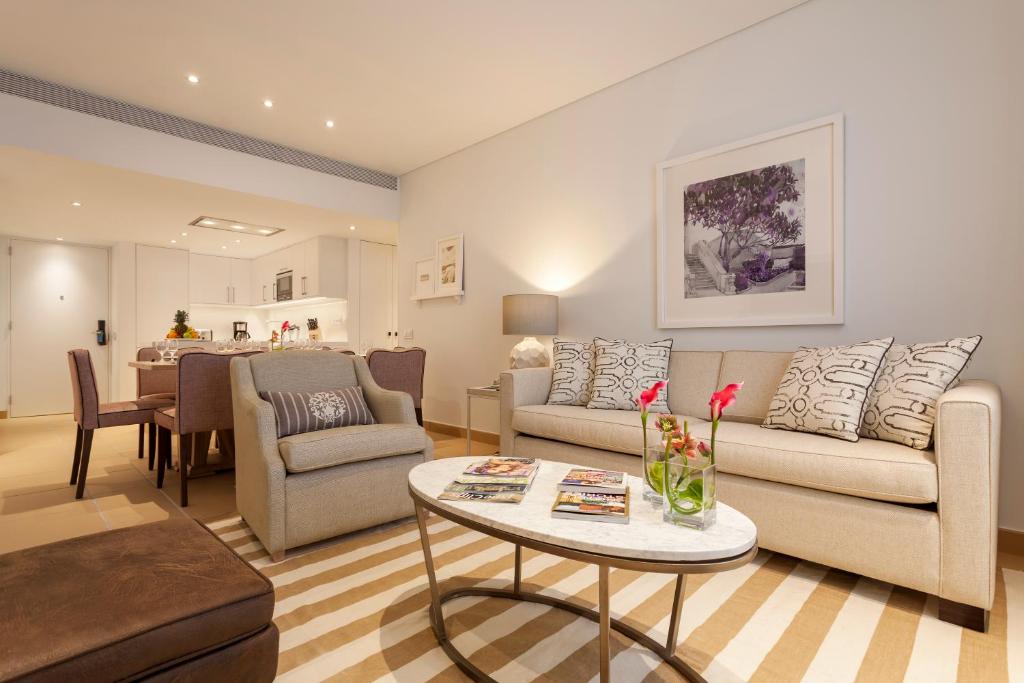 The Pine Cliffs Ocean Suites, A Luxury Collection Resort, Algarve is a stunning 5-star hotel overlooking the coastline of Falésia Beach and the renowned Pine Cliffs Golf Course. The hotel offers a variety of wellness facilities, restaurants, and direct access to the beautiful beach. Each suite features an open plan bathroom concept, WiFi, and a flat-screen TV. The 1 and 2-bedroom suites also include a fully equipped kitchen with modern appliances. Guests have access to all facilities throughout the Pine Cliffs Resort, including golf, tennis, football, water sports, and the Porto Pirata children's area. The hotel offers terracotta and tile flooring with views of the resort, pool or garden. In addition to various dining options and bars on-site, guests can enjoy free access to Serenity Spa as well as discounts on treatments at Serenity and Style. With complimentary seasonal shuttle service available throughout the day, guests can easily explore all activities and restaurants in the resort. Situated just 9 km from Albufeira Old Town and 2 km from Olhos de Água fishing town.
– Stunning views of Falésia Beach
– Access to multiple outdoor pools
– Free access to Serenity Spa for adults
– Complimentary shuttle service within the resort
– Variety of dining options on-site
Other places to stay in Algarve
Luxury 5 Star Hotels in Algarve
Luxury 5 star hotels in Algarve offer exceptional quality and service, promising a truly indulgent experience. With stunning coastal views, luxurious accommodations, and world-class dining options, these hotels provide the perfect setting for an unforgettable getaway.
Grand Muthu Oura View Beach Club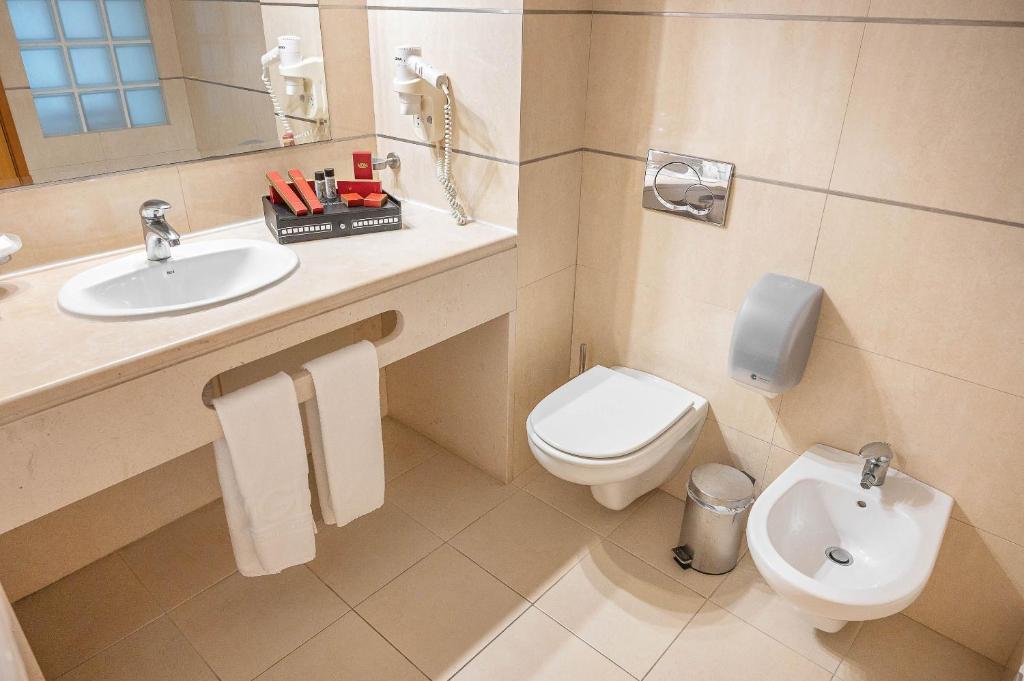 Located directly on Praia da Oura Beach, the Grand Muthu Oura View Beach Club offers spacious self-catering apartments and a stunning outdoor pool area with views of the Atlantic Ocean. The studios and apartments feature separate seating areas with satellite TV, although some do not have fully equipped kitchens. Guests can enjoy breakfast at either the Terrace Bar or Aqua Restaurant, while a bar provides ocean and pool views. Water sports are available on the beach, and there are several golf courses nearby. The hotel is conveniently located just 30 km from Faro International Airport. Pros include:
– Access to over 20 dining options including buffets, discos, bars, and specialty restaurants serving various cuisines
– All-inclusive dining from 8 am to 1 am for a total of 17 hours
– Spacious apartments with separate seating areas
– Beautiful outdoor pool area overlooking the Atlantic Ocean
Pine Cliffs Residence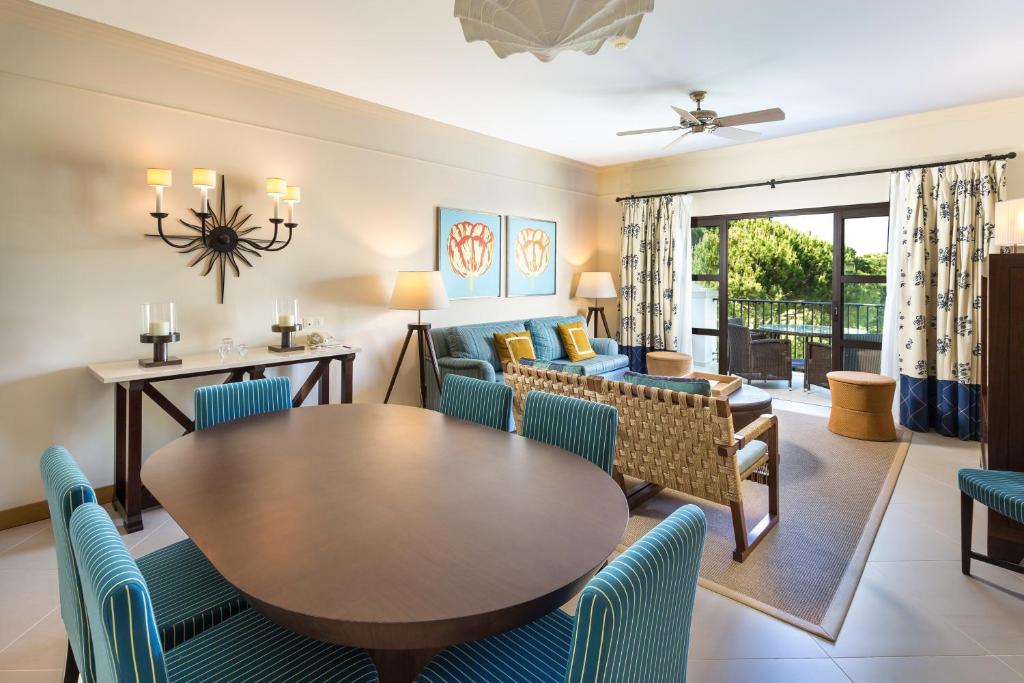 Pine Cliffs Residence is a luxury resort located in a stunning natural setting, just 800 meters from the beautiful Atlantic beaches. This 5-star hotel boasts a wellness center, two swimming pools, and a 9-hole golf course. The spacious guest rooms feature modern amenities such as satellite TV, air conditioning, and fully-equipped kitchens with microwaves and refrigerators. With an array of restaurants and bars serving local and international cuisine, guests can indulge in delicious dining experiences at The Beach Bar or the "O Grill" restaurant while enjoying breathtaking ocean views from the cliff-top sun lounge. In addition to water sports on the beach, guests can also take advantage of recreational facilities including floodlit tennis courts, a fitness center, and relaxing massage treatments. Located just 7 km from Albufeira and 30 km from Faro, Pine Cliffs Residence offers free on-site parking for added convenience.
– Beautiful location near Atlantic beaches
– Wellness center for relaxation
– Variety of restaurants serving local and international cuisine
– Recreational facilities including tennis courts and fitness center
– Direct access to the beach for water sports activities
Monchique Resort – Activities Included (Monchique)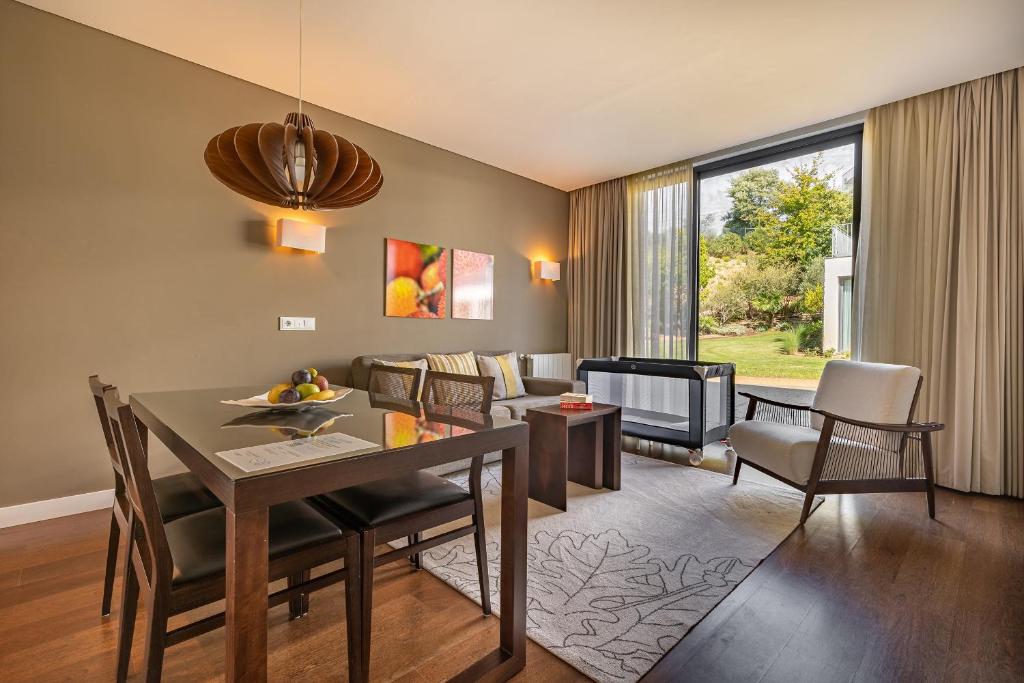 Nestled in the scenic Serra de Monchique, Monchique Resort & Spa offers a luxurious escape surrounded by nature and breathtaking views of the Algarve coast. The resort boasts elegant suites with separate bedrooms, spacious living rooms, two bathrooms, and balconies or terraces with outdoor furniture. Guests can dine at a range of exceptional restaurants, including an award-winning fine dining establishment, a Neapolitan pizzeria, and a tapas style restaurant. The resort also features an on-site market offering wines, food, pastry, snacks, and souvenirs. After indulging in gourmet cuisine, guests can relax at the Sensorial Spa which offers an array of pampering treatments and facilities such as saunas, steam rooms, indoor heated pools, relaxation rooms, and eight treatment rooms. Fitness enthusiasts can make use of the 24-hour gym equipped with high-end Technogym equipment or book personalized training sessions for an additional fee. For families traveling with children between 5 and 12 years old there is an on-site Kids Club available every day. The resort offers plenty of activities to enjoy amidst its stunning natural surroundings including bird watching jeep safaris hiking horseback riding stand-up paddle and mountain biking. With its close proximity to Faro International Airport (60-minute drive), several beaches in the Portimão area (20-minute drive), and the nearest golf course (15-minute drive), Monchique Resort & Spa provides convenient access to nearby attractions while offering a serene retreat for travelers seeking luxury accommodation.
– Stunning views of the Algarve coast
– Elegant suites with spacious living areas
– Variety of exquisite dining options
– State-of-the-art Sensorial Spa
– Wide range of activities offered in beautiful natural surroundings
Five Star Hotels in Downtown Algarve
Downtown Algarve boasts an array of luxury five-star hotels, providing guests with exceptional service and opulent accommodations. These exclusive establishments offer a refined and sophisticated experience, ensuring that visitors to the region are pampered in style.
NAU Sao Rafael Atlantico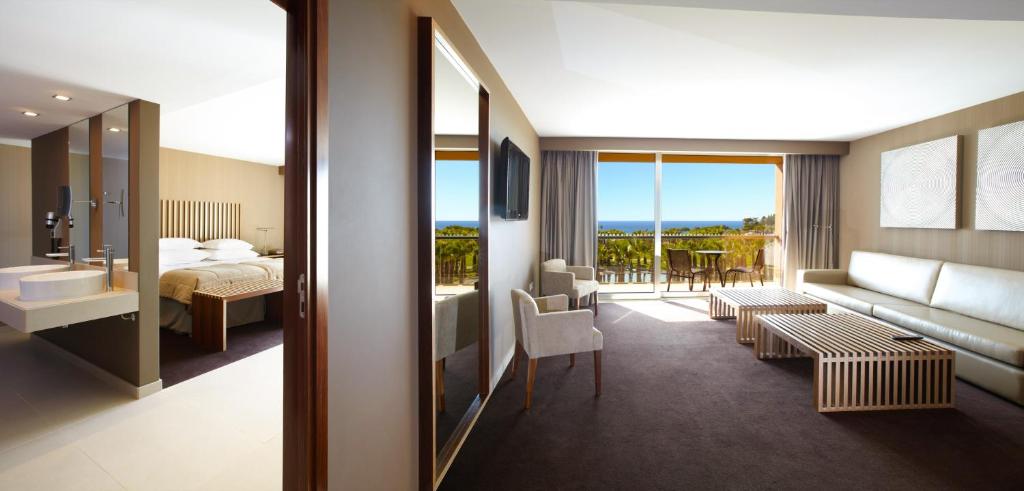 Overlooking the sea, NAU Sao Rafael Atlantico is a contemporary 5-star hotel that offers direct and private access to São Rafael Beach. The hotel boasts two indoor heated pools, an extensive spa, and sunbathing decking lounges. The bright and airy rooms at NAU Sao Rafael Atlantico feature private terraces with stunning ocean or garden views. Decorated in soothing tones with minimalist designer furnishings, the rooms also offer en suite bathrooms with power showers and complimentary toiletries. Guests can enjoy free WiFi access throughout their stay. The hotel offers a buffet dining room as well as an à la carte restaurant that serves Mediterranean specialties in a sophisticated and intimate atmosphere. For fitness enthusiasts, there is a well-equipped gym and three outdoor swimming pools to choose from. Located just a 10-minute drive from Albufeira, guests at NAU Sao Rafael Atlantico can easily explore the surrounding area.
Pros:
– Stunning ocean or garden views from private terraces
– Extensive spa facilities for ultimate relaxation
– Direct access to São Rafael Beach for convenient beach days
– Well-equipped gym for fitness enthusiasts
– Multiple swimming pools to choose from
Domes Lake Algarve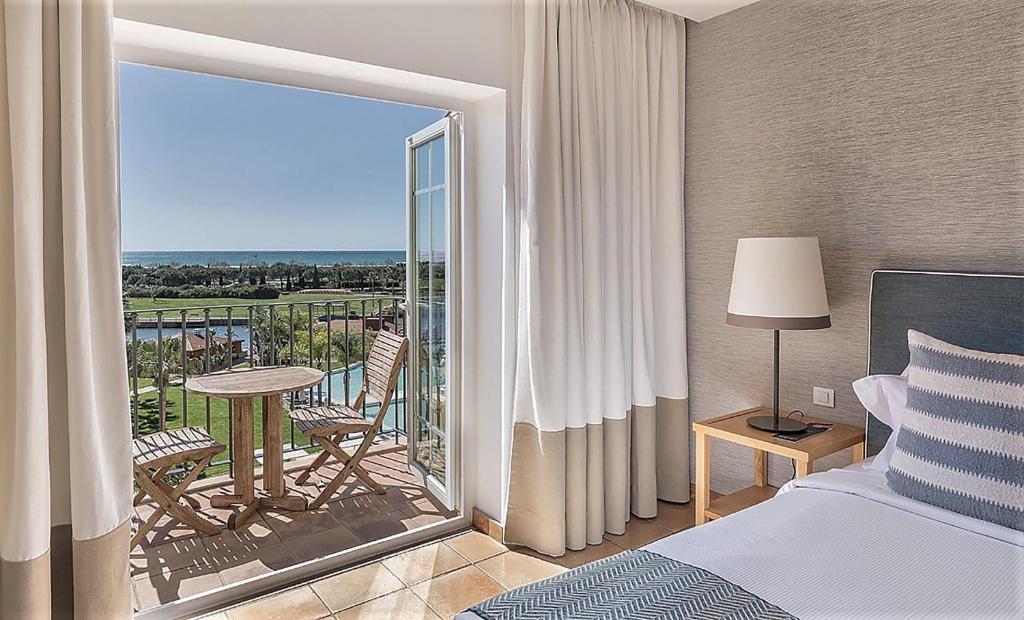 Located just 300 meters from Falésia Beach, Domes Lake Algarve is a luxury resort that offers a natural, sandy beach pool and a floating restaurant. The rooms feature balconies with stunning views of the surroundings. This five-star accommodation boasts three restaurants set on its private lake, free private parking, three swimming pools (including a natural sand bottom swimming pool), fitness center, and Spa. Guests can enjoy the convenience of a 24-hour front desk, room service, concierge service, and currency exchange. The various facilities include three bars, birdwatching pergolas on the lake, and a wooden walking deck that goes around the lake and gardens. For elite-tier accommodation seekers, Haute Living services are available with dedicated managers, VIP services in a private lounge, upgraded welcome amenities including cocktails and snacks by the resort's Executive Chef. Guests can indulge in buffet or American breakfast options each morning as well as Greek, Neo-Mediterranean, and Portuguese fusion cuisine throughout the day with an emphasis on mixology and wine tasting. The hotel is located just a 20-minute drive from Albufeira with shuttle service available to Vilamoura golf courses within 2 km upon request.
Pros:
– Stunning location just steps away from Falésia Beach
– Luxurious accommodations with balconies offering breathtaking views
– Private lake setting with multiple dining options
– Haute Living services for those seeking an elite experience
– Convenient access to nearby attractions such as golf courses in Vilamoura
Vila Alba Resort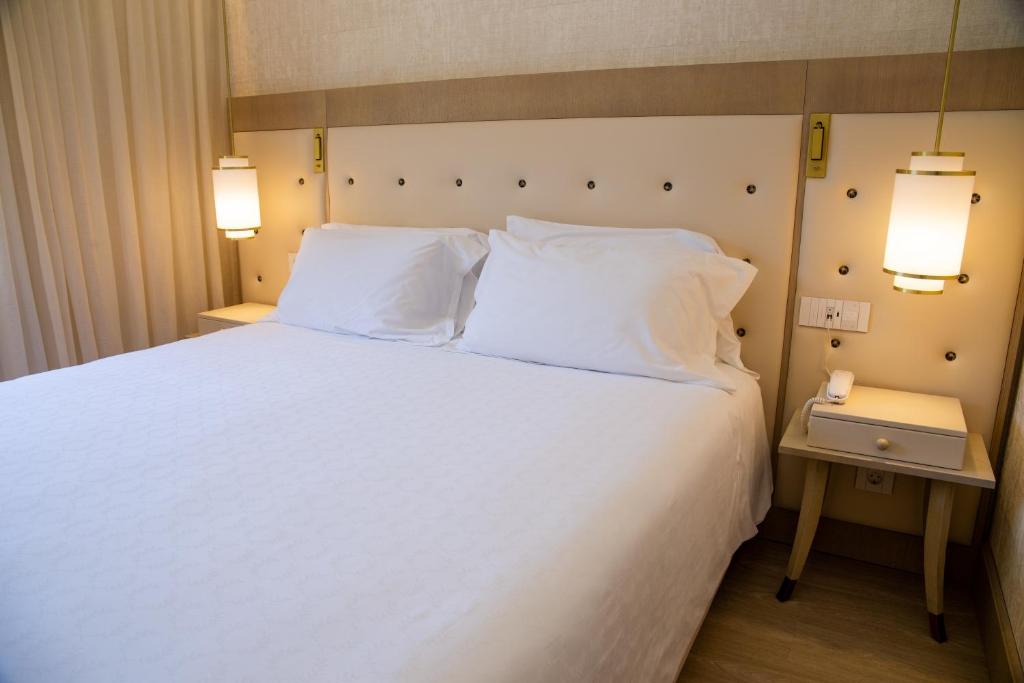 Located on a stunning cliff-top, Vila Alba Resort offers guests direct access to the secluded Albandeira Beach. The resort features an infinity pool with breathtaking views of the Atlantic Ocean, a tranquil garden, and an upscale restaurant. The Morgadinho à la carte restaurant boasts panoramic ocean views, while the Lounge Bar is a perfect spot to relax with drinks and snacks. With polished wooden floors and either garden or sea views, all rooms and suites at Vila Alba Resort provide a luxurious experience. Guests can also enjoy nearby activities such as golfing or horse riding. For ultimate relaxation, the resort offers various treatments and therapies. Conveniently located 45 minutes' drive from Faro International Airport, guests can take advantage of free on-site parking.
– Direct access to remote Albandeira Beach
– Infinity pool with stunning ocean views
– Elegant restaurant with panoramic ocean views
– Polished wooden floors in all rooms and suites
– Free on-site parking
Algarve Cheap 5 Star Hotels
Algarve offers a range of affordable 5-star hotels that provide guests with luxurious accommodations without breaking the bank. These hotels offer excellent service, comfortable rooms, and convenient locations for an unforgettable stay in this stunning region.
Grand House – Relais & Chateaux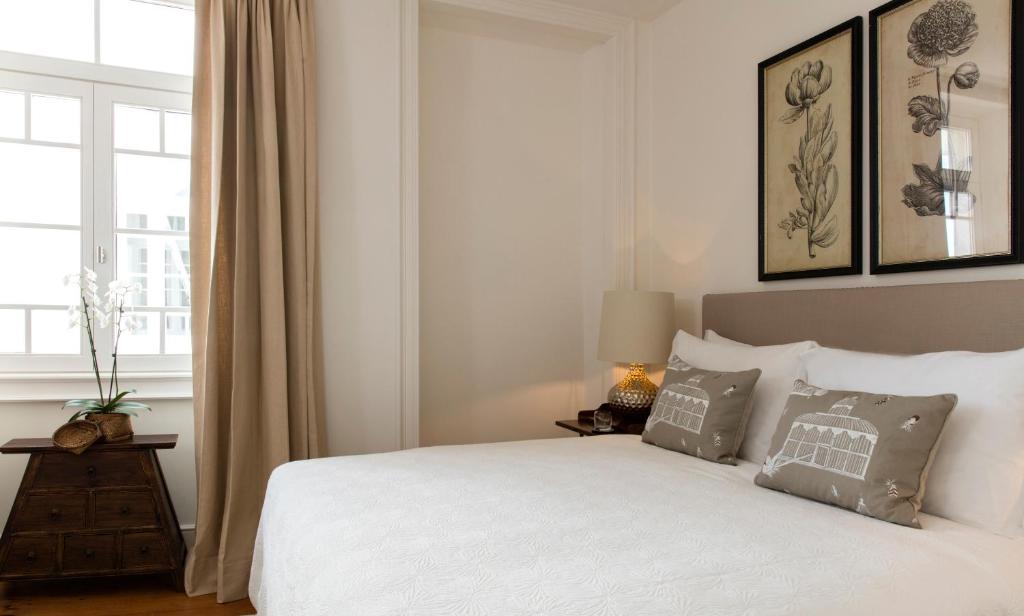 Situated in the charming town of Vila Real de Santo António, Grand House – Relais & Chateaux is a luxurious 5-star hotel that embodies the elegance of the Belle Époque era. With its prime location by the Guadiana River, guests can enjoy breathtaking views of the harbour and the Spanish town of Ayamonte. The hotel showcases its rich history through its beautifully designed rooms and suites, featuring intricate moulding, antique pieces, and sparkling crystal chandeliers. Indulge in exquisite dining at their fine restaurant or unwind at their speakeasy-style bar with a rooftop terrace offering panoramic views of the old town. Guests can expect modern comforts such as air conditioning, flat-screen TVs, mobile butler services, wireless Bluetooth speakers, and free WiFi in all rooms. For ultimate relaxation, take advantage of their Grand Beach Club just down the road which features an infinity pool and a laid-back restaurant. Start your day with a delicious buffet breakfast served daily on-site or benefit from complimentary transfers to and from the Beach Club. Pamper yourself with a rejuvenating massage at their Spa Suite before exploring nearby attractions like Tavira (26 km away). Faro Airport is conveniently located 64 km away.
– Prime location by Guadiana River with stunning views
– Beautifully designed rooms showcasing historic charm
– Fine dining restaurant serving exquisite cuisine
– Speakeasy-style bar and rooftop terrace for relaxing moments
– Access to Grand Beach Club with infinity pool
Vila Valverde Design Country Hotel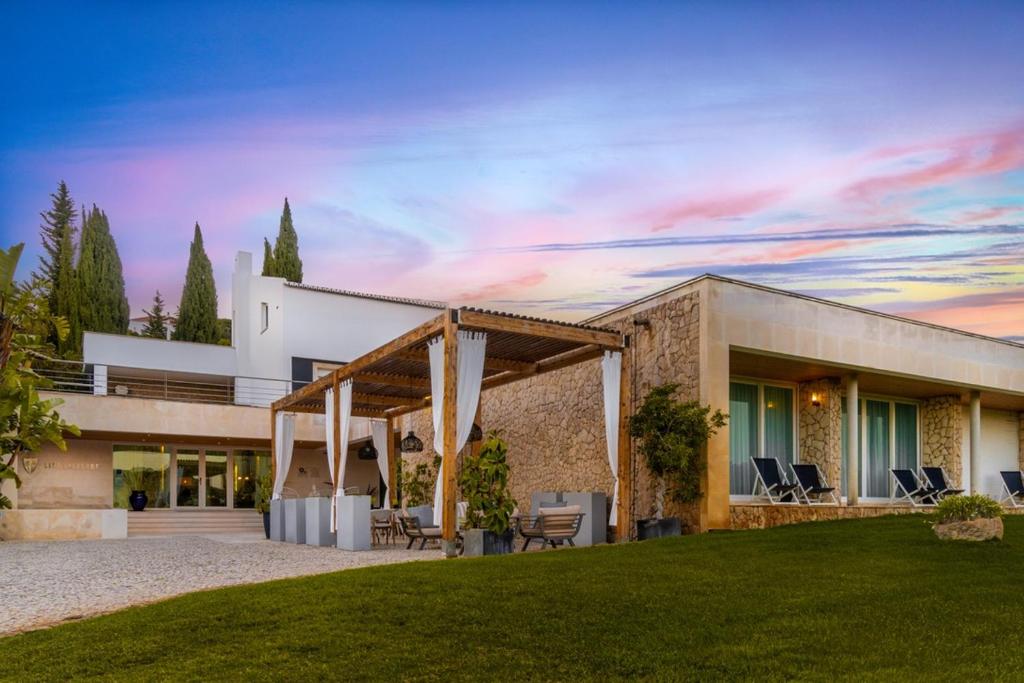 Located just 2 km from Praia da Luz, Vila Valverde Design Country Hotel is a charming 19th century manor house that has been transformed into a contemporary country retreat. With its modern interiors and luxurious amenities, this hotel offers guests a truly memorable stay. The elegant rooms are tastefully furnished with plush beds and feature floor-to-ceiling windows, allowing for ample natural light. Guests can indulge in regional and international cuisine at the on-site restaurant or relax with a drink at the bar. In addition to the indoor and outdoor pools, guests can also enjoy massage treatments to unwind after a day of exploring the stunning Algarve region. Other amenities provided by the hotel include free Wi-Fi, free private parking, car rental services, and bicycle rentals for those who want to explore the area further. Lagos Train Station is conveniently located just a 5-minute drive away.
– Modern interiors and stylish furnishings
– Indoor and outdoor pools for relaxation
– Convenient location near Praia da Luz
– On-site restaurant serving regional and international cuisine
– Free Wi-Fi access throughout the hotel
Conrad Algarve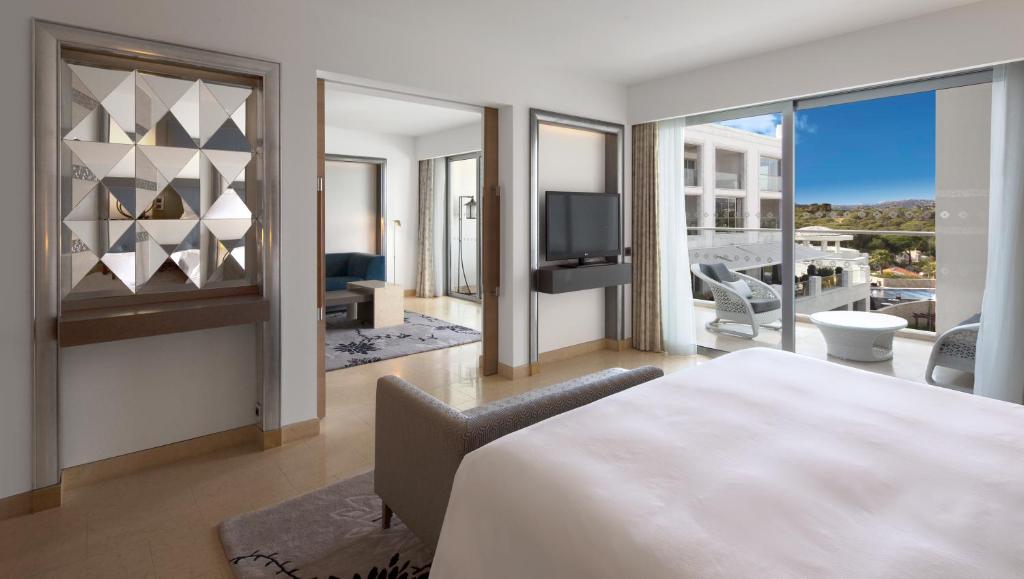 Conrad Algarve is a luxurious 5-star resort located in the picturesque golfers' paradise of Quinta do Lago. The highlight of the hotel is its infinity pool, which offers breathtaking views of either the palm trees or the pool itself from the balconies of its high-tech rooms. Guests can indulge in cocktails served on the pool deck and relax at the spa that includes a sauna and an indoor pool. The rooms at Conrad Algarve are designed with contemporary flair and elegant grey shades, equipped with modern amenities such as free Wi-Fi, a flat-screen TV, and a marble bathroom complete with a rain shower. Additional features include an MP3 sound system and a Nespresso coffee machine for ultimate comfort. Dining options are abundant at this hotel, with three restaurants and three bars offering diverse cuisines ranging from Portuguese specialties in a Scandinavian-inspired setting to Mediterranean and South American delights. For those seeking wellness activities, there is also a fitness center available along with access to nearby golf courses for open-air enjoyment.
– Stunning infinity pool
– High-tech rooms with balcony views
– Relaxing spa facilities including sauna and indoor pool
– Contemporary design featuring elegant grey shades
– Diverse dining options including Portuguese, Mediterranean, and South American cuisine
Algarve 5 star Hotels Information
| | |
| --- | --- |
| 🛎️ 5 star Hotels in Algarve | 12 |
| 💵 Hotels Prices From | $118 |
| 💵 Highest price | $859 |
| 🥇 Average Review Score | 8.6/10 |
| 🛏️ Average number of Rooms | 211 |
Top 5 star hotels in Algarve
| | |
| --- | --- |
| Conrad Algarve | 9.3/10 |
| Domes Lake Algarve | 9/10 |
| Grand House – Relais & Chateaux | 9/10 |
| Monchique Resort – Activities Included (Monchique) | 8.7/10 |
| Crowne Plaza Vilamoura – Algarve | 8.6/10 |
FAQ
What are the top 5 star hotels in Algarve?
Algarve boasts a variety of luxurious 5-star hotels that offer exceptional services and amenities. Some of the top choices include Pine Cliffs Hotel, Conrad Algarve, Vila Vita Parc Resort & Spa, Anantara Vilamoura Algarve Resort, and Vale do Lobo Resort. These hotels provide stunning views, elegant accommodations, world-class dining options, and exclusive facilities such as golf courses and spas.
Which 5 star hotel in Algarve offers the best beach access?
For travelers seeking easy access to pristine beaches in Algarve, Pine Cliffs Hotel is an excellent choice. This luxury resort is nestled atop dramatic cliffs overlooking Falésia Beach. With its private elevator leading down to the beachfront area combined with beautiful gardens and sun loungers available for guests' use only, Pine Cliffs Hotel ensures an unforgettable beach experience.
What are some popular activities offered by 5 star hotels in Algarve?
Luxury hotels in Algarve go above and beyond to provide guests with a wide range of activities tailored to their desires. From championship golf courses and tennis courts to exquisite spas offering rejuvenating treatments, there is something for everyone. Additionally, many hotels organize exciting water sports activities like jet skiing or sailing trips along the coast. Guests can also enjoy cooking classes or wine tastings showcasing local flavors.
Are pets allowed at 5 star hotels in Algarve?
While policies may vary among establishments, several 5-star hotels in Algarve do welcome pets. Conrad Algarve is known for its pet-friendly accommodations where furry friends are pampered with special amenities including customized menus and cozy beds. It's always recommended to contact the hotel directly before making a reservation to inquire about their specific pet policy.
What are some must-visit attractions near 5 star hotels in Algarve?
Algarve is not only famous for its stunning coastlines but also for its rich cultural heritage. From luxury resorts in Albufeira, visitors can easily explore the picturesque old town, enjoy boat rides to nearby caves and grottoes, or visit historical landmarks such as the Moorish Castle in Silves. The Ria Formosa Natural Park near Faro is another popular attraction where guests can enjoy birdwatching or take a leisurely bike ride through the beautiful wetlands.
Popular 5 Star Hotels destinations