Welcome to the mesmerizing world of lavish accommodations in Albufeira, Portugal. Prepare to delve into a realm where opulence reigns supreme and pampering knows no bounds. Nestled along the sun-soaked shores of southern Portugal, Albufeira offers an unrivaled selection of top-notch hotels that cater to the most discerning travelers seeking an extraordinary escape.
Prepare to be swept away by the allure of these luxurious havens, where every detail is meticulously designed to indulge your senses. Immerse yourself in refined elegance as you step foot into these 5-star retreats, each one exuding its own distinctive charm and providing a sanctuary for ultimate relaxation and rejuvenation. From serene beachfront hideaways adorned with swaying palm trees to sophisticated urban oases nestled amidst bustling streets, Albufeira's elite hotel collection promises nothing short of a truly extravagant experience.
Let your imagination roam free as we embark on this journey together – discovering breathtaking vistas, lavish amenities, and unparalleled service that will leave you longing for more. Join us as we unveil the hidden gems that make Albufeira a paradise for luxury-seeking travelers from around the globe.
Best Five Star Hotels in Albufeira
Jupiter Albufeira Hotel – Family & Fun – All Inclusive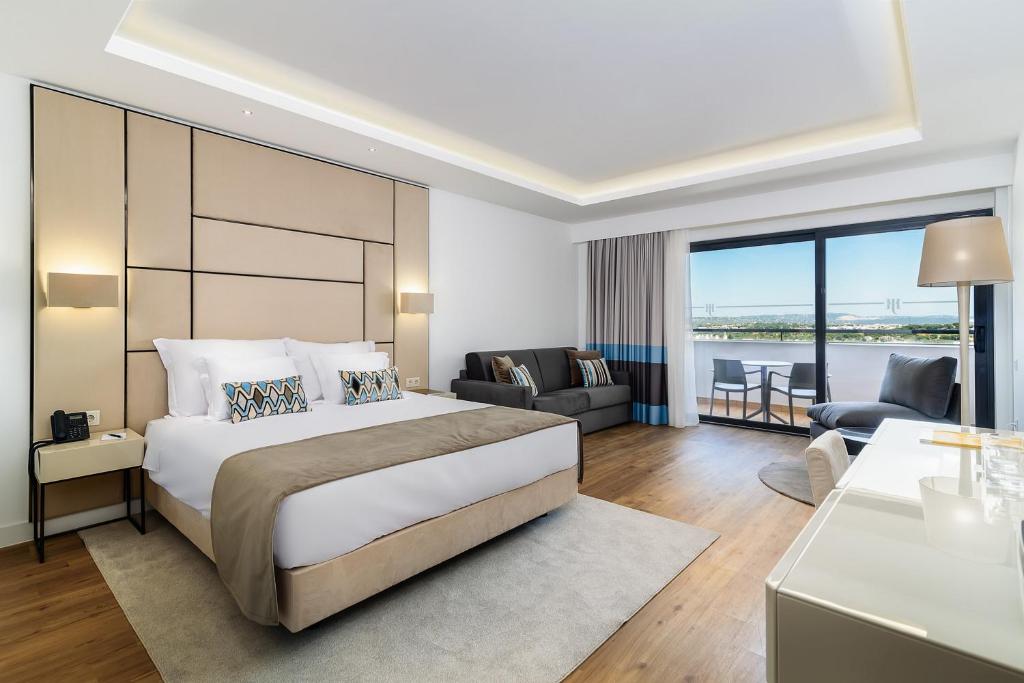 The newly renovated 5-star Jupiter Albufeira Hotel – Family & Fun – All Inclusive is located in the peaceful Montechoro area, just a 10-minute drive from both Oura Beach and Albufeira's center. This luxurious hotel boasts a water park, multiple outdoor pools, and a Spa offering indulgent treatments for an additional fee. The Spa features a sauna, steam room, and indoor swimming pool. The stylish rooms are decorated with modern furnishings and each has a private balcony and bathroom with walk-in shower. Ideal for families with young children, the hotel ensures that every detail is taken care of. Guests can enjoy non-stop meals at the main buffet Restaurant Montechoro or savor delicious Italian cuisine at Al Italiu restaurant. The Alecrim Restaurant also offers an à la carte menu included once per week in the All Inclusive program. For breathtaking views of Albufeira and the ocean, guests can head to the rooftop bar Al Gharb to unwind after a long day of exploration. A complimentary shuttle service is available up to 2 to 6 times daily to Oura Beach and Albufeira's old town center for added convenience. With free access to the fitness room around-the-clock, guests can maintain their exercise routine during their stay. Faro International Airport is conveniently located 38 km away from the hotel.
– Newly renovated with modern decor
– Multiple outdoor pools and water park
– Spa facilities including sauna and steam room
– All inclusive program with diverse dining options
– Complimentary shuttle service
Grand Muthu Forte do Vale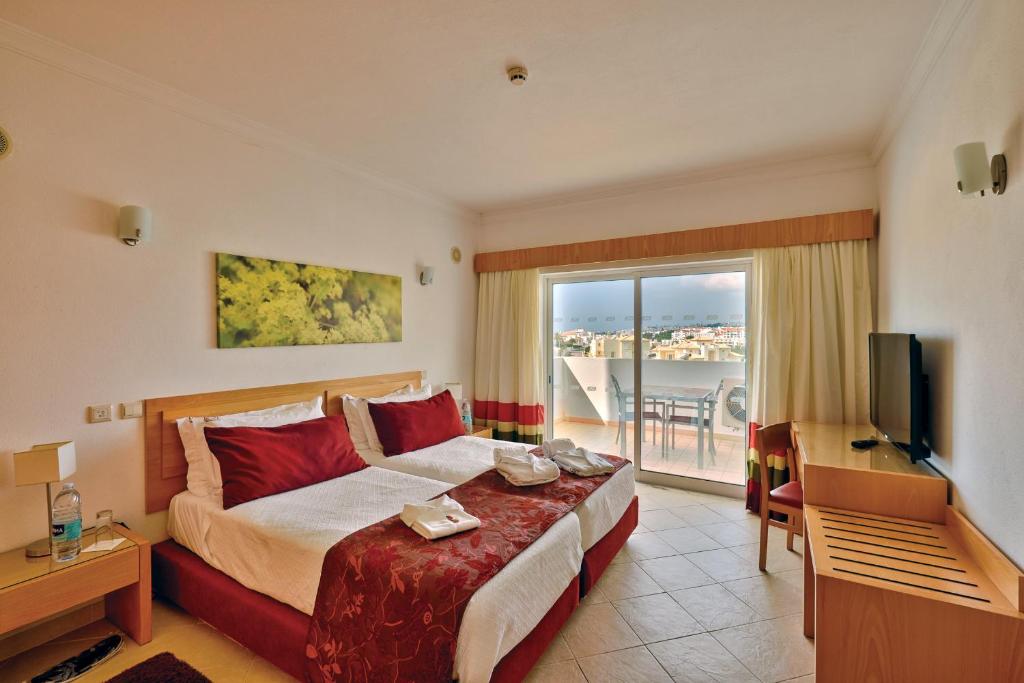 Located in the heart of Albufeira, just 500 meters from the beach, Grand Muthu Forte do Vale is a luxury hotel offering spacious apartments with kitchenettes and private balconies. The air-conditioned apartments are bright and modern, featuring floor-to-ceiling windows, satellite TV, and private bathrooms. Guests can enjoy the outdoor swimming pool surrounded by a spacious terrace equipped with sun loungers to relax under the sun. Wi-Fi access is available free of charge in public areas. The hotel's restaurant offers a wide variety of dining options including 14 specialty restaurants, 4 international buffets, 8 coffee shops, BBQ grill & Snacks, and 8 bars with a disco for entertainment. Additionally, this hotel is conveniently located within walking distance of numerous restaurants, bars, and shops in Albufeira. Popular attractions such as Santa Eulália Beach (2.2 km), Modelo Shopping Center (1.2 km), and Balaia Golf Club (3 km) are also nearby. Faro International Airport is approximately 33 km away from the property.
– Spacious apartments with well-equipped kitchenettes.
– Outdoor swimming pool surrounded by a terrace with sun loungers.
– Free Wi-Fi access in public areas.
– Dining options include multiple specialty restaurants and bars.
– Convenient location near beaches, shopping centers, restaurants,and golf clubs.
(Note: This paragraph has been rewritten based on the provided information.)
Martinhal Sagres Beach Family Resort Hotel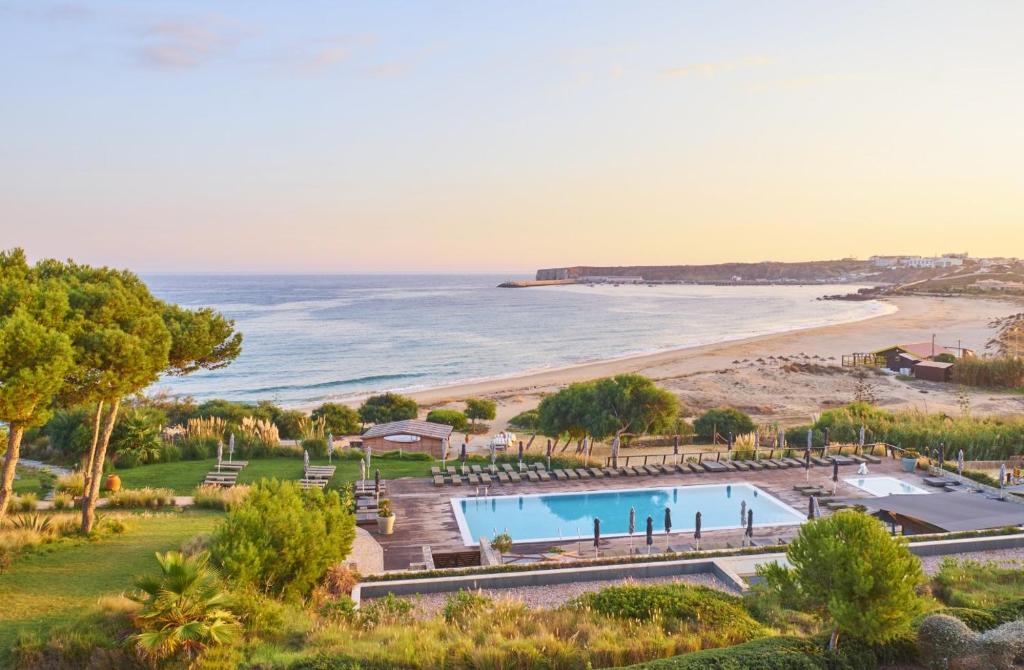 The 5-star Martinhal Sagres Beach Family Resort Hotel, located in the beautiful Algarve region of Portugal, offers a luxurious and relaxing stay overlooking the beach and just 3km from the historic fishing port of Sagres. The hotel features boutique-style rooms and villas with private balconies and terraces, providing stunning views of the surrounding area. With a total of 5 swimming pools, including a stylish main pool set on a wooden terrace overlooking the Beach Club Garden, guests can enjoy plenty of opportunities to cool off and soak up the sun. The resort also offers various activities for both adults and children, including tennis on artificial grass courts, surf lessons, paddle tennis, football challenges, as well as indoor entertainment such as Wiis and Playstations. Food lovers will be delighted with the choice of three restaurants: O Terraço offering fine dining options, As Dunas specializing in seafood dishes, and Os Gambuzinos serving delicious Italian cuisine à la carte. Additionally, there are four bars where guests can relax with their favorite beverages. Conveniently located just an hour's drive from Faro International Airport makes this resort easily accessible for travelers seeking a luxurious seaside retreat.
– Stunning beachfront location
– Boutique-style rooms with private balconies
– Multiple swimming pools including main pool overlooking Beach Club Garden
– Variety of activities for all ages
– Three delicious restaurants serving fine dining options
Luxury 5 Star Hotels in Albufeira
Luxury 5 star hotels in Albufeira offer a refined and opulent experience, with world-class service and attention to detail. Guests can expect luxurious accommodations, elegant decor, and an array of upscale amenities that ensure a truly indulgent stay.
Pine Cliffs Village & Golf Suites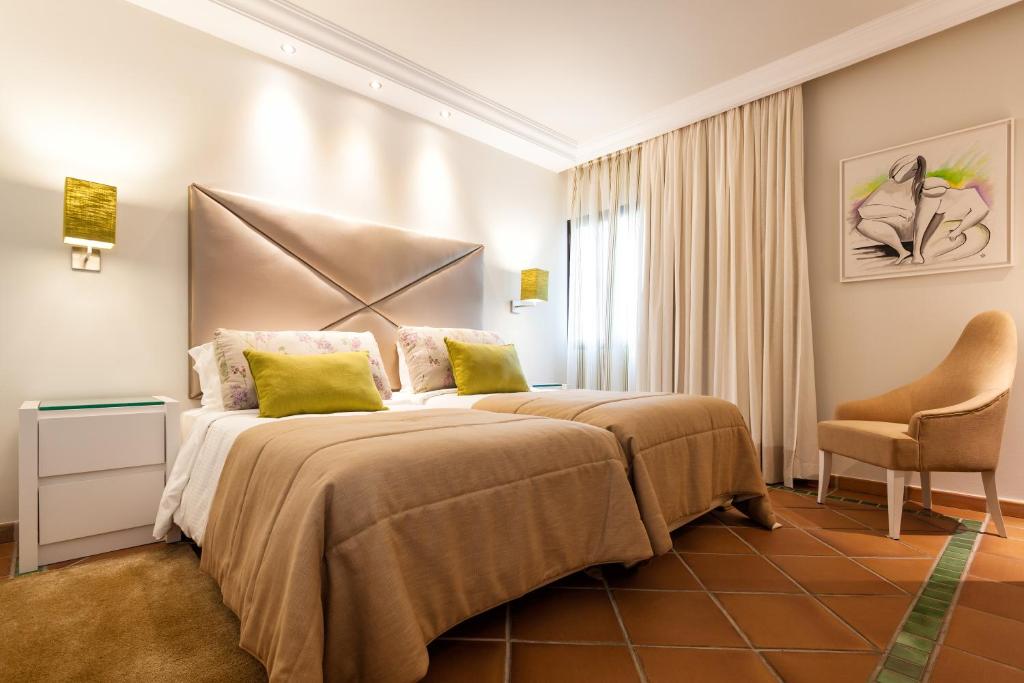 Situated on a cliff-top surrounded by pine trees, Pine Cliffs Village & Golf Suites is a luxurious 5-star hotel located within the Aldeia Das Acoteias Natural Reserve, just a 15-minute drive from central Albufeira. This exceptional hotel offers guests an array of amenities including pools, tennis courts, a spa, and a golf course. The bright suites and villas are elegantly decorated with tiled bathrooms and feature satellite TV, air conditioning, and terraces; some even have their own private swimming pools. During school holidays, the Porto Pirata Children's Club organizes a variety of activities for young ones while adults can stay fit at the well-equipped gym with personal trainers available. Additional perks include free parking on-site and easy check-in/check-out at the reception of Pine Cliffs Ocean Suites. However, please note that any cancellations or reductions in stay after arrival will be fully charged. Guests can also enjoy breakfast buffet for an additional EUR 25 per day or opt for half board rates which include breakfast and dinner buffet (excluding drinks), or alternatively receive a EUR 45 dinner credit at other resort outlets (excludes room service and Yakuza Restaurant).
Pros:
– Stunning cliff-top location surrounded by pine trees
– Wide range of amenities including pools, tennis courts, spa, and golf course
– Bright suites and villas with tiled bathrooms and terrace options
– Porto Pirata Children's Club organizes engaging activities during school holidays
– Well-equipped gym with personal trainers available to help guests stay fit
Domes Lake Algarve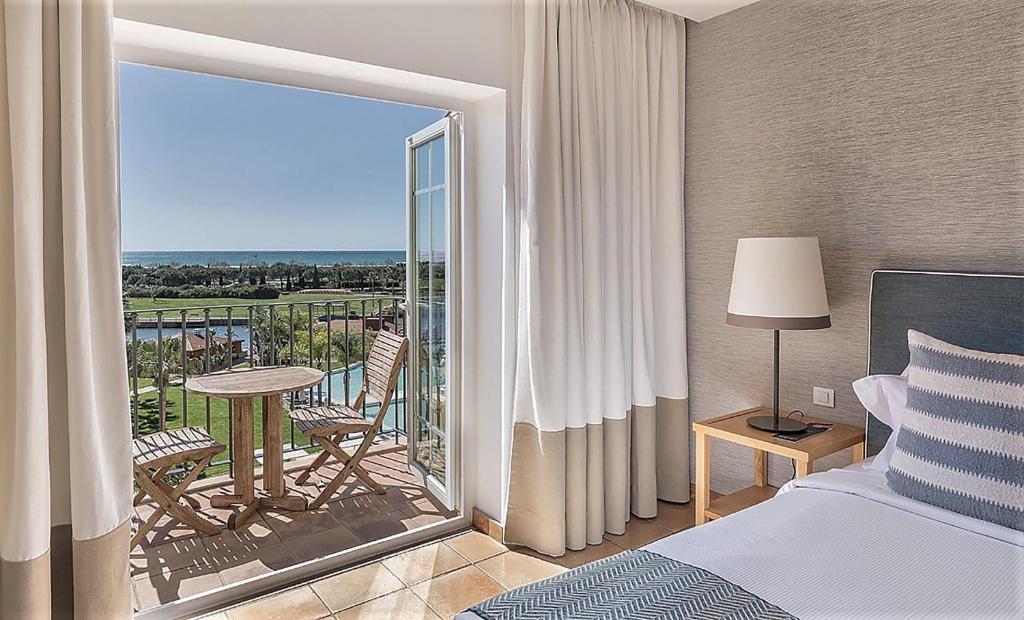 Located just 300 meters from Falésia Beach, Domes Lake Algarve is a luxury hotel that offers a truly indulgent experience. The resort features five-star accommodation with stunning views of the surroundings from each room's balcony. Guests can enjoy three restaurants set on a private lake, as well as free private parking and three swimming pools, including a natural sand bottom swimming pool. The hotel also boasts a fitness center and spa for ultimate relaxation. With amenities such as a 24-hour front desk, room service, and concierge service, guests can expect top-notch service throughout their stay. The hotel offers various room views including garden, ocean, lake, and Vilamoura Marina. Additional facilities include three bars, birdwatching pergolas on the lake, and a 1.2-kilometer wooden walking deck that goes around the lake and gardens. For those seeking an extra luxurious experience, the Haute Living Selection offers elite tier accommodations with exclusive amenities such as dedicated managers and VIP services. Guests can start their day with buffet or American breakfast options before enjoying Greek, Neo-Mediterranean, and Portuguese fusion cuisine throughout the day along with mixology and wine tasting experiences. Domes Lake Algarve is conveniently located just a 20-minute drive from Albufeira and offers shuttle services to Vilamoura golf courses upon request.
– Luxurious accommodation with stunning balcony views
– Private lakeside setting with floating restaurant
– Three swimming pools including unique sand bottom pool
– Convenient location near Falésia Beach and Vilamoura golf courses
– Haute Living Selection for exclusive elite tier services
Vila Valverde Design Country Hotel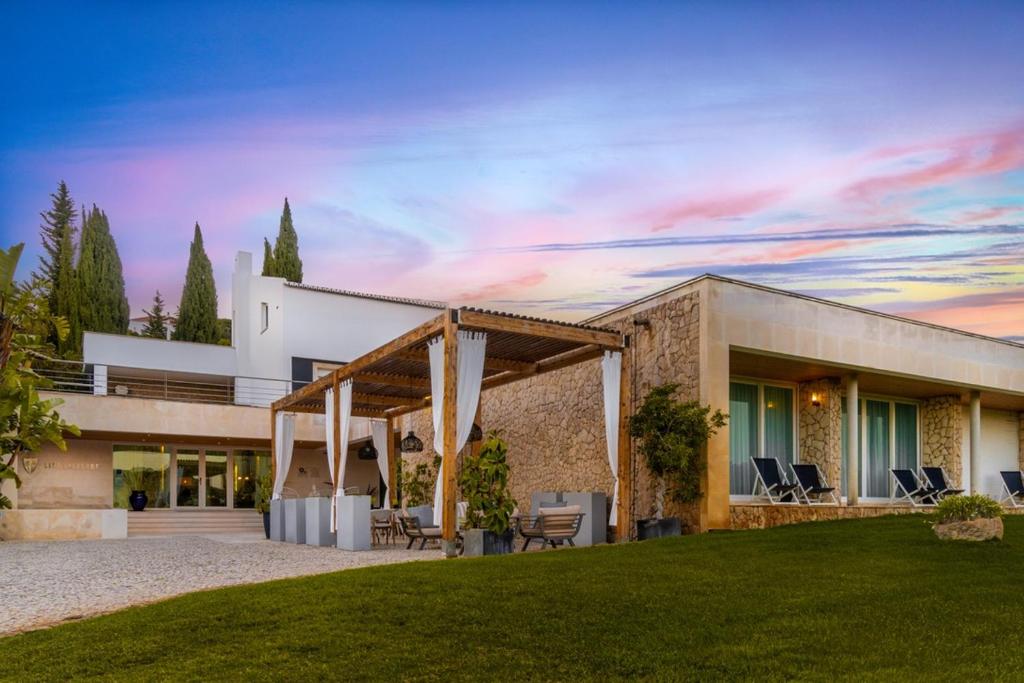 Vila Valverde Design Country Hotel is a charming 19th-century manor house that has been transformed into a stylish country retreat with contemporary interiors. The hotel offers free Wi-Fi, both indoor and outdoor pools, as well as rejuvenating massage treatments. Located just 2 km from Praia da Luz, the elegant rooms at Vila Valverde are beautifully decorated with modern furnishings and comfortable beds. Each room boasts floor-to-ceiling windows, a seating area, and satellite TV. Guests can indulge in regional and international cuisine at the hotel's contemporary restaurant or unwind with local drinks in the relaxing atmosphere of the bar. Additional amenities include free private parking on site, car rental services, and bicycle rental services for exploring the surrounding area. Lagos Train Station is conveniently located just a 5-minute drive away.
– Tranquil setting in a converted 19th-century manor house
– Stylish interiors blending modern design with traditional charm
– Indoor and outdoor pools for relaxation and recreation
– Convenient location near Praia da Luz beach
– On-site amenities including car and bicycle rental services
Five Star Hotels in Downtown Albufeira
Downtown Albufeira boasts a range of luxurious five-star hotels, offering unparalleled comfort and service. With prime locations and elegant accommodations, these hotels provide the perfect base for exploring all that the city has to offer.
Grand House – Relais & Chateaux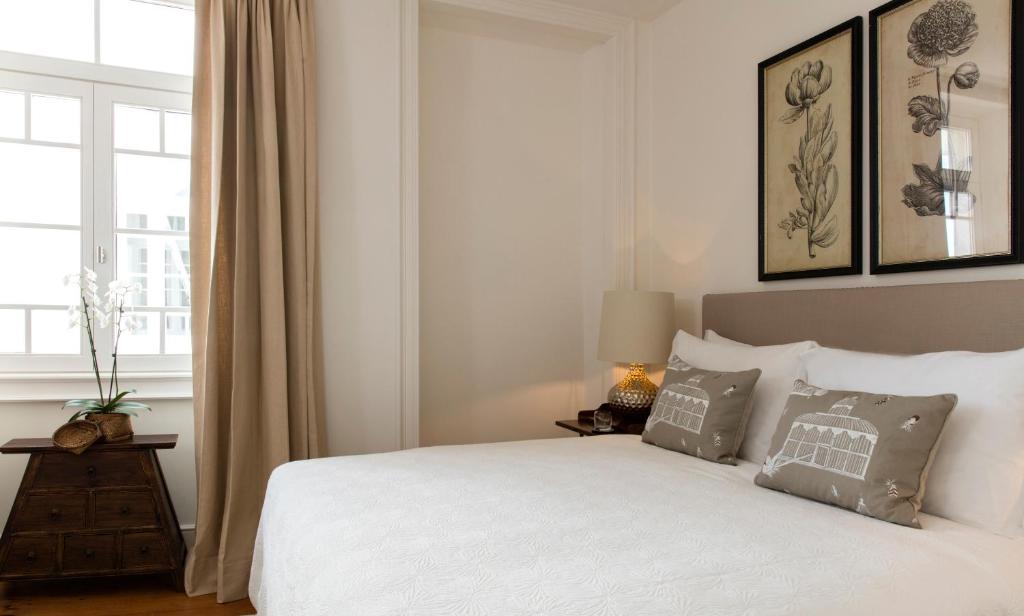 Situated in the easternmost corner of the Algarve, Grand House – Relais & Chateaux is a luxurious Belle Époque hotel that holds the distinction of being the first 5-star hotel in the charming town of Vila Real de Santo António. With its prime location by the Guadiana River, guests can enjoy breathtaking views of both the harbor and the neighboring Spanish town of Ayamonte. The hotel's 30 rooms and suites beautifully blend modern comforts with elegant design elements, featuring intricate moulding, antique furnishings, and dazzling chandeliers adorned with crystals. The fully-restored building from 1926 houses an esteemed fine dining restaurant, a stylish speakeasy-style bar, and a rooftop terrace that provides sweeping vistas of the old town. Each room comes equipped with air conditioning, flat-screen TV, wireless Bluetooth speakers, free WiFi access, and even a dedicated mobile butler to cater to your every need. Just moments away from Grand House is their Grand Beach Club where guests can unwind by an inviting infinity pool or savor delicious meals at their laid-back restaurant. A buffet breakfast is served daily at the property and complimentary transfer services are provided between the hotel and Beach Club for added convenience. On top of all this luxury, guests also have access to indulge in pampering massages at their exclusive Spa Suite. Should you wish to explore further afield during your stay at Grand House – Relais & Chateaux, Tavira is just 26 km away while Faro Airport sits approximately 64 km from the hotel.
– Prime location by Guadiana River with stunning views
– Elegantly designed rooms with antique pieces
– Fine dining restaurant and speakeasy-style bar on-site
– Rooftop terrace overlooking old town
– Access to Grand Beach Club with infinity pool
Pine Cliffs Gardens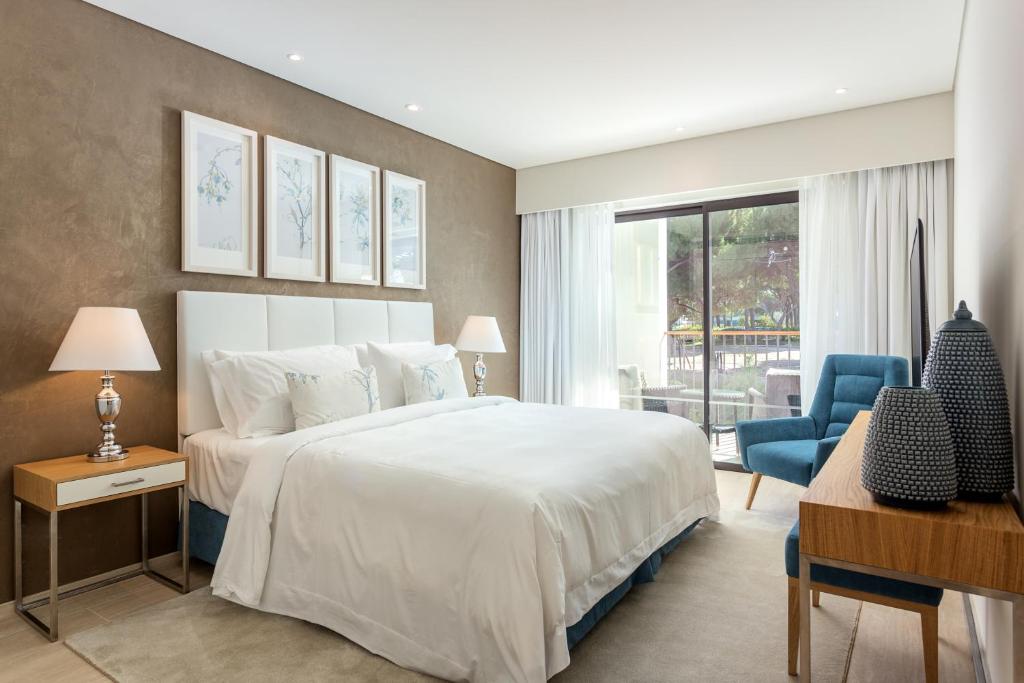 Pine Cliffs Gardens is a boutique luxury resort located in a stunning natural setting, just 800 meters from the beautiful Atlantic beaches. Guests can enjoy a range of wellness facilities and restaurants, as well as direct access to the renowned Falésia Beach. The resort offers 1, 2, and 3-bedroom apartments with modern amenities such as WiFi, satellite TV, air conditioning, and fully equipped kitchens. Additional features include free on-site parking and a complimentary resort shuttle for easy access to all activities and dining options within the resort. Guests also have access to the Pine Cliffs Resort's extensive facilities including golf, tennis, water sports, and children's programs at Porto Pirata. The historic Old Town of Albufeira is nearby for exploring local culture while Faro international airport is just a short distance away.
– Beautiful location near Atlantic beaches
– Variety of wellness facilities
– Direct access to famous Falésia Beach
– Fully equipped kitchen in each apartment
– Access to extensive Pine Cliffs Resort amenities
Vila Joya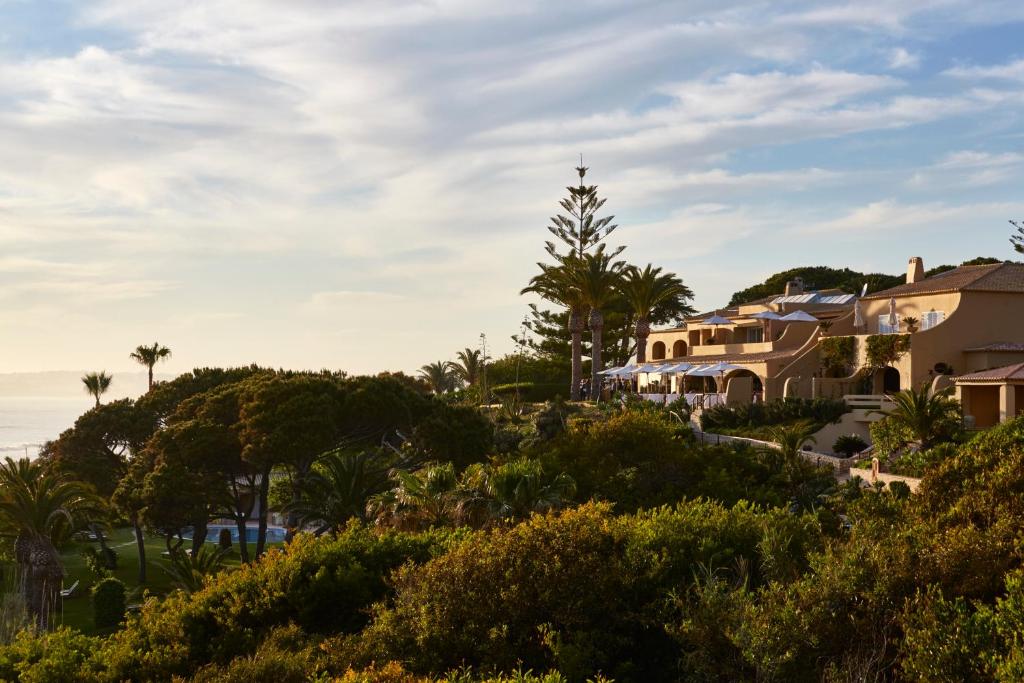 Hotel Vila Joya is a luxurious 5-star resort located next to Praia de Galé beach in the Algarve region of Portugal. This award-winning hotel offers guests stunning ocean views and features two outdoor pools, a spa with sauna and steam bath, and a golf academy for customized training. The Moorish-inspired guest rooms are tastefully designed and offer balconies overlooking the picturesque coastline. The highlight of Vila Joya is its Two Michelin Star Restaurant, which has been ranked in San Pellegrino's World´s 50 Best Restaurants. Guests can indulge in a set menu of Mediterranean seafood and high-quality French haute cuisine using fresh local ingredients from the Algarve markets. Additional amenities at Vila Joya include free WiFi, on-site parking, and the option for private limousine transfers to and from Faro Airport.
Pros:
– Two Michelin Star Restaurant offering exceptional Mediterranean seafood
– Scenic ocean views from luxurious guest rooms with balconies
– Spa facilities including sauna, steam bath, and outdoor hot tub
– Golf academy for personalized training sessions
– Convenient location near Praia de Galé beach and less than 40 km from Faro Airport
Albufeira Cheap 5 Star Hotels
Albufeira offers budget-conscious travelers the opportunity to experience the luxury of 5-star accommodations without breaking the bank. With a variety of affordable options available, guests can enjoy high-end service and comfort while exploring this vibrant coastal destination.
W Residences Algarve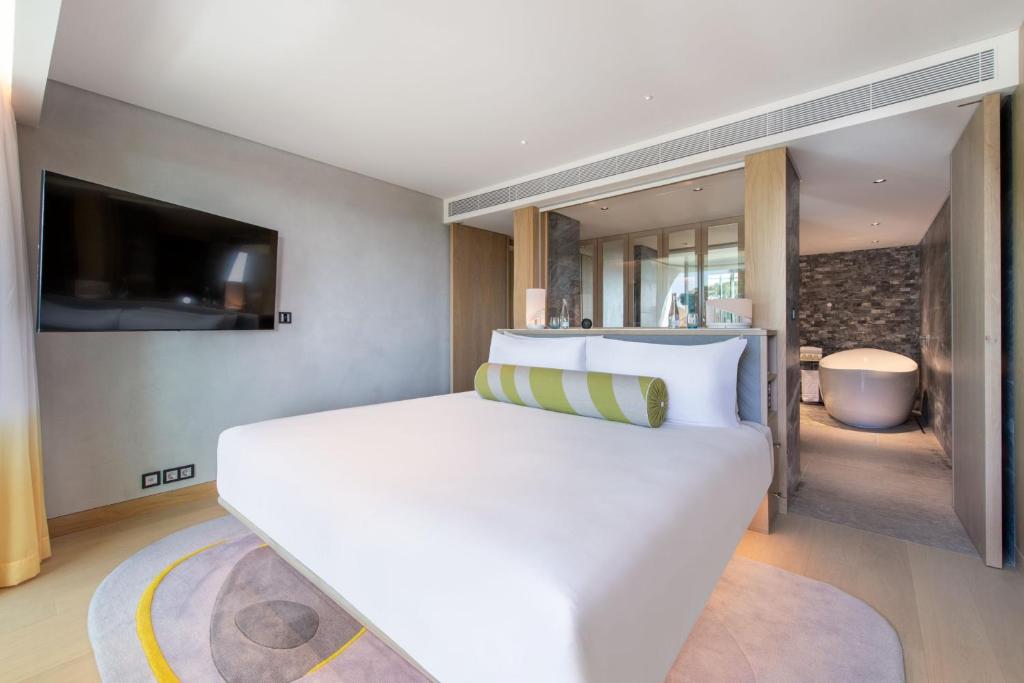 Located in the beautiful Sesmarias district of Albufeira, W Residences Algarve is a luxury hotel that opened its doors in January 2022. This stunning property is conveniently situated just a few kilometers from popular attractions such as Albufeira Marina, Albufeira Old Town Square, and Fisherman's Beach. Guests can enjoy breathtaking views of the sea from some of the rooms which feature balconies. The hotel is also located close to Church of Sant'Ana and Church of Sao Sebastiao – Sacred Art Museum. With Faro Airport just 30 km away, W Residences Algarve offers both convenience and luxury to its guests.
– Convenient location near popular attractions
– Stunning sea views from some rooms
– Balconies for guests to relax and enjoy the scenery
– Close proximity to historical churches and museums
– Easy access to Faro Airport for convenient travel arrangements
Pine Cliffs Residence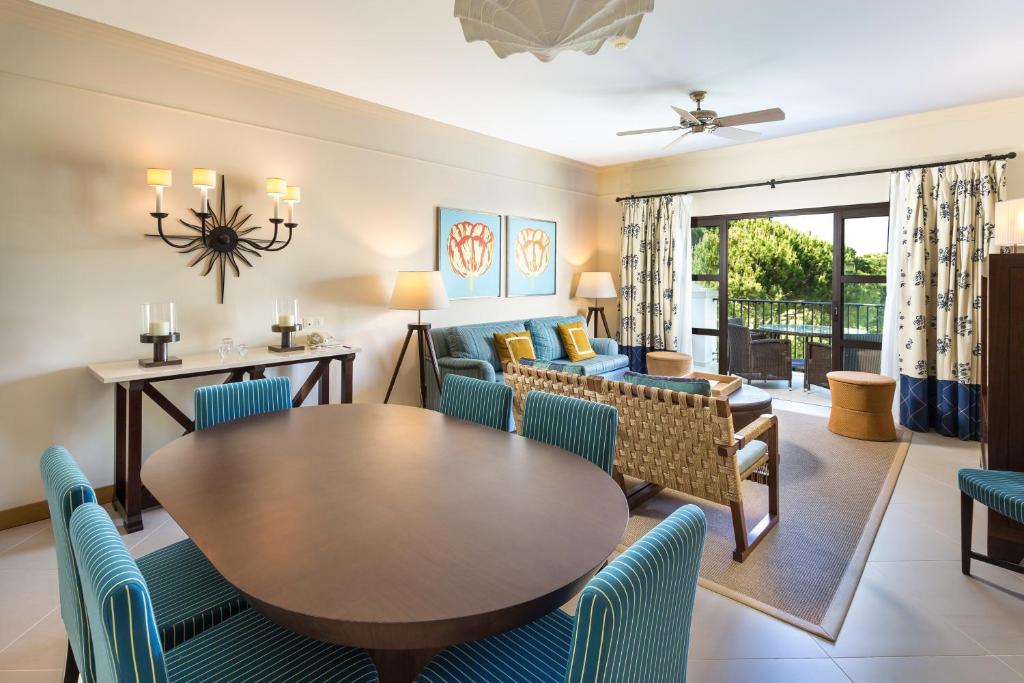 Pine Cliffs Residence is a luxurious resort located in a stunning natural setting, just 800 meters from the beautiful Atlantic beaches. This five-star hotel offers a range of amenities and facilities to ensure a memorable stay for its guests. The property features a wellness center, two swimming pools, and a nine-hole golf course for those looking to relax and unwind. Each guest room is equipped with satellite TV, air conditioning, and a fully-equipped kitchen including a microwave and refrigerator. The resort also boasts an impressive selection of restaurants and bars serving both local and international cuisine. Whether you choose to dine at The Beach Bar or enjoy the culinary delights at the "O Grill" restaurant, there is something to suit every palate. For some ultimate relaxation, guests can bask in the sun on the cliff-top sun lounge or indulge in rejuvenating massage treatments at the on-site spa. Additionally, Pine Cliffs offers various recreational facilities such as floodlit tennis courts, fitness center access, and direct beach access for water sports enthusiasts. Conveniently located 7 km from Albufeira and 30 km from Faro, this exquisite hotel provides free on-site parking as well as WiFi available in all rooms.
Pros:
– Stunning natural location near beautiful Atlantic beaches
– Impressive range of amenities including wellness center and two swimming pools
– Extensive choice of dining options offering local and international cuisine
– Recreational activities such as floodlit tennis courts and fitness center
– Direct beach access for water sports enthusiasts
Pine Cliffs Ocean Suites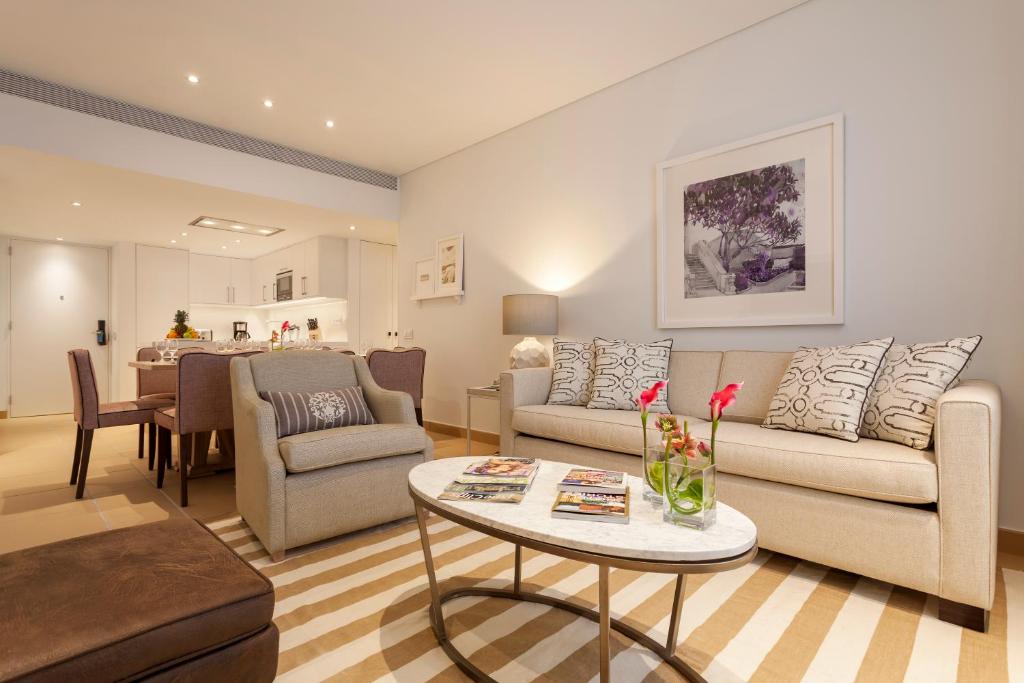 Located overlooking the stunning Falésia Beach and Pine Cliffs Golf Course, the Pine Cliffs Ocean Suites offers a luxurious stay with a variety of wellness facilities, restaurants, and direct access to the beach. Each suite features an open-plan bathroom concept and is equipped with WiFi and a flat-screen TV. The 1 and 2-bedroom suites also have fully equipped kitchens. Guests can enjoy all the amenities of the Pine Cliffs Resort including golf, tennis, water sports, and a children's area. The hotel also offers multiple bars and restaurants for dining options. Other highlights include an outdoor pool, access to additional pools in the resort, free access to Serenity Spa for adults, and special programs for children at the on-site kids club.
Pros:
– Beautiful views of the coastline from each suite
– Access to a wide range of activities and amenities within the Pine Cliffs Resort
– Multiple dining options offering different gastronomic experiences
– Excellent facilities including an outdoor pool, spa access, and children's programs
– Convenient location near popular towns like Albufeira and Olhos de Água
Albufeira 5 star Hotels Information
| | |
| --- | --- |
| 🛎️ 5 star Hotels in Albufeira | 12 |
| 💵 Hotels Prices From | $238 |
| 💵 Highest price | $1689 |
| 🥇 Average Review Score | 8.7/10 |
| 🛏️ Average number of Rooms | 93 |
Top 5 star hotels in Albufeira
| | |
| --- | --- |
| Vila Joya | 9.6/10 |
| Domes Lake Algarve | 9/10 |
| Grand House – Relais & Chateaux | 9/10 |
| Martinhal Sagres Beach Family Resort Hotel | 8.9/10 |
| Pine Cliffs Gardens | 8.9/10 |
FAQ
Which are the best 5 star hotels in Albufeira?
Albufeira offers a range of luxurious 5 star hotels to choose from. Some of the top-rated ones include Pine Cliffs Hotel, which is known for its stunning cliff-top location and world-class amenities, and EPIC SANA Algarve Hotel, known for its contemporary design and beachfront setting. Other highly recommended options include Vila Joya, a charming boutique hotel with excellent service, and São Rafael Atlântico, offering modern rooms and impressive ocean views.
What amenities can I expect at a 5 star hotel in Albufeira?
5 star hotels in Albufeira boast an array of luxurious amenities to enhance your stay. These may include spacious rooms or suites with high-end furnishings, private balconies or terraces overlooking the ocean or landscaped gardens, multiple on-site restaurants serving gourmet cuisine, rejuvenating spa facilities offering various treatments and massages, state-of-the-art fitness centers with personal trainers available upon request, stylish swimming pools with sun loungers and cabanas for relaxation, concierge services to assist you with any needs or requests during your stay.
Are there any all-inclusive 5 star hotels in Albufeira?
Yes! If you prefer an all-inclusive experience during your stay in Albufeira's luxury surroundings, there are several 5 star hotels that offer this option. For example, Grande Real Santa Eulalia Resort & Hotel Spa is an all-inclusive property featuring elegant accommodations along with diverse dining options where you can enjoy meals throughout the day without worrying about additional charges. Similarly,Vidamar Resort Hotel Algarve offers all-inclusive packages allowing guests to indulge in unlimited food and beverages while enjoying access to various entertainment facilities.
Do these luxury hotels provide airport transfers?
Yes! Many of the 5 star hotels in Albufeira offer airport transfer services for the convenience of their guests. These transfers can be arranged prior to your arrival or during your stay, and often include options such as private chauffeur-driven cars or luxury shuttle services. Some hotels may provide this service free of charge, while others may have an additional fee. It is recommended to check with your chosen hotel about their specific airport transfer policies and make arrangements in advance if needed.
What nearby attractions can I explore while staying at a 5 star hotel in Albufeira?
There are plenty of exciting attractions to explore near the 5 star hotels in Albufeira. A must-visit is Albufeira's Old Town, known for its charming cobblestone streets lined with colorful buildings, traditional restaurants, and lively bars. Another popular attraction is Falesia Beach, where you can relax on golden sands and enjoy stunning coastal views. Boat trips along the coast provide opportunities for dolphin watching and cave exploring, while golf enthusiasts will find several world-class courses in the area. Additionally, nearby Zoomarine Park offers a fun-filled day
Popular Five Star Hotels destinations