Welcome to a captivating journey through the enchanting world of opulent boutique accommodations in Scotland, nestled in the United Kingdom. Get ready to immerse yourself in the exquisiteness of these unique lodging establishments, where luxury and charm intertwine effortlessly. Join us as we unveil the secrets of Scotland's most captivating hidden gems, meticulously designed to offer an unforgettable retreat.
Prepare to be enticed by the allure of boutique hotels in this picturesque land, where each stay is a carefully curated experience tailored to indulge your senses. From historic castles that have been transformed into exclusive havens of grandeur, to contemporary architectural marvels blending seamlessly with breathtaking landscapes – Scotland has something for every discerning traveler yearning for an intimate and personalized escape.
Indulge in sumptuous furnishings and lavish amenities that redefine comfort while reveling in the unmatched beauty that surrounds you. Immerse yourself in rich Scottish heritage as you traverse through cozy rooms adorned with traditional tartan patterns or unwind amidst sleek modern designs brought alive by local craftsmanship. Whether you seek solace amongst serene Highlands or prefer the bustling energy of vibrant cities like Edinburgh or Glasgow – Scotland's boutique hotels promise an unparalleled blend of sophistication and intimacy.
Join us on an exploration that transcends mere accommodation; uncovering extraordinary destinations where luxury meets authenticity at every turn. Let us guide you through a selection of handpicked boutique hotels across Scotland, inviting you to discover a world where refined elegance harmonizes gracefully with awe-inspiring natural beauty.
Best Boutique Hotels in Scotland
Hapimag Resort Edinburgh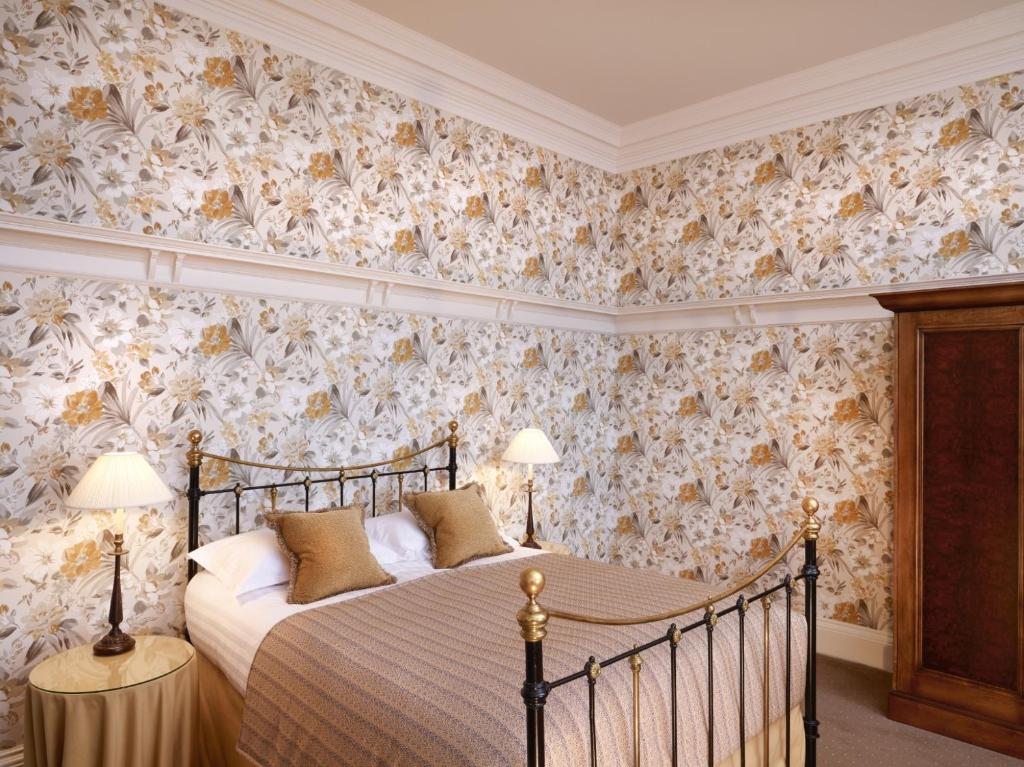 Hapimag Resort Edinburgh offers a refreshing alternative for both business and leisure travelers seeking an unforgettable experience in the heart of Edinburgh. Boasting 29 comfortable townhouse suites, this distinguished collection provides an unparalleled level of space and comfort. Each suite features a generously sized bathroom and convenient in-room dining facilities, including a microwave, small fridge, crockery, and cutlery. Guests can enjoy the tranquility and elegance of these suites, which serve as a superb alternative to traditional guest accommodations. In addition, the resort offers an Honesty shop where guests can indulge in a variety of snacks and beverages.
– Spacious townhouse suites
– In-room dining facilities
– Tranquil and elegant atmosphere
– Honesty shop with snacks and beverages
Kinloch House Hotel (Blairgowrie)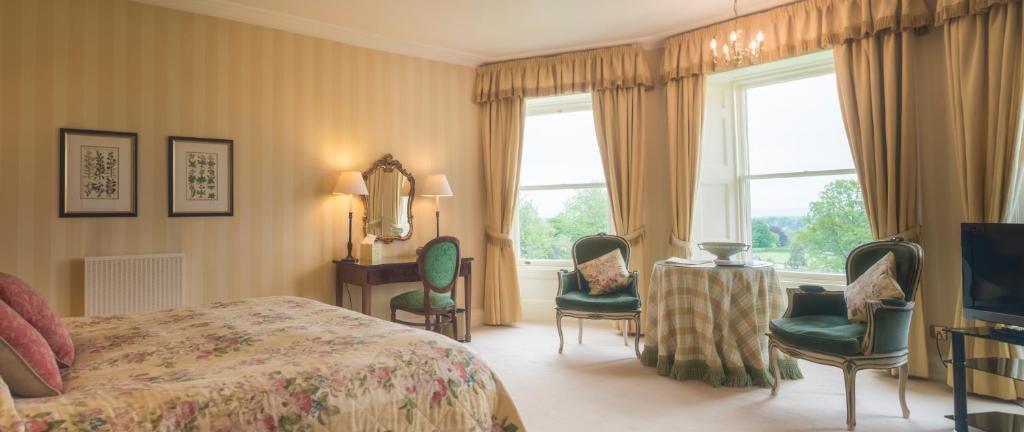 Nestled in the serene Scottish countryside, Kinloch House Hotel is a charming country house retreat located just a mile away from Loch Drumellie. This boutique hotel offers elegant en suite bedrooms and boasts a renowned restaurant serving delectable Scottish cuisine, with a focus on game and seafood dishes. Each spacious bedroom at Kinloch House Hotel is equipped with luxurious amenities including baths, showers, bathrobes, and free toiletries. Guests can enjoy their stay with modern comforts such as TVs, hairdryers, and comfortable seating areas. The hotel also provides free Wi-Fi in public areas. Indulge in afternoon tea while basking in the picturesque views of the Victorian walled garden or cozy up by the roaring log fire. Golf enthusiasts will delight in the proximity to several golf clubs including Blairgowrie, Strathmore, Alyth, and Dunkeld & Birnam golf clubs—all within a brief 10-minute drive from the hotel. For those flying in or out of Dundee Airport, it is conveniently located just 25 minutes away. With ample free parking available on-site, Kinloch House Hotel ensures a hassle-free experience for its guests.
Pros:
– Idyllic location surrounded by stunning Scottish countryside
– Spacious and well-appointed bedrooms with luxurious amenities
– Renowned restaurant offering fine Scottish cuisine
– Charming conservatory perfect for enjoying afternoon tea
– Proximity to multiple golf clubs for avid golfers
The Raeburn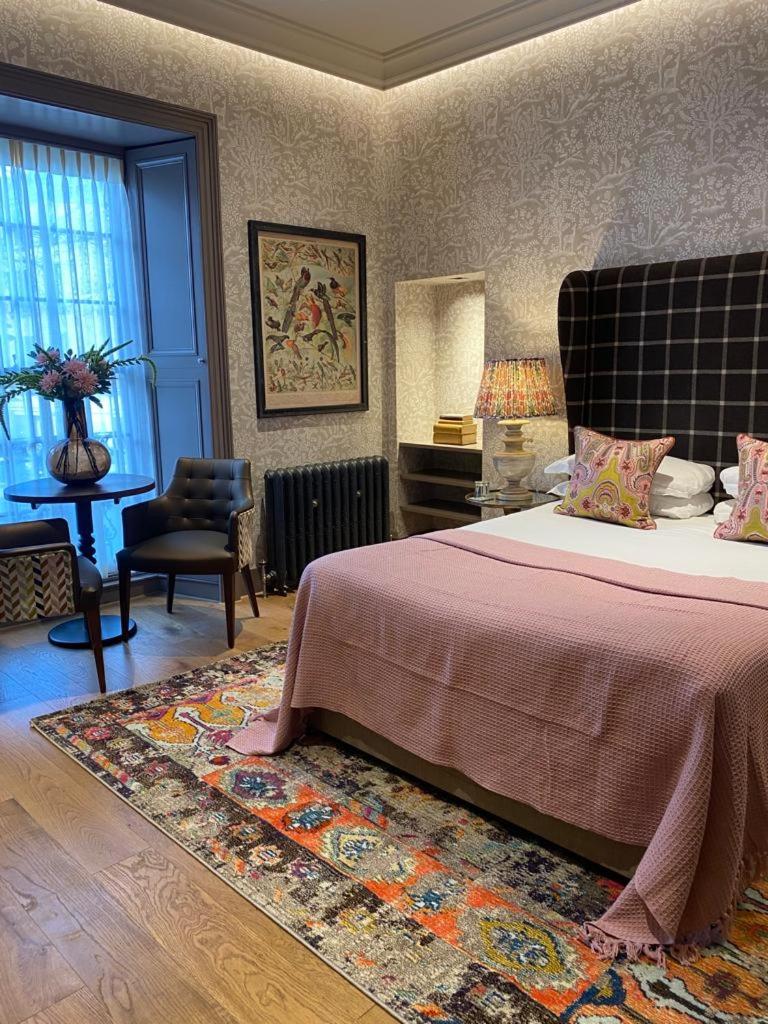 Located in the charming Stockbridge area of Edinburgh, The Raeburn is a beautifully designed boutique hotel housed in a Georgian property. With its modern and stylish interior, featuring exposed stone walls, sash windows, and tartan fabrics, this hotel offers a unique and luxurious experience. The on-site restaurant serves delicious British dishes made with locally sourced ingredients, while the bar provides a cozy atmosphere with its fireplace and bespoke chairs. Guests can also enjoy the outdoor terrace with parasols for a leisurely drink. The hotel is conveniently situated within walking distance of Princes Street, the New Town, and Edinburgh's historic old town and castle. With nearby railway stations offering easy access to Glasgow and other parts of the UK, The Raeburn is an ideal choice for those seeking luxury combined with convenience.
Pros:
– Beautifully designed Georgian property
– Stylish modern interior with attractive features
– Delicious British cuisine made with local produce
– Cozy bar area with fireplace and bespoke chairs
– Convenient location within walking distance of major attractions
Other places to stay in Scotland
Boutique Hotels in Downtown Scotland
Boutique Hotels in Downtown Scotland offer a unique and intimate experience, with their stylish decor and personalized service. These hotels are conveniently located in the heart of the city, allowing guests to easily explore the nearby attractions and immerse themselves in the vibrant local culture.
The Seafield Arms-Cullen (Cullen)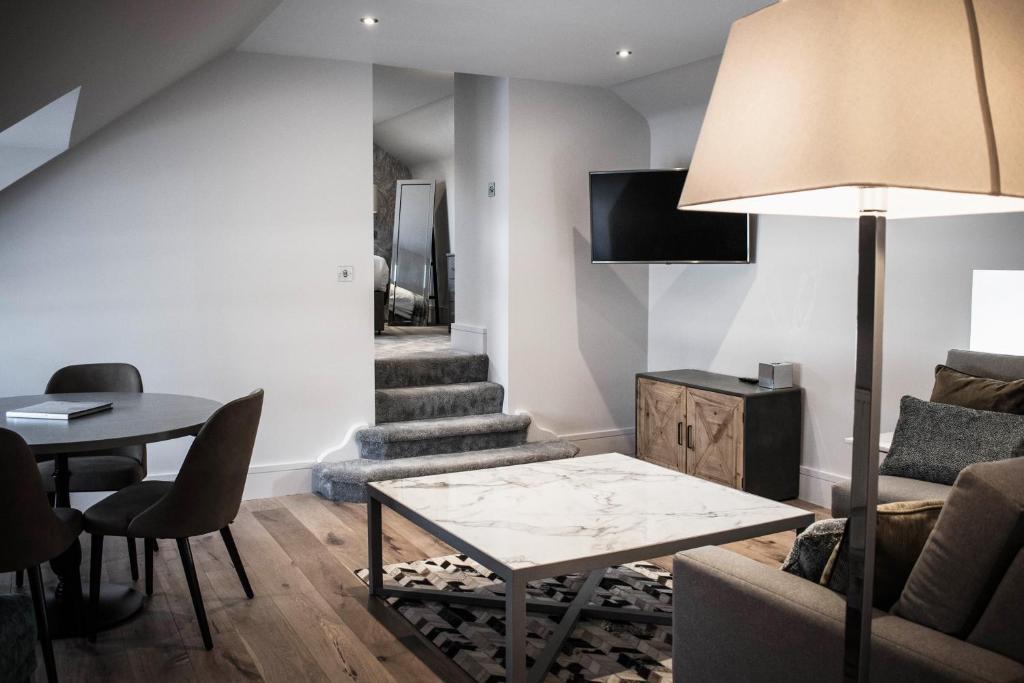 The Seafield Arms-Cullen is a charming boutique hotel located in the heart of Cullen, on the beautiful Moray Firth Coast and along the North East 250 Route. The hotel offers chic rooms with modern amenities including free WiFi and onsite parking. Guests can indulge in delicious meals made with locally sourced ingredients at the dining room and bistro restaurant. The rooms are equipped with tea and coffee making facilities, a desk, a flat-screen TV, and a private bathroom. For those looking to unwind, there is a bar that serves an impressive selection of whisky, spirits, champagne, fine wines, and beers. The property also offers private dining options and small conference rooms for business travelers. With its close proximity to local golf courses and distilleries, guests can easily explore these attractions or enjoy leisurely walks in the picturesque surroundings. Elgin is just 35 km away from The Seafield Arms-Cullen while Inverness Airport is approximately 82 km from the hotel.
– Chic rooms with modern amenities
– Locally sourced meals at the dining room and bistro restaurant
– Impressive selection of drinks at the bar
– Private dining options available
– Convenient location for exploring local golf courses and distilleries
Virgin Hotels Edinburgh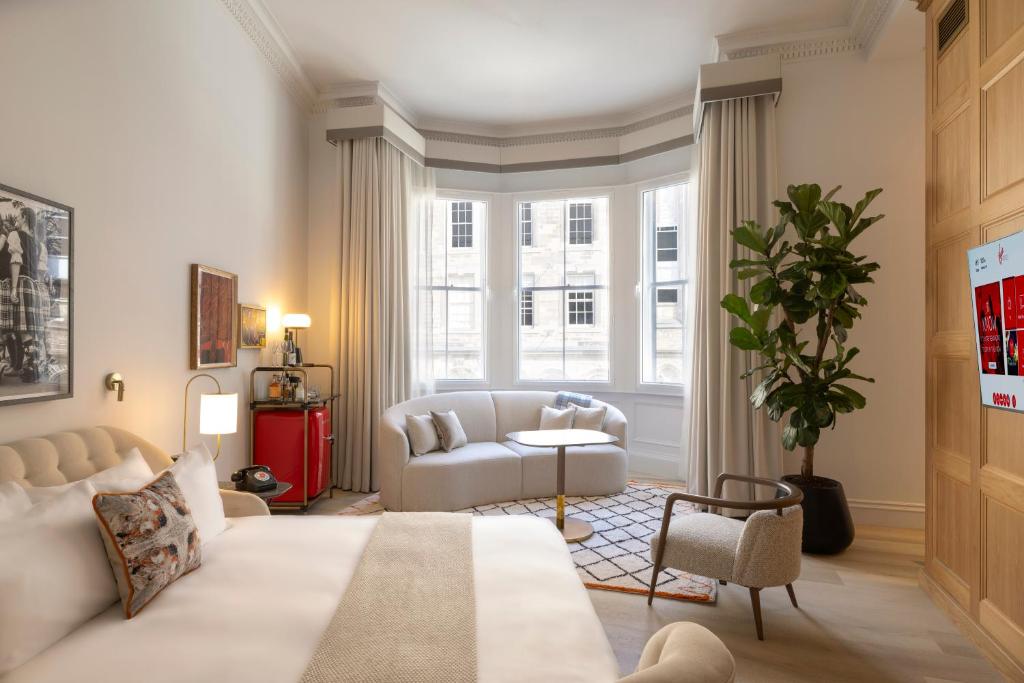 Opened in March 2022, Virgin Hotels Edinburgh is a luxurious 5-star boutique hotel conveniently located in the heart of Edinburgh. This stylish hotel offers an array of amenities including a fitness center, a restaurant serving delicious cuisine, and a trendy bar for guests to unwind after a day of exploring the city. The hotel provides excellent service with its 24-hour front desk and room service, ensuring that guests have everything they need for a comfortable stay. With free WiFi throughout the property, guests can stay connected during their visit. The well-appointed rooms feature modern decor and are equipped with flat-screen TVs and safety deposit boxes. Some rooms also offer balconies, providing breathtaking views of the surrounding area. Each room has a private bathroom complete with free toiletries and a hairdryer. Guests can enjoy breakfast options ranging from à la carte to continental to Full English/Irish each morning. The hotel's central location makes it easy to explore popular attractions such as the National Museum of Scotland, Edinburgh Castle, and the Royal Mile. For convenient travel arrangements, Edinburgh Airport is just 9 km away from Virgin Hotels Edinburgh.
– Convenient central location
– Stylish and modern decor
– Excellent amenities including fitness center and restaurant
– Stunning views from balcony rooms
– Close proximity to popular attractions
Glenapp Castle (Ballantrae)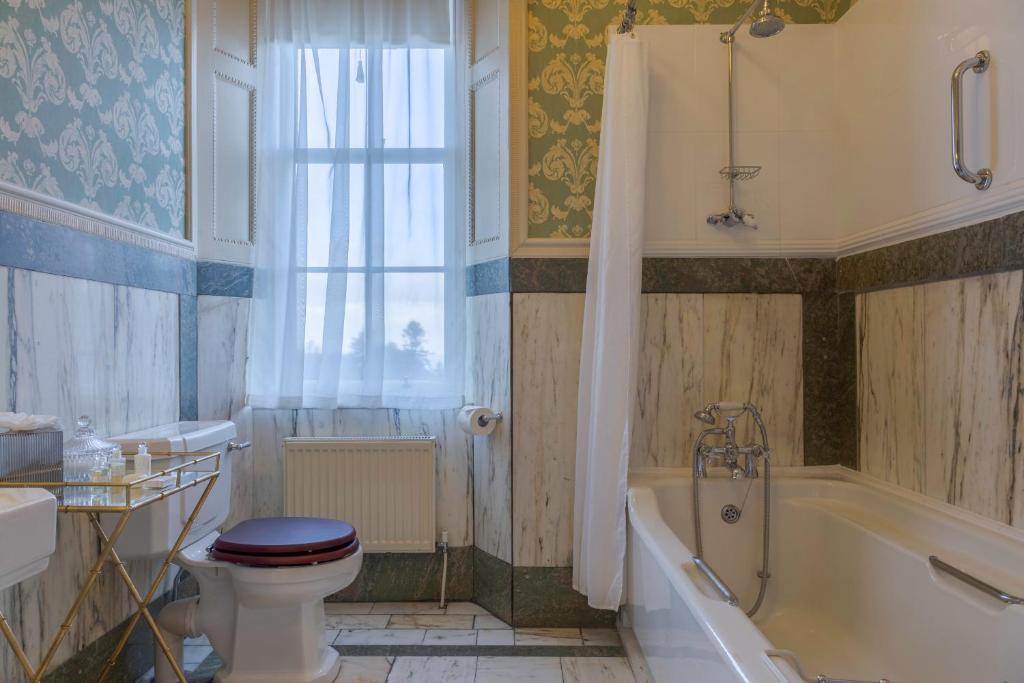 Located between Stranraer and Girvan, Glenapp Castle in Ballantrae is a luxurious boutique hotel set within 36 acres of beautiful gardens and woodlands. This 5-star South Ayrshire property, dating back to 1870, offers guests an exceptional experience with its award-winning restaurant, complimentary on-site parking, and Wi-Fi access. The rooms and suites at Glenapp Castle are elegantly furnished and equipped with modern amenities such as a flat-screen TV with DVD player, trouser press, desk, alarm clock, safe, seating area, and tea/coffee facilities. The en suite bathrooms feature a bath/shower combination along with a hairdryer, bathrobe, and complimentary toiletries. Guests can enjoy breathtaking views of either the sea or gardens from their rooms. Indulge in the gourmet dining experience at the restaurant which serves up a delectable six-course menu. Afternoon tea is also available for those seeking a truly indulgent treat. Wine connoisseurs will appreciate the extensive selection of wines and champagnes on offer. For nature enthusiasts or adventure seekers looking to explore Galloway Forest Park—known for its stunning landscapes—Glenapp Castle makes an ideal base as it's only around a 35-minute drive away. Travelers coming from Ayr, Troon or Prestwick Airport will find that these destinations are all approximately an hour's drive north of Ballantrae.
Pros:
– Stunning location surrounded by lush gardens and woodlands
– Luxurious accommodations offering modern amenities
– Award-winning restaurant serving gourmet cuisine
– Complimentary parking and Wi-Fi access
Scotland 5 Star Boutique Hotels
Scotland is home to a collection of exquisite 5-star boutique hotels, each offering a unique blend of luxury, charm, and Scottish hospitality. From historic castles to stylish modern retreats, these hotels provide an unforgettable experience in the heart of Scotland's breathtaking landscapes.
Murrayshall Country Estate
Located in Perth, Murrayshall Country Estate is surrounded by various attractions such as Scone Palace, Perth Concert Hall, and St Ninian's Cathedral. The estate offers an array of outdoor activities both on and off-site, including mapped walks and two beautiful parkland golf courses. The helpful staff at reception can provide guests with information about the surrounding area. The rooms at Murrayshall are equipped with modern amenities like a flat-screen TV and a private bathroom. Some rooms even offer serene garden views. Guests can enjoy a delicious Full English/Scottish breakfast at the on-site restaurant that specializes in British cuisine. With Edinburgh Airport just 52 km away, Murrayshall Country Estate provides a convenient location for travelers.
– Beautiful countryside setting
– Outdoor activities available onsite
– Spacious and comfortable rooms
– Delicious British cuisine served at the restaurant
– Convenient location near Edinburgh Airport
Dungallan Country House Bed & Breakfast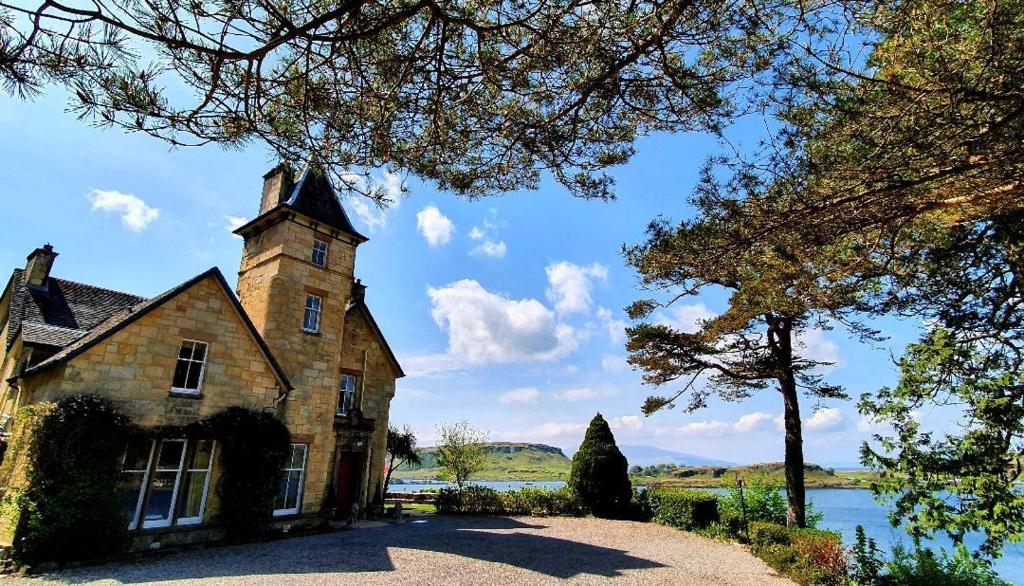 Dungallan Country House Bed & Breakfast is a charming adults-only guest house located in Oban, overlooking the picturesque Oban Bay and surrounding islands. Originally built as a summer residence by the Duke of Argyll in 1870, this Victorian building has been refurbished to offer a luxurious stay with stunning sea views from most of its en suite rooms. The tranquil and secluded location provides a peaceful retreat, while still being just a short 10-minute walk from Oban's promenade and town center. Guests can enjoy complimentary wireless internet access throughout the property and indulge in local blended and single malt whiskies at the cozy bar with its captivating view of Oban Bay. Additionally, the residents' lounge offers a relaxing ambiance with an open log fire.
– Stunning sea views from most rooms
– Peaceful and secluded location
– Close proximity to Oban's promenade and shops
– Cozy bar offering local whiskies
– Relaxing residents' lounge with an open log fire
The Bonham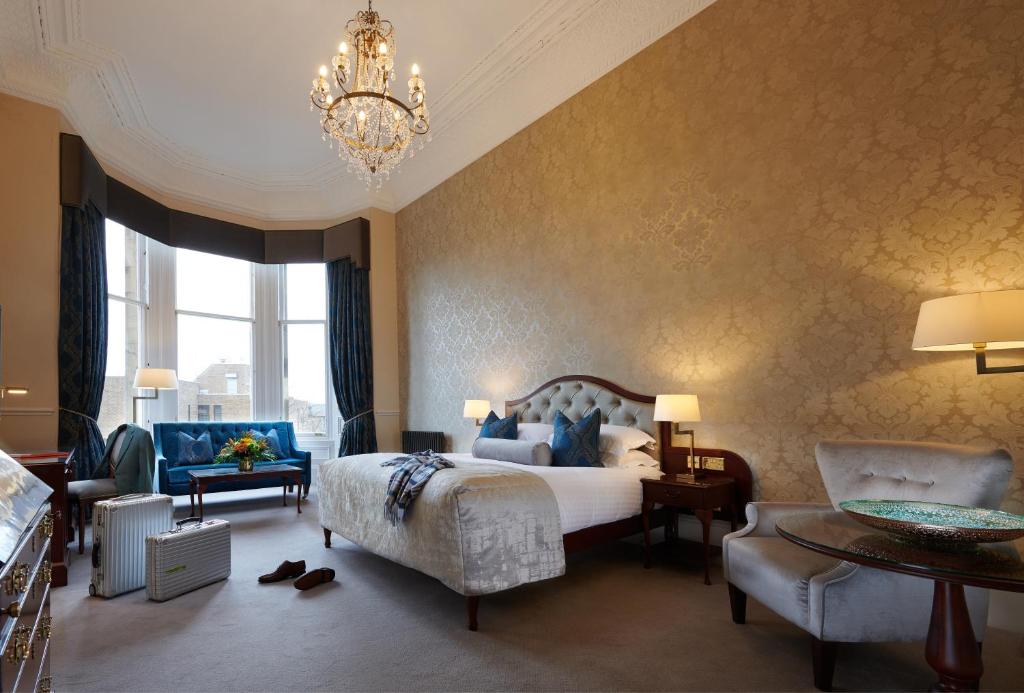 The Bonham Hotel, located in Edinburgh's West End, is a beautiful Victorian townhouse offering stunning city views from every bedroom. The hotel is conveniently situated within walking distance of popular attractions such as Princess Street, Calton Hill, Edinburgh Castle, The Royal Mile, and EICC. Guests can indulge in delicious traditional food with a European twist at the hotel's restaurant or enjoy 24-hour room service. The hotel also boasts a bar offering classic cocktails, tonics, wines, and light bites as well as afternoon tea. With amenities like flat-screen TVs, free WiFi, complimentary toiletries, and en-suite bathrooms with bath and shower facilities in every room. The Bonham provides luxury and comfort for its guests. For transportation options to and from the property, Edinburgh Airport is just a 20-minute drive away while the Edinburgh Tram or Edinburgh Airlink bus are alternative options for travel convenience.
– Stunning city views from every bedroom
– Convenient location near popular attractions
– Delicious traditional food with a European twist at the restaurant
– 24-hour room service available
– Bar serving classic cocktails and afternoon tea
Scotland Luxury Boutique Hotels
Scotland offers a collection of exquisite luxury boutique hotels, each one boasting its own unique charm and character. From historic castles nestled in the Scottish Highlands to modern urban retreats in bustling cities, guests can expect impeccable service, stunning landscapes, and an unforgettable experience immersed in Scotland's rich history and culture.
Maryculter House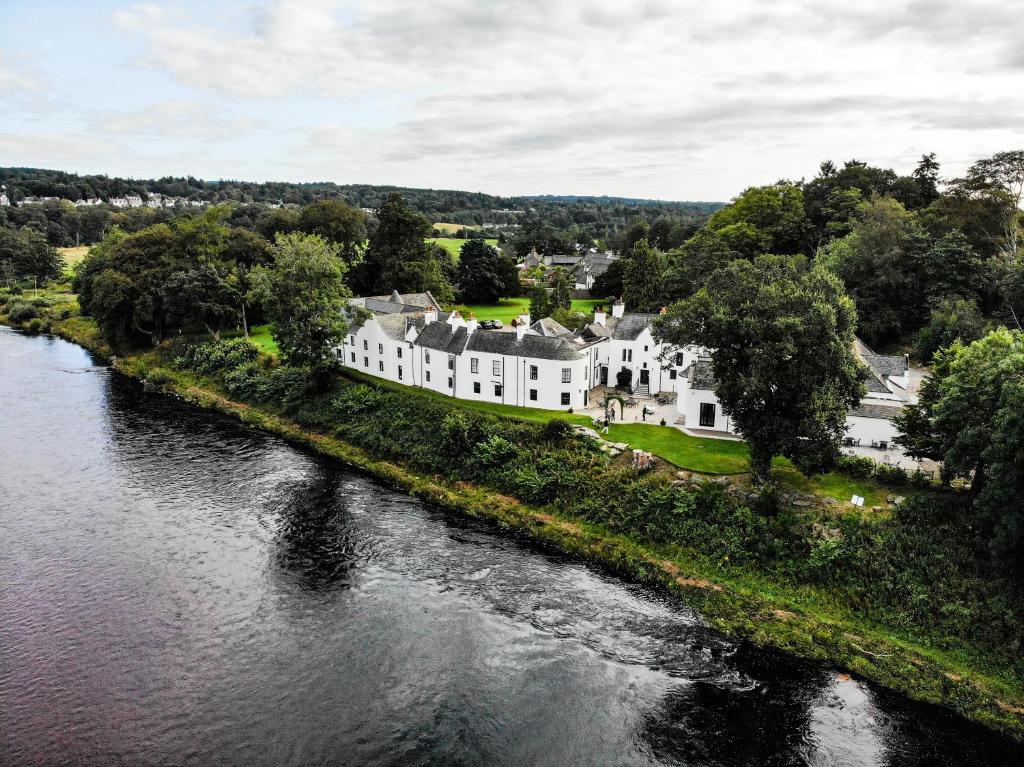 Located on the banks of the River Dee, Hotel Maryculter House is a charming Scottish mansion that dates back to 1225 AD and was once home to the Knights Templar. This luxurious boutique hotel offers a perfect base for exploring Scotland's tourist trails. The stylish decor combines modern luxury with period details such as natural stone, wood paneling, exposed fireplaces, and tall beamed ceilings. Guests can choose to explore the nearby mountains, forests, and rivers, where they have an array of exciting activities at their disposal including skiing, cycling, canoeing, shooting, off-road driving, gliding, diving and rafting.
– Picturesque setting on the banks of the River Dee
– Charming historic building dating back to 1225 AD
– Stylish decor combining modern luxury with period details
– Convenient location for exploring Scotland's tourist trails
– Wide range of outdoor activities available in the surrounding area
Kinloch Lodge Hotel and Restaurant (Kinloch)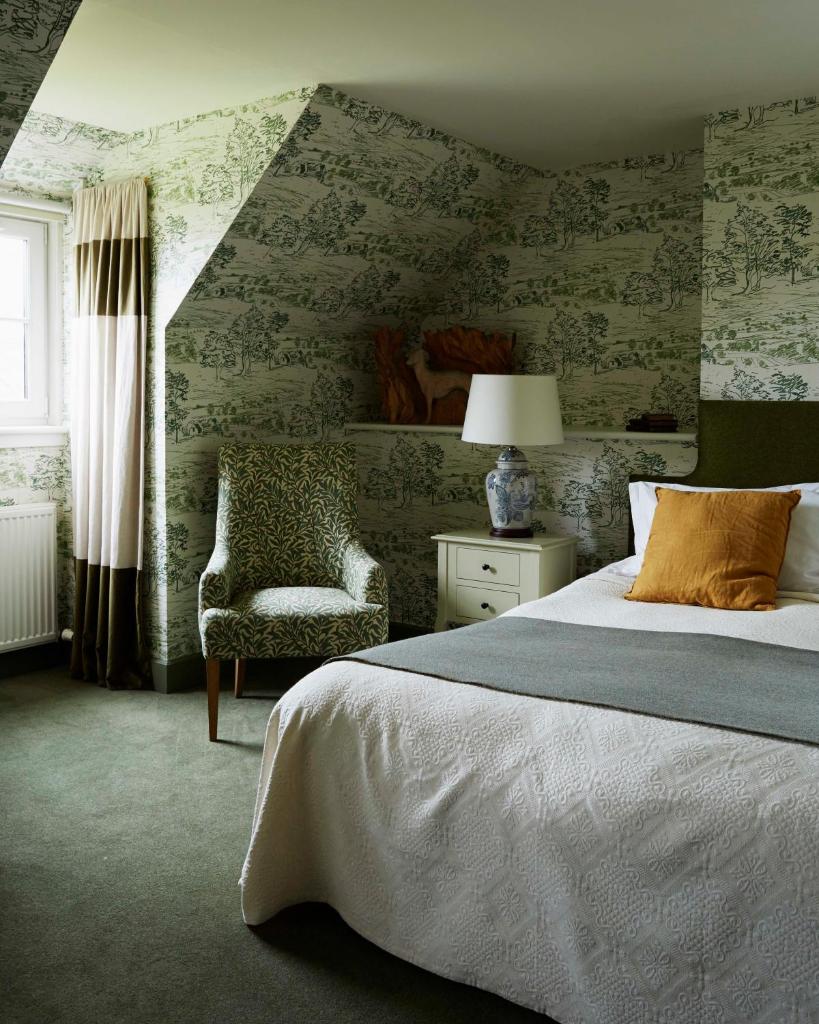 Nestled at the foot of a long private drive up Kinloch Hill on the shoreline of Loch Na Dal, Kinloch Lodge Hotel and Restaurant is a charming family-run former 17th-century hunting lodge. Located in the scenic South of Skye, this boutique hotel offers an idyllic retreat surrounded by natural beauty and tranquility. The elegant dining room serves exquisite dishes made with seasonal and local produce, while all rooms feature en suite bathrooms with L'Occitane toiletries and flat-screen TVs with DVD players. Guests can indulge in relaxing massages and facials at the on-site treatment room or embark on wilderness adventures such as fishing, foraging, stalking, and wild walks guided by Kinloch's own expert guide. For whisky enthusiasts, tours of the famous Talisker distillery can be arranged within an hour's drive from the hotel. With free WiFi throughout the property and staff who are always ready to provide detailed maps for scenic walks in the area, Kinloch Lodge Hotel and Restaurant promises a memorable luxury experience.
– Family-run former 17th-century hunting lodge
– Stunning location on the shoreline of Loch Na Dal
– Award-winning cuisine using seasonal and local produce
– Relaxing treatments available at the on-site spa
– Wilderness adventures with knowledgeable guides
Scotland Boutique Hotels Information
| | |
| --- | --- |
| 🛎️ Boutique Hotels in Scotland | 11 |
| 💵 Hotels Prices From | $103 |
| 💵 Highest price | $1576 |
| 🥇 Average Review Score | 9/10 |
| 🛏️ Average number of Rooms | 44 |
Top Boutique hotels in Scotland
| | |
| --- | --- |
| Dungallan Country House Bed & Breakfast | 9.7/10 |
| Hapimag Resort Edinburgh | 9.2/10 |
| The Raeburn | 9.2/10 |
| Kinloch House Hotel (Blairgowrie) | 9.1/10 |
| The Seafield Arms-Cullen (Cullen) | 9/10 |
FAQ
What are some popular boutique hotels in Scotland?
Scotland offers a range of luxury boutique hotels that cater to different tastes and preferences. One popular option is The Witchery by the Castle, located near Edinburgh Castle, offering gothic-style suites and a romantic atmosphere. Another renowned choice is the Rocpool Reserve Hotel & Chez Roux Restaurant in Inverness, known for its stylish rooms with modern amenities and a Michelin-starred restaurant. Lastly, The Balmoral Hotel in Edinburgh boasts elegant rooms, stunning views of the city, and exquisite dining options.
Are boutique hotels more expensive than regular hotels?
Generally speaking, boutique hotels tend to be pricier compared to regular hotels due to their unique features and personalized services. These properties often have limited room availability which drives up demand and prices. Additionally, they aim to provide an exclusive experience with carefully curated interiors, upscale amenities, and attentive staff. However, it's worth noting that prices can vary depending on location, seasonality, and specific offerings at each hotel.
What makes a hotel qualify as "boutique"?
Boutique hotels are characterized by their intimate size and distinct personality. Unlike chain or large-scale establishments, these properties typically have fewer rooms ranging from 10 to 100. They often feature stylish designs that reflect local culture or historical elements while offering modern comforts. Boutique hotels also prioritize personalized guest experiences through attentive service where staff members create a warm ambiance with attention to detail. These factors combined contribute to the allure of a boutique hotel.
Do boutique hotels offer amenities like spa or wellness facilities?
Many boutique hotels understand the importance of providing holistic experiences for their guests and thus offer various wellness amenities such as spas or fitness centers. While not all boutique hotels have these facilities due to space limitations or location constraints within historic buildings or city centers where they are often found
How far in advance should I book a boutique hotel?
To secure your desired room at a luxury boutique hotel, it is recommended to book well in advance, especially during peak travel seasons or popular events. As these hotels have limited room inventory, availability can be scarce closer to the date of travel. It is advisable to make reservations at least three to six months ahead, or even earlier if possible, to ensure you get the best selection and avoid disappointment.
Popular Boutique Hotels destinations