Welcome to the charming city of New Orleans, where history and culture seamlessly blend with luxurious accommodations. Boutique hotels in this city provide a unique and intimate experience for travelers seeking something different from the standard hotel chains. These small, independently owned properties offer personalized service, often in restored historic buildings that showcase the city's rich heritage.
From the French Quarter to the Garden District, boutique hotels in New Orleans are as diverse as the neighborhoods they inhabit. Each property boasts its own distinctive style and charm, whether it be eclectic bohemian flair or elegant antebellum decor. Many also feature on-site amenities such as rooftop bars with stunning views of the city skyline or cozy courtyards perfect for sipping a cocktail or enjoying a quiet moment away from the bustling streets.
Get ready to immerse yourself in Nola's vibrant music scene, indulge in delicious Creole cuisine, and soak up all that this one-of-a-kind destination has to offer while staying at one of these exceptional boutique hotels.
Best Boutique Hotels in New Orleans
Audubon Cottages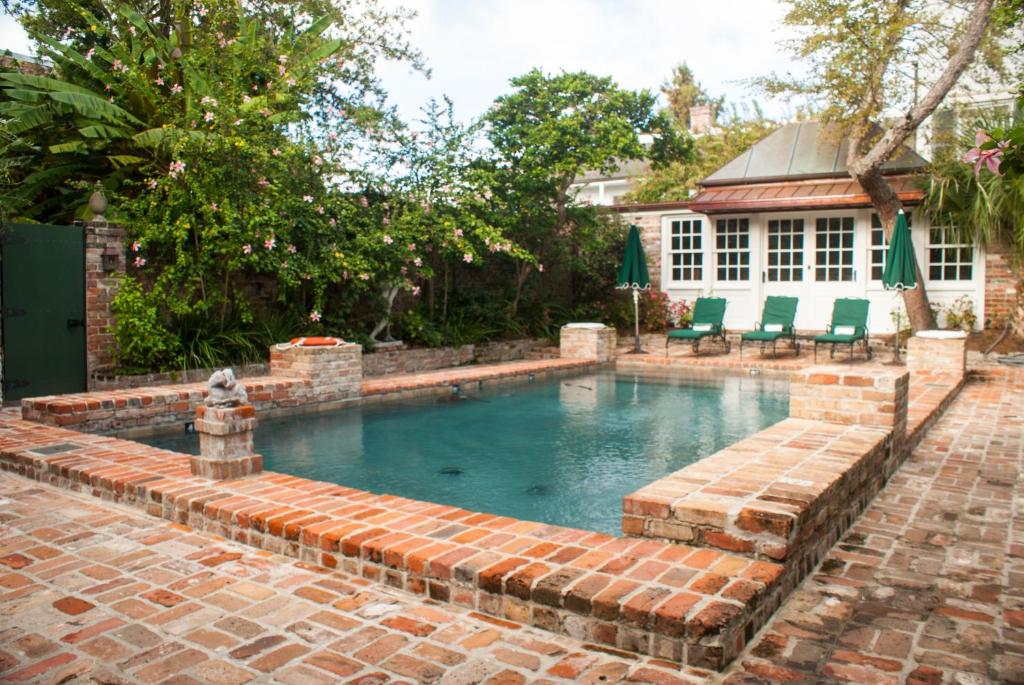 Experience the charm of New Orleans in Audubon Cottages, a beautiful French Quarter villa with uniquely styled cottages featuring modern décor and elegant furnishings, including a 42-inch flat-screen TV. Each cottage also comes with a private or semi-private courtyard and butler service is included. Guests can enjoy complimentary beverages provided in the cottages and replenished daily as well as free wireless internet access. The hotel also features a heated saltwater pool, in-room spa services, and a fitness centre with cardio equipment and weights accessible to guests. With its close proximity to Bourbon Street (less than 1 mile away) and Morial Convention Centre within 5 minutes' drive, Audubon Cottages offers luxury accommodation combined with convenience for exploring New Orleans.
Pros:
– Uniquely styled cottages
– Private or semi-private courtyards
– Butler service included
– Heated saltwater pool
– In-room spa services
Four Seasons New Orleans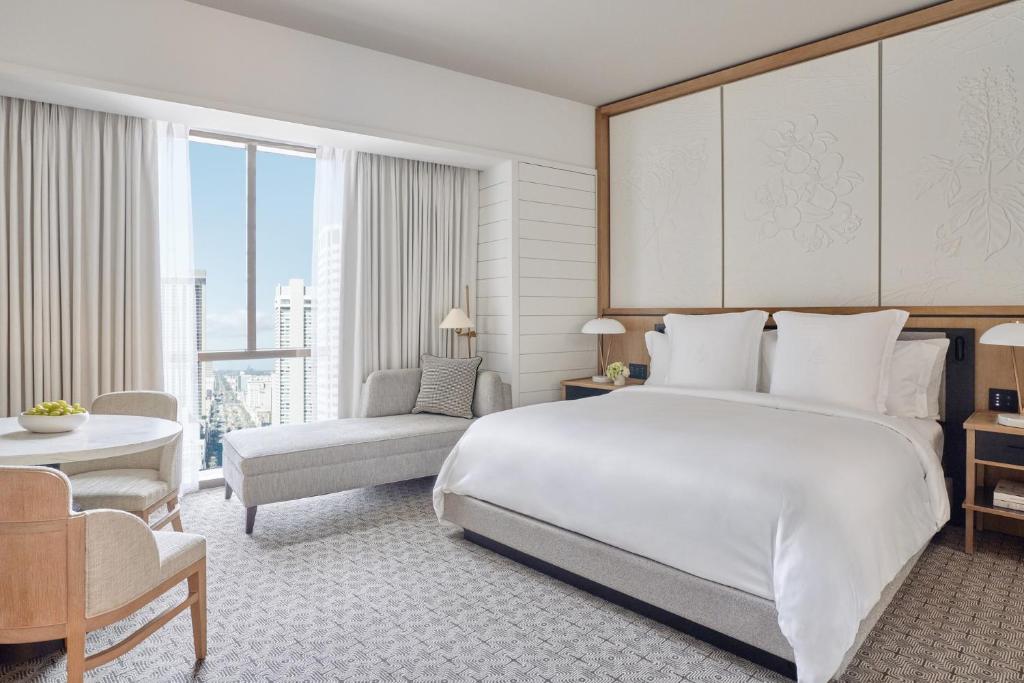 The recently opened Four Seasons New Orleans is a luxurious hotel situated in the heart of the city, featuring a range of modern amenities and services. Guests can enjoy exquisite meals at its restaurant, work out at its fitness centre, or unwind with a drink at the bar while admiring the lush garden views. The hotel also offers a range of convenient services such as concierge service, airport transfers, and 24-hour front desk service to ensure guests have a comfortable stay. Its prime location makes it easy for guests to explore New Orleans' popular attractions like Bourbon Street and St Louis Cemetery No 1.
– Prime location in the heart of New Orleans
– Modern amenities including fitness center and business center
– Range of convenient services including airport transfers and concierge service
– Exquisite dining options available on-site
– Free WiFi throughout the property
Q&C Hotel and Bar New Orleans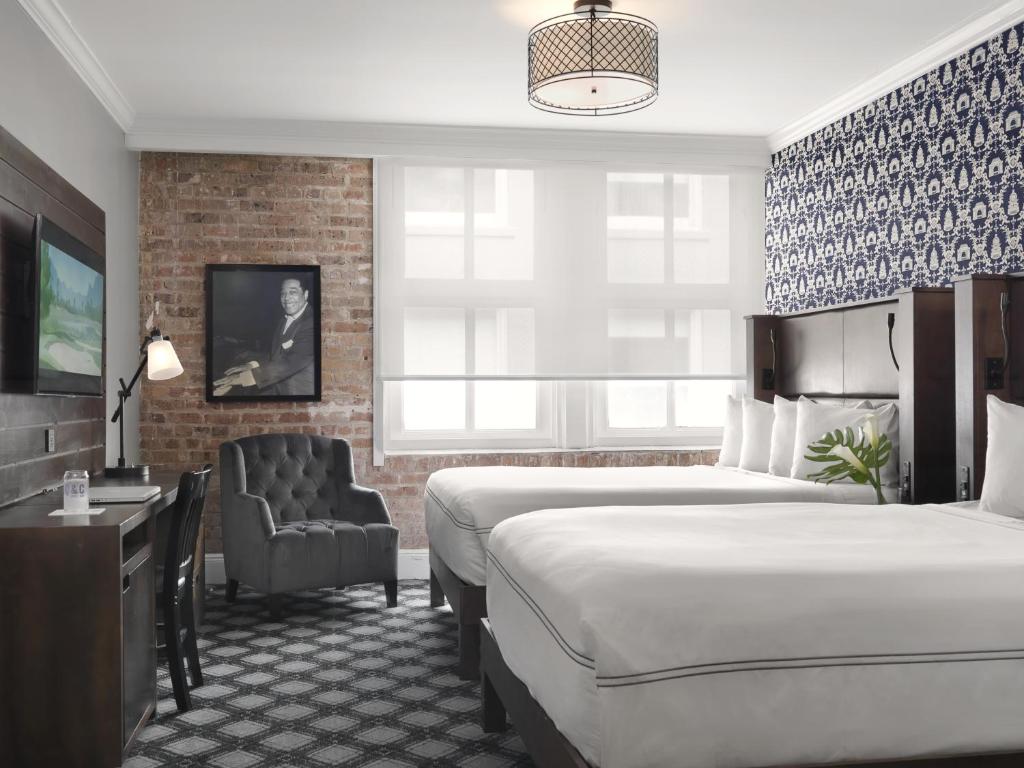 Q&C Hotel and Bar New Orleans is a charming boutique hotel located less than 1 km from the lively French Quarter District. The hotel features original brick walls, European furnishings, hardwood floors and local artworks that add to its unique character. Each room is equipped with cable TV, telephone, ironing facilities, and an en suite bathroom with hairdryer. Guests can enjoy drinks at the onsite bar or work out in the fully-equipped fitness centre. The hotel also offers services such as a 24-hour front desk, tour desk and concierge services for planning city tours or plantation excursions provided by helpful staff members. Short pros of this hotel include:
– Centrally located near popular attractions
– Unique decor with European furnishings and local artwork
– Onsite bar for drinks
– Fully-equipped fitness centre
– Helpful staff who can assist with tour bookings
Other places to stay in New Orleans
Boutique Hotels in Downtown New Orleans
Downtown New Orleans is home to several charming boutique hotels, offering guests a unique and intimate experience. These properties often feature trendy decor, personalized service, and prime locations for exploring the city's vibrant culture.
Pontchartrain Hotel St. Charles Avenue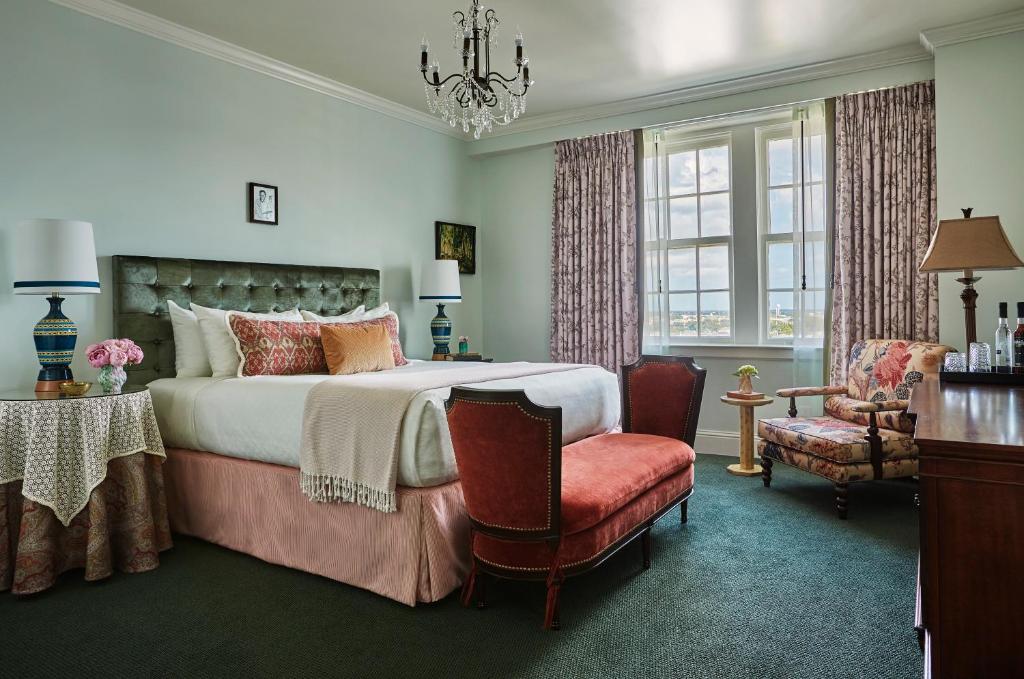 Located in the beautiful New Orleans Garden District, Pontchartrain Hotel St. Charles Avenue offers its guests free WiFi and is conveniently located just 2.4 km from the New Orleans Convention Center. The hotel is only a 5-minute drive away from the Mercedes-Benz Superdome and steps from the front entrance of the hotel, guests will find a streetcar for transportation throughout the city. Each room has a flat-screen TV and a private bathroom with bathrobes and free toiletries provided for extra comfort. The Jack Rose restaurant, Bayou Bar, Silver Whistle Café, and Hot Tin Rooftop Bar are all on-site dining options that offer delicious meals as well as unbeatable views of downtown New Orleans.
– Convenient location close to popular tourist attractions
– Free WiFi in every room
– On-site dining options featuring eclectic menus
– Stunning views from rooftop bar
– Complimentary streetcar service right outside of hotel
Auld Sweet Olive Bed and Breakfast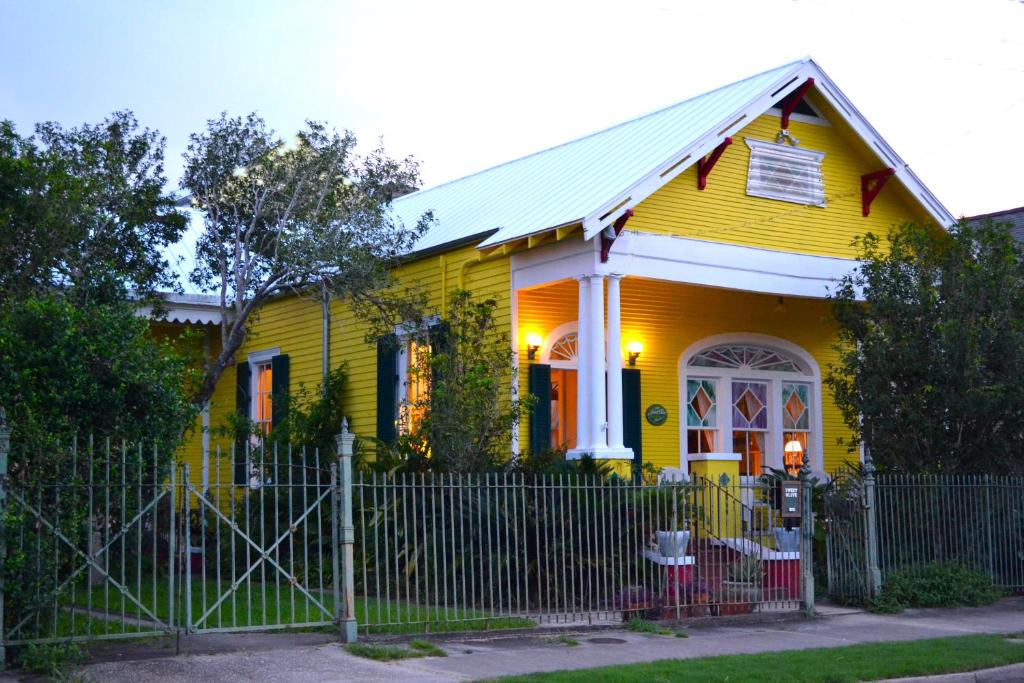 Auld Sweet Olive Bed and Breakfast is a lovely accommodation option located in the Faubourg Marigny neighbourhood of New Orleans, just a short walk from Frenchman Street. The guestrooms are uniquely decorated with tree-themed designs and come equipped with individual climate controls, private bathrooms stocked with free toiletries, fresh linens, towels and daily maid service. Guests have access to social areas such as the parlour which includes board games and puzzles to pass the time. A quiet escape can be found on the common courtyard or front porch while enjoying a book from the library. Complimentary breakfast of homemade pastries, yogurt and fresh fruits greet guests each morning followed by Bourbon Street within walking distance for an evening out.
– Walking distance from Frenchman Street
– Uniquely styled guest rooms
– Complimentary breakfast served every morning
– Quiet outdoor spaces available for relaxation
– On-street parking provided free of charge
Ace Hotel New Orleans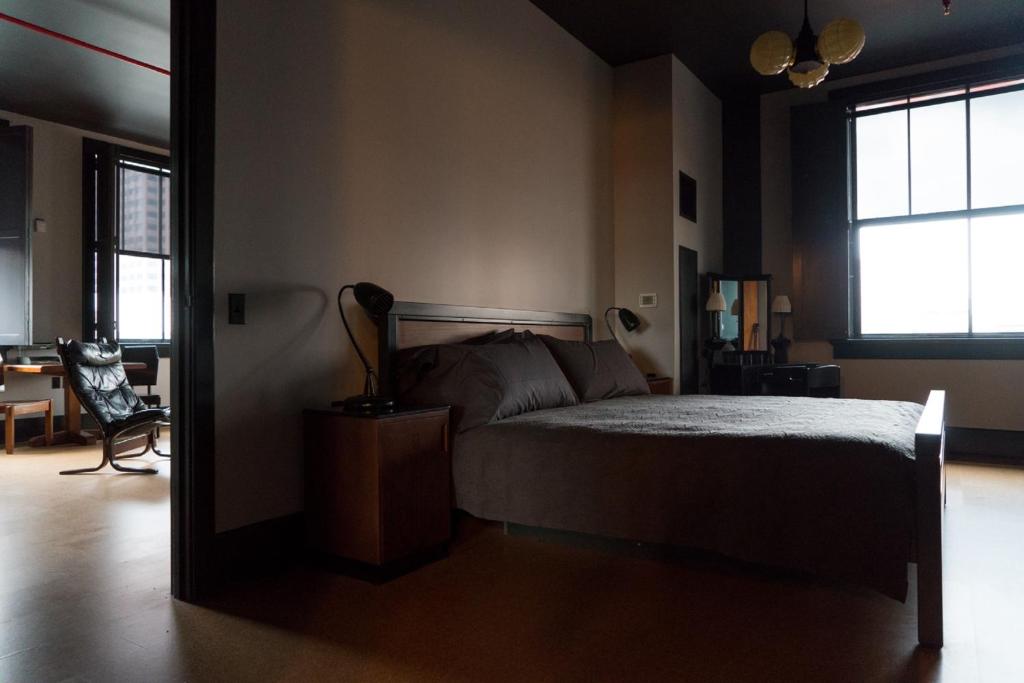 Ace Hotel New Orleans is a luxury hotel in the Warehouse District, just a short walk from Harrah's Casino. Guests can enjoy a rooftop bar and award-winning restaurant, as well as a seasonal outdoor pool and fitness center. Rooms are equipped with flat-screen TVs, refrigerators, and fully-stocked minibars, along with upgraded bath products and private bathrooms. The hotel also features artwork from local artists and friends of the property, gift shops, meeting spaces, valet parking day or night, room service, Stumptown Coffee Roasters on-site coffee shop offering coffee drinks and refreshments as well as Josephine Estelle serving Italian cuisine with Southern flare and SeaWorthy where guests can indulge in oysters and craft cocktails.
Pros:
– Rooftop bar
– Award-winning restaurant
– Seasonal outdoor pool
– Fitness center
– Artwork from local artists
New Orleans 5 Star Boutique Hotels
New Orleans offers a range of 5-star boutique hotels that are perfect for travelers looking for luxury accommodations. These hotels feature impressive designs, top-notch service, and excellent locations throughout the city.
Travelers New Orleans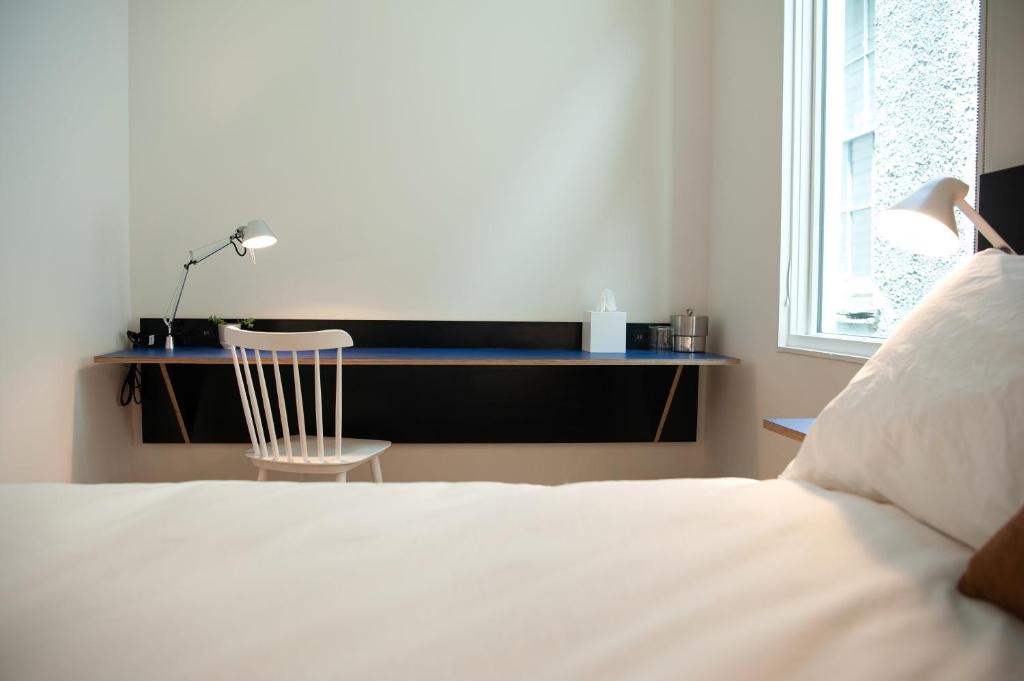 Travelers New Orleans is a new luxury hotel that opened in April 2021 and is located in the heart of New Orleans. The hotel offers air-conditioned accommodation and a terrace for guests to relax and enjoy the surroundings. It is conveniently situated near popular attractions such as Morial Convention Center, Touro Synagogue, Mercedes-Benz Superdome, and Uptown New Orleans Historic District. The property boasts allergy-free rooms with free WiFi access, private bathrooms fitted with a shower and hairdryer, as well as desks for guest convenience. Additionally, Audubon Nature Institute is just 7.1 km away from the hotel while Rivertown is 20 km away.
Pros:
– Convenient location near popular attractions
– Allergy-free rooms for guest comfort
– Free WiFi access in all areas of the hotel
– Terrace available for relaxing or enjoying the surrounding area
– Private bathrooms with showers and hairdryers provided in each room
One11 Hotel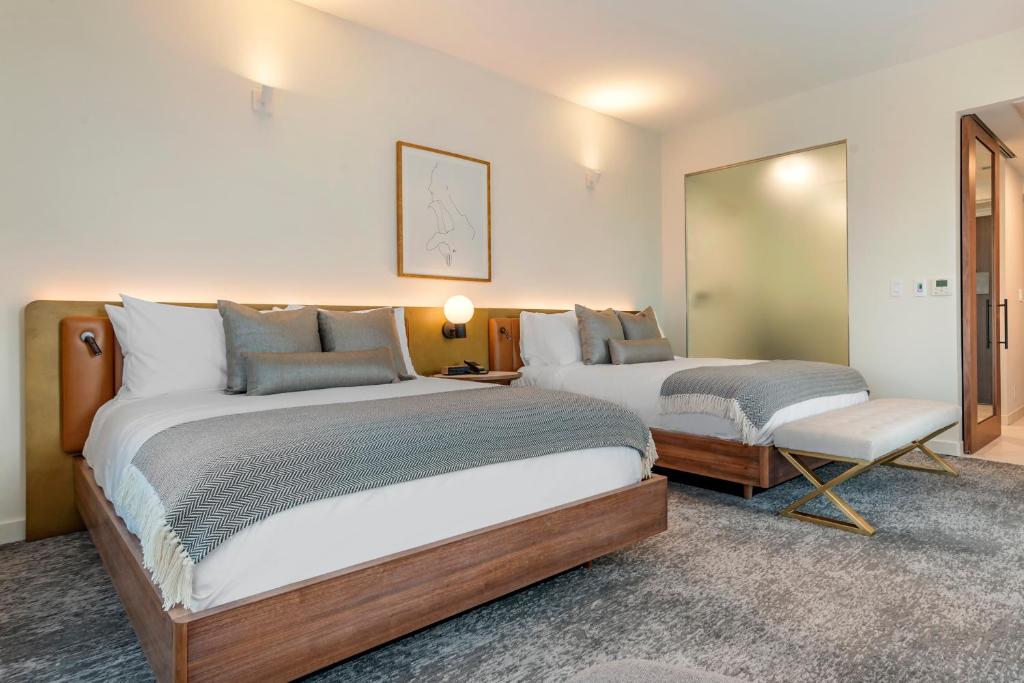 One11 Hotel is a luxurious 4-star hotel located in the heart of New Orleans, just 1.4 km away from the Morial Convention Center. Featuring an outdoor swimming pool and a terrace, this hotel offers air-conditioned rooms with free WiFi and private bathrooms. The hotel also provides guests with a restaurant, bar, 24-hour front desk, ATM, and luggage storage facilities. Each room is equipped with a flat-screen TV with satellite channels and a safety deposit box for added convenience. Guests can enjoy buffet or continental breakfast options every morning at One11 Hotel before exploring nearby attractions such as Union Station and Mercedes-Benz Superdome.
– Convenient location near Morial Convention Center
– Outdoor swimming pool and terrace
– Free WiFi in all rooms
– Restaurant and bar on site
– Buffet/continental breakfast options available
Roami at Factors Row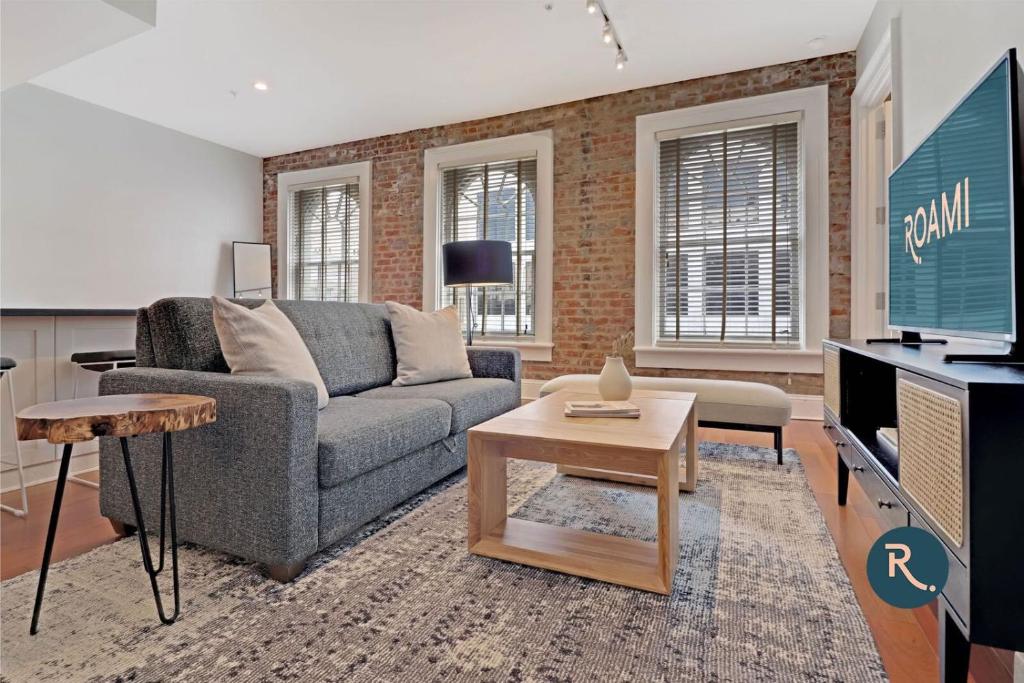 Roami at Factors Row is a luxurious hotel located in the heart of New Orleans, Louisiana. It features fully-equipped kitchens, two flat-screen cable TVs, and central air conditioning. The hotel offers free WiFi throughout the property as well as access to a sun terrace and fitness centre. Guests can enjoy comfortable accommodations that include seating areas with dining sections, private bathrooms with complimentary toiletries and hairdryers, along with washing machine, tumble dryer and ironing facilities. The kitchen in each unit has a dishwasher, coffee machine, stovetop and oven for convenience.
– Prime location near Bourbon Street
– Free WiFi throughout the property
– Access to sun terrace and fitness centre
– Fully-equipped kitchens in all units
– Modern amenities like flat-screen TVs and iPod docking stations
New Orleans Luxury Boutique Hotels
New Orleans is home to a diverse range of luxury boutique hotels, each with distinctive character and charm. From historic properties to modern designs, these hotels offer unique accommodations and personalized service for a truly memorable stay.
Grenoble House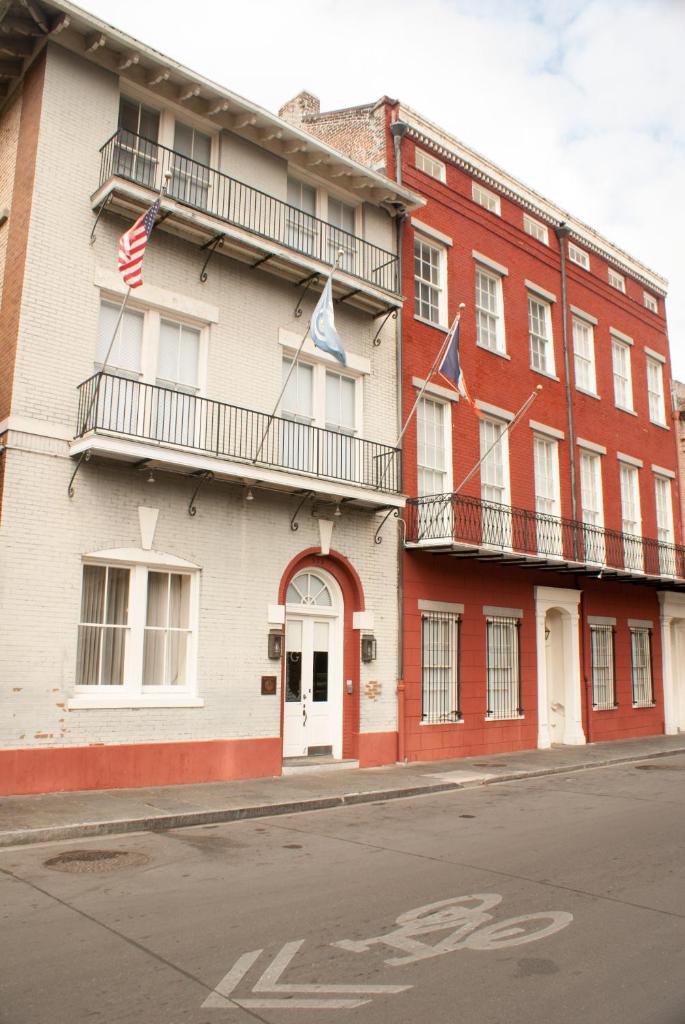 Grenoble House is a historic hotel located in New Orleans that has received superb guest reviews. This nineteenth-century town home offers modern amenities and is conveniently situated within walking distance of popular Bourbon Street. Guests can enjoy the comfort of having a full kitchen with modern appliances and kitchenware in each suite. The hotel also features a refreshing outdoor swimming pool in a large courtyard, along with additional amenities such as cable TV, work desks, and free wireless internet throughout the property. For those attending events or conferences, Ernest Morial Convention Centre and the Mercedes-Benz Superdome are both just 1.5 miles away from Grenoble House.
– Superb guest reviews
– Full kitchen equipped with modern appliances
– Large courtyard with an outdoor swimming pool
– Free wireless internet accessible throughout the property
– Convenient location near popular attractions
New Orleans Boutique Hotels Information
| | |
| --- | --- |
| 🛎️ Boutique Hotels in New Orleans | 10 |
| 💵 Hotels Prices From | $249 |
| 💵 Highest price | $1250 |
| 🥇 Average Review Score | 9/10 |
| 🛏️ Average number of Rooms | 97 |
Top Boutique hotels in New Orleans
| | |
| --- | --- |
| Auld Sweet Olive Bed and Breakfast | 9.4/10 |
| Travelers New Orleans | 9.3/10 |
| Audubon Cottages | 9.2/10 |
| Roami at Factors Row | 9.2/10 |
| Grenoble House | 9.1/10 |
FAQ
What are some of the best boutique hotels in New Orleans?
New Orleans is home to several boutique hotels that offer a unique and luxurious experience. One of the top-rated boutique hotels is the Henry Howard Hotel, which boasts historic charm and modern amenities. Another great option is The Old No. 77 Hotel & Chandlery, located in a restored 19th-century warehouse with chic industrial-style decor and upscale dining options.
How much do boutique hotels in New Orleans typically cost per night?
Boutique hotels in New Orleans vary greatly in price depending on the location, amenities, and time of year. On average, guests can expect to pay anywhere from $150-$400 per night for a boutique hotel in this city.
What amenities do most boutique hotels offer?
Boutique hotels typically offer high-end amenities such as plush bedding, gourmet dining options, spa services, concierge services, and personalized attention to detail that larger chain hotels may not prioritize.
Are boutique hotels centrally located in New Orleans?
Many of the top-rated boutiqueshotels are located within walking distance of popular attractions such as Bourbon Street or Jackson Square. However, it's important to research each specific hotel's location before booking to ensure that it meets your desired proximity to certain areas or landmarks.
Can you recommend any romantic boutique hotels for couples visiting New Orleans?
For couples looking for a romantic getaway in New Orleans, the Maison de la Luz offers opulent rooms with vintage touches such as four-poster beds and clawfoot tubs. The Catahoula Hotel also offers cozy private rooms with vintage furnishings set against a backdrop of vibrant local art installations perfect for romance seekers.
Popular Boutique Hotels destinations