Welcome to the enchanting city of Cusco, Peru, where history and luxury intertwine seamlessly in the realm of boutique accommodations. Nestled amidst the majestic Andes Mountains, Cusco beckons travelers with its rich cultural heritage and awe-inspiring landscapes. Prepare to be captivated by a selection of unique and intimate lodgings that epitomize elegance and exclusivity.
In this pulsating city, boutique hotels serve as your gateway to an extraordinary experience steeped in Peruvian charm. These intimate hideaways offer an exquisite alternative to traditional chain hotels, immersing guests in a world where attention to detail reigns supreme. Each property boasts its distinct personality, characterized by meticulous design elements that celebrate local traditions and craftsmanship. From refurbished colonial mansions adorned with vibrant Peruvian textiles to contemporary havens boasting sleek minimalist aesthetics, Cusco's boutique hotels cater to discerning travelers seeking a refined escape.
Indulge in personalized service that goes above and beyond expectations as you embark on a journey through time and culture within the walls of these carefully curated gems. Immerse yourself in authentic Peruvian flavors at gourmet restaurants showcasing indigenous ingredients or unwind with a rejuvenating spa treatment inspired by ancient Inca techniques. Whether you choose to explore the historic sites of Machu Picchu or wander through local markets brimming with colorful handicrafts, returning each evening to your sanctuary-like boutique hotel will be nothing short of a transcendent experience.
Join us as we embark on an exploration of Cusco's most remarkable boutique hotels—a celebration of unparalleled luxury intertwined with Peruvian hospitality—promising memories that will linger far beyond your stay.
Best Boutique Hotels in Cusco
Tambo del Arriero Hotel Boutique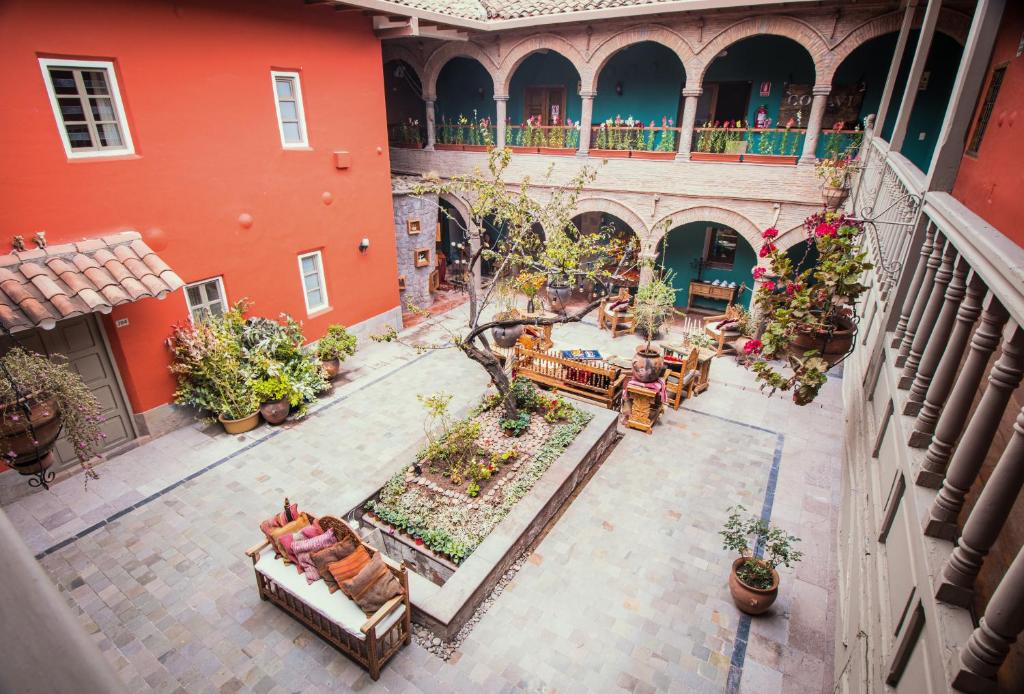 Tambo del Arriero Hotel Boutique is a charming colonial boutique hotel located in the Nueva Alta neighborhood, just 5 blocks from the main square of Cusco. This hotel offers spacious rooms decorated with a warm mix of wood, creating a cozy atmosphere. Each room is equipped with an LCD TV, iPod Docking Station, heating, and a work desk. For added luxury, some rooms feature a jacuzzi and a private garden. The hotel provides free WiFi and offers various services such as arranging tours, laundry and dry cleaning facilities, and a convenient 24-hour front desk. Additionally, its prime location puts it only 2 blocks away from San Pedro market and just a 15-minute drive from Velasco Astete Airport.
– Spacious rooms with cozy wooden decor
– Jacuzzi and private garden in select rooms
– Convenient location near the main square of Cusco
– Free WiFi for guests' convenience
– Services include tour arrangements and laundry/dry cleaning facilities
El Balcón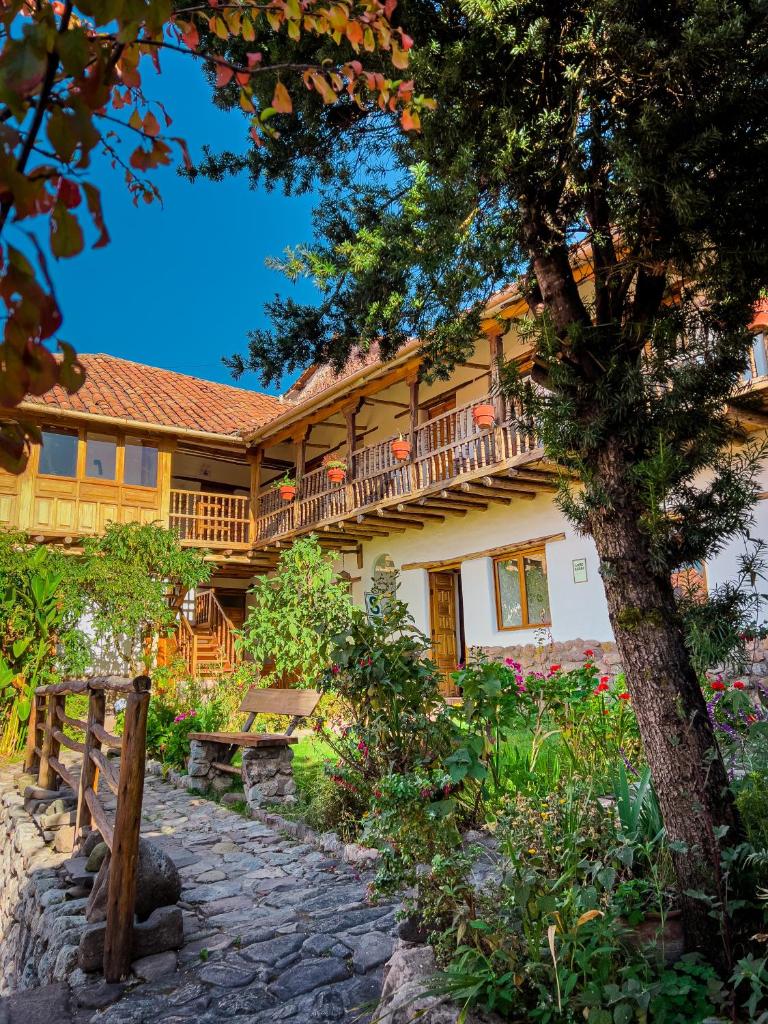 Located in a beautifully renovated pre-colonial house from 1630, El Balcón is a luxury boutique hotel in Cusco that offers guests a charming and unique experience. With its terraced garden and stunning views of the city from every room, it provides the perfect setting for relaxation and exploration. The hotel can also arrange Machu Picchu excursions and massage sessions for those looking to further enhance their stay. The rooms at El Balcón are adorned with natural fabrics, tapestries, and regional decor details, creating an authentic and cozy atmosphere. Some rooms even feature private balconies and seating areas with intricately crafted furniture and rustic pillars. Guests can start their day by enjoying a Continental breakfast before venturing out to explore the nearby Saqsaywaman archeological site or simply take in the panoramic views of picturesque Cusco and the Andean scenery from the rustic wood gallery balconies while sipping on Coca tea.
– Renovated pre-colonial house with historic charm
– Terraced garden with stunning city views
– Authentic regional decor in rooms
– Convenient location near Saqsaywaman archeological site
– Amenities such as free Wi-Fi and laundry services available
Rumi Wasi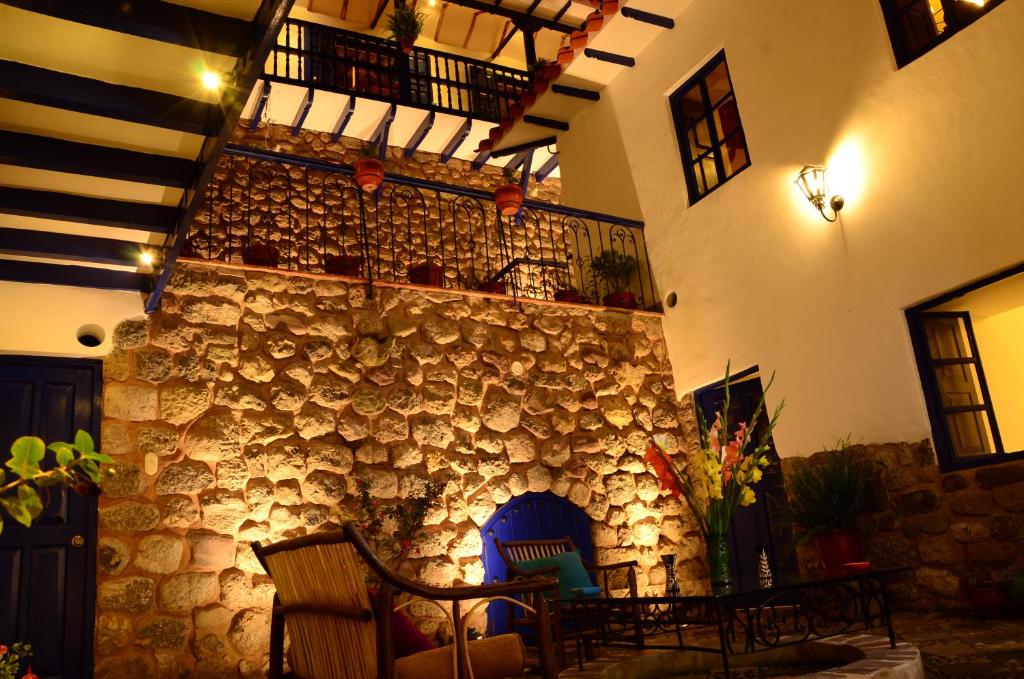 Located just two blocks away from Cusco's main square, Rumi Wasi is a charming boutique hotel that offers a unique blend of chic regional decor and comfortable accommodations. Housed in a Colonial house built with rustic exposed stones, dark wood furnishings, and red-tiled floors, the hotel exudes an authentic charm that will transport guests back in time. The rooms are well-appointed with modern amenities such as flat-screen TVs and private bathrooms with showers and free toiletries. To add to the luxurious experience, all rooms are scented with natural essences. Guests can unwind in the picturesque colonial courtyard or enjoy a complimentary cocktail upon arrival. The hotel also serves a delectable buffet breakfast featuring tropical fruits every morning, and room service is available for those seeking ultimate convenience. Additionally, Rumi Wasi offers shuttle services to Velazco Astete Airport, which is just 5 km away.
– Convenient location near Cusco's main square
– Stylish regional decor
– Complimentary cocktails upon arrival
– Picturesque colonial courtyard for relaxation
– Shuttle services to the airport
Other places to stay in Cusco
Boutique Hotels in Downtown Cusco
Downtown Cusco is peppered with charming boutique hotels, offering travelers a unique and intimate experience in the heart of the city. These characterful accommodations capture the essence of Cusco's rich history and culture, providing guests with personalized service and an immersive stay.
Unaytambo Boutique Hotel Cusco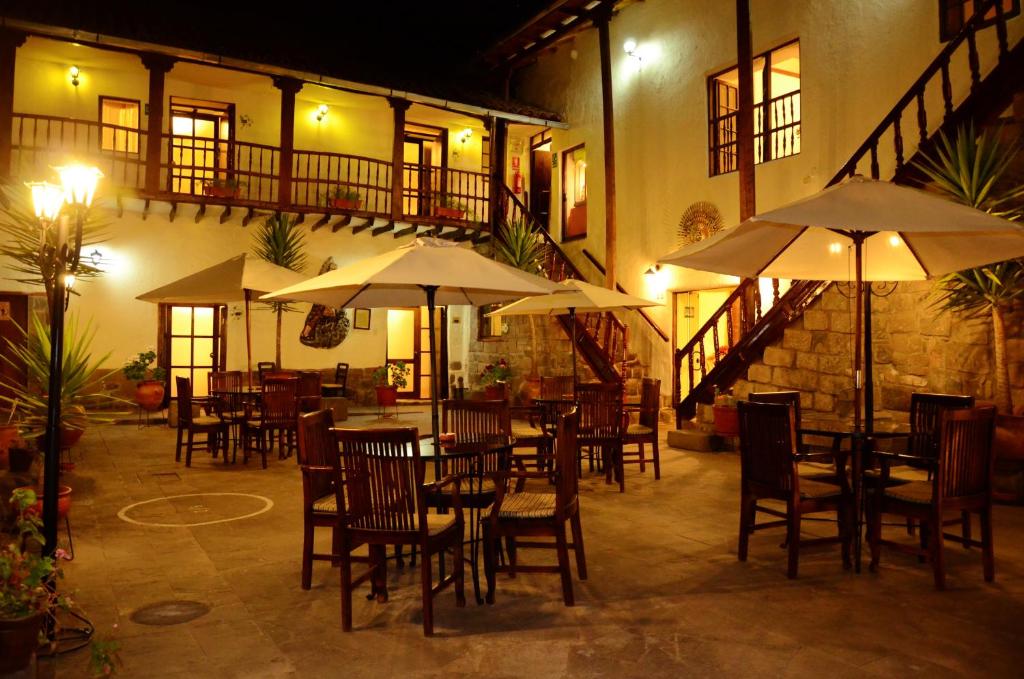 Located just 600 meters from Plaza de Armas, Unaytambo Boutique Hotel Cusco is a charming boutique hotel housed in a large colonial-style building. The rooms are beautifully decorated with wooden furniture and Spanish-inspired décor, and each room boasts a private balcony with stunning city views. Guests can enjoy free Wi-Fi throughout the property, as well as amenities such as minibars and plasma TVs in the rooms. Start your day off right with a delicious buffet breakfast featuring organic products. Take advantage of the hotel's terrace to unwind and soak in the atmosphere or visit the tour desk to book exciting excursions. The Koricancha Museum is conveniently located just 400 meters away, and for added convenience, the 24-hour front desk can arrange shuttles to Velasco Astete Airport which is only 4.8 km away.
– Convenient location near Plaza de Armas
– Charming colonial-style décor
– Private balconies with city views
– Delicious buffet breakfast with organic products
– Helpful and attentive staff at the 24-hour front desk
Andean Wings Boutique Hotel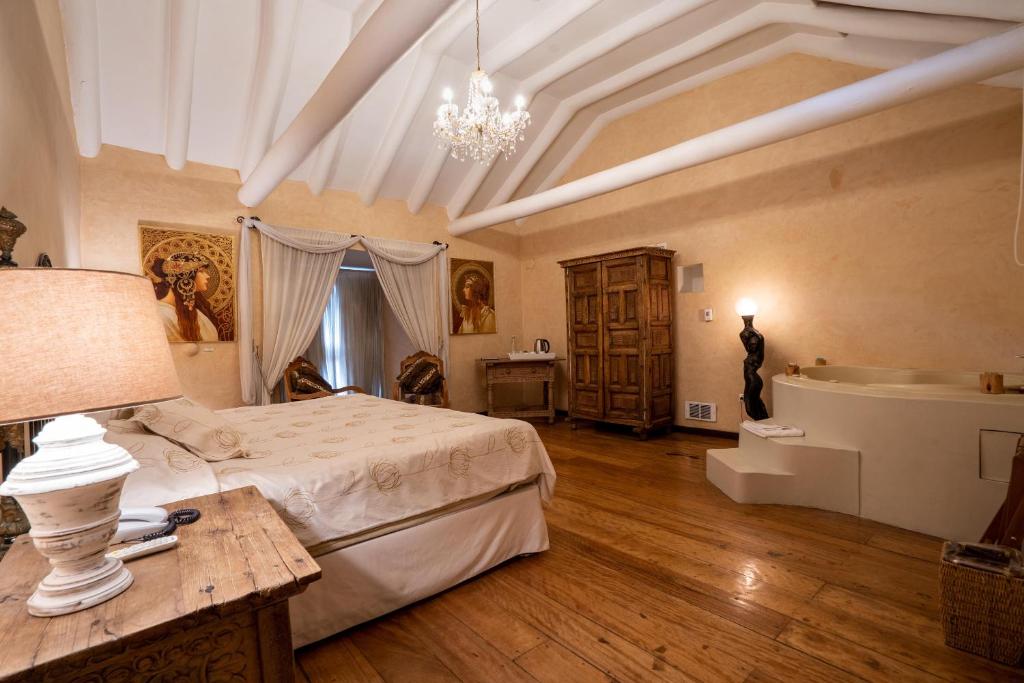 Located in a beautifully renovated colonial house in the historic city of Cusco, Andean Wings Boutique Hotel offers an intimate and luxurious boutique-style accommodation. Just 200 meters from Cusco city center, this hotel provides easy access to all the attractions and landmarks of the city. The hotel's patio restaurant serves a delightful blend of traditional Peruvian cuisine and international dishes. For those looking to take home a piece of Peruvian artistry, the hotel offers its designer décor elements for purchase upon request. Each tastefully decorated room showcases unique Peruvian features and is equipped with modern amenities such as flat screen TVs with cable reception, minibars, and private bathrooms with hairdryers. Guests can also enjoy Wi-Fi connection throughout the property. The hotel's prime location allows guests to embark on the famous Inca Trail to Machu Picchu right from Cusco or explore lesser-known ruins like Inca Wasi and Old Vilcabamba nearby. Alejandro Velasco Astete International Airport is conveniently located just 5 km away from Andean Wings Boutique Hotel.
Pros:
– Intimate boutique-style accommodation
– Renovated colonial house in historical Cusco
– Patio restaurant serving traditional and international cuisine
– Unique opportunity to purchase designer décor elements
– Convenient location for exploring popular sites like Machu Picchu or lesser-known ruins nearby
Hotel Encantada Casa Boutique Spa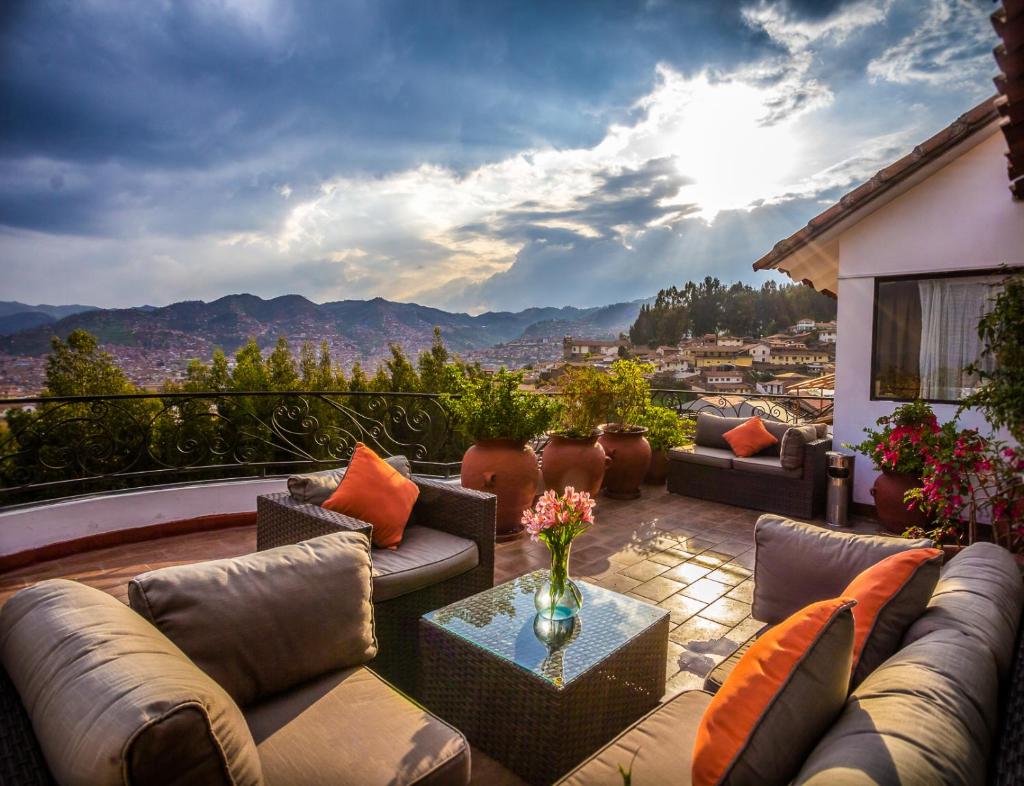 Hotel Encantada Casa Boutique Spa is a centrally located luxury hotel in the heart of Cusco. With its stunning bar and terrace boasting panoramic mountain views, guests can enjoy a relaxing and scenic retreat. The hotel also offers a cafeteria serving delicious meals and refreshing drinks. Conveniently situated within walking distance of popular attractions such as the Main Square, La Compañía Church, and Hatun Rumiyoc Street, guests have easy access to explore the beauty of Cusco. Additionally, the spa at Hotel Encantada features a hot tub and massage facilities for ultimate relaxation. Guests can unwind in the peaceful garden or cozy up by the fireplace in the spacious lounge. The hotel provides free Wi-Fi throughout, ensuring guests stay connected during their visit. For those seeking adventure, Sacsayhuaman National Park is only 2 km away from Cusco.
– Centrally located in Cusco
– Stunning bar and terrace with panoramic mountain views
– Cafeteria serving delicious meals and drinks
– Spa with hot tub and massage facilities
– Free Wi-Fi throughout
Cusco 5 Star Boutique Hotels
Cusco is a destination known for its rich history and stunning landscapes, making it an ideal location for luxury boutique hotels. These 5-star accommodations offer an intimate and personalized experience, combining modern comforts with traditional Peruvian charm.
Aranwa Cusco Boutique Hotel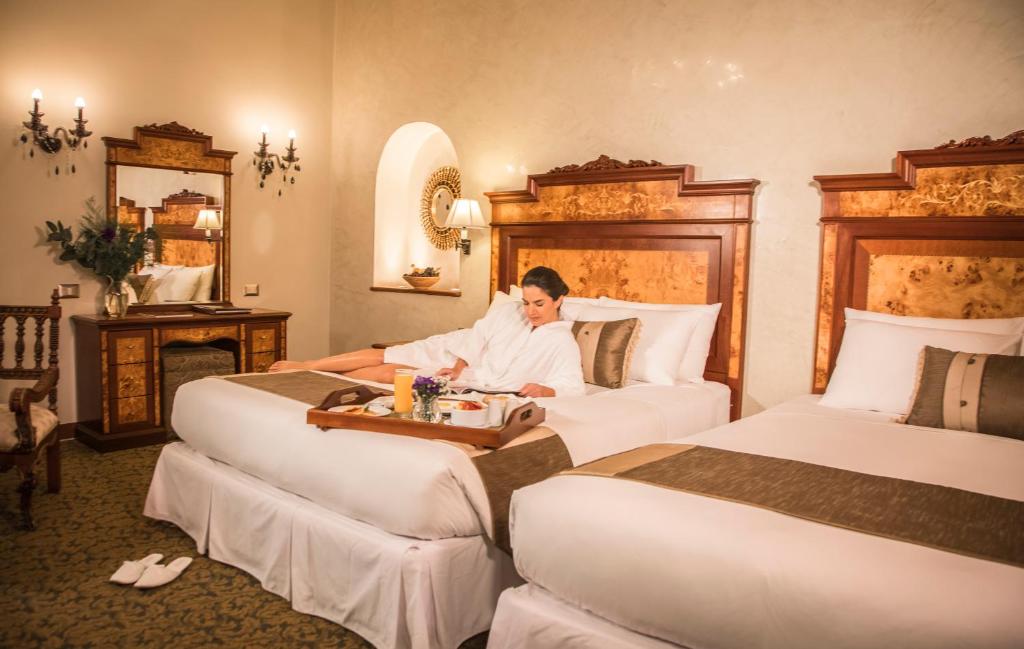 Located in downtown Cuzco, Aranwa Cusco Boutique Hotel is a luxurious 5-star hotel housed in a beautifully refurbished sixteenth century mansion, declared a National Historic Monument in 1980. The regal interiors are adorned with elegant antiques and sparkling crystal chandeliers, creating an atmosphere of opulence. The spacious suites offer guests the ultimate comfort with lavish upholstery, wall frescoes, and fresh lily bouquets. Indulge in the creative Peruvian flavors served at Mishti Gourmet Restaurant or enjoy tapas and pisco-based cocktails at Khasikay Bar. The hotel provides free WiFi access and all rooms come equipped with intelligent oxygen systems and marbled bathrooms featuring circular hot tubs. Guests can also book personalized city tours of Cuzco to explore its rich history and vibrant culture. Start your day off right with a delicious breakfast including fresh fruit salad, omelettes, and chocolate cakes. Conveniently located just two blocks from Plaza de Armas and thirty minutes from Velasco Astete International Airport, Aranwa Cusco Boutique Hotel is the perfect choice for those seeking luxury accommodations in the heart of Cuzco.
– Beautifully refurbished sixteenth century mansion
– Elegant regal interiors decorated with antiques
– Spacious suites with luxurious upholstery
– Creative Peruvian flavors at Mishti Gourmet Restaurant
– Convenient location near Plaza de Armas
Atiq Boutique Hotel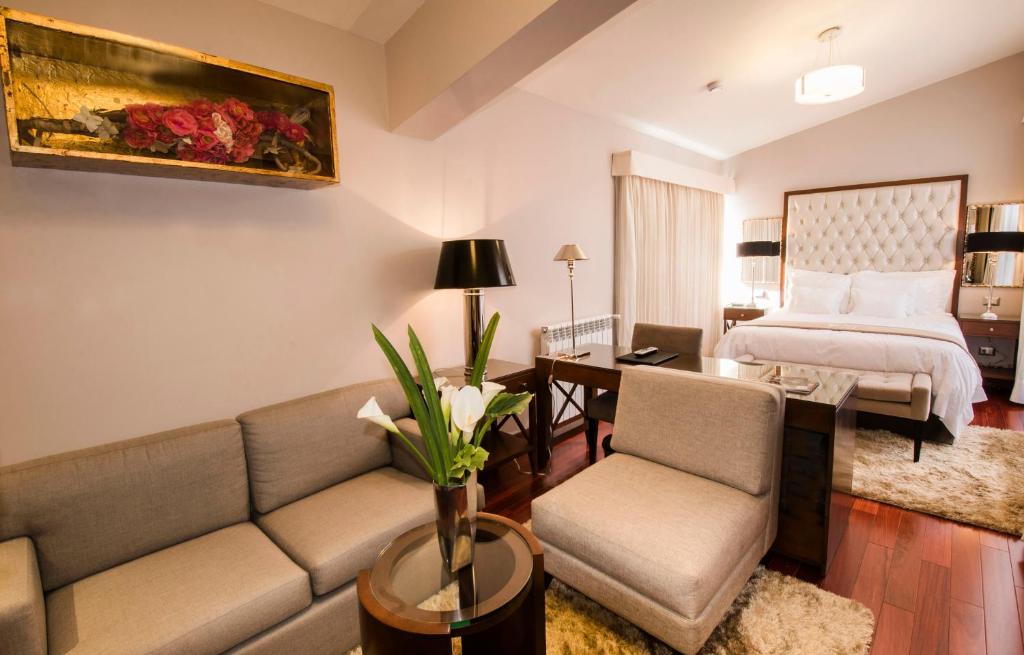 Atiq Boutique Hotel in Cusco offers a contemporary design and comfortable accommodations. Guests can enjoy the convenience of a restaurant, complimentary breakfast, and free WiFi access. The hotel features a 24-hour front desk, currency exchange service, room service, laundry service, and a terrace. The rooms are well-appointed with private bathrooms, minibars, sitting areas, and flat-screen TVs. Some rooms even offer hot tubs and satellite channels. Additional amenities include a tour desk, car rental services, and luggage storage. Located just 20 meters from the Qorikancha Temple, some rooms provide stunning views of both the temple and the Temple of the Sun. The Main Square of Cusco is only 200 meters away while Wanchaq Train Station is just 300 meters away. Alejandro Velasco Astete International Airport is conveniently located only 3 kilometers from the property with airport shuttle services available at no extra cost.
– Contemporary design
– Complimentary breakfast
– Free WiFi access
– Prime location near popular attractions
– Convenient airport shuttle service
Casona Corrales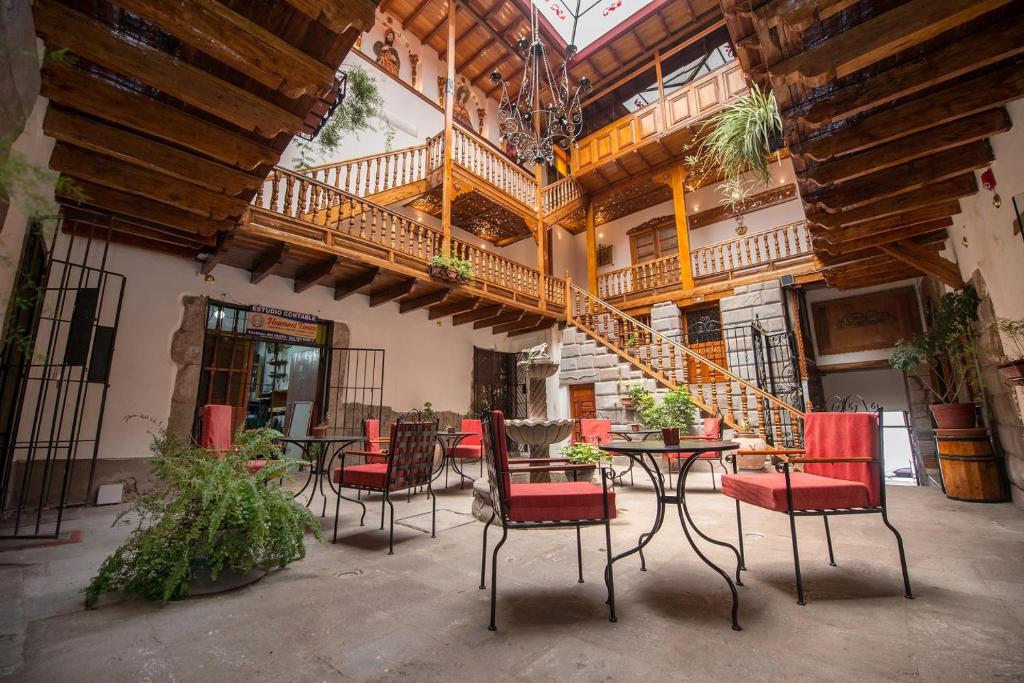 Opened in September 2019, Casona Corrales is a luxurious 4-star hotel situated in the stunning city of Cusco. Guests can enjoy a delightful buffet breakfast and make use of the free WiFi throughout the property. The hotel offers excellent room service and a 24-hour front desk for added convenience. The rooms are beautifully designed with a desk, private bathroom with shower and complimentary toiletries, flat-screen TV, air conditioning, and some even feature balconies. A fridge is also provided in all guest rooms. Guests can indulge in cycling activities around Cusco or explore nearby attractions such as the Cathedral of Cusco, Cusco Main Square, and Santa Catalina Convent. With its non-smoking policy and proximity to Wanchaq Train station (2.6 km) and Alejandro Velasco Astete International Airport (5 km), Casona Corrales promises an unforgettable luxury boutique hotel experience.
– Recently opened (September 2019)
– Buffet breakfast included
– Free WiFi throughout the property
– Balcony rooms available
– Convenient location for exploring popular attractions
Cusco Luxury Boutique Hotels
Cusco Luxury Boutique Hotels offer an exclusive and refined experience, blending modern comfort with the rich cultural heritage of the city. These carefully curated accommodations provide personalized service and attention to detail, ensuring an unforgettable stay for discerning travelers.
Tocuyeros Boutique Hotel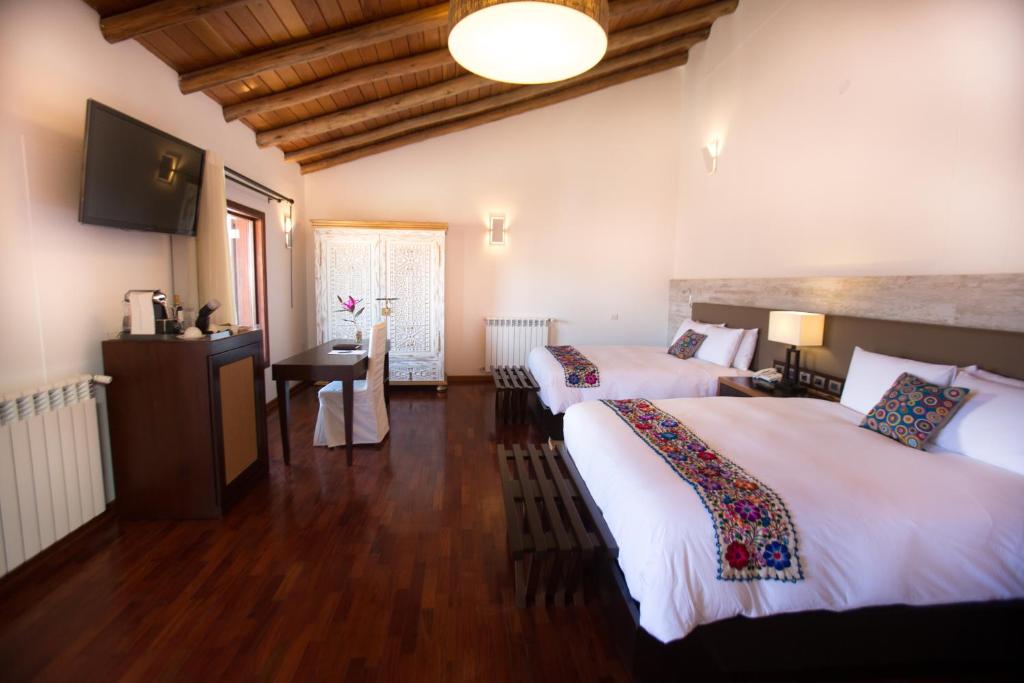 Located in the vibrant San Blas neighborhood of Cusco, Tocuyeros Boutique Hotel offers a luxurious and tranquil retreat for its guests. This boutique hotel features a beautiful garden, a cozy bar, and picturesque views of the surrounding greenery. The Main Square is just a short 5-minute walk away, making it conveniently located for exploring the city's attractions. The hotel offers a range of amenities including a restaurant, 24-hour front desk, and shared lounge area, all complete with complimentary WiFi. Each room at Tocuyeros Boutique Hotel comes with modern furnishings and includes a private bathroom equipped with a hair dryer and free toiletries. Guests can enjoy the hotel's terrace for relaxation or take advantage of the concierge service, tour desk, and currency exchange available on-site. A flat-screen TV with satellite channels is provided in every guest room for entertainment purposes. Additionally, guests can indulge in either continental or buffet breakfast options during their stay. Nearby points of interest include Santa Catalina Convent, Holy Family Church, and San Blas Church – all within walking distance from the hotel. For convenience, Alejandro Velasco Astete International Airport is just 5 km away from Tocuyeros Boutique Hotel; an airport shuttle service is also available upon request (additional fees apply).
– Prime location in the charming San Blas neighborhood
– Beautiful garden setting with serene atmosphere
– Modern rooms featuring luxurious amenities
– Convenient access to popular attractions within walking distance
– Helpful concierge service and tour desk to assist guests' needs
Cusco Boutique Hotels Information
| | |
| --- | --- |
| 🛎️ Boutique Hotels in Cusco | 10 |
| 💵 Hotels Prices From | $116 |
| 💵 Highest price | $1333 |
| 🥇 Average Review Score | 8.9/10 |
| 🛏️ Average number of Rooms | 17 |
Top Boutique hotels in Cusco
| | |
| --- | --- |
| Tocuyeros Boutique Hotel | 9.4/10 |
| Tambo del Arriero Hotel Boutique | 9.2/10 |
| Rumi Wasi | 9.2/10 |
| Aranwa Cusco Boutique Hotel | 9.1/10 |
| Unaytambo Boutique Hotel Cusco | 9/10 |
FAQ
What are boutique hotels in Cusco?
Boutique hotels in Cusco are smaller, stylish accommodations that offer a unique and personalized experience for travelers seeking luxury and exclusivity. These hotels typically have a limited number of rooms, often themed or designed with attention to detail, and provide exceptional service to ensure guests feel pampered during their stay.
Where can I find boutique hotels in Cusco?
Cusco is home to several boutique hotels scattered throughout the city center. Some popular areas where you can find these accommodations include the historic district near Plaza de Armas, San Blas neighborhood known for its artistic charm, and the Sacred Valley region just outside of Cusco. Each area offers a different atmosphere and proximity to key attractions, so you can choose based on your preferences.
What amenities do boutique hotels in Cusco provide?
Boutique hotels in Cusco pride themselves on offering a range of amenities that enhance guests' comfort and overall experience. These may include luxurious bedding and linens, spa facilities for relaxation after exploring the city or hiking Machu Picchu, gourmet dining options showcasing local cuisine, rooftop terraces with stunning views of the cityscape or mountains, concierge services for personalized recommendations and assistance with tours or transportation arrangements.
Are boutique hotels in Cusco suitable for families?
While boutique hotels generally cater more towards couples or solo travelers looking for an intimate setting, some establishments in Cusco also welcome families. It's important to check each hotel's policy regarding children before making a booking as they may have age restrictions or specific room configurations available to accommodate families. Additionally, communicating any special requirements ahead of time will ensure that the hotel can make necessary arrangements to cater to your family's needs.
Do boutique hotels in Cusco offer cultural experiences?
Yes! One of the highlights of staying at a boutique hotel in Cusco is the opportunity to immerse yourself in the local culture. Many boutique hotels organize cultural activities and experiences for their guests, such as cooking classes to learn traditional Peruvian recipes, Pisco tasting sessions, or guided tours that showcase the history and heritage of Cusco. These unique offerings allow you to truly connect with the destination and make your stay even more memorable.
Popular Boutique Hotels destinations