Welcome to Cozumel, Mexico – a tropical paradise nestled in the heart of the Caribbean Sea. If you're looking for an unforgettable getaway experience and want to indulge in luxury accommodations, then Boutique Hotels are the perfect option for you. These small yet stylish hotels offer personalized service, exquisite amenities, and unique design concepts that will make your stay truly remarkable.
Cozumel is home to several charming Boutique Hotels that cater to different tastes and preferences. From beachfront properties boasting stunning ocean views to intimate retreats nestled amidst lush greenery, there's something for everyone here. Each hotel has its distinct character with thoughtful touches such as handmade furnishings, local artwork, and custom-made linens providing a warm ambiance that will make you feel right at home.
Staying at a Boutique Hotel in Cozumel offers an unparalleled level of comfort and relaxation. Whether you're looking to unwind by the pool or soak up some sun on the beach while sipping on your favorite cocktail – these hotels have got you covered! So pack your bags and get ready for an unforgettable experience unlike any other!
Best Boutique Hotels in Cozumel
Kippal – Modern Oasis – ApartHotel
Kippal – Modern Oasis – ApartHotel is a newly opened apartment hotel located in Cozumel and offers free WiFi to its guests. The hotel features a beautiful garden, terrace, and a bar. The units are equipped with modern amenities such as air conditioning, flat-screen TV, washing machine, coffee machine, and a kitchen. Caletita Beach is just 2.6 km away from the aparthotel while Faro Celarain is approximately 33 km away. The nearest airport is Cozumel International Airport which is conveniently located just 2 km away.
– Modern amenities provided in all units
– Beautifully landscaped gardens
– Located close to popular beaches
– Conveniently close to the airport
Amaranto Bed and Breakfast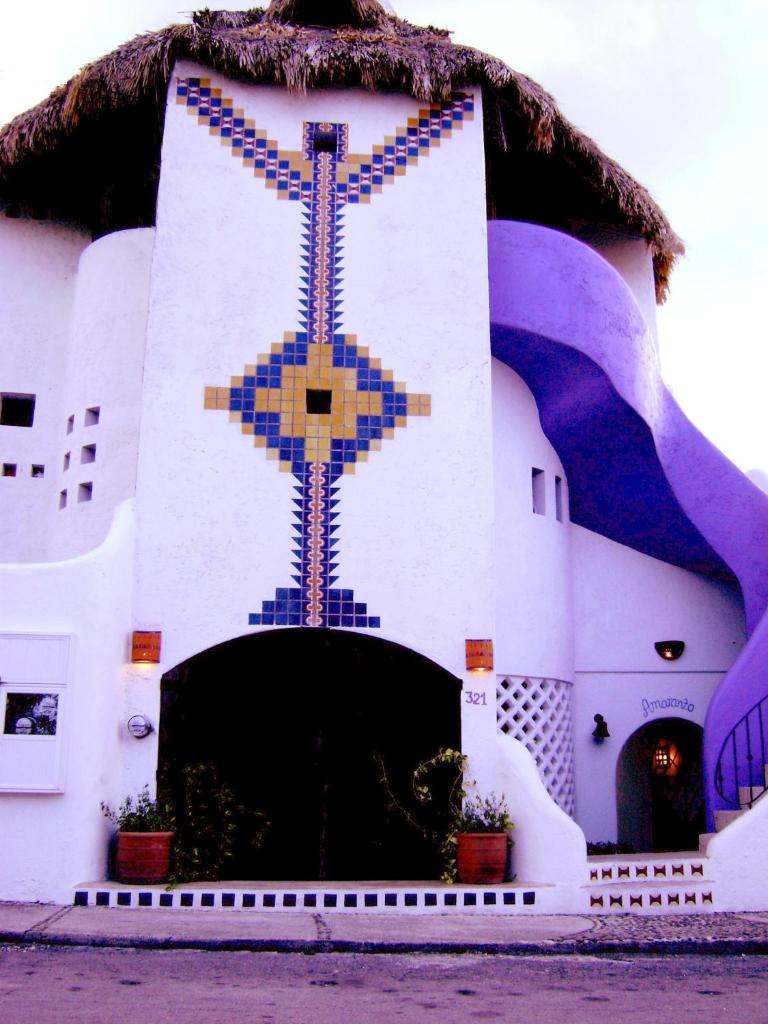 Located just 1 km from the Cozumel ferry dock, Amaranto Bed and Breakfast is a charming and cozy bungalow-style accommodation option for travelers looking to explore the area's stunning beaches and underwater world. The oval-shaped bungalows are equipped with all the necessary amenities such as cable TV, safes, kitchenettes, private bathrooms, and reliable Wi-Fi. Guests can also take advantage of scuba diving tour services offered by the staff who have extensive knowledge of the area and can provide helpful suggestions for activities, dining options, and more. Some pros of staying at Amaranto Bed and Breakfast include:
– Convenient location close to Cozumel ferry dock
– Scuba diving tours available on-site
– Knowledgeable staff with local expertise
– Cozy bungalow-style accommodations with all necessary amenities
– Wide range of restaurants serving international cuisine within walking distance
Hotel B Cozumel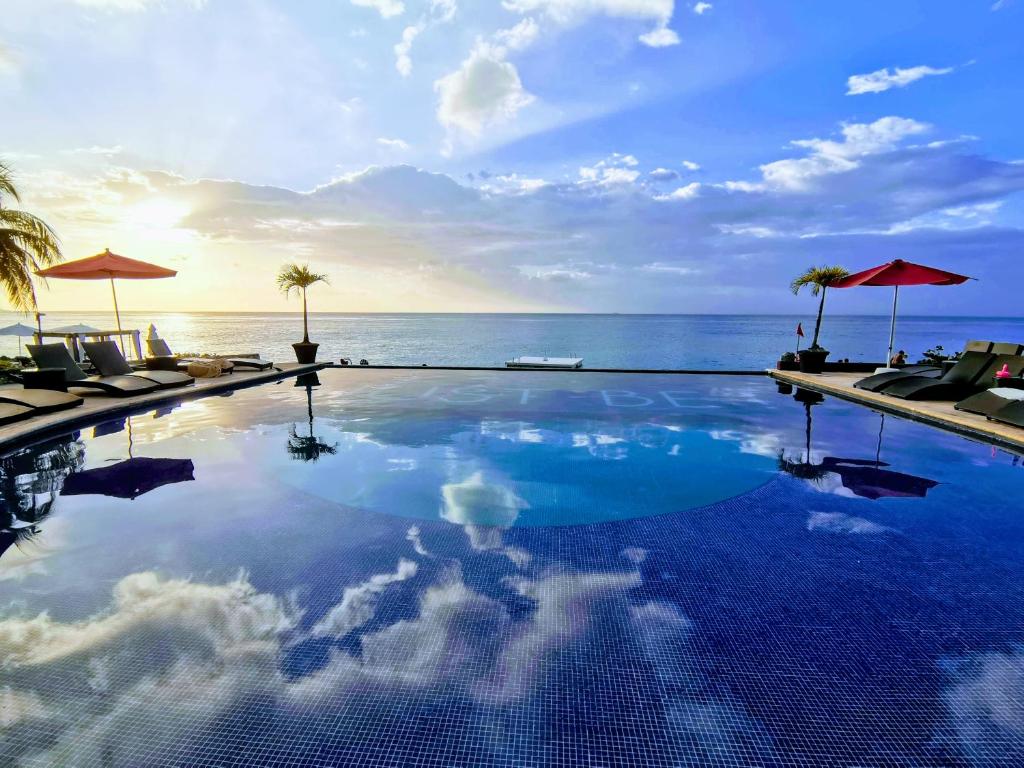 Hotel B Cozumel is a stylish hotel located just 5 km from Cozumel Airport, offering guests a seafront hot tub, infinity pool and private beach. Each air-conditioned room features free Wi-Fi and a private terrace with many rooms boasting ocean views and colourful touches. The hotel mixes modern design with typical Mexican artwork which is sold in the hotel shop. Additionally, the hotel's on-site diving shop can arrange diving and snorkelling trips for those looking to explore Cozumel Island's famous coral reefs. Other amenities include the Costeñito Bistro with an open-air terrace for dining overlooking the bay, outdoor lounge bar for evening drinks, Heel spa offering relaxation and beauty treatments including traditional Mayan massages, as well as yoga or meditation on the terrace.
– Seafront hot tub
– Private beach access
– On-site diving shop
– Heel spa offering relaxation and beauty treatments
– Yoga or meditation on the terrace
Other places to stay in Cozumel
Boutique Hotels in Downtown Cozumel
Boutique hotels in Downtown Cozumel offer guests a unique and personalized experience. With their intimate atmosphere, attention to detail, and stylish design, these hotels are perfect for travelers seeking a more authentic and local stay.
Villa Segovia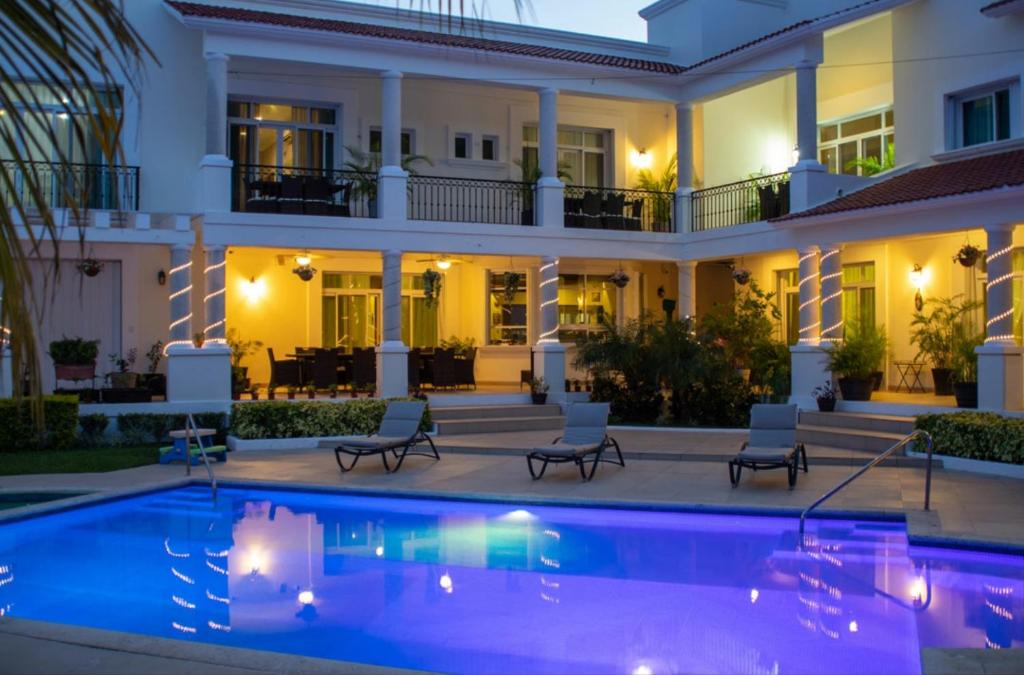 Villa Segovia is a charming bed and breakfast located only 33 km from Faro Celarain. The property boasts a seasonal outdoor swimming pool, lush gardens, and air-conditioned accommodations with patios and free WiFi. Each unit features a private terrace providing beautiful views of the garden, as well as a cable flat-screen TV, sitting area, fully equipped kitchenette, and private bathroom with shower and complimentary toiletries. Guests can enjoy à la carte, continental or American breakfast options each morning – all made fresh daily. For those looking to explore the area by bike or car rental services are available on-site. Alternatively guests can take advantage of the great cycling routes nearby. Pros:
– Seasonal outdoor swimming pool
– Lovely gardens
– Well-equipped accommodations
– Great breakfast options
– Close proximity to airport
Grand Velas Riviera Maya – All Inclusive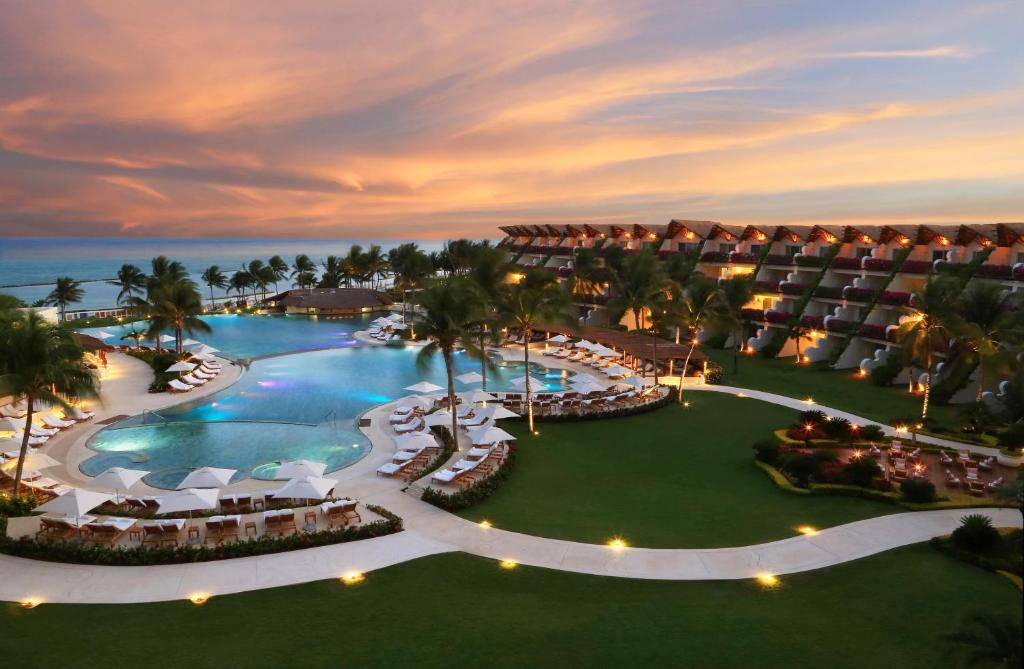 Grand Velas Riviera Maya is an all-inclusive luxury resort located in the breathtaking natural surroundings of the Riviera Maya. With stunning views of the Caribbean Sea, this resort offers a sophisticated yet carefree atmosphere where guests can unwind and indulge in all that the Caribbean lifestyle has to offer. The resort boasts world-class cuisine created by talented chefs, as well as traditional wellness rituals at SE Spa to soothe your body and mind. For families, there are endless activities to enjoy together, while couples can relish romantic moments in dream-like settings. Overall, Grand Velas Riviera Maya promises a truly luxurious experience that you'll never forget.
– Stunning views overlooking the Caribbean Sea
– World-class cuisine created by talented chefs
– Traditional wellness rituals at SE Spa
– Endless activities for families
– Dream-like settings for romantic moments
Hotel Xcaret Arte – All Parks All Fun Inclusive – Adults Only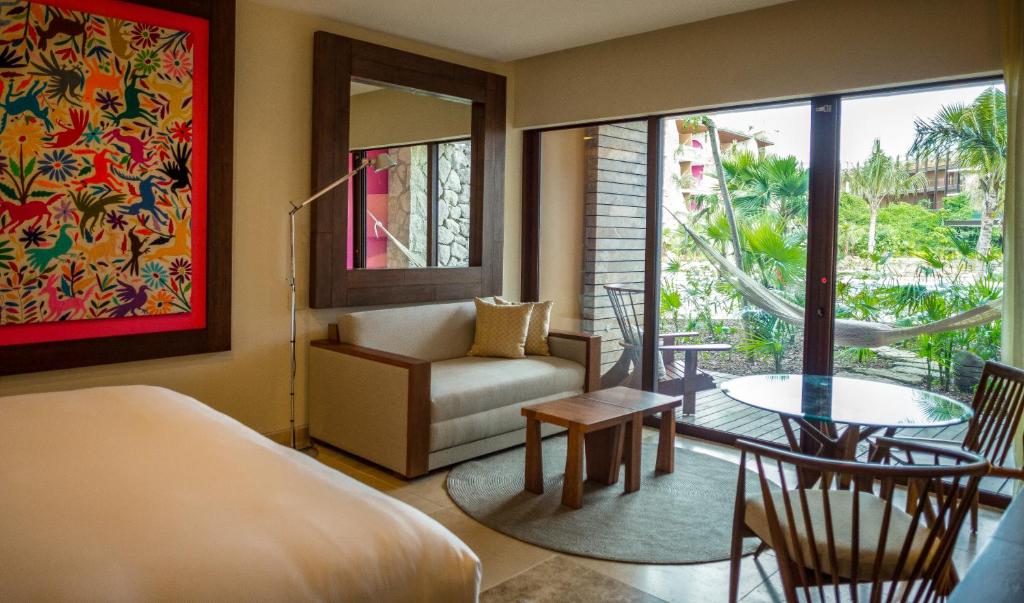 Hotel Xcaret Arte – All Parks All Fun Inclusive – Adults Only is a luxurious 5-star hotel located in Playa del Carmen, just 8.8 km away from the Playa del Carmen Maritime Terminal. This hotel offers guests free bikes, free private parking, and a variety of amenities including a fitness center, garden, restaurant, terrace, sauna and hot tub. Guests can enjoy playing tennis or cycling in the surrounding area. Each guest room comes equipped with air conditioning and a wardrobe with some rooms offering sea views and balcony access. The daily breakfast options include buffet, à la carte or continental options.
Pros:
– Luxurious 5-star hotel
– Offers guests all-inclusive amenities including access to parks
– Variety of activities available such as tennis and cycling
– Some rooms offer stunning sea views
– Located within close proximity to popular attractions
Cozumel 5 Star Boutique Hotels
Cozumel is an island in the Caribbean Sea, near Mexico's Yucatan Peninsula. It boasts several luxurious boutique hotels that offer top-notch accommodations and amenities for guests looking for a high-end vacation experience.
Hacienda San Miguel Hotel & Suites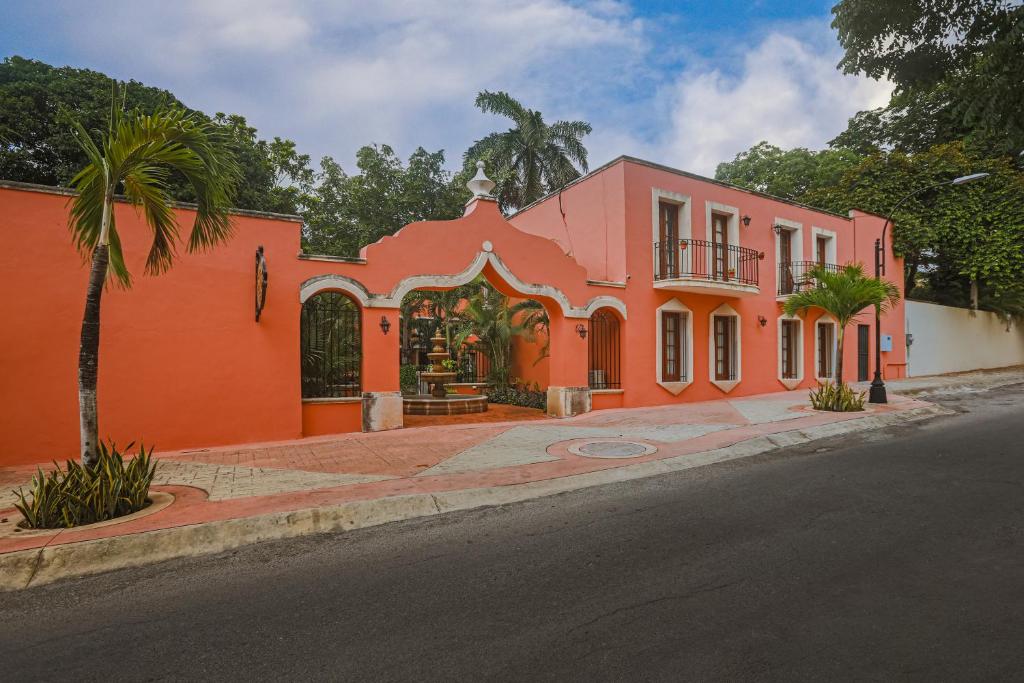 Hacienda San Miguel Hotel & Suites in Cozumel, Mexico is located in an exclusive district and just steps from pristine beaches. The hotel offers spacious accommodations furnished with full kitchens, allowing guests to prepare their own meals. Other amenities include coffee/tea service available at the front desk, free wireless internet access, and a tranquil courtyard garden. Additionally, guests can easily access various activities such as fishing, boating and unrivaled diving locations along with numerous restaurants and shops at walking distance from the hotel.
– Spacious accommodations with full kitchens
– Tranquil courtyard garden
– Easy access to area attractions
– Free wireless internet access
– Steps away from pristine beaches
El Dorado Casitas Royale, Gourmet Inclusive Resort & Spa by Karisma – All Inclusive – Adults Only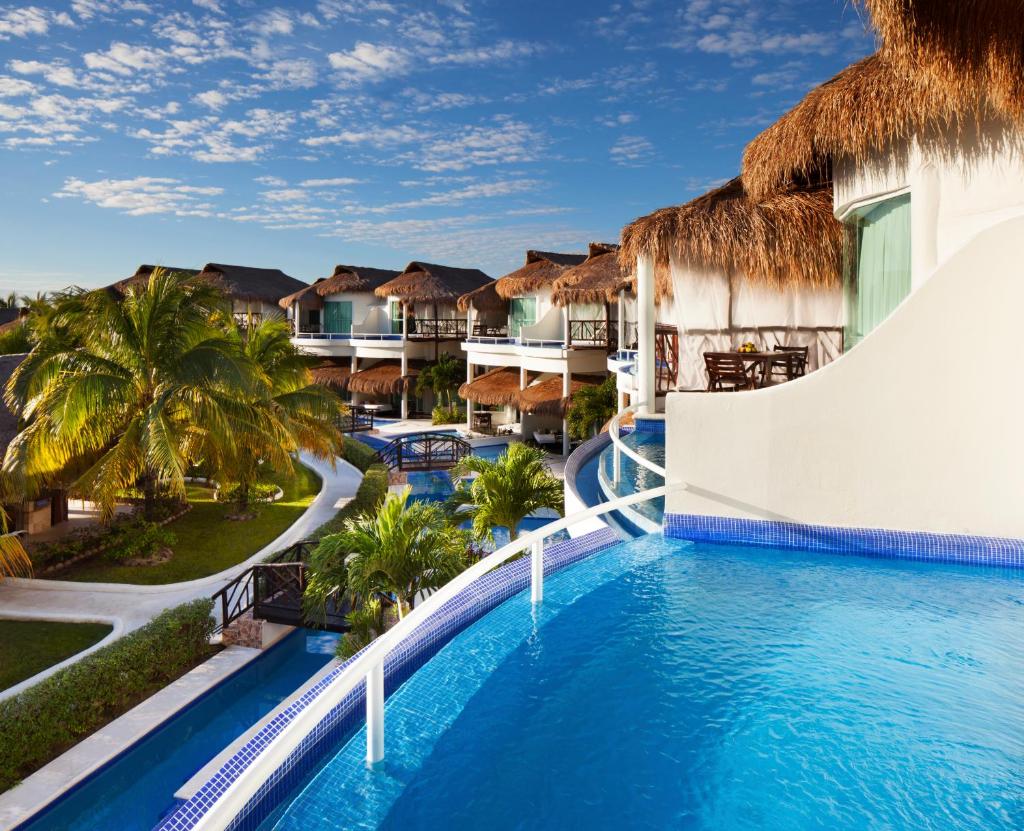 El Dorado Casitas Royale is a luxurious, all-inclusive resort located in Riviera Maya, Mexico. This adults-only retreat boasts 13 swimming pools and the Gourmet Inclusive Experience, which offers guests access to an array of delectable cuisines from around the world through its 10 specialty restaurants. Guests can indulge in personal concierge services from 08:00 until 17:00 and enjoy their elegant and lavishly appointed suites, complete with a DVD and CD library, pillow menu, and aromatherapy scents delivered straight to their room. The resort also features Naay Spa – divided into two facilities including Spa Royale at the centre of the property and Spa Casitas spread across a sprawling 20,000 sq-ft area – that offers an extensive menu of traditional and alternative spa treatments along with Bonanza Ranch's guided horseback tours through the jungle.
– Gourmet Inclusive Experience offering access to various cuisines.
– Personal concierge services available for guests.
– Lavish suites with unique amenities such as DVD/CD libraries.
– Two Naay Spas on-site featuring diverse treatments.
– Guided horseback tours offered by Bonanza Ranch.
The Royal Haciendas Resort & Spa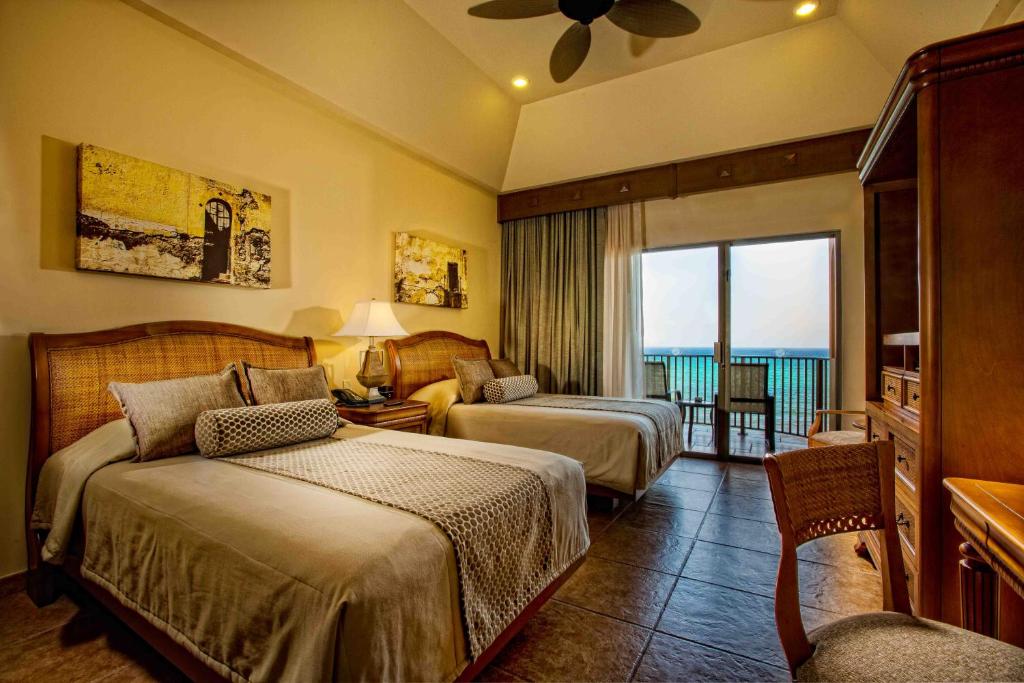 The Royal Haciendas Resort & Spa is a luxurious resort situated along the Mayan Riviera, boasting tropical gardens and exclusive beachfront access. The complex offers a variety of amenities such as swimming pools, tennis courts, and even a complimentary shuttle to nearby Playa del Carmen. All accommodations include free Wi-Fi and some suites feature stunning ocean views with seating areas that have cable TV and DVD players. Alongside this, guests receive two complimentary tickets for the Cancun Mayan Museum with every reservation made! Furthermore, the resort has an on-site spa with Turkish baths, fitness center, and opportunities for diving activities. With Cancun International Airport just 30 minutes away by car, The Royal Haciendas Resort & Spa is an excellent choice for those looking to experience luxury in Mexico.
– Ideal location on the beach
– Free shuttle service to Playa del Carmen
– On-site spa and wellness center
– Complimentary tickets to Cancun Mayan Museum
– Various activities available including diving
Cozumel Luxury Boutique Hotels
Cozumel is home to several luxury boutique hotels that offer an intimate and personalized experience for travelers seeking upscale accommodations. These hotels typically feature unique decor, high-end amenities, and exceptional service in a peaceful atmosphere.
Albatros Suites by Bedsfriends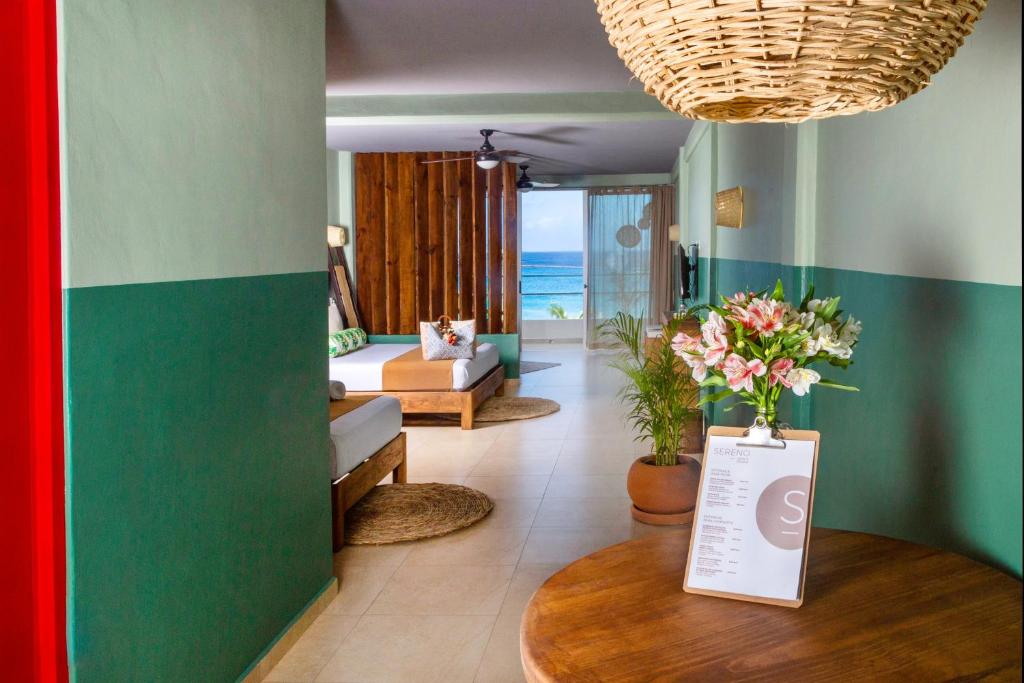 Albatros Suites by Bedsfriends in Cozumel is a luxurious hotel that features an outdoor swimming pool, garden, on-site restaurant and bar, as well as free WiFi throughout the property. The rooms are air-conditioned and come with a balcony offering views of the sea. They are fitted with modern amenities such as a coffee machine, fridge, microwave, flat-screen TV, private bathroom with a shower and a safety deposit box. Some rooms also have a kitchen equipped with an oven and stovetop. Guests can enjoy American breakfast every morning during their stay.
– Perfect location just 50 metres away from Caletita Beach
– Scenic views of the sea from the balcony
– Luxurious amenities including flat-screen TV and air-conditioning
– On-site restaurant serving delicious food
– Helpful tour desk to assist guests in planning activities
Cozumel Boutique Hotels Information
| | |
| --- | --- |
| 🛎️ Boutique Hotels in Cozumel | 10 |
| 💵 Hotels Prices From | $230 |
| 💵 Highest price | $1075 |
| 🥇 Average Review Score | 8.9/10 |
| 🛏️ Average number of Rooms | 177 |
Top Boutique hotels in Cozumel
| | |
| --- | --- |
| Kippal – Modern Oasis – ApartHotel | 10/10 |
| Hotel Xcaret Arte – All Parks All Fun Inclusive – Adults Only | 9.3/10 |
| Grand Velas Riviera Maya – All Inclusive | 9.2/10 |
| Villa Segovia | 9/10 |
| The Royal Haciendas Resort & Spa | 8.9/10 |
FAQ
What is a boutique hotel?
A boutique hotel is a small, stylish hotel that offers personalized service and unique design. Generally, they have fewer than 100 rooms and are located in trendy neighborhoods or cultural hotspots. They often have distinctive features such as art installations or designer furnishings that set them apart from larger chain hotels.
Are there any boutique hotels in Cozumel?
Yes, Cozumel has several options for those seeking an intimate and luxurious experience. Some of the top-rated boutique hotels in Cozumel include Casa del Mar Boutique Resort & Spa, The Explorean Cozumel by Fiesta Americana, and B Hotel & Spa.
What amenities can I expect at a Cozumel boutique hotel?
Boutique hotels generally offer high-end amenities such as spa services, gourmet dining options, and concierge services to help plan excursions. Many also offer private beach clubs with lounge chairs for guests to relax on while enjoying the stunning ocean views.
Are Cozumel's boutique hotels expensive?
While prices vary depending on the hotel's location and level of luxury offered, generally speaking, staying at a boutique hotel in Cozumel will be more expensive than budget-friendly chain hotels. However,the personalised attention you receive plus the upscale accommodations make it worthwhile.
When is the best time to book my stay at a Cozumel Boutique Hotel?
The best time to book your stay at a Cozumel Boutique Hotel would be during low season (between May-November) when tourists aren't crowding out accommodation availability . Booking early can also save you money during peak season (December-April).
Popular Boutique Hotels destinations