Welcome to our latest escapade into the enchanting world of luxury boutique accommodations in the captivating Cotswolds region of the United Kingdom. Nestled amidst rolling hills and idyllic landscapes, this destination has become a haven for discerning travelers seeking an authentic escape from the bustling city life. Prepare to embark on a journey where charming intimacy merges seamlessly with refined elegance, as we explore an array of delightful boltholes that epitomize understated luxury.
From quaint villages teeming with honey-colored limestone cottages to picturesque market towns boasting medieval architecture, the Cotswolds exudes a timeless allure that draws visitors from all corners of the globe. Imagine meandering through narrow country lanes lined with blooming wildflowers and stumbling upon hidden gems that offer respite from your everyday routine. Our carefully curated selection showcases boutique hotels that harmoniously blend traditional charm with contemporary sophistication – think warm fireplaces, four-poster beds swathed in sumptuous fabrics, and locally sourced gourmet cuisine served in intimate dining settings.
Indulge in unparalleled tranquility as you immerse yourself in this quintessential English countryside experience. Allow each day to unfold at its own leisurely pace while relishing in luxurious amenities such as spa treatments infused with natural ingredients harvested from the surrounding land or perhaps a private picnic amidst lush gardens overlooking dappled streams. Whether it's exploring quaint boutiques nestled within centuries-old buildings or embarking on tantalizing wine tours through vineyards dotted across gentle hillsides – every moment spent here promises to be one for the memory books.
Join us as we embark on an unforgettable journey through some of Cotswolds' most coveted hideaways, each promising impeccable service and an ambiance reminiscent of a bygone era. The artistry lies not only within these magnificent establishments but also within their unique ability to transport guests into a world where time stands still; where moments take precedence over minutes and memories are etched forever in our hearts. So, grab your suitcase and prepare to be captivated by the allure of boutique luxury in the Cotswolds – a destination that beckons travelers seeking an extraordinary retreat brimming with lavish indulgence and undeniable charm.
Best Boutique Hotels in Cotswolds
Abbots Grange Manor House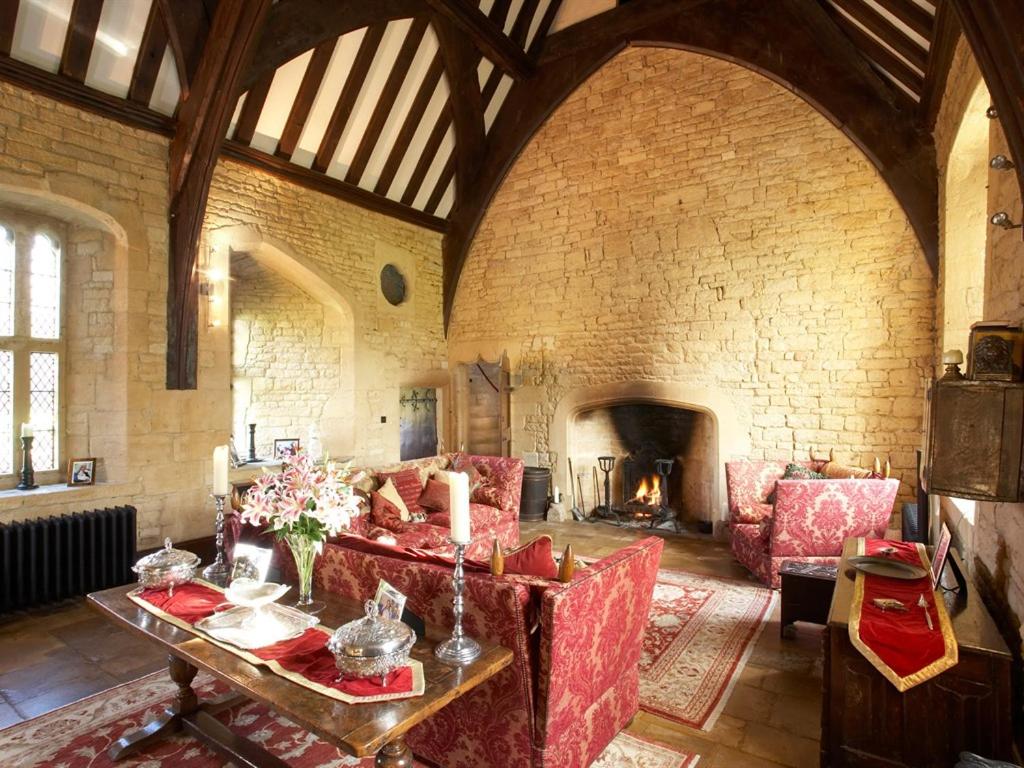 Situated in the charming village of Broadway, Abbots Grange – Adults Only is a delightful family-run hotel surrounded by over 8 acres of picturesque parkland and gardens, offering breathtaking views of the Cotswolds. This medieval manor house, dating back to 1320, is conveniently located just a short stroll from Broadway's High Street, where guests can explore an array of boutique shops, cozy inns, and delectable restaurants. The luxurious rooms at Abbots Grange feature elegant four-poster beds adorned with fine Egyptian cotton sheets. Each room also boasts modern amenities such as a flat-screen TV and a comfortable seating area. Guests can indulge in the en suite or private bathroom complete with thick fluffy towels, bathrobes, and complimentary toiletries. Every morning begins with a sumptuous full English breakfast served in the beautifully panelled dining room. Locally sourced produce is used to prepare delicious dishes that are complemented by fresh seasonal fruit. For those seeking alternative options, vegetarian and lighter breakfast choices are available as well. Conveniently located within easy reach of Birmingham International Airport and Oxford city centre (both approximately 40 miles away), Abbots Grange offers free private parking for its guests' convenience.
Pros:
– Stunning location with unrestricted views over the Cotswolds
– Charming medieval manor house dating back to 1320
– Luxurious rooms featuring four-poster beds and modern amenities
– Delicious full English breakfast using locally sourced ingredients
– Close proximity to Broadway's High Street with its boutique shops and restaurants
Kings Head Inn (Bledington)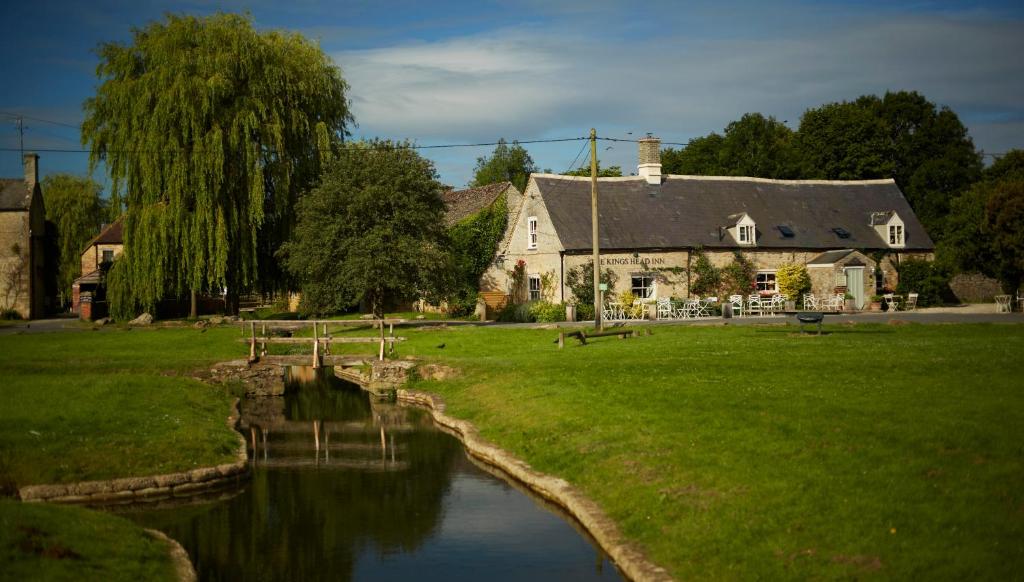 Located in the picturesque village of Bledington, Kings Head Inn is a charming 16th-century inn surrounded by the stunning countryside of the Cotswolds. The inn offers beautifully decorated bedrooms with free Wi-Fi and parking, as well as a traditional restaurant and courtyard garden. The award-winning restaurant serves delicious contemporary and traditional English food made from locally-sourced ingredients. Guests can relax in the cosy bar with its original features and open fires, enjoying a range of beverages and snacks. The rooms at Kings Head Inn are elegantly furnished, some featuring exposed beams and sloping ceilings. All rooms include private bathrooms, a TV, tea/coffee facilities, and cosy seating areas. A cooked breakfast is served daily to start your day off right. With its central location in the North Oxfordshire Cotswolds, Kings Head Inn is just a 25-minute drive from Blenheim Palace and within easy reach of Oxford and Stratford-upon-Avon.
– Beautifully decorated bedrooms
– Traditional restaurant serving award-winning cuisine
– Cosy bar with original features
– Great location for exploring the Cotswolds
– Free Wi-Fi and parking
Whatley Manor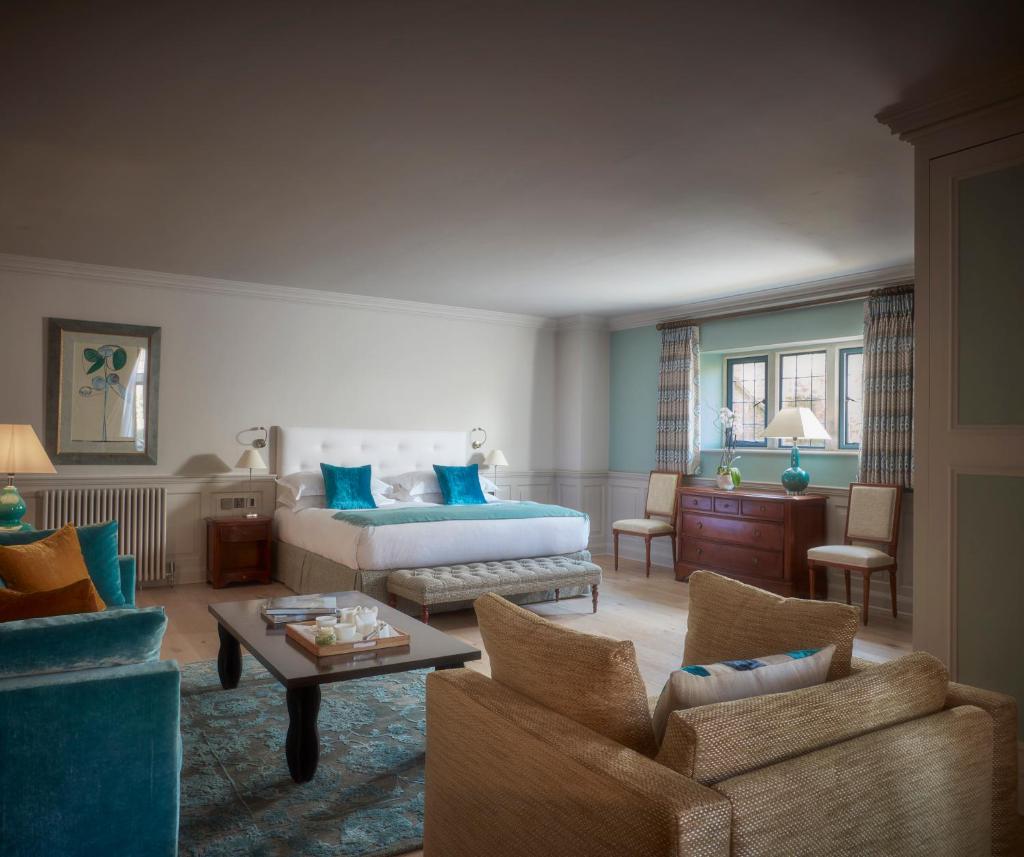 Located in the stunning Wiltshire countryside, Whatley Manor is an elegant boutique hotel that offers a tranquil retreat for guests seeking relaxation and rejuvenation. Set within 12 acres of picturesque landscape, this luxury hotel boasts a twelve-course dining experience from Thursday to Sunday, providing guests with a culinary journey like no other. The renowned Aquarias spa at Whatley Manor has been recognized as one of the top 10 UK spa retreats by Condé Nast Traveller Readers. Here, guests can indulge in Natura Bissé signature treatments for the ultimate well-being experience. For more casual dining options, The Grey's brasserie serves mouthwatering lunches and dinners daily. After enjoying a delicious meal, take a leisurely stroll through the beautifully landscaped gardens adorned with sculptures, fountains, and enchanting lighting that enhance the natural beauty of this idyllic setting.
Pros:
– Exquisite twelve-course dining experience
– Acclaimed Aquarias spa offering luxurious treatments
– Charming and inviting atmosphere
– Beautifully landscaped gardens with captivating artwork
– Convenient location in peaceful Wiltshire countryside
Other places to stay in Cotswolds
Boutique Hotels in Downtown Cotswolds
Downtown Cotswolds offers a charming collection of boutique hotels, each with its own unique character and style. From historic buildings to contemporary designs, these intimate properties provide a luxurious and personalized experience for travelers seeking an authentic stay in this picturesque region.
The Porch House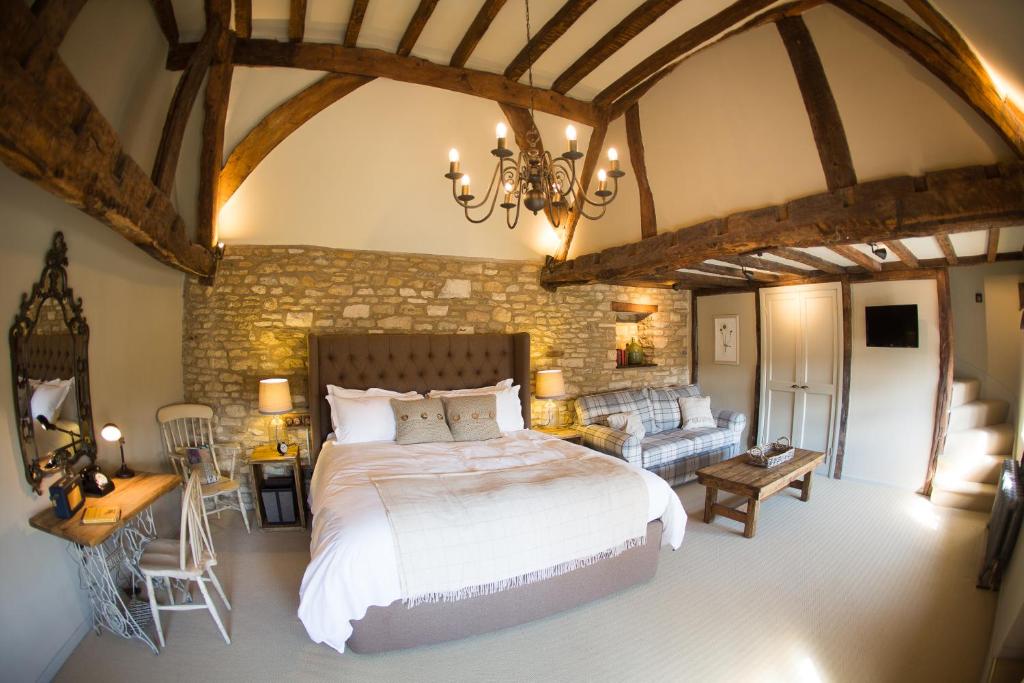 The Porch House is a charming inn that dates back to the 10th century, offering guests a unique experience in the beautiful Cotswolds. This historic gem showcases beautifully restored English Heritage combined with exquisite food, all set within the breathtaking surroundings of an Area of Outstanding Natural Beauty. Each room at The Porch House is equipped with modern amenities including a TV and a Nespresso coffee machine, while the bathrooms provide complimentary toiletries and a hairdryer. In the mornings, guests can indulge in a delicious full cooked breakfast along with their choice of morning newspaper. For those seeking ultimate relaxation, tea, coffee, and toast can be enjoyed in the comfort of your own room upon request. As an added bonus, The Porch House holds great significance as it is certified as England's Oldest Inn dating back to 947 AD –- a truly remarkable historical landmark.
Pros:
– A perfect blend of history and luxury
– Free Wi-Fi throughout for seamless connectivity
– Prime location in the picturesque Cotswolds
– Delicious full cooked breakfast included
– Rich heritage as England's Oldest Inn authenticated by Guinness World Records
Portland Apartments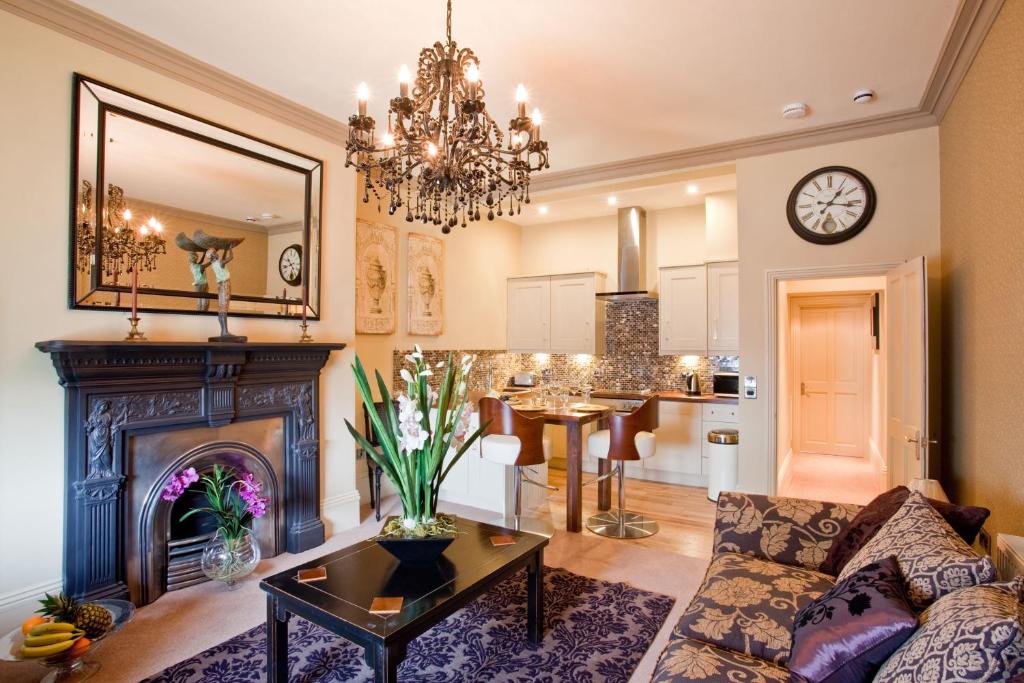 Located in the heart of Cheltenham Spa, the luxurious Portland Apartments provide a home away from home for both business and leisure travelers. This elegant serviced accommodation is just a 15-minute walk from the racecourse and a 5-minute walk from stylish shops, restaurants, and bars. The apartments are exquisitely furnished to the highest standard, boasting unique and stunning features. With a 24-hour concierge service available at the reception, guests can expect exceptional service throughout their stay. Whether attending the Cheltenham Festival or enjoying a weekend getaway in the Cotswolds, Portland Apartments offers an ideal location.
– Prime location in Cheltenham Spa
– Exquisite furnishings with unique features
– Close proximity to racecourse and entertainment options
– 24-hour concierge service for convenience
– Ideal for both business or leisure travelers
Cleeve Hill Hotel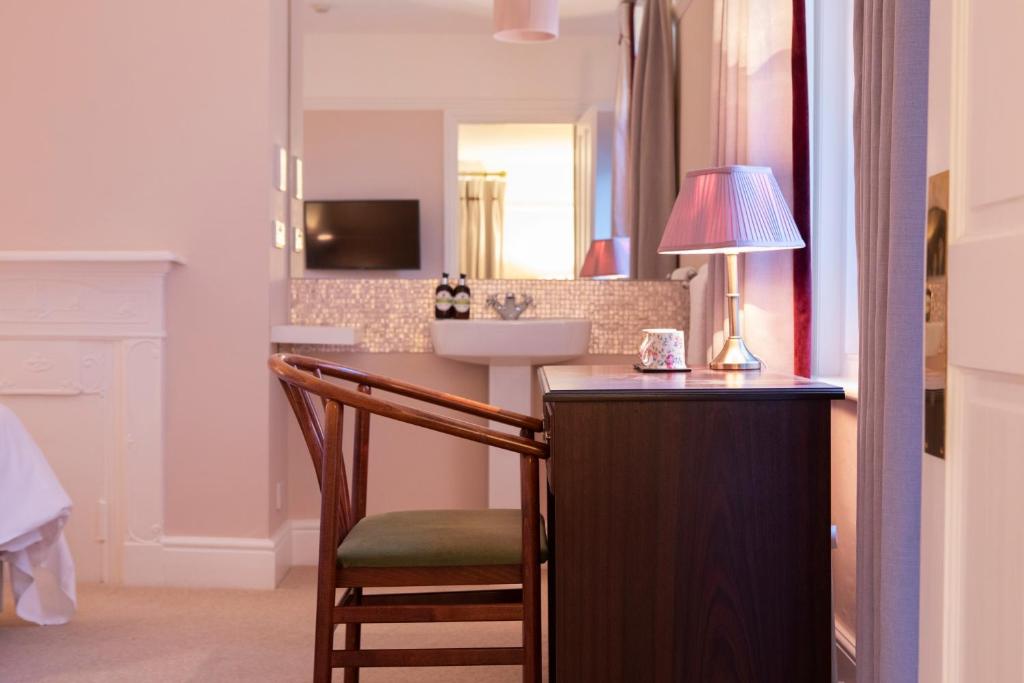 Cleeve Hill Hotel, located at the peak of the Cotswolds, offers a charming bed and breakfast experience with stunning panoramic views of the surrounding hills and countryside. The hotel provides free parking for guests' convenience. Each of the 13 en suite rooms is individually designed and features organic amenities, comfortable beds, beautiful views, smart TVs, and high-speed Wi-Fi. Guests can unwind in the cozy lounge area while enjoying a freshly ground coffee or indulging in a beverage from a local brewery or distillery. The hotel offers a delightful selection of breakfast options including a Full English breakfast as well as a continental breakfast pantry to cater to all dietary requirements. For those looking to explore the area's rich history, the magnificent Sudeley Castle is just a short 5-minute drive away. Additionally, Cheltenham and its famous racecourse are easily accessible within 10 minutes by car. With numerous scenic walks available in the surrounding hills, Cleeve Hill Hotel is an ideal choice for nature enthusiasts seeking both comfort and beauty during their stay.
Pros:
– Breathtaking panoramic views
– Individually designed rooms with organic amenities
– Convenient location near Sudeley Castle and Cheltenham racecourse
– Cozy lounge offering locally sourced beverages
– Varied breakfast options catering to all dietary needs
Cotswolds 5 Star Boutique Hotels
Cotswolds is known for its picturesque landscapes and charming villages, making it an ideal destination for those seeking a tranquil and luxurious getaway. With its selection of 5-star boutique hotels, visitors can expect personalized service, exquisite design, and an immersive experience in the heart of the English countryside.
Cotswold Grange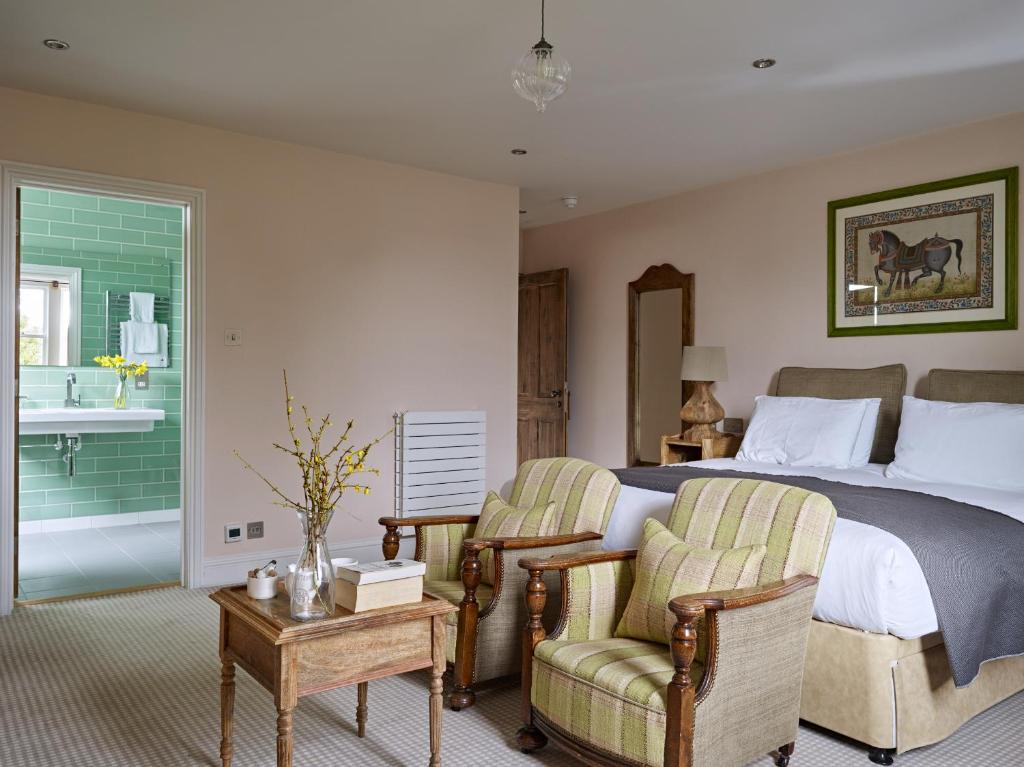 Cotswold Grange is a luxurious bed and breakfast located in the leafy historic district of Pittville. Situated within walking distance of independent boutiques, galleries, and restaurants in the town center, this hotel is also conveniently just a mile away from the famous Racecourse. Built in the 1850s, Cotswold Grange boasts high ceilings and a grand stone staircase. It offers ample forecourt car parking and each of its rooms showcases unique style. Guests can indulge in stylish bathrooms equipped with luxury Noble Isle toiletries as well as modern conveniences such as bedside USB sockets and WiFi. The cozy bar provides a wide selection of premium drinks, including local specialties. With its prime location, Cotswold Grange serves as an excellent base for exploring the breathtaking beauty of the surrounding Cotswolds Area.
– Convenient location within walking distance to town center
– Beautifully styled rooms with luxurious bathrooms
– Modern amenities such as bedside USB sockets and WiFi
– Cozy bar offering a variety of premium drinks, including local specialties
– Perfect base for exploring the stunning Cotswolds Area
The Falcon Inn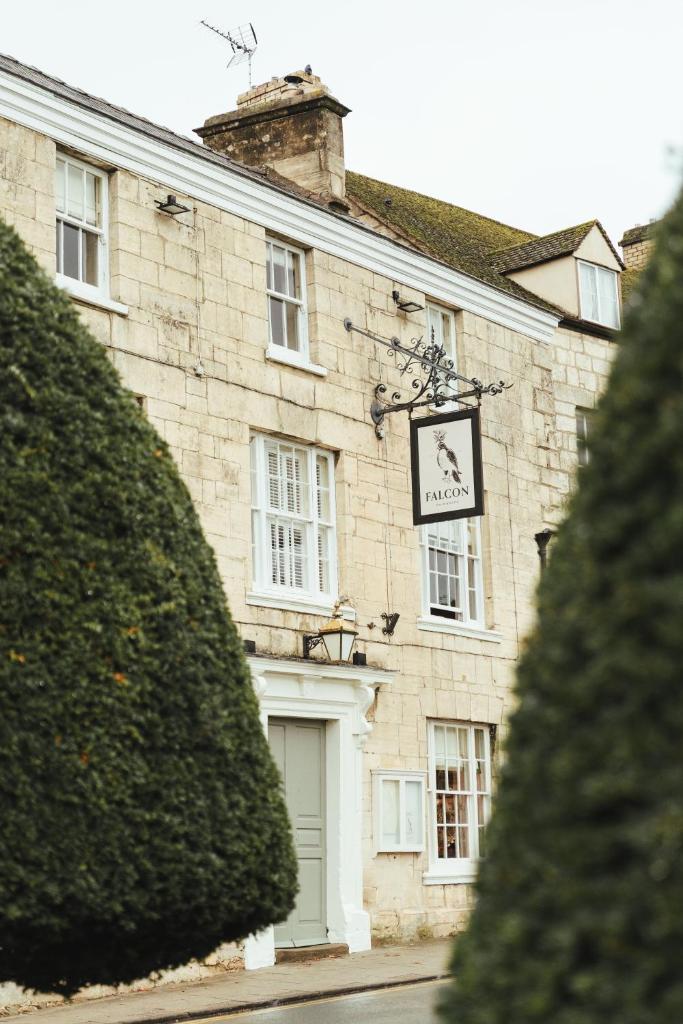 The Falcon Inn is a charming boutique hotel that opened its doors in October 2021. Located in the picturesque town of Stroud, it provides guests with a delightful stay surrounded by stunning natural scenery. The hotel features comfortable accommodations and boasts amenities such as an on-site restaurant, free WiFi throughout the property, and complimentary private parking for those traveling by car. With its convenient location near popular attractions like Kingsholm Stadium and Cotswold Water Park, The Falcon Inn is an ideal choice for travelers seeking both relaxation and exploration.
– Stylish boutique hotel in a scenic location
– On-site restaurant offering delicious cuisine
– Free WiFi available throughout the property
– Complimentary private parking for guests
– Proximity to popular attractions
Heath Farm Holiday Cottages (Swerford)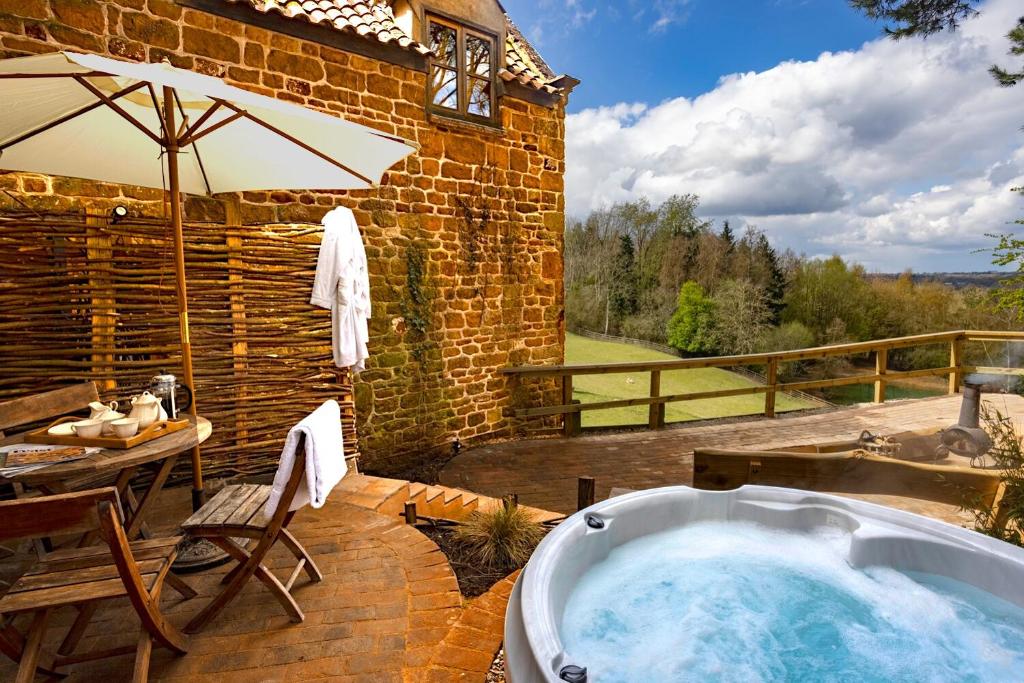 Heath Farm Holiday Cottages, located near Great Tew in Swerford, offers luxurious accommodations with modern amenities. Each unit features a spacious seating area, a dining area, and a fully equipped kitchen complete with appliances like a dishwasher, oven, microwave, and toaster. Guests can enjoy garden views from their private patio. The property also offers free WiFi and a Smart TV for entertainment. For guests looking to explore the surrounding area, cycling is popular nearby and bicycle rentals are available on-site. Additionally, the holiday cottages provide easy access to Oxford which is just 28 km away. The nearest airport is Birmingham Airport at 56 km from the property.
– Modern and well-equipped kitchens
– Garden views from private patios
– Free WiFi and Smart TV
– Cycling opportunities nearby
– Accessible location for visiting Oxford
Cotswolds Luxury Boutique Hotels
The Cotswolds is renowned for its charming and picturesque villages, making it an ideal destination for those seeking a tranquil and luxurious escape. From historic manor houses to modern country retreats, the Cotswolds offers a range of boutique hotels that seamlessly blend elegance and comfort to provide guests with an unforgettable experience.
The Frogmill Hotel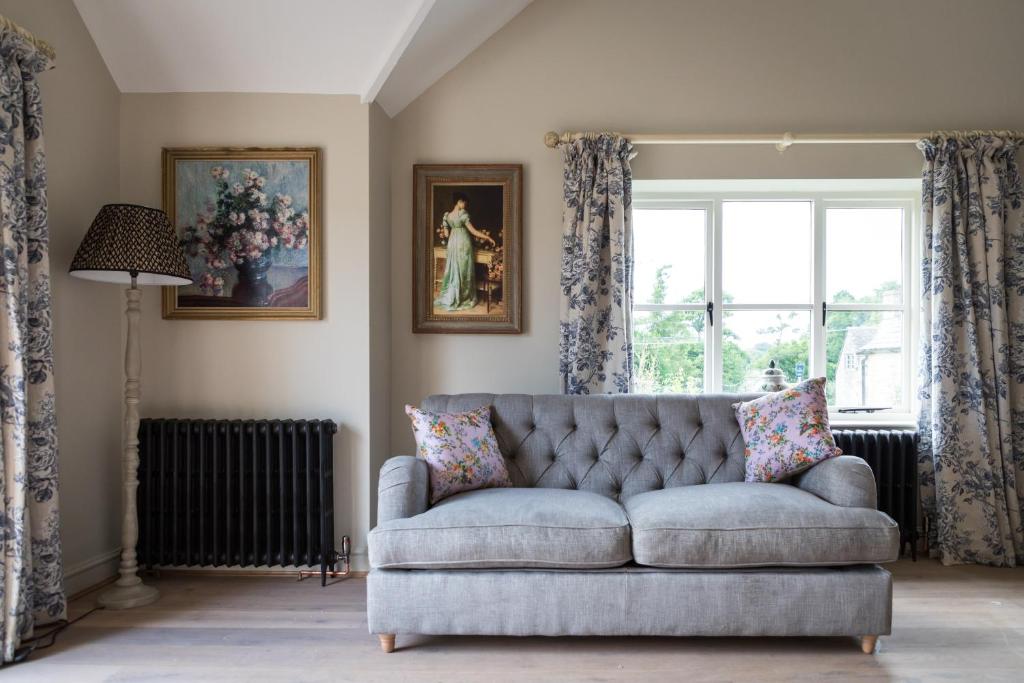 Nestled in the charming town of Cheltenham, The Frogmill Hotel offers a luxurious stay for guests seeking both comfort and tranquility. With its lush garden, free private parking, and inviting terrace, this 4-star boutique hotel exudes a sense of relaxation from the moment you arrive. The tastefully decorated rooms boast modern amenities including a desk, flat-screen TV, and coffee machine. Some rooms even feature a balcony with stunning garden views. Guests can start their day with either an à la carte or Full English/Irish breakfast at the hotel's restaurant before exploring nearby attractions such as Sudeley Castle and Gloucester Cathedral. With its convenient location just 34 km from Cotswold Water Park and Bristol Airport within reach at 90 km, The Frogmill Hotel is the perfect choice for indulging in a serene getaway.
– Convenient location near popular tourist attractions
– Comfortable and elegantly designed rooms
– Delicious dining options available on-site
– Beautiful garden views from select rooms
– Free WiFi access throughout the property
Cotswolds Boutique Hotels Information
| | |
| --- | --- |
| 🛎️ Boutique Hotels in Cotswolds | 10 |
| 💵 Hotels Prices From | $299 |
| 💵 Highest price | $1560 |
| 🥇 Average Review Score | 9/10 |
| 🛏️ Average number of Rooms | 15 |
Top Boutique hotels in Cotswolds
| | |
| --- | --- |
| Heath Farm Holiday Cottages (Swerford) | 9.7/10 |
| Abbots Grange Manor House | 9.4/10 |
| Whatley Manor | 9.3/10 |
| Portland Apartments | 9.3/10 |
| Kings Head Inn (Bledington) | 8.8/10 |
FAQ
What are the top boutique hotels in Cotswolds?
Cotswolds is known for its charming boutique hotels that offer a unique and intimate luxury experience. Some of the top boutique hotels in Cotswolds include The Lygon Arms, a historic hotel with stylish rooms and an award-winning spa
What amenities can I expect at boutique hotels in Cotswolds?
Boutique hotels in Cotswolds prioritize comfort and luxury for their guests. You can expect amenities such as plush bedding, high-quality linens, complimentary Wi-Fi access, flat-screen TVs with satellite channels, minibars stocked with premium beverages and snacks, luxurious toiletries in spacious bathrooms. Additionally, many boutique hotels offer on-site dining options ranging from fine dining restaurants to cozy cafes serving locally sourced cuisine.
Are there any pet-friendly boutique hotels in Cotswolds?
Yes! Many boutique hotels in Cotswolds are pet-friendly and welcome your furry companions as esteemed guests. From dog-friendly rooms to special amenities like dog beds or bowls upon request – you will find various accommodations tailored to make your stay enjoyable for both you and your pets. It's advisable to check with individual hotels about their specific pet policies before making reservations.
Can I book additional services like spa treatments or restaurant reservations at boutique hotels in Cotswolds?
Absolutely! Boutique hotels in Cotswolds often offer additional services to enhance your stay. Whether it's booking rejuvenating spa treatments like massages or facials at the on-site spas or arranging restaurant reservations at the finest eateries nearby – these establishments pride themselves on providing personalized experiences catered to your preferences. Don't hesitate to reach out to the hotel staff who will be more than happy assist you.
How can I make a reservation at a boutique hotel in Cotswolds?
Making a reservation at a boutique hotel in Cotswolds is quite simple. Most boutiques hotels have their own websites where you can check availability, explore room options, and book directly online. Alternatively, you can also contact the hotel's reservations department via email or phone to inquire about availability and make your booking. It's recommended to book well in advance, especially during peak travel seasons or if you have specific room preferences.
Popular Boutique Hotels destinations