Chester, located in the northwest of England, is a city that boasts an incredible cultural heritage and picturesque landscapes. It has become one of the top destinations for travelers who are looking to experience luxury and comfort while still being able to explore a rich history. For those looking for a unique travel experience, boutique hotels in Chester offer just that.
Boutique hotels are known for their personalized service and attention to detail which sets them apart from larger chain hotels. These intimate accommodations offer a charming atmosphere that combines modern luxuries with classic design elements. You can expect beautifully decorated rooms with high-quality furnishings, plush bedding, and exquisite amenities along with individualized concierge services that cater to your every need.
In Chester's boutique hotels, you will find yourself surrounded by historic brick walls or nestled within stunning gardens – all providing an intimate setting where you can relax and rejuvenate after exploring the many attractions this city has on offer. Whether you're here for business or pleasure, there is no doubt that staying at one of these properties will make your visit even more memorable.
Best Boutique Hotels in Chester
Hotel Indigo – Chester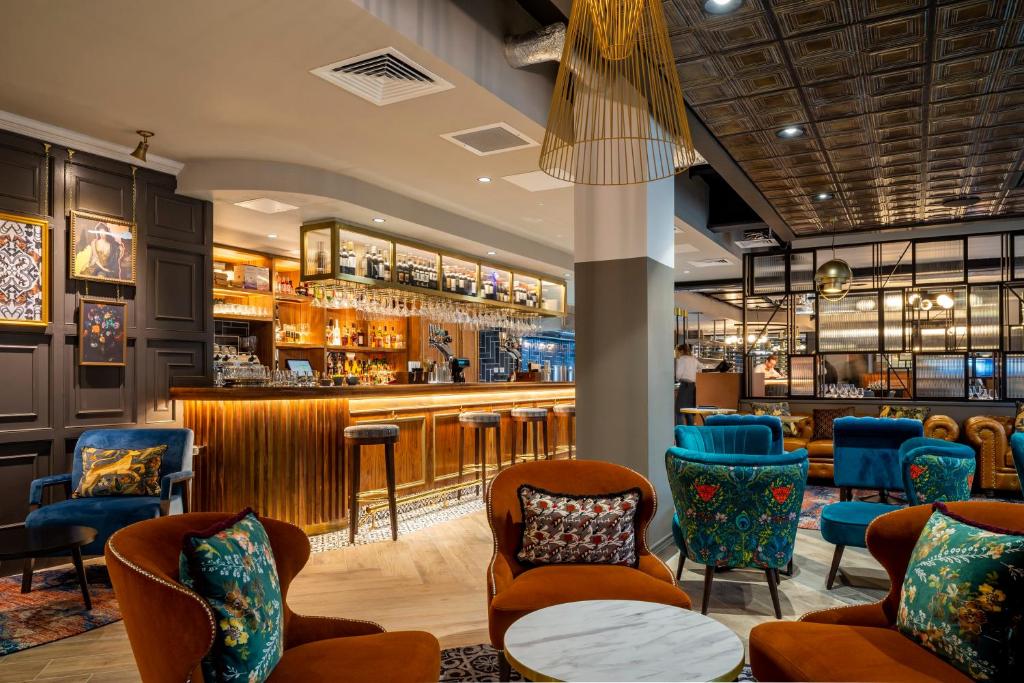 Hotel Indigo – Chester is a stylish and trendy boutique hotel located in the charming city of Chester. The hotel opened its doors in April 2019 and offers air-conditioned rooms with a flat-screen TV, desk, and private bathroom. Guests can also enjoy free WiFi, 24-hour front desk services, concierge service, newspapers, and access to a photocopier. Additionally, there is an on-site Forge Restaurant where guests can dine on delicious meals or enjoy drinks at the bar. Hotel Indigo – Chester is conveniently situated near popular attractions such as Chester Cathedral, Guildhall, Chester Racecourse, and Grosvenor Museum.
– Stylish and trendy boutique hotel.
– Air-conditioned rooms with modern amenities.
– Convenient location near popular attractions.
– On-site restaurant serving delicious meals.
– Free WiFi available for guests.
Manor House Hotel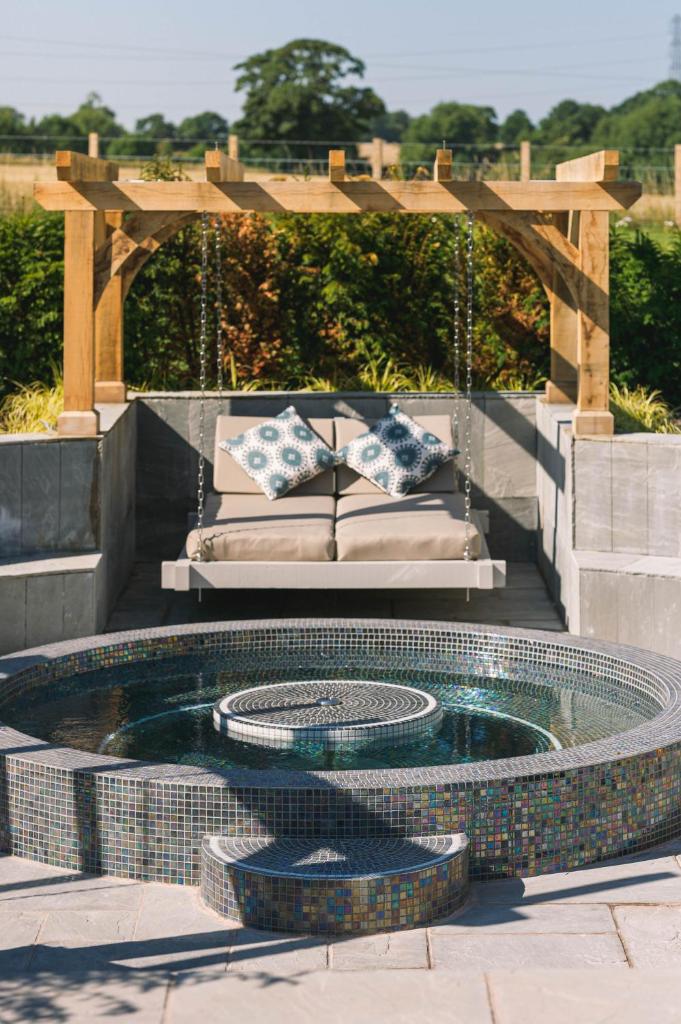 Manor House Hotel is a charming countryside hotel located in Alsager, just 10 km away from the city of Stoke-on-Trent and Crewe. The hotel boasts modernized rooms set around a 17th-century converted farmhouse which feature plasma Freeview TV and en suite bathroom with a hairdryer. Guests can enjoy free use of the heated indoor pool and free WiFi throughout the property. The Stables Bar and Grill, located in the farmhouse building offers fine wines, real ale, a range of seasonal menus featuring locally sourced ingredients as well as original features including oak beams and stone fireplaces. Moreover, the hotel provides 24-hour room service along with a PC in reception that offers free internet connection to all guests. With its close proximity to Alsager Golf Club and Alsager Train Station (5 minutes' walk), visitors can easily make their way around town or head out to London on direct trains from the station. Additionally, guests are welcomed with complimentary parking spaces where they can park their vehicles safely while exploring nearby attractions such as Nantwich, Crewe, Newcastle-under-Lyme and Stoke-on-Trent which are all within 25 minutes' drive from the hotel.
– Heated indoor pool
– Free WiFi
– Stables Bar and Grill offering fine wines & locally sourced ingredients
– Close proximity to golf club & train station
– Complimentary parking
Whiston Hall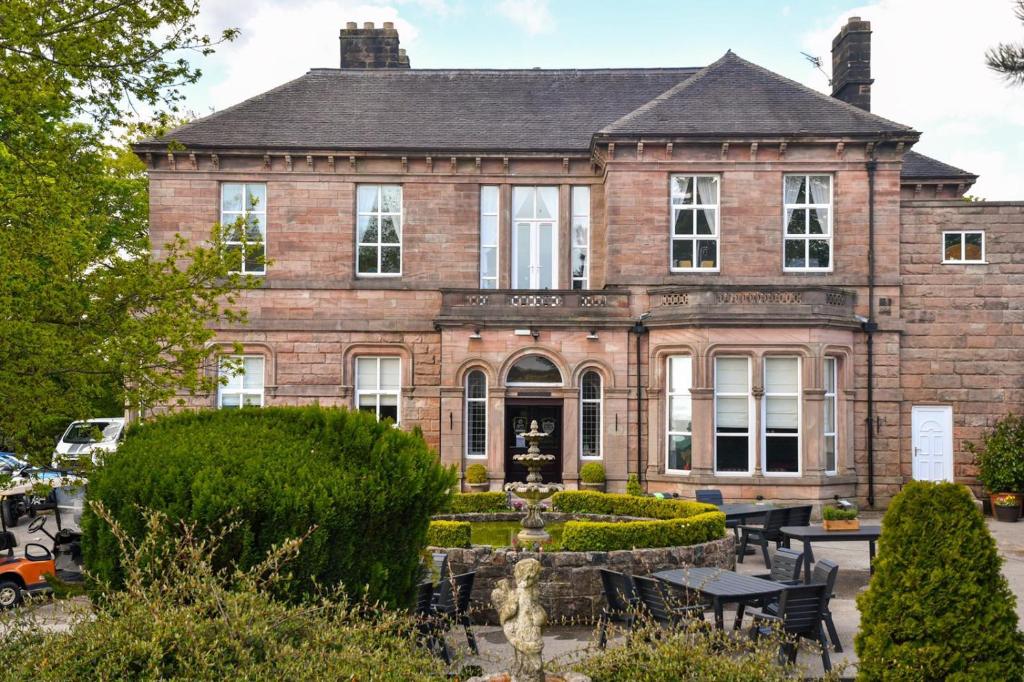 Nested in the charming Staffordshire countryside, only a short drive away from Alton Towers and the Peak District National Park, Whiston Hall is an exquisite 19th-century hotel that boasts not only a picturesque golf course but also elegant rooms with free Wi-Fi. The estate features vast grounds with ornamental fountains and three fishing lakes for guests to enjoy during their stay. In addition to its idyllic setting, Whiston Hall provides ample amenities such as cable TV, tea/coffee facilities, and private bathrooms with free toiletries in each of its bright and airy bedrooms. Guests can begin their day on the right foot by indulging in a Full English breakfast before venturing out to explore the area's attractions. Stoke-on-Trent is also within driving distance of this luxurious hotel.
– Beautiful location nestled in Staffordshire countryside.
– Elegant rooms with modern amenities.
– Scenic 9-hole golf course with putting green offering breathtaking views.
– Large grounds featuring ornamental fountains and fishing lakes.
– Close proximity to popular attractions like Alton Towers and Peak District National Park.
Other places to stay in Chester
Boutique Hotels in Downtown Chester
Boutique hotels in Downtown Chester offer a unique and personalized experience for travelers seeking a more intimate stay. These hotels typically feature stylish decor, high-end amenities, and top-notch service.
Bodysgallen Hall and Spa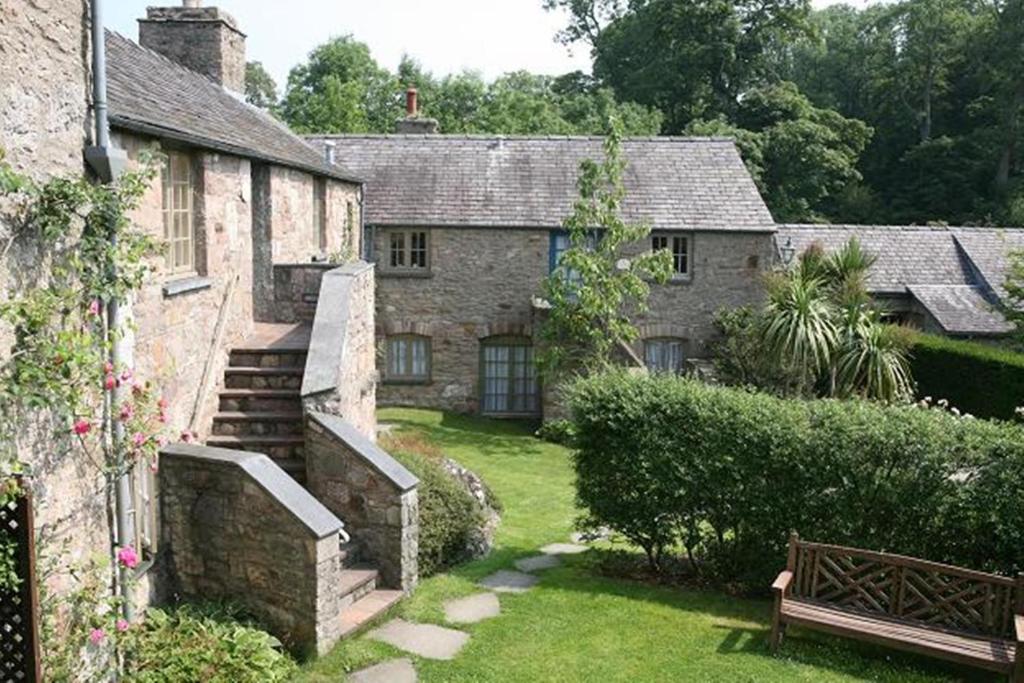 Bodysgallen Hall and Spa is a stunning 17th-century hall located on a private estate with breathtaking views of Snowdonia and Conwy Castle. The luxurious guestrooms offer views over the gardens, parkland, and some even have far-reaching views of Conwy Castle and the Snowdonia mountains. The hotel's award-winning restaurant, The Dining Room, serves freshly prepared food made using locally sourced produce. Guests can also enjoy traditional afternoon tea or light refreshments in the hall, library, or bar. The spa features a large swimming pool, sauna, steam room, spa bath along with five beauty and holistic therapy salons that use high-quality products such as Environ, Aromatherapy Associates, CACI and Jessica for treatments at an additional cost.
– Spectacular views of Snowdonia and Conwy Castle
– Luxurious guestrooms with beautiful garden views
– Award-winning restaurant serving locally sourced produce
– Large spa featuring multiple amenities
– Traditional afternoon tea served in the stunning hall
Whitworth Locke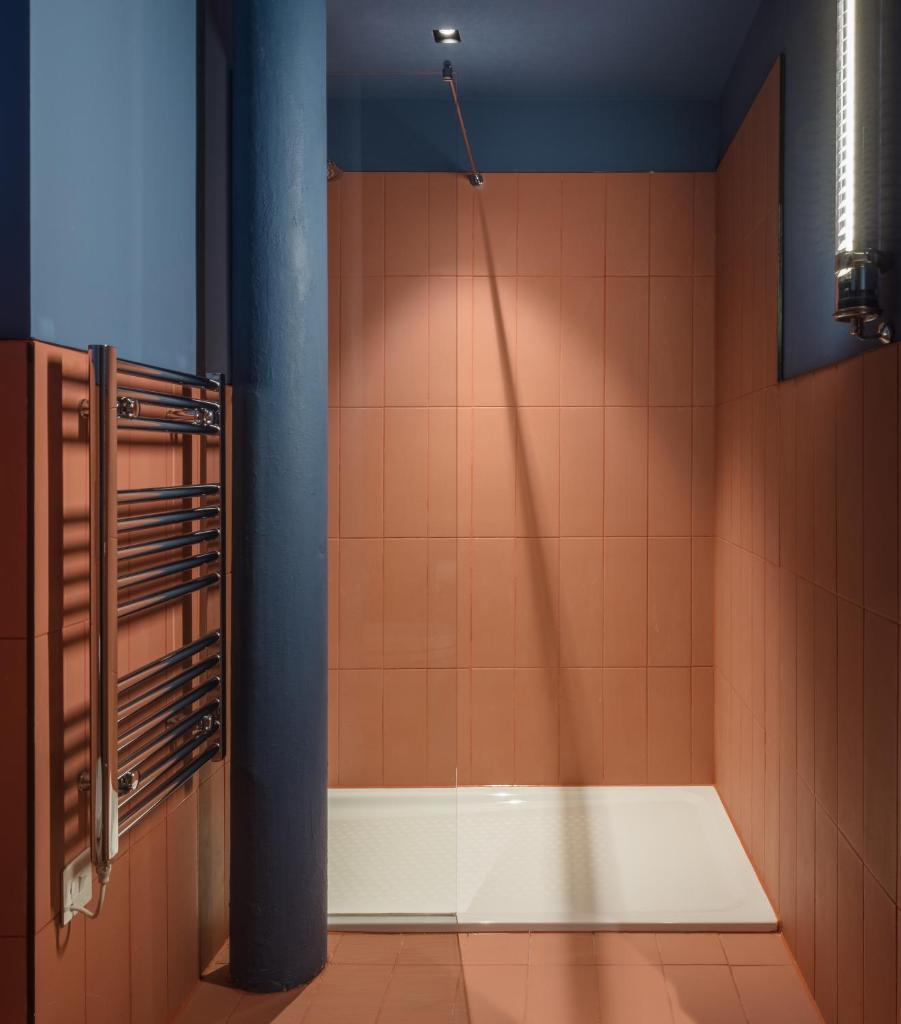 Whitworth Locke is a stunning 19th-century building located in the heart of Manchester's civic quarter, and offers free WiFi to its guests. This luxury hotel is within walking distance from Northern Quarter, famous for its independent shops, bars, and restaurants. The Palace Theatre and Canal Street are both just 200 metres away while Bridgewater Hall is only a 6-minute walk from the hotel. Whitworth Locke offers fully equipped units with parquet floors and private bathrooms with bath or shower and toiletries. Guests can also access the shared lounge area as well as co-working space in the inner atrium which also houses a coffee shop and bar.
Pros:
– Perfect location for exploring Manchester's downtown
– Fully equipped units with kitchenettes
– Shared lounge area & inner atrium for relaxation
– Co-working space available for business travellers
– 15% off beverage discount at The Conservatory Bar included
Kimpton Clocktower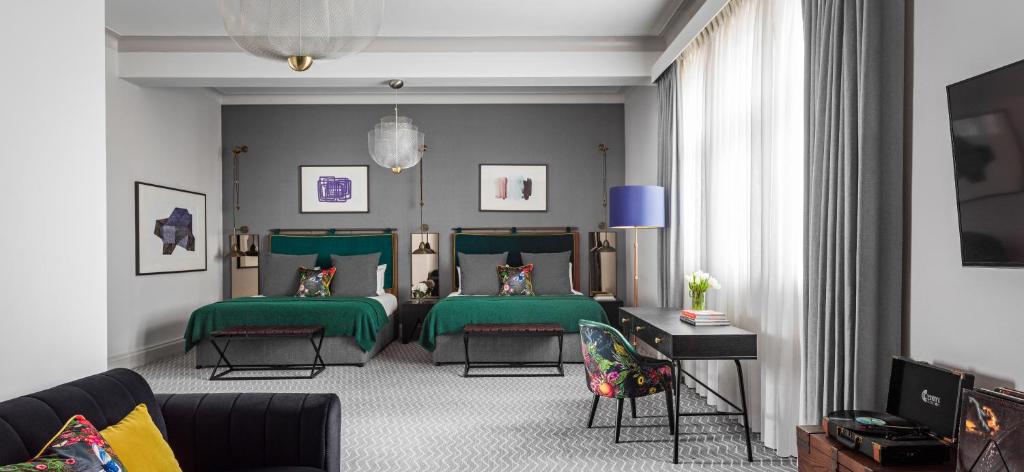 Kimpton Clocktower is a luxurious 4-star hotel located in the heart of Manchester's bustling city centre. The hotel boasts modern and stylish rooms, featuring elegant decor, satellite TVs and private bathrooms. Guests can enjoy free WiFi throughout the property, as well as hairdryers and tea/coffee-making facilities in their rooms. Furthermore, Kimpton Clocktower offers the biggest hotel event space in the North of England – perfect for weddings or conferences. With Oxford Road Rail Station just a minute's walk away, guests have easy access to nearby attractions such as The Palace Theatre or Manchester Arena; while those who want to indulge in some retail therapy will be pleased with shops within easy walking distance. Additionally, Old Trafford Stadium is only a 10-minute drive away and the Manchester Airport can be reached in just 20 minutes.
– Stylish and modern rooms
– Free WiFi available throughout the property
– Biggest hotel event space in the North of England
– Prime location with easy access to transportation and nearby attractions
– Within walking distance of shopping centers
Chester 5 Star Boutique Hotels
Chester 5 star boutique hotels offer opulent experiences for travelers seeking luxurious accommodation. With lavish interiors and top-notch service, these hotels provide guests with an unforgettable stay in this historic city.
Hotel Brooklyn Manchester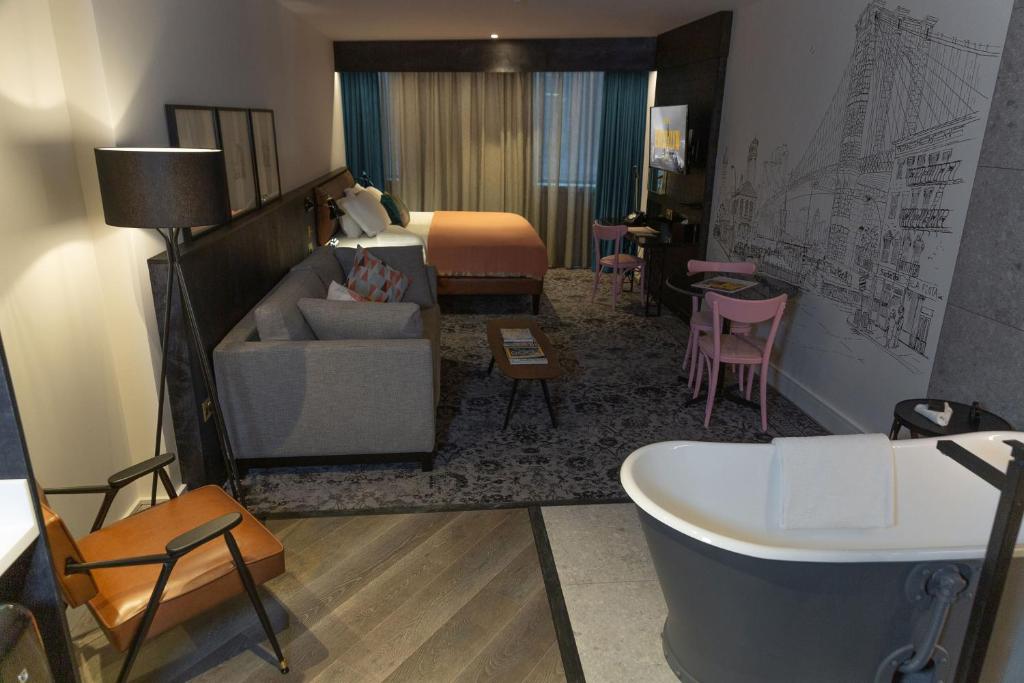 Hotel Brooklyn Manchester is a luxurious 4-star hotel located in the heart of Manchester. It opened its doors in November 2019 and has quickly become a favorite among travelers due to its central location and excellent amenities. The hotel features express check-in and check-out, non-smoking rooms, free Wi-Fi throughout the property, a shared lounge, room service, and a 24-hour front desk. Guests can enjoy American, British, and international cuisine at the on-site restaurant or opt for vegetarian, vegan or dairy-free options. The air-conditioned rooms are equipped with modern amenities such as a flat-screen TV, coffee machine, fridge, safety deposit box and private bathroom with shower. Some rooms have terraces offering stunning city views. Hotel Brooklyn Manchester is just 300 meters away from popular attractions such as Albert Square and Canal Street while Manchester Art Gallery is also within walking distance.
Pros:
– Central location near top attractions
– Modern amenities in rooms
– On-site restaurant with multiple dining options
– Free Wi-Fi throughout the property
– Express check-in/check-out available
Stone Villa Chester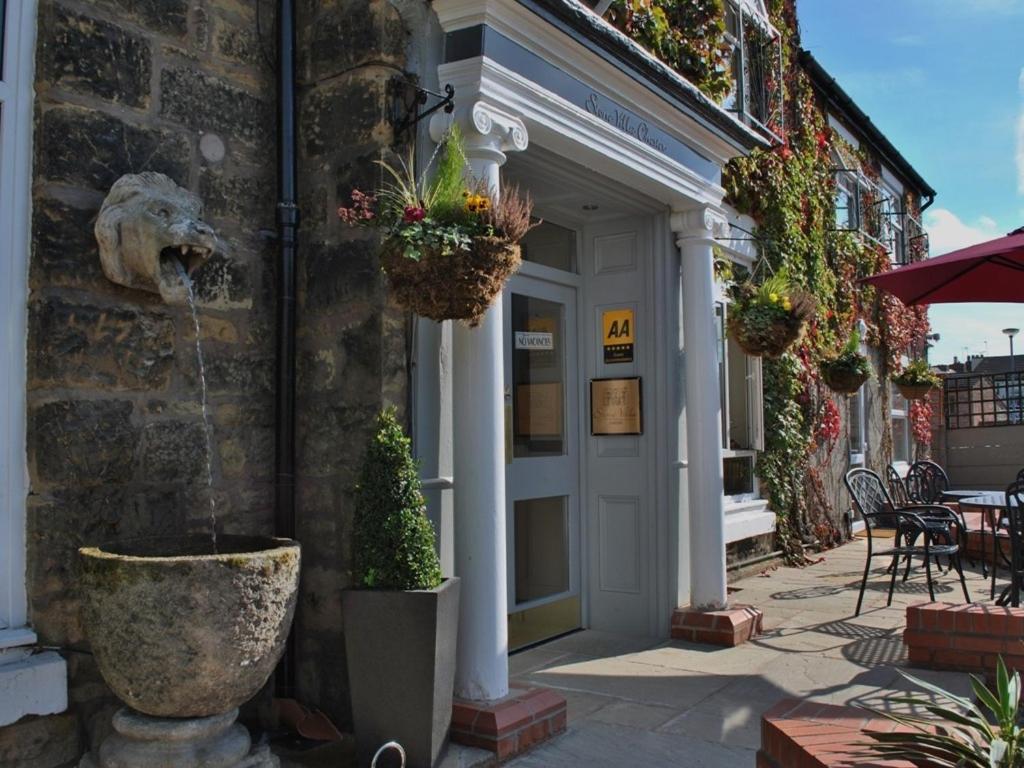 Stone Villa Chester is a luxurious guest house situated on a peaceful street, merely a 5-minute stroll away from the Chester Station. The hotel offers complimentary parking for guests and features rooms with flat-screen TVs, free Wi-Fi, and extraordinary breakfast options. Guests can also unwind in the small lounge area after an exhausting day of sightseeing. The spacious accommodations at this 5-star hotel are elegantly decorated with light tones and high-end furnishings. Each room boasts large bathrooms, seating areas, and refrigerators to ensure maximum comfort for its guests.
Here are some additional benefits of staying at Stone Villa Chester:
– Excellent location just minutes away from public transportation
– Complimentary parking for added convenience
– Free Wi-Fi available throughout the property
– Delicious breakfast menu featuring traditional English, vegetarian, and continental options using fresh local produce
– Luxury accommodations decorated in elegant décor
Oddfellows Chester Hotel & Apartments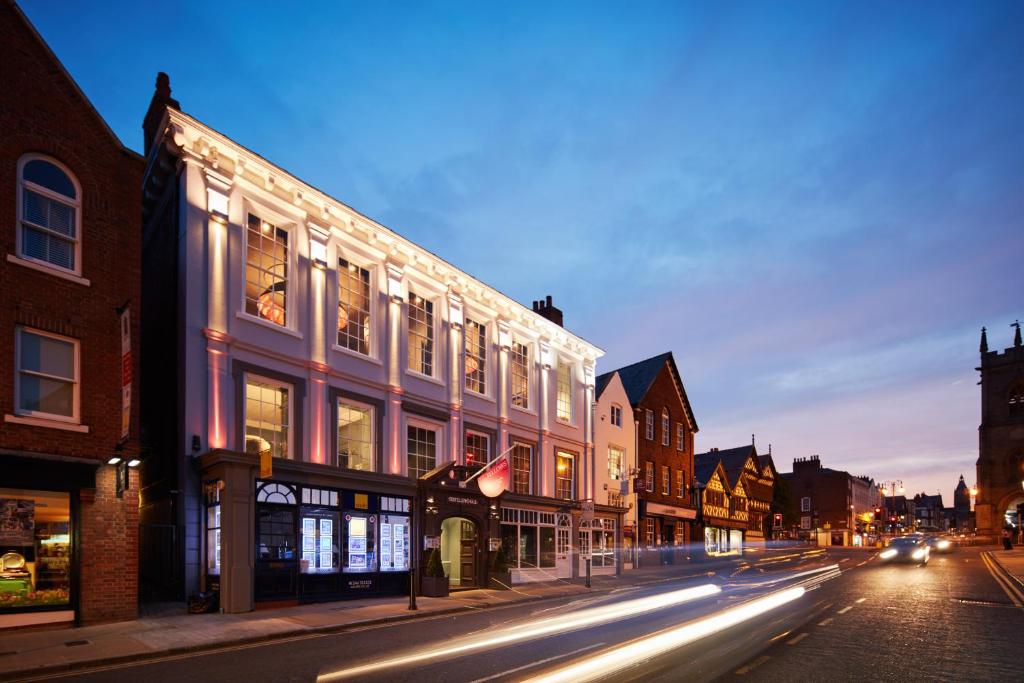 Located in the heart of Chester and just a few minutes' walk from the River Dee, Oddfellows is an elegant Georgian building that houses boutique-style rooms, as well as a stylish bar and modern restaurant. The hotel's unique rooms on the top floor boast low wooden beams and roof/skylight windows, while all rooms are individually decorated, air-conditioned and feature a minibar and TV. Guests can enjoy award-winning menus with fresh, locally sourced produce at the restaurant and dining rooms or venture to The Secret Garden for al-fresco dining and cocktails by open fires. With free Wi-Fi access throughout the hotel, Oddfellows offers convenience along with luxury.
– Stylish bar
– Modern restaurant with award-winning menus
– Unique boutique-style rooms
– Secret Garden for year-round al-fresco dining
– Prime location within walking distance to Chester attractions
Chester Luxury Boutique Hotels
Chester Luxury Boutique Hotels offer an exclusive experience for travelers seeking a high-end stay in the city. With luxurious accommodations and personalized service, these hotels are perfect for those looking to indulge in comfort and style.
Hotel Indigo Manchester – Victoria Station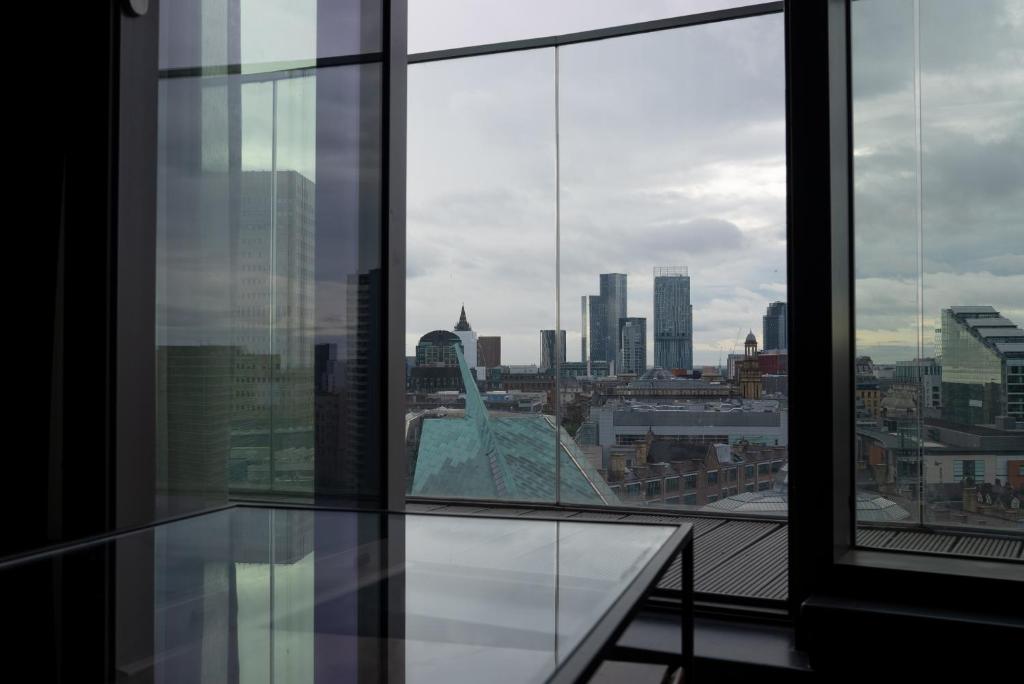 Hotel Indigo Manchester – Victoria Station is a luxurious hotel located next to the Manchester Victoria station, offering convenient access to various key locations in the city. It boasts 187 stylish and modern rooms equipped with amenities such as flat-screen TVs with satellite channels, fridges, kettles, and desks. Guests can unwind in the guest lounge or enjoy dining at the restaurant and cocktail bar. The hotel also offers a business centre, 24-hour fitness centre, and newspapers on site. Furthermore, guests can ask for tips on exploring the area from the reception desk's friendly staff. Other nearby attractions include Manchester Arena (90m), Manchester Central (350m), Canal Street (1.4km), Palace Theatre (2.5km) and Bridgewater Hall (2.5km).
– Convenient location for accessing key locations
– Stylish and modern rooms with essential amenities
– Business center and fitness center available
– Friendly staff providing helpful tips about exploring the are
– Delicious full English breakfast served daily
Chester Boutique Hotels Information
| | |
| --- | --- |
| 🛎️ Boutique Hotels in Chester | 10 |
| 💵 Hotels Prices From | $256 |
| 💵 Highest price | $1005 |
| 🥇 Average Review Score | 8.9/10 |
| 🛏️ Average number of Rooms | 98 |
Top Boutique hotels in Chester
| | |
| --- | --- |
| Stone Villa Chester | 9.7/10 |
| Whitworth Locke | 9/10 |
| Hotel Brooklyn Manchester | 9/10 |
| Hotel Indigo – Chester | 8.9/10 |
| Manor House Hotel | 8.9/10 |
FAQ
What are some of the best boutique hotels in Chester?
Chester is home to several boutique hotels that offer luxurious and unique experiences. Some of the best options include The Chester Grosvenor, a five-star hotel with a spa and Michelin-starred restaurant, and Oddfellows, a quirky hotel with individually designed rooms and an outdoor terrace overlooking the city.
What amenities can I expect at a boutique hotel in Chester?
Boutique hotels in Chester typically offer high-end amenities such as spa services, fine dining restaurants, designer furnishings and decor, complimentary Wi-Fi access, 24-hour room service, and concierge services. Many also have fitness centers or gyms for guests to use during their stay.
Are there any affordable boutique hotels in Chester?
While many boutique hotels can come with steep price tags, there are some affordable options available in Chester. For example, Roomzzz Aparthotel offers stylish accommodations at reasonable rates while still providing top-notch amenities such as complimentary breakfasts and free Wi-Fi.
What makes a boutique hotel different from other types of hotels?
Boutique hotels stand out from other types of accommodations due to their unique design concepts and personalized experiences for guests. They often feature one-of-a-kind decor or themes that reflect the local culture or history of the area they're located in. Additionally, because they typically have fewer rooms than chain hotels or resorts, staff members are better able to tend to each guest's individual needs.
Is it necessary to book ahead when staying at a boutique hotel in Chester?
Yes – because many boutique hotels have limited availability due to their smaller size compared to larger properties like chains or resorts – it's always recommended you book your stay ahead. Additionally, booking early can sometimes result in lower rates or special deals that may not be available closer to your travel dates!
Popular Boutique Hotels destinations