Welcome to our insider's guide to the charming and exclusive world of luxury boutique accommodations in Cheshire, renowned for its opulent countryside and rich history. Nestled within this picturesque region of the United Kingdom, you will uncover a selection of unique and intimate hotels that redefine hospitality with their bespoke services and distinctive character.
Prepare to be captivated by the enchanting allure that these boutique establishments exude, combining exquisite architecture with modern amenities. Each hotel has been meticulously crafted to provide an unforgettable experience for the discerning traveler seeking refined elegance and personalized attention. Whether you find yourself amidst rolling green hills or in the heart of historic towns, these hidden gems offer a delightful escape from everyday life.
Indulge in gastronomic delights prepared by award-winning chefs using locally sourced produce, or rejuvenate your senses with spa treatments tailored to your desires. Immerse yourself in the rich tapestry of Cheshire's cultural heritage as you explore nearby attractions such as stately homes, castles, and vibrant market towns. Discover a world where charm meets luxury at every turn, where hospitality is an art form mastered only by these exceptional boutique properties scattered across this breathtaking region.
Join us as we embark on a journey through Cheshire's most exquisite boutique hotels – each one promising an extraordinary experience that will leave you enchanted long after your visit comes to an end.
Best Boutique Hotels in Cheshire
Moss Farm B&B (Knutsford)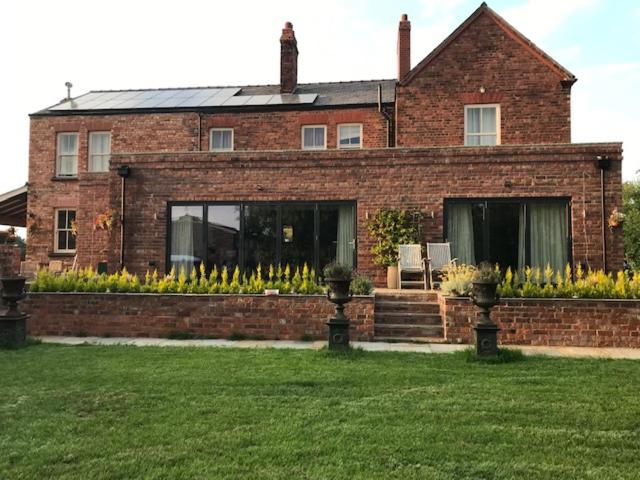 Moss Farm B&B is a charming countryside retreat located in the heart of Knutsford, Cheshire. This homely bed and breakfast offers guests a peaceful escape with its rural farmhouse setting. The rooms are comfortable and equipped with modern amenities such as TVs and electric kettles, while each room also comes with a private bathroom featuring either a bath or shower. Guests can enjoy the convenience of free WiFi access throughout the property. Moss Farm B&B also provides barbecue facilities for those looking to indulge in some outdoor cooking. The location offers plenty of recreational activities, including golfing, making it an ideal destination for sports enthusiasts. Additionally, guests will appreciate the complimentary parking available on site. The bed and breakfast's proximity to the M6 motorway (4 miles) and Manchester Airport (a 20-minute drive away) makes it easily accessible for travelers arriving by car or plane.
– Tranquil countryside setting
– Comfortable rooms with modern amenities
– Free WiFi access throughout
– Barbecue facilities for outdoor dining
– Convenient location near M6 motorway and Manchester Airport
Manor House Hotel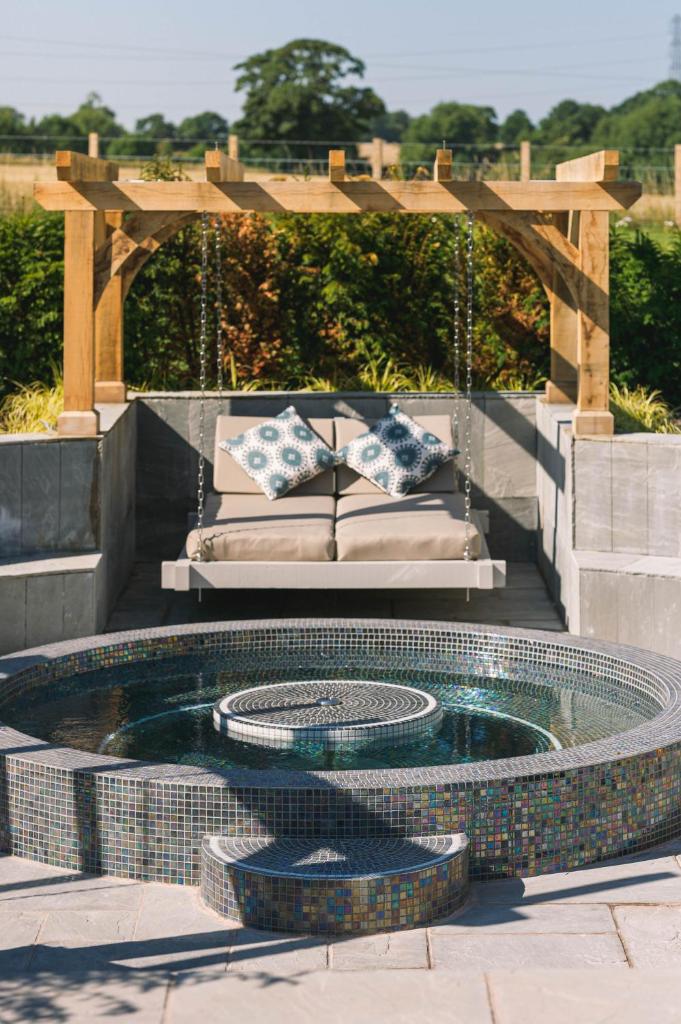 The Manor House Hotel is a charming boutique hotel located in the peaceful countryside of Alsager, just 10 km away from both Stoke-on-Trent and Crewe. Guests can enjoy complimentary use of the heated indoor pool and stay connected with free WiFi throughout the property. The hotel boasts modernized rooms in a 17th-century converted farmhouse, complete with plasma Freeview TVs and en suite bathrooms. For dining options, guests can indulge in delicious meals at Stables Bar and Grill, housed within the historic farmhouse building that features oak beams and stone fireplaces. With an extensive bar offering fine wines and real ales, as well as seasonal menus highlighting locally sourced ingredients, guests are guaranteed to have an exceptional gastronomic experience. Additional amenities include 24-hour room service and a PC with free internet access at reception. The hotel's ideal location allows for easy access to Alsager Golf Club and Alsager Train Station, where direct trains to London are available within a short walk of just 5 minutes. Free parking is also provided on-site for added convenience. Furthermore, exploring nearby attractions such as Chester, Birmingham, Manchester, Nantwich, Crewe, Newcastle-under-Lyme, and Stoke-on-Trent is made effortless with their close proximity being less than an hour's drive away from the hotel. Dining rates that include dinner up to £30 per person are also available for guests seeking a hassle-free culinary experience.
– Heated indoor pool
– Free WiFi throughout
– Historic setting in a converted farmhouse
– Stables Bar & Grill offering fine wines and real ales
– Convenient location near golf club and train station
Oddfellows Chester Hotel & Apartments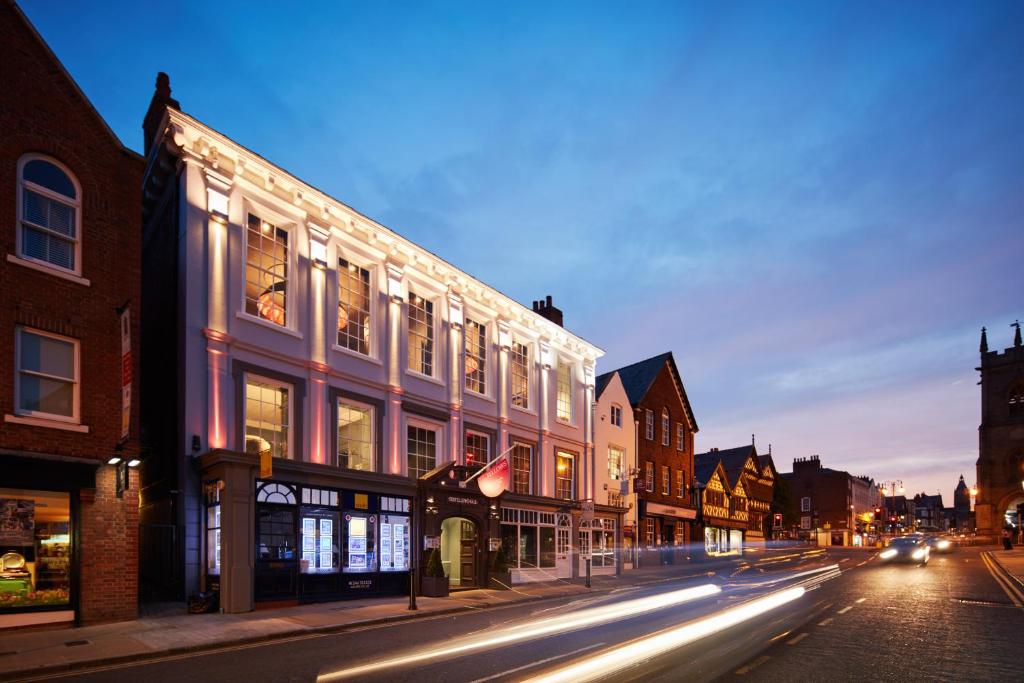 Located in the heart of Chester and just minutes away from the picturesque River Dee, Oddfellows Chester Hotel & Apartments is a luxurious boutique hotel offering stylish accommodation and excellent amenities. Housed in an elegant Georgian building, this hotel boasts unique and individually decorated rooms on its top floor, featuring low wooden beams and roof/skylight windows that add to their charm. Guests can enjoy award-winning menus at the restaurant, which focuses on modern British cuisine using locally sourced ingredients. The hotel also features a separate building at the end of the garden that houses some of its rooms, providing guests with added privacy. The Secret Garden at Oddfellows offers a peaceful outdoor space complete with lounge furniture and open fires, creating the perfect setting for al-fresco dining or enjoying cocktails year-round. With Chester Racecourse just a 5-minute walk away and Grosvenor Shopping Centre within a 3-minute walk, guests will have plenty of attractions and amenities right at their doorstep.
– Stylish bar and modern restaurant serving award-winning menus
– Luxurious boutique-style rooms with unique decor
– Separate building for added privacy
– The Secret Garden offers an enchanting outdoor space for al-fresco dining
– Prime location near Chester Racecourse and Grosvenor Shopping Centre
Other places to stay in Cheshire
Boutique Hotels in Downtown Cheshire
Boutique hotels in downtown Cheshire offer discerning travelers a unique and intimate experience with their stylish decor, personalized service, and attention to detail. With their prime locations, guests can explore the vibrant city center and enjoy easy access to local attractions, shopping, and dining options.
Hotel Indigo – Chester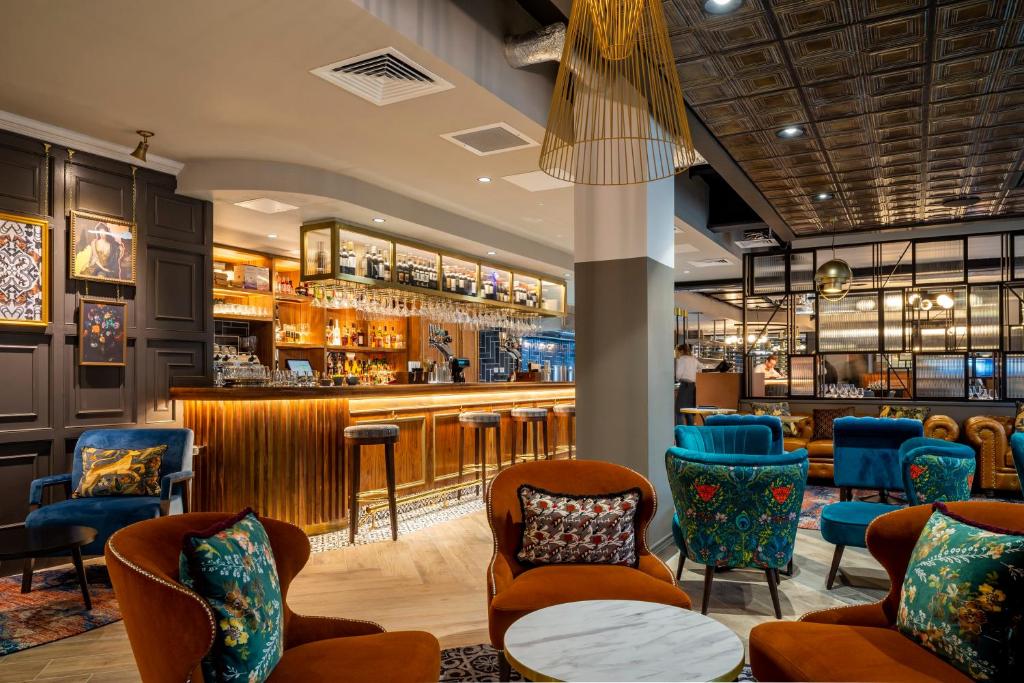 Opened in April 2019, Hotel Indigo – Chester is a charming boutique hotel situated in the heart of Chester, just 1.9 km away from the renowned Chester Racecourse. The hotel offers stylish and air-conditioned accommodation, featuring modern amenities and comfortable furnishings. Guests can enjoy the convenience of the Forge Restaurant, a 24-hour front desk, and a concierge service. Complimentary WiFi is available throughout the property. With its central location, guests will find themselves within walking distance to popular attractions such as Chester Cathedral, Guildhall, and Grosvenor Museum. For those traveling by air, Liverpool John Lennon Airport is approximately 39 km away.
– Stylish and contemporary accommodations
– Convenient on-site restaurant
– Excellent customer service with a 24-hour front desk
– Central location near popular attractions
– Free WiFi available throughout the hotel
The Bear's Paw (Warmingham)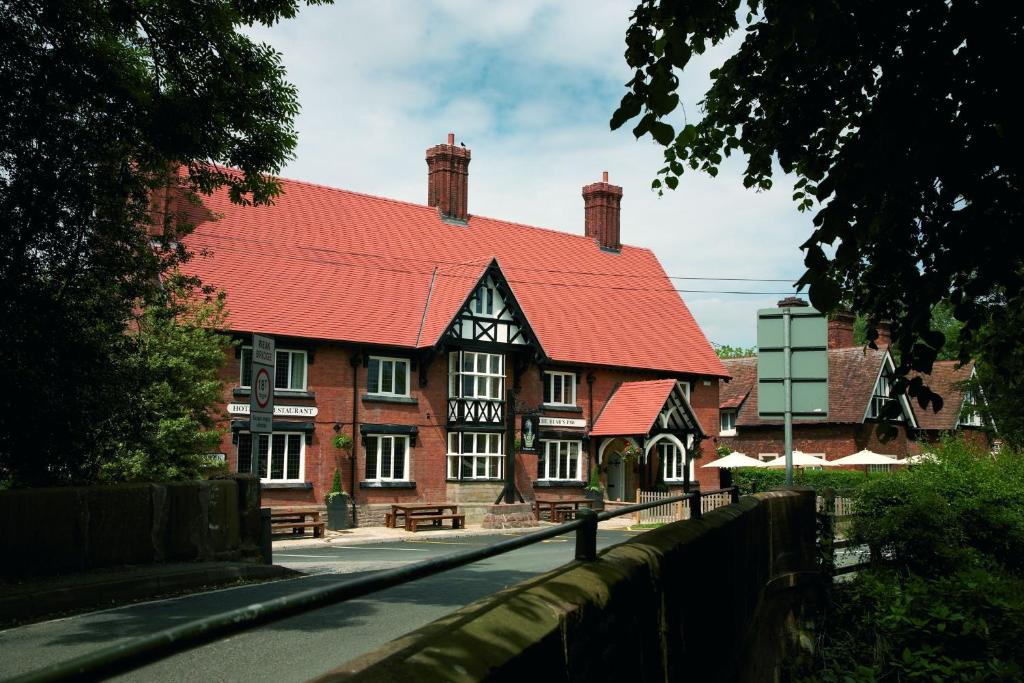 Nestled in the charming village of Warmingham, Cheshire, The Bear's Paw is a 19th-century inn offering a delightful blend of traditional charm and modern luxury. Recently renovated with a £2.5 million investment, this boutique-style hotel boasts beautifully preserved original features alongside stylish contemporary touches throughout. The restaurant exudes elegance with reclaimed wooden panelling, French antique oak floors, and two real open fireplaces. Guests can indulge in wholesome and flavorful home-cooked meals made from the finest locally sourced ingredients that change daily based on the season's offerings. The bar showcases six real ales from local microbreweries as well as an impressive selection of wines from around the world. Each of the en suite rooms exudes style and comfort with modern amenities including flat-screen TVs, free Wi-Fi, and media hubs. Conveniently located near the M6 motorway, The Bear's Paw offers easy access to nearby market towns such as Sandbach, Middlewich, and Crewe.
– Luxurious boutique-style rooms
– Beautifully preserved original features
– Wholesome home-cooked food using locally sourced produce
– Impressive selection of real ales and wines
– Convenient location for exploring nearby market towns
Alexandra Court Hotel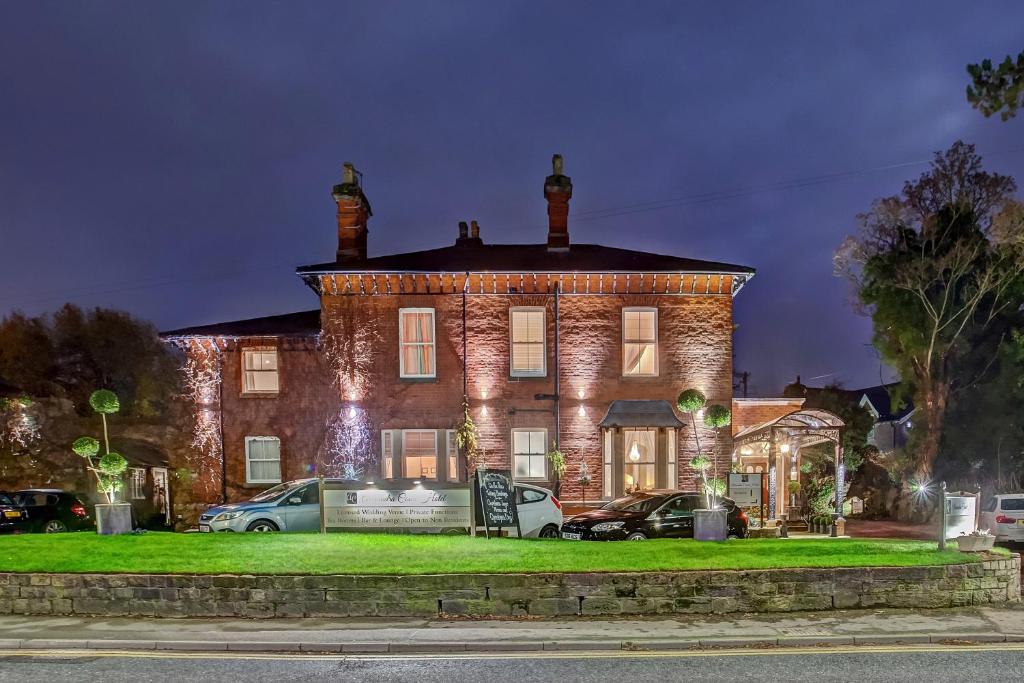 Located near the town of Congleton, the Alexandra Court Hotel is an exclusive, privately owned boutique-style hotel that offers a luxurious stay in a beautifully restored Victorian building. With 14 en suite rooms available, including single, double, family, twin and deluxe double rooms, guests can enjoy modern amenities such as TVs, tea/coffee making facilities and luxurious toiletries. The hotel also provides free wireless broadband internet access throughout and limited free parking for guests. Its quiet and peaceful location makes it a perfect retreat while still being conveniently close to the M6 motorway.
Pros:
– Beautifully restored Victorian building
– Variety of room options available
– Modern amenities provided in each room
– Free wireless broadband internet access throughout the hotel
– Convenient location close to the M6 motorway
Cheshire 5 Star Boutique Hotels
Cheshire 5 Star Boutique Hotels offer an unparalleled luxury experience for discerning travelers seeking personalized service and exquisite design. With a focus on sophistication and attention to detail, these boutique hotels in Cheshire provide guests with an exceptional stay that combines elegance and charm.
Stone Villa Chester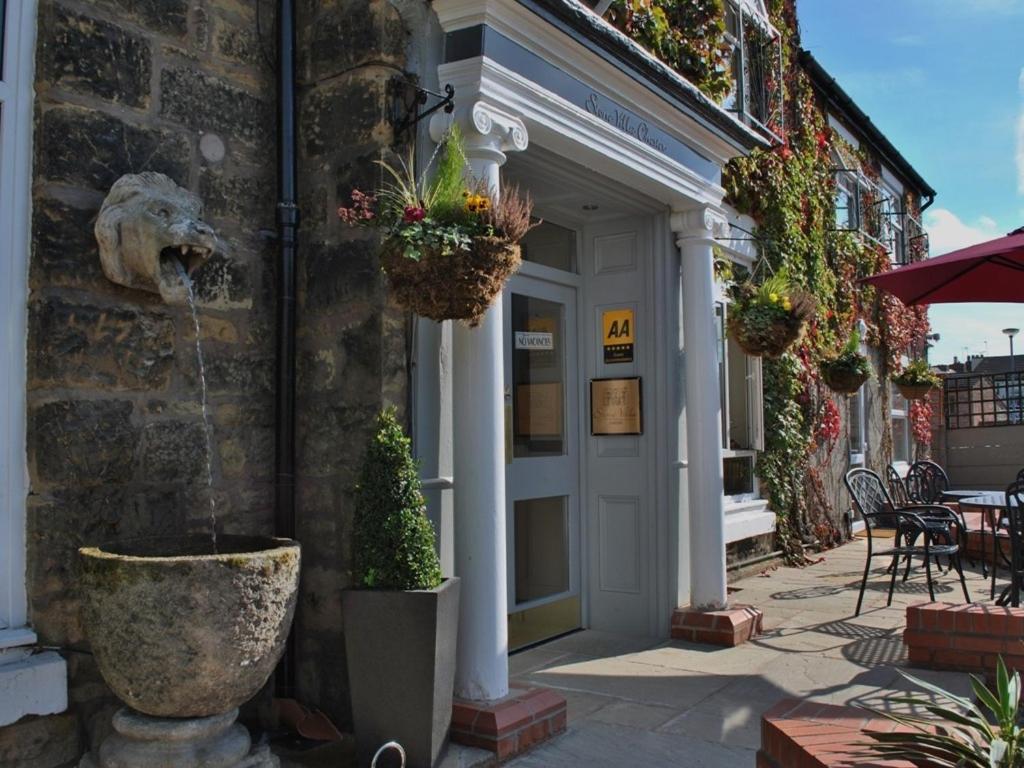 Located on a quiet street, Stone Villa Chester is a luxurious 5-star guest house just a 5-minute walk from Chester Station. The hotel offers an array of amenities including free parking, free Wi-Fi, and beautifully decorated rooms with flat-screen TVs. Guests can unwind in the cozy lounge area or enjoy a delicious breakfast from the extensive menu that caters to various dietary preferences. The rooms at Stone Villa Chester are elegantly furnished and feature spacious bathrooms, seating areas, and fridges. The hotel's prime location allows easy access to popular attractions such as Chester Cathedral and the Roman Amphitheatre, both less than one mile away. With its exceptional service and convenient facilities, Stone Villa Chester promises an unforgettable stay.
Pros:
– Convenient location near Chester Station
– Beautifully decorated rooms with luxury furnishings
– Extensive breakfast menu catering to different dietary requirements
– Cozy lounge area for relaxation
– Free parking
The Pheasant Inn (Higher Burwardsley)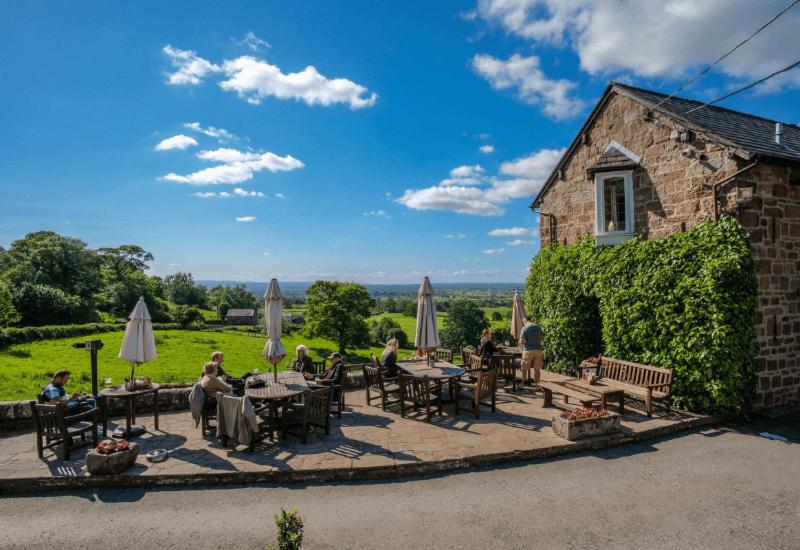 Located in the peaceful countryside of Cheshire, The Pheasant Inn offers a charming and tranquil getaway for guests. Set against the scenic backdrop of the Peckforton Hills, this 300-year-old guest house boasts original features and traditional charm in its sandstone buildings. With cozy log fires, picturesque courtyard gardens, and breathtaking views, The Pheasant Inn provides a truly idyllic retreat. Surrounded by beautiful countryside, it is also conveniently situated near popular walking routes. Each room is equipped with modern amenities such as a TV, tea/coffee facilities, and a bathroom with complimentary toiletries.
The inn's restaurant showcases exposed beams and stone walls while serving a delectable modern British menu made from high-quality local produce. Guests can enjoy real ales and fine wines at the atmospheric bar while taking in panoramic views across the Cheshire Plains. For those looking to explore beyond the inn's grounds, Chester center and Nantwich are just a short 20-minute drive away. Additionally, Peckforton Castle is within walking distance—a pleasant 25-minute stroll through scenic surroundings.
– Idyllic countryside location
– Charming sandstone buildings with original features
– Delicious modern British cuisine using local produce
– Atmospheric bar offering real ales and fine wines with stunning views
– Convenient proximity to Chester center and Nantwich
Grosvenor Pulford Hotel & Spa (Pulford)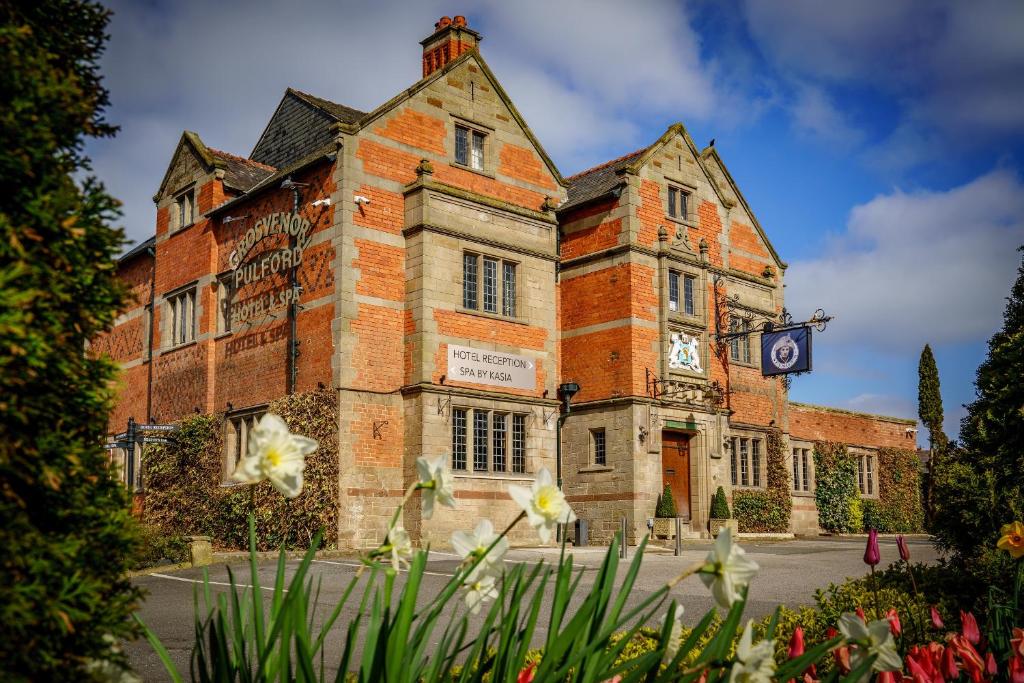 Situated just a short 15-minute drive from the historical center of Chester, Grosvenor Pulford Hotel & Spa offers guests a luxurious retreat with its spa, pool, and gym facilities. Nestled near the Welsh border, this hotel boasts free Wi-Fi, spacious rooms, and stunning grounds. Each en suite room is equipped with modern amenities such as a flat-screen TV with digital channels and tea/coffee making facilities. With the convenience of 24-hour room service, guests can indulge in ultimate comfort during their stay.
– Spa facilities for ultimate relaxation
– Indoor pool for refreshing swims
– Well-equipped gym for fitness enthusiasts
– Free Wi-Fi access throughout the hotel
– Beautiful grounds perfect for leisurely walks
Cheshire Luxury Boutique Hotels
Cheshire Luxury Boutique Hotels offer discerning travelers an indulgent and exclusive experience in a picturesque location. With their attention to detail, personalized service, and unique design elements, these hotels provide a luxurious retreat for those seeking a memorable stay in the heart of Cheshire.
Rookery Hall Hotel & Spa (Nantwich)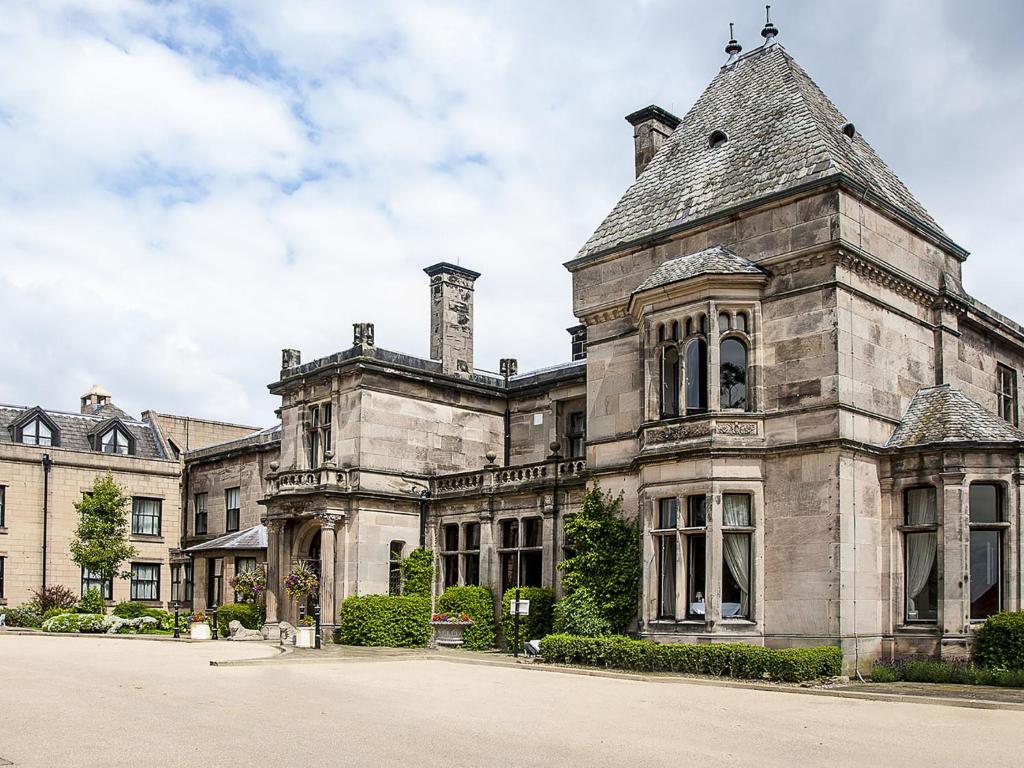 Located in Nantwich, Rookery Hall Hotel & Spa is a luxurious boutique hotel offering an idyllic retreat surrounded by 38 acres of picturesque wooded parkland. Built in 1816, this elegant Victorian mansion has retained its original features, including stunning mahogany panelling, ornamental ceilings, and colorful stained glass. The well-appointed rooms are beautifully decorated with a touch of classic charm and feature modern amenities such as a 42-inch flat-screen TV and plush bathrobes. The hotel boasts an award-winning restaurant where guests can indulge in seasonal dishes served in a grand candlelit dining room. For relaxation and rejuvenation, guests can visit the Rookery Hall Spa located in a converted stable block, which offers an array of beauty treatments and facilities including a Crystal Steam Room, glass-roofed swimming pool, hydrotherapy pool, and Health Club with exercise classes. Additionally, The Drawing Room provides the perfect setting for champagne afternoon teas or evening cocktails while enjoying views of the gardens. With its convenient location just 15 minutes' drive from the M6 motorway and within easy reach of Chester, Manchester, and the medieval town of Nantwich along with excellent transport links such as Crewe Station being only a 10-minute drive away -Rookery Hall Hotel & Spa is an ideal choice for those seeking luxury accommodation combined with relaxation and convenience.
– Scenic wooded parkland surroundings
– Award-winning restaurant serving seasonal dishes
– Luxurious spa facilities featuring Crystal Steam Room
– Elegant Victorian mansion retaining original features
– Convenient location near major transportation hubs
Cheshire Boutique Hotels Information
| | |
| --- | --- |
| 🛎️ Boutique Hotels in Cheshire | 10 |
| 💵 Hotels Prices From | $89 |
| 💵 Highest price | $1525 |
| 🥇 Average Review Score | 9/10 |
| 🛏️ Average number of Rooms | 36 |
Top Boutique hotels in Cheshire
| | |
| --- | --- |
| Stone Villa Chester | 9.7/10 |
| Moss Farm B&B (Knutsford) | 9.5/10 |
| The Pheasant Inn (Higher Burwardsley) | 9/10 |
| Manor House Hotel | 8.9/10 |
| Hotel Indigo – Chester | 8.9/10 |
FAQ
What are the top boutique hotels in Cheshire?
Cheshire offers a range of luxurious boutique hotels that cater to different tastes. The Grosvenor Pulford Hotel & Spa is a popular choice, known for its elegant rooms and spa facilities. Another option is the Carden Park Hotel, which boasts stunning views of the countryside and features an award-winning spa and golf courses. For those seeking a more intimate experience, The Pheasant Inn is a charming boutique hotel located in a picturesque village and offers cozy rooms and fine dining.
What amenities can I expect at boutique hotels in Cheshire?
Boutique hotels in Cheshire pride themselves on providing exceptional amenities to ensure guests have a memorable stay. These may include stylishly designed rooms with luxurious furnishings, high-quality bedding, and modern technologies such as flat-screen TVs and Wi-Fi access. Many of these hotels also offer additional amenities like onsite restaurants serving gourmet cuisine, spas offering indulgent treatments, fitness centers equipped with state-of-the-art equipment, concierge services to assist with any needs or queries, and sometimes even private gardens or terraces for relaxation.
Are there any pet-friendly boutique hotels in Cheshire?
Yes, several boutique hotels in Cheshire welcome four-legged companions. One such example is Oddfellows Chester, a chic hotel located within walking distance of the city center. Known for its quirky design and outstanding service, this pet-friendly hotel accommodates dogs upon prior request. Another option is Peckforton Castle Hotel situated amidst beautiful countryside offering dog-friendly rooms where you can explore nature trails together.
How do I book a room at a boutique hotel in Cheshire?
Booking a room at one of the fabulous boutique hotels in Cheshire can be done easily through various channels. Most luxury boutiques have their own websites where you can check availability and make reservations directly online by selecting your preferred dates and room type. Alternatively, you can utilize online travel agencies such as Booking.com or Expedia, which often offer competitive rates and convenient search filters to help you find your perfect boutique hotel in Cheshire.
What other attractions are near boutique hotels in Cheshire?
Cheshire boasts a plethora of attractions that complement your stay at a boutique hotel. If you're located near Chester, don't miss the opportunity to explore its historic city walls, visit the majestic Chester Cathedral, or take a leisurely stroll by the picturesque River Dee. For nature enthusiasts, Delamere Forest offers scenic walking trails while Tatton Park provides beautiful gardens and a historic mansion. Additionally, if you're looking for retail therapy and designer brands, Cheshire Oaks Designer Outlet is just a short drive away from many boutique hotels in the area.
Popular Boutique Hotels destinations