Welcome to Catalonia, Spain – a captivating region known for its rich culture, breathtaking landscapes, and charming accommodations. Today, we are embarking on a journey to discover the hidden gems of Catalonia's boutique hotels. These intimate and distinctive establishments offer an unparalleled experience that combines luxury, authenticity, and personalized service.
In this alluring corner of Spain, you will find boutique hotels that epitomize elegance and refinement. Nestled amidst picturesque villages or perched on dramatic coastal cliffs, these enchanting retreats exude charm at every turn. From opulent manor houses steeped in history to sleek modern sanctuaries with minimalist design, Catalonia offers a diverse range of boutique accommodations that cater to every discerning traveler's taste.
Prepare to be captivated by Catalonia's boutique hotel scene as we explore the characteristics that set them apart from traditional resorts or chain hotels. Get ready for an unforgettable adventure filled with exclusivity and bespoke experiences in one of Europe's most enticing destinations – Catalonia!
Best Boutique Hotels in Catalonia
Hotel Sa Calma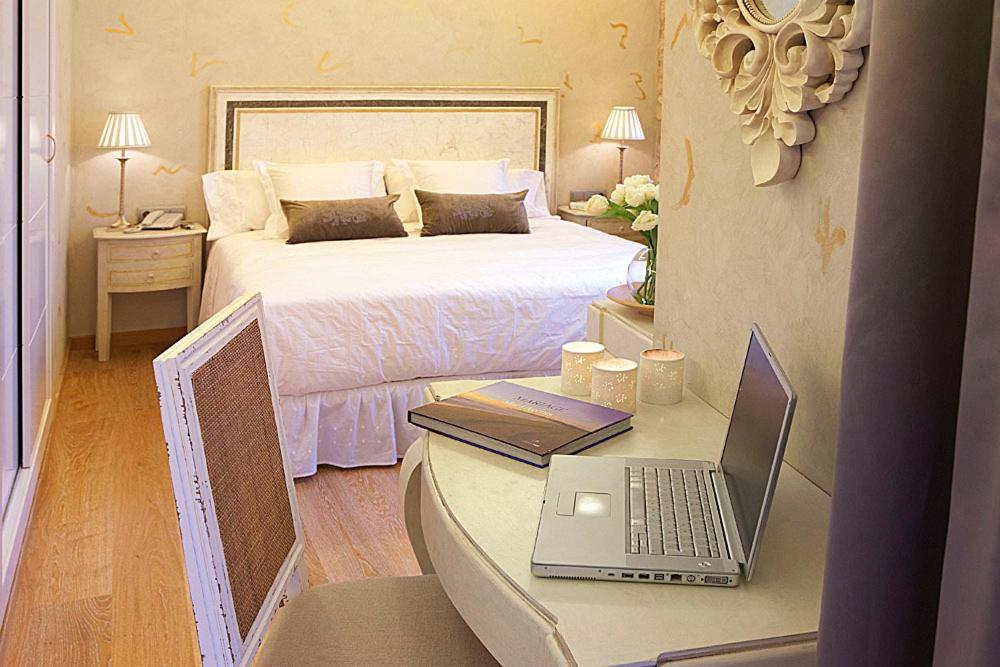 Hotel Sa Calma is a beautifully renovated 19th-century house located just 50 meters from Begur's main square. The hotel offers luxurious amenities including a free rooftop hot tub and a sauna, hot tub, and steam room. Each of the elegant air-conditioned rooms features a chromotherapy bath and shower, along with large beds, wooden floors, and modern amenities such as TV, safe, and work desk. Guests can enjoy delicious meals at the à la carte restaurant or unwind at the bar. Additional services include room service, special diet menus upon request, massage treatments, private parking (extra charge), valet parking service airport transfers (upon request), and car or bicycle rental from the tour desk. Fornells Beach and Pals Golf Course are both easily accessible by car in about 15 minutes.
Pros:
– Convenient location close to Begur's main square
– Luxurious amenities including a free rooftop hot tub
– Elegant air-conditioned rooms with chromotherapy baths
– On-site sauna, hot tub, steam room for ultimate relaxation
– Variety of additional services available including massage treatments
Hotel Margot House Barcelona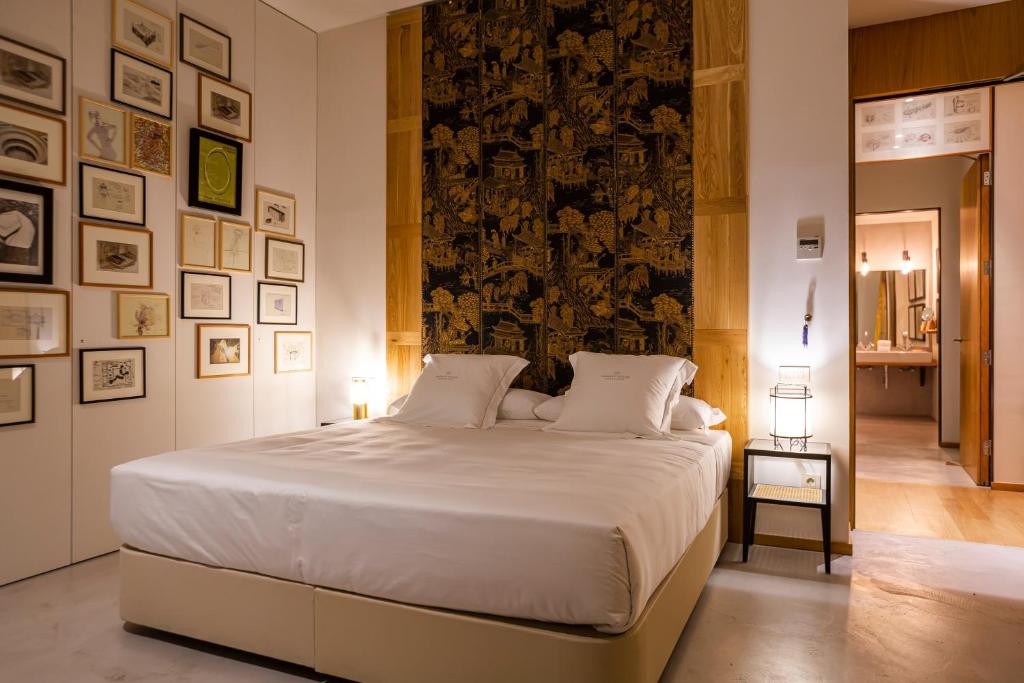 Hotel Margot House Barcelona is an exquisite luxury boutique hotel situated in the heart of Barcelona, just opposite Casa Batlló on Passeig de Gracia. The hotel's location offers easy access to popular attractions such as Sagrada Familia, Plaza Catalunya, and Las Ramblas Boulevard. Each room at Hotel Margot House is beautifully adorned with modern decor and features hardwood floors. Guests can enjoy amenities like a flat-screen TV, safe, air conditioning, and heating. The private bathrooms are equipped with a bath or shower and come with hairdryers, slippers, and complimentary toiletries. With a 24-hour front desk and library services available, guests will find everything they need for a comfortable stay. The hotel also offers laundry and dry cleaning services along with the option to arrange airport shuttles for an additional fee. With its prime location and luxurious amenities, Hotel Margot House Barcelona ensures that guests have an unforgettable experience.
– Prime location opposite Casa Batlló
– Metro station conveniently located in front of the hotel
– Modern decor with hardwood floors
– 24-hour front desk and library services
– Laundry and dry cleaning services available
Casa Camper Barcelona
Located in central Barcelona, between Las Ramblas and MACBA art gallery, Casa Camper Barcelona is a stylish boutique hotel that offers a unique and luxurious experience. Each room features a separate lounge, allowing guests to relax and unwind in privacy. The hotel also offers a free 24-hour buffet, providing a wide variety of delicious options for guests to choose from. With designer bedrooms overlooking either a peaceful vertical garden or city views, Casa Camper Barcelona provides the perfect blend of tranquility and urban sophistication. Additionally, the hotel's convenient location places it just a 5-minute walk away from the famous Boqueria market, the Liceu opera house, and Barcelona's renowned Gothic Quarter. The lounges are equipped with flat-screen TVs, sofas, and desks for ultimate comfort and convenience. Free WiFi is available throughout the property. For those looking for quick bites or refreshments any time of day or night, the 24-hour snack area includes complimentary water, soft drinks, coffee, as well as an array of sandwiches, salads, soup,sliced fresh fruit,and desserts to satisfy any craving. To complete the culinary experience at Casa Camper Barcelona,Dos Palillos,a well-known restaurant serving Asian tapas,is available on-site.With Plaza Catalunya and main shopping streets just a short 10-minute walk away,guests can easily explore all that this vibrant city has to offer while enjoying top-notch luxury accommodations.
Pros:
– Stylish boutique hotel with unique design
– Separate lounges in each room provide added privacy
– Free 24-hour buffet offering various food options
– Convenient central location near popular attractions
– Complimentary amenities including WiFi and snacks
Other places to stay in Catalonia
Boutique Hotels in Downtown Catalonia
Boutique hotels in Downtown Catalonia offer a unique and intimate experience for travelers seeking luxury accommodation. With their distinctive charm and attention to detail, these hotels provide a stylish escape in the heart of this vibrant region.
Hotel Galena Mas Comangau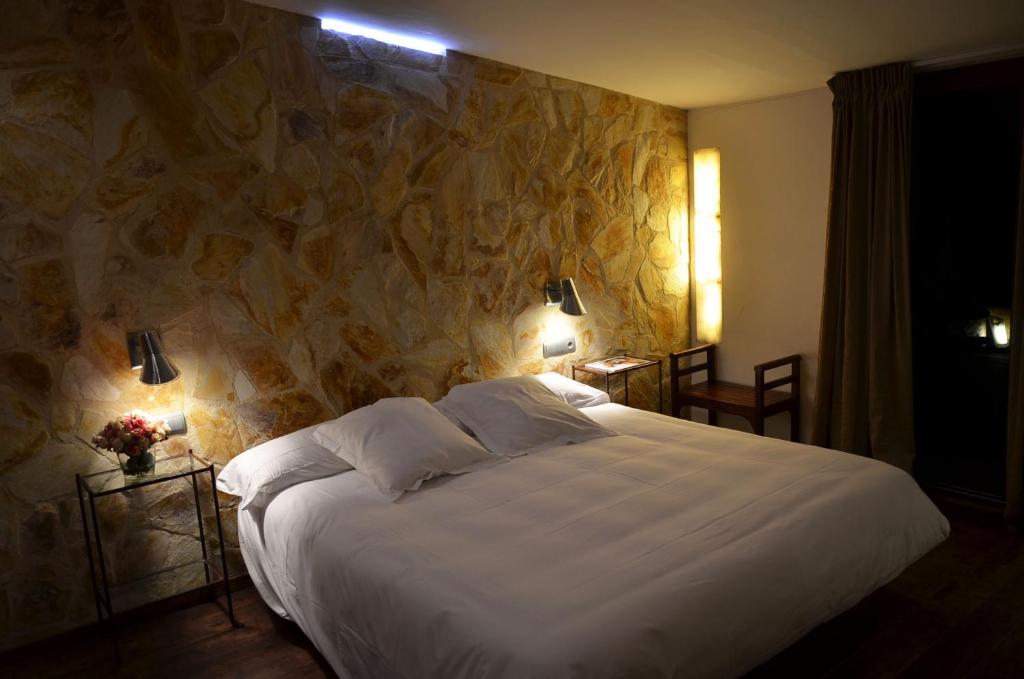 Located in an 18th-century Catalan farmhouse, Hotel Galena Mas Comangau offers a luxurious stay with its stylish rooms and stunning amenities. Guests can enjoy the comfort of free Wi-Fi and rain-effect showers, while also taking in the breathtaking views from the terrace. The hotel's restaurant serves delicious traditional Mediterranean cuisine, allowing guests to indulge in a true culinary experience. With wooden floors and modern rustic decor, the air-conditioned rooms are equipped with flat-screen TVs, some featuring private terraces for added luxury. The hotel also boasts a bar and chic chill-out lounge. Its prime location allows easy access to Begur's city center, as well as several beaches within a short drive. Golf enthusiasts will appreciate the proximity to various golf courses, all reachable within 20 minutes by car. For those traveling by plane, Girona and its airport are approximately an hour away.
– Stylish rooms with free Wi-Fi
– Rain-effect showers
– Terrace with fantastic views
– Restaurant serving traditional Mediterranean food
– Close proximity to beaches and golf courses
Ohla Barcelona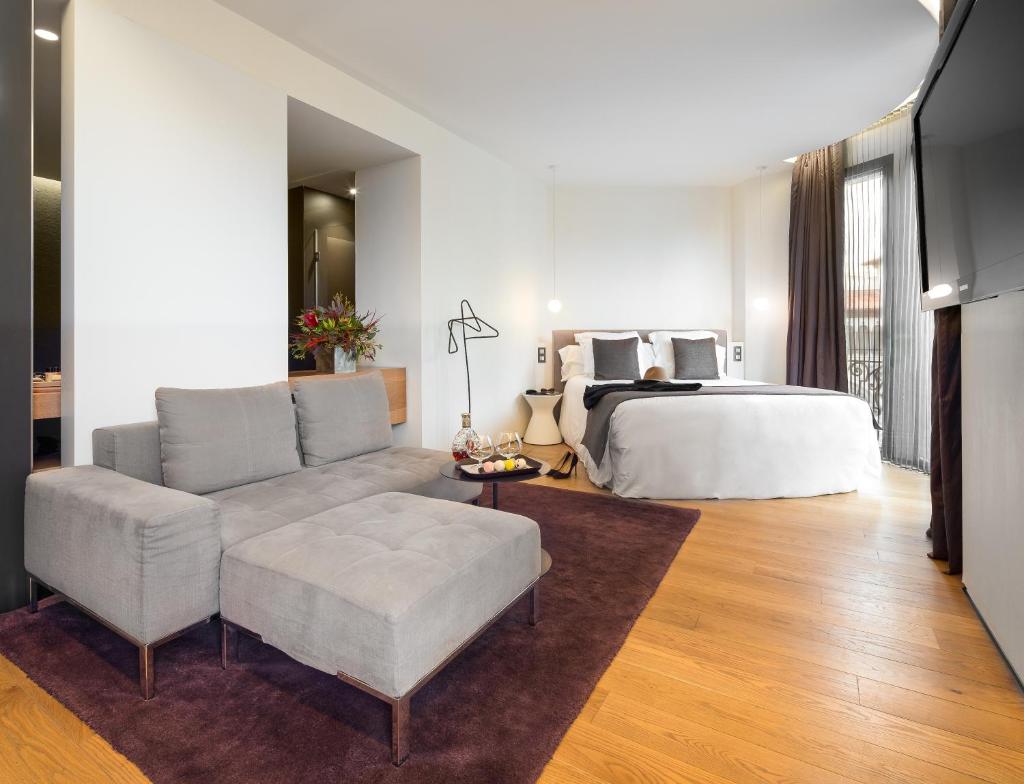 Ohla Barcelona is a luxury boutique hotel located in the heart of Barcelona's historic center. This stylish hotel offers contemporary rooms with large windows and modern amenities, including free WiFi and flat-screen TVs. The highlight of Ohla Barcelona is its rooftop pool, providing stunning views of the city along with a chill out terrace. Guests can also indulge in gourmet dining experiences at Caelis restaurant, Vistro49, and La Plassohla, all overseen by renowned chef Romain Fornell. Additional facilities include a gym and a wellness area featuring a sauna. With its prime location near iconic landmarks such as Palau de la Música Concert Hall and the Cathedral, as well as being just steps away from Plaza Catalunya Square and Urquinaona Metro Station, Ohla Barcelona offers guests a truly memorable stay in the vibrant city of Barcelona.
– Rooftop pool with fantastic city views
– Renowned chef overseeing multiple dining options
– Stylish rooms with contemporary decor
– Prime location near major attractions
– Wellness area with sauna for relaxation
ICON Bcn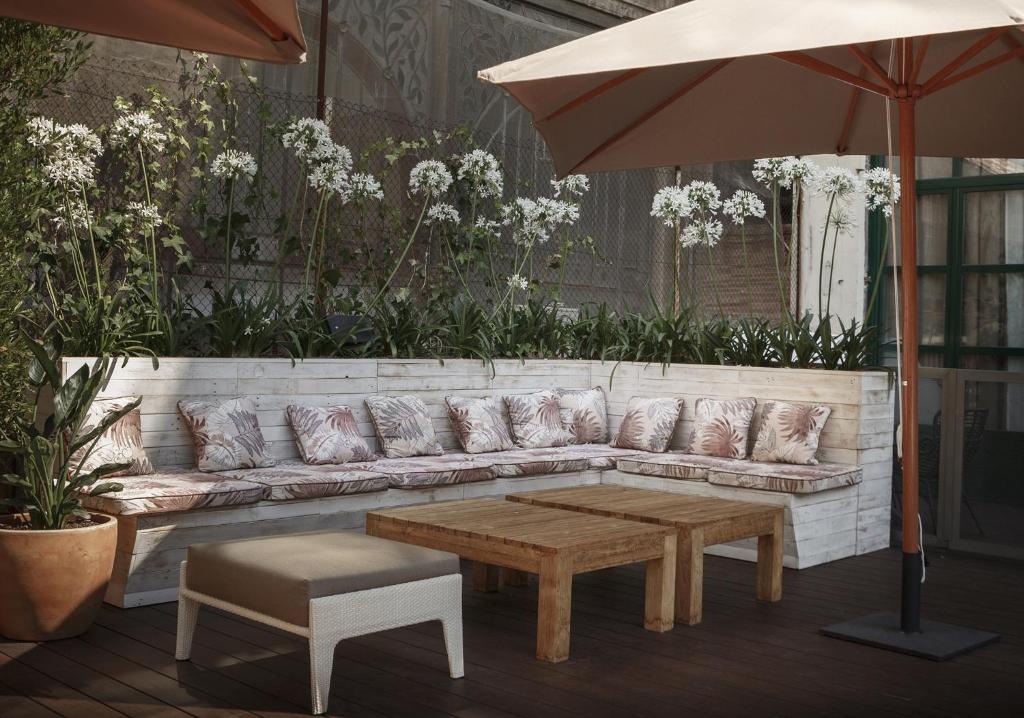 Located in the heart of Barcelona, just a 5-minute walk from Plaza Catalunya and Paseo de Gracia, ICON Bcn by Petit Palace is a luxury boutique hotel that offers guests a truly unforgettable experience. The hotel boasts modern and stylish rooms with contemporary décor, equipped with amenities such as flat-screen TVs and showers. Guests can enjoy Mediterranean cuisine at the on-site restaurant and bar or take advantage of the free bicycle use to explore the city. With its 24-hour reception, scooter hire service (subject to availability), and convenient location near popular landmarks like the Gothic Quarter, Palau de la Música Catalana, Gaudi's La Pedrera, and Ciutadella Park, ICON Bcn by Petit Palace ensures that every guest has an enjoyable stay.
– Central location in Barcelona
– Free bicycle use for exploring the city
– Stylish rooms with modern amenities
– On-site restaurant serving Mediterranean cuisine
– Convenient access to major attractions
Catalonia 5 Star Boutique Hotels
Catalonia boasts a vibrant selection of 5-star boutique hotels, known for their impeccable service and attention to detail. From historic buildings to modern design gems, these hotels offer a luxurious experience that captures the essence of Catalonia's rich culture and charm.
Kimpton Vividora Hotel
The Kimpton Vividora Hotel, an IHG Hotel, is a luxurious boutique hotel located in the heart of Barcelona's Gothic Quarter. With its contemporary decor and elegant design, this property offers a truly immersive experience for guests. The hotel features a rooftop pool with stunning views of the city, as well as a Mediterranean restaurant and a terrace with a bar. Each room is equipped with modern amenities such as yoga mats, tea and coffee making facilities, smart TVs, and minibars. Guests can also enjoy the "Forgot it? We got it!" service which provides additional amenities to enhance their stay. The on-site Fauna restaurant serves delicious Mediterranean cuisine with Catalan roots, while Got Coffee & Cocktails offers locally sourced coffee, wine, and signature cocktails. Additionally, the hotel is pet-friendly and conveniently located near popular attractions including Barcelona Cathedral and Plaza de Catalunya. Barcelona-El Prat Airport is just 15 km away. With its prime location and top-notch amenities, it's no wonder why our clients consider this part of Barcelona to be their favorite.
Pros:
– Luxurious rooftop pool
– Elegantly designed property
– Convenient location in Barcelona's Gothic Quarter
– Gastronomic options include Mediterranean cuisine at Fauna restaurant and locally sourced coffee at Got Coffee & Cocktails
– Pet-friendly accommodations
Mastinell Cava & Boutique Hotel by Olivia Hotels Collection, VILAFRANCA DEL PENEDÈS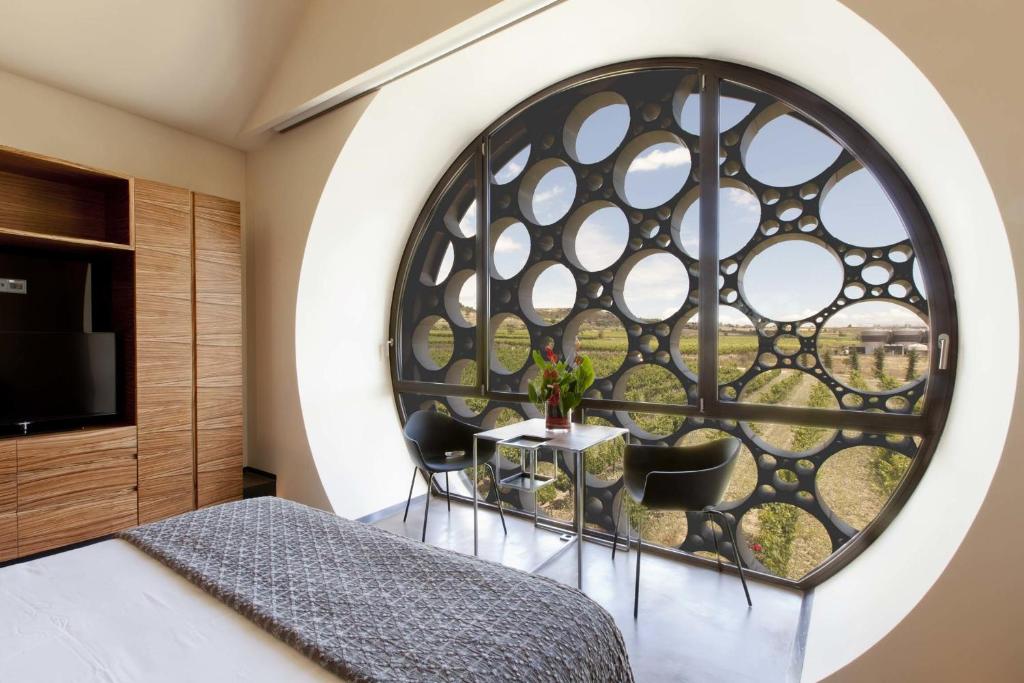 Located just outside Vilafranca del Penedès, the Mastinell Cava & Boutique Hotel is a stunning 5-star hotel situated next to Mas Tinell Vineyards. Its innovative architecture is truly captivating, with a structure that resembles a collection of stacked wine bottles and a mosaic-tiled roof reminiscent of Gaudí's masterpieces. This exceptional design earned the hotel the prestigious Medalla de Oro de la Arquitectura award for best design in Shanghai in 2011.
Aside from its unique aesthetics, the Mastinell Cava & Boutique Hotel offers convenient access to the E15 Motorway, allowing guests to reach both the coast and central Barcelona within 45 minutes. The contemporary rooms exude elegance and charm, reflecting the interior of a wine bottle. Each room features a circular window with a mesh, bubble-like façade that provides breathtaking views of the surrounding vineyards.
Guests can expect luxurious amenities such as air conditioning, flat-screen satellite TV, a Nespresso machine, free Wi-Fi, and a private bathroom complete with complimentary toiletries. The hotel's restaurant serves up show cooking and creative Catalan cuisine paired perfectly with local wines and cava. Additionally, there is an on-site shop where guests can indulge in wine-related products and even enjoy wine therapy treatments.
The Mastinell Cava & Boutique Hotel is ideally located in the Penedès region, making it an excellent base for outdoor activities such as hiking, horse riding, and cycling. If relaxation by the beach is your preference, Sitges and Vilanova i la Geltrú are just around 25 km away.
Pros:
– Exceptional architectural design
– Spectacular views of vineyards from rooms
– Delicious Catalan cuisine served with local wines
– Convenient location for exploring both coastal areas and central Barcelona
– Accessible to various outdoor activities
Sansi Pedralbes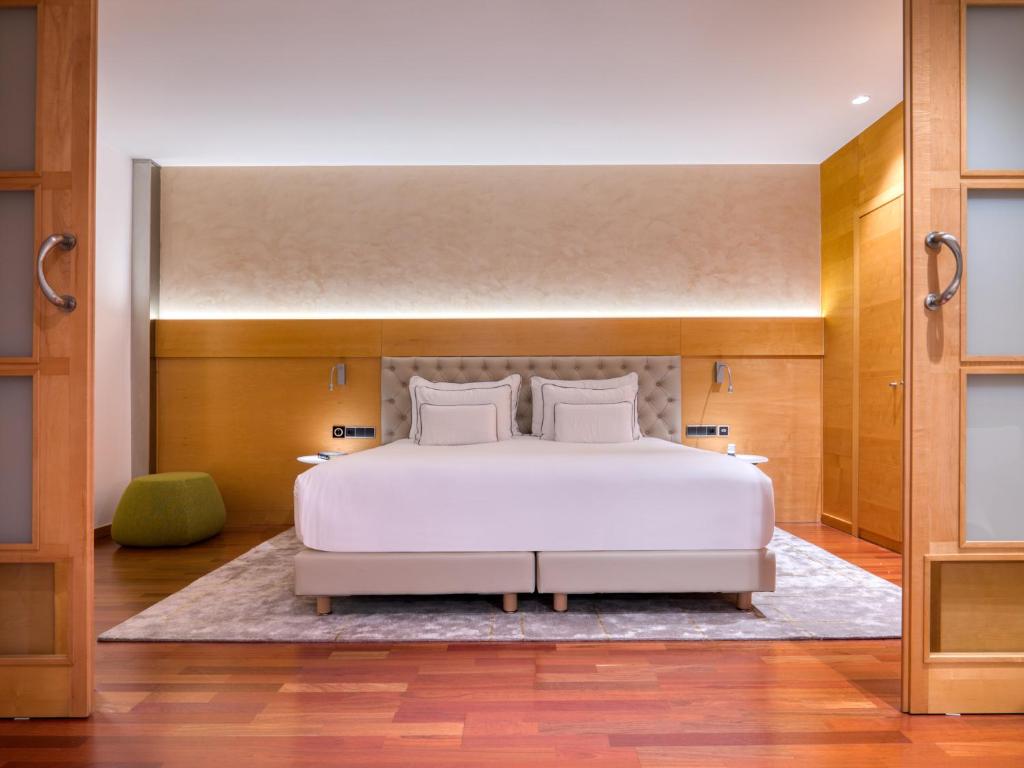 Located just 250 metres from Pedralbes Monastery and 700 metres from UPC University, Sansi Pedralbes offers a peaceful retreat with stylish rooms and modern amenities. The hotel features tastefully decorated air-conditioned rooms in soft blues and browns, equipped with free Wi-Fi, TV, minibar, safe, and iron. Guests can enjoy a varied breakfast and indulge in Catalan cuisine at the elegant restaurant. The hotel's prime location makes it convenient for visitors to explore Barcelona's attractions with ease. Adding to its appeal is the close proximity of IESE University (5 minutes walk) and ESADE University (200 meters). Reina Elisenda Station is also within reach (800 meters away), providing easy access to Barcelona Airport (15-minute drive). For relaxation, guests can take advantage of the hotel's spa facilities which include a heated indoor pool, saunas, aromatherapy showers (at an additional cost), as well as arrange for rejuvenating massages on request.
Pros:
– Peaceful gardens provide a tranquil environment
– Stylishly designed rooms with comfortable amenities
– Close proximity to Pedralbes Monastery and universities
– Convenient access to public transportation for exploring Barcelona
– Spa facilities offering relaxation options
Catalonia Luxury Boutique Hotels
Catalonia luxury boutique hotels offer a world-class experience, combining stylish design with personalized service. Each hotel is unique, providing an intimate and exclusive atmosphere for discerning travelers seeking the ultimate in luxury accommodations.
Serras Barcelona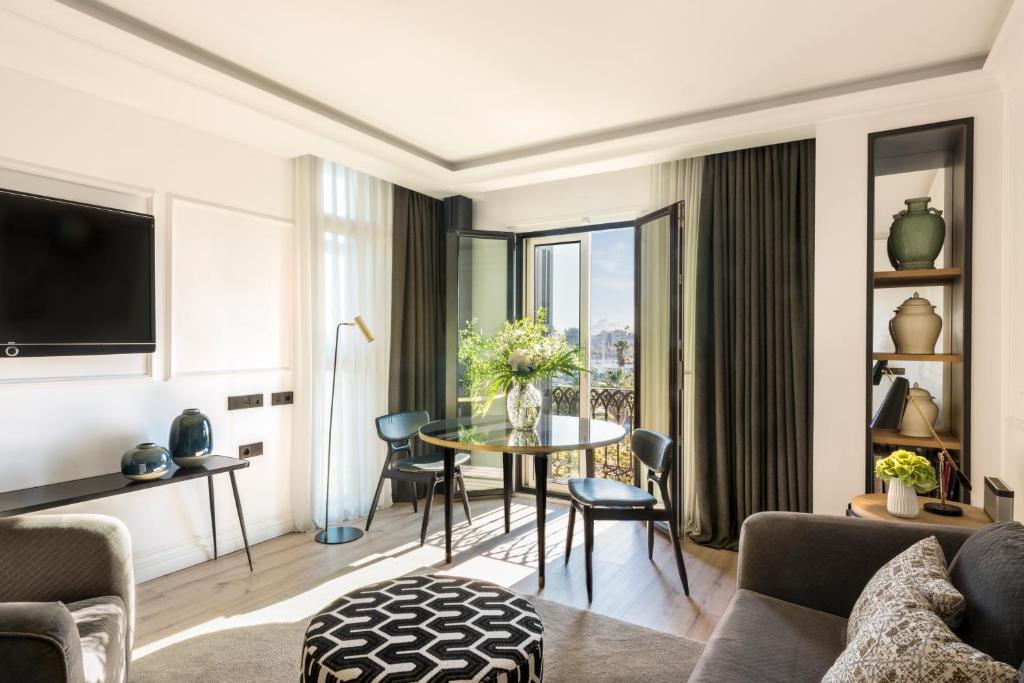 Serras Barcelona is a luxurious 5-star boutique hotel located in Barcelona's Gothic Quarter, offering stunning views of the sea. Housed in a historic building where Pablo Picasso once worked, this hotel is known for its preservation of the original façade and stylish design. The rooms are tastefully decorated and equipped with modern amenities such as Smart HD TVs and wireless sound systems. Guests can indulge in the rooftop infinity pool and enjoy signature cocktails while listening to chill-out music on the terrace lounge. The mezzanine level features a cozy library with a bar, and the restaurant serves Catalan specialties and Mediterranean tapas throughout the day. With its prime location, Serras Barcelona is just a short walk from popular attractions like Picasso Museum and Plaça Reial Square.
– Ideal location opposite the sea
– Rooftop infinity pool with breathtaking views
– Michelin-starred chef at Restaurant Informal
– Luxurious services including airport pick-up and valet parking
– Historic building with preserved original façade
Hotel Mas del Sol (Vall-Llobrega)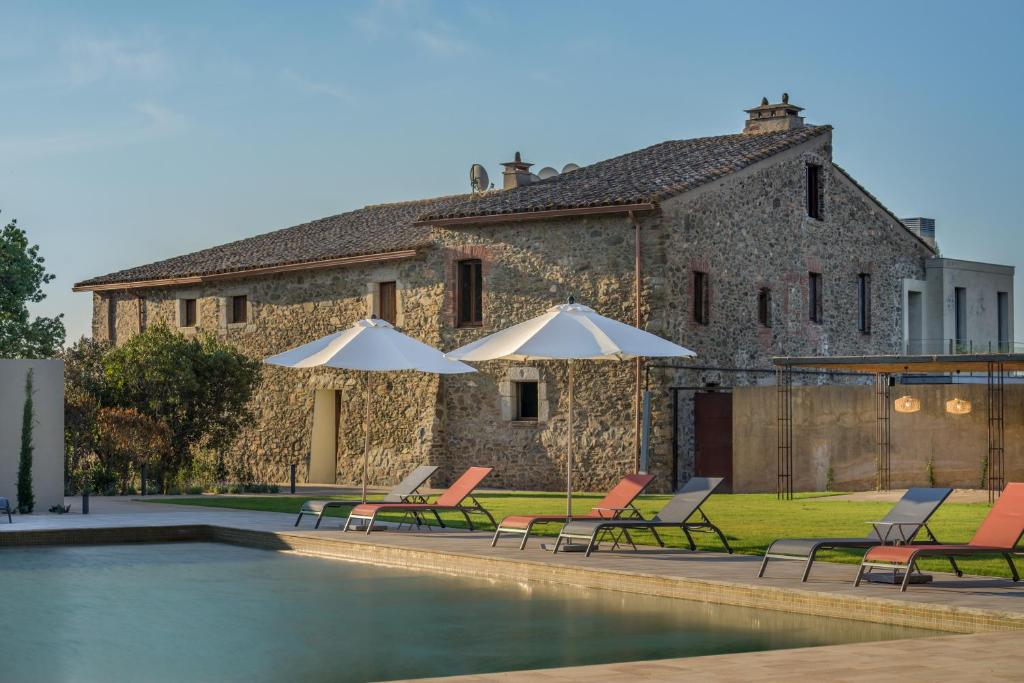 Hotel Mas del Sol, located in Vall-Llobrega just 30 km from the Medes Islands Marine Reserve, is a stunning luxury boutique hotel that opened its doors in April 2021. The hotel offers a range of amenities including an outdoor swimming pool, free private parking, a beautiful garden, and a shared lounge. Guests can enjoy free WiFi throughout the property and take advantage of the terrace and bar for relaxation and socializing. The on-site restaurant serves delicious Catalan, French, and Italian cuisine, with options for vegetarian, vegan, and gluten-free diets available upon request. Each spacious guest room at Hotel Mas del Sol features air conditioning, a comfortable seating area, a flat-screen TV with satellite channels, a safety deposit box, and a private bathroom complete with a bidet and complimentary toiletries. A buffet or à la carte breakfast is served daily offering both continental options as well as hot dishes to start the day off right. Guests can also enjoy exploring the area on bicycles which are available for hire at the hotel. Girona Train Station is conveniently located 48 km away while Golf Playa de Pals is within easy reach at just 20 km distance. The nearest airport is Girona-Costa Brava Airport situated 46 km from Hotel Mas del Sol.
– Recently opened luxury boutique hotel
– Outdoor swimming pool
– Terrific location near Medes Islands Marine Reserve
– Delicious dining options including vegetarian/vegan/gluten-free choices
– Bike rental available for exploring the surrounding area
Hotel Neri – Relais & Chateaux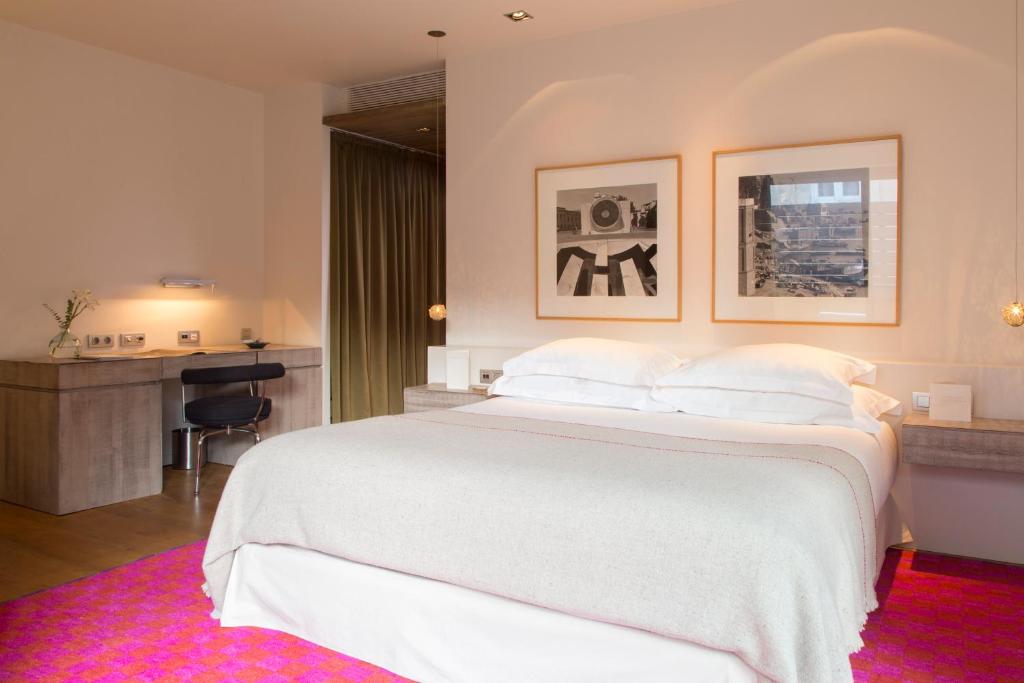 Hotel Neri – Relais & Chateaux is a chic and exclusive boutique hotel situated in the heart of Barcelona's Gothic Quarter. Housed in an 18th-century aristocratic house, the hotel offers a contemporary style that beautifully contrasts with its impressive historic surroundings. The original period charm of the building has been preserved and enhanced by sophisticated interior design, creating a unique atmosphere that is further enhanced by relaxing music and sensual aromas. With its prime location next to the city's Cathedral and within walking distance of Las Ramblas, Hotel Neri provides guests with easy access to all that Barcelona has to offer. Enjoy delicious specialties at the hotel restaurant or sip on a drink at the terrace bar. For moments of relaxation, there is a tranquil library and a pretty rooftop garden terrace where guests can unwind. In addition to the main hotel building, Hotel Neri also offers apartments housed in a restored classic building just steps away from Sant Felip Neri square. Overall, Hotel Neri – Relais & Chateaux provides an unforgettable luxury experience in one of Barcelona's most historic neighborhoods.
– Prime location in Barcelona's Gothic Quarter
– Impressive blend of contemporary style and historic architecture
– Delicious specialties served at the hotel restaurant
– Tranquil library and pretty rooftop garden terrace for relaxation.
– Apartments available in addition to traditional guest rooms
Catalonia Boutique Hotels Information
| | |
| --- | --- |
| 🛎️ Boutique Hotels in Catalonia | 12 |
| 💵 Hotels Prices From | $191 |
| 💵 Highest price | $1976 |
| 🥇 Average Review Score | 9.1/10 |
| 🛏️ Average number of Rooms | 37 |
Top Boutique hotels in Catalonia
| | |
| --- | --- |
| Sansi Pedralbes | 9.6/10 |
| Casa Camper Barcelona | 9.5/10 |
| Mastinell Cava & Boutique Hotel by Olivia Hotels Collection, VILAFRANCA DEL PENEDÈS | 9.4/10 |
| Serras Barcelona | 9.4/10 |
| Hotel Mas del Sol (Vall-Llobrega) | 9.1/10 |
FAQ
What are the top boutique hotels in Catalonia?
Catalonia offers a fantastic selection of luxury boutique hotels. One highly recommended option is Hotel Neri Relais & Châteaux in Barcelona, known for its exquisite design, personalized service, and rooftop terrace with breathtaking city views. Another excellent choice is Mercer Hotel Barcelona, which combines historical charm with modern amenities. For those looking to explore the Costa Brava region, Mas de Torrent Hotel & Spa in Pals is a hidden gem offering elegant rooms and stunning countryside views.
What amenities can I expect at a boutique hotel in Catalonia?
Boutique hotels in Catalonia pride themselves on providing exceptional amenities for their guests. From well-appointed rooms with stylish decor to state-of-the-art facilities such as spa services and fitness centers, these hotels go above and beyond to ensure a luxurious stay. Additionally, many boutique hotels offer unique features like rooftop pools or Michelin-starred restaurants that add an extra touch of sophistication to your experience.
Are there any family-friendly boutique hotels in Catalonia?
Yes, there are several family-friendly boutique hotels in Catalonia that cater to travelers with children of all ages. Hotels like El Castell de Ciutat near La Seu d'Urgell provide spacious accommodations and offer amenities such as outdoor playgrounds or kids' clubs to keep young ones entertained. Some properties also offer family suites or interconnected rooms so that everyone can stay together comfortably.
Can I find beachfront boutique hotels in Catalonia?
Absolutely! Catalonia boasts some stunning coastal areas where you can find fabulous beachfront boutique hotels. Sitges, just south of Barcelona, is known for its beautiful beaches and charming town center dotted with upscale establishments like Dolce Sitges Resort & Spa. In Costa Brava, you'll discover breathtaking sea views from luxurious properties like Hostal de La Gavina located near S'Agaró beach.
How do I book a stay at a boutique hotel in Catalonia?
Booking a stay at a boutique hotel in Catalonia is simple. Many of these properties have their websites where you can check availability and make reservations directly. Alternatively, you can use online travel agencies or luxury travel advisors who specialize in boutique hotels to assist you with the booking process. Whichever method you choose, it's always recommended to book in advance, especially during peak travel seasons when availability may be limited.
Popular Boutique Hotels destinations