Are you looking for an exceptional and one-of-a-kind hotel experience in Cambridgeshire, UK? Look no further than boutique hotels! These hotels offer a unique stay that is unlike anything you'll find at a traditional hotel. Whether you are traveling for business or pleasure, there's something special about staying in a cozy and intimate boutique hotel.
In Cambridgeshire, you will find several luxurious boutique hotels that will make your stay unforgettable. Each of these properties has its own unique character, from historic buildings to sleek modern designs. You'll also appreciate the personalized service and attention to detail that comes with staying in a smaller property. And because these hotels are usually independently owned and operated, they often have more flexibility to create custom experiences tailored specifically for their guests. So if you're ready to upgrade your travel experience, consider booking a stay at one of Cambridgeshire's amazing boutique hotels!
Best Boutique Hotels in Cambridgeshire
Clopton Courtyard Cambridge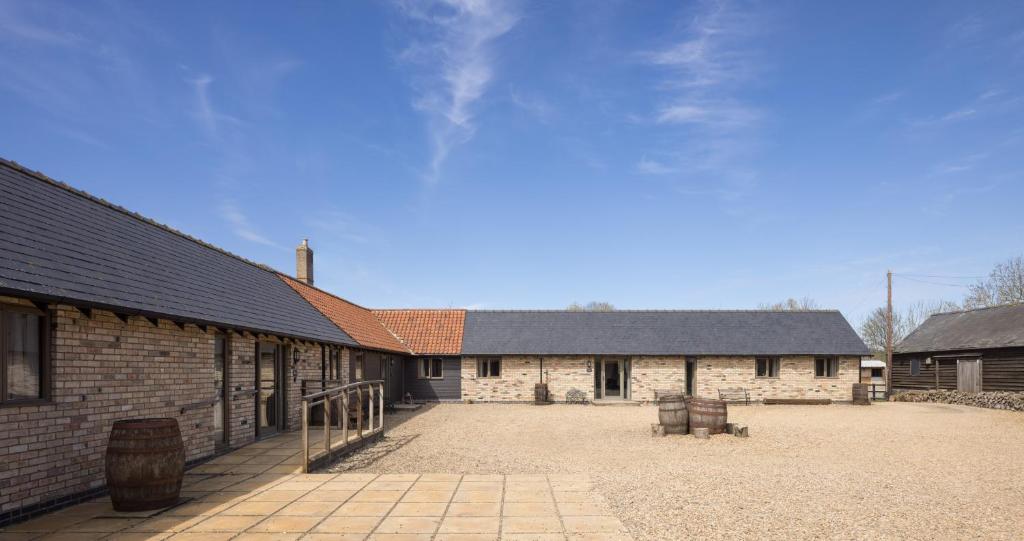 Clopton Courtyard Cambridge is an apartment-style luxury hotel located 21 km away from the University of Cambridge. The hotel provides guests with free WiFi and free private parking. The stunning accommodation offers a terrace, a fully equipped kitchen, a seating area, and a private bathroom with essential toiletries. Additionally, the Clopton Courtyard Cambridge features a microwave, stovetop, toaster, and kettle. The hotel's outdoor amenities include a garden and barbecue facilities in the premises. Guests can explore nearby attractions such as Knebworth House (34 km) or Audley End House (34 km).
Pros:
– Free WiFi
– Free private parking
– Fully-equipped kitchen
– Beautiful terrace
– Garden and barbecue facilities
Turing Locke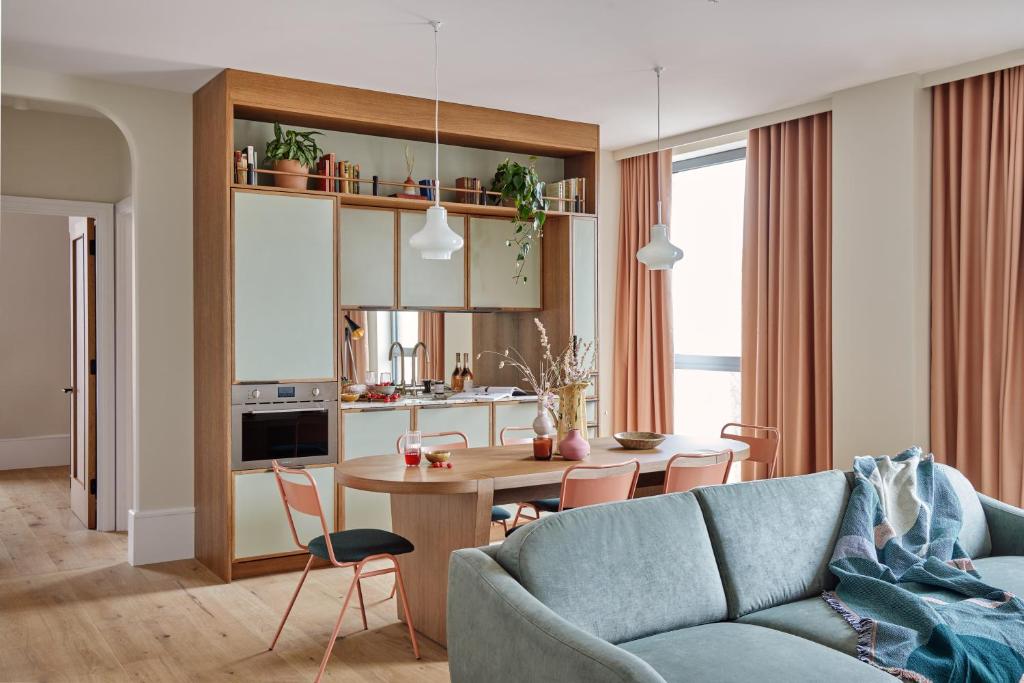 Turing Locke, a newly opened luxury aparthotel in Cambridge, offers guests 4-star accommodation with fully equipped kitchens, air conditioning, flat-screen TVs and private bathrooms. The property also features a fitness centre and terrace for guests to enjoy. Plus, free WiFi and private parking are available on site while bicycles can be rented for further exploration. Perfectly situated just 5.4 km from the University of Cambridge and easily accessible via Stansted Mountfitchet Station (49 km away), Turing Locke is an ideal destination for both business and leisure travelers.
– Fully equipped kitchens in every room.
– Free WiFi throughout the property.
– Fitness center for guests' use.
– Bicycle rental service available on site.
– Just 5.4 km from the University of Cambridge.
Worth House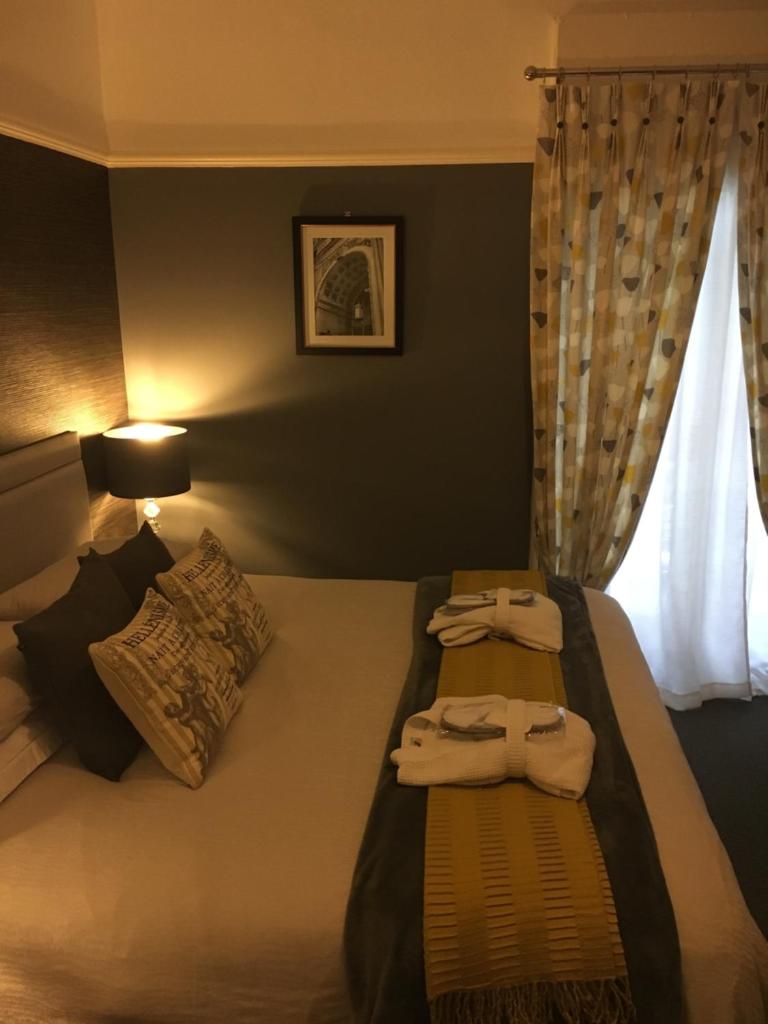 Worth House is a charming guest house located just 500 metres from the River Cam and 15 minutes' walk from central Cambridge. The Victorian villa features individually decorated rooms, each with a large private bathroom and a flat-screen TV. Guests can enjoy free WiFi, free parking, and award-winning cooked breakfasts which include full English breakfasts as well as light continental options and vegetarian choices. Worth House's convenient location makes it easy to access The Grafton Shopping Centre within 10 minutes on foot while the historical old town and Cambridge University Colleges are reachable in 15 minutes' walk. Kettle's Yard Gallery is also only one mile away.
– Convenient location near the River Cam
– Individually decorated rooms with large private bathrooms
– Award-winning cooked breakfasts with vegetarian options available
– Free WiFi and parking included
Other places to stay in Cambridgeshire
Boutique Hotels in Downtown Cambridgeshire
Downtown Cambridgeshire has a great selection of boutique hotels that offer personalized service and unique experiences. These hotels are designed to cater to the discerning traveler who seeks exclusivity, luxury, and comfort in their accommodations. Whether you're visiting for business or pleasure, these boutique hotels provide an intimate setting with exceptional attention to detail.
Crown Lodge Hotel (Wisbech)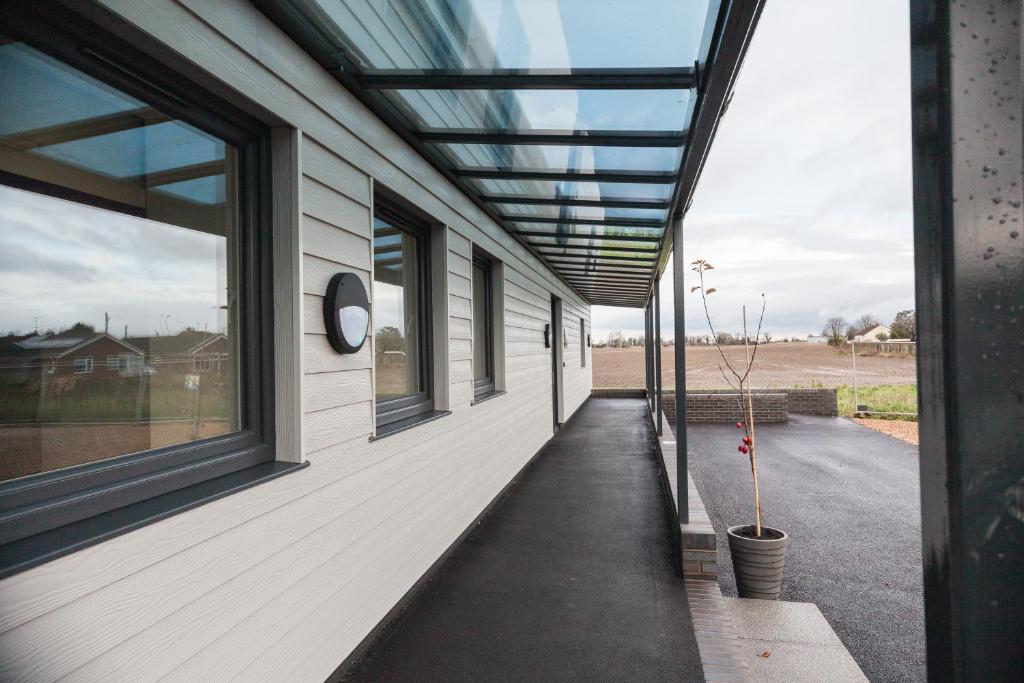 Crown Lodge Hotel is a 4-star luxury hotel located in Wisbech that offers guests a range of amenities including a fitness centre, garden, shared lounge and terrace. The hotel features a restaurant serving delicious British cuisine, as well as a bar for guests to enjoy drinks. Rooms at the hotel come equipped with modern furnishings including flat-screen TVs and desks. Some rooms even have full kitchens complete with refrigerators, ovens and dishwashers. Guests can choose from either continental or Full English/Irish breakfast options with vegetarian, vegan and dairy-free options also available upon request. The hotel is situated in an area perfect for outdoor activities such as fishing, canoeing and cycling.
Pros:
– Beautifully furnished rooms equipped with modern amenities
– Access to on-site fitness centre
– Delicious restaurant serving British cuisine
– Location ideal for outdoor activities
– Vegetarian, vegan and dairy-free breakfast options available
Graduate Cambridge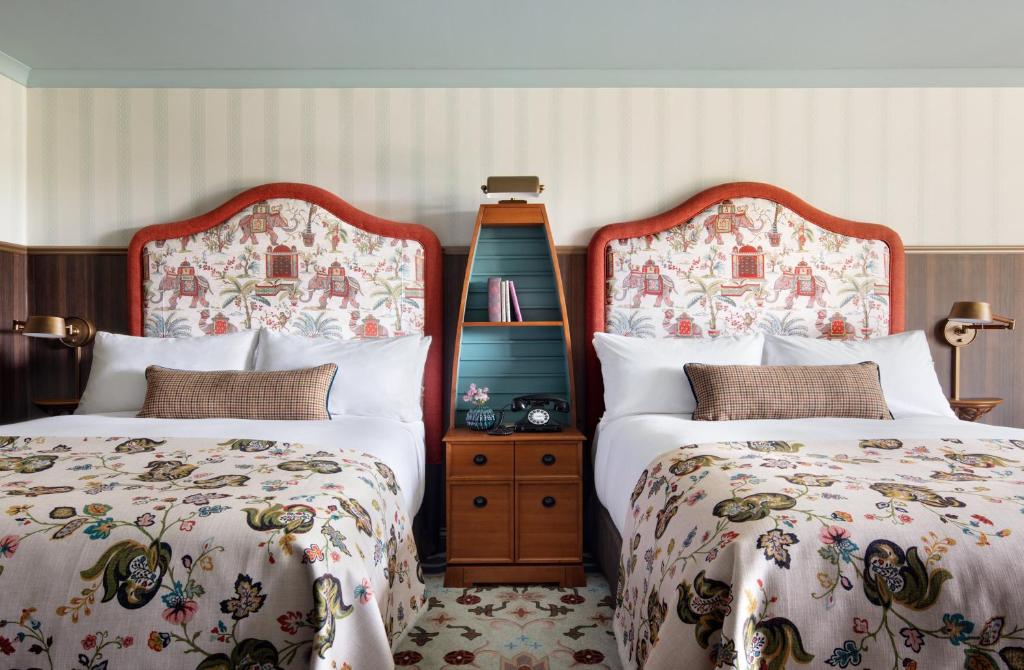 Opened in January 2020, Graduate Cambridge is a luxurious hotel situated in the beautiful city of Cambridge. This stunning property offers remarkable facilities such as a restaurant, bar, shared lounge and garden area. The hotel provides impeccable services to its guests with 24-hour front desk assistance and room service. The rooms at Graduate Cambridge are beautifully designed with comfortable furniture and equipped with all necessary amenities including a flat-screen TV with cable channels, seating area and work desk. Guests can enjoy an incredible English/Irish breakfast at the hotel's on-site restaurant. The location of this hotel is perfect for cycling enthusiasts as it is located near popular cycling spots in the city. Visitors can explore various famous tourist attractions located close to the hotel including St Catharine's College, University of Cambridge, and Museum of Archaeology and Anthropology.
– Luxurious amenities
– Comfortable rooms
– Great location for cycling enthusiasts
– Proximity to famous tourist attractions
Hyatt Centric Cambridge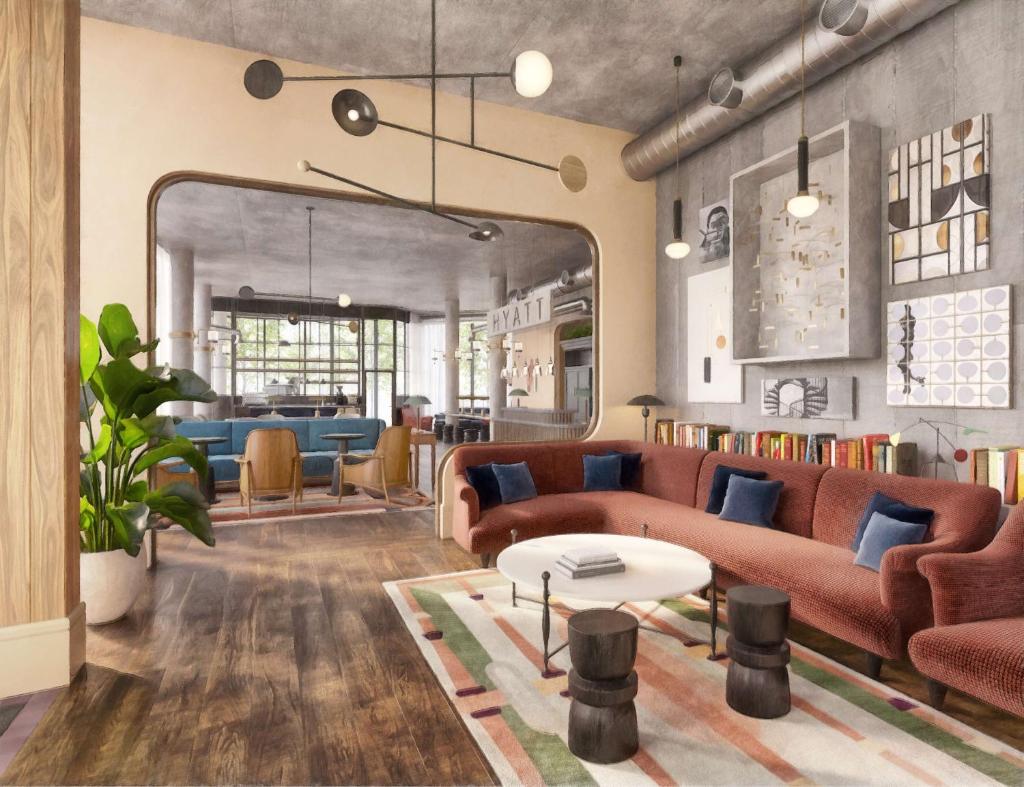 Opened in August 2021, Hyatt Centric Cambridge is a luxurious 4-star hotel located in the heart of Cambridge. The hotel offers guests comfortable and modern accommodation complete with air conditioning, flat-screen TVs, and private bathrooms. Guests can also enjoy amenities such as free WiFi, private parking, a fitness center, and access to free bikes to explore the city. The hotel's prime location puts travelers just 5.5 km from University of Cambridge and within easy reach of other popular attractions like Audley End House and St Catharine's College.
– Modern and comfortable guest rooms with all necessary amenities
– Access to free bikes for exploring the city
– Convenient on-site parking available for guests
– Fitness center on premises to stay active during your stay
– Friendly staff available at reception providing helpful information
Cambridgeshire 5 Star Boutique Hotels
Cambridgeshire 5 Star Boutique Hotels provide luxurious accommodation options with exceptional services and amenities for discerning travelers. The hotels are situated in prime locations, offering stunning views of the city's picturesque landscapes. Overall, Cambridgeshire 5 Star Boutique Hotels offer guests an unforgettable experience that is both comfortable and indulgent.
Chippenham Park Garden Rooms (Chippenham)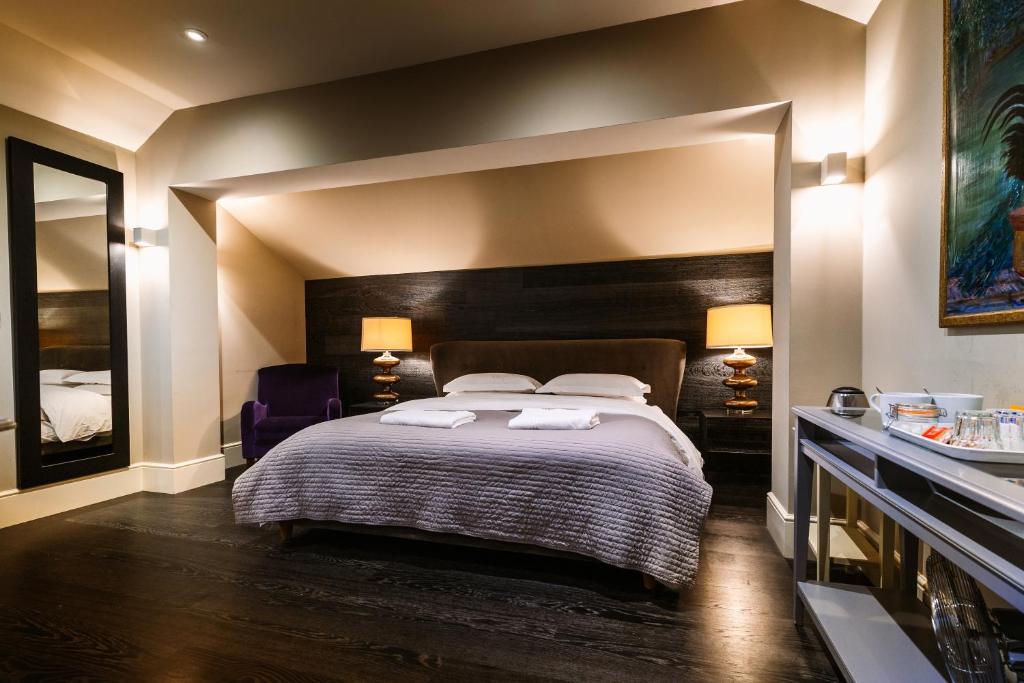 The Chippenham Park Garden Rooms is an exceptional apartment hotel that is nestled in the scenic village of Chippenham in Cambridgeshire. These rooms are set within a private estate and offer guests stunning views of a fully-functioning kitchen garden. The hotel provides free on-site parking, and the historic city of Cambridge is just 24 km away. Each room comes equipped with a TV, free WiFi, and a private shower room with complimentary toiletries. Additionally, Bury Saint Edmunds is just 20 km away, Newmarket 6 km away, and London Stansted Airport located 47 km from the property.
– Stunning views of fully-functional kitchen garden
– Free on-site parking
– Complimentary toiletries in private shower rooms
– Close proximity to Cambridge, Bury Saint Edmunds & Newmarket
– Free WiFi available in all rooms
The Bell Inn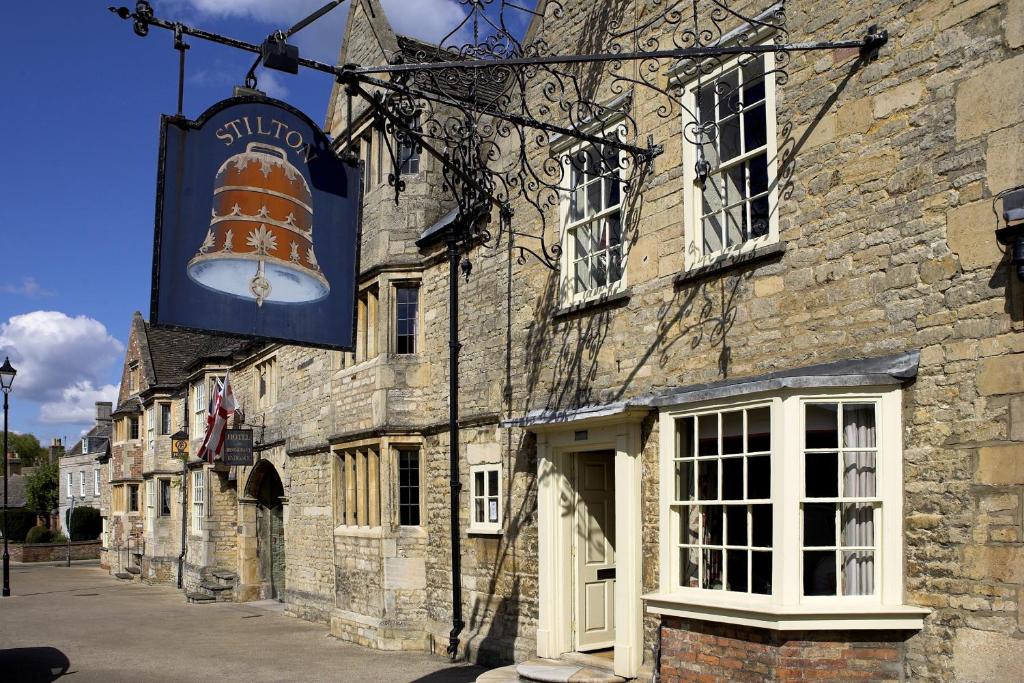 The Bell Inn is a charming 17th-century coaching house located in the picturesque village of Stilton, Cambridgeshire. The property offers individually furnished rooms with modern amenities such as free Wi-Fi, Sky TV, tea and coffee making facilities and en-suite bathrooms. Guests can dine at the stylish restaurant, The Galleried Restaurant, which serves locally sourced seasonal cuisine or enjoy traditional British and international flavours at The Bistro and The Village Bar. Known for being the birthplace of stilton cheese and steeped in history, the village offers plenty of opportunities for exploration. Free parking is available on site with easy access to the A1. Pros:
– Charming 17th-century coaching house
– Stylish restaurant serving locally sourced seasonal cuisine
– Individually furnished rooms with modern amenities
– Renowned location as birthplace of Stilton cheese
– Conveniently located with free parking
Gonville Hotel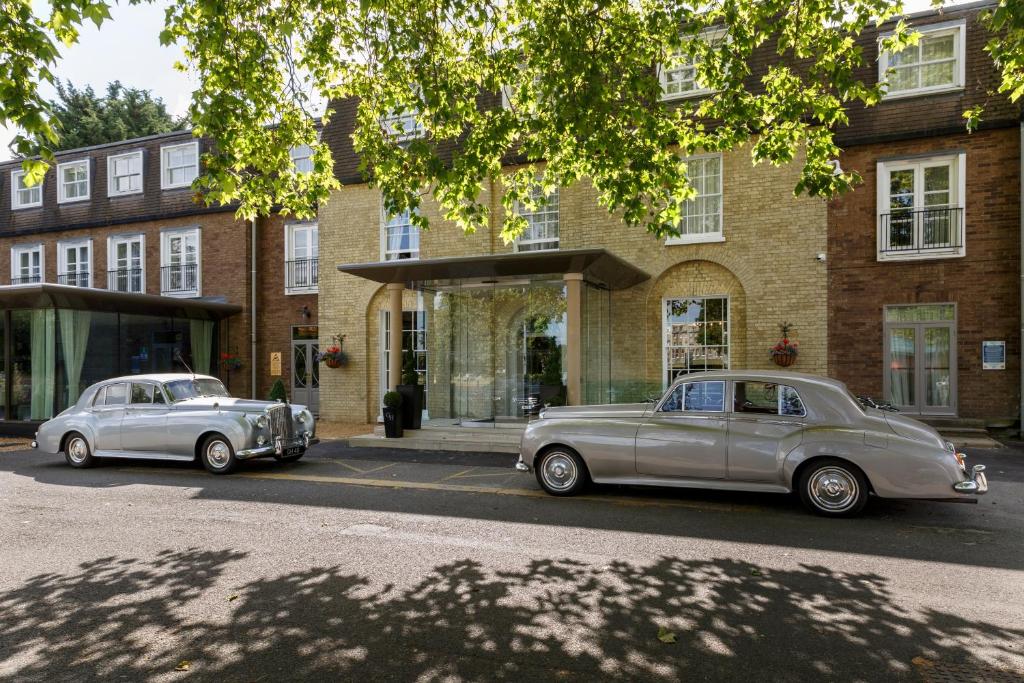 Located just a short walk from Cambridge's historic centre, the 4-star Gonville Hotel offers luxury accommodations with stunning views of Parker's Piece. The hotel has been recently refurbished to a high standard and features free high-speed WiFi and on-site parking for an additional fee. Guests can enjoy fresh British cuisine made with locally sourced ingredients at the Terrace Restaurant, as well as continental and cooked-to-order breakfasts, afternoon teas, lunches, bar snacks, and evening meals. Additional amenities include complimentary bike hire for exploring Cambridge's picturesque streets and landmarks, spacious rooms equipped with iPads for making service requests or room service orders at the touch of a button, flat-screen TVs, air conditioning units, work desks and seating areas in each room.
– Great location overlooking Parker's Piece
– Luxury accommodations with state-of-the-art amenities
– Delicious British cuisine made using local produce
– Complimentary bike hire for guests
– Walking distance to top attractions such as Cambridge University Colleges
Cambridgeshire Luxury Boutique Hotels
Cambridgeshire has a number of luxury boutique hotels that offer guests personalized accommodations and attention. These properties often feature unique architecture and design, as well as high-end amenities and services.
Clayton Hotel Cambridge
Clayton Hotel Cambridge is a luxurious hotel located in the vibrant new city quarter of Cambridge. The hotel is just a minute away from the railway station and one mile from the city centre, making it easily accessible to visitors. The double height lobby area and feature staircase leading to the library on the first floor are impressive architectural features of this hotel. The 160 individually designed bedrooms offer guests sumptuous King Koil beds, colourful patterned soft furnishings, dark wooden headboards, and marble bathrooms. Clayton Hotel Cambridge also boasts a brasserie-style restaurant serving locally sourced seasonal dishes in an informal setting and a horse-shoe shaped bar that offers classic cocktails.
Here are some short pros about Clayton Hotel Cambridge:
– Convenient location near railway station
– Individually designed luxurious bedrooms with marble bathrooms
– Brasserie-style restaurant serving locally sourced seasonal dishes
– Horse-shoe shaped bar that offers classic cocktails
Cambridgeshire Boutique Hotels Information
| | |
| --- | --- |
| 🛎️ Boutique Hotels in Cambridgeshire | 10 |
| 💵 Hotels Prices From | $120 |
| 💵 Highest price | $1651 |
| 🥇 Average Review Score | 8.8/10 |
| 🛏️ Average number of Rooms | 80 |
Top Boutique hotels in Cambridgeshire
| | |
| --- | --- |
| Worth House | 9.5/10 |
| Clopton Courtyard Cambridge | 9.3/10 |
| The Bell Inn | 9/10 |
| Turing Locke | 8.9/10 |
| Crown Lodge Hotel (Wisbech) | 8.9/10 |
FAQ
What is a boutique hotel?
A boutique hotel is a small, stylish hotel that typically has fewer than 100 rooms, each of which is individually designed and decorated to create a unique and bespoke experience for guests. Boutique hotels also offer personalized service, attention to detail, and often feature trendy amenities like upscale restaurants, rooftop bars, spas and other luxurious facilities.
What are some of the best boutique hotels in Cambridgeshire?
Cambridge has several great options for those looking for an intimate stay with five-star amenities. The Tamburlaine Hotel offers spacious rooms with elegantly modern decor while University Arms Hotel combines classic style with contemporary design touches. For something more eclectic and quirky check out Gonville Hotel or Madingley Hall.
Are boutique hotels expensive?
Boutique hotels can be more expensive than traditional chain hotels due to their smaller size and emphasis on luxury amenities. However, many offer seasonal promotions or packages that can help cut down costs. It's worth doing research ahead of time to find good deals or contacting the property directly for special rates.
Do boutique hotels have onsite dining options?
Many boutique hotels pride themselves on offering world-class dining experiences right onsite in their own restaurants. Guests can enjoy Michelin-starred cuisine or sample local specialties prepared by talented chefs who focus on using fresh ingredients sourced from nearby farmers markets.
What makes staying at a boutique hotel different from staying at a traditional chain hotel?
Staying at a boutique hotel means you're opting for an intimate experience with personal touches rather than generic lodging accommodations. You'll likely get more one-on-one attention from staff members who genuinely care about your comfort and happiness throughout your stay. Other key differences include unique room designs, local art displays, artisanal bath products as well as exclusive access to events like wine tastings or cooking classes hosted by visiting celebrity chefs.
Popular Boutique Hotels destinations