Welcome to an enchanting journey into the realm of lavish accommodations in the heart of Brooklyn, USA. In this edition, we invite you to indulge your senses in a captivating selection of opulent boutique hotels scattered throughout this vibrant borough. Nestled amidst the bustling streets and artistic corners, these resplendent havens offer an impeccable fusion of style, comfort, and personalized service.
Brooklyn, recognized as an urban haven for creativity and diversity, boasts a burgeoning boutique hotel scene that effortlessly captures the essence of its unique character. Whether you seek chic sophistication or eclectic charm, there is a luxurious oasis awaiting your arrival. Immerse yourself in lavish ambiance adorned with thoughtfully curated details that exemplify contemporary elegance. From trendy Williamsburg to picturesque DUMBO (Down Under Manhattan Bridge Overpass), each neighborhood showcases its distinct personality while seamlessly blending modern comforts with local artistry.
Prepare to be captivated by unrivaled hospitality as these remarkable establishments provide guests with exceptional experiences tailored to their desires. Delight in delectable culinary journeys crafted by world-renowned chefs at on-site restaurants or unwind with signature cocktails amid stylish rooftop bars boasting panoramic views of the illustrious New York City skyline. Indulge in sumptuously appointed rooms adorned with luxurious amenities that envelop you in serenity after a day exploring Brooklyn's cultural gems.
Join us on this exclusive expedition where luxury meets artistic flair and immerse yourself in the epitome of refined elegance at Brooklyn's finest boutique hotels.
Best Boutique Hotels in Brooklyn
Ace Hotel Brooklyn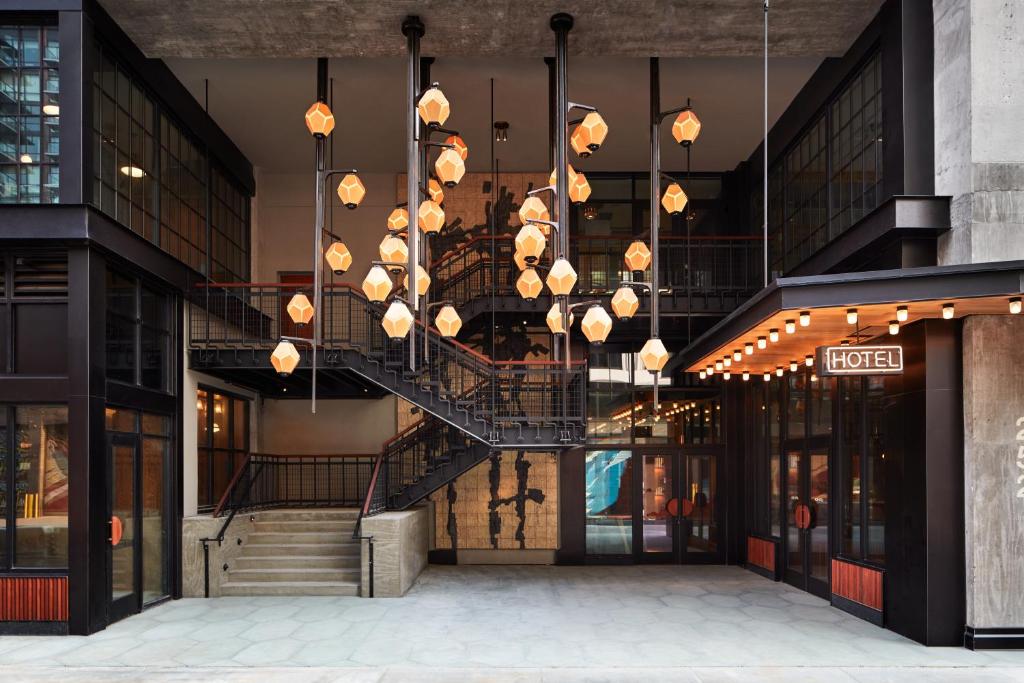 Ace Hotel Brooklyn, opened in July 2021, is a luxurious 4-star accommodation located less than 1 km from Barclays Center in the vibrant borough of Brooklyn. With a garden, restaurant, and bar on-site, guests can enjoy a variety of amenities during their stay. The hotel also offers a fitness center for those looking to stay active. Each air-conditioned room features free WiFi and a private bathroom, ensuring comfort and convenience for guests. The friendly staff at the 24-hour front desk is available for any assistance needed. Additionally, the hotel provides room service for added convenience. Nearby attractions include the National September 11 Memorial & Museum (4.9 km) and the iconic Brooklyn Bridge (5 km). For travelers arriving by air, LaGuardia Airport is just 17 km away.
– Convenient location near Barclays Center
– Garden area to relax and unwind
– Restaurant and bar on-site
– Fitness center for guests to stay active
– Free WiFi access throughout the hotel
The Williamsburg Hotel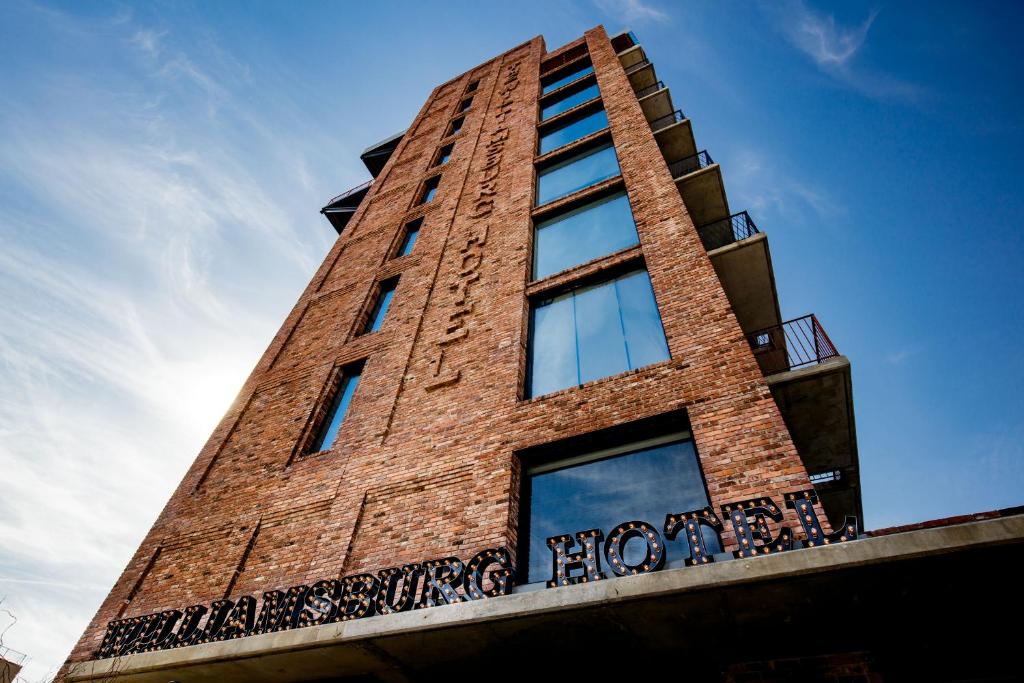 Located in the trendy Williamsburg neighborhood of North Brooklyn, The Williamsburg Hotel offers a luxurious boutique experience for travelers seeking style and convenience. With its prime location just across the river from Manhattan, guests can easily access the vibrant East Village with just one subway stop. The hotel's design is a blend of modernity and industrial chic, with custom furnishings by Michaelis Boyd Studio. Guests will appreciate the double-height ceilings, natural finishes, and unique style elements throughout the property. The rooms feature expansive 10-foot windows that offer stunning views of either Manhattan or Brooklyn, with some rooms even boasting private balconies. The marble and brass bathrooms are adorned with fixtures by Waterworks and toiletries handmade in Brooklyn by Apotheke. Food enthusiasts will delight in the elevated North & South American cuisine served at The Williamsburg Hotel's restaurant, where share-friendly plates highlight locally sourced and organic ingredients. Chef Alberto Gomez brings his childhood influences to life alongside Culinary Director Chef Tek, creating an authentic dining experience that captures the energy and culture of late-night Williamsburg. For those looking to unwind after exploring the city's vibrant streets, The Brooklyn Brewery is conveniently located just a 2-minute walk away, while the iconic Williamsburg Bridge leading to Manhattan is only 2 km away.
– Prime location near dining and shopping destinations
– Custom-designed furnishings by Michaelis Boyd Studio
– Expansive windows with breathtaking views
– Unique amenities including marble bathrooms with Waterworks fixtures and Apotheke toiletries
– Elevated North & South American cuisine highlighting local ingredients
Henry Norman Hotel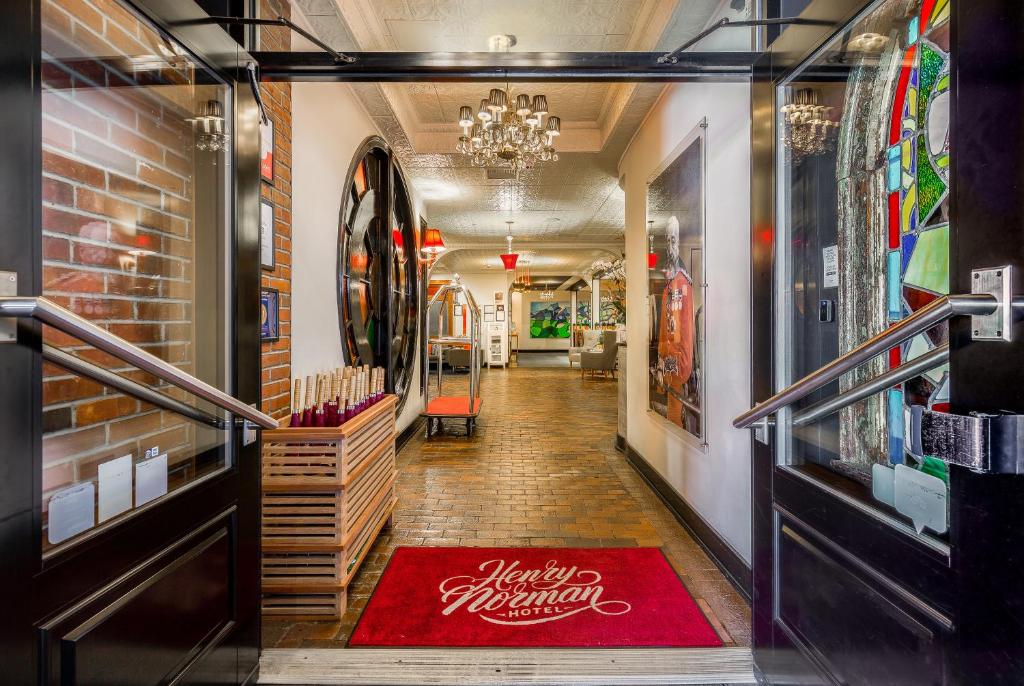 Located in the vibrant neighborhood of Brooklyn, Henry Norman Hotel offers a luxurious and stylish boutique experience for travelers. With free WiFi access, guests can stay connected throughout their stay. The spacious rooms are beautifully designed and feature amenities such as a TV, air conditioning, and an iPod dock. The dining area includes a refrigerator and coffee machine for convenience. The private bathrooms are equipped with a bath or shower and come with a hairdryer. Additional perks include a seating area and cable channels.
The hotel boasts a 24-hour front desk, ensuring that guests' needs are met at any time of day or night. A terrace is available for relaxation or enjoying the views of the surrounding area. Luggage storage is also provided to make traveling hassle-free.
– Convenient location in Brooklyn
– Free WiFi access throughout the property
– Stylishly designed rooms with modern amenities
– 24-hour front desk for round-the-clock assistance
– Relaxing terrace for unwinding after a busy day
Other places to stay in Brooklyn
Boutique Hotels in Downtown Brooklyn
Boutique hotels in Downtown Brooklyn offer a unique and intimate accommodation experience, blending modern design with personalized service. With their convenient location in the heart of the city, guests can explore the vibrant neighborhoods and cultural attractions nearby.
A and FayeBed and Breakfast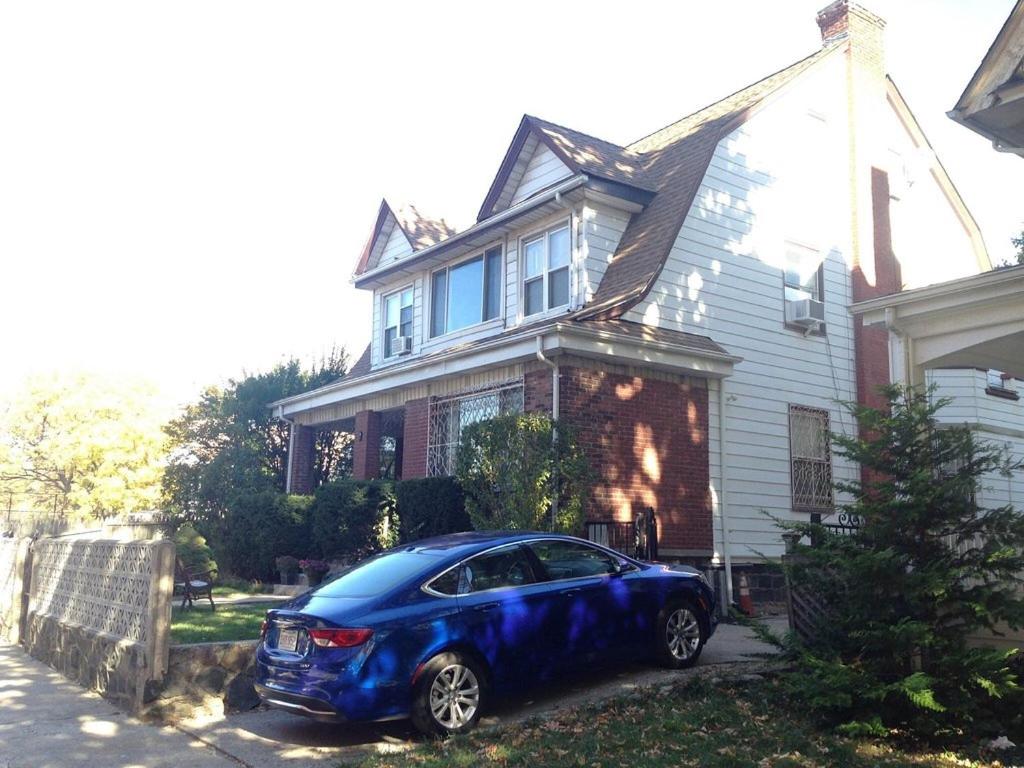 Located in Brooklyn, just 5 km from Barclays Center, A and Faye Bed and Breakfast provides air-conditioned accommodation with free WiFi. Guests can enjoy a buffet, continental or American breakfast at the property. The bed and breakfast features a terrace where guests can relax and unwind. The rooms are equipped with a seating area and dining area for added comfort. For those who love to explore on two wheels, cycling can be enjoyed nearby. Popular attractions such as the National September 11 Memorial & Museum (9.2 km) and One World Trade Center (9.4 km) are within close proximity to the property. The nearest airport is John F. Kennedy International Airport, only 14 km away.
– Free WiFi
– Buffet breakfast included
– Terrace for relaxation
– Close proximity to popular attractions
– Easy access to John F. Kennedy International Airport
The Box House Hotel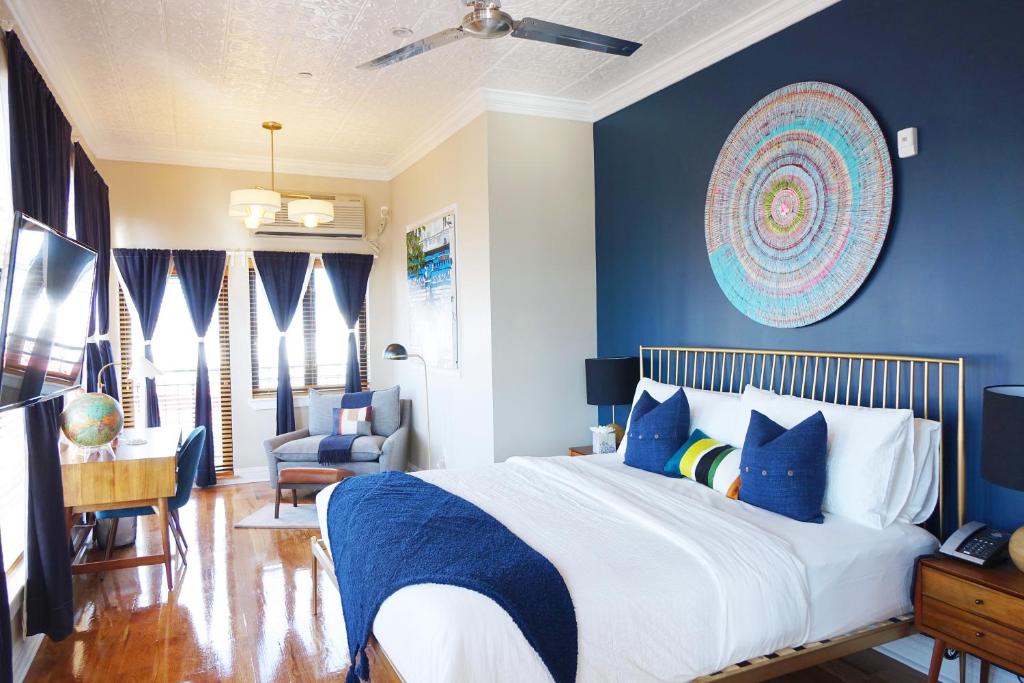 The Box House Hotel, located in the vibrant neighborhood of Greenpoint in Brooklyn, offers a unique stay experience in a converted factory space. The hotel features stylish lofts and suites adorned with carefully curated original artwork, giving guests a true sense of urban chic. Indulge in the delicious offerings at the on-site restaurant, Brooklyn Lantern, or take advantage of the fully equipped kitchen available in each apartment-style accommodation. With amenities like free WiFi, a fitness center, sauna, and 24-hour business center, this hotel caters to both leisure and business travelers alike. Additionally, select rooms offer terraces and stunning views of Midtown Manhattan. Laundry facilities are also available for convenience. The nearest subway station is just 1 km away, granting easy access to explore all that New York City has to offer. With Times Square located only 6.4 km from the hotel's doorstep, guests can immerse themselves in the bustling heart of Manhattan.
– Unique converted factory space with stylish lofts
– Curated original artwork throughout the hotel
– On-site restaurant serving delectable cuisine
– Fully equipped kitchens in each accommodation
– Convenient location near subway station and Times Square
1 Hotel Brooklyn Bridge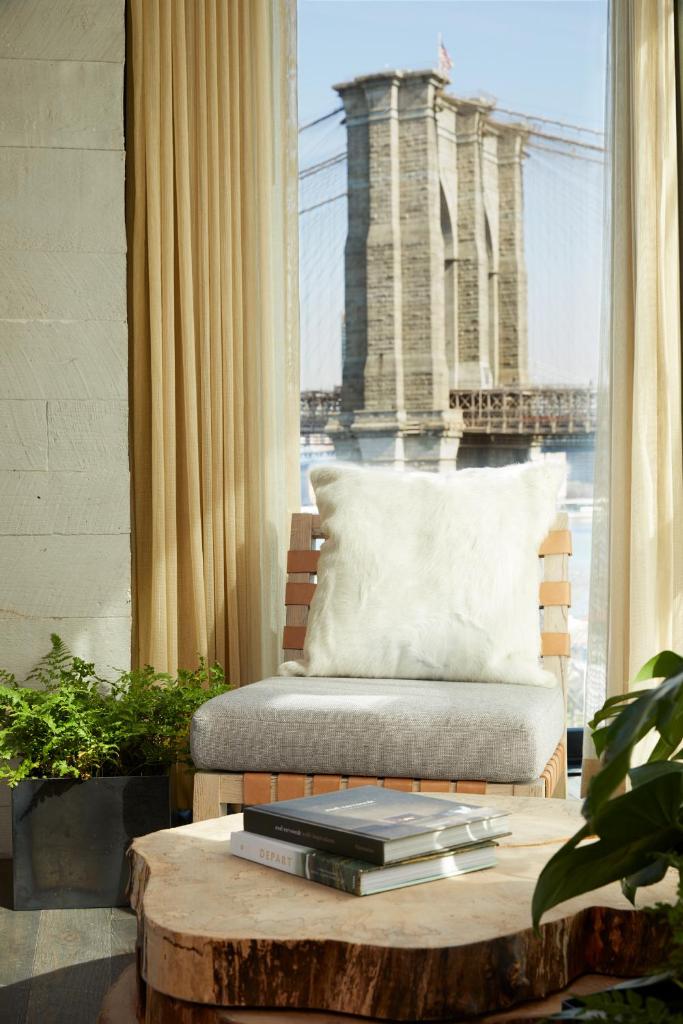 1 Hotel Brooklyn Bridge, a luxury hotel opened in September 2016, offers guests a stunning waterfront location just steps away from the iconic Brooklyn Bridge Promenade and the East River. The hotel features 10 stories of beautifully designed rooms, equipped with eco-friendly amenities such as coffee machines with recyclable pods, mattresses filled with a hemp blend and organic cotton sheets. Guests can enjoy digital newspapers via Press Reader on in-room devices or download them onto personal devices.
As an added perk, guests have access to complimentary rides in an Audi E-Tron vehicle within a 3-mile radius of the hotel (subject to availability) from 7:00 am to 9:00 pm daily. The property also boasts communal spaces for work or relaxation, a 24-hour fitness center called Fieldhouse, a 50-person screening room for entertainment purposes, and a grab-and-go café offering locally sourced fare.
Pros:
– Prime waterfront location near the Brooklyn Bridge Promenade
– Eco-friendly amenities throughout the hotel
– Complimentary rides in an Audi E-Tron vehicle within a 3-mile radius
– On-site communal spaces for work or relaxation
– A variety of facilities including a fitness center, screening room, and grab-and-go café offering locally sourced food.
Brooklyn Boutique Hotels Information
| | |
| --- | --- |
| 🛎️ Boutique Hotels in Brooklyn | 6 |
| 💵 Hotels Prices From | $240 |
| 💵 Highest price | $1797 |
| 🥇 Average Review Score | 8.7/10 |
| 🛏️ Average number of Rooms | 129 |
Top Boutique hotels in Brooklyn
| | |
| --- | --- |
| A and FayeBed and Breakfast | 9.4/10 |
| Ace Hotel Brooklyn | 8.9/10 |
| Henry Norman Hotel | 8.9/10 |
| The Box House Hotel | 8.6/10 |
| 1 Hotel Brooklyn Bridge | 8.2/10 |
FAQ
Can you recommend any luxury boutique hotels in Brooklyn?
Absolutely! There are several luxury boutique hotels in Brooklyn that offer a unique and upscale experience. One highly recommended option is The William Vale, which features stunning panoramic views of the city skyline, beautifully designed rooms with modern amenities, and an impressive rooftop pool. Another great choice is the 1 Hotel Brooklyn Bridge, known for its eco-friendly approach and breathtaking views of the Manhattan skyline. Both of these hotels offer impeccable service and a luxurious atmosphere for an unforgettable stay in Brooklyn.
What are some popular neighborhoods to stay in while visiting Brooklyn?
Brooklyn is a diverse borough with many vibrant neighborhoods to choose from. Some popular areas include Williamsburg, known for its trendy bars, boutiques, and art scene
Are there any luxury boutique hotels near popular attractions in Brooklyn?
Yes! If you're looking to be close to popular attractions while staying at a luxury boutique hotel in Brooklyn, consider The Box House Hotel located near Greenpoint's trendy boutiques and cafes as well as iconic sites like the East River State Park. The Hoxton Williamsburg is another fantastic choice situated just steps away from McCarren Park where you can enjoy leisurely strolls or attend events held there throughout the year. These hotels offer convenience without compromising on style or comfort.
What amenities can I expect at a luxury boutique hotel in Brooklyn?
Luxury boutique hotels in Brooklyn typically come with a range of high-end amenities to enhance your stay. You can expect spacious and beautifully designed rooms with luxurious bedding, stylish furnishings, and top-notch amenities such as minibars, flat-screen TVs, and high-speed internet access. Additionally, these hotels often provide on-site fitness centers or spas for relaxation, exquisite dining options serving gourmet cuisine and cocktails, as well as personalized services including concierge assistance to ensure your every need is met during your stay.
What is the best time to visit Brooklyn?
Brooklyn is a year-round destination with each season offering its own unique charm. The best time to visit depends on your preferences. Spring (April-June) and fall (September-November) are generally considered the best times weather-wise when temperatures are mild and pleasant. These seasons also offer opportunities to explore outdoor attractions like parks and gardens comfortably. Summer (June-August) brings warm weather ideal for enjoying rooftop bars, outdoor festivals, and concerts. Winter (December-February) has its own appeal with holiday markets and ice skating rinks creating a festive atmosphere throughout the borough.
Popular Boutique Hotels destinations