Welcome to my latest adventure in Barcelona, Spain, where I delve into the enchanting world of upscale boutique hotels. As a seasoned globetrotter and connoisseur of luxurious accommodations, I have scoured the vibrant streets of this lively city to handpick the finest havens for your perfect getaway. Join me as we embark on a journey through Barcelona's hidden gems, exploring unique establishments that redefine hospitality and elevate the art of indulgence.
Barcelona is synonymous with charm and elegance, a city pulsating with culture and creativity at every turn. It comes as no surprise then that its boutique hotel scene reflects this spirit flawlessly. These intimate retreats marry contemporary design with historical architecture, creating an atmosphere that exudes sophistication in every detail. Prepare to be captivated by avant-garde decor and personalized service, carefully curated to cater to the most discerning travelers seeking a bespoke experience.
From the moment you step foot into these illustrious hideaways, you'll be enveloped in an ambiance of exclusivity and luxury. Immerse yourself in sumptuous surroundings adorned with plush furnishings and dazzling artwork that showcase Barcelona's rich heritage. Each boutique hotel has its distinct personality – some embrace minimalist aesthetics while others showcase opulent interiors inspired by Catalan modernism. Regardless of your taste or preference, one thing remains consistent – an unwavering commitment to providing an unparalleled level of comfort for your stay.
Stay tuned as we unravel the secrets behind these exceptional havens nestled within Barcelona's maze-like streets. Get ready for unforgettable tales filled with indulgence, relaxation, and extraordinary experiences that are sure to leave even the most seasoned traveler spellbound. Join me on this captivating journey as we explore Barcelona's finest luxury boutique hotels together!
Best Boutique Hotels in Barcelona
Catalonia Catedral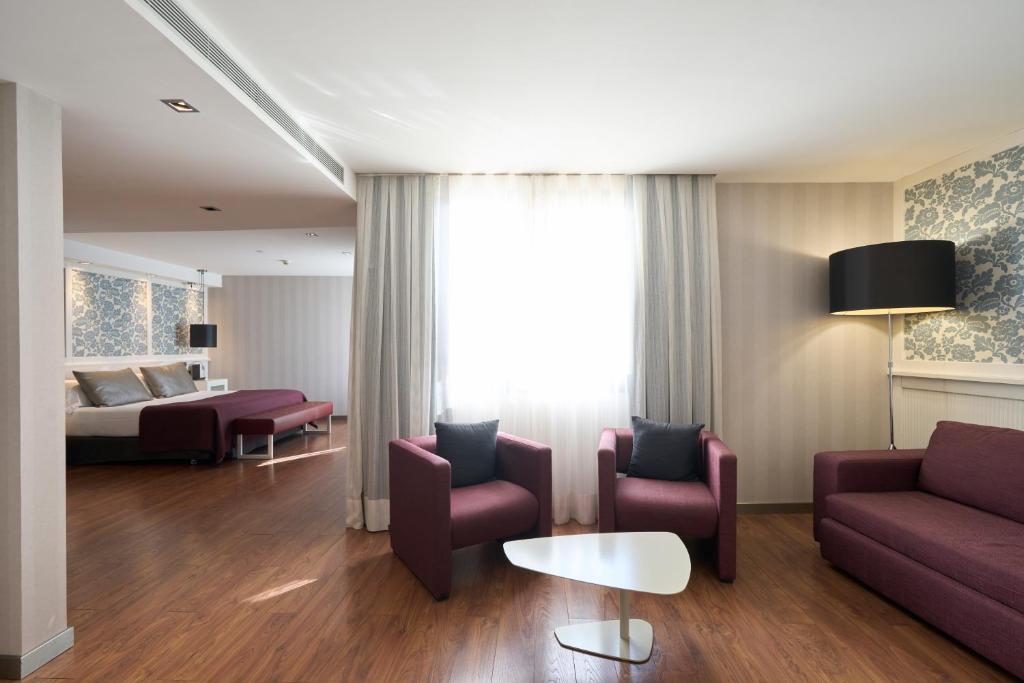 The Catalonia Catedral is located in a traditional Modernist building only 100 meters away from Barcelona Cathedral. This luxury boutique hotel offers a range of amenities to ensure a comfortable stay for its guests. With free use of Smartphones and Wi-Fi access, staying connected is effortless. Guests can also enjoy the rooftop seasonal pool and relax in the Japanese-style terrace and garden. The hotel's Ascent Restaurant by Eboca not only serves mouthwatering Mediterranean cuisine but also provides stunning views of the nearby Palacio Pignatelli Art Gallery. The stylish rooms at Catalonia Catedral boast contemporary decor and are equipped with modern amenities such as flat-screen TVs, air conditioning, minibars, and Nespresso machines. Additionally, guests can take advantage of the hotel lobby bar where they can use computers with internet access and printers for free. Located within walking distance to famous landmarks including Las Ramblas and Plaza de Catalunya Square, this hotel is ideally situated for exploring Barcelona's vibrant city center. Barcelona's Old Port and Marina are also less than one kilometer away, while Jaume I Metro Station is just a convenient five-minute walk from the hotel.
– Centrally located near Barcelona Cathedral
– Rooftop seasonal pool with Japanese-style terrace
– Free smartphones provided during the stay
– Stylish rooms with contemporary decor
– Close proximity to popular landmarks
Boutique Hotel Casa Granados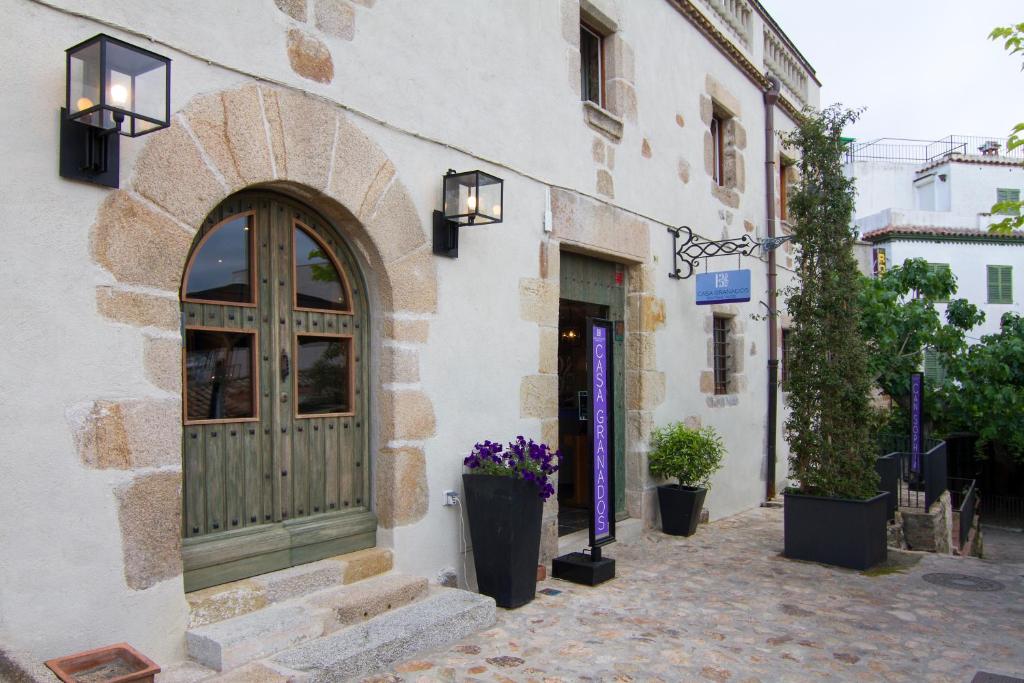 Boutique Hotel Casa Granados is a luxury boutique hotel located in the heart of Tossa de Mar, just 150 metres from the beach. Housed in a beautifully restored 19th-century mansion, this hotel offers guests a range of personalized services and an unforgettable experience. Surrounded by lush gardens, the hotel features a swimming pool where guests can relax and unwind. The café is open 24 hours a day, providing guests with convenience and flexibility during their stay. For those looking for extra indulgence, the hotel offers services such as personal shoppers, chauffeurs, customized guided trips, and boat rides for an additional fee. Can Sophia Restaurant serves delicious seasonal dishes and intricate confectionery creations. In addition to all these amenities, guests can enjoy 24-hour room service in their elegantly appointed rooms which include vintage Illy coffee machines, TVs with international channels, and minibars. The bathrooms are well-equipped with toiletries and hairdryers. Conveniently located near popular attractions like Lloret de Mar (20 minutes' drive away) and Blanes (17 km away), Boutique Hotel Casa Granados provides both luxury accommodation and easy access to nearby destinations.
– Personalized services offered
– Beautifully restored 19th-century mansion
– Swimming pool surrounded by ornate gardens
– Open 24-hour café
– Can Sophia Restaurant serving seasonal dishes
The Hoxton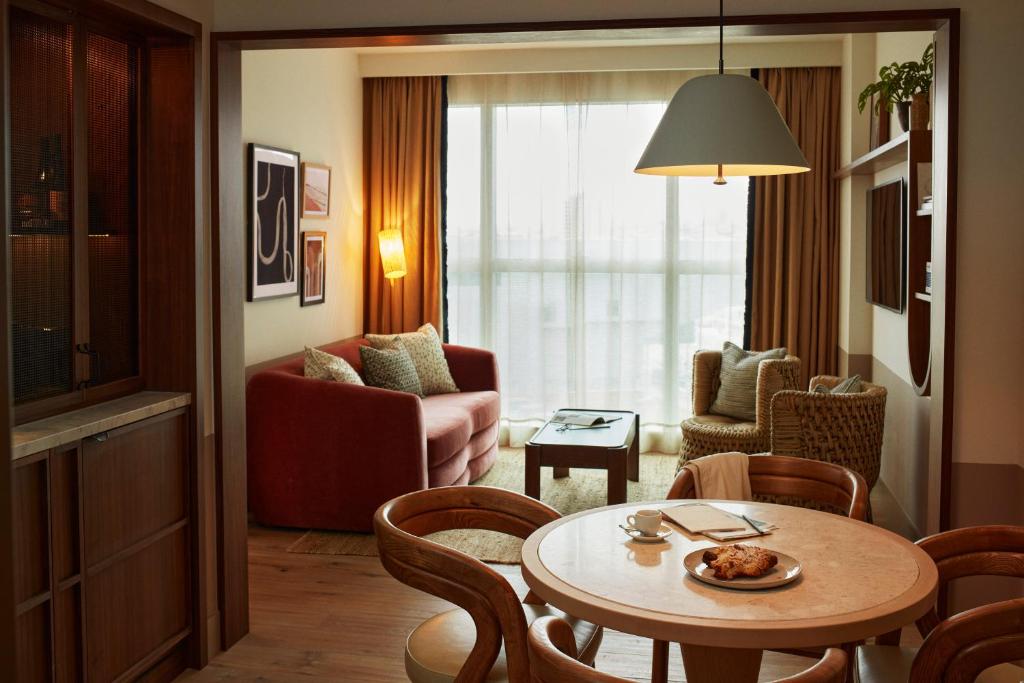 Located in the vibrant city of Barcelona, The Hoxton, Poblenou is a stylish boutique hotel situated just 1.7 km from Bogatell beach. This luxurious property offers guests a range of amenities including a restaurant, private parking, an outdoor swimming pool, and a bar. Featuring spacious family rooms and a beautiful terrace, The Hoxton provides comfort and convenience for all travelers. The hotel boasts a 24-hour front desk, room service, and currency exchange services. Each guest room is elegantly designed with air conditioning, a cozy seating area, a flat-screen TV with satellite channels, and a safety deposit box. The private bathrooms are equipped with showers, hairdryers, and complimentary toiletries. Additionally, each unit includes a desk and kettle for added convenience. Guests can indulge in delicious à la carte breakfast options during their stay. With its prime location near popular attractions such as Nova Icaria beach, Mar Bella beach,and Sagrada Familia church,the hotel allows guests to easily explore the city's highlights.The nearest airport is Barcelona El Prat Airport,situated just 15 km away.
– Convenient location close to popular beaches
– Stylishly designed rooms with modern amenities
– On-site restaurant serving delicious food
– Outdoor swimming pool for relaxation
– Terrace offering scenic views
Other places to stay in Barcelona
Boutique Hotels in Downtown Barcelona
Downtown Barcelona offers a wide range of boutique hotels, each offering a unique and personalized experience. From their stylish interiors to their attention to detail, these hotels are the perfect choice for travelers seeking an intimate and luxurious stay in the heart of the city.
Catalonia Square 4* Sup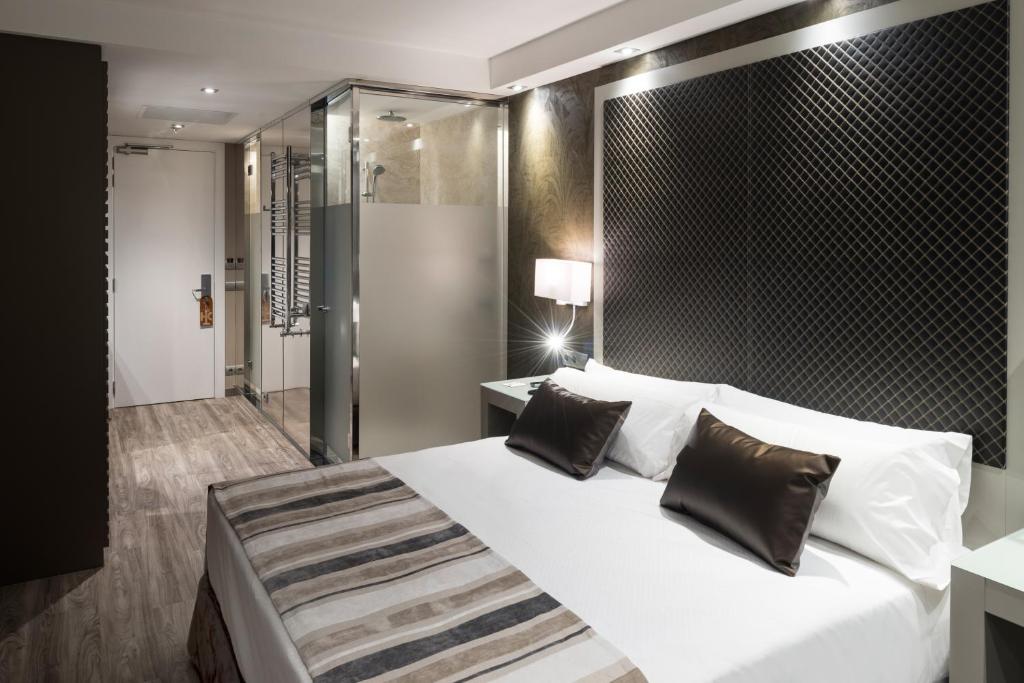 Located in Barcelona's historic centre, Catalonia Square 4* Sup offers a luxurious experience with its outdoor pool and fitness centre. The 4-star hotel is conveniently situated just 100 metres from Plaça Catalunya and provides free Wi-Fi. Each room is beautifully designed with wooden floors, modern décor, and equipped with amenities such as a satellite flat-screen TV, minibar, and even a battery charger for iPhone/iPad. The prime location of the hotel allows easy access to various metro stations including Passeig de Gracia, Plaça Catalunya, and Urquinaona, providing excellent connectivity throughout Barcelona. Some rooms also feature private pools and terraces for guests to enjoy. Indulge in delicious drinks, snacks, and traditional tapas at the Catalonia Square Bar or opt for room service if you prefer dining in privacy. Moreover, the hotel offers breakfast until noon so guests can start their day at their own pace. With its close proximity to La Rambla and the Gothic District—just a 5-minute walk away—guests can easily explore the vibrant city of Barcelona.
– Outdoor pool
– Fitness centre
– Free Wi-Fi
– Excellent location near major metro stations
– Private pools and terraces available
Room Mate Anna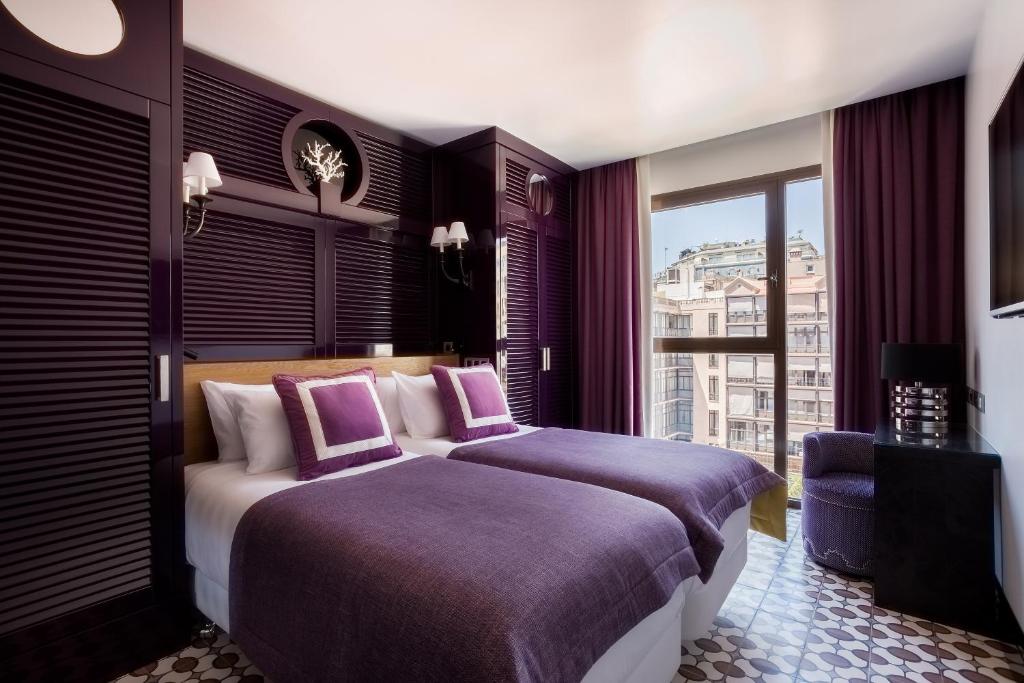 Located in Barcelona City Centre, Room Mate Anna is a luxury boutique hotel that offers cutting-edge design, personalized service, and stunning rooftop views. The hotel features a seasonal rooftop plunge pool with a solarium, perfect for enjoying the Barcelona skyline. Indulge in the vibes of the 1920s at Vibra Speakeasy, the on-site restaurant that offers live music, food, and cocktails from that era. With its central location, guests can easily explore nearby shops, restaurants, and cultural attractions. Each stylish room comes with modern amenities like free WiFi and a flat-screen TV. Some rooms also boast a seating area and balcony with views over Casa Batlló. Other facilities include meeting rooms and a portable WiFi device for easy connectivity on-the-go. Don't miss out on Terraza de Anna by Vida Mona on the eighth floor where you can enjoy panoramic city views along with Mediterranean tapas and refreshing cocktails. Plus, being just 100 meters from Casa Batlló makes it an ideal base for exploring Barcelona's iconic landmarks. Conveniently located only 13 km from Barcelona El Prat Airport makes it easily accessible to travelers seeking luxurious accommodations in the heart of L'Eixample district.
Pros:
– Stylish rooms with modern amenities
– Seasonal rooftop plunge pool with stunning views
– Vibra Speakeasy offering live music and 1920s-inspired cuisine
– Central location close to shops, restaurants, and cultural spots
– Convenient proximity to Casa Batlló and easy access to Barcelona El Prat Airport
Yurbban Ramblas Boutique Hotel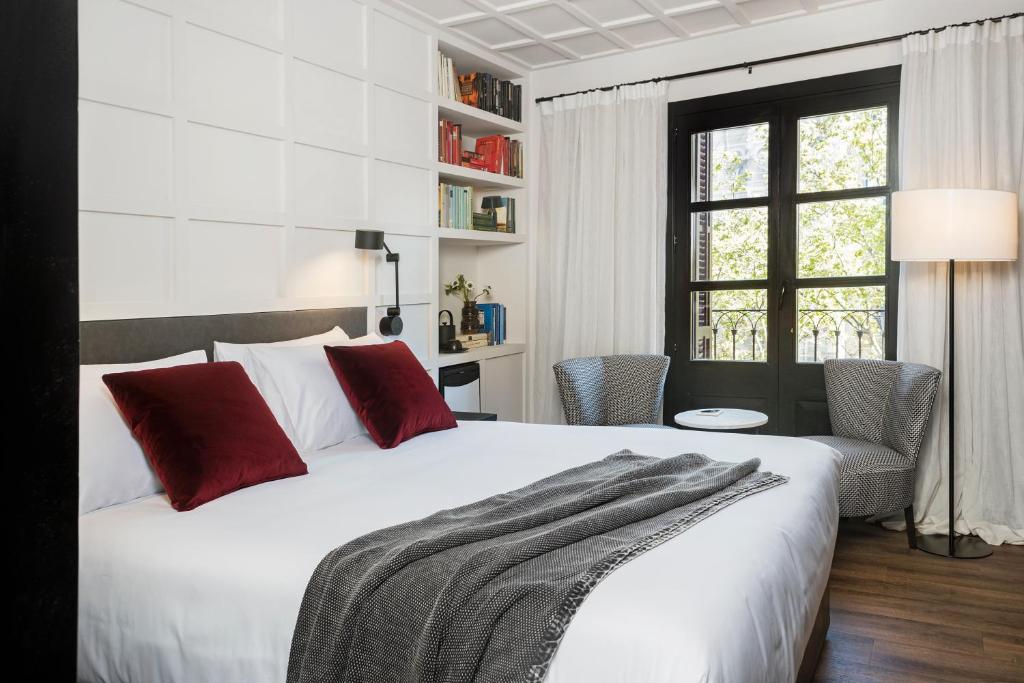 Located conveniently in the heart of Barcelona, Yurbban Ramblas Boutique Hotel offers luxurious air-conditioned rooms with modern amenities. Guests can enjoy a comfortable stay with access to free WiFi, a terrace, and an on-site restaurant. The hotel is surrounded by popular attractions such as Passeig de Gracia Metro Station, Tivoli Theatre, and Casa Batllo. In the morning, guests can indulge in a delicious à la carte breakfast served at the hotel. With its prime location, Yurbban Ramblas Boutique Hotel provides easy access to Barcelona El Prat Airport and Sant Miquel Beach for travelers seeking convenience and relaxation.
Pros:
– Convenient central location in Barcelona
– Luxurious and well-appointed rooms
– Free WiFi available throughout the hotel
– Terrace and on-site restaurant for leisurely dining
– Proximity to major attractions like Passeig de Gracia and Casa Batllo
Barcelona 5 Star Boutique Hotels
Barcelona offers a range of luxurious 5-star boutique hotels, where guests can experience exceptional service, stylish design, and an intimate atmosphere. From elegant decor to personalized touches, these boutique hotels offer a unique and exclusive stay for discerning travelers in one of Europe's most vibrant cities.
Hotel 1898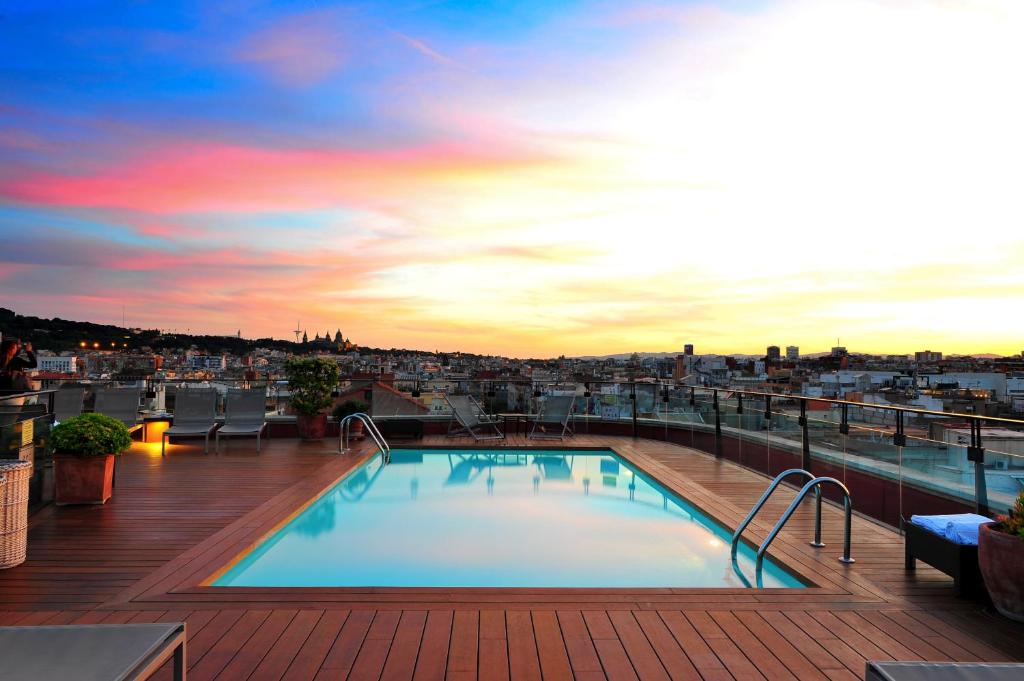 Hotel 1898 is a luxurious boutique hotel located on Barcelona's iconic La Rambla. Housed in a beautifully restored 19th-century building, this hotel offers an exquisite blend of history and modern luxury. The elegant rooms feature free Wi-Fi and marble bathrooms, ensuring a comfortable stay for guests. One of the highlights of this hotel is its rooftop pool with a sun terrace, where visitors can relax and enjoy stunning views of the city.
Food enthusiasts will be delighted by the stylish restaurant at Hotel 1898, which serves mouthwatering Mediterranean cuisine. For those looking for a more casual dining experience, the bar-restaurant with its terrace offers traditional tapas in a charming atmosphere.
What sets Hotel 1898 apart is its unique architectural and historical heritage, making it a Speciality Monument in Barcelona. Its location is also ideal for exploring the city, as Plaza Catalunya is just 200 meters away and the Gothic Quarter with its magnificent cathedral can be reached within a pleasant 10-minute walk.
Pros:
– Prime location on La Rambla
– Rooftop pool with sun terrace
– Elegant rooms with free Wi-Fi
– Stylish restaurant serving Mediterranean cuisine
– Unique architectural and historical heritage
chic&basic Habana Hoose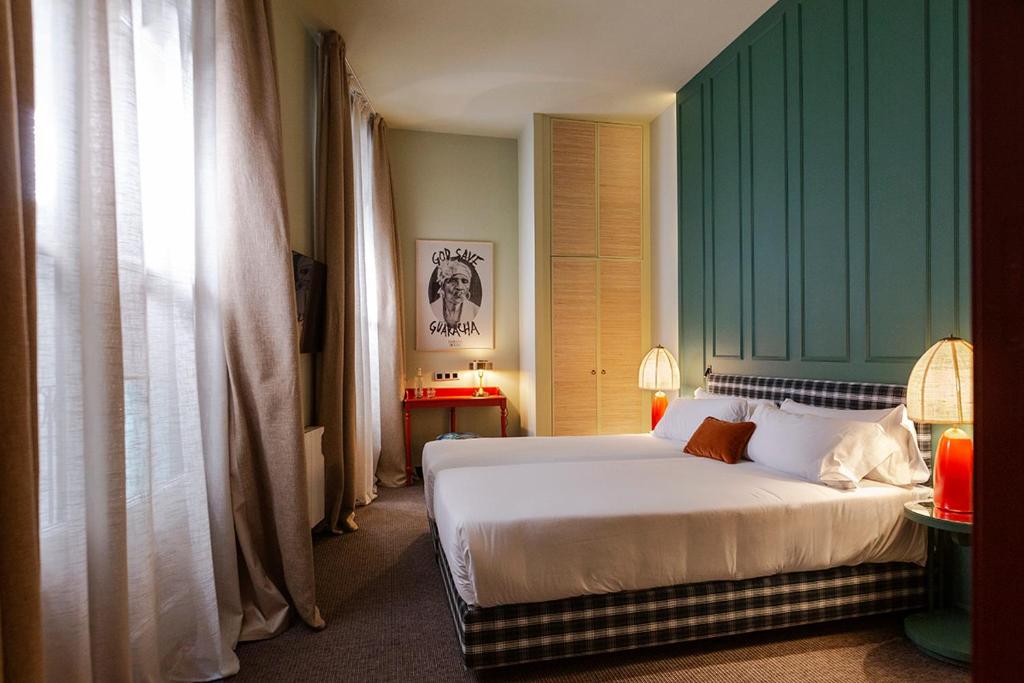 The newly opened chic&basic Habana Hoose is a stylish 3-star boutique hotel located in Barcelona. Situated just 1.5 km from Sant Miquel Beach and Barceloneta Beach, this hotel offers comfortable and air-conditioned rooms with free WiFi and private bathrooms. Guests can enjoy delicious cuisine at the on-site restaurant, which serves Catalan and Italian dishes. The property is conveniently located near popular attractions such as Cathedral of Barcelona, Santa Maria del Mar, and Plaça Reial. With its helpful staff fluent in Catalan, English, and Spanish, guests can receive practical information about the area at the reception desk. The nearest airport is Barcelona El Prat, which is 12 km away with a paid airport shuttle service available.
– Convenient location close to beaches and city center
– Free WiFi throughout the hotel
– On-site restaurant serving delicious Catalan and Italian cuisine
– Helpful staff fluent in multiple languages
– Comfortable rooms with modern amenities
Hotel Brummell
Hotel Brummell is a stylish boutique hotel with 20 rooms, situated just steps away from the Miró Foundation and The Grec theatre in Barcelona. Guests staying at this hotel can enjoy complimentary and unlimited yoga classes, making it an ideal choice for those seeking relaxation and wellness. The rooms are beautifully designed with modern furniture and feature artwork by young European designers. Dining options include the on-site restaurant Palo Cortao, which offers delicious dishes with a twist of classic flavors, as well as a great wine menu. Other amenities at Hotel Brummell include an outdoor pool, a garden, and a sauna. Fitness enthusiasts can join the running club or participate in T-training and boxing sessions at The Loft well-being center. Each room is equipped with convenient facilities such as a safe, coffee and tea-making facilities, and even a yoga mat. Suites add an extra level of luxury with private furnished terraces featuring outdoor baths. Guests can also indulge in a seated buffet breakfast at Brummell Kitchen, which serves homemade granola, local products, fresh orange juice, among other delights. Additionally, guests have 24/7 access to the self-service Honesty Bar offering a selection of drinks and tasty snacks throughout their stay. With its central location near La Rambla and easy access to Montjuïc's parks and gardens via Parallel Metro Station (just 250m away), Hotel Brummell provides guests with both convenience and luxury during their stay in Barcelona.
Pros:
– Complimentary unlimited yoga classes
– Stylishly designed rooms showcasing artwork by young European designers
– On-site restaurant serving innovative dishes with great wine options
– Outdoor pool, garden area, sauna for relaxation
– Convenient location near popular attractions like La Rambla
Barcelona Luxury Boutique Hotels
Barcelona offers a diverse selection of luxury boutique hotels, each offering unique experiences that blend modern design with the city's rich history. From elegant interiors to personalized service, these hotels cater to discerning travelers seeking an intimate and exclusive stay in Barcelona.
Hotel Neri – Relais & Chateaux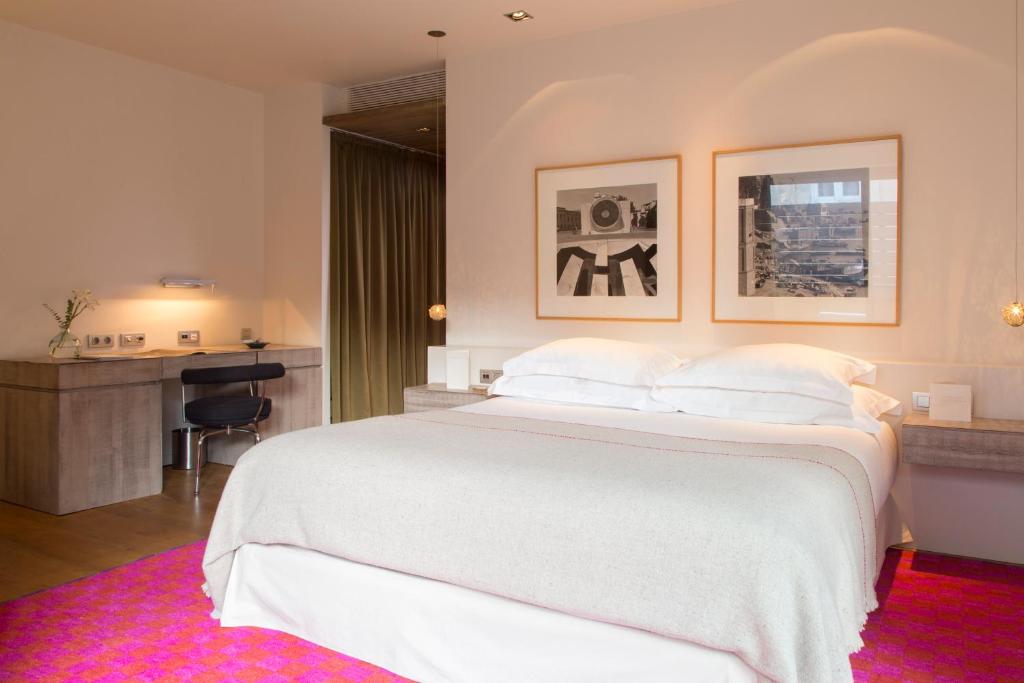 Hotel Neri – Relais & Chateaux is a chic and exclusive boutique hotel located in the heart of Barcelona's Gothic Quarter. Housed in an 18th-century aristocratic house, the hotel offers a contemporary style that beautifully contrasts with its historic surroundings. The original period charm of the building has been preserved and enhanced by sophisticated interior design, creating a unique and atmospheric setting.
Overlooking a secluded square, Hotel Neri is conveniently located right beside the city's Cathedral and just a short distance from bustling Las Ramblas. Guests can enjoy delicious specialties at the hotel restaurant or relax with a drink at the terrace bar. For moments of tranquility, there is a peaceful library and a pretty rooftop garden terrace.
The hotel boasts an impressive façade to Sant Felip Neri square as well as a 17th-century stone wall that separates the lounge bar area of the restaurant. As it holds Specialty Monument status, guests can truly appreciate its historical significance.
In addition to rooms, Hotel Neri also offers apartments housed in a restored classic building located just steps away from the main property.
Pros:
– Beautifully designed interiors blending contemporary style with historic charm
– Convenient location in Barcelona's Gothic Quarter near major attractions
– Delicious dining options at the hotel restaurant
– Relaxing library and rooftop garden terrace for moments of tranquility
Hotel El Palace Barcelona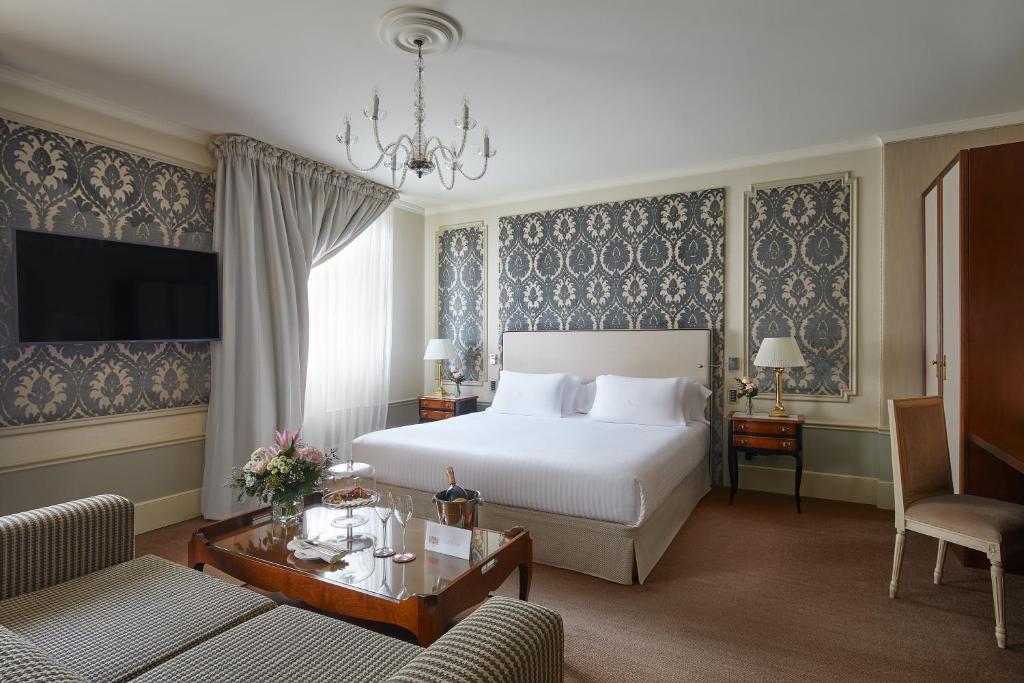 Hotel El Palace Barcelona is a luxurious boutique hotel situated in the Eixample District, just a stone's throw away from the vibrant Ramblas, Barcelona's main shopping area, and the city's top tourist attractions. The hotel boasts an opulent Mayan-style spa where guests can indulge in relaxation and rejuvenation. With two exquisite restaurants on-site – L'Éclair located at the hotel lobby and the Winter Garden Restaurant set at the Roof Terrace – guests can savor delectable cuisine in stylish settings. For those looking to unwind with a drink, the Bluesman Cocktail Bar offers a delightful array of cocktails. The hotel also offers a limousine service with chauffeur upon request for added convenience. Each of its air-conditioned rooms feature classic decor, spaciousness, satellite TV, desk, minibar and private bathrooms complete with bathrobe, slippers and hairdryer. Hotel El Palace Barcelona also features an outdoor pool along with both fitness and business center facilities to cater to all guest needs. The attentive staff are always ready to assist guests by providing information about the surrounding area including nearby Passeig de Gràcia Metro and Railway Station as well as Urquinaona Metro station which are conveniently less than 5 minutes' walk away. Additionally, must-visit attractions such as Gaudí's Casa Batlló and La Pedrera can be reached within approximately 15 minutes on foot.
Pros:
– Ideal location near popular tourist attractions
– Luxurious Mayan-style spa for ultimate relaxation
– A choice of two exceptional restaurants offering delicious cuisine
– Convenient access to public transportation
– Attentive staff providing excellent service
Barcelona Boutique Hotels Information
| | |
| --- | --- |
| 🛎️ Boutique Hotels in Barcelona | 11 |
| 💵 Hotels Prices From | $233 |
| 💵 Highest price | $1174 |
| 🥇 Average Review Score | 9/10 |
| 🛏️ Average number of Rooms | 81 |
Top Boutique hotels in Barcelona
| | |
| --- | --- |
| Hotel El Palace Barcelona | 9.4/10 |
| Boutique Hotel Casa Granados | 9.3/10 |
| Yurbban Ramblas Boutique Hotel | 9.3/10 |
| Hotel Brummell | 9.1/10 |
| Hotel Neri – Relais & Chateaux | 9.1/10 |
FAQ
What is a boutique hotel?
A boutique hotel is a small, stylish, and intimate hotel that offers personalized services and unique experiences to its guests. Unlike larger chain hotels, boutique hotels often have their own distinct character and charm. They usually have a limited number of rooms, allowing for more attention to detail and personalized customer service. In Barcelona, you can find boutique hotels that showcase the city's rich history, culture, and art in their design and decor.
What are some popular neighborhoods to stay in Barcelona?
Barcelona offers several neighborhoods that are perfect for experiencing the city's vibrant atmosphere while staying at a luxury boutique hotel. The Gothic Quarter (Barri Gòtic) is known for its narrow streets filled with medieval architecture and charming squares. El Born is another popular choice with its trendy cafes, boutiques, and proximity to attractions like Santa Maria del Mar church. If you prefer a beachside location with stunning views of the Mediterranean Sea, Barceloneta neighborhood is your ideal option.
Are there any rooftop bars or restaurants in Barcelona's boutique hotels?
Yes! Many boutique hotels in Barcelona boast stunning rooftop bars or restaurants where you can enjoy breathtaking views of the city skyline while sipping on delicious cocktails or indulging in gourmet cuisine. These establishments provide an exclusive setting for both locals and tourists alike to unwind after a day of exploring Barcelona's wonders. Some even offer live music performances or DJ sets for an unforgettable experience under the stars.
What amenities can I expect at a luxury boutique hotel in Barcelona?
Luxury boutique hotels in Barcelona go above and beyond to provide their guests with exceptional amenities that enhance their stay. You can expect features such as spacious suites with elegant furnishings, spa facilities offering relaxing treatments like massages or facials, state-of-the-art fitness centers equipped with modern equipment, exquisite dining options serving culinary delights from renowned chefs, concierge services that cater to your every need, and often, unique experiences like wine tastings or cooking classes.
What is the best time to visit Barcelona?
Barcelona is a year-round destination, but the best time to visit depends on your preferences. The city experiences mild winters and hot summers, making spring (April to June) and autumn (September to November) ideal times to explore without dealing with extreme temperatures or crowds. However, if you are eager to experience the vibrant atmosphere of festivals like La Mercè in September or the famous Christmas markets in December, visiting during those specific months can add an extra layer of excitement to your trip.
Popular Boutique Hotels destinations