If you're planning to visit Athens, Greece and you want to experience a unique stay that's different from the typical large chain hotels, consider staying at a boutique hotel. These charming accommodations offer personalized experiences with their smaller size allowing for more attention to detail and a richer cultural connection.
In Athens, boutique hotels can be found nestled in the city center or tucked away in quieter neighborhoods. With their distinctive décor and architecture, each one offers its own character and ambiance for an unforgettable stay. From modern minimalist designs to traditional Greek styles, there's something for every taste.
Many of these boutique hotels also provide special amenities such as rooftop bars with incredible views of the Acropolis or private terraces overlooking quiet side streets. They often offer local cuisine and wine tastings in addition to wellness treatments or spa services. Stay at one of these unique establishments for a one-of-a-kind experience during your trip to Athens!
Best Boutique Hotels in Athens
Monsieur Didot
Located in the heart of Athens, Monsieur Didot offers luxurious air-conditioned apartments with free WiFi and a terrace. Guests can enjoy their stay with access to a flat-screen TV, private bathroom with free toiletries, minibar, coffee machine and kettle. À la carte and continental breakfast options are available daily at the property. Conveniently situated near popular points of interest including Syntagma Square and Omonia Metro Station, Monsieur Didot also offers a paid airport shuttle service for guests' convenience.
– Luxurious apartments
– Free WiFi access
– Central location
– Access to minibar and coffee machine
– Paid airport shuttle service
xenodocheio Milos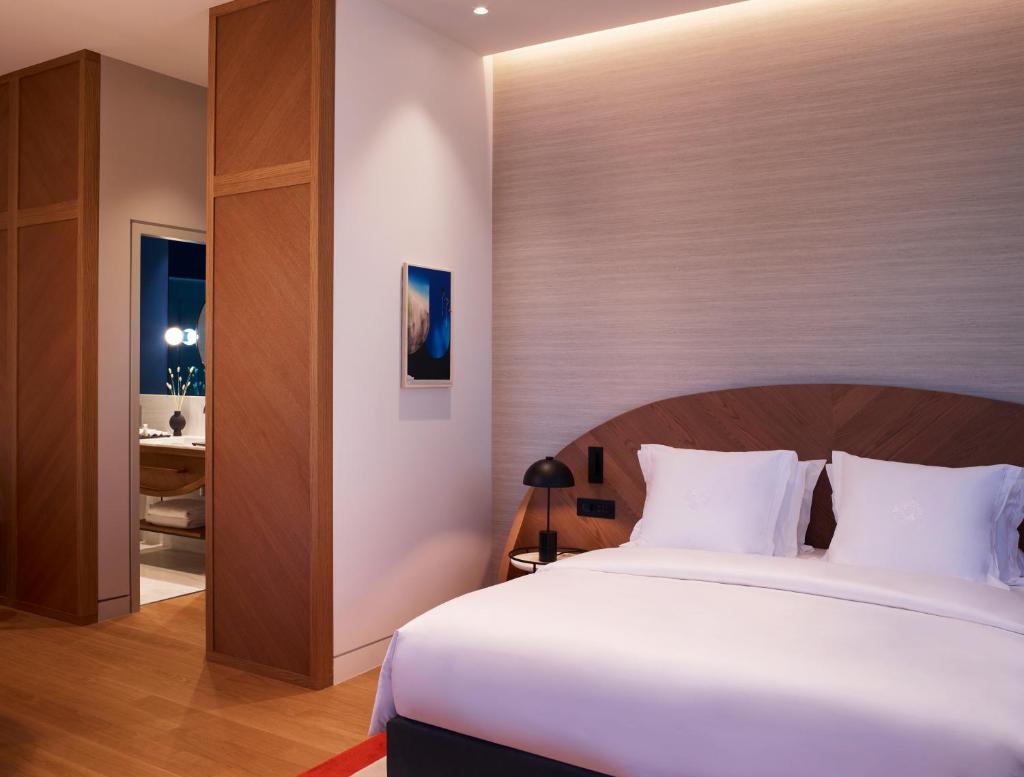 Xenodocheio Milos is a brand new boutique hotel located in Athens that opened its doors in December 2021. The hotel offers air-conditioned rooms, a fitness centre, and free WiFi to its guests. It also has a restaurant and provides room service and a 24-hour front desk for convenience. Guests can enjoy an à la carte breakfast during their stay, while some of the rooms come with a terrace that boasts stunning views of the city. The hotel's prime location puts popular tourist attractions such as Ermou Street-Shopping Area, Syntagma Metro Station, and Syntagma Square within easy reach. For those arriving at Eleftherios Venizelos airport, the property offers paid airport shuttle services.
– Prime location in Athens.
– Terraces with city views available.
– Fitness centre on-site.
– Free WiFi throughout the property.
– Paid airport shuttle services provided by the hotel.
Philia Boutique Hotel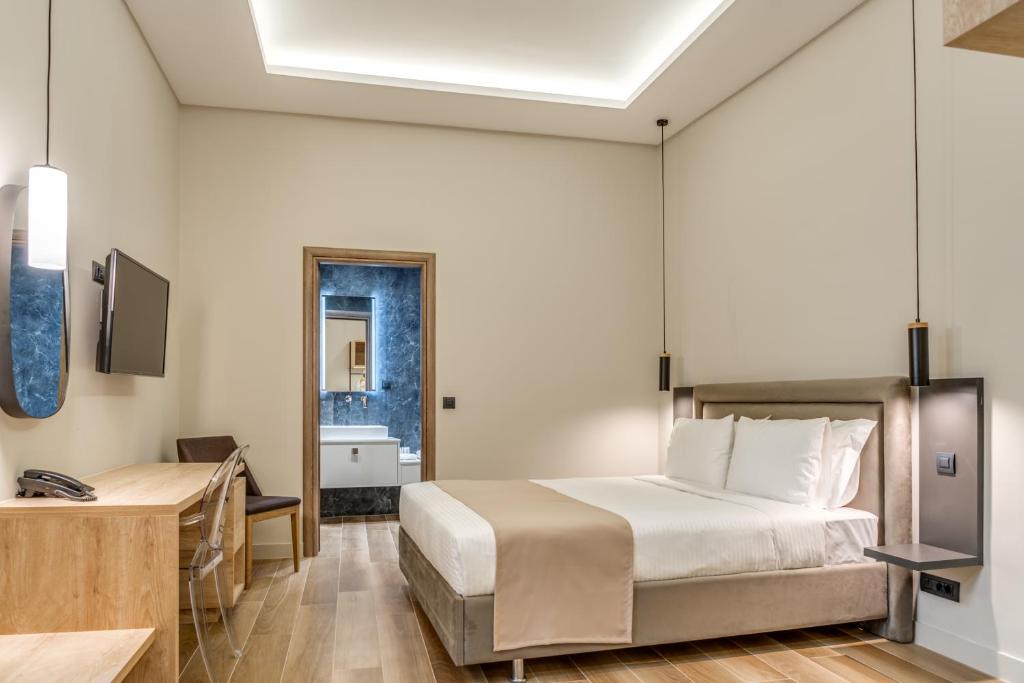 Philia Boutique Hotel is a luxurious bed and breakfast located in the heart of Athens, just 400 meters away from Monastiraki Square and Railway Station. The property features a garden, shared lounge, terrace, and complimentary WiFi throughout. Each accommodation is equipped with air conditioning, kitchenette, flat-screen TV, private bathroom with bidet and free toiletries. Some units also offer balconies or patios with city or garden views. Guests can enjoy à la carte or continental breakfast at the bed and breakfast. Philia Boutique Hotel offers a paid airport shuttle service for guests' convenience.
– Prime location in the center of Athens
– Luxurious accommodations equipped with modern amenities
– Beautiful garden area to relax in
– Complimentary WiFi available throughout the property
– Paid airport shuttle service for added convenience
Other places to stay in Athens
Boutique Hotels in Downtown Athens
Boutique hotels in Downtown Athens are known for their intimate atmosphere and unique features. With carefully curated designs and personalized service, these hotels offer a memorable stay that reflects the city's rich history and culture.
Amalia Hotel Nafplio
Amalia Hotel Nafplio is a neoclassical building situated on the outskirts of historic Nafplio. The hotel features luxurious rooms with balconies overlooking Palamidi, the sea or the lush gardens of the property. Guests can enjoy Mediterranean cuisine at the main restaurant located next to the gardens, which serves a rich American buffet breakfast and lunch or dinner with Greek and Mediterranean cuisine. Additionally, there is a Pool Bar and Restaurant that serves coffee, fresh juices and light snacks. Amalia Hotel Nafplio boasts a large swimming pool and two bars featured at the lounge area with fireplace and live piano music. The air-conditioned guest rooms offer modern décor, satellite & cable LCD TV, WiFi internet access, work desks, luxurious bathroom amenities, as well as ironing facilities upon request. Located within walking distance from Ancient Tyrintha ruins and close enough to explore vibrant city of Nafplion yet far enough to provide serenity makes this hotel stand out among others. Finally,a free private parking is available for guests.
Pros:
– Luxurious accommodations
– Beautiful views from room balconies
– Large swimming pool
– Two bars featuring live piano music
– Free private parking
Asomaton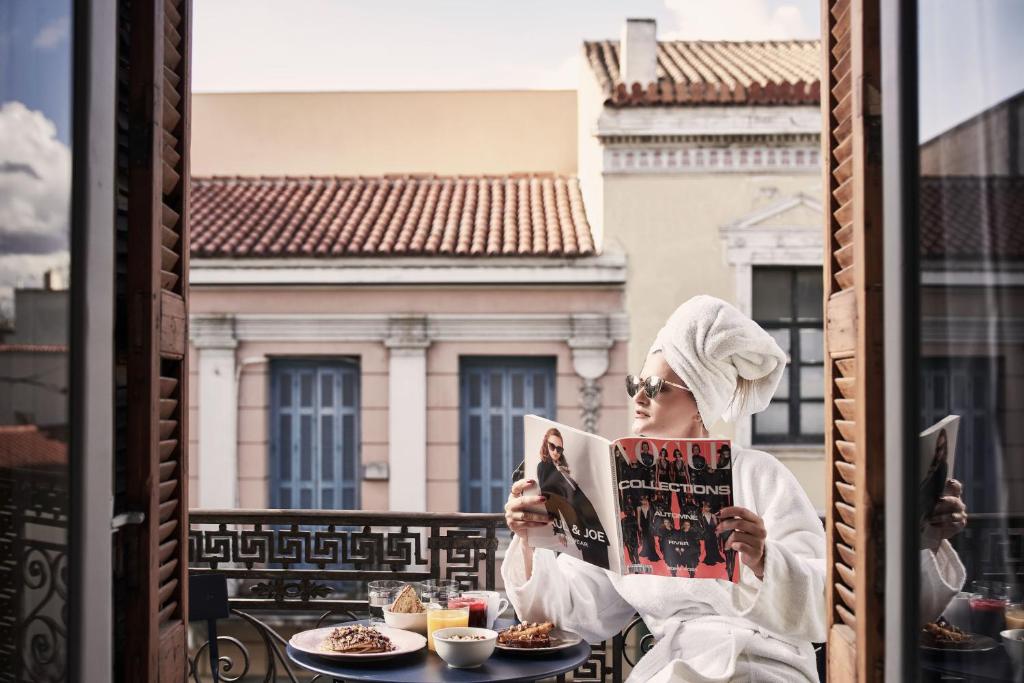 Asomaton, a boutique hotel that opened in August 2020, is located in Athens and within walking distance of Monastiraki Metro Station. The hotel offers express check-in and check-out, allergy-free rooms, free WiFi throughout the property, a garden, and a terrace. Guests can enjoy an à la carte breakfast daily while admiring city views from selected rooms or balconies. Asomaton also features an indoor pool and hot tub for guests to relax in after exploring nearby popular points of interest such as Monastiraki Square and the Temple of Hephaestus. Other amenities include room service, air-conditioned rooms with modern facilities like coffee machines and minibars as well as bed linen and towels. With its convenient location to public transportation hubs, luxury amenities, and excellent customer service, Asomaton is perfect for those seeking a luxurious retreat in Athens.
– Convenient location near public transportation
– Provides allergy-free rooms
– Features indoor pool and hot tub
– Offers delicious à la carte breakfasts daily
– Has beautiful city views from select rooms/balconies
Colors Hotel Athens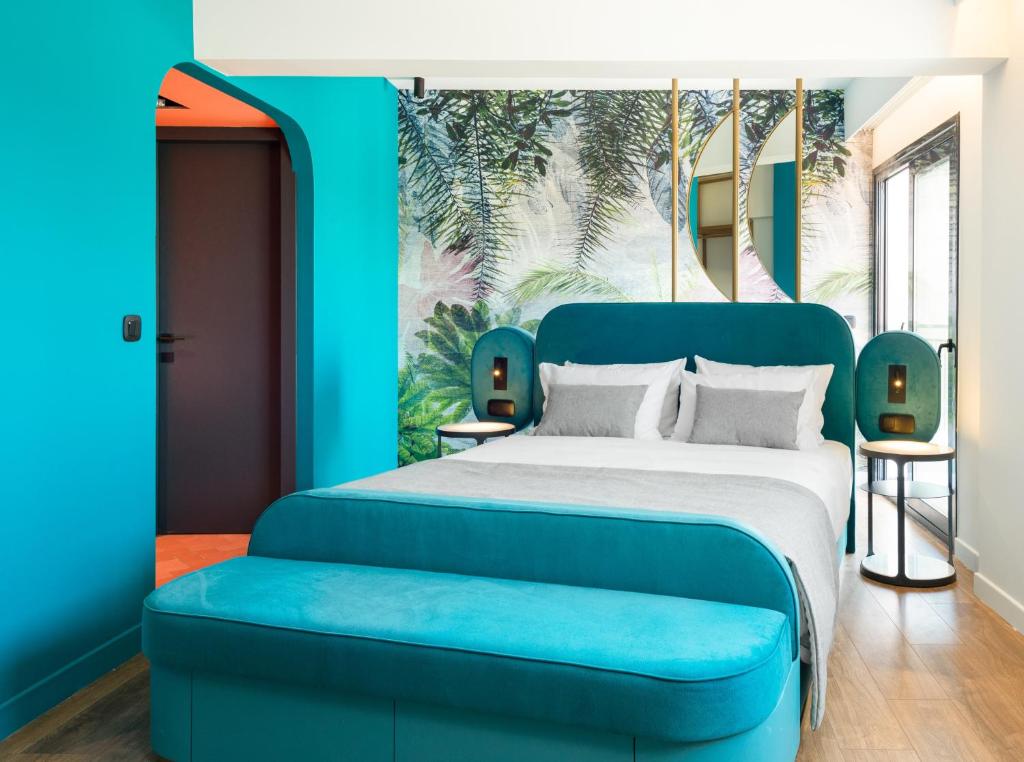 Colors Hotel Athens is a brand new 4-star hotel located in the heart of Athens, just 400 metres away from Omonia Square. The hotel was opened in May 2020 and offers comfortable and elegant accommodation with a variety of amenities such as a restaurant, bar, shared lounge, concierge service and luggage storage space. The rooms are equipped with modern facilities including flat-screen TVs, private bathrooms with bathrobes and CD players. Free WiFi is available throughout the property. For guests' convenience, the hotel provides airport transfers, room service and a tour desk where they can arrange car rentals and get useful information about the area. A continental or buffet breakfast is also offered every day.
Short Pros:
– Great location close to popular tourist attractions
– Modern and elegant rooms equipped with all necessary amenities
– Friendly staff that provide excellent customer service
– Delicious breakfast options
– Convenient services like airport transfers and tour desk for sightseeing arrangements
Athens 5 Star Boutique Hotels
Athens 5 star boutique hotels offer travelers a luxurious and personalized experience in the heart of the city. With unique styles and designs, these hotels are perfect for those seeking an intimate and exclusive stay.
The Margi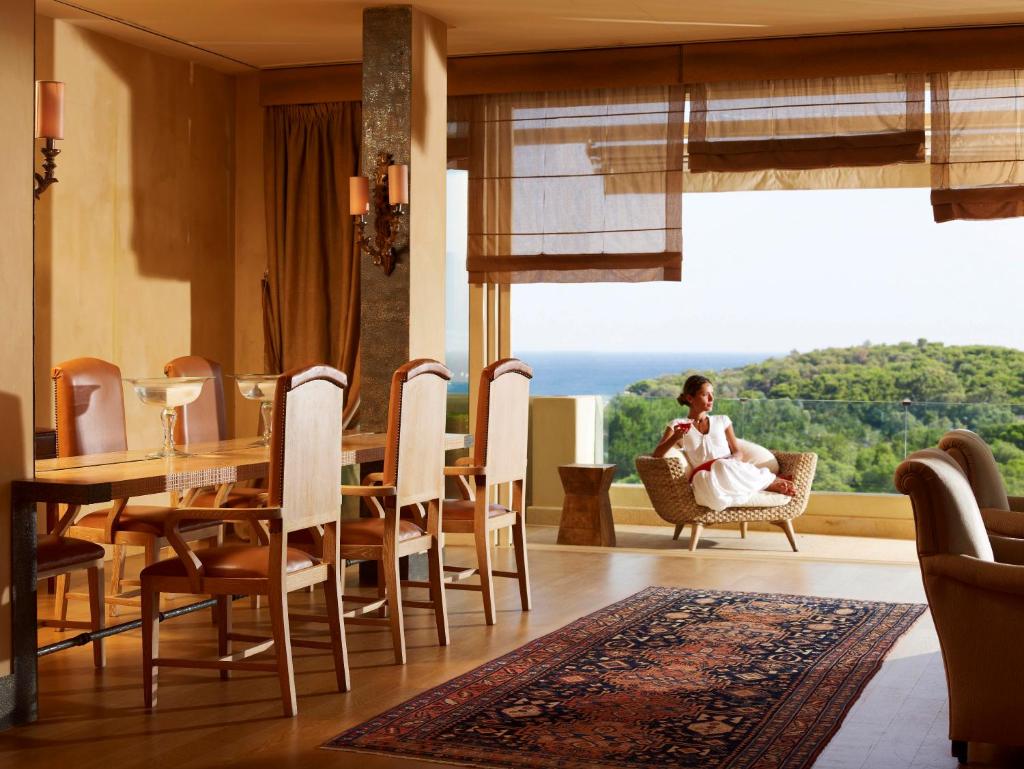 Located in the upscale area of Vouliagmeni, The Margi is a luxurious boutique hotel set amid lush pine trees and just a stone's throw away from the sandy beach. With its fusion of understated luxury and tranquil seaside ambiance, The Margi offers fine dining experiences alongside a romantic pool setting. Malabar Restaurant boasts Mediterranean-inspired flavours in an eclectic atmosphere while Nilaya lets you enjoy your breakfast with your daily newspaper. The hotel also provides exclusive services like personal trainers, yoga classes, and seasonal boutique shops with luxury Greek brands. Guests can explore the Margi Farm through private tours and indulge in gourmet dishes made with fresh ingredients from there at Patio. Additionally, make use of the spa area for massage treatments or relax at the indoor pool. Some of its key highlights include:
– Offers exquisite fine dining experiences
– Luxurious décor featuring colonial touches
– Exclusive guest services including personal trainers & yoga classes
– Access to nearby 18-hole Glyfada Golf Club
– Close proximity to Athens City Centre & Eleftherios Venizelos International Airport
The Lekka Hotel & Spa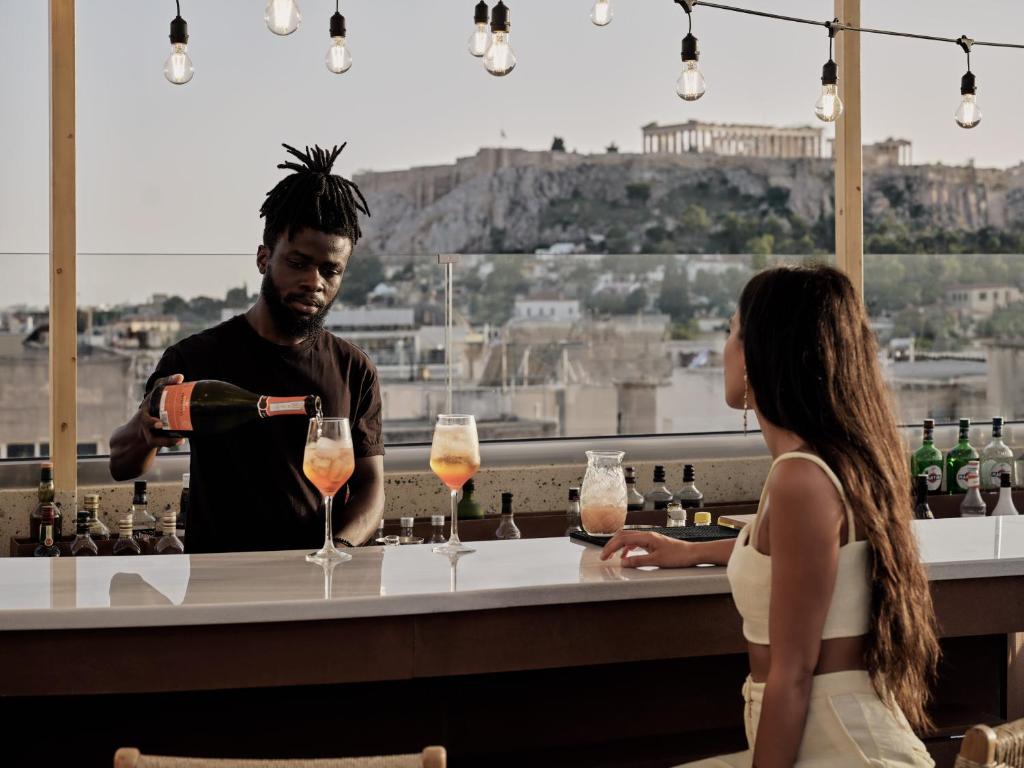 The newly opened Lekka Hotel & Spa is a luxurious 4-star hotel located in the heart of Athens. It offers guests air-conditioned rooms with city views, a bar, terrace, and free Wi-Fi. The hotel also features a 24-hour front desk and room service, making sure that guests have all the amenities they need during their stay. Popular attractions such as Ermou Street-Shopping Area, Syntagma Metro Station, and Syntagma Square are just a short distance away from the hotel. Additionally, guests can enjoy airport transfers and even rent bicycles to explore the beautiful city of Athens.
– Convenient central location
– Air-conditioned rooms with city views
– Free Wi-Fi access throughout the property
– Complimentary breakfast with various options to choose from
– Additional services available including airport transfers and bicycle rental
14 Reasons Why Hotel Athens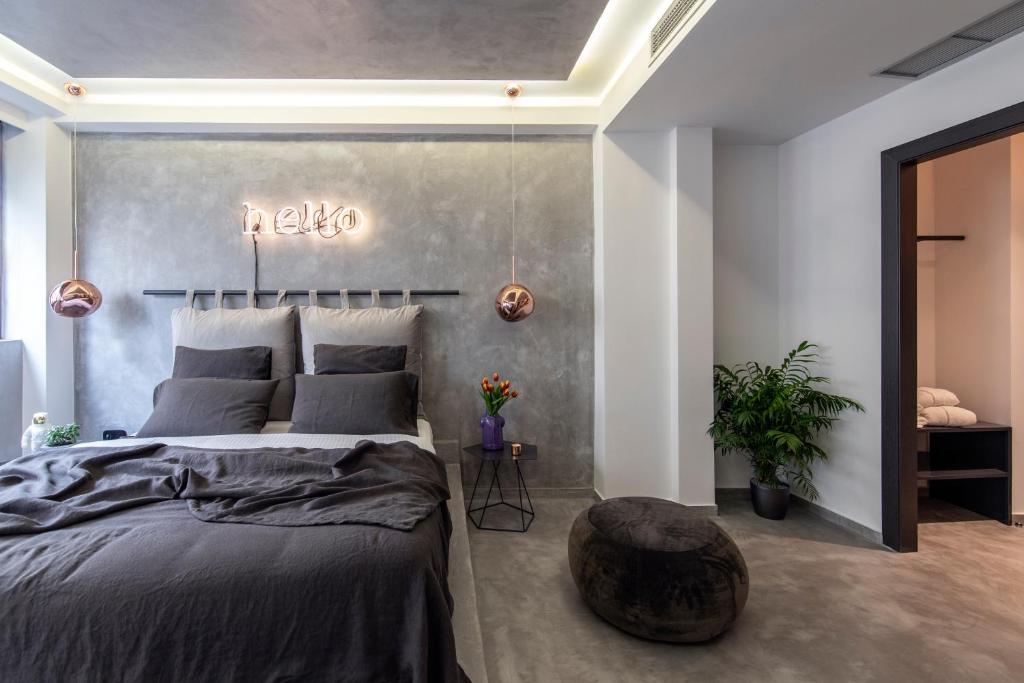 14 Reasons Why Hotel Athens is a luxurious property located in the heart of Athens, just 200 metres away from Monastiraki Square. The hotel boasts a stunning terrace and shared lounge area for guests to relax and unwind in. The rooms are elegantly designed and equipped with modern amenities like flat-screen TVs, coffee machines, private bathrooms, and some even offer beautiful city views from their balcony. The reception staff are knowledgeable about the surrounding areas and can provide guests with advice on how to plan their day. Additionally, the hotel's prime location makes it easy for guests to explore local attractions such as Ermou Street-Shopping Area (400 metres away) and Roman Agora (600 metres away). Anafiotika is also just 700 metres from the property while Monastiraki Flea Market is only 200 metres away. Overall, here are some notable pros of this luxury hotel:
– Central location in Athens
– Elegant design
– Modern amenities available
– Beautiful city views from some rooms
– Helpful reception staff
Athens Luxury Boutique Hotels
Athens boasts several luxurious boutique hotels that are known for their exceptional hospitality and personalized services. These hotels offer a unique and intimate experience with attention to detail and stylish decor. Whether you prefer a historic or contemporary setting, there is a boutique hotel in Athens that will cater to your every need.
The Gem Society Hotel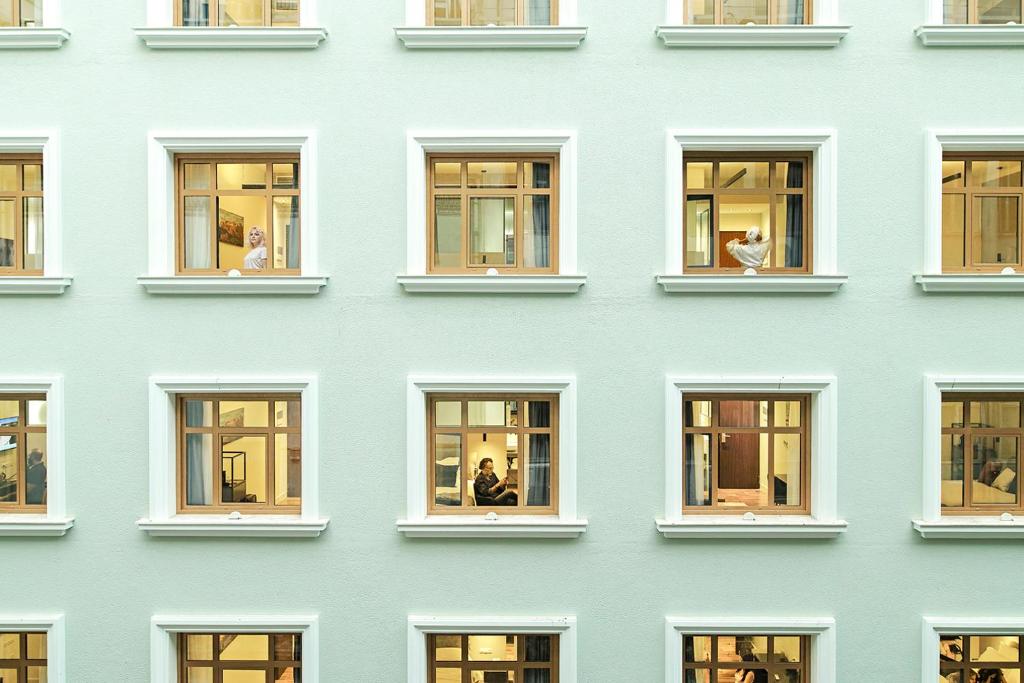 The Gem Society Hotel is a chic 4-star hotel located in the heart of Athens, just 700 meters away from Monastiraki Square. The hotel, which opened in June 2020, features a bar, restaurant serving Mediterranean cuisine, and 24-hour front desk. Guests can enjoy free WiFi throughout the property and air-conditioned rooms equipped with modern amenities including coffee machines, flat-screen TVs, and private bathrooms with showers. Some rooms also come with terraces and city views.
Pros:
– Central location in Athens
– Modern amenities
– Free WiFi throughout the property
– Restaurant serving Mediterranean cuisine
– Breakfast options for vegetarians, vegans and dairy-free diets
Athens Boutique Hotels Information
| | |
| --- | --- |
| 🛎️ Boutique Hotels in Athens | 10 |
| 💵 Hotels Prices From | $242 |
| 💵 Highest price | $1840 |
| 🥇 Average Review Score | 9.1/10 |
| 🛏️ Average number of Rooms | 30 |
Top Boutique hotels in Athens
| | |
| --- | --- |
| Monsieur Didot | 9.4/10 |
| Philia Boutique Hotel | 9.4/10 |
| xenodocheio Milos | 9.2/10 |
| Asomaton | 9.2/10 |
| 14 Reasons Why Hotel Athens | 9.2/10 |
FAQ
What is a boutique hotel?
A boutique hotel is a small and stylish accommodation that provides unique experiences for guests. Unlike big chain hotels, boutique hotels typically have fewer rooms and emphasize personalized service, bespoke design, and attention to detail.
What are the benefits of staying at a boutique hotel in Athens?
Staying at a boutique hotel in Athens allows you to enjoy the city's diverse culture and rich history while also experiencing luxury accommodations with personalized service. These hotels often feature unique design elements that reflect the city's architecture or culture, high-end amenities like spas or rooftop bars, and excellent dining options featuring local cuisine.
What are some popular neighborhoods for boutique hotels in Athens?
Kolonaki, Plaka, and Monastiraki are all popular neighborhoods for boutique hotels in Athens. Kolonaki is known for its upscale shops and restaurants. Plaka boasts charming pedestrian streets with picturesque balconies overlooking ancient ruins. Monastiraki has an eclectic mix of flea markets, vintage shops, art galleries along with tavernas serving traditional Greek food.
What kind of amenities can I expect from a luxury boutique hotel in Athens?
Luxury boutiques hotels in Athens offer top-notch amenities such as spas offering special treatments based on ancient techniques used by Greeks since antiquity like thalassotherapy spa treatments using seawater combined with essential oils or olive oil massages. Rooftop pools provide stunning views of the Acropolis while sipping cocktails made with locally sourced ingredients. Gourmet restaurants serve modern twists on classic Greek dishes created by highly trained chefs using fresh local ingredients.
How do I choose the right Boutique Hotel in Athens?
When choosing your ideal boutique hotel experience in Athens make sure it aligns with what you want out of your stay: Do you want to be near historical sites or nightlife options? Are premium amenities important to you?. Be sure to read reviews online from previous guests about factors like staff interactions, cleanliness, and overall experience. Additionally, consider the hotel's design aesthetic and its focus on bespoke experiences to ensure it meets your personal style.
Popular Boutique Hotels destinations